Red Velvet Cheesecake Crescent Rolls are stuffed with a creamy red velvet and dark chocolate filling. A simple dessert roll to show off your love this Valentine's Day!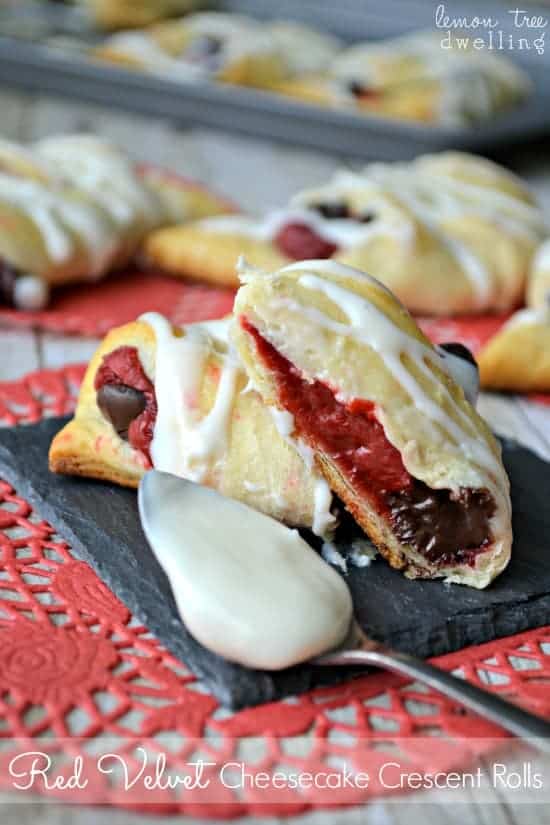 One of the best parts of blogging is what it does for your holiday celebrations. Take Valentine's Day, for instance……we basically started celebrating it as soon as New Year's was over! Sure, it's still 3 weeks away, but we've already decorated our whole house, made salt dough hearts, enjoyed LOTS of Valentine's Day treats, and, recently, started making handmade valentines to deliver to friends and family. Of course….we haven't done some very important things, like class valentines or that Valentine's Day party we were planning…..but that's okay! We still have 3 weeks!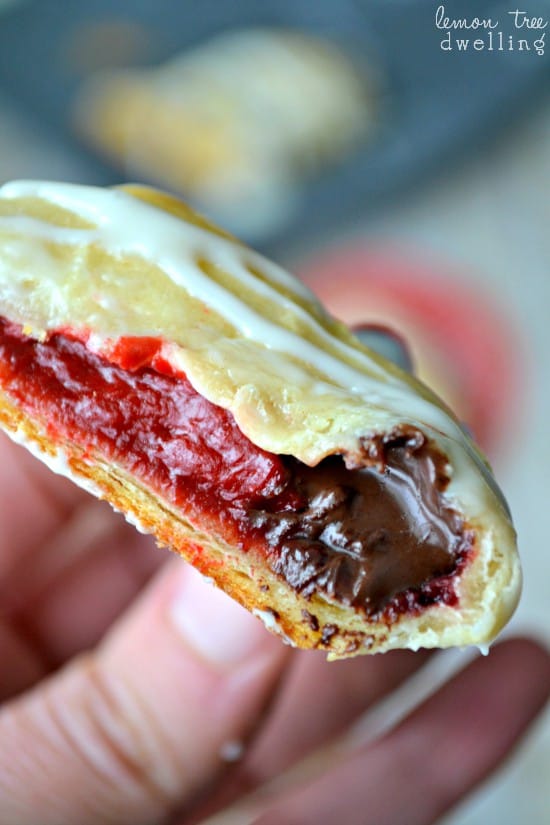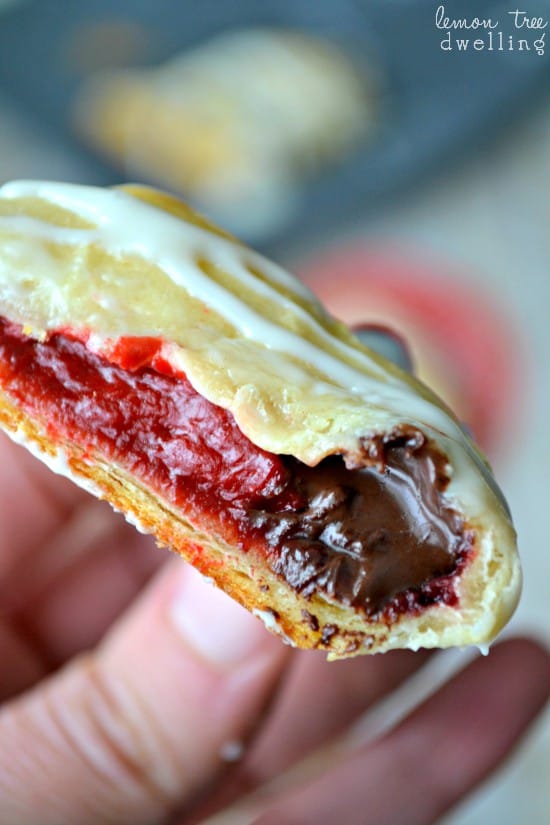 Since Nora is the one who's home with me during the day, I think it is safe to say she's the one who's been hit hardest by the Valentine's Day bug. And, since she has recently discovered a LOVE of arts & crafts, she has been borderline obsessed with decorating paper heart shapes with buttons, sequins, paint, doilies, ribbon, and…most importantly…GLUE! Lots and lots of glue. The good news is I'm pretty relaxed when it comes to arts & crafts messes (if you saw the state of our kitchen table you'd understand why)! The other good news is that it's a great little way for Nora to spread the Valentine's Day love! And she could not be happier about it.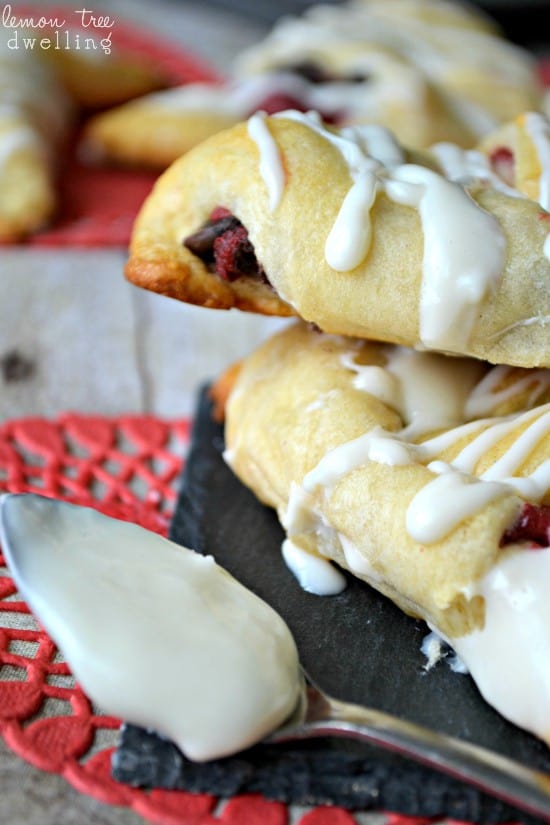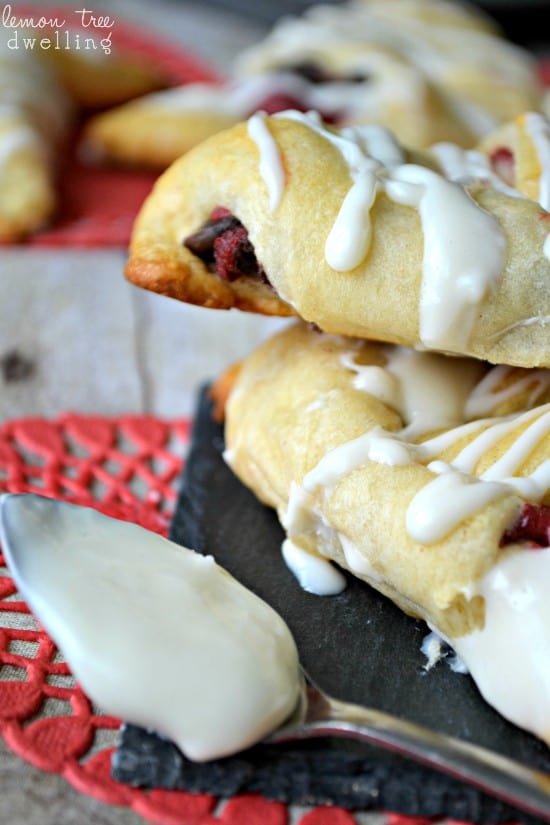 So yesterday, when we went to visit Grandma and Grandpa, Nora took along 3 decorated hearts. One for Grandma and Grandpa, one for Ben-Ben (her cousin), and one for Aunt Chris (who would be there later on in the day). And I'm not kidding you when I say I could feel the pride oozing from her as she handed them out. So….although it may seem silly to most people to start Valentine's Day on January 2….for us, it works! It gives us plenty of time to make (and, of course, share) the love!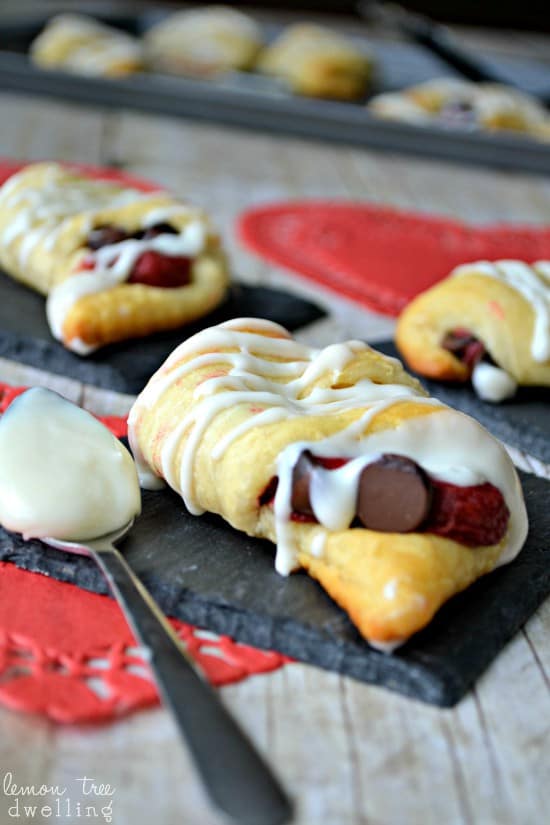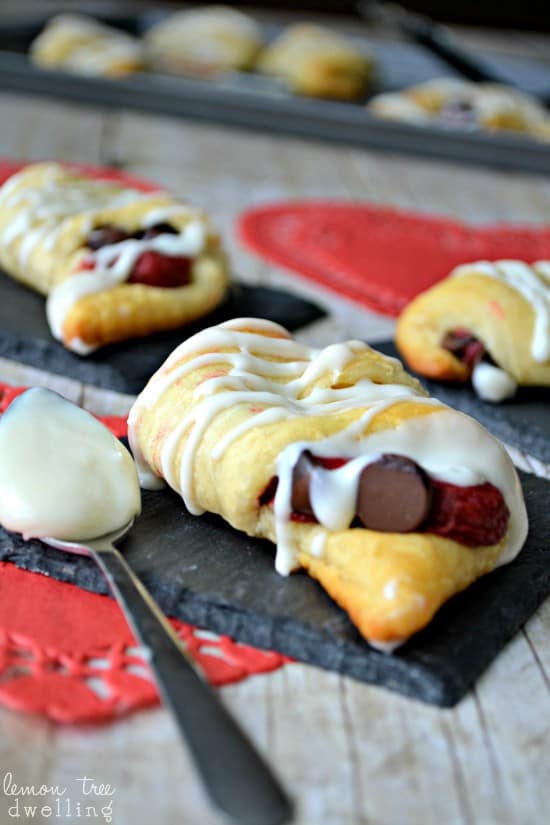 Red Velvet Cheesecake Crescent Rolls – True Love
Which brings me to these Red Velvet Cheesecake Crescent Rolls. They are part of a long list of Valentine's Day treats….yes….but there is something special about these. For one, you can eat them for breakfast, which is an obvious bonus. And there is ALWAYS something about red velvet that seems special…..especially when it's paired with chocolate and cream cheese! Best of all, these babies take less than 15 minutes to bake, so you can totally spread some love on Valentine's Day morning.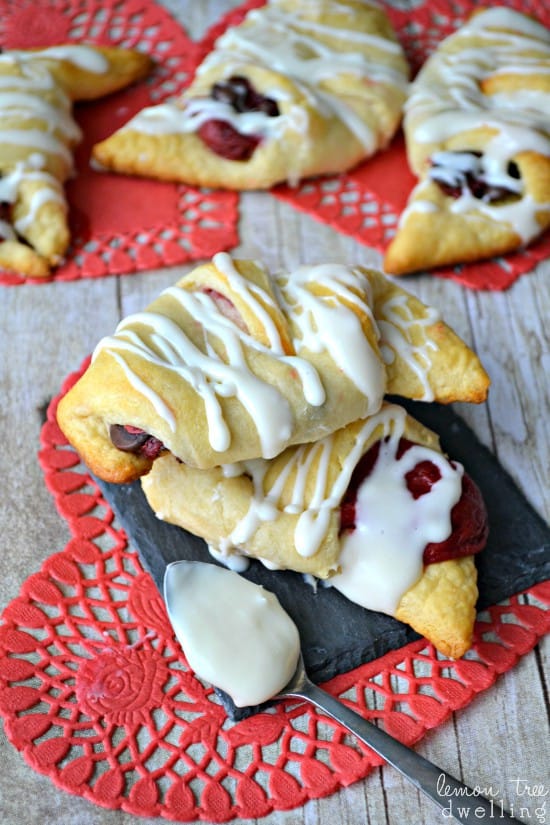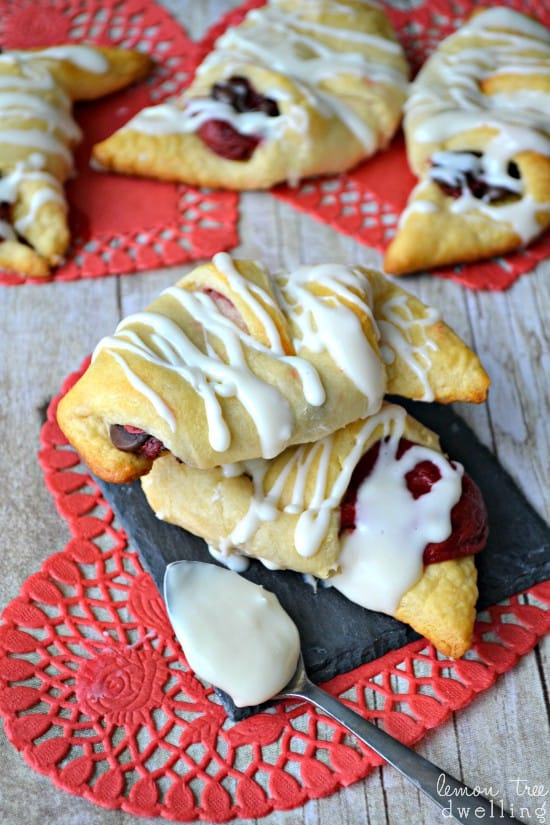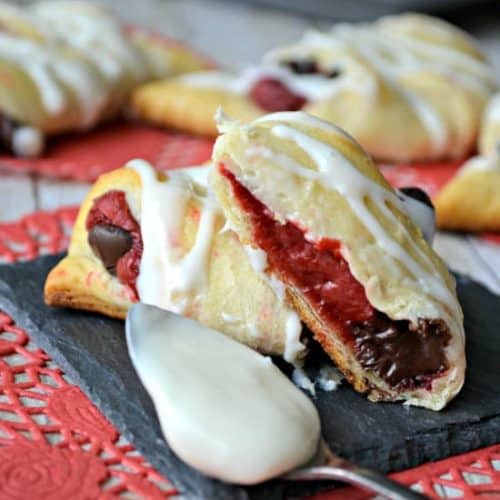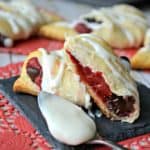 Red Velvet Cheesecake Crescent Rolls
Ingredients
1

package crescent roll dough

4

oz.

cream cheese

1/2

c.

Red Velvet cake mix

approx. 1/2 c. dark chocolate chips

1/3

c.

powdered sugar

1

oz.

cream cheese

1 1/2

tsp.

milk
Instructions
Combine 4 oz. softened cream cheese and 1/2 c. Red Velvet cake mix; mix until well blended.

Unroll crescent roll dough. Fill each triangle with 1 Tbsp. cream cheese mixture and approx. 10 chocolate chips.

Roll dough loosely into crescent shapes.

Bake according to package instructions.

For icing, combine 1/3 c. powdered sugar, additional 1 oz. softened cream cheese, and 1 1/2 tsp. milk.

Drizzle over baked crescent rolls.
Enjoy!
Looking for more delicious ideas using crescent rolls??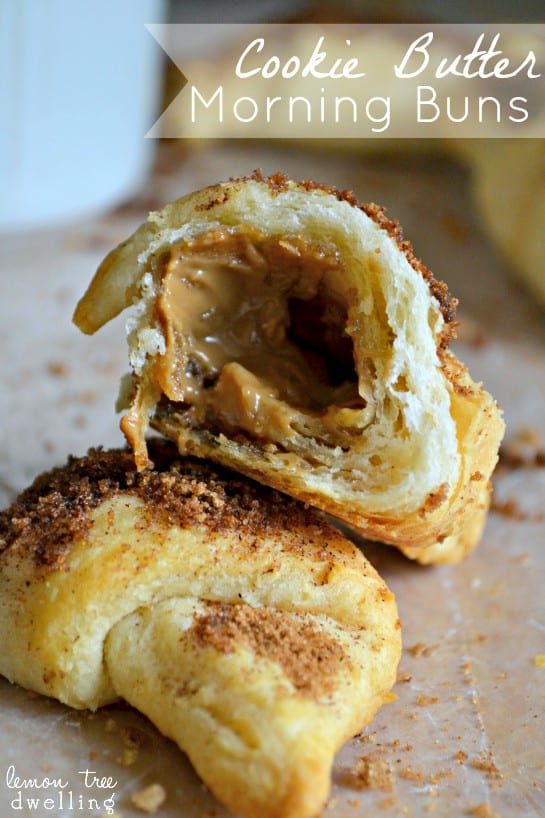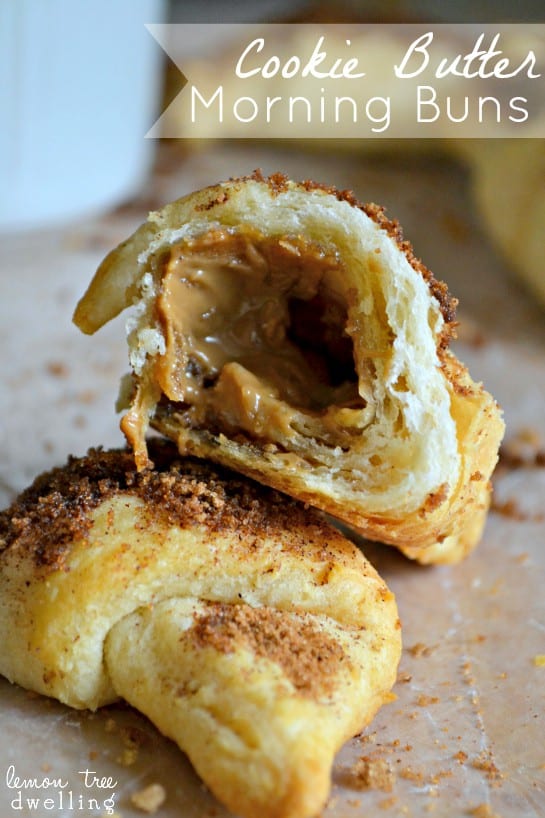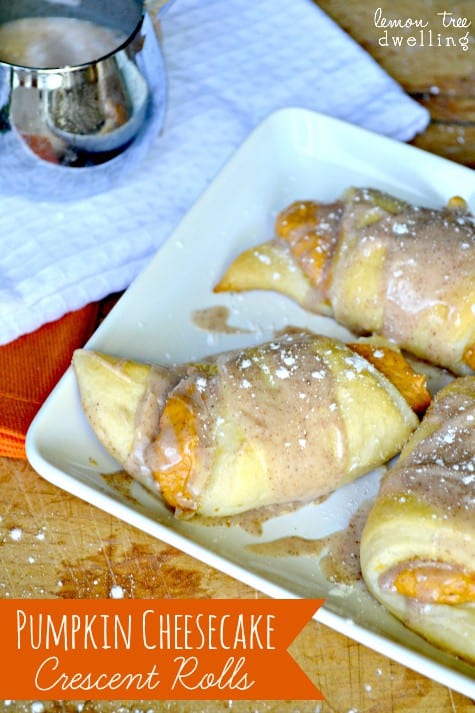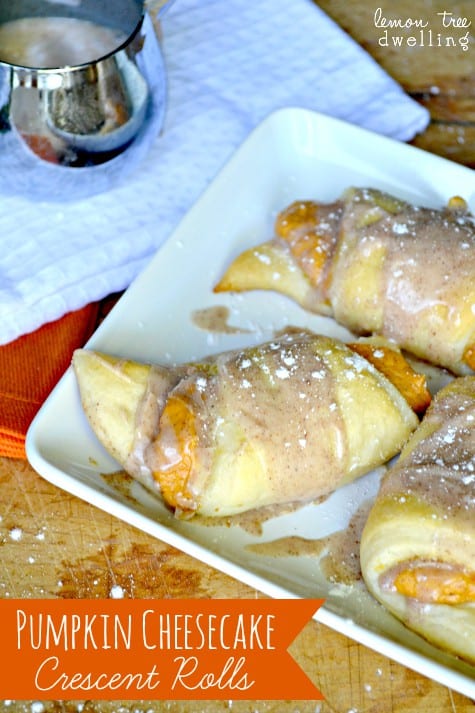 Make sure to follow us on Facebook to keep up to date with all our recipes and ideas!