Loaded Sweet Potato Tot Salad is chock full of deliciousness and drizzled with creamy avocado ranch dressing. This healthy salad is a complete (and completely amazing) meal!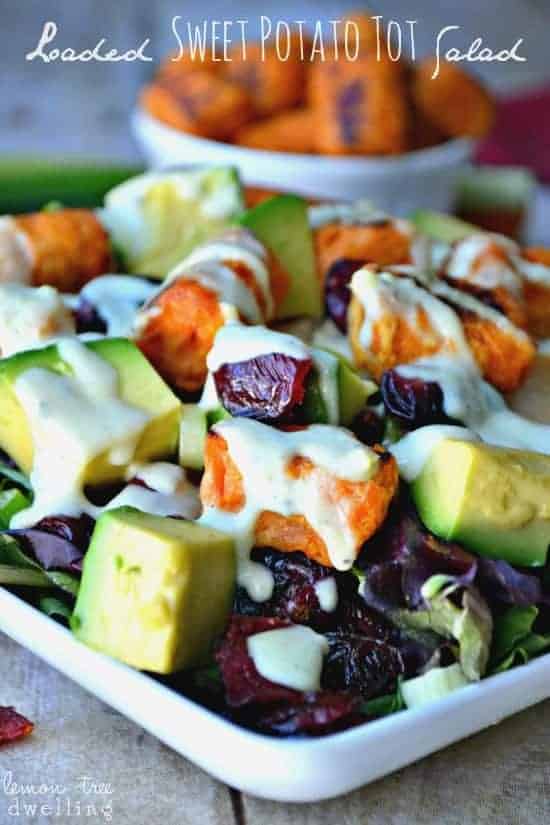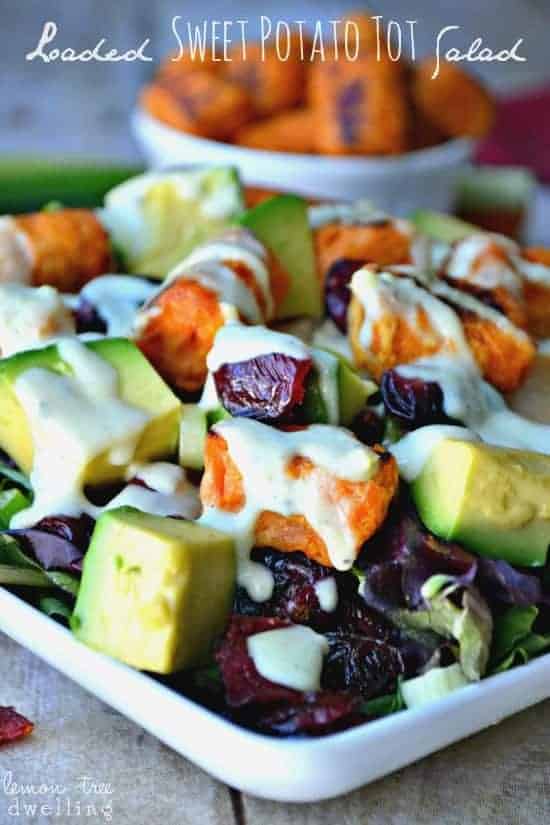 So have you ever wondered how we REALLY eat here at our Lemon Tree Dwelling? How well the recipes I post here actually represent the way I feed my family? Well….the truth is….we probably do eat a little too much sugar (what can I say – we love our sweets!!) But for the most part, we like to be healthy! We fill our cart with fruits and vegetables, we eat a lot of meatless meals, we don't do many packaged snacks, we drink mostly water. And….we eat a lot of salads!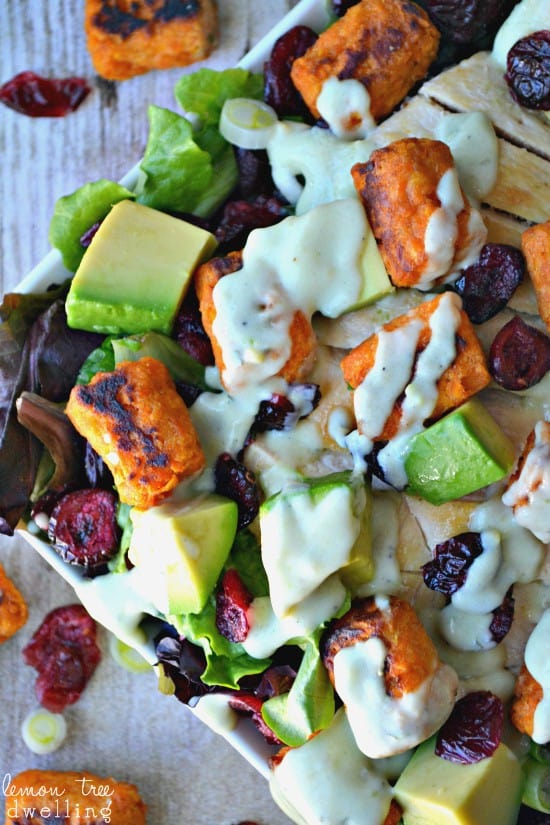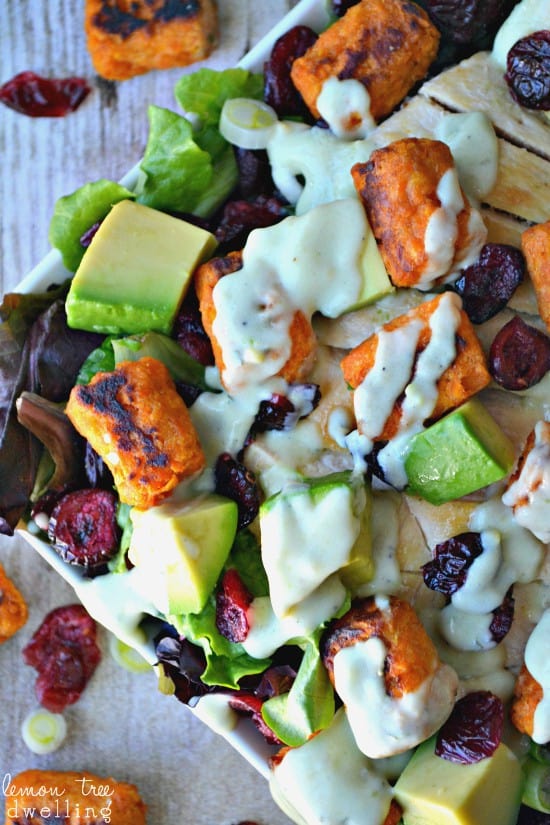 Salads have always been one of my favorite meals. I have them for lunch most days and often order them at restaurants. But….I must confess….there is one thing that will keep me from ordering a salad….and that one thing is sweet potato fries!! I'm in love with them! Especially when they come with a creamy sauce to dip them in. Ah-mazing! One of my favorite places for sweet potato fries is a place called Cafe Hollander, where the fries are not only perfectly crispy and delicious, but they come with your choice (or three) of dipping sauce! Ever since Jorden and I had lunch there a couple weeks ago, and I had sweet potato fries, I've been craving MORE! (I'd love to say it's a pregnancy thing, but who am I kidding….?)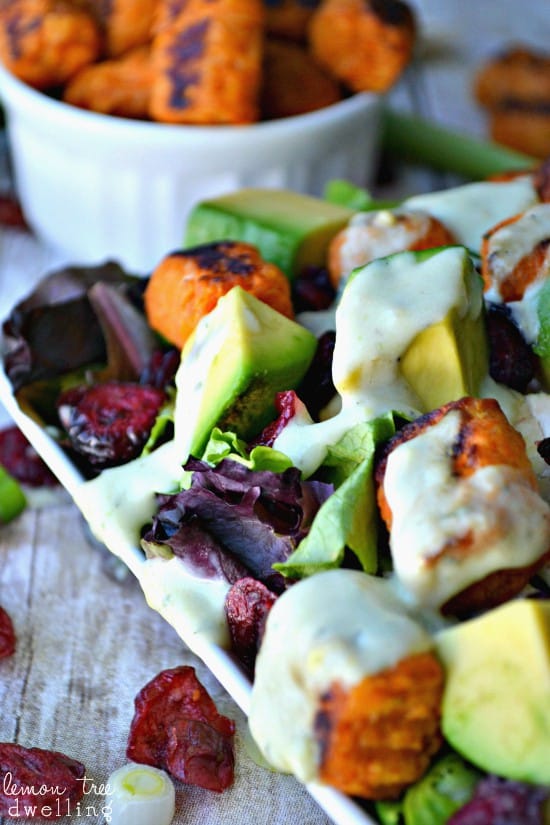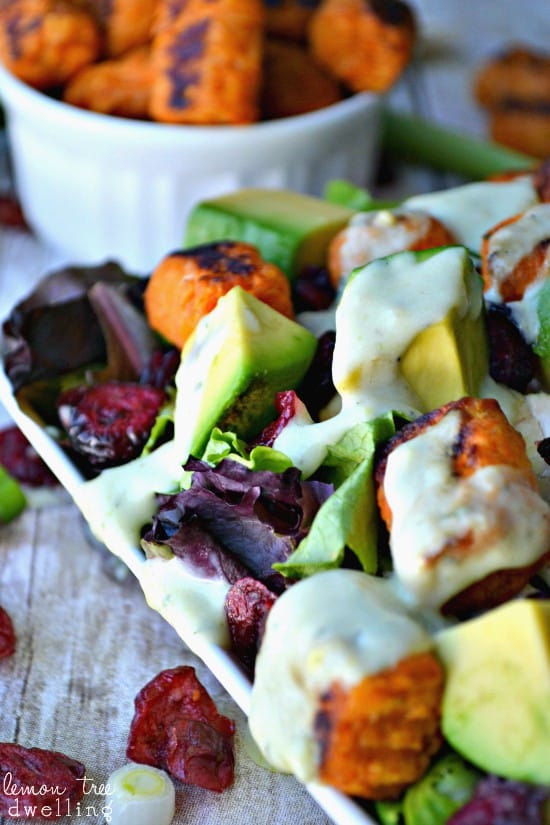 Loaded Sweet Potato Tot Salad
So when I saw these sweet potato tots at the grocery store the other day, I knew I NEEDED them. And ever since I bought them, they've been sitting in my freezer, just waiting for me to find the perfect way to use them! Of course, plain with dipping sauce came to mind…..but I knew these delicious little nuggets were destined for something greater. Something unique. Something amazing. And something I can (and do) eat all the time……salad!!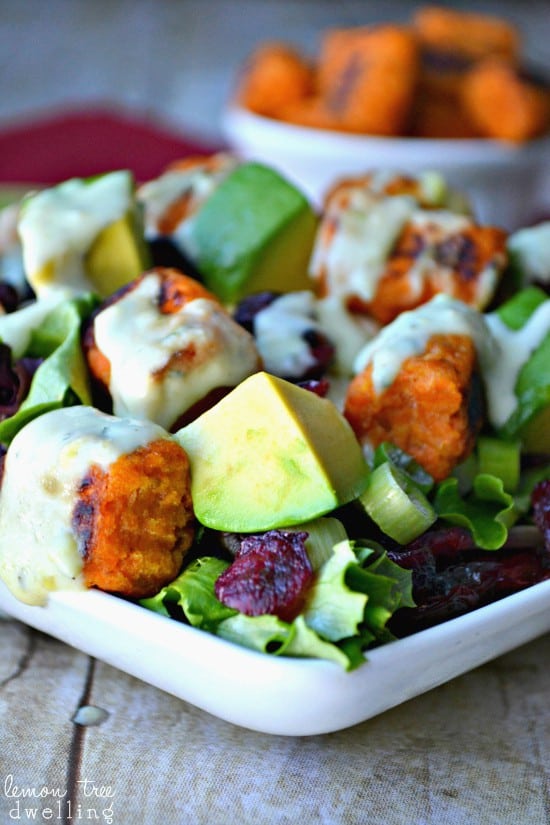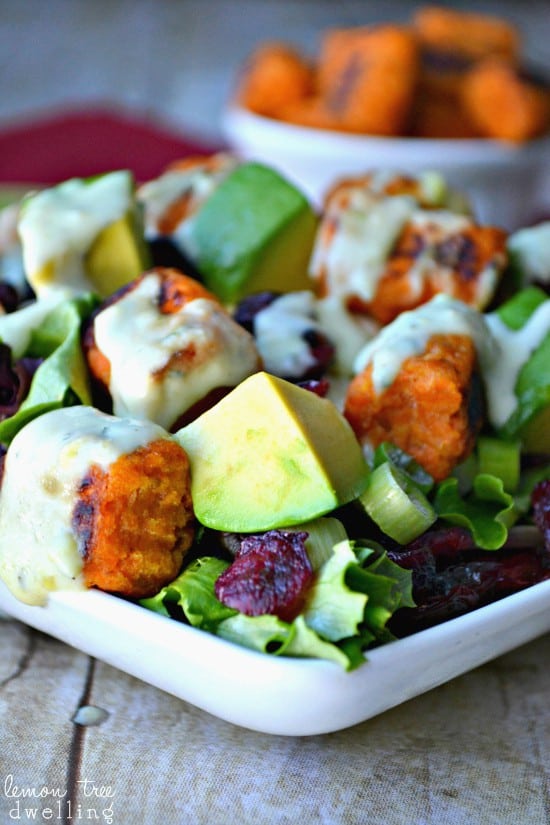 Now, it's not hard to find things that will taste great with sweet potato tots. (Pretty much anything, right??) But. When you eat as many salads as I do, you're not just looking for great. You're looking for perfect! The perfect blend of savory and sweet, crunchy and creamy, light and….a little more substantial! Which is where the tots come in! They take this salad from great to perfect. They leave you full and satisfied and happy. Very happy.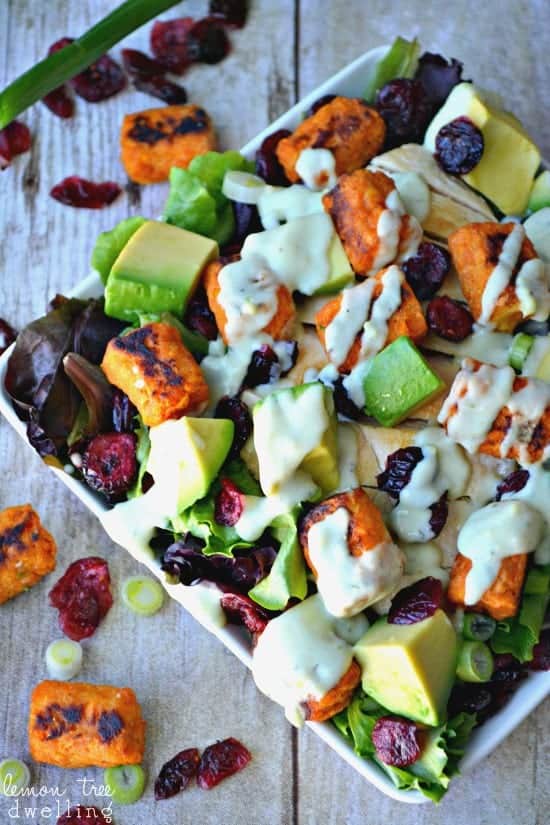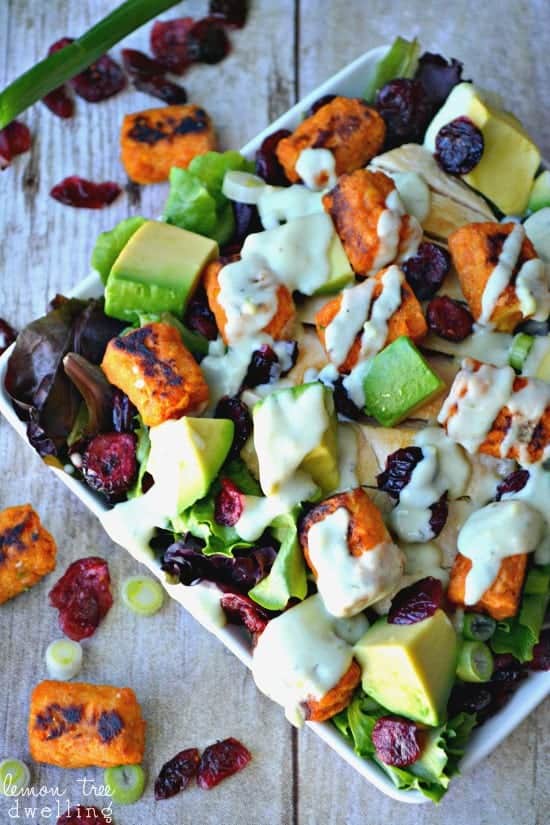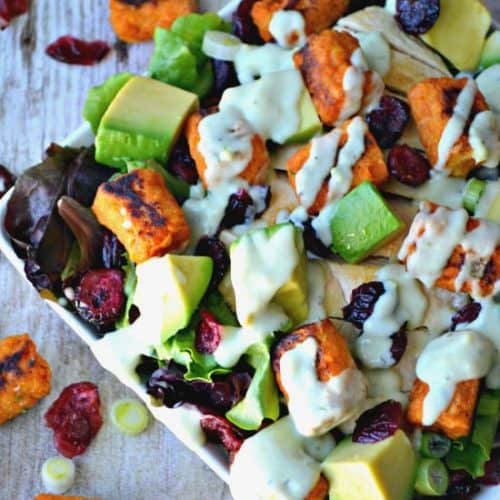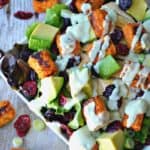 Loaded Sweet Potato Tot Salad w/Creamy Avocado Ranch Dressing
Ingredients
Salad:

4

c.

loosely packed mixed greens

1

c.

sweet potato tots

baked until crispy

1

chicken breast

freshly grilled and sliced

1/2

avocado

chopped

1/4

c.

dried cranberries

1

green onion

sliced

Dressing:

3/4

c.

buttermilk

1/2

c.

mayo

1/2

avocado

chopped

1

tsp.

dried parsley

1/4

tsp.

pepper

1/4

tsp.

onion powder

1/4

tsp.

dry mustard

1/4

tsp.

garlic salt

1

clove

garlic

minced
Instructions
For salad: Assemble on a large dinner plate or salad bowl. Drizzle with creamy avocado ranch dressing.

For dressing: Place all ingredients in a small food processor; process until smooth.
Looking for more delicious salad recipes?