This Mulled Sangria combines the flavors of cranberry and orange in a deliciously warm, spiced cocktail that's perfect for fall!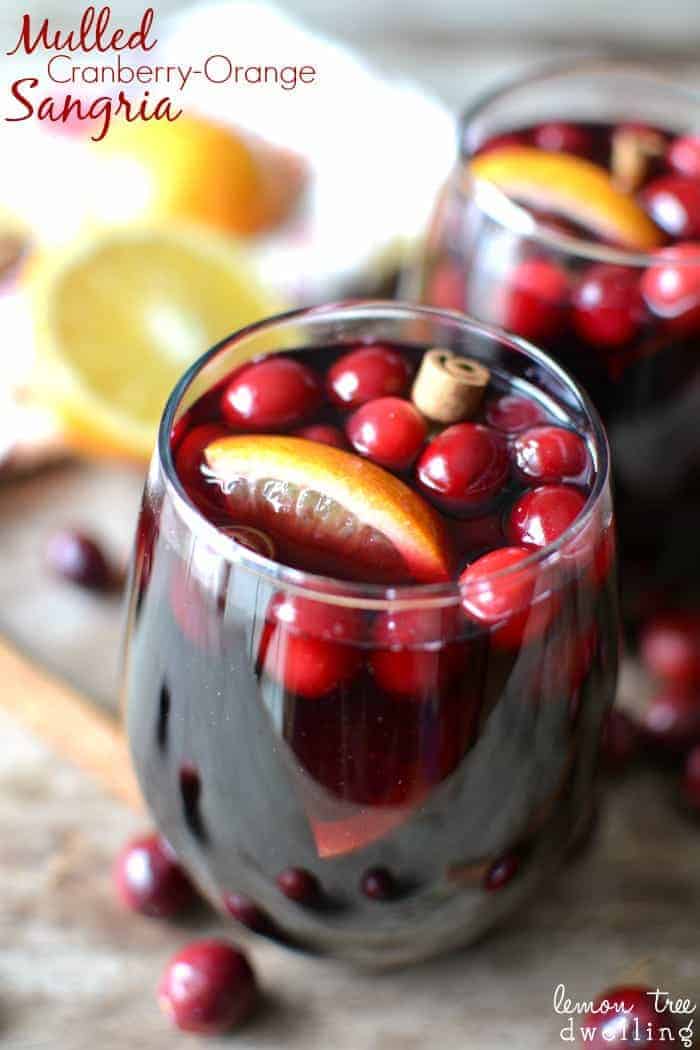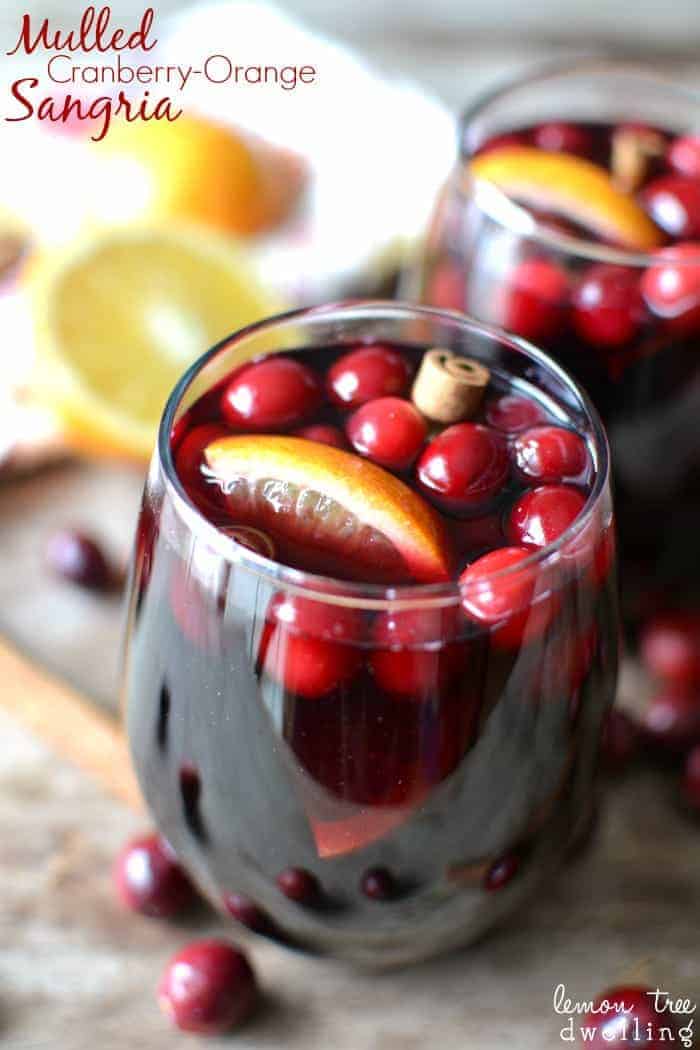 Have you ever noticed how drinking something warm makes you feel….well….just better? It's the reason I love my coffee in the morning, my green tea at night, warm cider on a crisp Fall day, hot chocolate after playing in the snow, and mulled sangria pretty much….anytime!? Although we are currently having a heat wave here in Wisconsin, I know the cold weather is just around the corner. As are the holidays…which brings back delicious memories of a warm cranberry wine I made for Thanksgiving last year. Mmmmmmmmmm. So when I saw that cranberries had made their seasonal visit back to the produce section, I had to pick some up.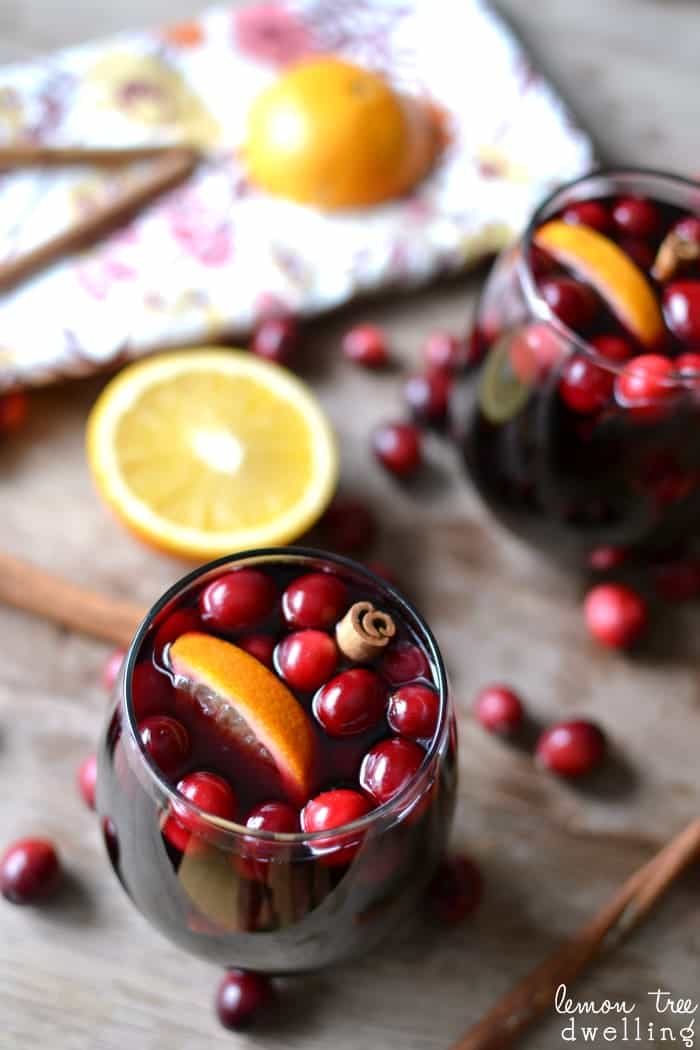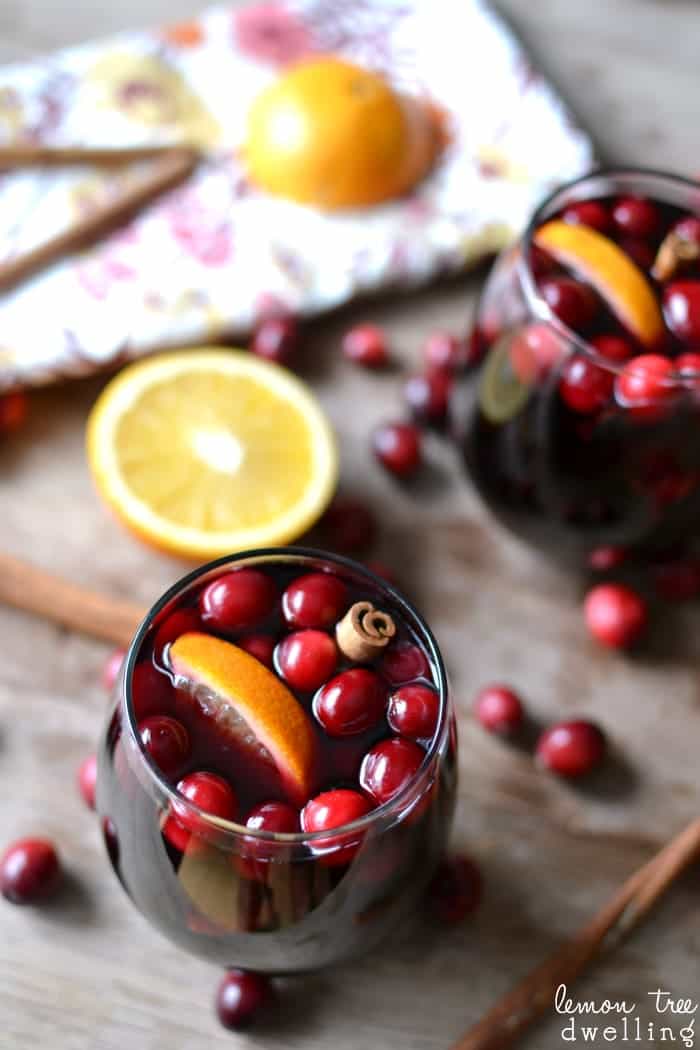 I got to thinking: Is it possible to make the delicious wine from last year even better?? Well, that's easy. Of course! Just add booze:) I decided to refrigerate mine (like you would sangria) to let the flavors develop.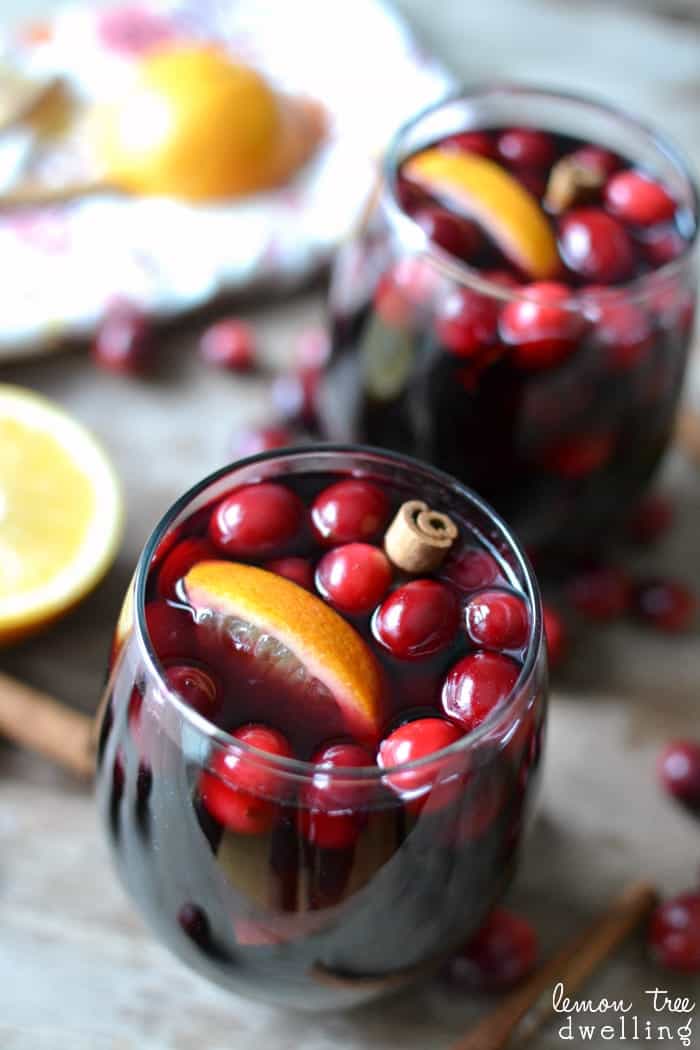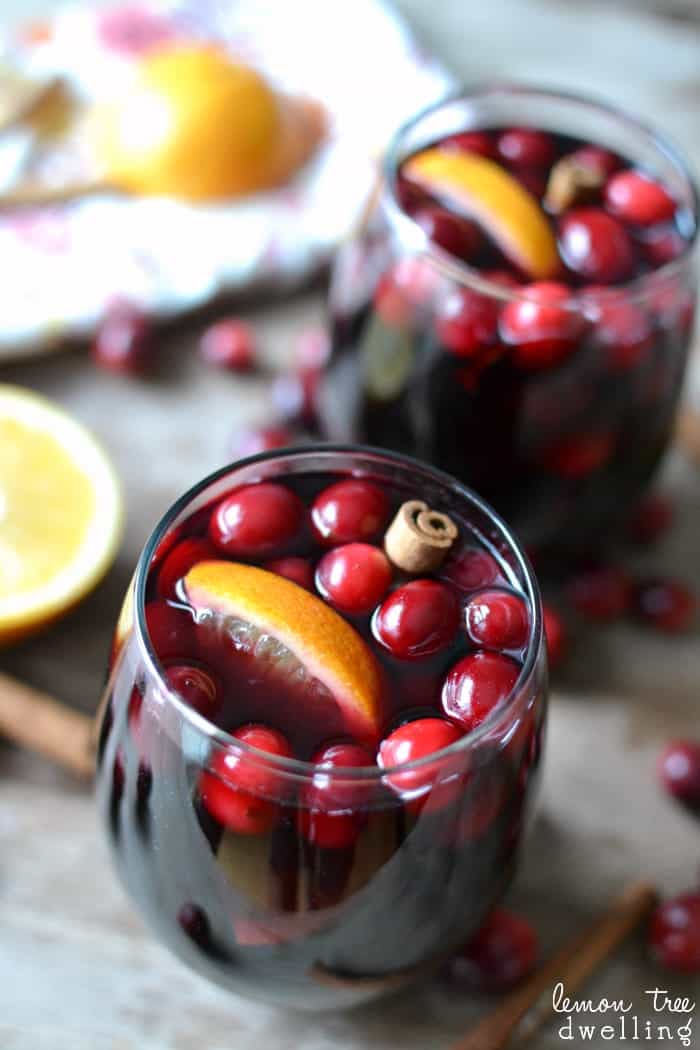 I served it a few days later….but I've since discovered that it's just as good right off the stove top.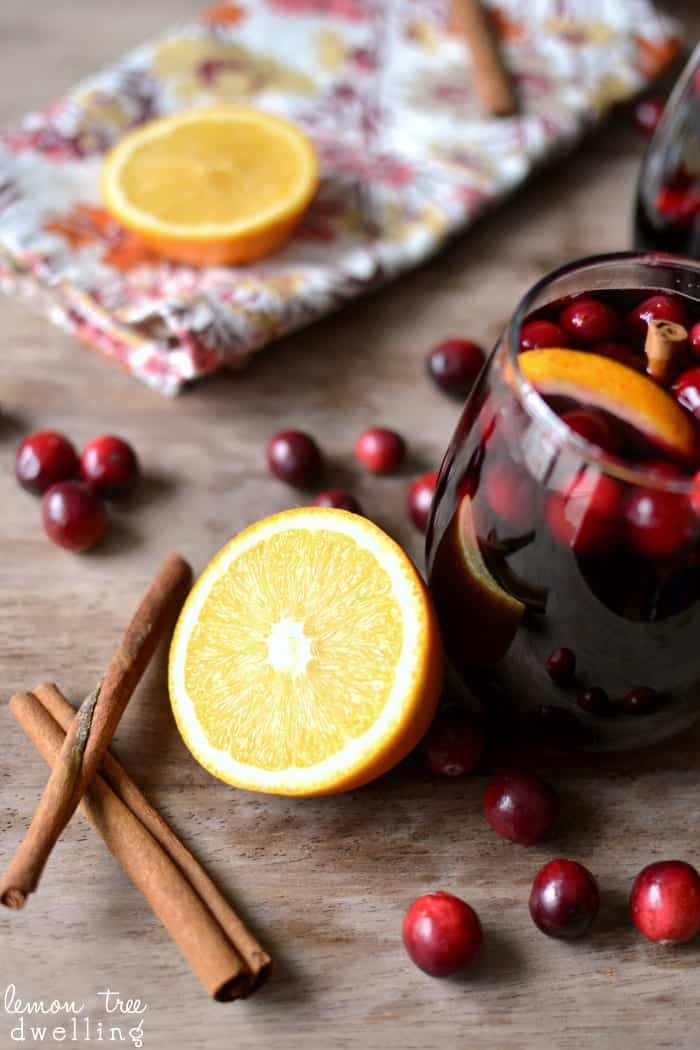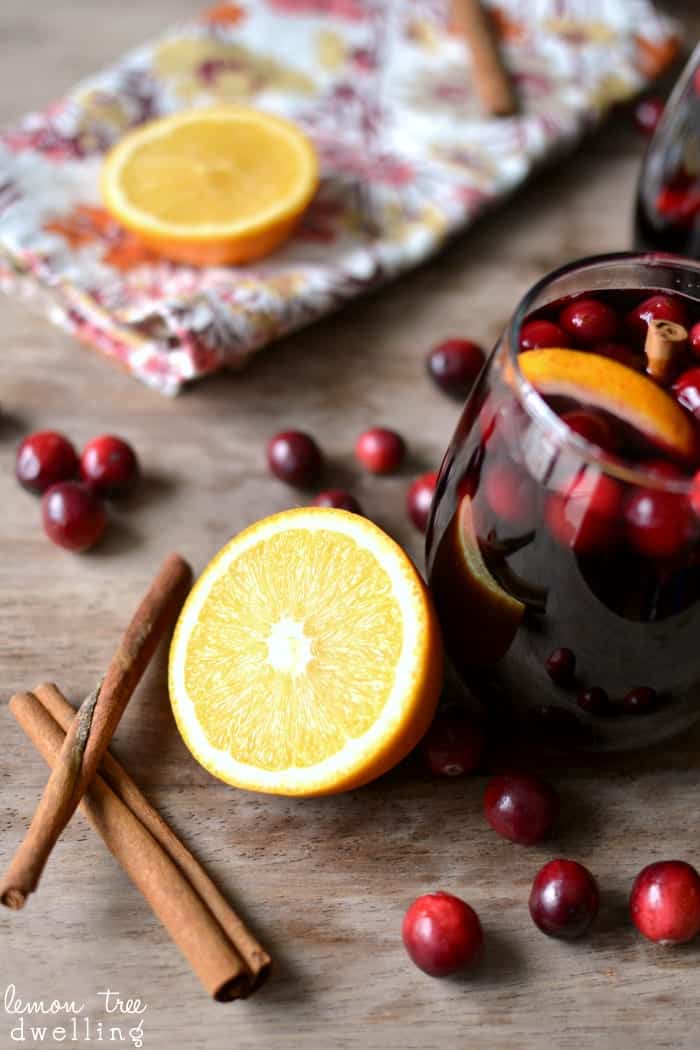 Delicious. Better than last year.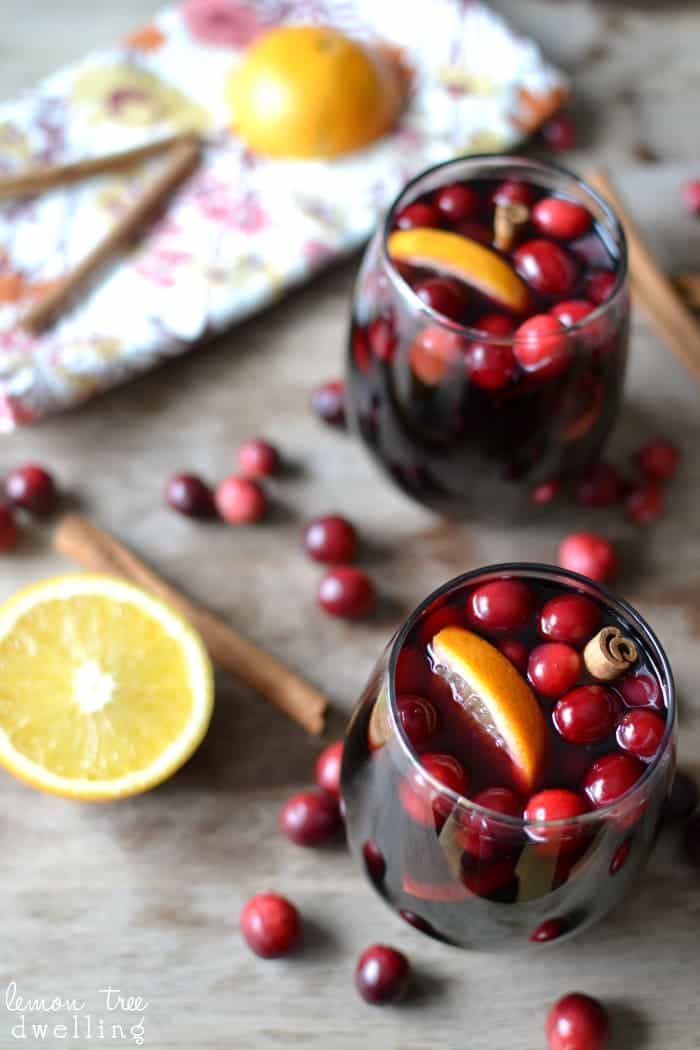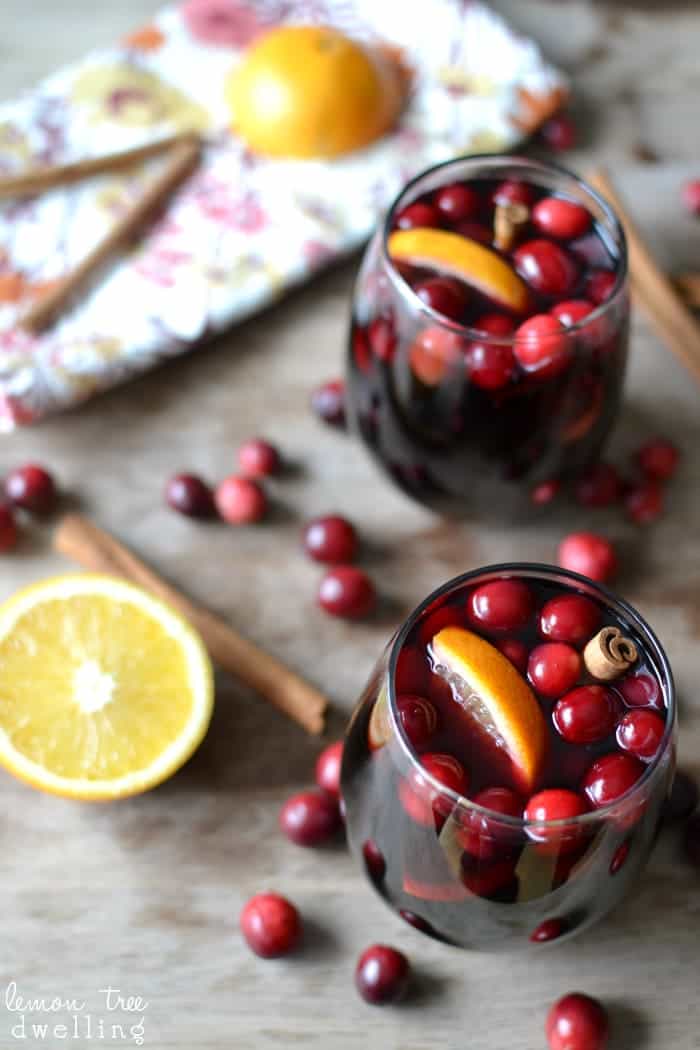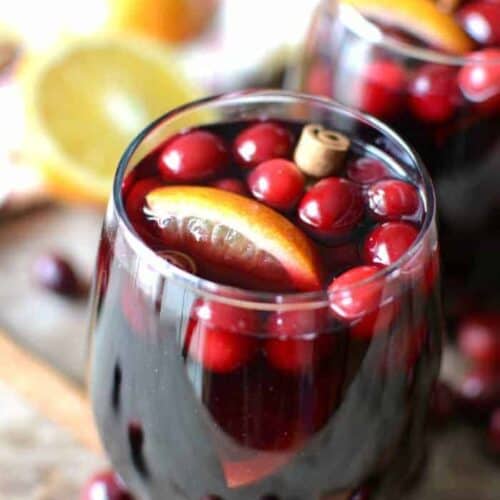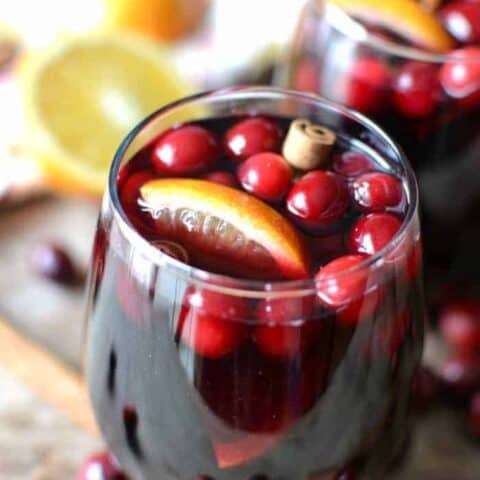 Mulled Cranberry-Orange Sangria
Yield: 6

Prep Time: 10 minutes

Total Time: 10 minutes
Ingredients
1 cup cranberry juice
1/2 cup sugar
1/2 tsp cinnamon
1/2 tsp. nutmeg
6 whole cloves
3 cups dry red wine, I used a Shiraz-Cabernet blend
1/4 cup brandy
1/4 cup orange liqueur, I used Triple Sec
1 cup fresh cranberries
orange slices
Instructions
In a medium saucepan, combine cranberry juice, sugar, cinnamon and cloves. Simmer for 15 minutes.
Stir in red wine, brandy, orange liqueur, and cranberries. Bring to a simmer.
Serve warm.
Nutrition Information:
Yield: 6 Serving Size: 1 grams
Amount Per Serving: Calories: 298Total Fat: 0gSaturated Fat: 0gTrans Fat: 0gUnsaturated Fat: 0gCholesterol: 0mgSodium: 9mgCarbohydrates: 32gFiber: 1gSugar: 27gProtein: 0g