Pumpkin Spice Waffles are sure to please your family for breakfast. These simple and easy waffles are full of cinnamon and pumpkin and perfect for those lazy Sunday mornings.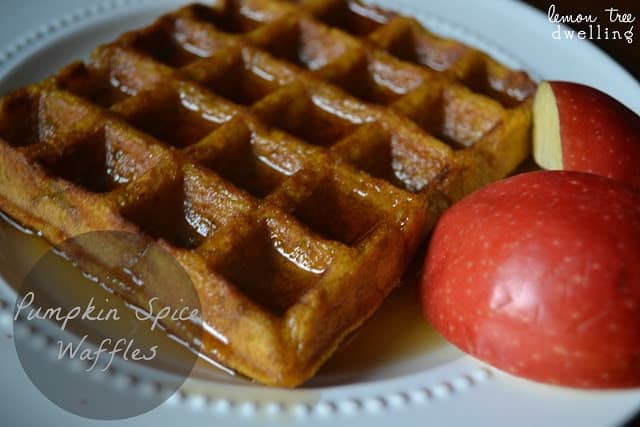 I woke up this past Saturday and realized it had been a loooooooong time since I had made breakfast. It kind of goes in waves around here…sometimes the eatin' is good and other times we're just getting by. I guess the same could be said about most things around here – at times it feels like all we can do to keep from being overrun by sheer chaos (you know the feeling?)
3 kids in, and 2 years into being a stay-at home mom, I feel like I'm finally learning to be okay with it. Not just with the chaos, but with things not always being perfect. (Let me clarify – things have never been perfect…but the perfectionist in me has always cringed at that…) I am finally getting to a point where the fact that I haven't made breakfast in weeks is okay. After all, life is about more than breakfast foods! And life as a stay-at-home mom is about more than keeping a clean house and putting elaborate meals on the table.
In my experience, life as a stay-at-home mom is about being present to my kids. It's about going with the flow. It's about putting my family's needs first while still attempting to maintain a sense of my self. It's about sacrifice. It's about joy! It's about fun. It's about laughter and playtime and a sense of connection and security. But perfect? It's not about being perfect.
Still…every now and then it's nice to make breakfast. Even better is when your entire family enjoys it so much that you feel, momentarily, perfect/invincible/Super Mom-ish. It's not a feeling that we moms have often! No…it kind of comes in waves…sort of like my cooking. And, like my cooking, when it's good, we know to enjoy it 🙂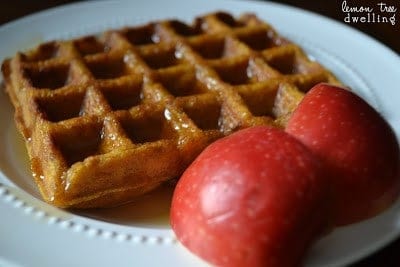 Pumpkin Spice Waffles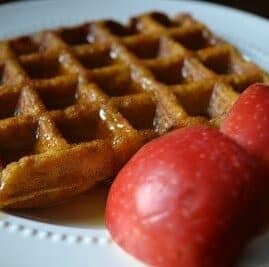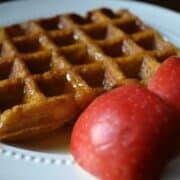 Easy Pumpkin Spice Waffles
Ingredients
1

cup

pancake mix

I used Log Cabin All Natural Pancake Mix

1

egg

2

Tbsp

canola oil

1/2

cup

milk

1/2

cup

pumpkin puree

1/2

tsp

cinnamon

1/2

tsp

nutmeg

1/2

tsp

ground ginger
Instructions
Mix all ingredients and prepare in waffle maker.

Top with maple syrup.
Don't forget to look for more great recipe ideas from me on Pinterest.