This egg and cheese sandwich is loaded with all the stuff dads love – avocados, bacon, peppers, onion, and, yes, sriracha mayo! Make it for Father's Day and it will become his new favorite….and yours too!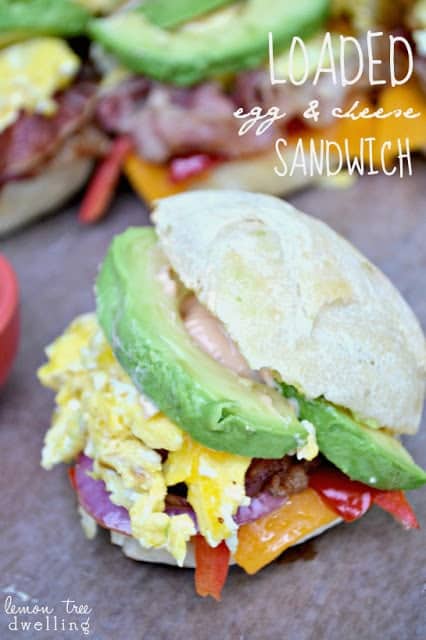 Can you believe that Father's Day is just three weeks away? I am completely unprepared….and after the sweet things Jorden and the girls did for me on Mother's Day, I feel like the pressure is on! (I am actually secretly glad that Mother's Day comes first, because that way I know exactly how much effort I need to put into making Father's Day special…. Fortunately or unfortunately, this year the energy output will need to be high!) That's what I get for having a great Mother's Day!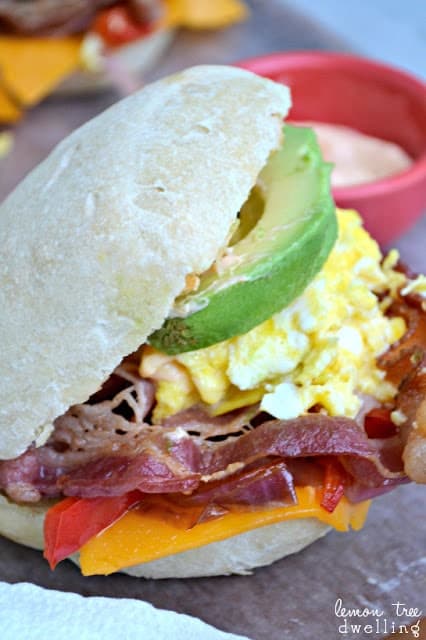 For some reason, it always seems easier for me to think of ways to pamper myself than it does for me to think of ways to pamper Jorden. For me, it's simple! Good food that someone else made, some time to myself, a bottle of wine, a day free of chores. But what does Jorden want? That always seems like a mystery. I'm pretty sure we have always spent the day together as a family – at a farm breakfast, at the zoo, with one of our families. But this year, I'm thinking of something a little different.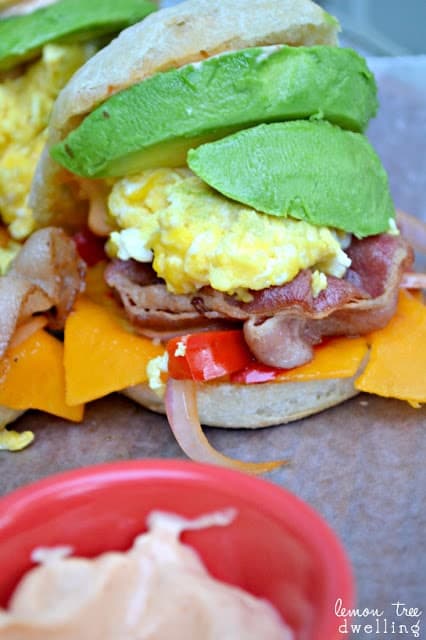 See, on Mother's Day this year, Jorden made an interesting comment. About actually just wanting time to yourself on your special day. Aha! Not only did it come across as incredibly supportive and understanding….but I'm beginning to think Jorden was trying to tell me something about what he wants on his special day! (The same things I want on mine!)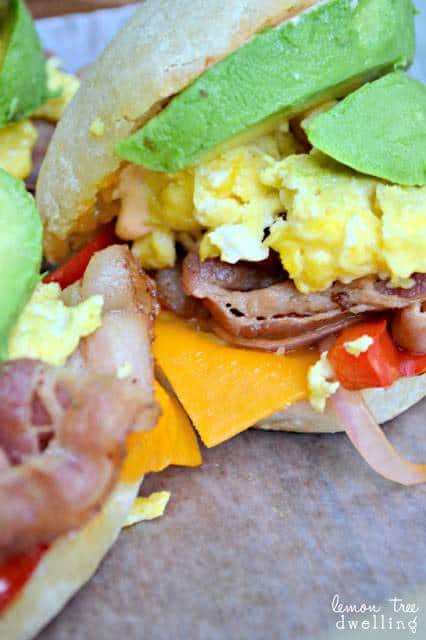 Good food that he didn't have to make? Check. We will start the day off right with these loaded egg & cheese sandwiches – stuffed to perfection with all the good stuff. Like bacon and avocado and sriracha mayo! As for the rest of the day?? That's where the high energy output comes in. Pretty sure I will be spending a lot of time with the kiddos that day….just the way it should be on Father's Day….er….right!?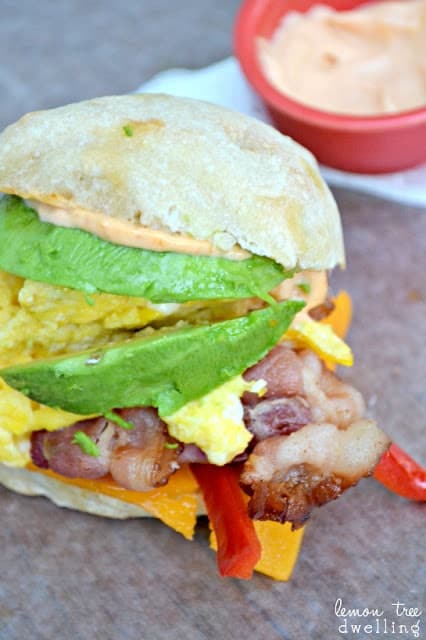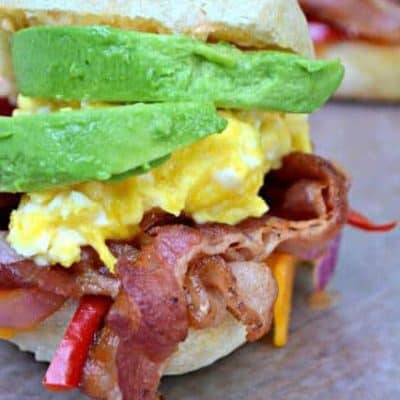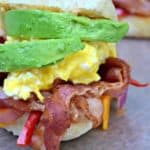 Loaded Egg & Cheese Sandwich
Ingredients
6

small ciabatta rolls

6-8

eggs

12

slices

bacon

cooked

6

slices

cheddar cheese

1

small red pepper

sliced

1/2

red onion

sliced

1

avocado

cut into 12 wedges

3/4

c.

sriracha mayo

3/4 c. mayo + 1-2 Tbsp. sriracha hot sauce, to taste
Instructions
Toast ciabatta rolls lightly in oven (350degrees).

While rolls are toasting, scramble eggs and cook red pepper & onion until tender-crisp.

Prepare sriracha mayo.

Remove rolls from oven. Fill each roll with 1 slice cheddar cheese, 2 pieces bacon, 2 avocado wedges, scrambled eggs, pepper & onion mixture, and 2 Tbsp. sriracha mayo.

*Note: sandwiches are very full,very messy, and very delicious!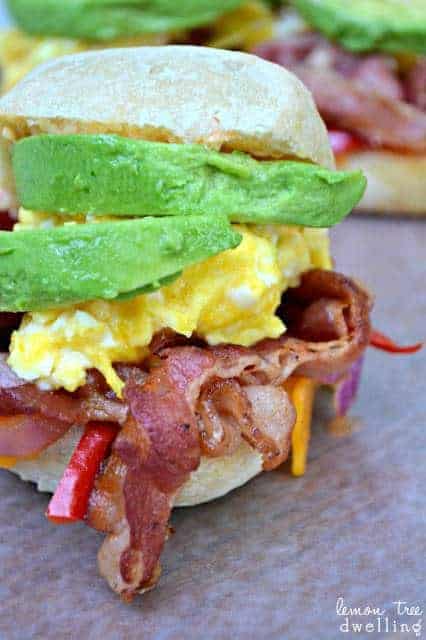 Looking or other ways to use sriracha? Check out my Sriracha Tuna Pretzel Bowls!