Lemon Raspberry Sangria is the perfect way to welcome in spring! This fruity sangria starts with rose wine and raspberry lemonade and is packed full of fresh raspberries and lemon slices. Ideal for Mother's Day, ladies' nights, or sunny days by the pool. If you love sangria, you'll love this refreshing twist!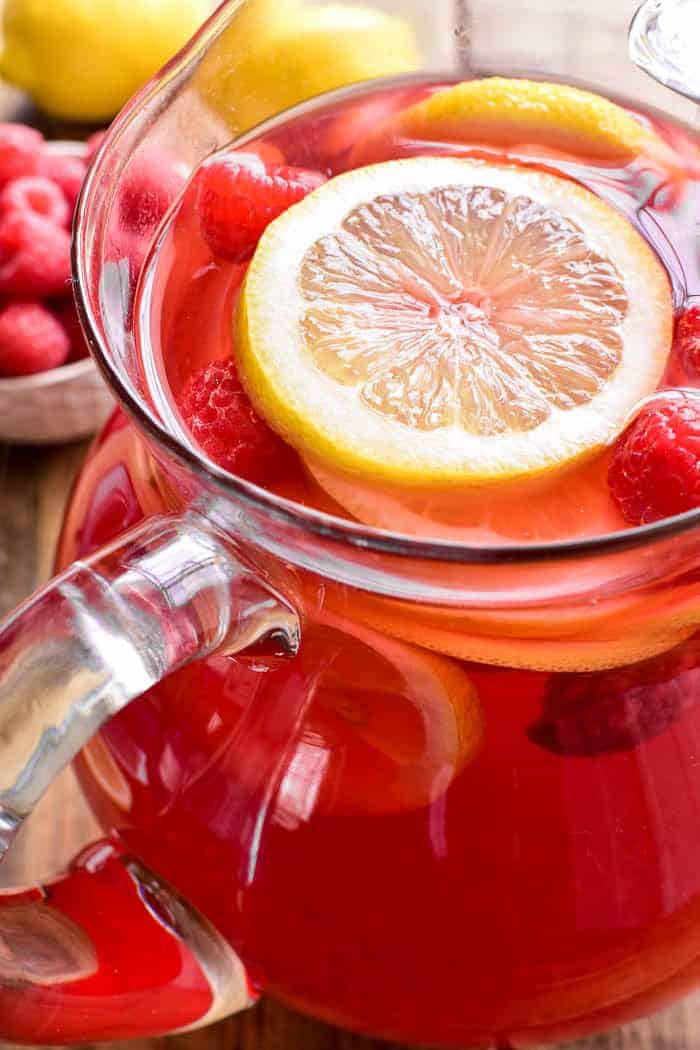 So. We officially survived spring break. Woo hoo! Not that I was really worried. But. 11 days IS a long time. Especially when the weather is actually nothing like spring, and the friends are all in Florida, and the kids are finally old enough to make the comparison.
To be honest, we've never actually gone on a spring break trip. But the kids have also never been old enough to really care about what their friends are doing. And now that Ellia's in middle school, and going somewhere is more of a thing, well….let's just say we felt more pressure this year to at least do something.
So we decided on a staycation. Which we've also never really done before. We let each of our kids choose one fun activity and one place to eat, and we spent four days having ALL the fun and eating ALL the food. And by the end of it? You better believe I was ready for a glass…or a pitcher…of this Lemon Raspberry Sangria.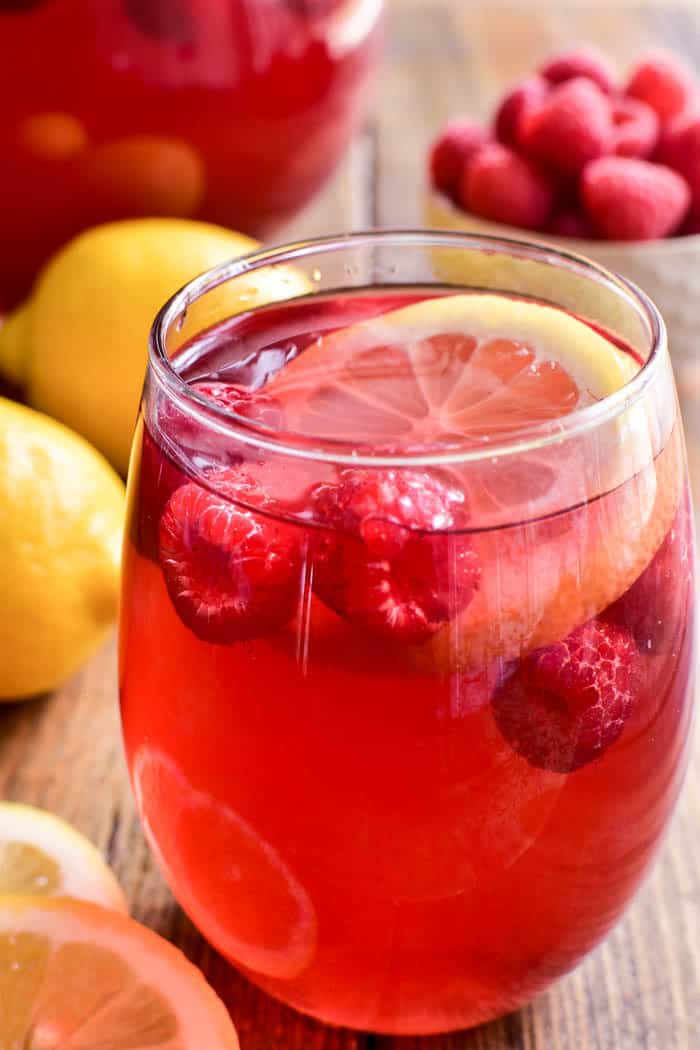 Seriously. What is it about kids' activities that makes me SO ready for a drink? And what is it about sangria that leaves me always wanting more!? Because no matter how many sangria recipes I come up with, there's always one more (like this Lemon Raspberry Sangria) in store!
Of course, I have my "go-to" recipes like Tropical White Wine Sangria and Classic Red Sangria, and I have my seasonal favorites like Apple Pie Sangria and Strawberry Shortcake Sangria, but I'm literally always thinking in sangria. And since spring is all about lemon and raspberry, I couldn't let spring pass me by without making a Lemon Raspberry Sangria.
This yummy sangria starts with rose wine, which, if you ask me, already spells YUMMY. And when you add in some vodka, limoncello, raspberry lemonade, and raspberry simple syrup…well…it only gets better!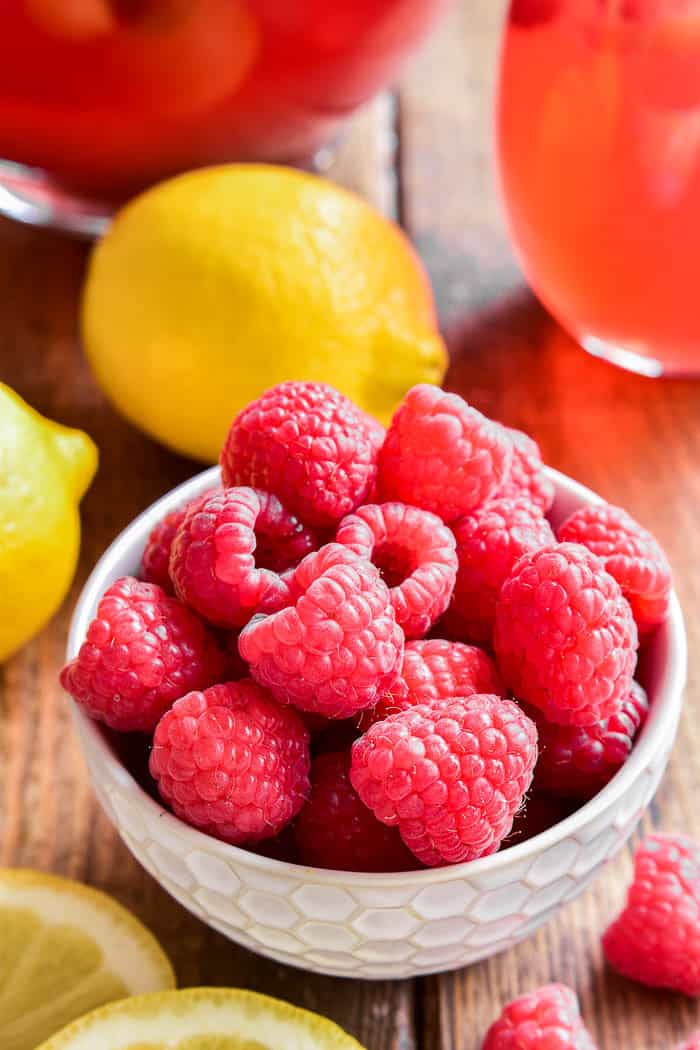 HOW DO YOU MAKE SANGRIA?
Start with a bottle of wine. Although traditional sangria recipes use red wine, you can use red, white, or any kind in between. And since you'll be mixing it with juice and/or other alcohol, a lower quality wine will work just fine.
Add some booze. Traditional sangria calls for brandy, but I often use rum or vodka instead.
Stir in some sugar or simple syrup. I find that making my own flavored simple syrups can really enhance the flavor of the sangria.
Add some more booze. This is where the liqueurs come in. Triple sec, limoncello, and chambord are a few of my favorites, but the possibilities are endless.
Add fruit. Oranges, lemons, limes, apples, grapes, strawberries….or whatever else you have on hand. The more fruit, the better!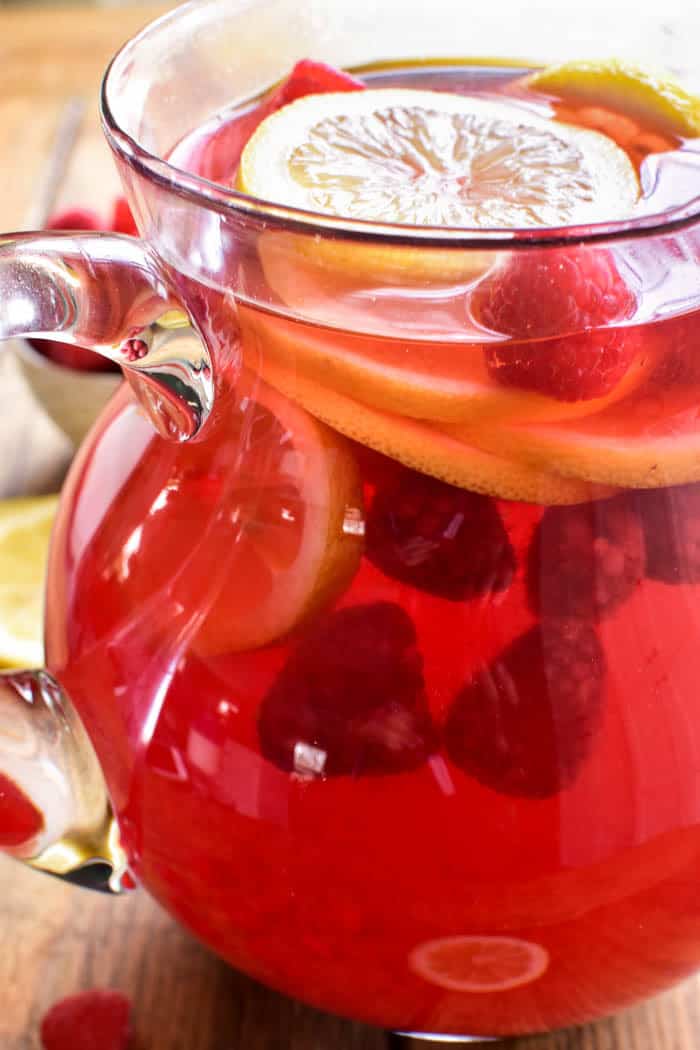 HOW LONG DOES SANGRIA LAST?
You can keep sangria refrigerated for up to a week, but the flavors will change over time. I prefer to finish mine within 3-4 days.
WHAT GOES WELL WITH SANGRIA?
Sangria is an ideal party drink and can pair well with a wide variety of foods. I love serving it at ladies' nights with cheese and crackers or at summer parties with chips and guacamole. It would also pair well with a dinner like fish tacos or even these frosted brownies for dessert!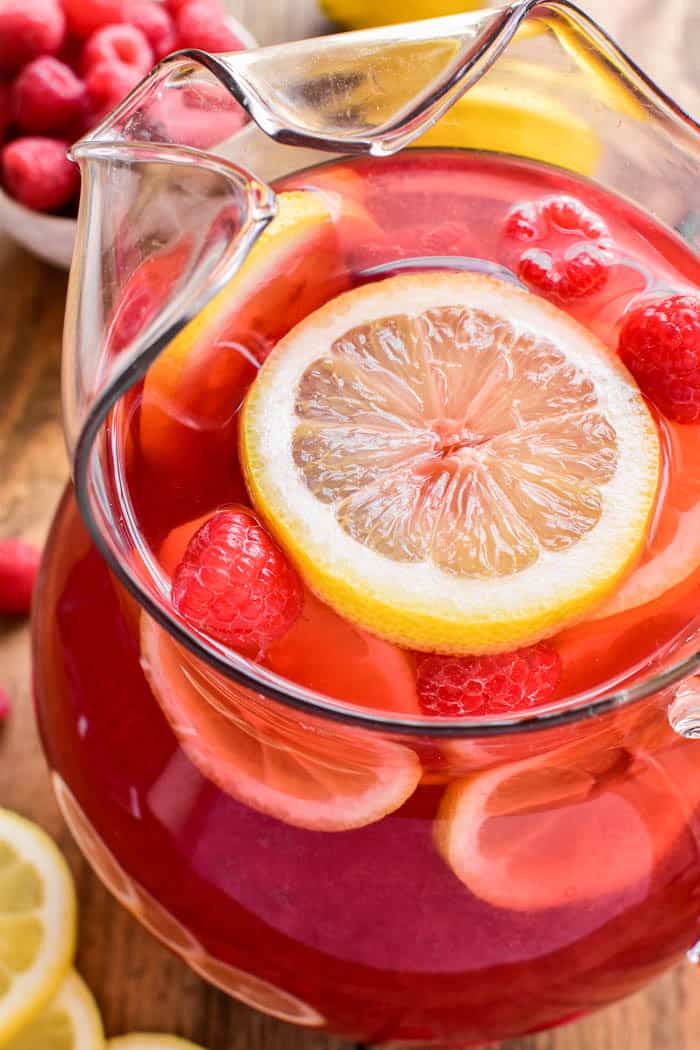 So tell me….what's in YOUR favorite sangria? As you can see, I'm all about variety. And even though this Lemon Raspberry Sangria is my current favorite, I can guarantee I'll have a new favorite for summer. Because that's the deal with sangria. Once you fall in love, you fall hard!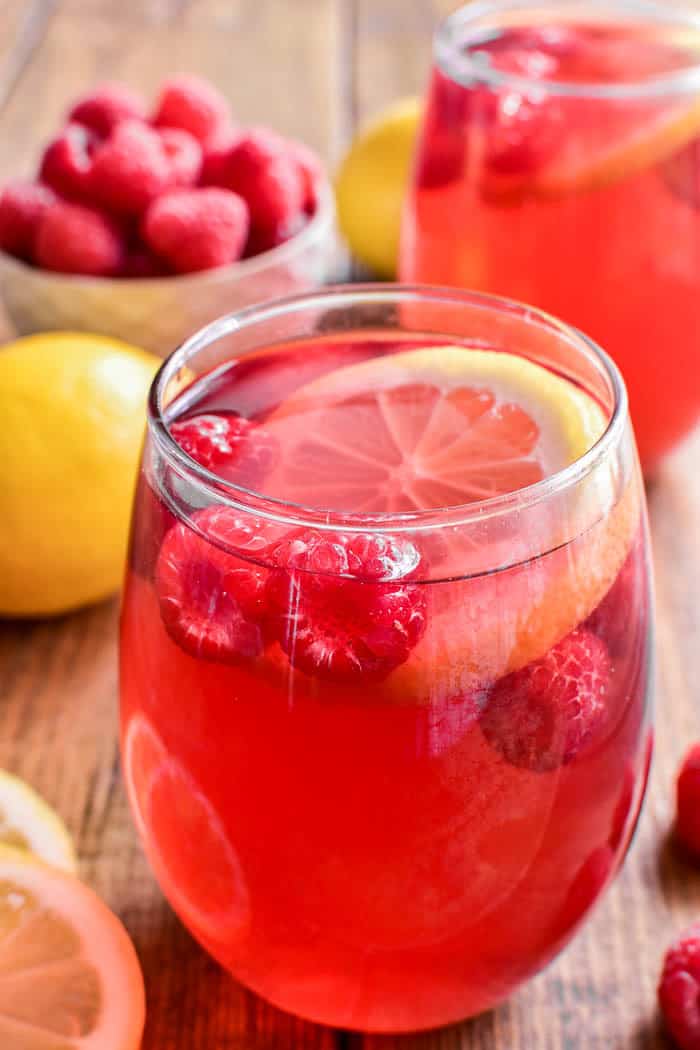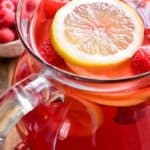 Lemon Raspberry Sangria
Ingredients
1

750 ml. bottle

rose wine

1

cup

raspberry lemonade

1/2

cup

vodka

1/4

cup

limoncello

1/2

cup

water

1/2

cup

sugar

1 1/2

cups

raspberries

2

lemons

*sliced
Instructions
Prepare raspberry simple syrup by combining water and sugar in a small saucepan. Bring to a boil, stirring occasionally until sugar is dissolved. Remove from heat, add 1/2 cup raspberries, and cover. Set aside to cool. (*optional: you may want to muddle the raspberries to release additional flavor and color. If you do so, simply strain using a fine mesh strainer before adding to the sangria.)

In a small pitcher, combine wine, raspberry lemonade, vodka, and limoncello.

Stir in cooled simple syrup to taste.

Add remaining raspberries and lemon slices; refrigerate until ready to serve.
Nutrition Facts
Lemon Raspberry Sangria
Amount Per Serving
Calories 192
% Daily Value*
Sodium 4mg 0%
Potassium 94mg 3%
Total Carbohydrates 32g 11%
* Percent Daily Values are based on a 2000 calorie diet.