Hands down the BEST frosted brownies! Made with delicious, real ingredients and packed with rich, chocolatey flavor, once you try these brownies they'll become your favorite, too!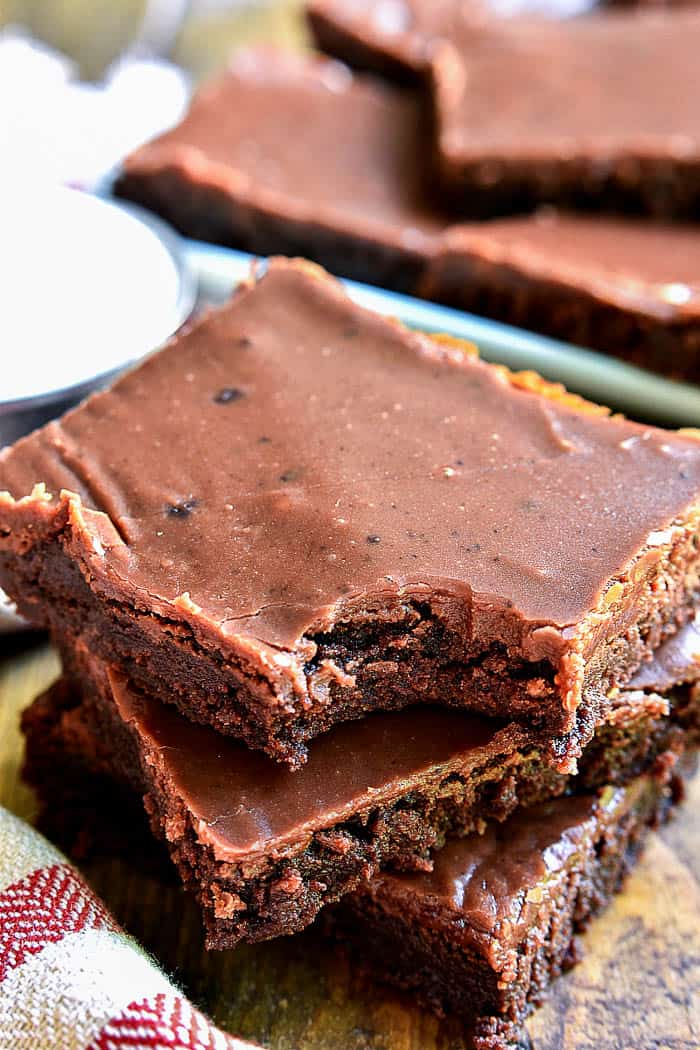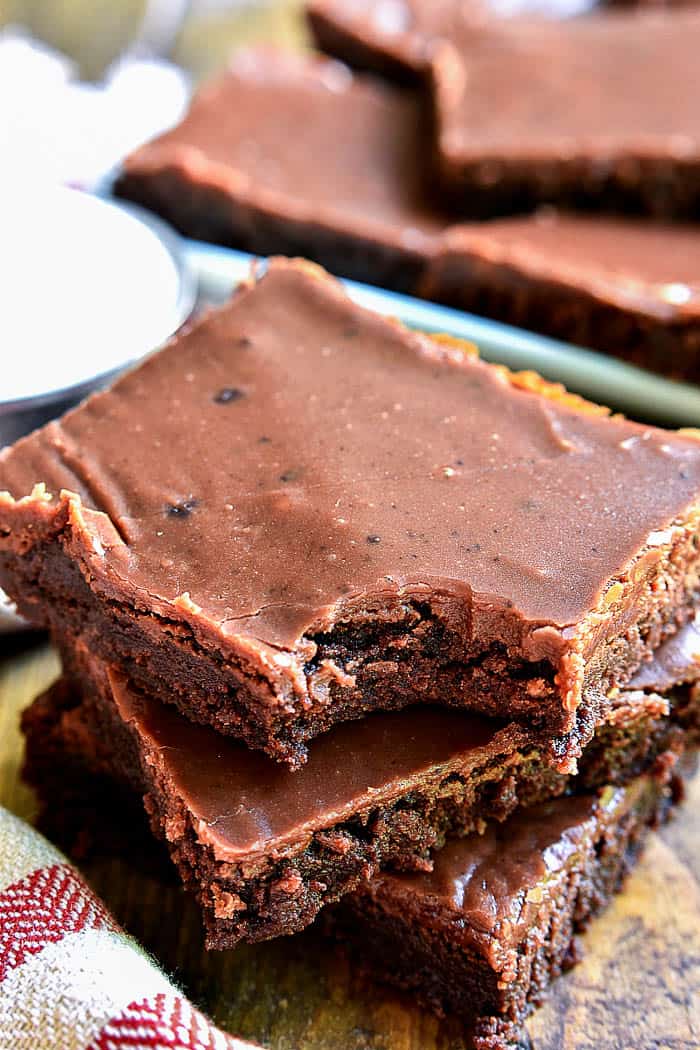 So. The countdown is on. In just two short days we'll be departing for our annual family vacation….with my entire family. Which means 4 days in one house with 21 people. And for the first time in all the years we've been doing this, the weather forecast is NOT looking good.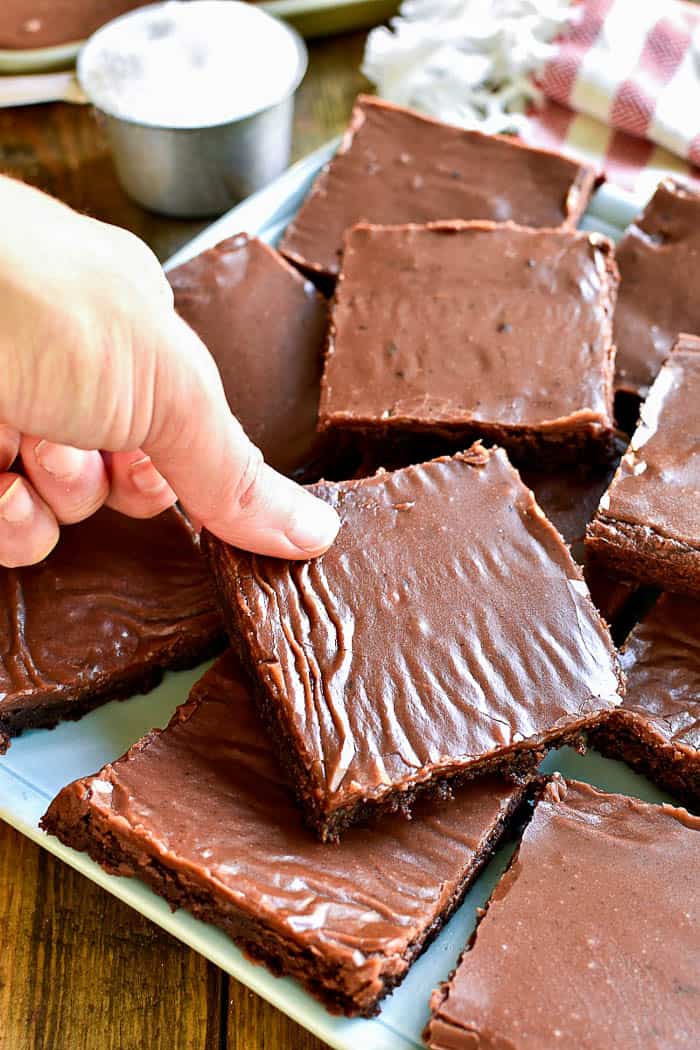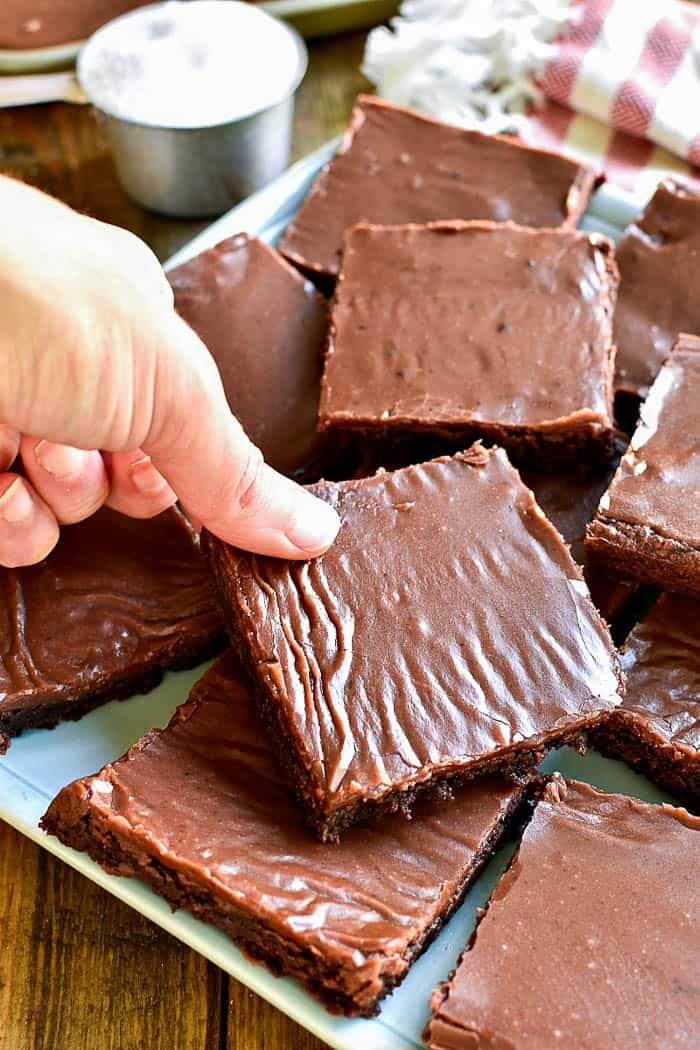 I have to admit…I'm a little nervous. Because our family vacation usually consists of a LOT of swimming, and playing outside, and general relaxation. OUTSIDE. And….because there are 21 of us! And 11 of those 21 are kids. So no matter how you slice it….4 days inside together will be chaos. Hopefully in a fun kind of way.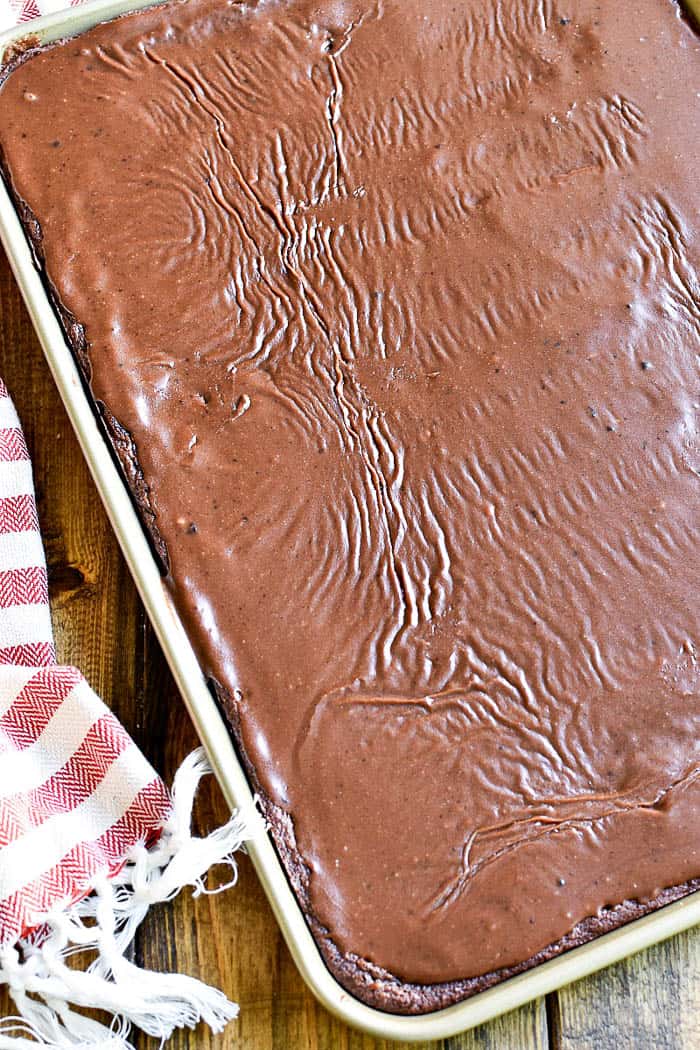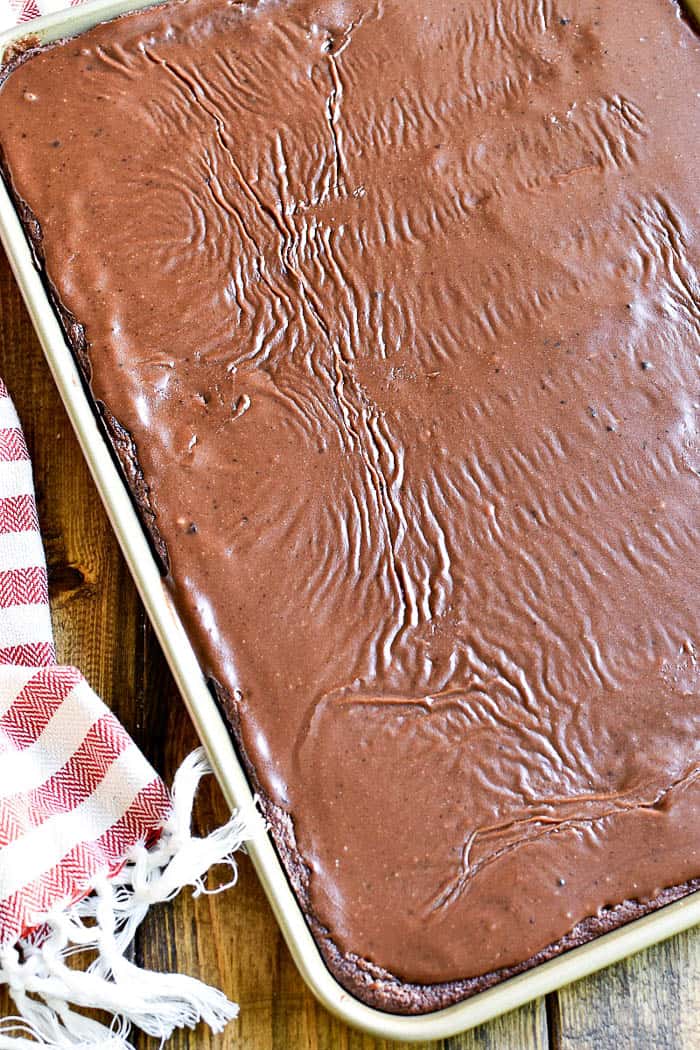 Needless to say, we're packing a little differently this year. Instead of ALL the swimsuits, we're bringing ALL the activities. Like play doh and coloring books and board games and movies and anything else we can think of that might possibly occupy kids for a while. But the one thing that hasn't changed? We're still bringing enough food to feed a small army. Which we do every year. Because it's vacation! And what do you do on vacation? You eat ALL THE FOOD.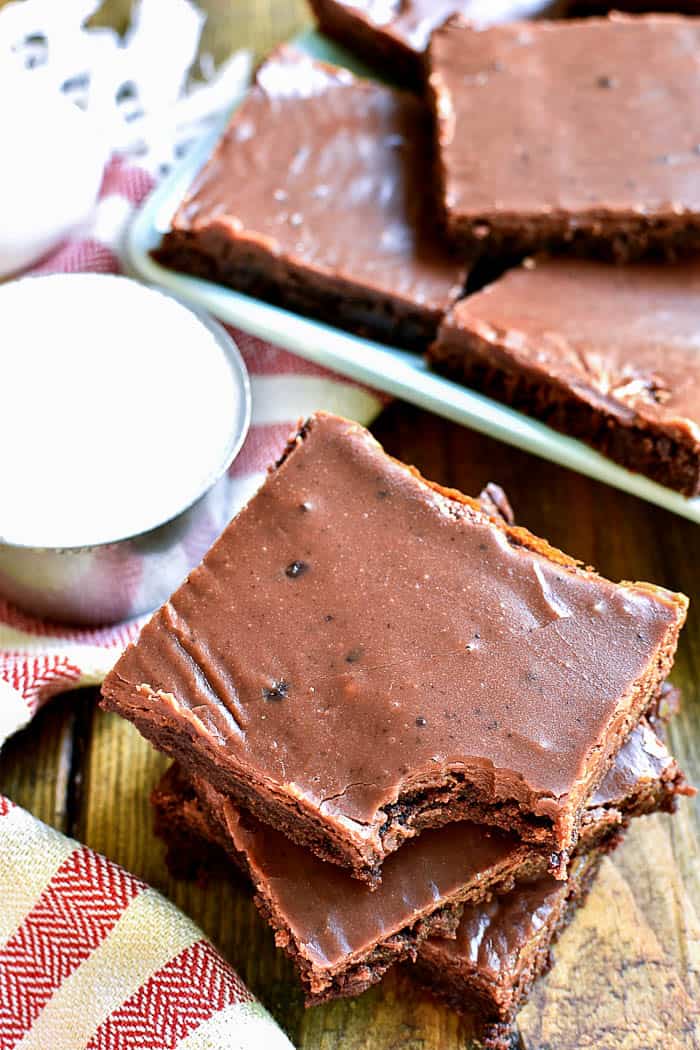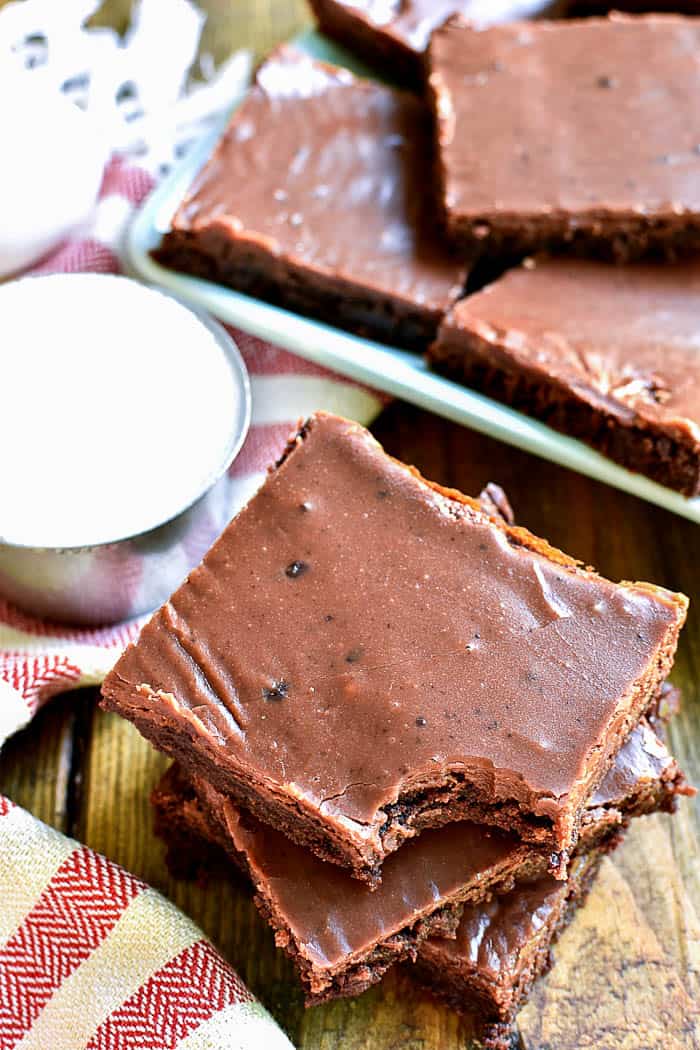 Seriously….you should see how the kitchen looks once we all get there. I'm pretty sure we could live on the snacks and treats alone! Because it's vacation. And everyone pulls out all the stops. So this year…as an extra special treat…since we're stuck inside all weekend….I'm thinking of surprising everyone with a big pan of these frosted brownies.
They're our absolute FAVORITE – a recipe that was passed down from Jorden's grandma. And everyone who has ever tried them, EVER, agrees that they're the best frosted brownies on the face of the planet.
Of course, that's because they're loaded with butter and sugar and cocoa powder and all kinds of yummy not-so-good for you things. And you know what? I'm totally ok with that. Because delicious frosted brownies are worth it. Every. Single. Time.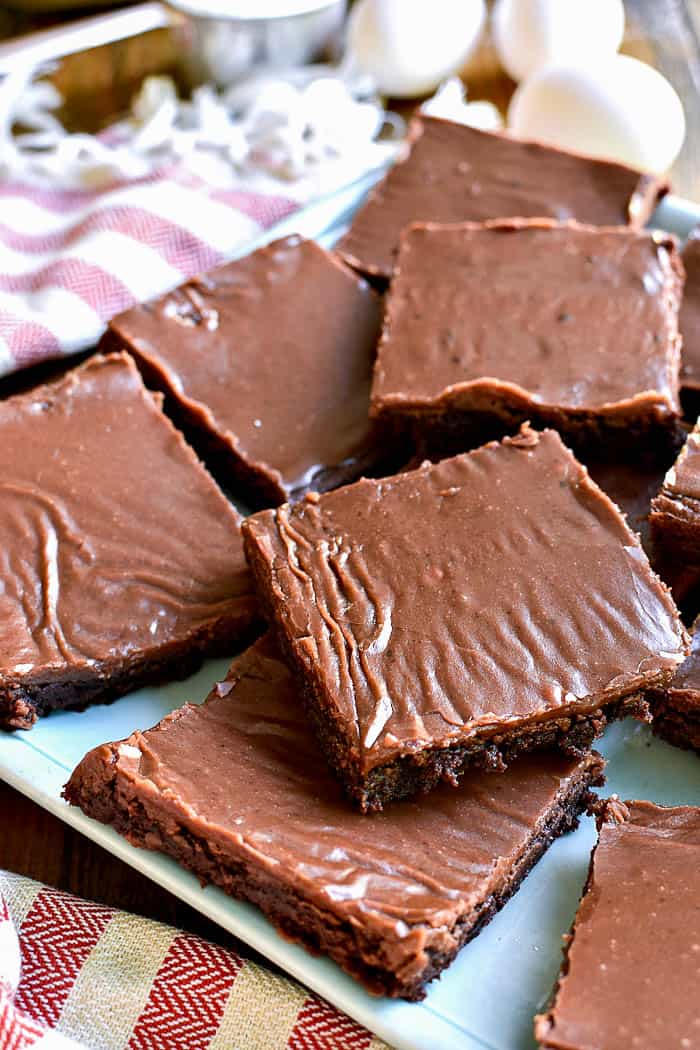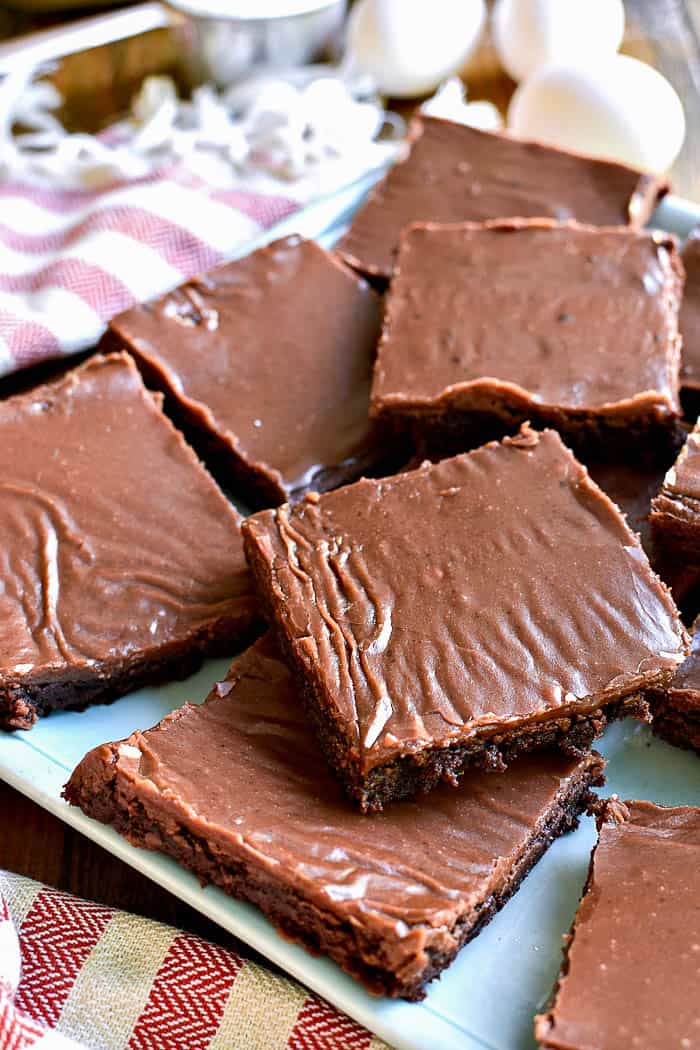 LOVE BROWNIES? HERE ARE SOME MORE BROWNIE RECIPES TO TRY:
BE SURE TO CHECK OUT SOME OF OUR OTHER FAVORITE DESSERTS TOO!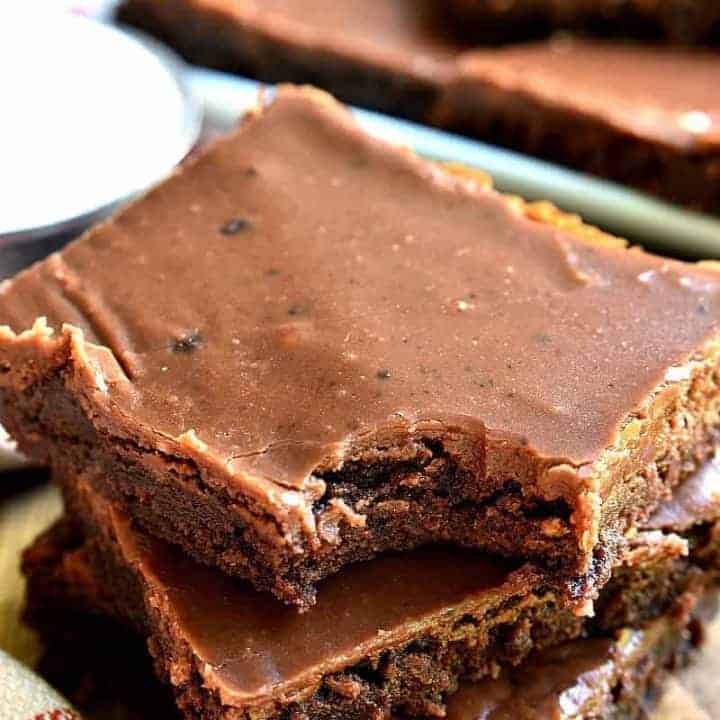 Favorite Frosted Brownies
Yield: 24

Prep Time: 15 minutes

Cook Time: 25 minutes

Total Time: 40 minutes

Favorite Frosted Brownies Author: Cathy Trochelman
Ingredients
1 1/2 c. salted butter
3 c. sugar
1 Tbsp. vanilla
5 eggs
1 1/2 c. flour
1 c. cocoa powder
For the frosting:
1/2 c. salted butter
3 Tbsp. cocoa powder
1/3 c. milk
3 1/2 c. powdered sugar
1 tsp. vanilla
Instructions
Preheat oven to 350 degrees.
In a large mixing bowl, cream butter thoroughly.
Add sugar and mix completely.
Add vanilla and blend in beaten eggs.
Set aside.
In a separate mixing bowl, combine flour and cocoa powder.
Sift dry ingredients into creamed mixture and mix well.
Pour into large sheet pan (11x17 inch).
Bake at 350 degrees for 25 minutes.
For the frosting:
Mix butter, cocoa powder, and milk together in a saucepan; bring to a boil.
Add powdered sugar and vanilla and stir until smooth.
Pour over hot brownies.
Cool until frosting is completely set.
Nutrition Information:
Yield: 24 Serving Size: 1
Amount Per Serving: Calories: 363Total Fat: 17gSaturated Fat: 10gTrans Fat: 1gUnsaturated Fat: 5gCholesterol: 80mgSodium: 139mgCarbohydrates: 51gFiber: 1gSugar: 42gProtein: 3g