This Baileys Chocolate Sheet Cake is a deliciously decadent chocolate cake. It's moist, rich cake is packed with delicious Baileys flavor. Perfect for St. Patrick's Day or summer picnics! This cake feeds a crowd!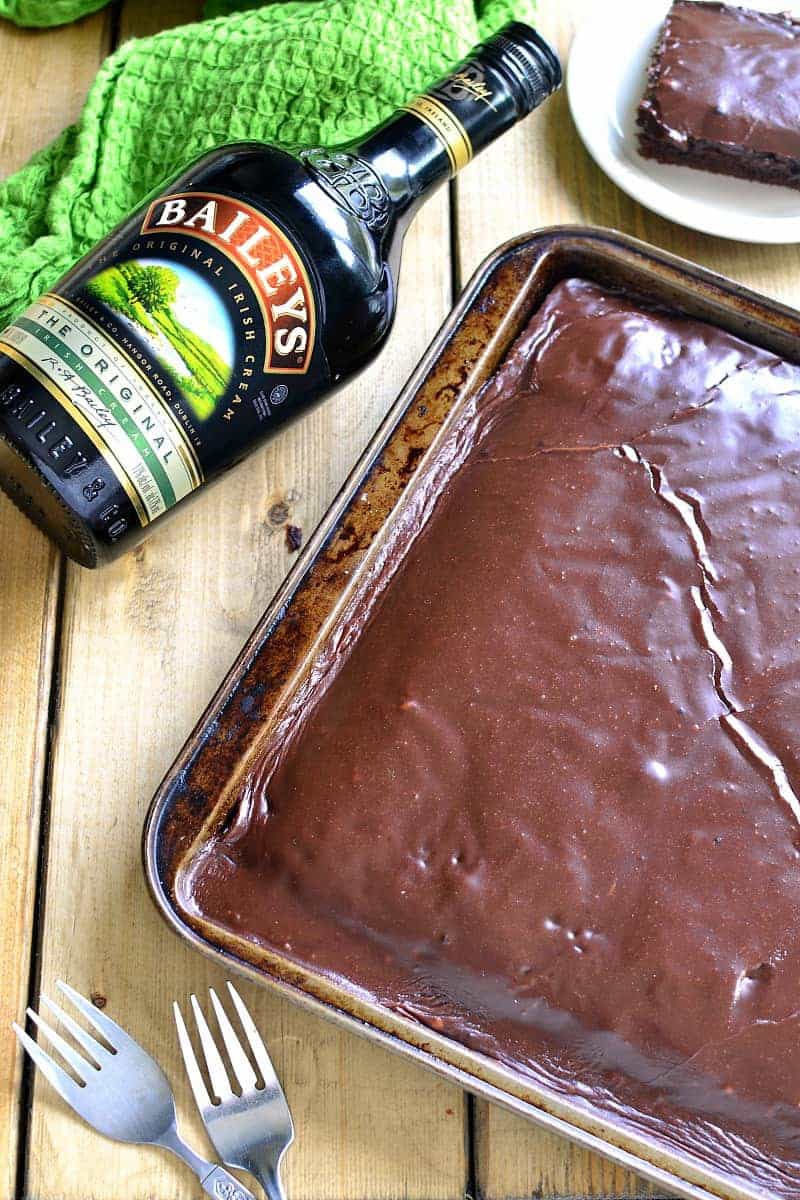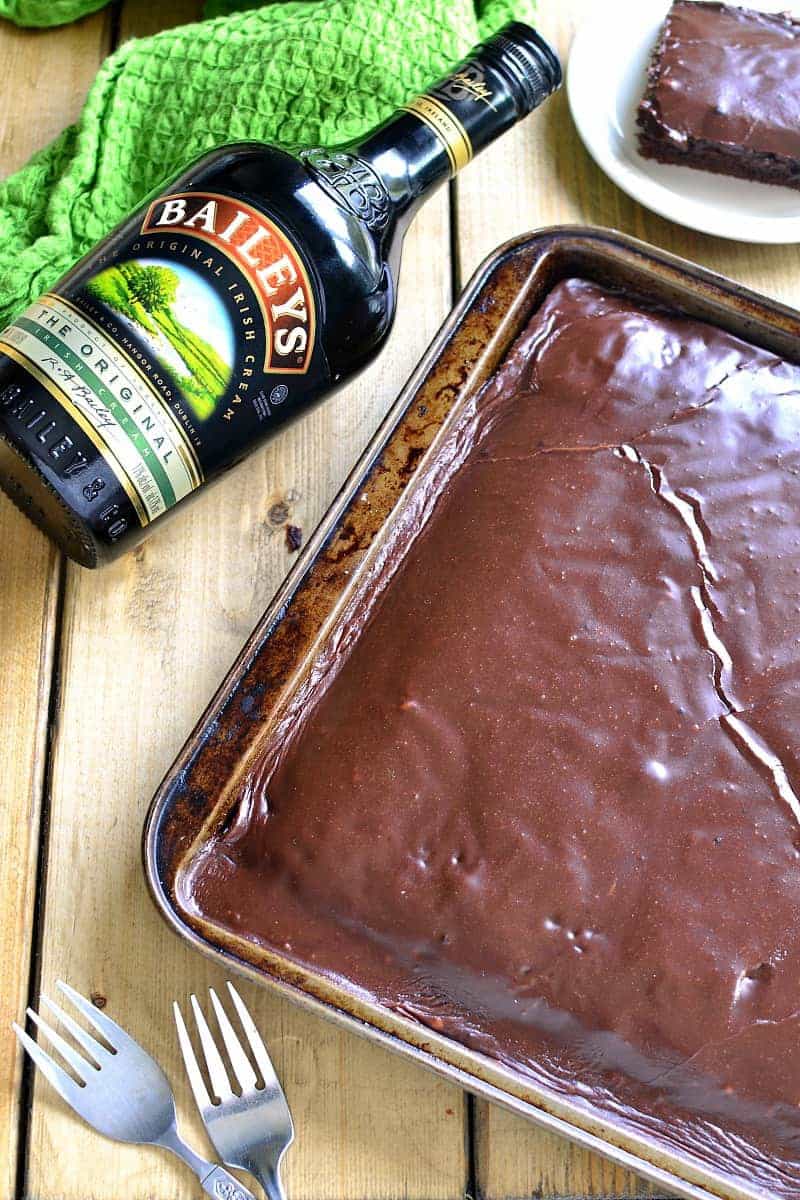 Happy St. Patrick's Day! I know, I know…..I'm a little late sharing this cake. After all, St. Patrick's Day is TODAY and I'm not leaving you with much time to make it. But. The good news is it's super easy to whip up, it bakes quickly, and if you don't get to it today…..it would be equally amazing anytime!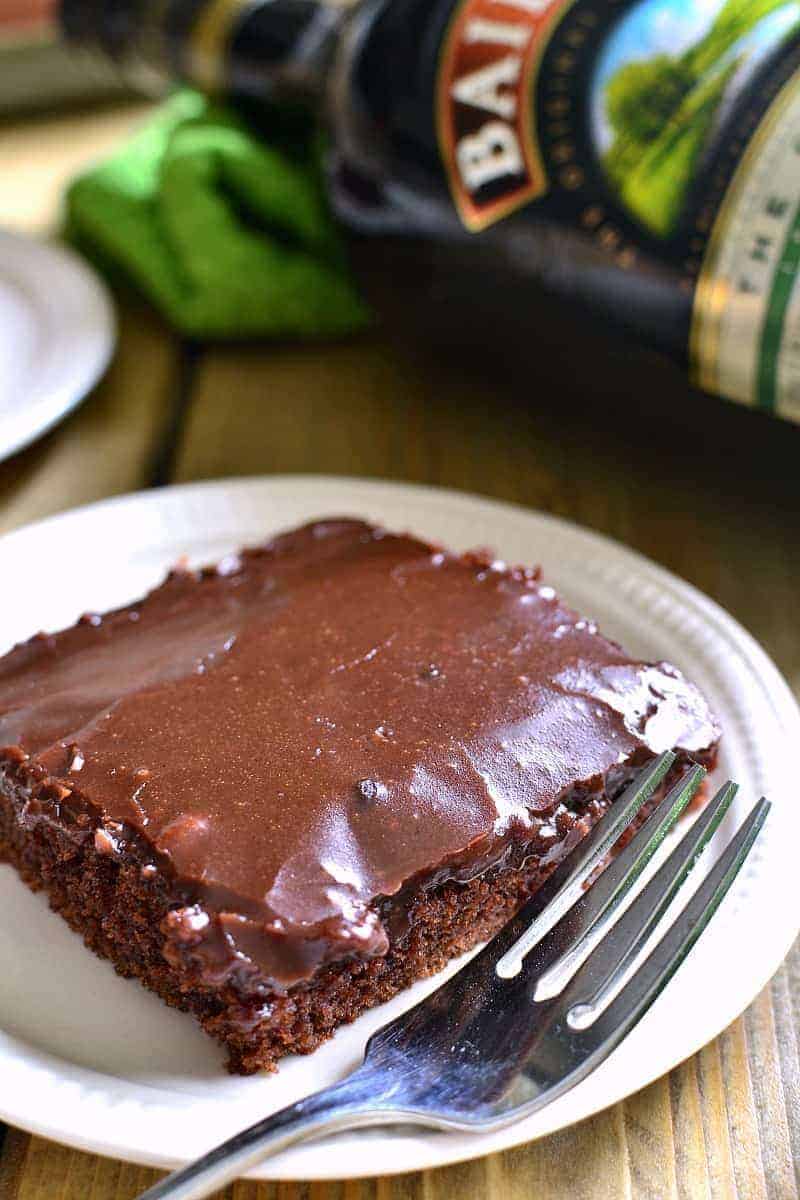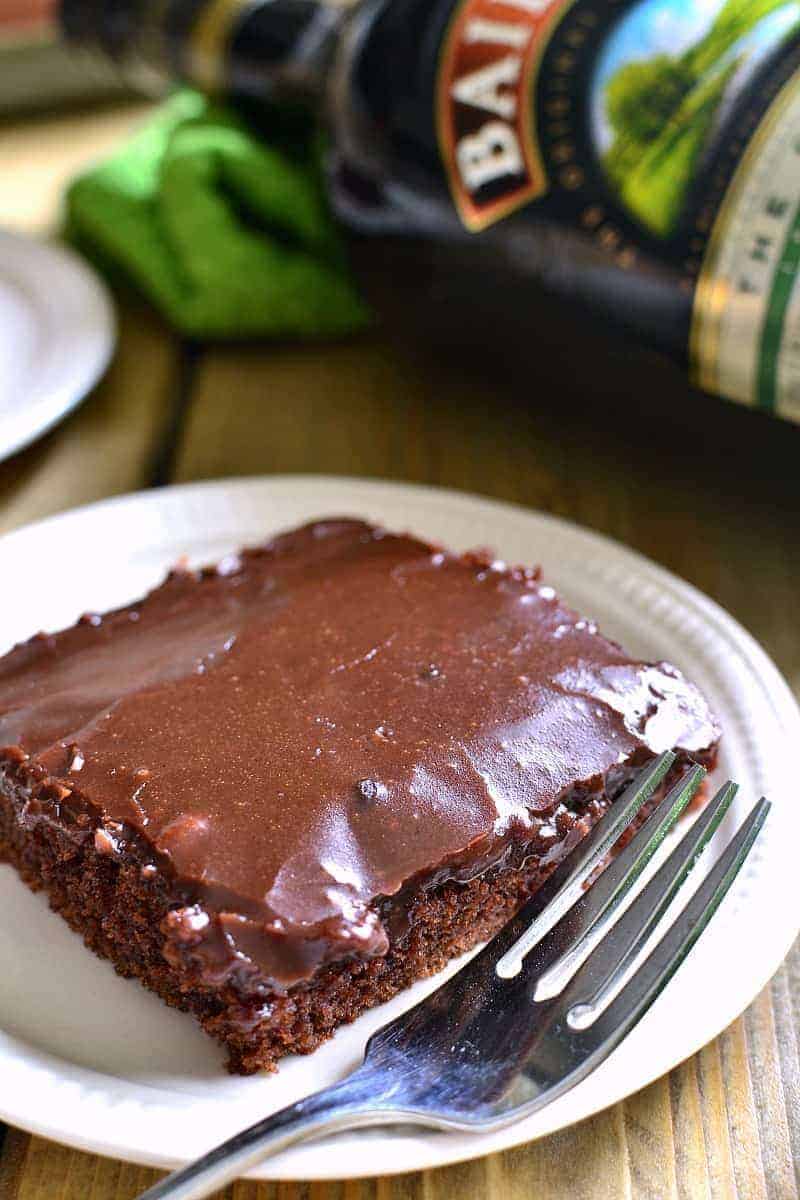 But before we get to the specifics of this cake, I can't help but reminisce a little about that time we had two pugs. In a different life. Before kids. Jorden had fallen in love with pugs somewhere along the line and somehow convinced me to drive to a breeder about an hour away to look at some pug puppies. Now. I've never been much of a dog person (I was deathly afraid of them as a child) so I was not *quite* as excited about this idea as he was.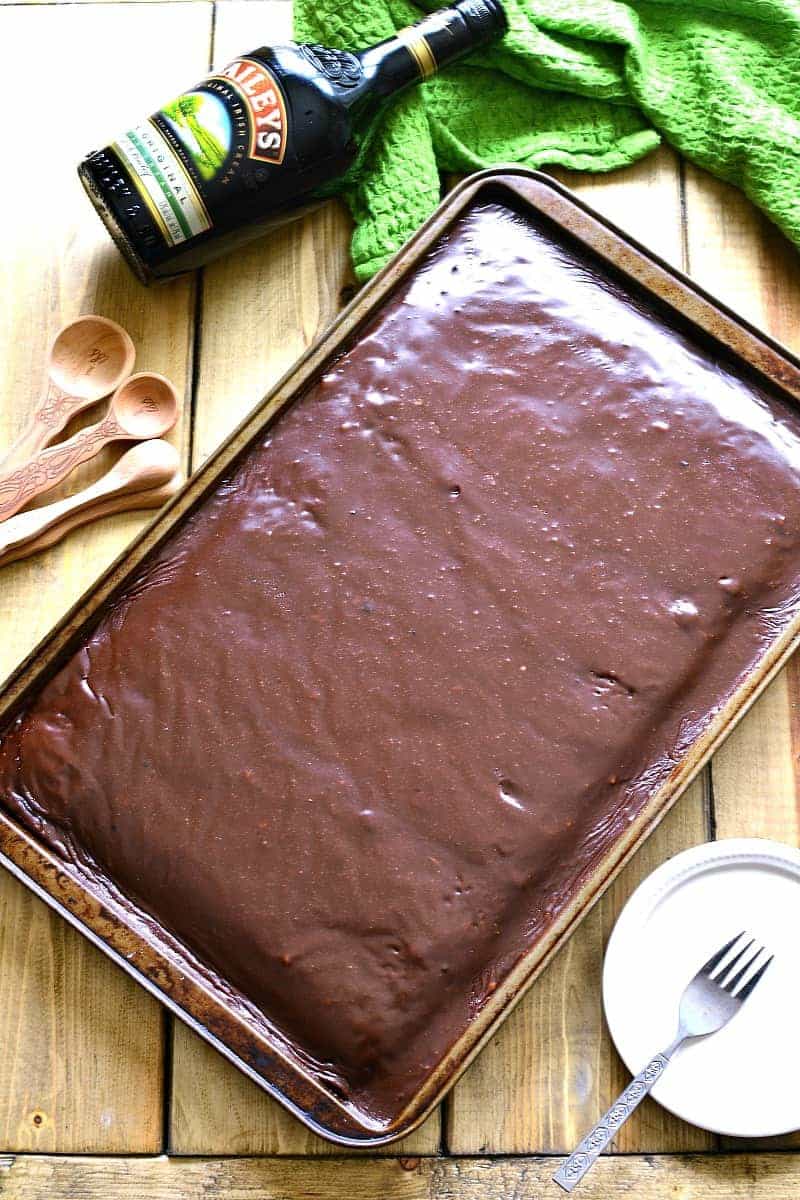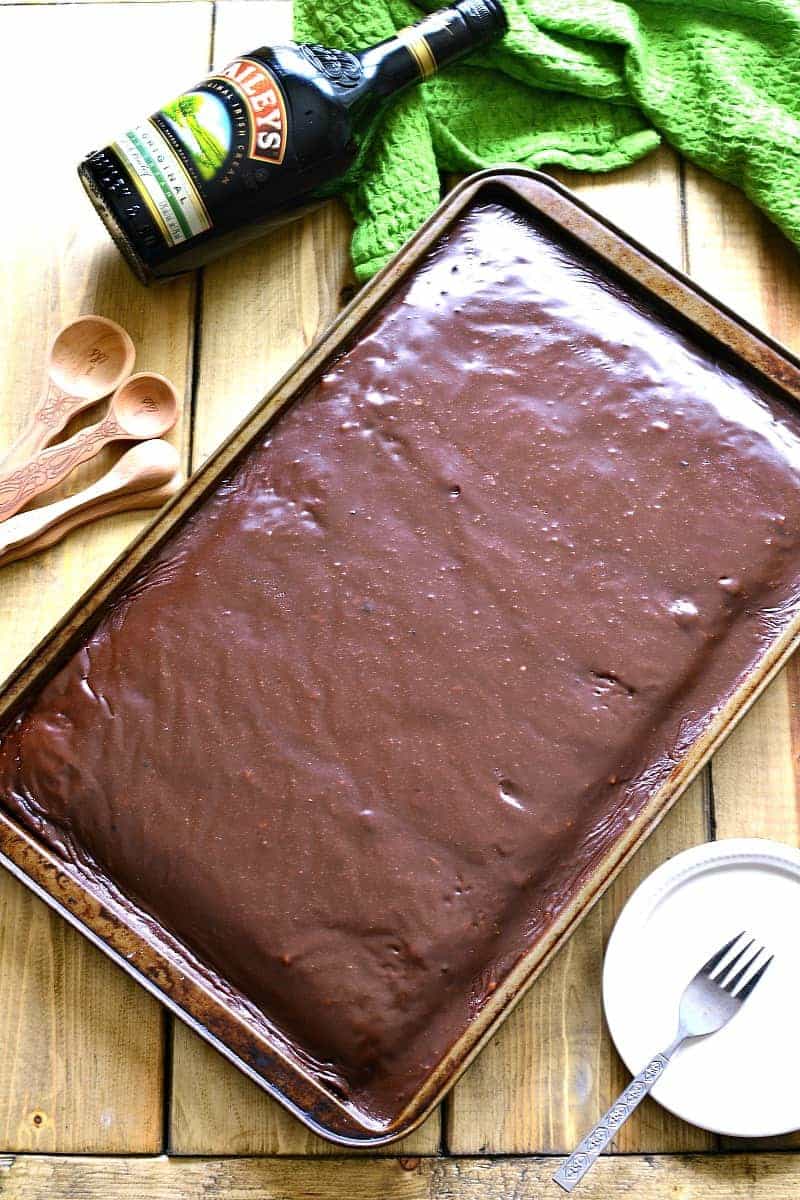 But. Have you ever seen pug puppies? They're seriously CUTE. And, as you might guess, we (or should I say I) fell in love and we went home with one that night. End of story! I instantly went from a non-dog person to a puppy mom. And I loved Oscar. A lot.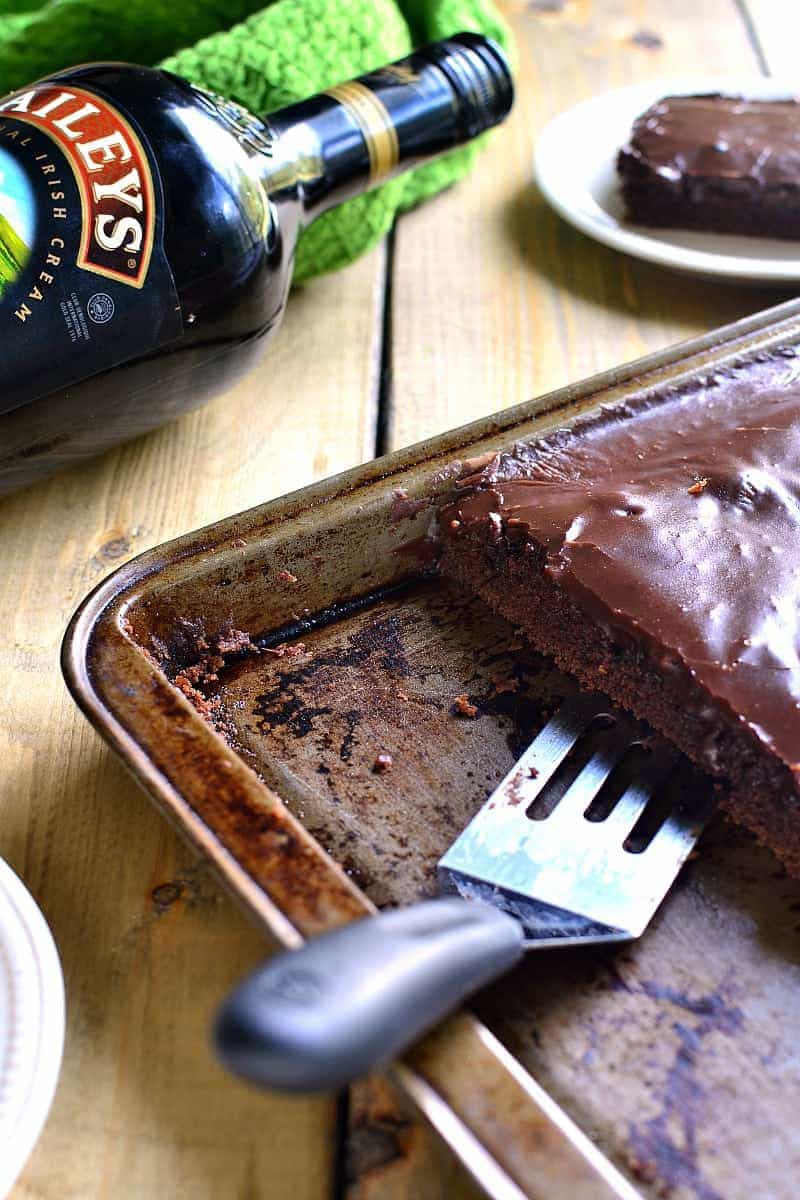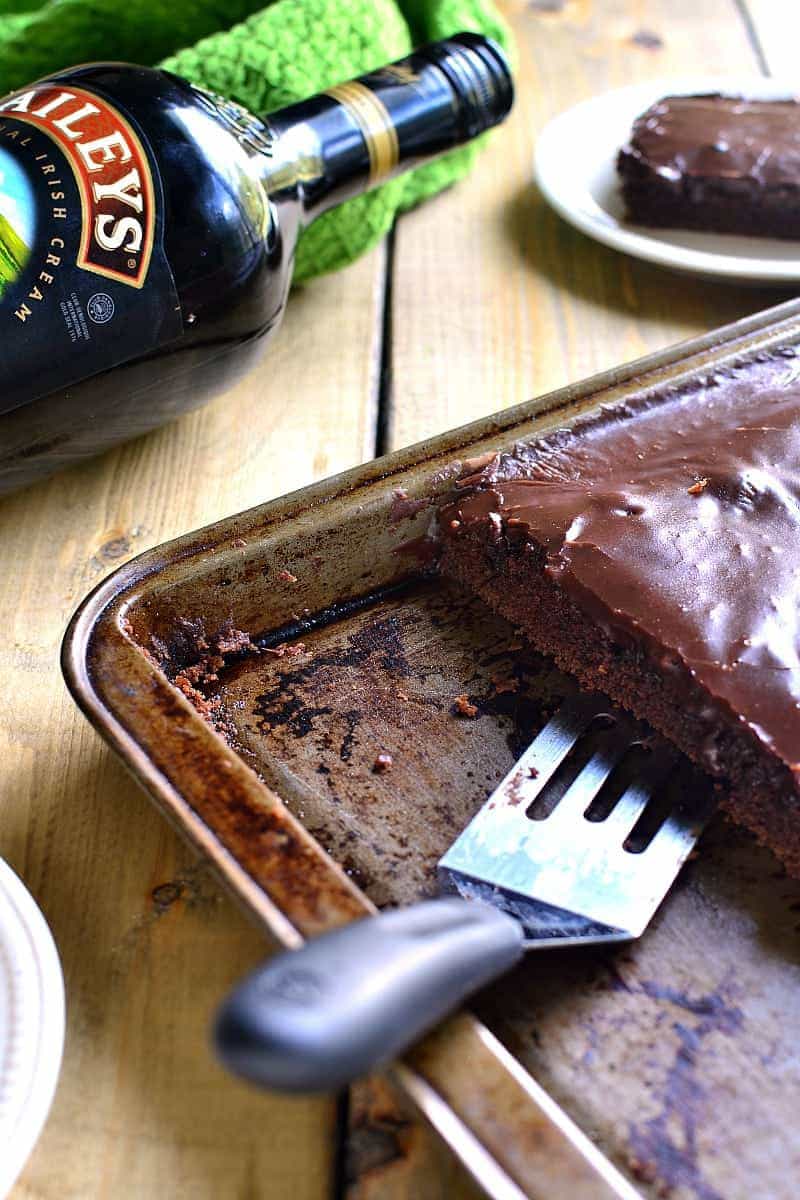 There were sometimes, though, that I loved him a little less. And one of those times is forever burned in my brain. I had just made the most amazing homemade brownies…..and he somehow got ahold of a ziploc bag of them and ate. them. ALL! The telltale sign? The chewed-up bag with approximately 2.2 chocolate crumbs left in it. Which, of course, meant a trip to the emergency vet clinic, a couple runs around the block at a ridiculous hour, and all the worry that goes along with your dog devouring chocolate!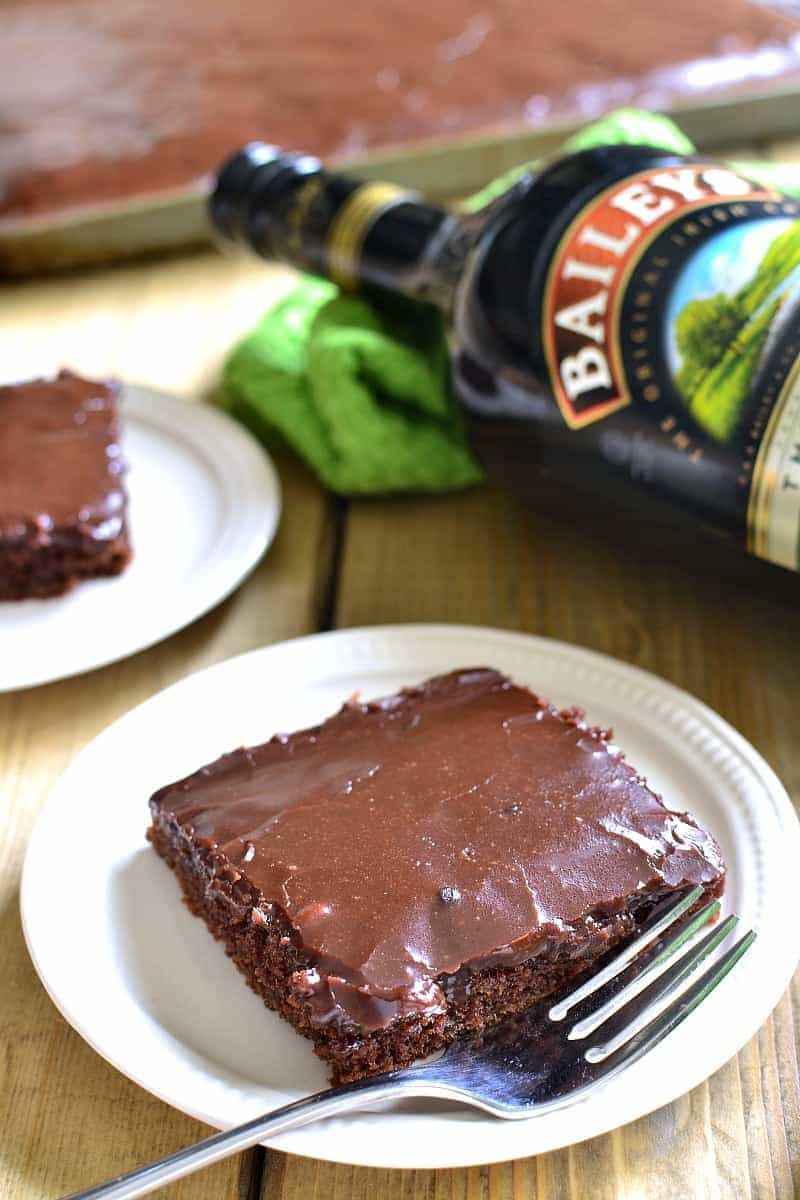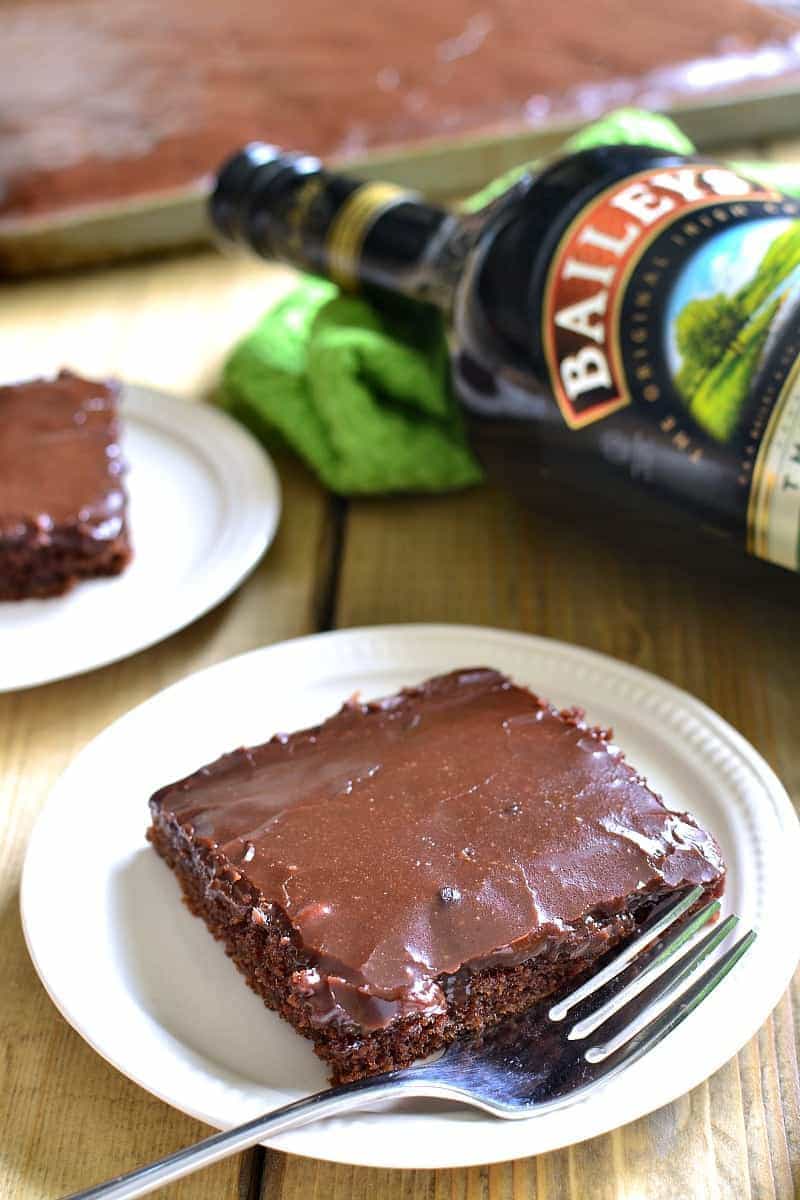 Well, the good news is that Oscar was totally fine. And so was I…..once I let go of the brownies. But to this day, anytime I'm baking with cocoa powder, I'm reminded of that crazy day (and that crazy time in our lives!) No more pugs for us….which means we can make all there chocolatey treats we want!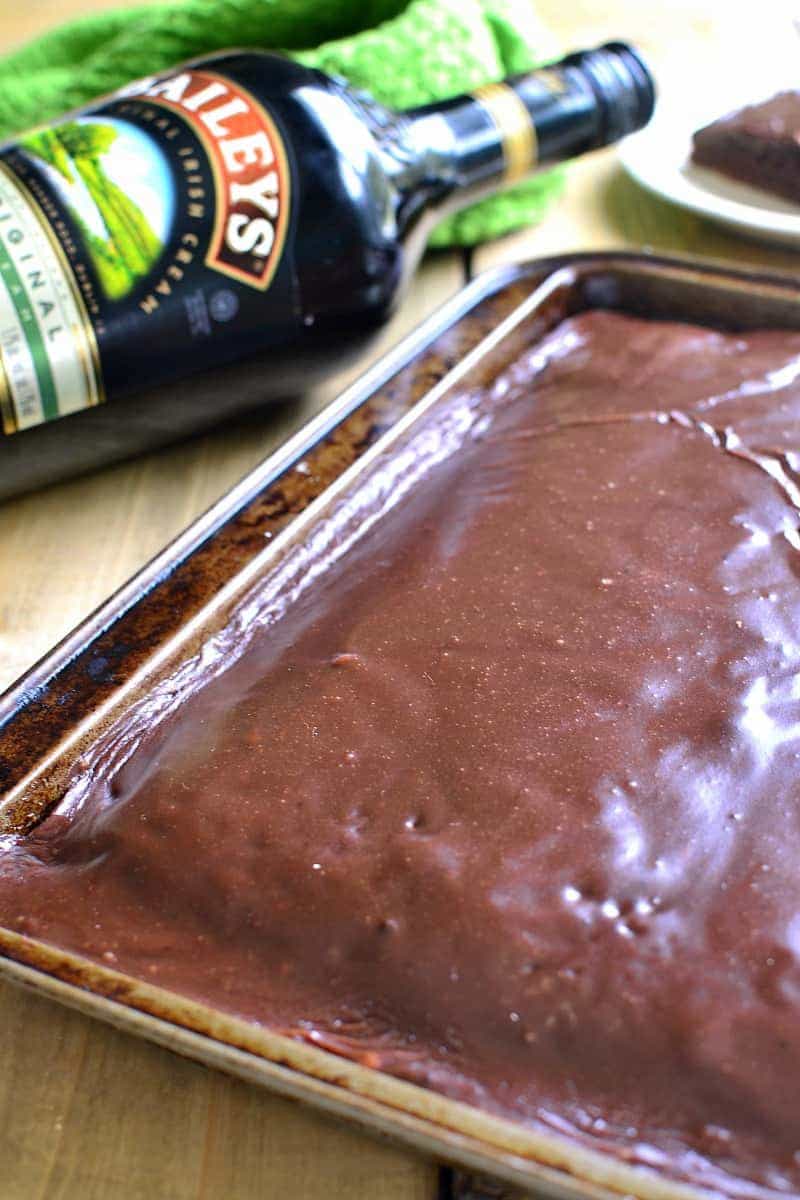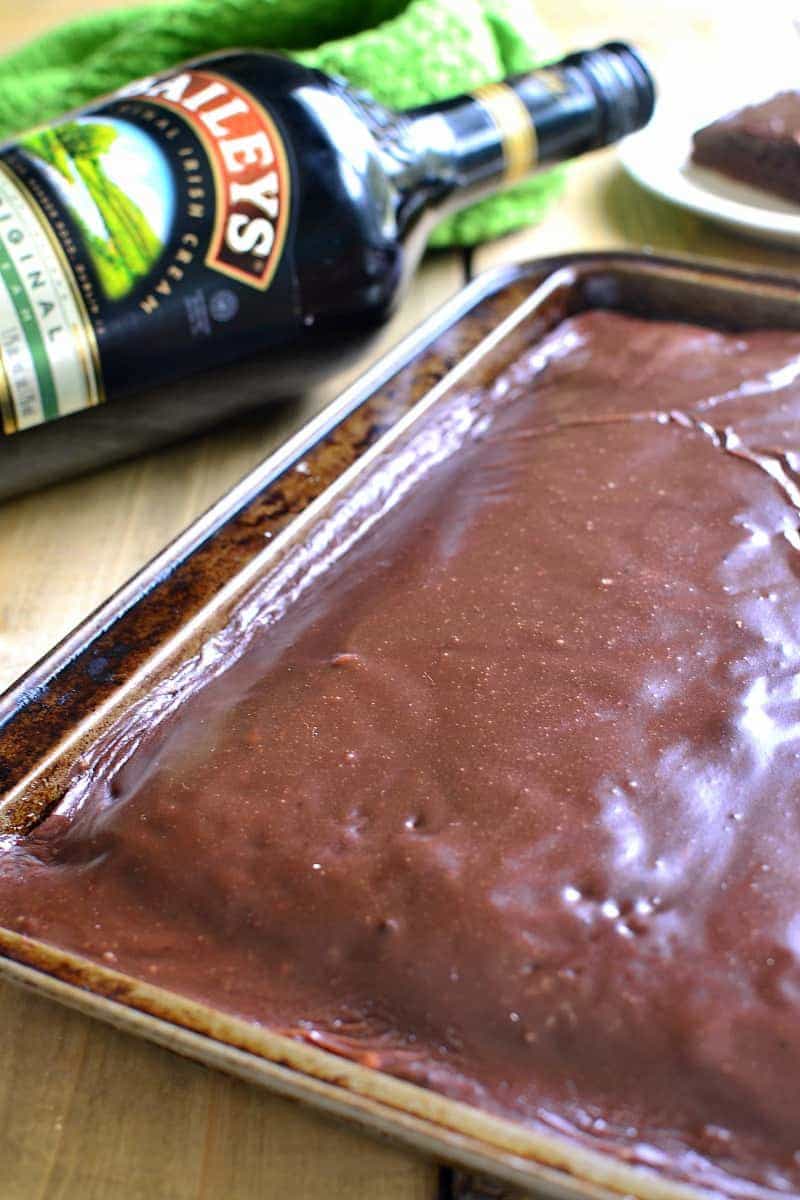 As of right now, the ONLY chocolatey treat I want is this Baileys Chocolate Sheet Cake. It's clearly packed with chocolatey goodness, but what you can't see is the Baileys that infuses the cake batter AND the icing. The end result is rich, chocolatey, and deliciously BOOZY. Perfect for St. Patrick's Day or any time you need something AMAZING! Happy St. Paddy's Day, my friends!
You might also enjoy…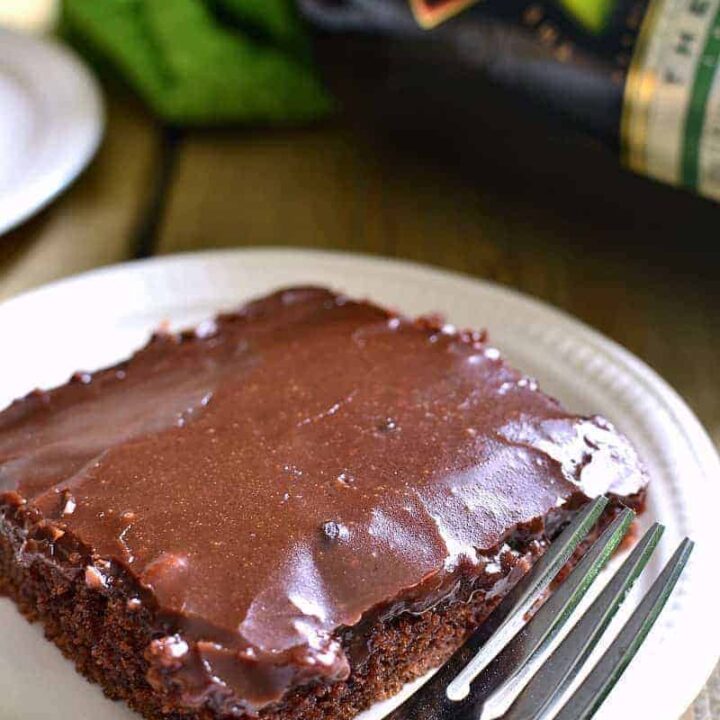 Baileys Chocolate Sheet Cake
This Baileys Chocolate Sheet Cake has everything you could want - Baileys, chocolate, and cake! It's moist, rich, and packed with delicious Baileys flavor....perfect for St. Patrick's Day or summer picnics! This cake feeds a crowd!
Ingredients
2 cups all purpose flour
2 cups granulated sugar
dash of salt
1 teaspoon baking soda
1 cup unsalted butter
1/2 cup unsweetened cocoa powder
1 cup water
1/2 cup Baileys Irish Cream
2 eggs
For Icing:
1/2 cup unsalted butter
1/4 cup cocoa powder
6 Tablespoons Baileys Irish Cream
2 cups powdered sugar
Instructions
Preheat oven to 400 degrees.
Mix together flour, sugar, salt, and baking soda.
In a saucepan, bring butter, cocoa, and water to a boil.
Pour over dry ingredients and mix well.
Add Baileys and eggs. Stir until completely mixed.
Pour mixture into greased and floured rimmed baking pan (11x17 inches).
Bake at 400 degrees for 20 minutes.
Start preparing icing 5 minutes before cake is done.
For icing:
Melt butter, cocoa powder, and Baileys in a medium saucepan over medium-high heat. Bring the mixture to a boil, stirring.
Remove from heat and stir in 2 cups powdered sugar.
Spread over hot cake.
Cool, cut, and enjoy!
Nutrition Information:
Yield:

24
Serving Size:

1 grams
Amount Per Serving:
Calories:

287
Total Fat:

12g
Saturated Fat:

7g
Trans Fat:

0g
Unsaturated Fat:

4g
Cholesterol:

46mg
Sodium:

68mg
Carbohydrates:

39g
Fiber:

1g
Sugar:

29g
Protein:

2g
For more great recipes using Bailey's, try my Bailey's Chocolate Mint Milkshake or Bailey's Chocolate Mousse!
For more great recipes be sure to follow us on Pinterest to keep up to date!