Easter Cookie Dough Buckeyes are made with peanut butter cookie dough and stuffed with malted milk balls and dipped in white chocolate. A pretty pastel sweet treat that's perfect for Easter!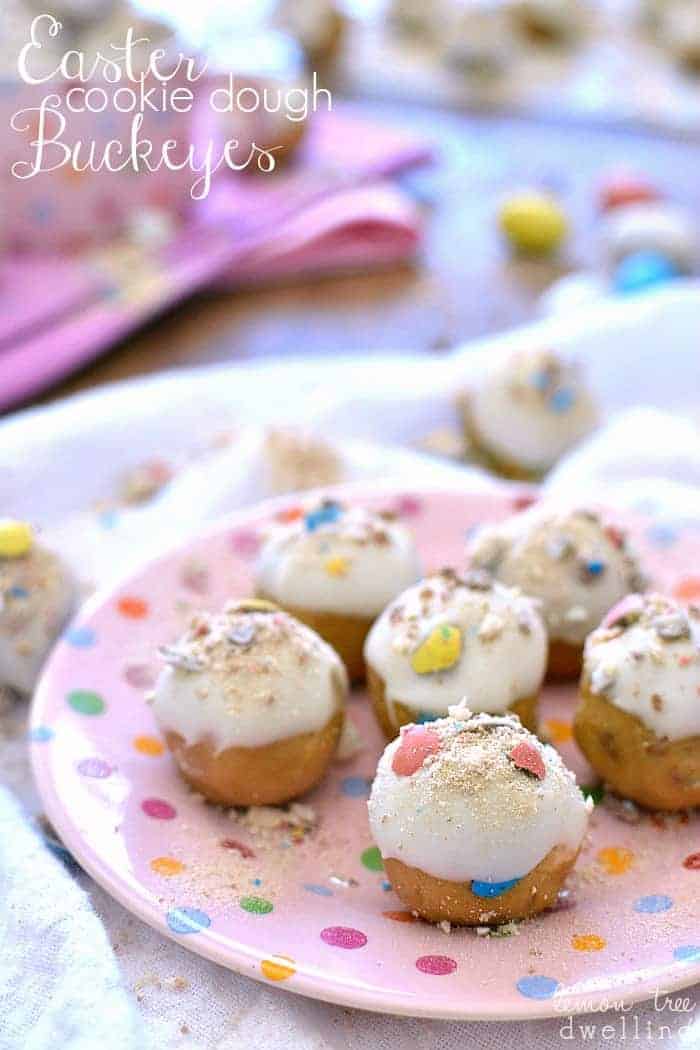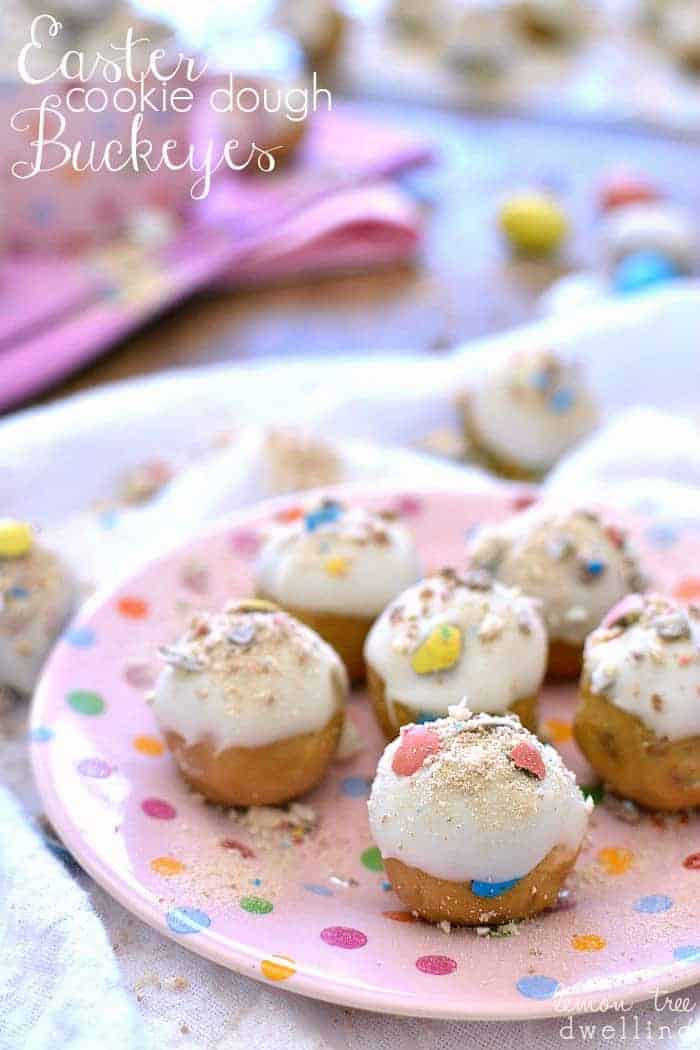 I apologize in advance if you get bombarded with March Madness talk this week…..it's just that the Badgers are in the Final Four! And around here, that's exciting news!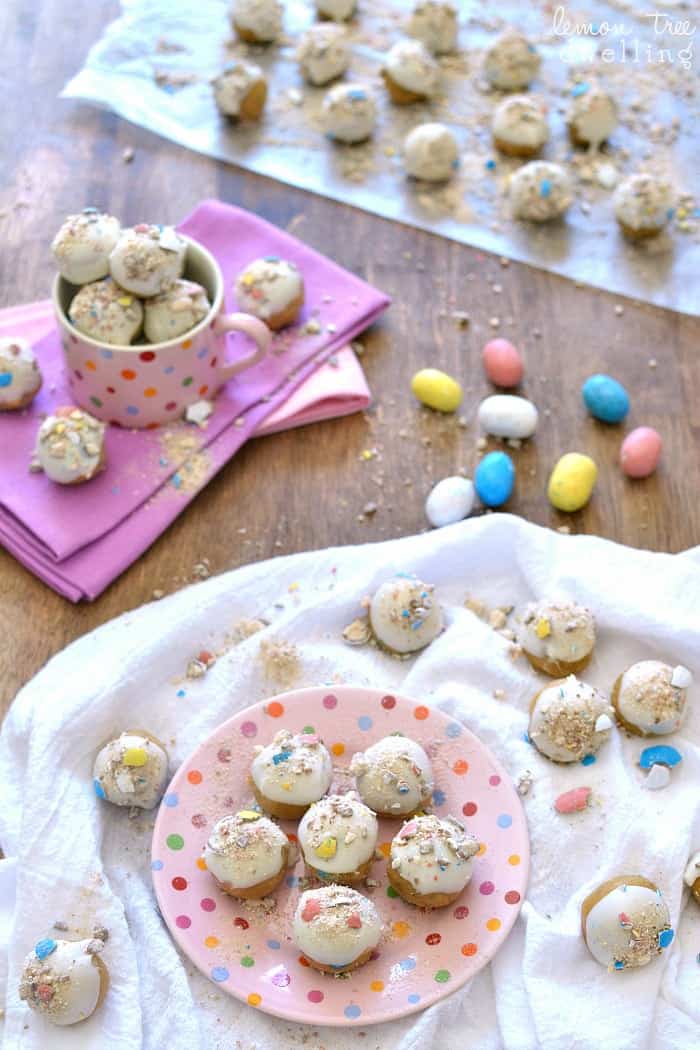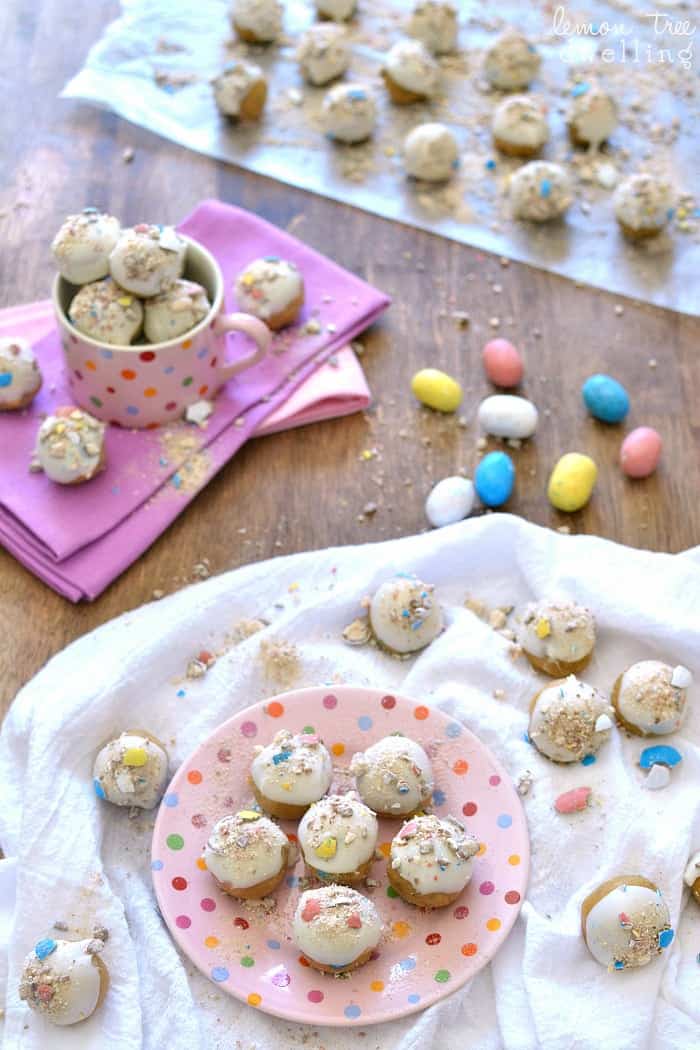 I must admit – we started out the whole March Madness thing this year with a bit of a chip on our shoulders. Since Marquette didn't even make it to the tournament, there really wasn't much to get excited about. Until Wisconsin. And now….we couldn't be more pumped!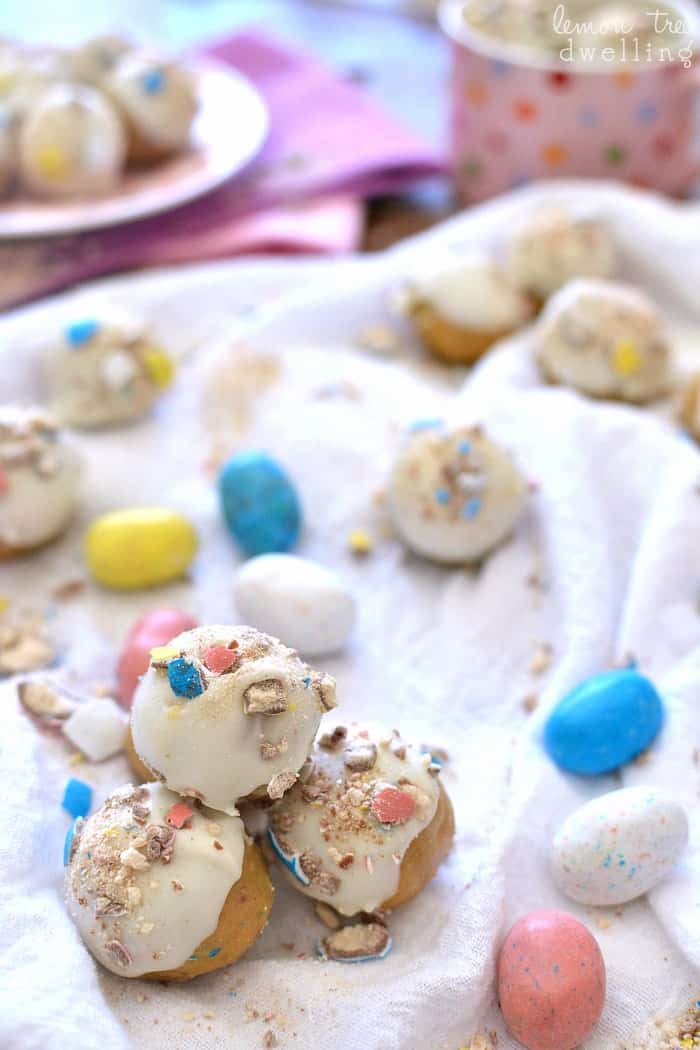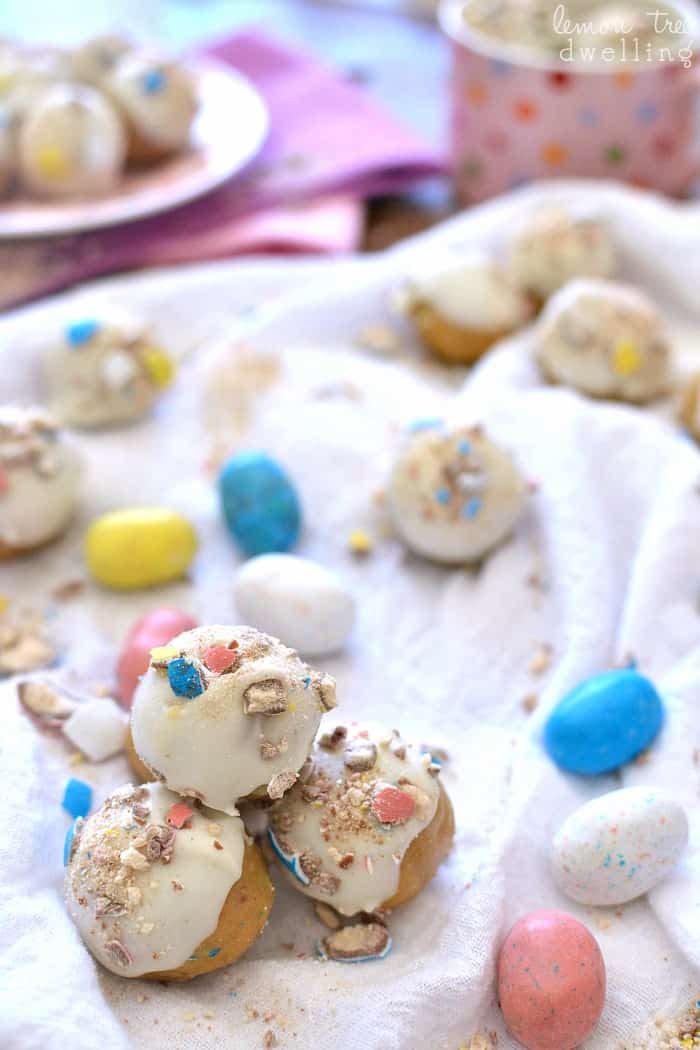 For Jorden, of course, it's all about the basketball. For me……well……it's never about the basketball. No, for me, it's all about the food! Since the next game is the Saturday before Easter, I'm thinking we'll most definitely need to have an Easter-themed menu. What do you think? Ham, potatoes, eggs…..basketball style? I'm liking the sound of it! And for dessert, of course, BUCKEYES!
Easter Cookie Dough Buckeyes
These buckeyes are a twist on the original, and not just because they're all loaded up with Easter candy. They actually start with peanut butter cookie dough, made with Davidson's Safest Choice Pasteurized Eggs! The pasteurization process eliminates the risk of Salmonella, which means they taste just like the cookie dough you always want to eat by the spoonful…..and now you can! Perfect for Easter, or post-Easter, or anytime you find yourself with extra malted milk balls. Just don't forget the eggs – they make all the difference!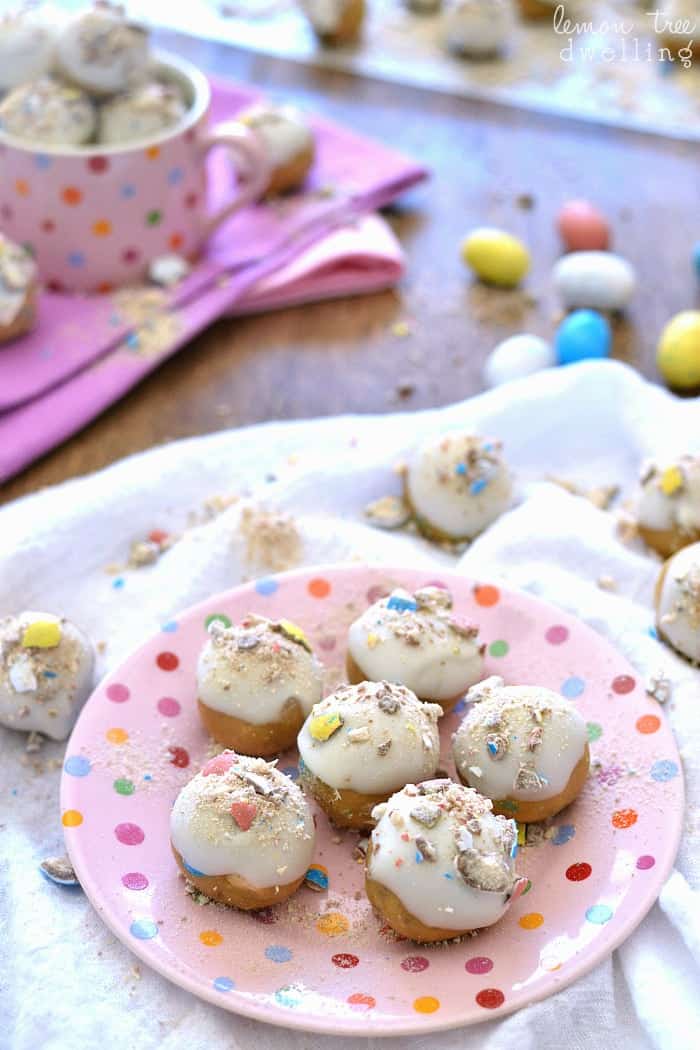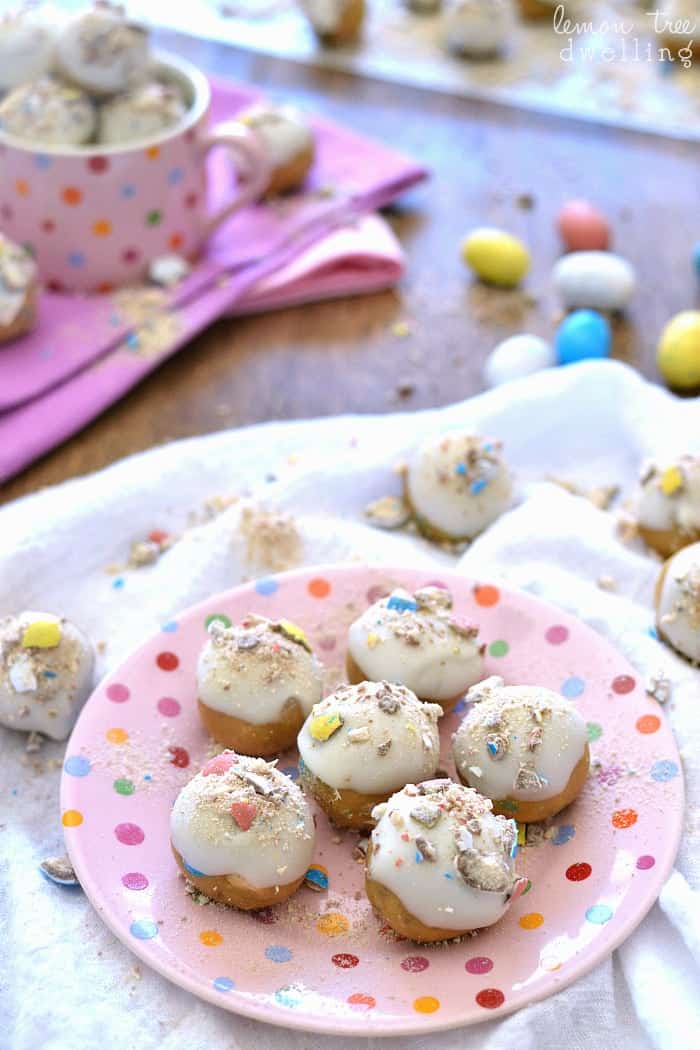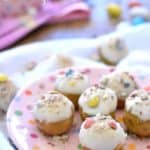 Easter Cookie Dough Buckeyes
Ingredients
1/2

c.

butter

at room temperature

1/2

c.

peanut butter

1/2

c.

sugar

1

pasteurized egg

1

tsp.

vanilla

1 1/2

c.

flour

1 1/2

c.

crushed malted milk balls

4-6

oz.

white chocolate
Instructions
Cream butter, peanut butter & sugar.

Add egg and vanilla and mix well.

Blend in flour.

Stir in 1 c. crushed malted milk balls; form into 1 inch balls and refrigerate until firm.

Melt white chocolate over low heat; dip cookie dough balls halfway in white chocolate.

Place chocolate side up on baking sheet lined with wax paper.

Sprinkle with finely crushed malted milk balls.
Be sure to check out my Malted Milk Ball Fudge, too!