Milk chocolate and white chocolate come together in these delectable little bite-sized candy corn cookie cups. Perfect for Halloween…..because, really, you can never have too much candy!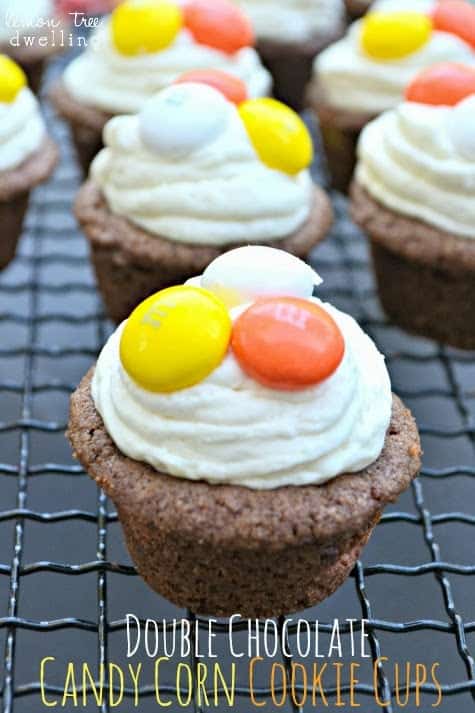 Of all the birthday parties I ever had as a child, there is one I remember above all the rest. It was the year my parents capitalized on the fact that my birthday is just 4 days before Halloween. I don't remember much of it, but what I do remember involves spiders and pumpkins and black cats and skeletons….and a Pin the Nose on the Witch game my dad made just for me. What a great party! And what a great time to have a birthday…!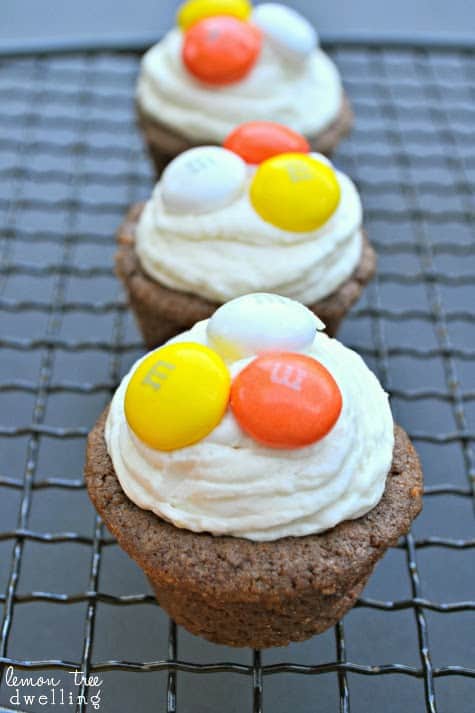 It's funny…..because that party is the ONLY time I ever remember realizing how close my birthday was to Halloween. Even now, I just don't think of it. AND….I'm really not much of a Halloween person! It's not that I don't like jack-o-lanterns and costumes and trick-or-treating….it's just that I don't get into the Halloween spirit like some people do. The other day I saw a neighbor putting up a giant Halloween fright scene and I was fascinated…..like some people's minds really work that way!? I guess they do. But not mine!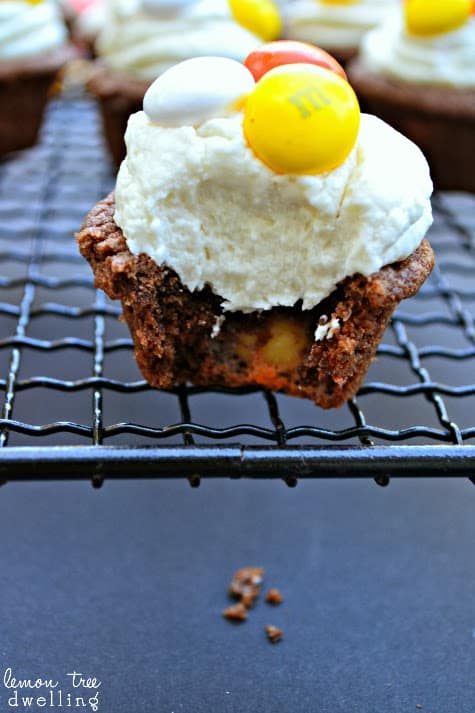 Maybe it's actually because of my birthday. Maybe I've always been too busy thinking about birthday plans to pay any attention to Halloween! Getting into it takes a certain level of energy and creativity that I'm just not sure I have…. But one thing I KNOW I have is a sweet tooth. And one thing I know for sure is that Halloween brings more sweets into our house than all the other holidays combined. So this year, I thought, why not start the party early!? It can be a joint birthday and Halloween celebration….complete with candy corn….and maybe even a Pin the Nose on the Witch game. I think my birthday would enjoy Halloween. And I KNOW my birthday would enjoy these Double Chocolate Candy Corn Cookie Cups. Let's get this party started!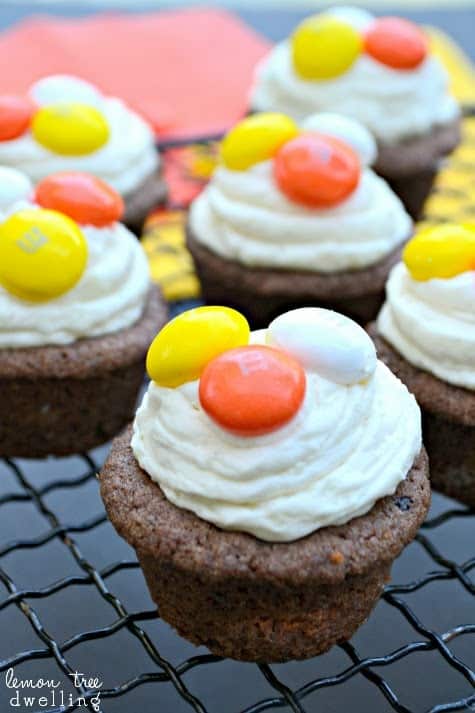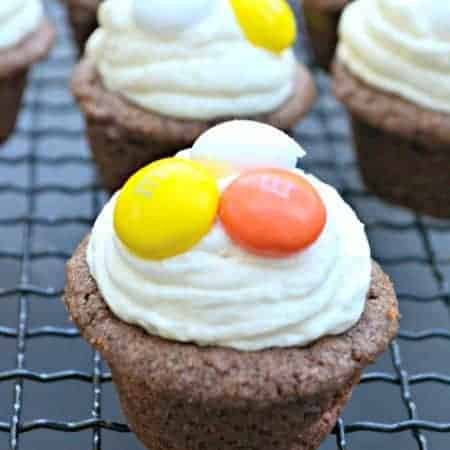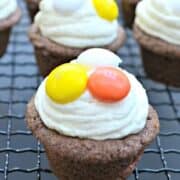 Double Chocolate Candy Corn Cookie Cups
Ingredients
Cookies
1 1/2

c.

butter

softened

1

c.

granulated sugar

3/4

c.

packed light brown sugar

2

eggs

2

tsp.

vanilla

2 1/2

c.

all-purpose flour

2/3

c.

unsweetened cocoa powder

1

tsp.

baking soda

1/2

tsp.

salt

1

package Candy Corn M&M's
Frosting
2

sticks unsalted butter

6

c.

powdered sugar

1

c.

white chocolate chips

melted

2

Tbsp.

milk

2

tsp.

vanilla

1

bag Candy Corn M&M's
Instructions
Preheat oven to 350 degrees. Prepare mini muffin tins by greasing well; set aside.

Beat butter, sugars, eggs & vanilla in large bowl until light and fluffy.

Combine dry ingredients in a medium bowl; blend into butter mixture until smooth.

Stir in Candy Corn M&M's.

Fill mini muffin tins with 1 Tbsp. dough each.

Bake at 350 degrees for 12-14 minutes.

Cool; remove from tins.

For frosting:

Blend butter, powdered sugar, and white chocolate at medium speed until combined.

Add milk and vanilla and blend at medium-high speed until mixture is smooth.*

Apply generously to cookie cups. Top with M&M's.

*The melted white chocolate will add some texture to your frosting. If you would prefer a very smooth texture, feel free to omit the white chocolate from the recipe.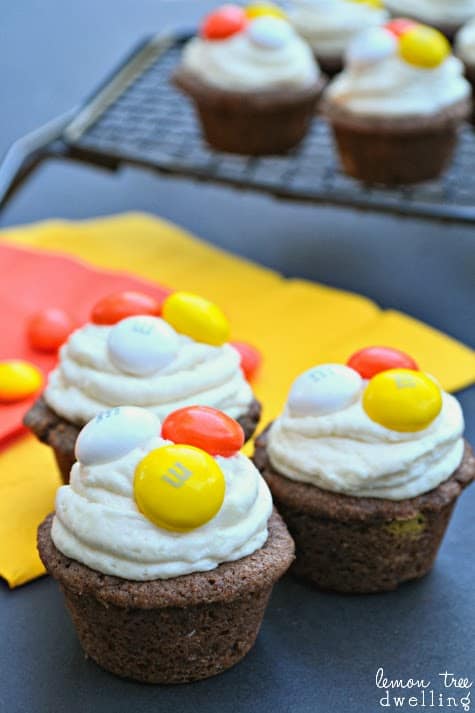 Enjoy!
Looking for more festive Halloween recipes?