Chewy Snickerdoodle Cookie Bars stuffed with Pumpkin Spice M&M's and topped with pumpkin spiced cinnamon and sugar. Pure fall comfort, in one delicious bar.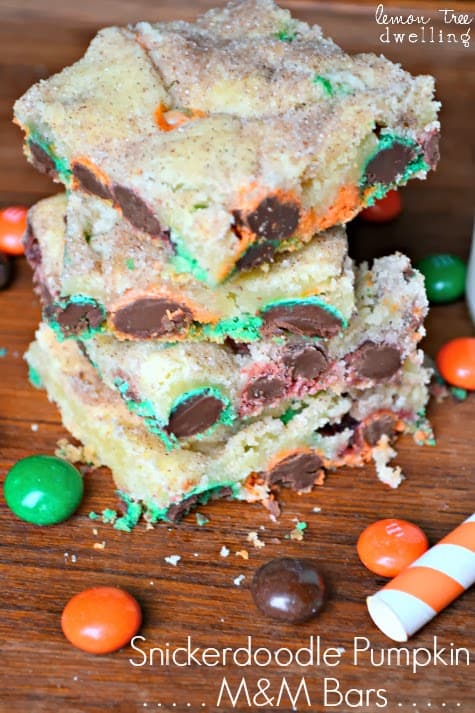 If you've been reading my posts for the last week or so, you know that Lemon Tree Dwelling has been heavy on the Halloween crafts and light on the good stuff (aka food!!) What can I say....other than that, every now and then, even I need a break from food! And my crafty side needs a little attention, too. So I hope you've had fun with the crafts (I know I have)....and now, back to the good stuff!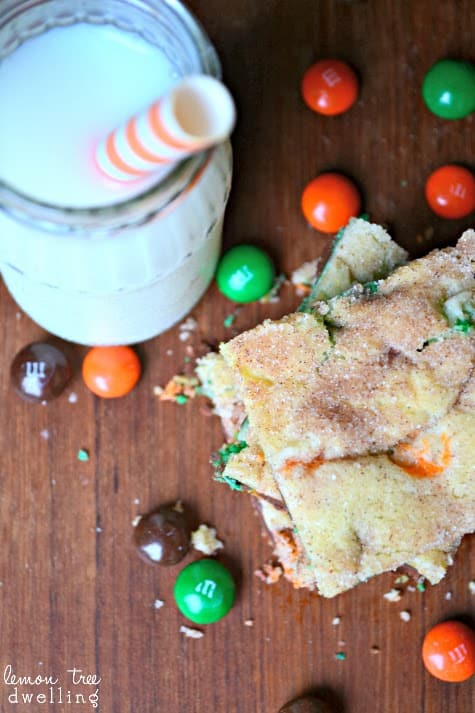 I wanted to leave you with something for the weekend that would satisfy all your fall needs....in terms of flavor, texture, and most of all, comfort! I don't know about you, but around here, it is definitely starting to feel like fall! Just overnight our driveway has become cluttered with leaves and there is a certain feeling in the air. Time to cozy on up and do some baking!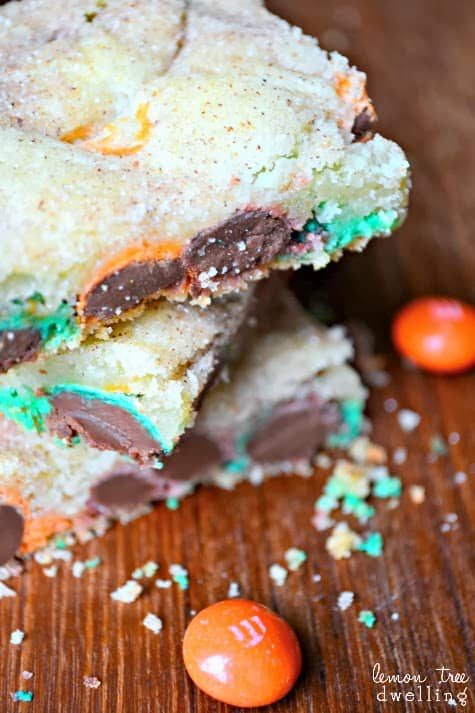 These Snickerdoodle Pumpkin M&M Bars are everything you would want from a cookie bar - they are soft, chewy, chocolatey, and absolutely delicious! They combine the classic flavors of snickerdoodles with the seasonal flavors of pumpkin spice. And best of all, they're bars. Which means you mix 'em, you spread 'em, you bake 'em, and you cut 'em. Easy peasy. Which means more time to enjoy 'em.....and more time to enjoy this gorgeous fall weather! Have a great weekend!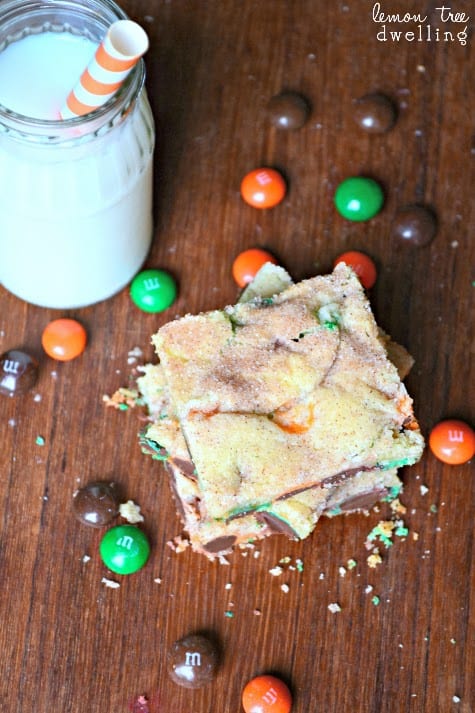 Snickerdoodle Pumpkin M&M Bars
1 c. + 2 Tbsp. all-purpose flour
1 tsp. cream of tartar
½ tsp. baking soda
¼ tsp. salt
½ c. butter, softened
¾ c. sugar
1 egg
1 cup Pumpkin Spice M&M's
Topping: 2 Tbsp. sugar + ½ tsp. pumpkin pie spice
1. Mix flour, cream of tartar, baking soda, and salt. Set aside.
2. Cream butter, adding ¾ c. sugar gradually.
3. Add beaten egg to butter/sugar mixture and mix well.
4. Gradually add dry ingredients.
5. Stir in ¾ c. M&M's.
6. Press into a greased 8x11 inch pan.
7. Top with additional ¼ c. M&M's and pumpkin pie spice/sugar topping.
8. Bake at 375 degrees for 18-20 minutes or until light golden brown.
9. Cool in pan.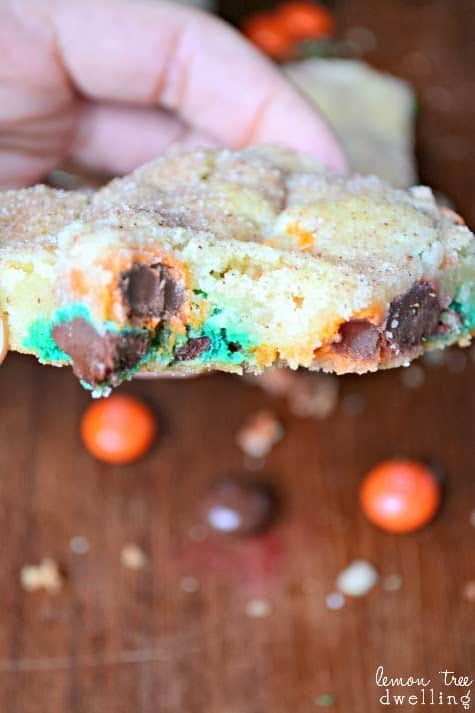 Enjoy!
Be sure to check out these other delicious bar recipes, too!