The delicious taste of cookie butter…in a sweet and creamy dip! Perfect for dipping pretzels, crackers, apples, or cookies….or just eating by the spoonful!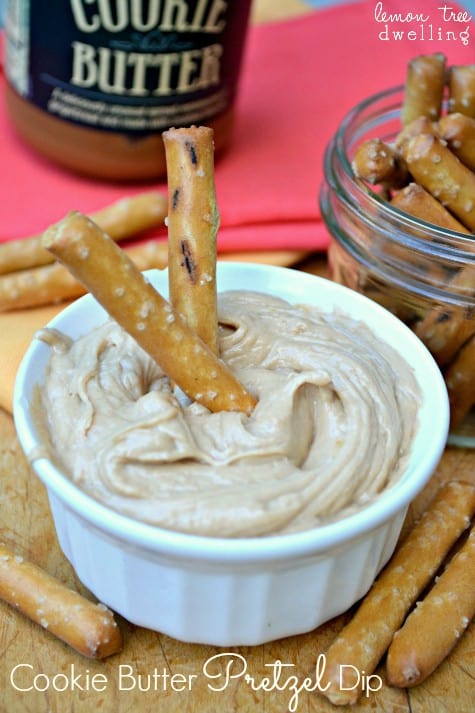 I am always curious about what my kids will take away from me being a food blogger…..a love of trying new things? An interest in coming up with their own recipes? An appreciation for the beauty of food? An understanding of the way flavors work together? Or….on the flip side….maybe a Facebook/Pinterest/Twitter/Google+ addiction of their own?? There's no telling how all the hours I spend baking, cooking, sampling, photographing, and posting recipes will affect them….or if it will affect them in any real way. What I do know is that, for now, they are definitely interested in what is going on in our kitchen.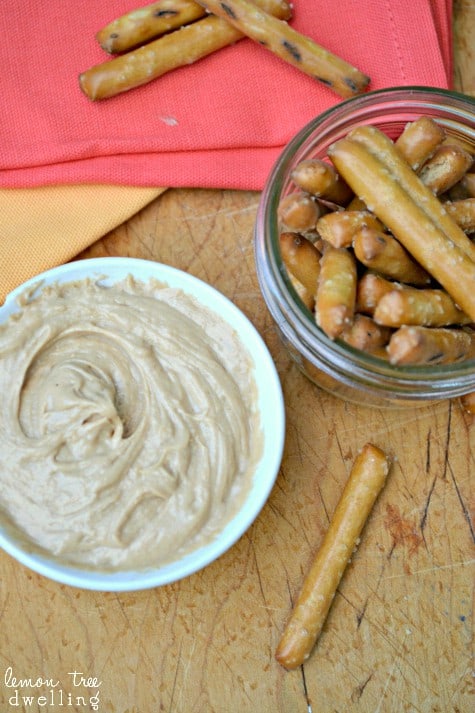 Especially Nora. And especially when there's a chance she can help herself to a taste of it! Every time….without fail….the moment the food is done and I'm ready to start taking pictures of it, she's there! She climbs right up on to the table or the counter or the stool, gives me a little look, and reaches her little fingers right over to grab whatever it is she has her eye on. Sometimes I catch her mid-reach and am able to distract her while I get the shots….but other times, it's not quite as easy.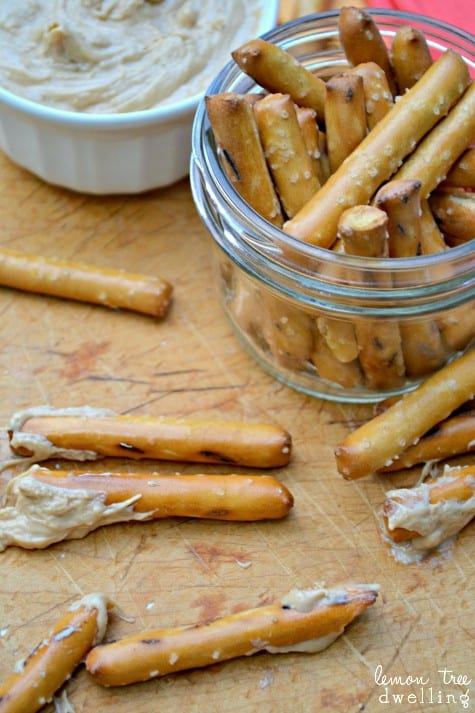 Case in point: this Cookie Butter Pretzel Dip. Nora was a maniac with this stuff! Those pretzels….all smeared with dip and laying in the middle of my photo shoot? Nora!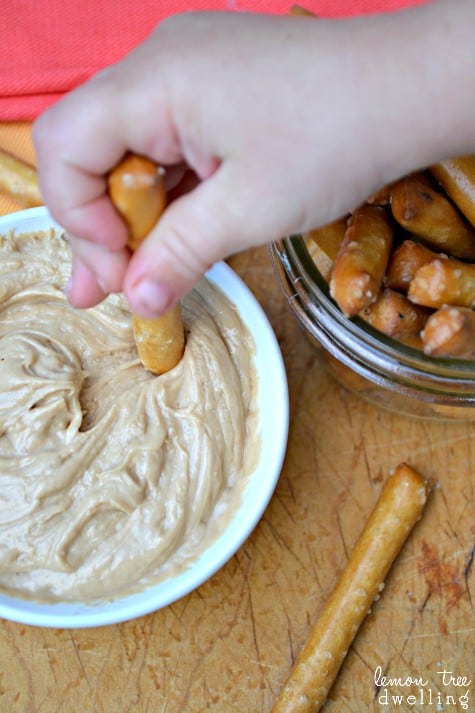 That tiny little hand, sticking a pretzel into the dip to see if it will stand up? Nora!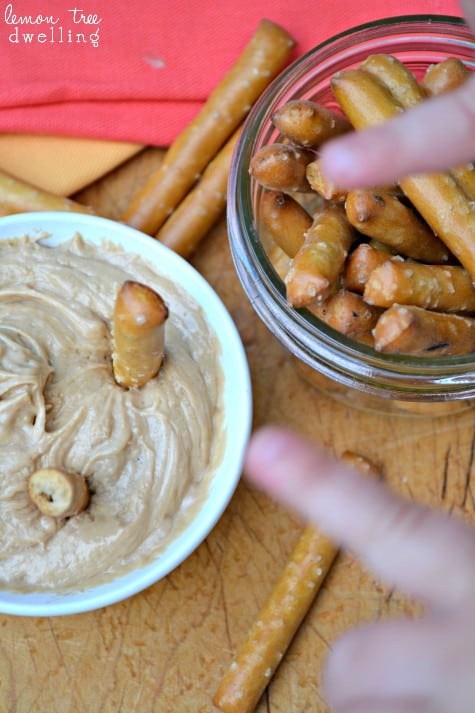 She was really excited when she got two to stand up at once….check out her little fingers pointing at the finished product. Yep….all Nora.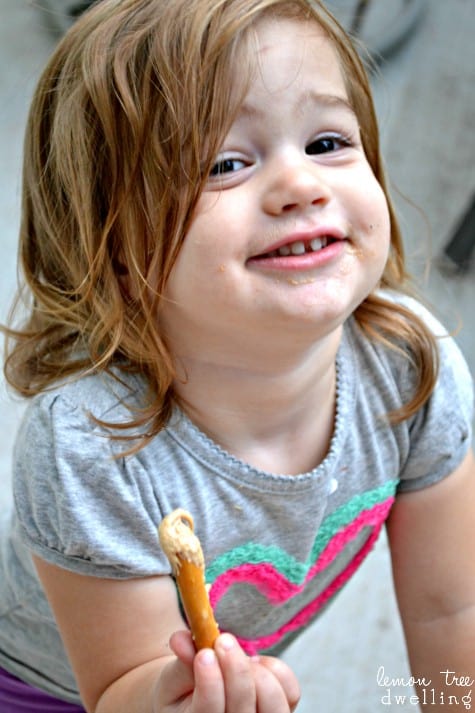 The problem is….how do I say no to that adorable face?? I can't!!! At least not all the time. Because the LAST thing I need is for my kids' memories of me as a food blogger to all be negative! So….every now and then….I decide to just say yes. To trying the dough, to licking the beaters, to sticking their fingers in the frosting, and even to ruining my set-up. In the long run, I figure, it'll be worth it. And in the short run, I get some pretty adorable pictures of my kiddos in action. To be fair….how can I expect Nora to stay away from cookie butter when I can't even stay away from it, myself? I can't! So instead, I think I'll be stocking up pretzel sticks and calling it a wrap. And Nora and I can sit and enjoy our dip together…..if she's willing to share, that is 🙂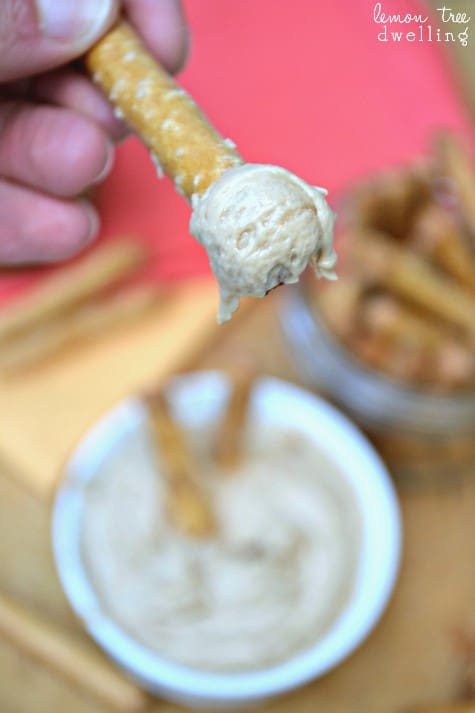 Cookie Butter Pretzel Dip
1 (8 oz.) package cream cheese, softened
1/2 c. cookie butter or Biscoff spread
1/2 c. brown sugar
2 Tbsp. powdered sugar
1 tsp. vanilla
Combine all ingredients and blend until smooth. Serve with pretzels, crackers, apple slices, or your favorite dippers!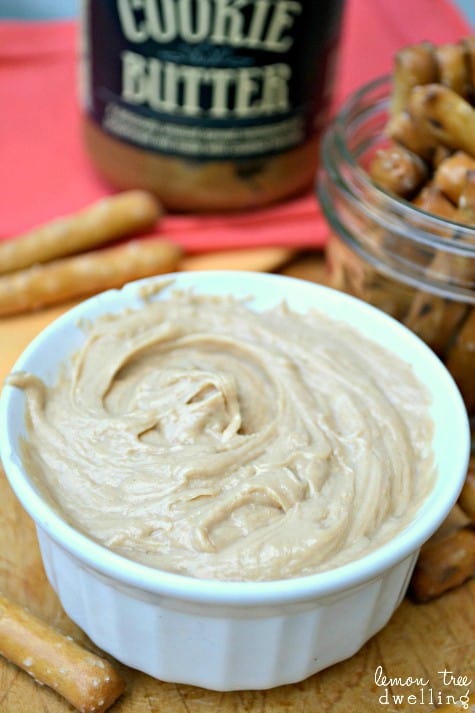 Enjoy!
Looking for more recipes that use Cookie Butter? Check out a few of my favorites: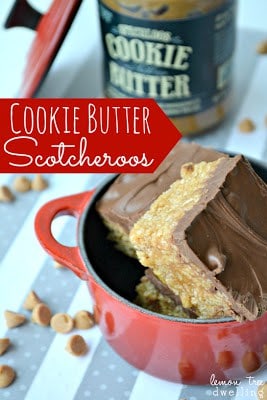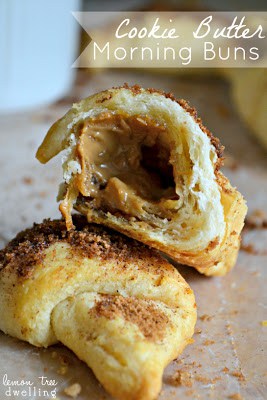 I originally posted this recipe at Or So She Says.