Take cinnamon rolls to the next level with this ooey, gooey Cinnamon Roll French Toast Casserole!
It's easy to make ahead, ready in just 30 minutes, and has a flavor combination that no one can resist.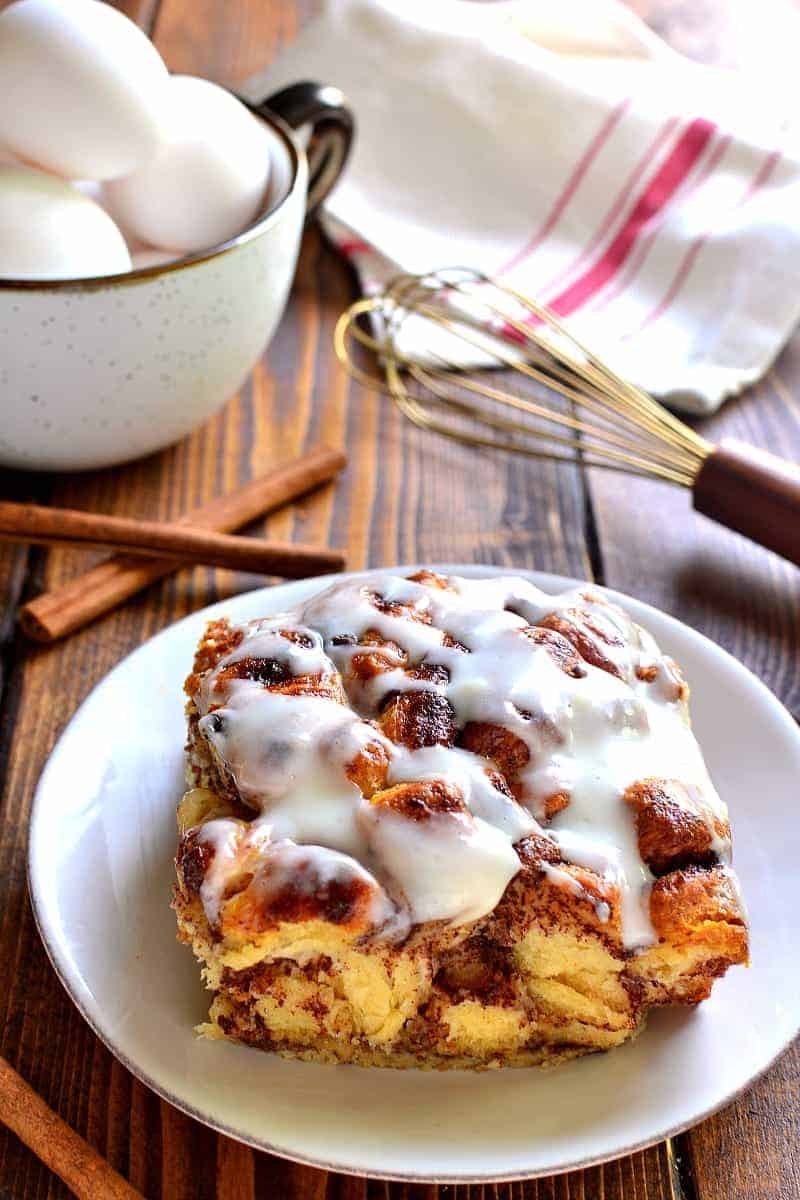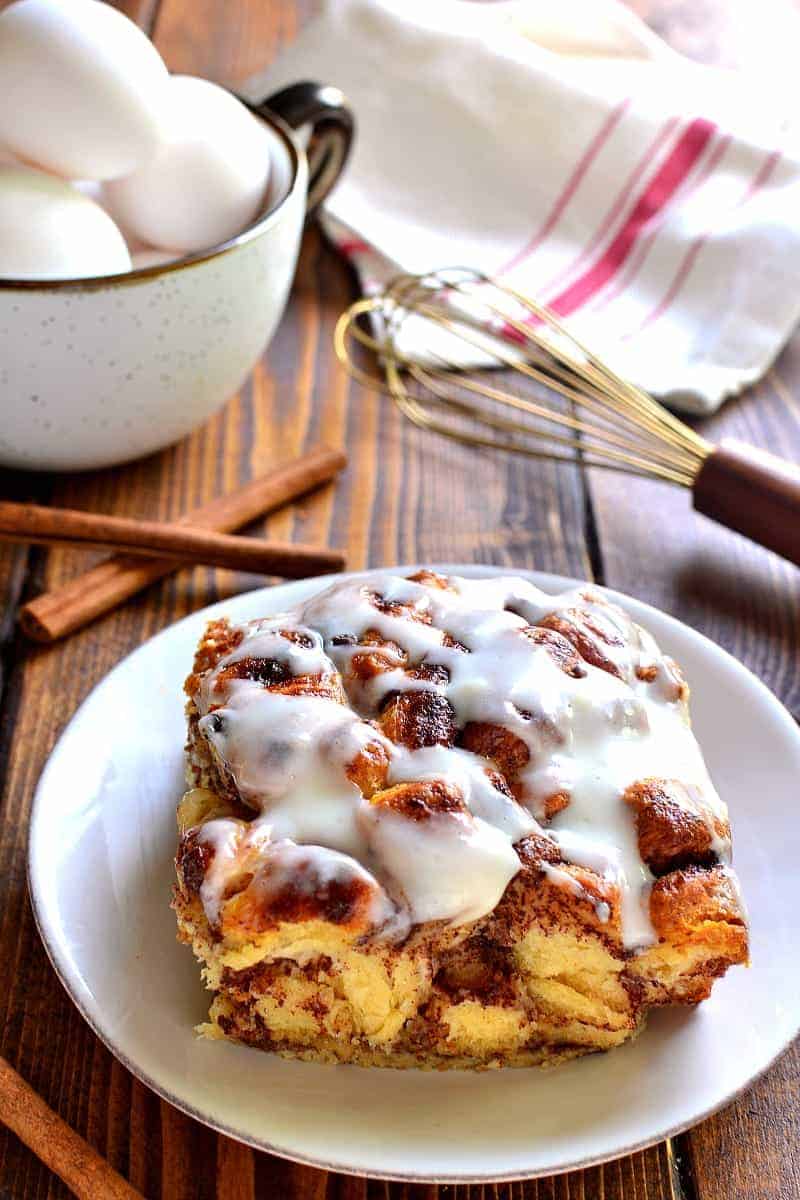 One of my all time favorite breakfast foods? Definitely French Toast. And this Baked French Toast with cream cheese icing is the BEST way to do it.
[feast_advanced_jump_to]
Not only is it incredibly easy to make, and has a healthy dose of cinnamon (which I love), but it's the perfect breakfast recipe for special brunches, holidays, and get togethers.
We've made it for several holiday brunches and it's a guaranteed win.
Every single time.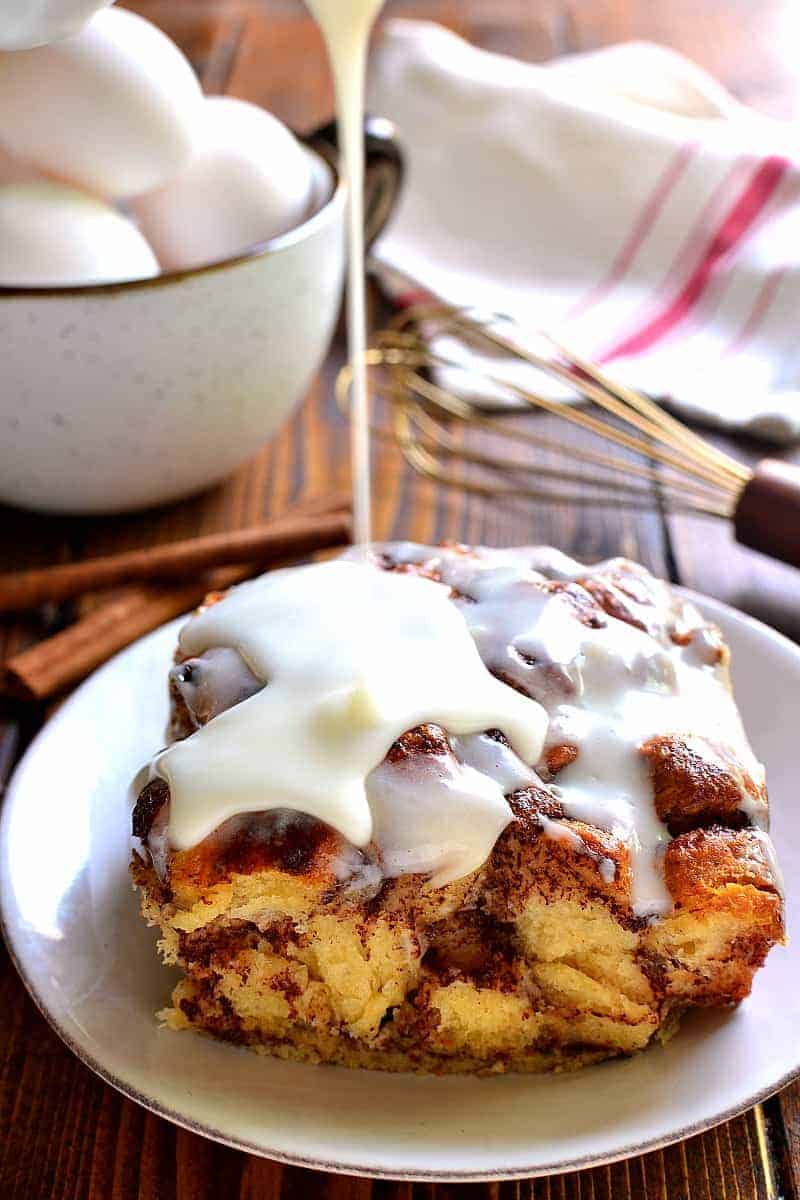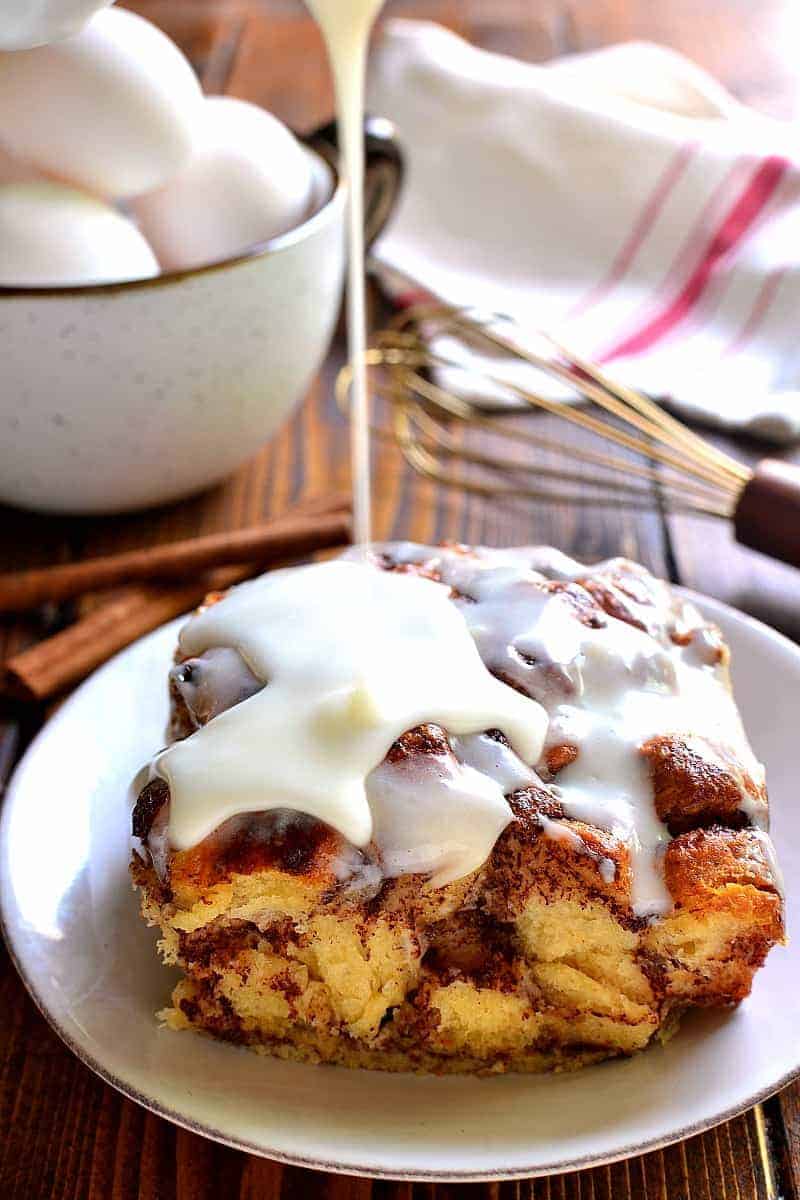 📋 Ingredients
Most ingredients here are usually found in my fridge, except for the pre-made cinnamon rolls. This makes it an easy dish to put together, needing to just pick up one single ingredient.
Refrigerated cinnamon rolls
Eggs
Milk
Butter
Cinnamon
Vanilla extract
Cinnamon roll icing
Powdered sugar
Cream cheese
With all the different types of cream cheese out there, you can even play with the flavors a little. I'd suggest trying a Brown Sugar Cinnamon or Honey Pecan flavor for a twist on the icing.
If you're looking for a dairy-alternative to the milk, I would use coconut milk. It has a creamy consistency and a flavor that would naturally complement the other ingredients.
⏲️ Baking
One thing I LOVE about this recipe is that it's incredibly easy, from start to finish. Start by brushing the bottom and sides of a 9×13 inch pan with melted butter, then spread the cinnamon roll pieces in the pan.
Cut refrigerated cinnamon rolls into pieces; spread out in a buttered pan.
Combine eggs, milk, cinnamon, and vanilla. Whisk well and pour over cinnamon roll pieces.
Bake until golden brown.
Prepare icing and drizzle evenly over baked casserole.
Serve immediately.
I usually use 2% milk or whatever I have on hand, but you can also substitute half & half for a richer flavor.
You'll know the casserole is done when it's dark golden brown and crispy on top. If you still see any doughiness in the cinnamon rolls, you'll want to pop it back in for a few more minutes.
The cinnamon rolls come with their own icing container, but for this recipe I added to the prepared icing by combining it with cream cheese, powdered sugar, and milk and whisking it until smooth. To me, cinnamon rolls just aren't the same without cream cheese icing… and I even have a recipe for extra icing just in case you love it as much as I do.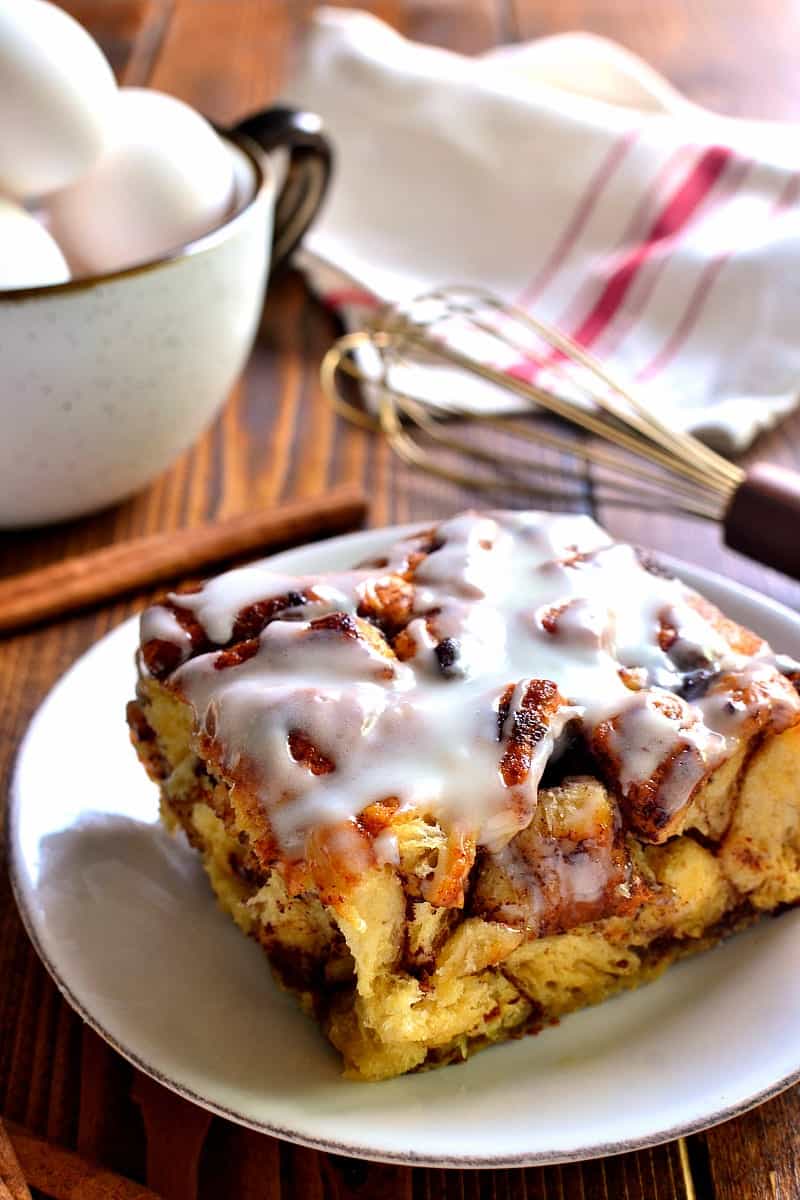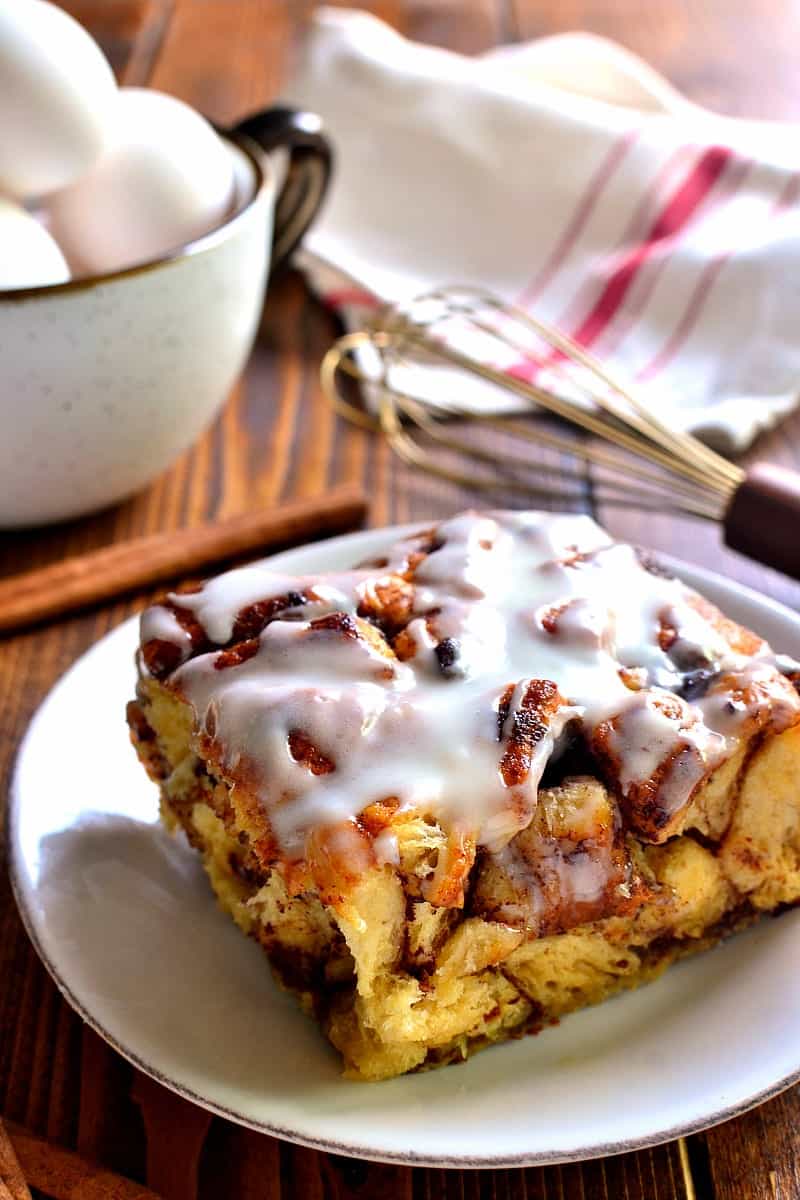 Can you make it in advance?
Yes! You can do this in one of two ways:
1. Prep the cinnamon rolls and spread them into a pan. Cover with plastic wrap or foil and refrigerate. Then prep the egg mixture and store it separately. Combine the two just before baking.
2. Prep the entire casserole in advance and refrigerate overnight, then bake according to instructions.
🌡️ Storing
Leftovers should be stored, covered, in the refrigerator for up to 5 days.
To reheat, I would recommend 20-30 minutes at 350° in the oven. You can also reheat individual pieces in the microwave.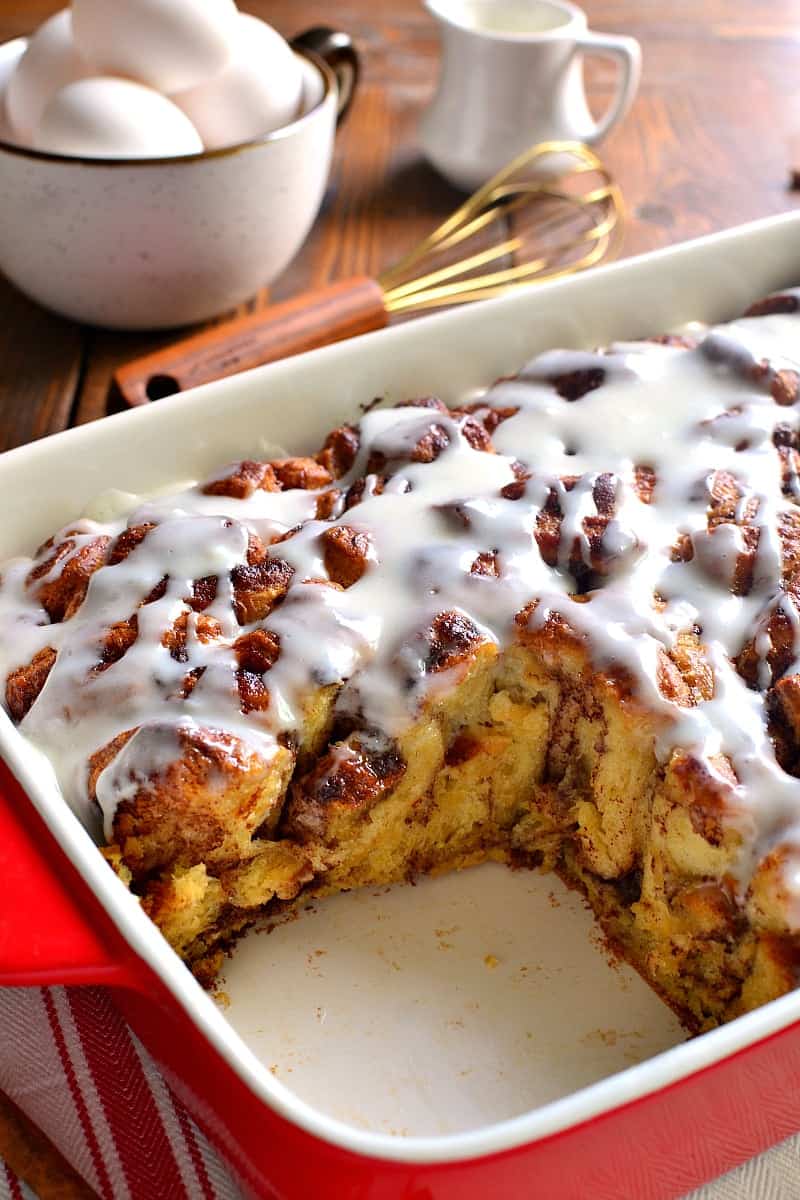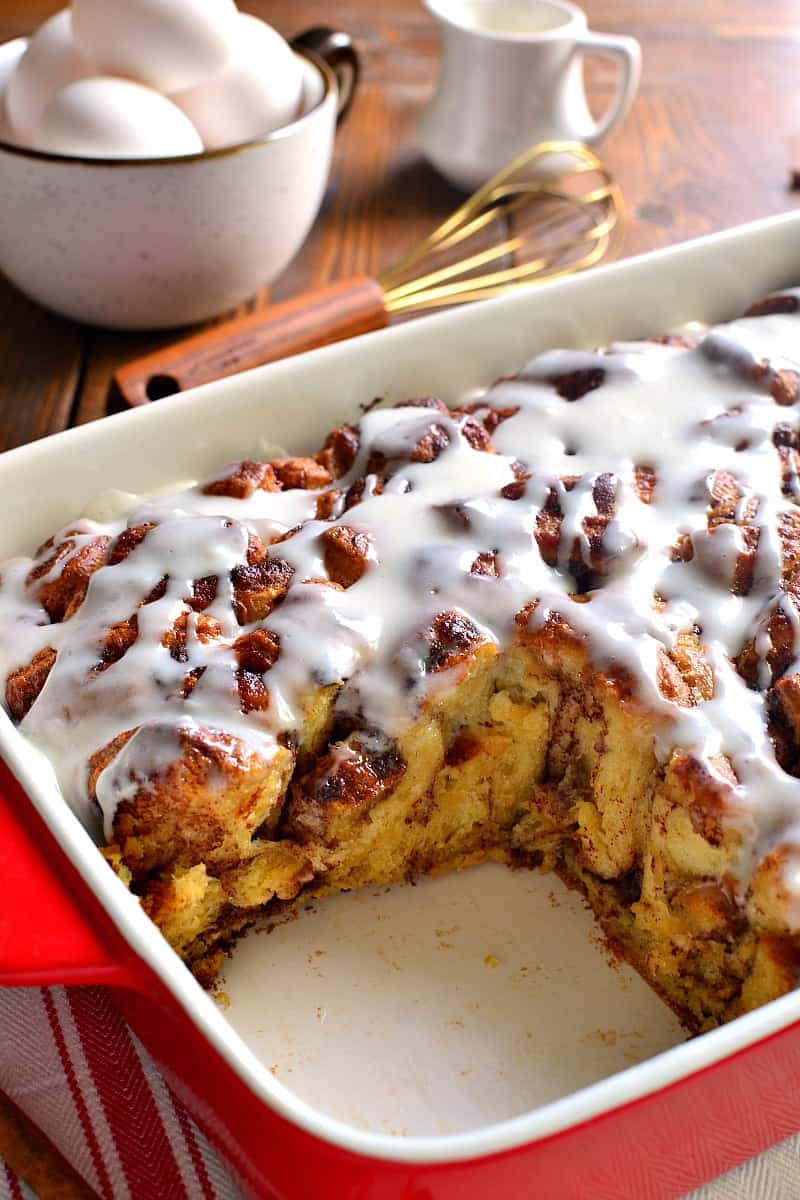 🍮 Side dishes
This recipe makes an amazing centerpiece for any special brunch. If you're looking for additional dishes to add to your menu, here are some I'd recommend.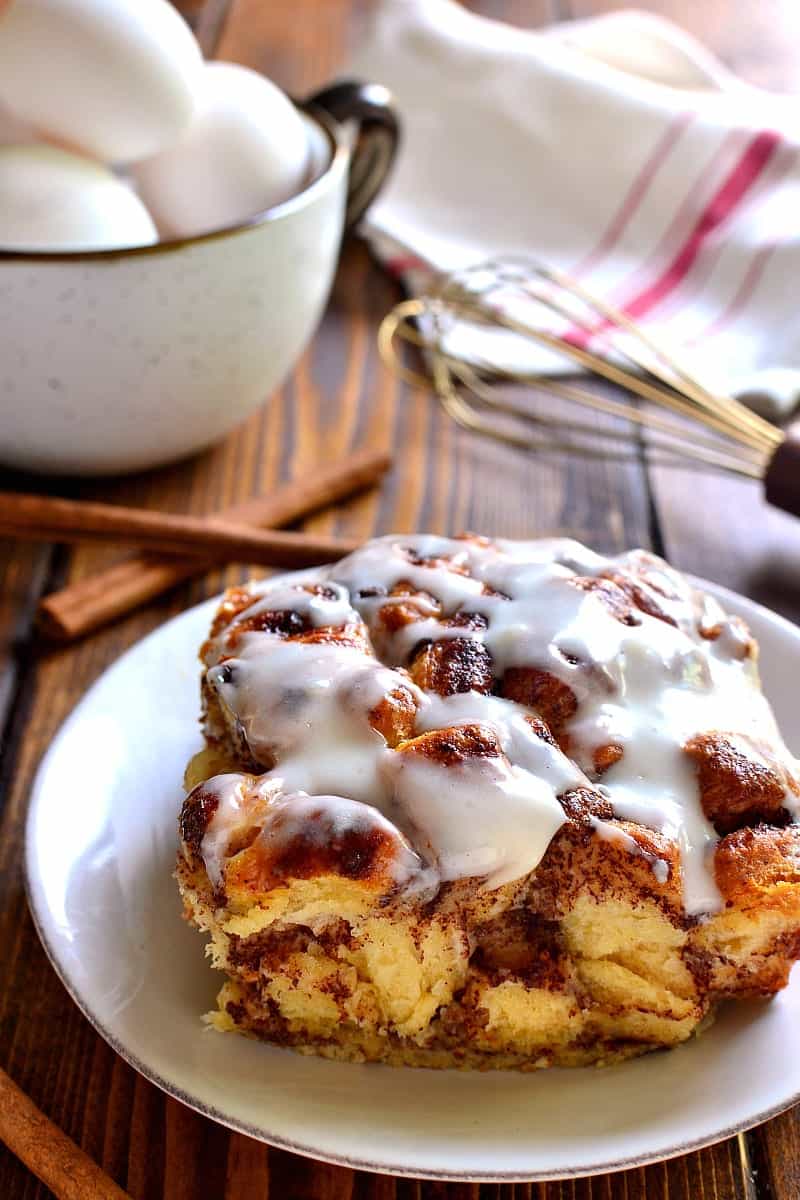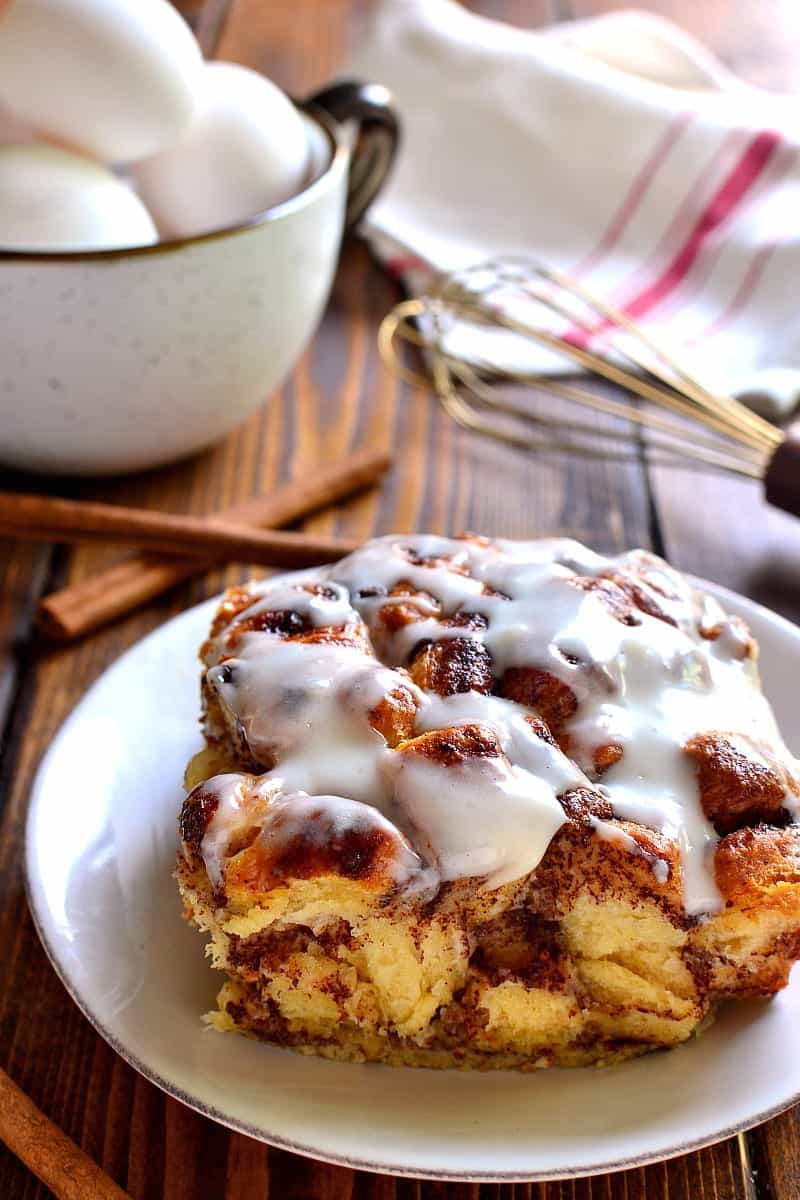 Reader favorites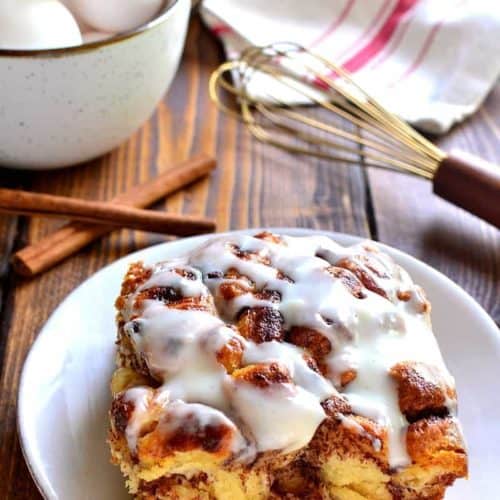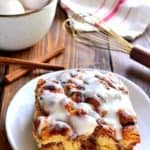 Cinnamon Roll French Toast Casserole
Ingredients
Casserole
2

17.5 oz. cans refrigerated cinnamon rolls, icing reserved

2

Tbsp.

melted butter

4

eggs

1/3

c.

milk

1

Tbsp.

cinnamon

1

tsp.

vanilla
Icing
1/2

c.

powdered sugar

2

containers reserved icing

2

Tbsp.

cream cheese

softened

1

Tbsp.

milk

For extra icing, combine ¾ c. powdered sugar + 3 oz. cream cheese (softened + 1½ Tbsp. milk)
Instructions
Preheat oven to 350 degrees.

Remove cinnamon rolls from packages and cut each roll into sixths.

Drizzle melted butter in 9×13 inch pan.

Spread cinnamon roll pieces evenly in pan.

In a separate bowl, combine eggs, milk, cinnamon, and vanilla. Whisk until combined.

Pour egg mixture over cinnamon rolls.

Bake at 350 degrees for 30-35 minutes or until top of casserole is golden brown and center is set.

Prepare icing by combining reserved cinnamon roll icing with 1/2 c. powdered sugar, 2 Tbsp. softened cream cheese, and 1 Tbsp. milk. Whisk until smooth.

Pour icing evenly over casserole.