Calling all champagne lovers… this is the drink for you! This classic Champagne Cocktail is made with just 4 ingredients and is the perfect way to take any celebration to the next level!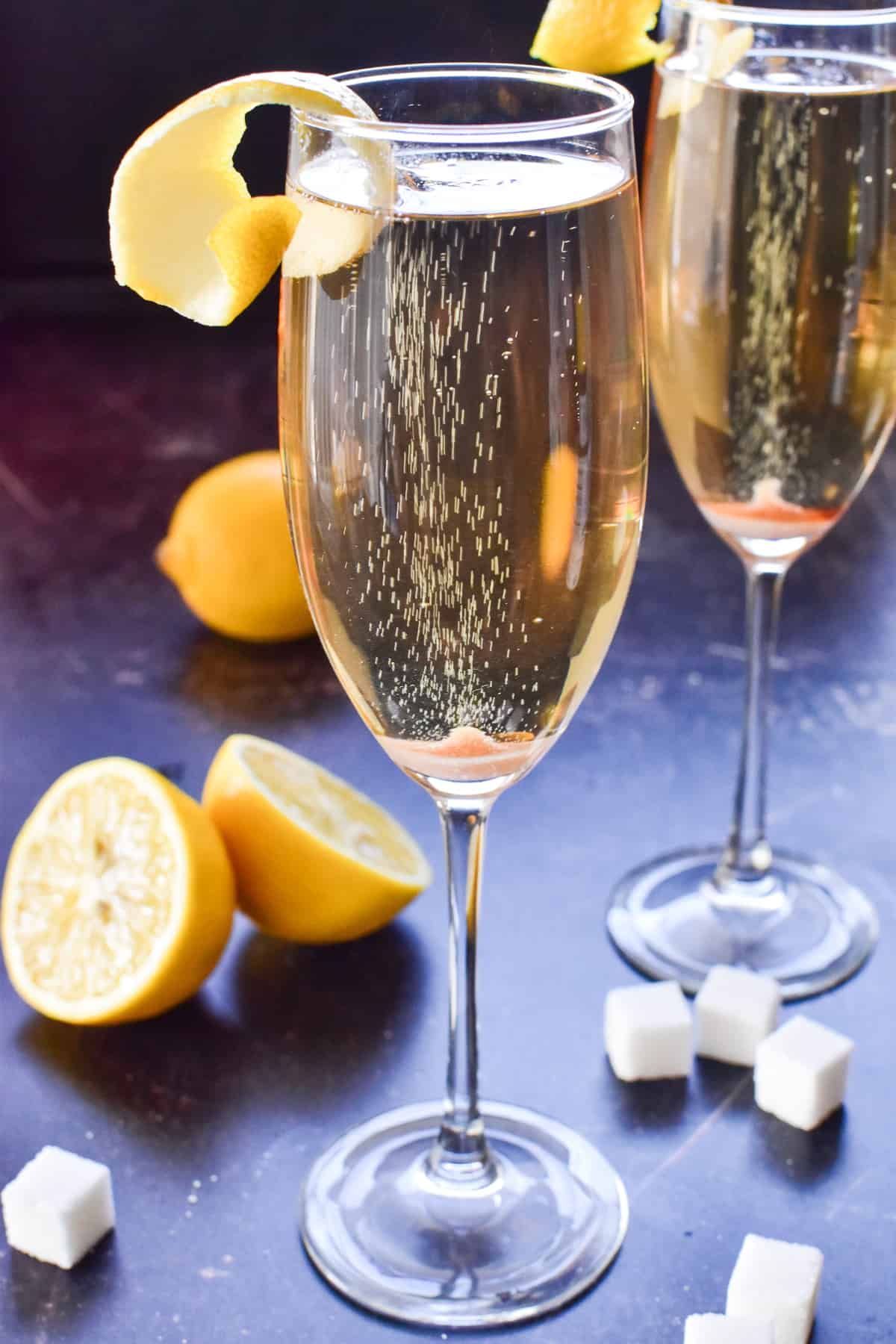 When it comes to celebrations, champagne is a MUST. And as much as I love a nice, cold glass of bubbly all on its own… I'm also ALWAYS up for adding a little bit of extra fun. Case in point – this Champagne Cocktail! It's a classic cocktail that dates all the way back to the mid-1800's… and it's one of the most popular champagne drinks still to this day.
Why? Because it's all about the bubbles!! When the champagne hits the sugar cube at the bottom of the glass, it creates an ongoing fountain of bubbles that gives a whole new meaning to bubbly!
It's a drink that's easy to make, fun to enjoy, and absolutely delicious in a subtle, sophisticated kind of way. So let's bring on the celebration… shall we??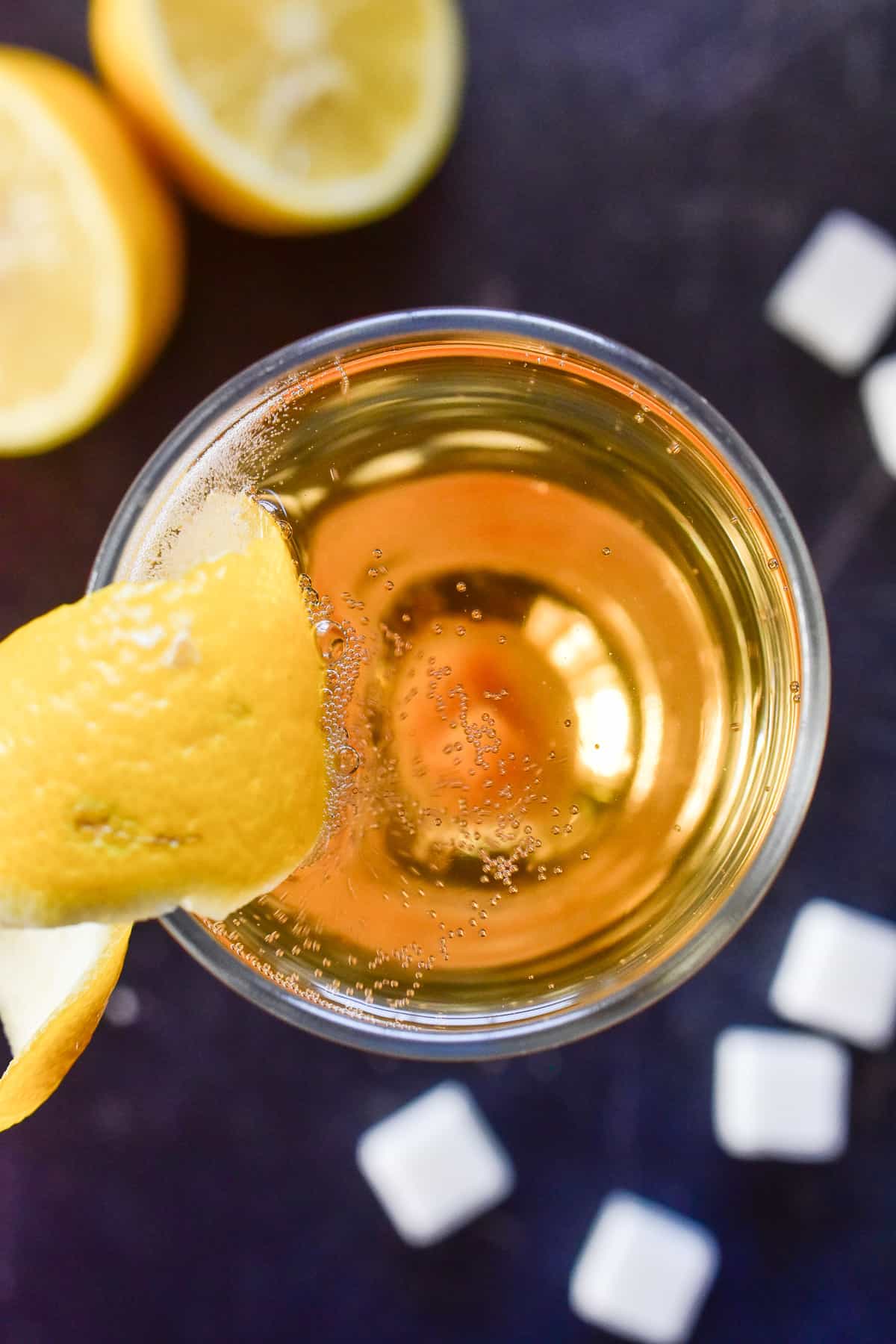 Ingredients in a Champagne Cocktail
Champagne – In a classic champagne cocktail, champagne is clearly the star of the show! I used a Brut variety, which is the least sweet variety and also my favorite. You can feel free to substitute any type you enjoy.
Sugar cube – This recipe calls for 1 sugar cube in each cocktail, which sweetens the champagne and helps soften the acidity. If you don't have sugar cubes, no worries! You can also substitute 1 teaspoon of granulated sugar in each glass.
Bitters – I used 3-4 dashes of Angostura Bitters in each cocktail. You can adjust the amount according to your tastes and/or consider using flavored bitters.
Lemon – Finally, lemon rind is used to garnish the cocktails for the perfect finishing touch.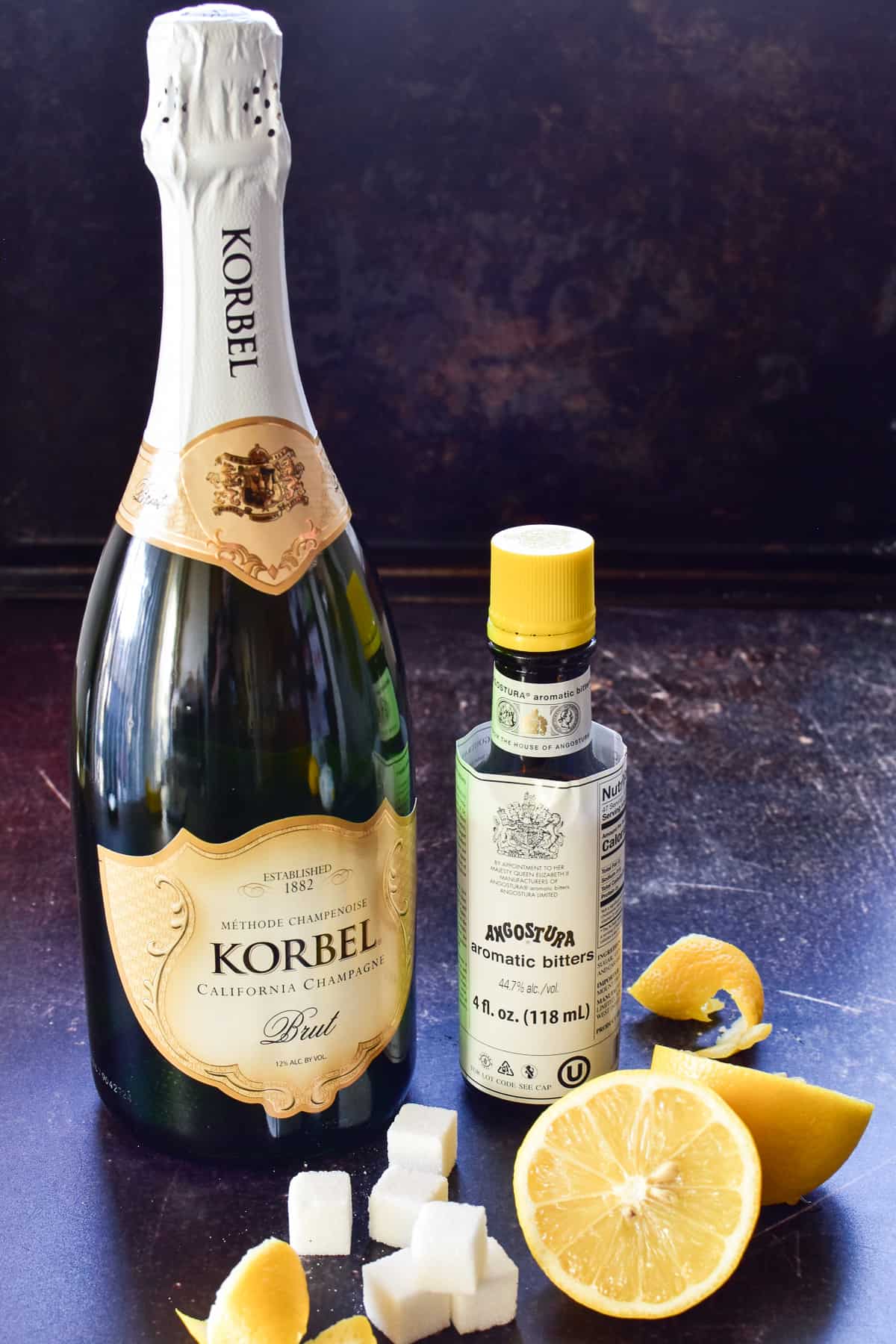 How to make a Champagne Cocktail
Soak the sugar cube – Place one sugar cube in the bottom of each champagne flute. Add 3-4 dashes bitters over the sugar cubes.
Add the champagne – Tilt the glass and slowly pour champagne to the top.
Garnish with lemon peel – Garnish each cocktail with lemon rind.
Enjoy!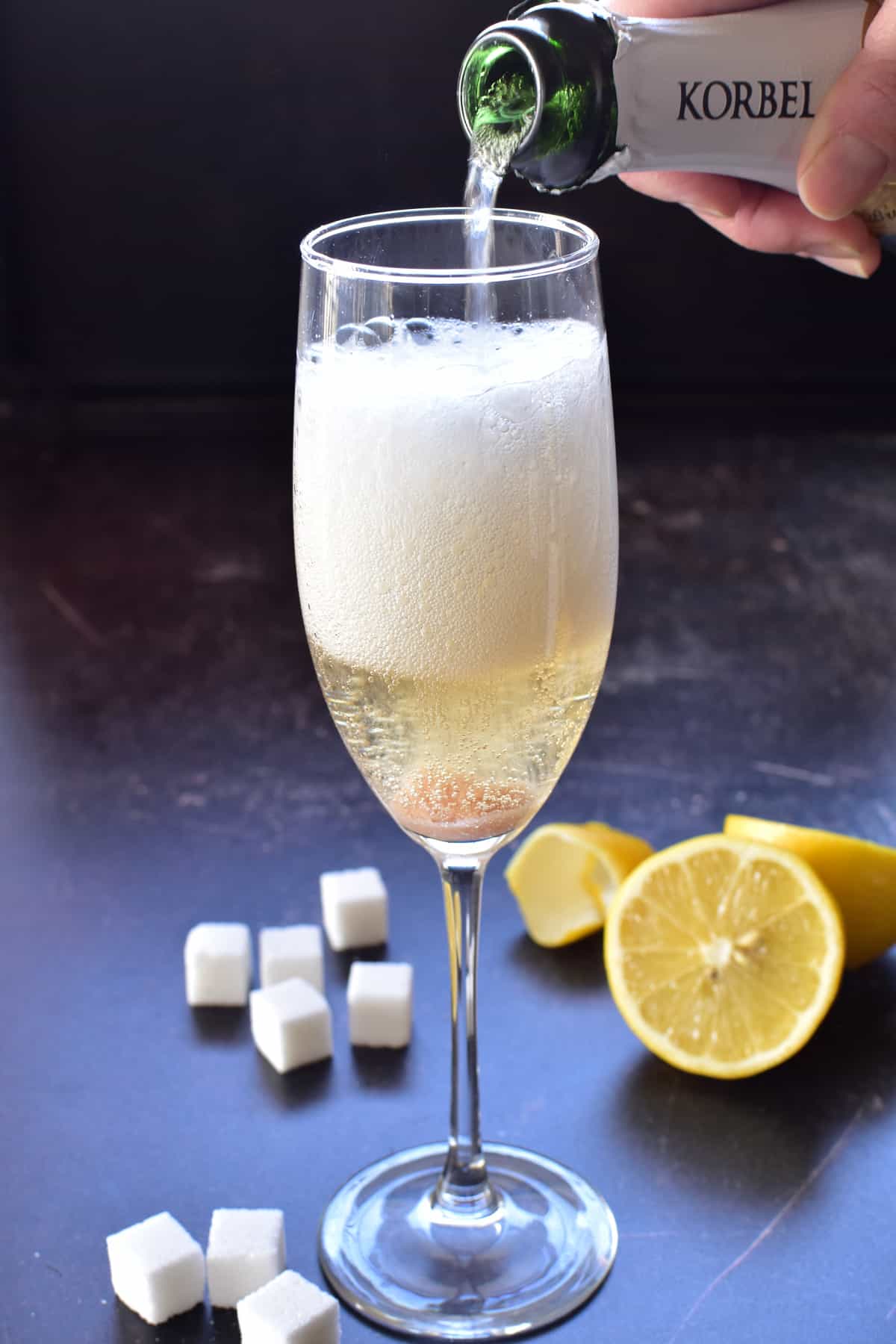 Pro tips
Start with a chilled champagne flute for best results
Also be sure your champagne is well-chilled
Do not crush the sugar cube or attempt to mix the sugar into the cocktail. It's less about sweetening and more about creating bubbles!
Start with 2 dashes of bitters. You can always add more to taste
Pour just before serving for maximum bubbly effect
Recipe variations
Use your favorite flavored bitters
Substitute another type of champagne for Brut
Add a squeeze of fresh lemon juice
Substitute orange rind for lemon rind
Add a splash of cognac or flavored liqueur
Substitute granulated sugar for sugar cubes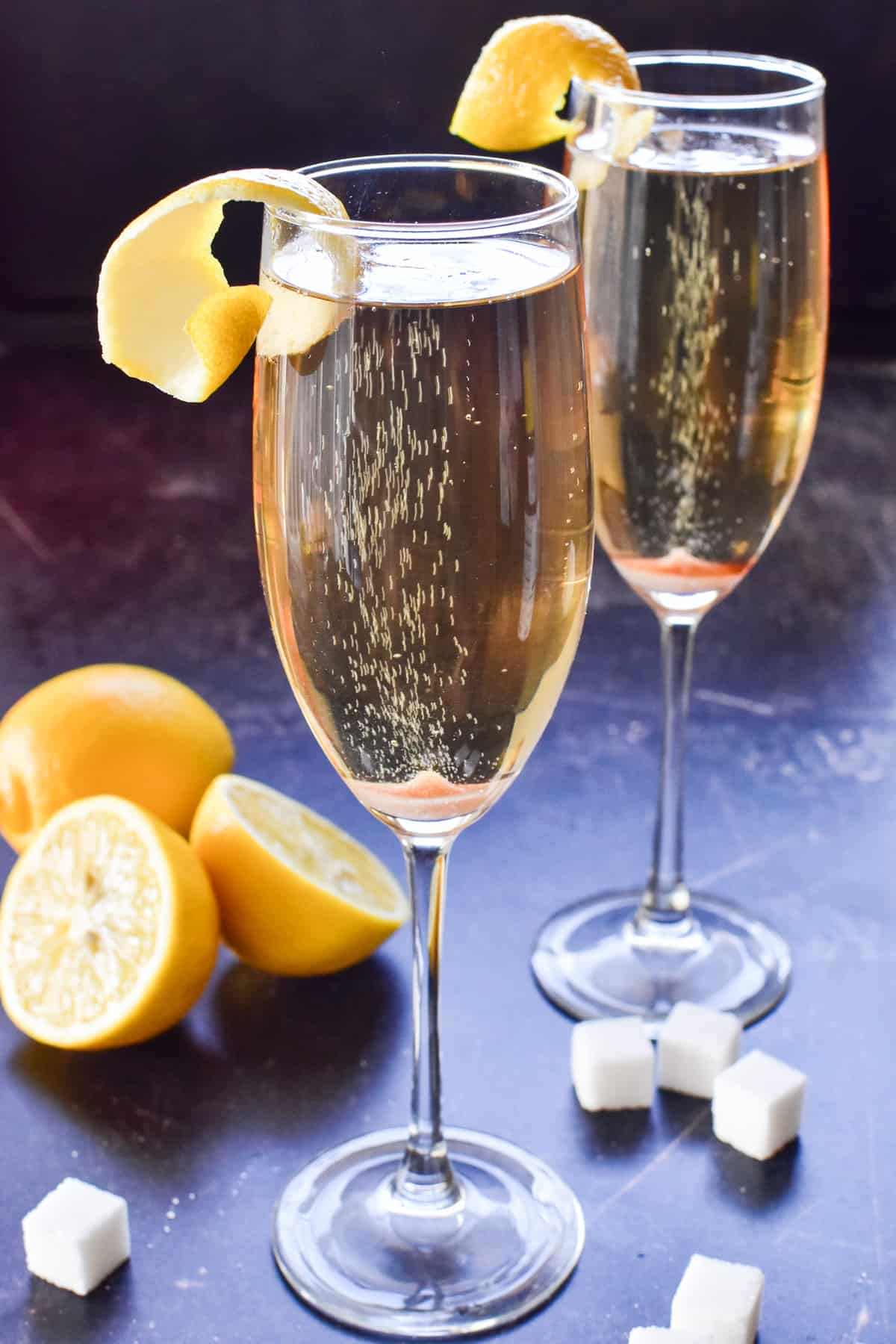 More champagne cocktails you'll love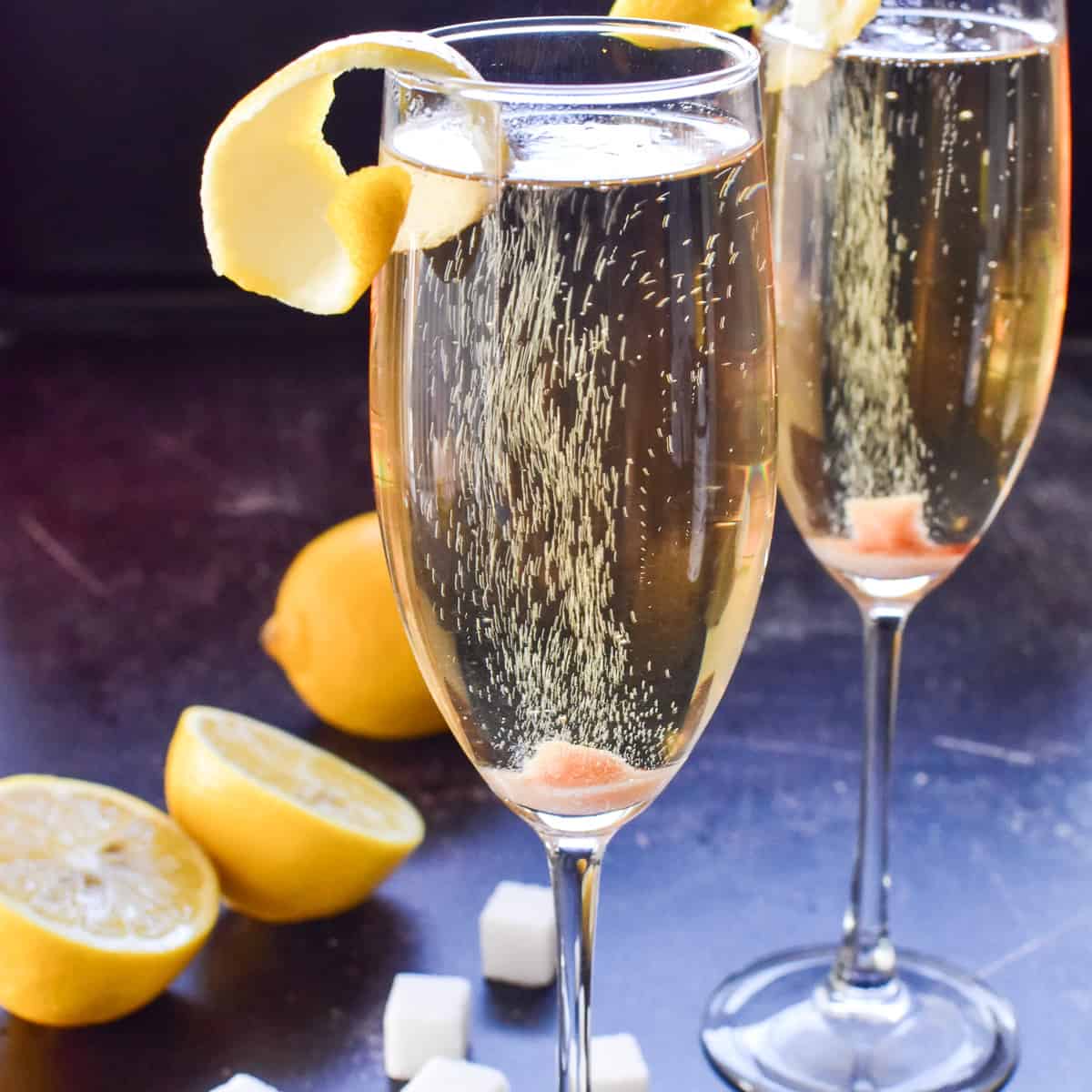 Champagne Cocktail
Calling all champagne lovers... this is the drink for you! This classic Champagne Cocktail is made with just 4 simple ingredients and is our favorite way to ring in the New Year or make any celebration a little more special!
Ingredients
4 sugar cubes
12 dashes bitters
1 bottle champagne
lemon rind, for garnish
Instructions
Place one sugar cube in the bottom of each champagne flute. Add 3 dashes of bitters over the sugar cubes.
Top each glass with champagne.
Garnish with lemon rind twists & enjoy!
Notes
Recipe variations
Use your favorite flavored bitters
Substitute another type of champagne for Brut
Add a squeeze of fresh lemon juice
Substitute orange rind for lemon rind
Add a splash of flavored liqueur
Substitute granulated sugar for sugar cubes
Nutrition Information:
Yield:

4
Serving Size:

1
Amount Per Serving:
Calories:

168
Total Fat:

0g
Saturated Fat:

0g
Trans Fat:

0g
Unsaturated Fat:

0g
Cholesterol:

0mg
Sodium:

9mg
Carbohydrates:

8g
Fiber:

0g
Sugar:

4g
Protein:

0g