Pineapple Upside Down Mimosas are one of our favorite brunch time beverages! They combine the classic mimosa you know and love with the delicious taste of pineapple upside down cake. Made with just 3 simple ingredients, these drinks are easy to prepare and perfect for any occasion. Make your next brunch extra special with these extra special (extra yummy!) mimosas!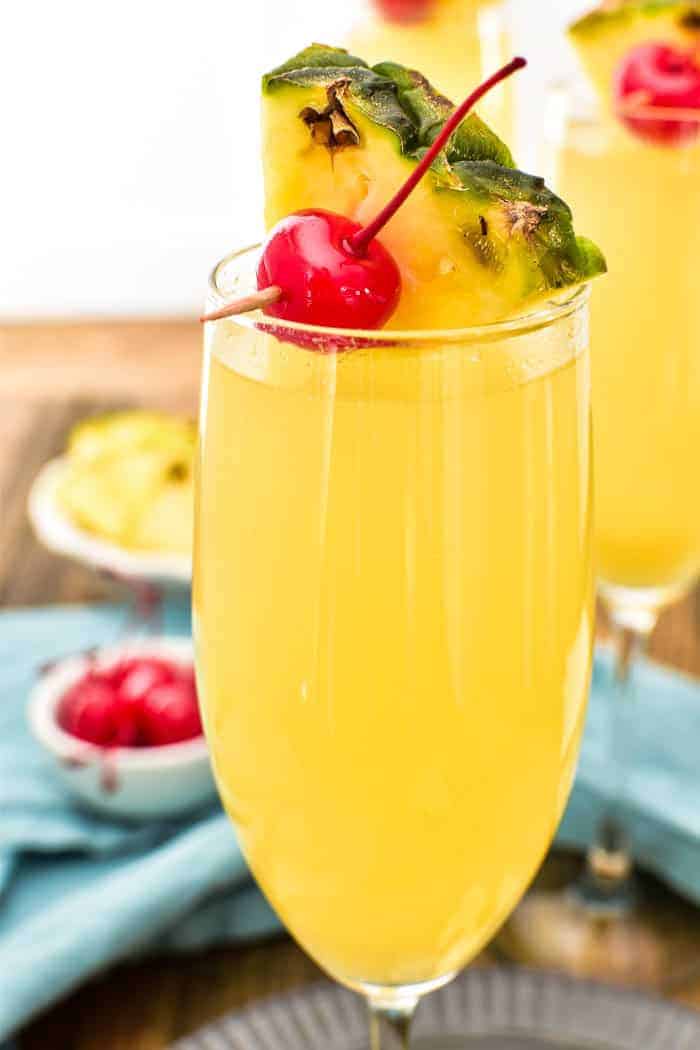 I was having a conversation recently about Mother's Day. And about what it is that moms really want on their special day….aside from the homemade cards and IOU coupons and school art projects, of course, which are clearly Mother's Day necessities.
The answer? Hands down….MIMOSAS.
I've never met a mom who didn't love a good mimosa….and really? What's not to love?! A sweet, bubbly cocktail that's totally acceptable to have at breakfast? Yes, please! You don't have to ask me twice.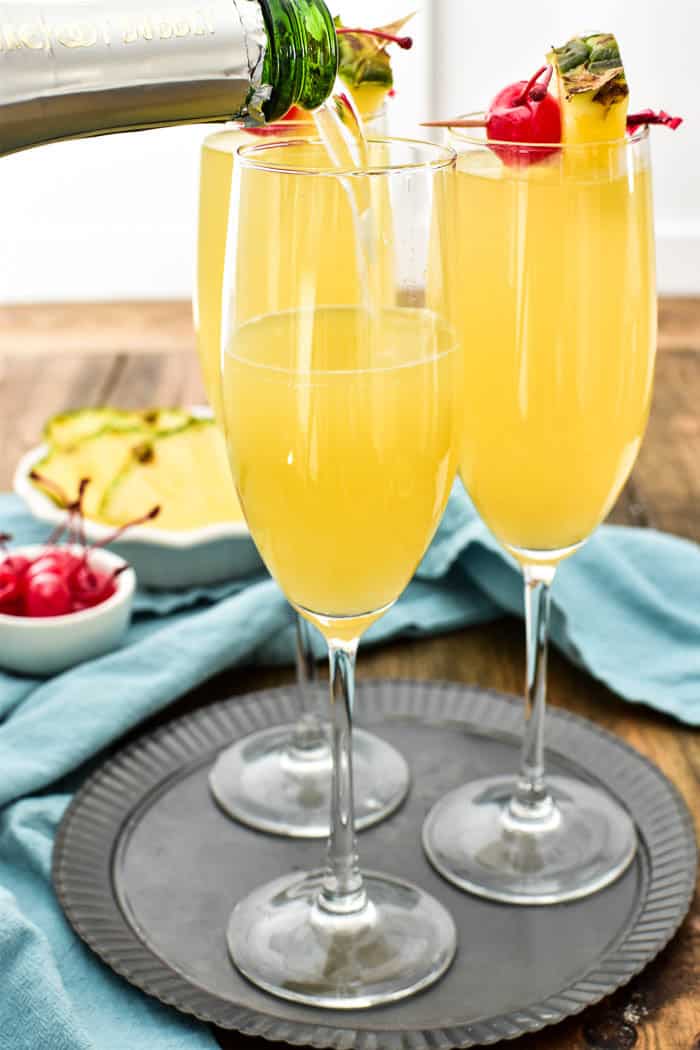 I love all kinds of mimosas, from the classic recipe to Sunrise Mimosas to Lemon Basil Mimosas to these yummy Tropical Mimosas. And I've even gone so far as to make a Mimosa Smoothie and Glazed Mimosa Bread…because when you have a thing for mimosas, why limit yourself to just drinking them!?
But. As much as I love all the others, there's something about this Pineapple Upside Down Mimosa that's different. Because, well, it tastes like cake! So not only do you get a cocktail for breakfast…but you get cake, too. Need I say more?
And best of all, these Pineapple Upside Down Mimosas are made with just THREE ingredients. Which is both amazing and a little bit dangerous. Because once you have the champagne and the pineapple juice, all you need is the cake vodka….and you have yourself a party!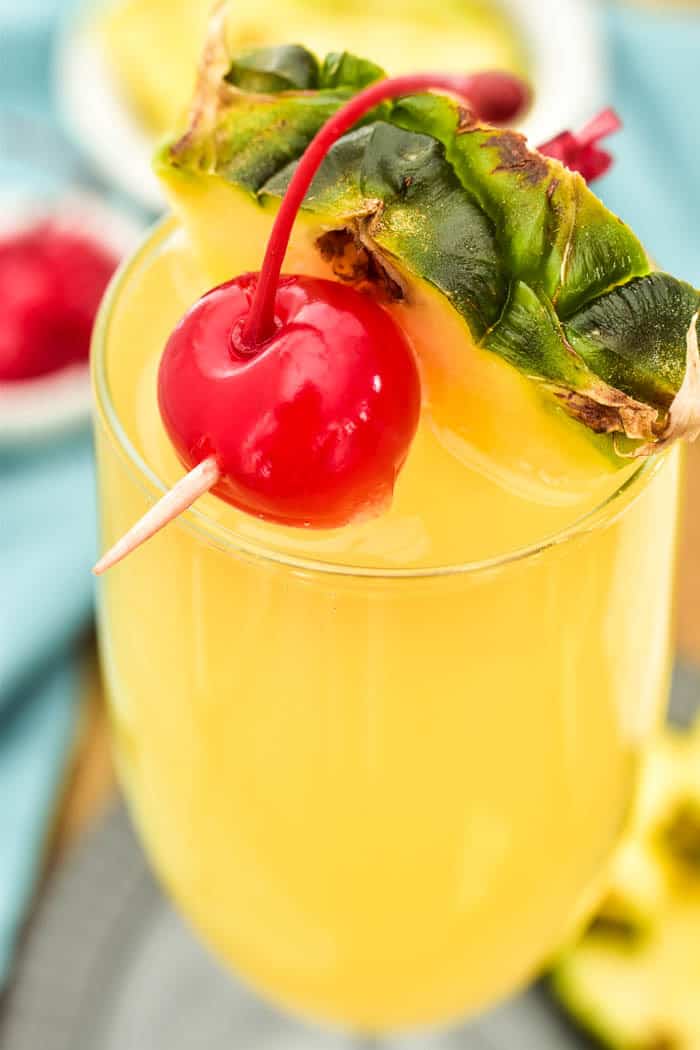 These Pineapple Upside Down Mimosas are perfect for Mother's Day or summer parties or lazy days by the pool. They take just minutes to make and can be made in batches, which means all you have to do is pour them….and enjoy them!
And since every good Pineapple Upside Down Cake includes cherries, these mimosas wouldn't be complete without a little bit of fresh pineapple and a cherry on top.
Mother's Day just got a whole lot better.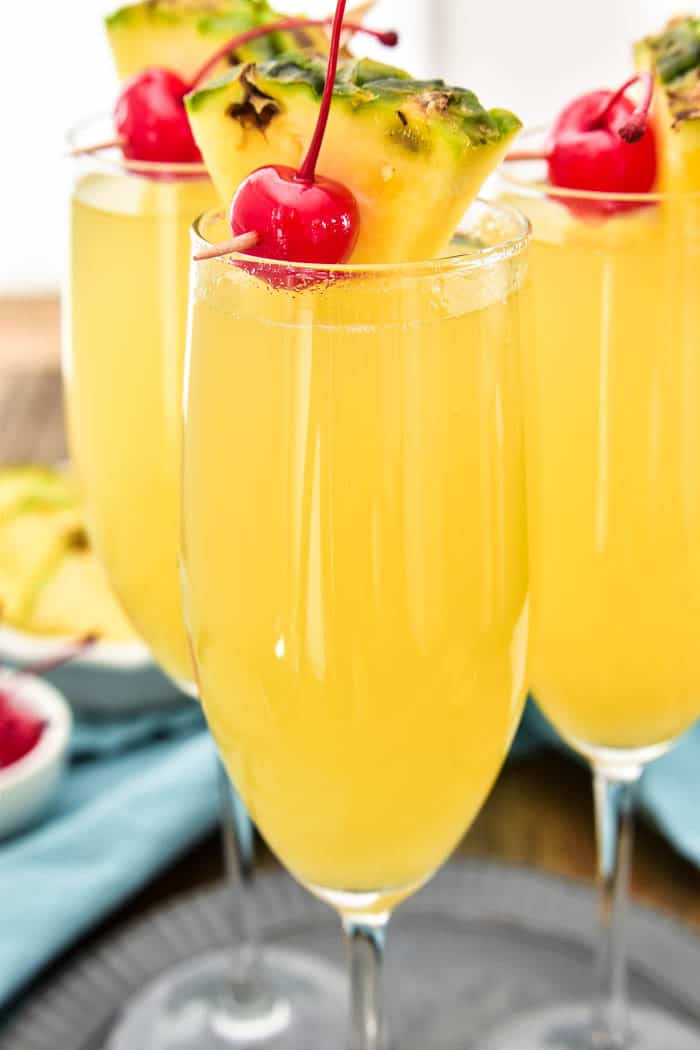 HOW TO MAKE A MIMOSA:
Fill a champagne flute 1/2 – 2/3 full with chilled champagne or prosecco.
Add 1 tablespoon triple sec or other liqueur.
Top with chilled juice.
Garnish with an orange slice or other fruit as desired.
HOW TO MAKE A PITCHER OF MIMOSAS:
Fill a pitcher with 2-3 cups of juice.
Add 3 oz. triple sec or other liqueur.
Add sliced fruit (optional).
Cover and refrigerate until ready to serve.
Before serving, add 1 bottle champagne or prosecco.
Pour into champagne flutes and garnish as desired.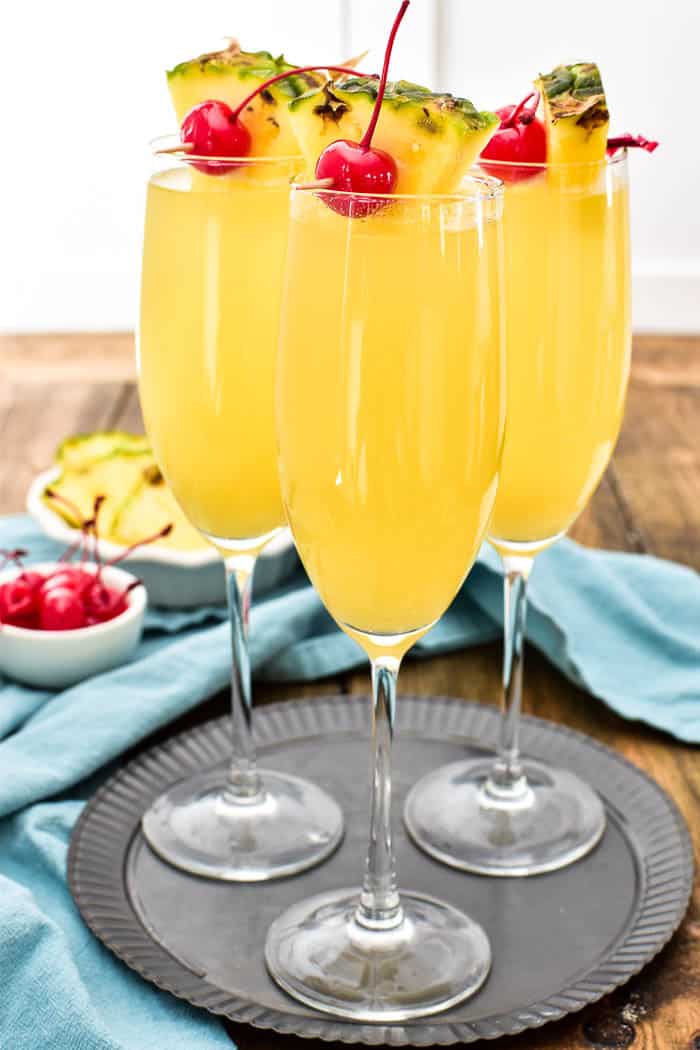 WHERE DID MIMOSAS ORIGINATE?
Mimosas are believed to have originated in 1925 at the Ritz Hotel in Paris by a bartender named Frank Meier. They're a variation of a drink called Buck's Fizz, which originated in 1921 at Buck's Club in London. The Buck Fizz is similar to the mimosa but is made with more wine and less orange juice.
WHAT PAIRS WELL WITH MIMOSAS?
Since mimosas are typically served with brunch, they pair well with any of your favorite brunch recipes. From eggs to fruit to french toast and bacon, mimosas are the perfect addition to any brunch.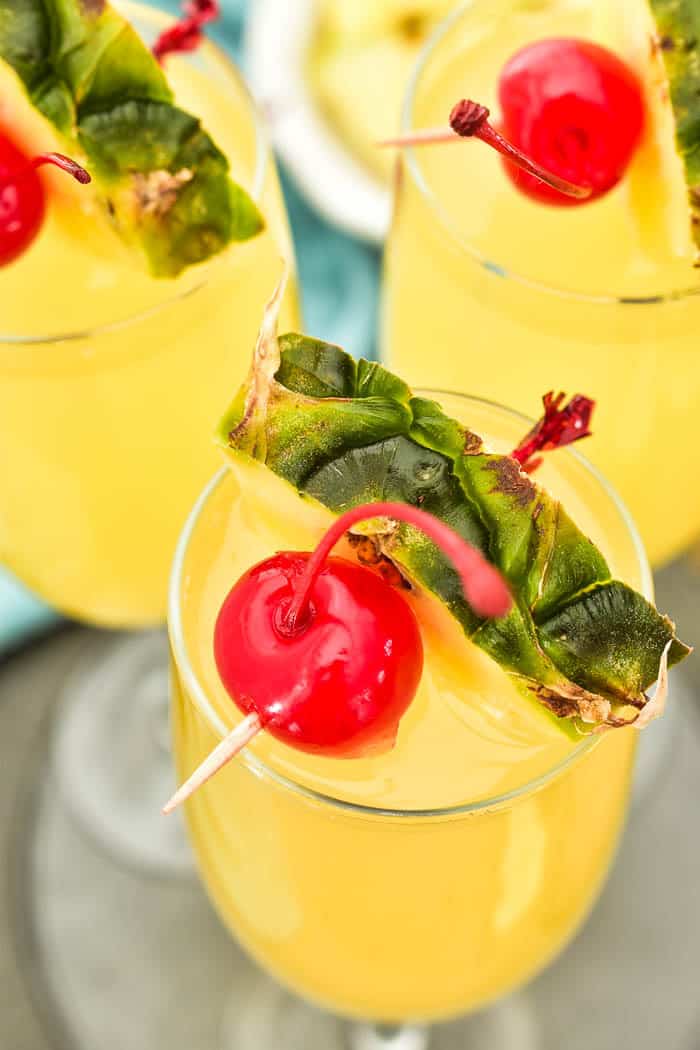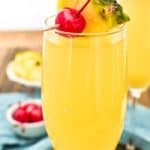 Pineapple Upside Down Mimosas
Ingredients
1/2

cup

Brut champagne,

chilled

1/3

cup

pineapple juice,

chilled

1

ounce

cake flavored vodka

1

pineapple wedge

1

maraschino cherry
Instructions
In a champagne flute, combine pineapple juice, vodka, and champagne.

Garnish with a pineapple wedge and maraschino cherry.
Nutrition Facts
Pineapple Upside Down Mimosas
Amount Per Serving
Calories 173
% Daily Value*
Sodium 10mg 0%
Potassium 206mg 6%
Total Carbohydrates 13g 4%
* Percent Daily Values are based on a 2000 calorie diet.