Lemon Raspberry Champagne Float will be the perfect drink to ring in the New Year! It's simple, festive, and oh so delicious – the ideal drink for any celebration!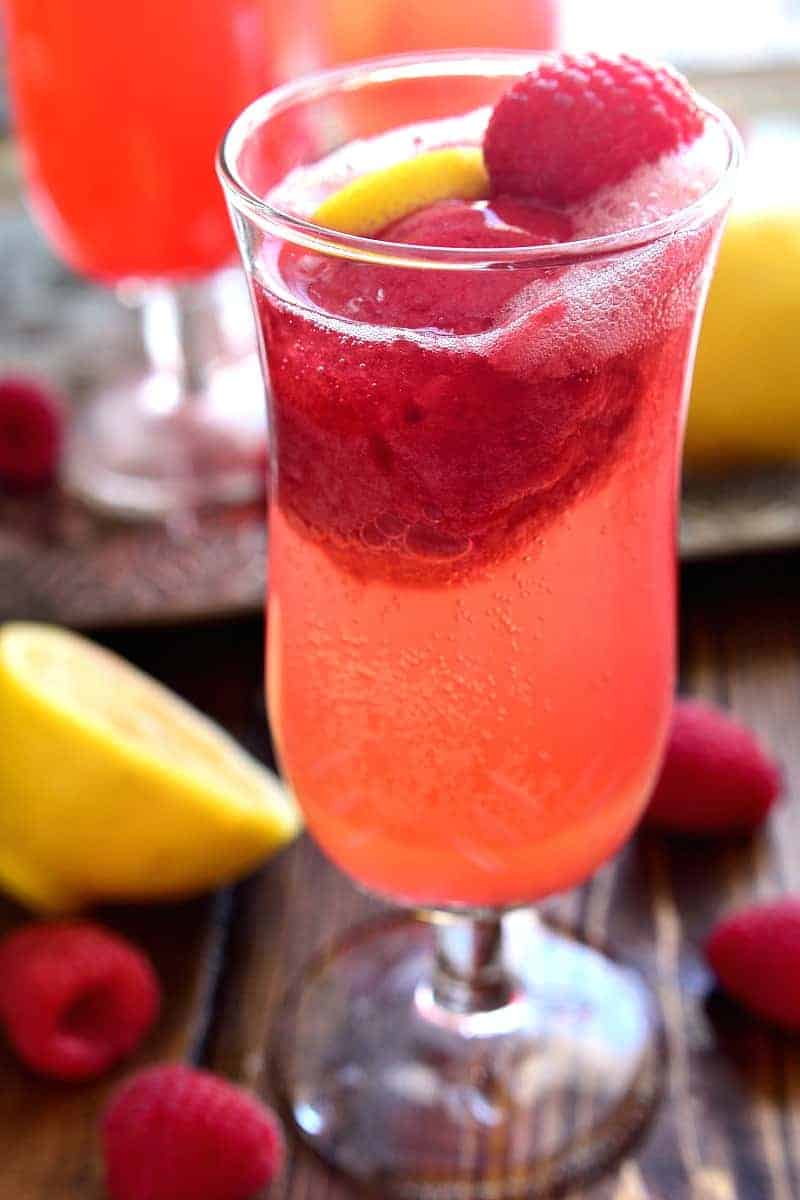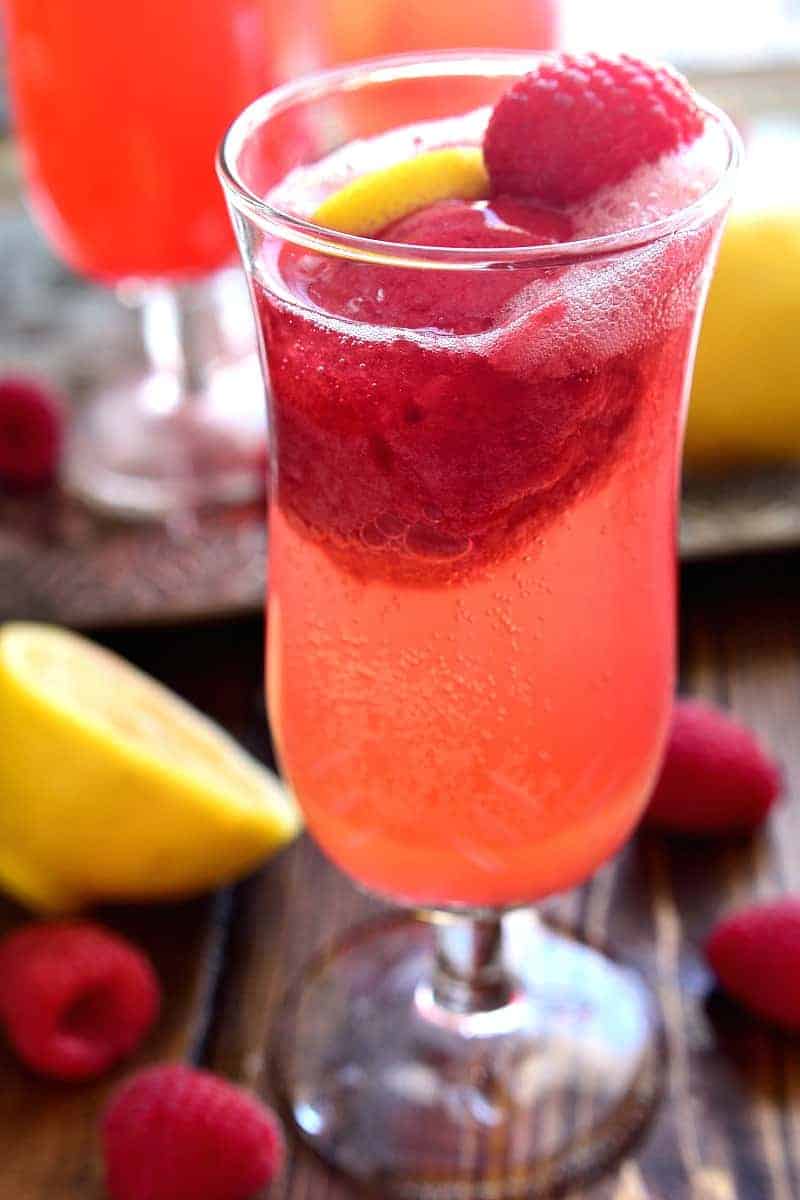 And just like that….Christmas is here! I almost can't even believe it. In just a few short days, the hustle and bustle of holiday prep will all be over, and just a few days after that, none of us will know what to do with all the extra time we suddenly have on our hands.
….Right?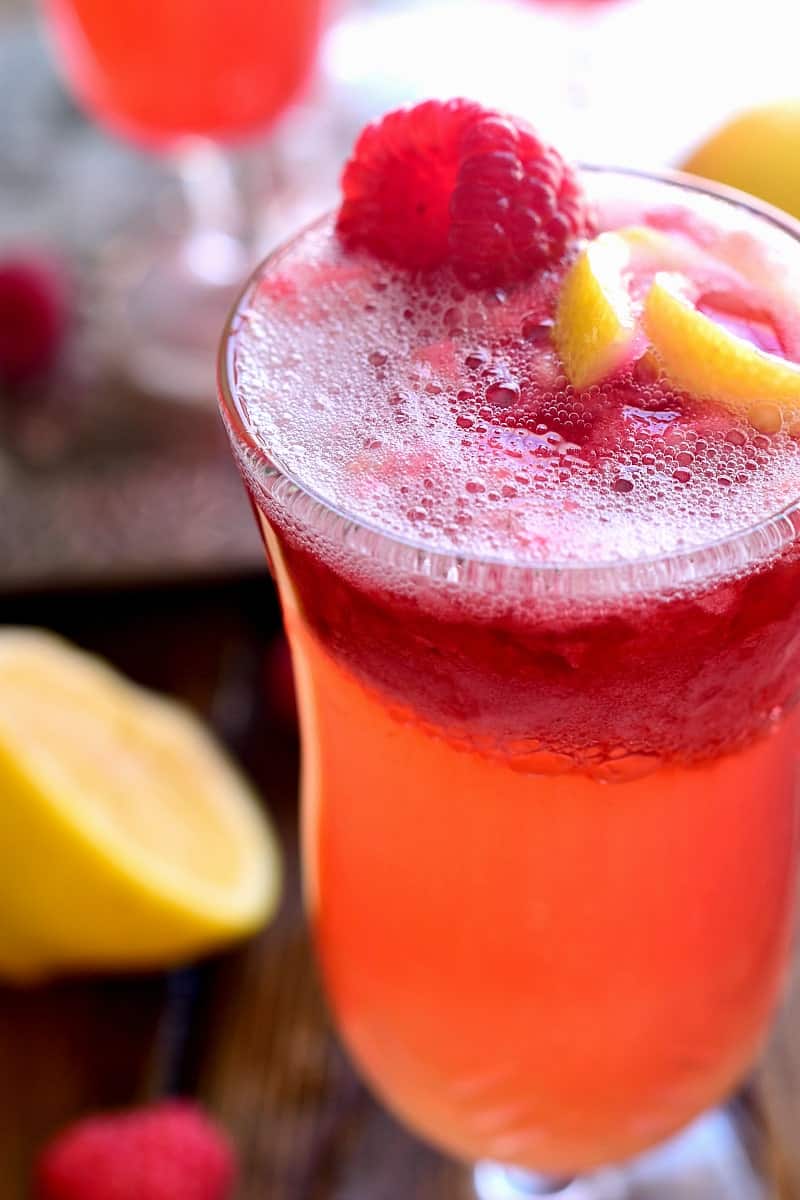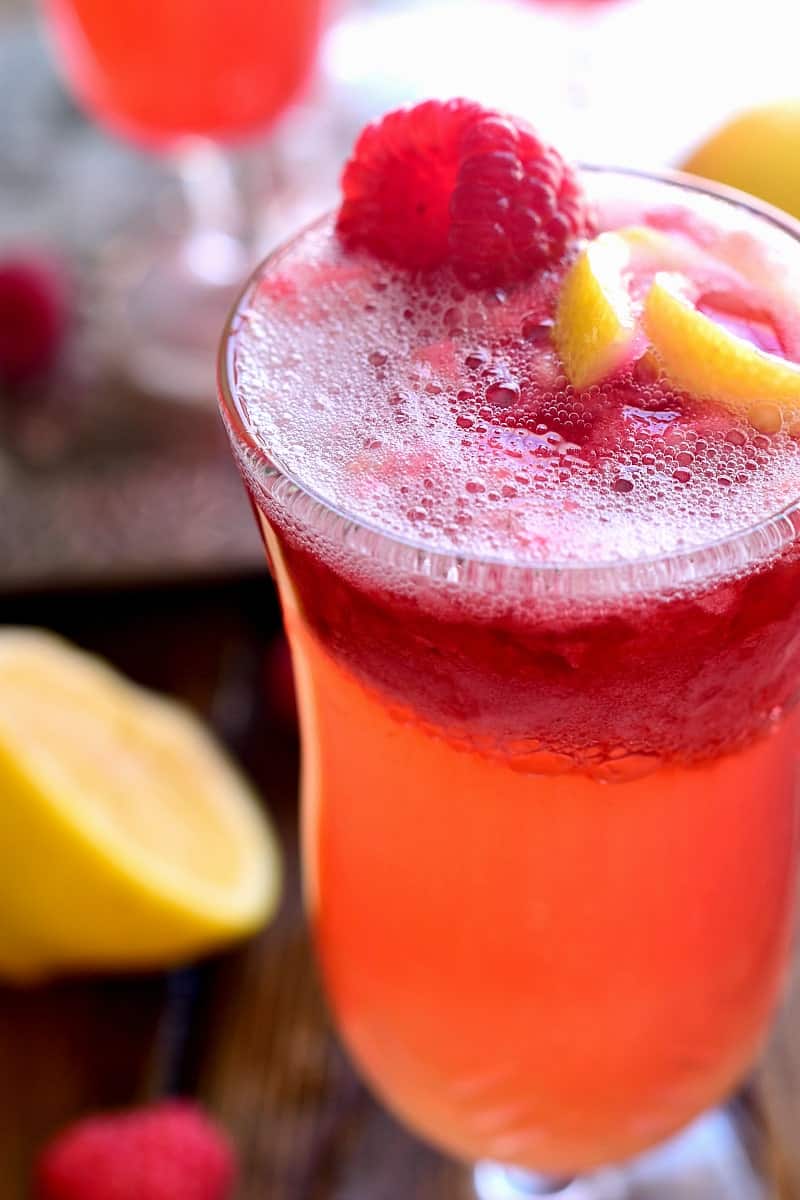 Okay, maybe not. But wouldn't that be nice!? After spending ALL our free time during the month of December on Christmas shopping…..wouldn't it be nice if we suddenly felt like we had more time than we knew what to do with? Sigh. Something tells me January will end up feeling an awful lot like December.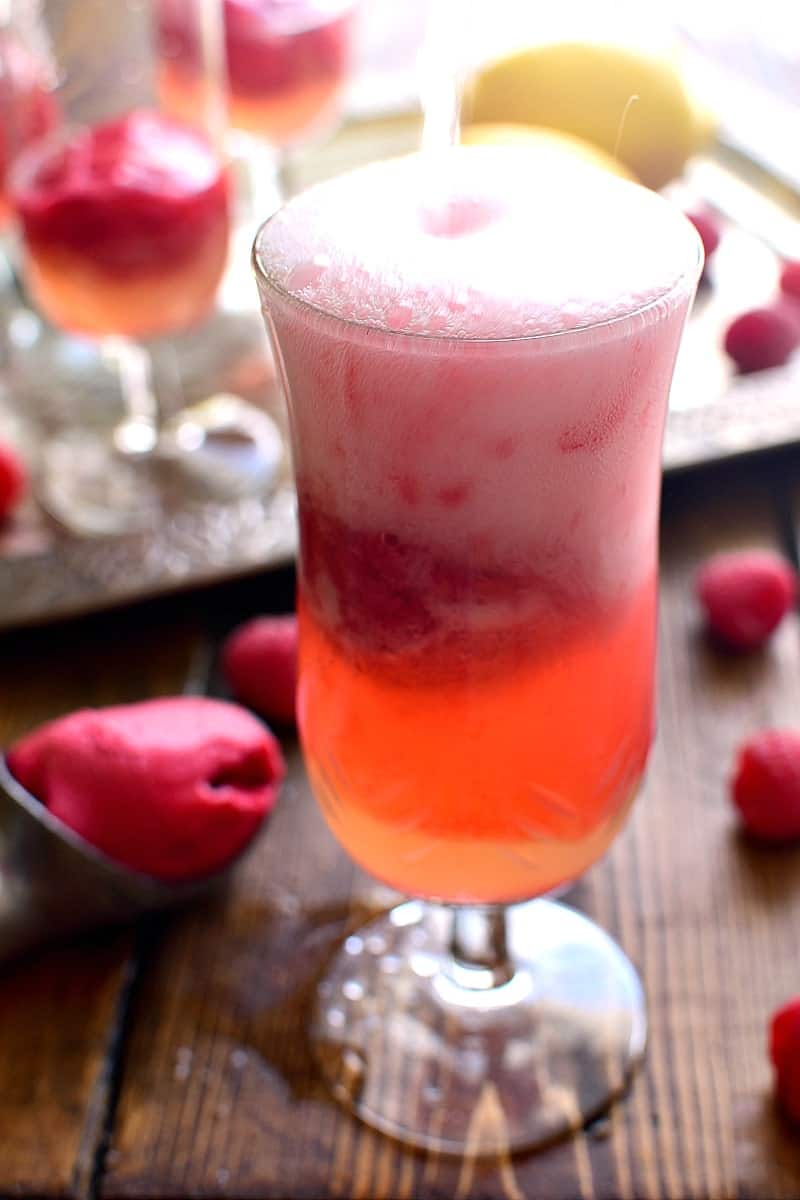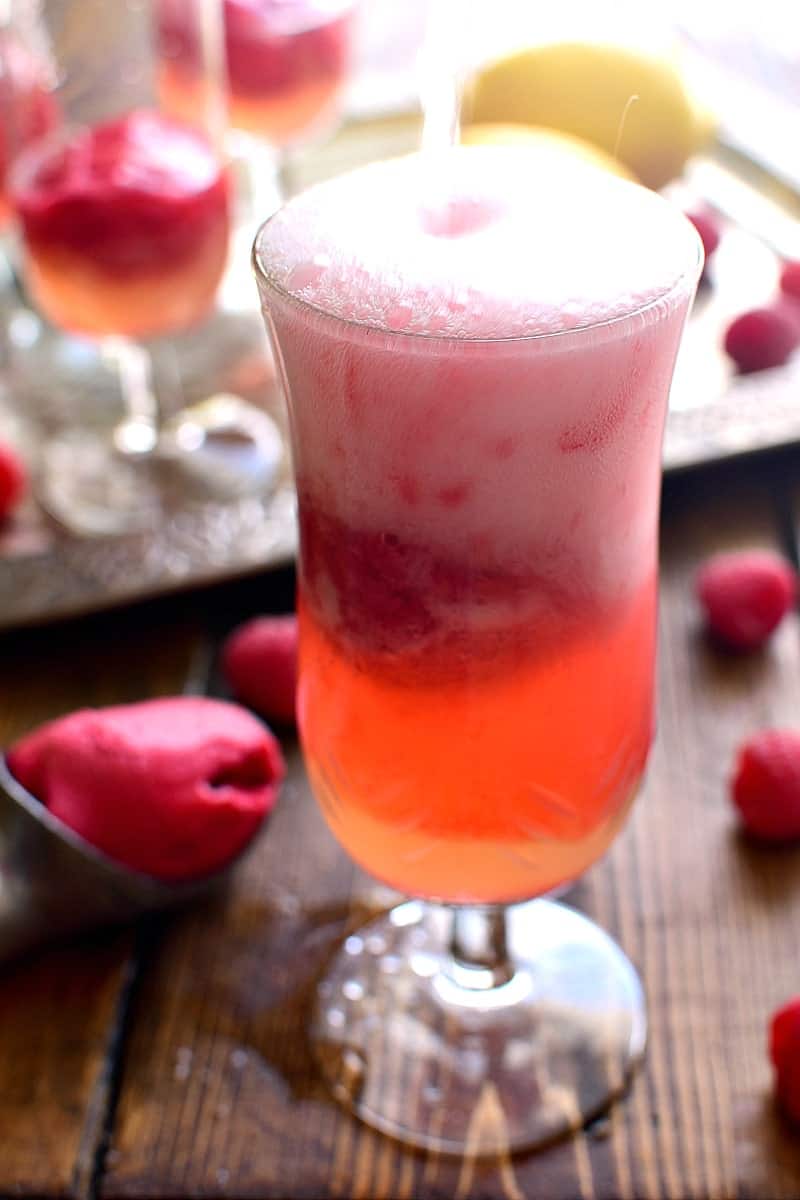 Except that in January I won't be dragging Myla to ALL the stores….daily….and in January I won't be forcing her to skip naps so I can get things done. Daily. Although I must say – for as many times as I've taken Myla shopping in the past few weeks, and for as crazy busy as the stores have been – it really hasn't been all that bad. In fact, I'd even venture to say it's been kinda fun.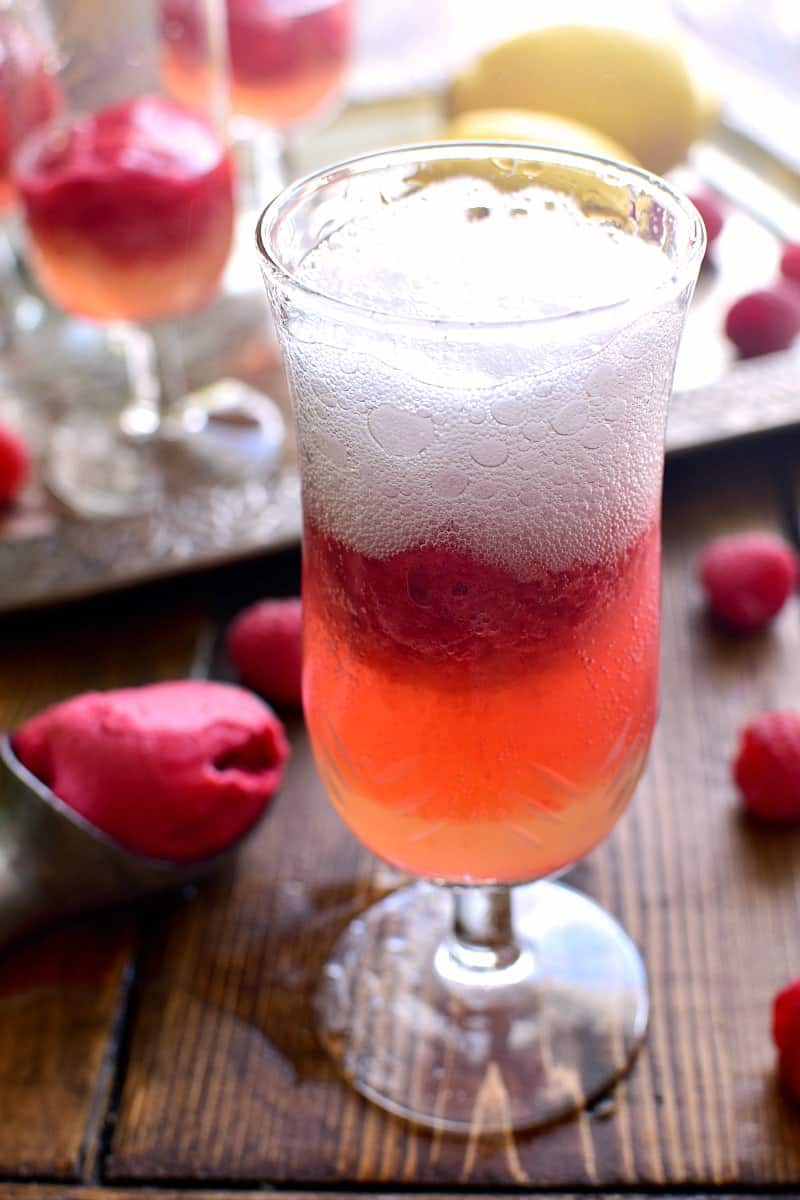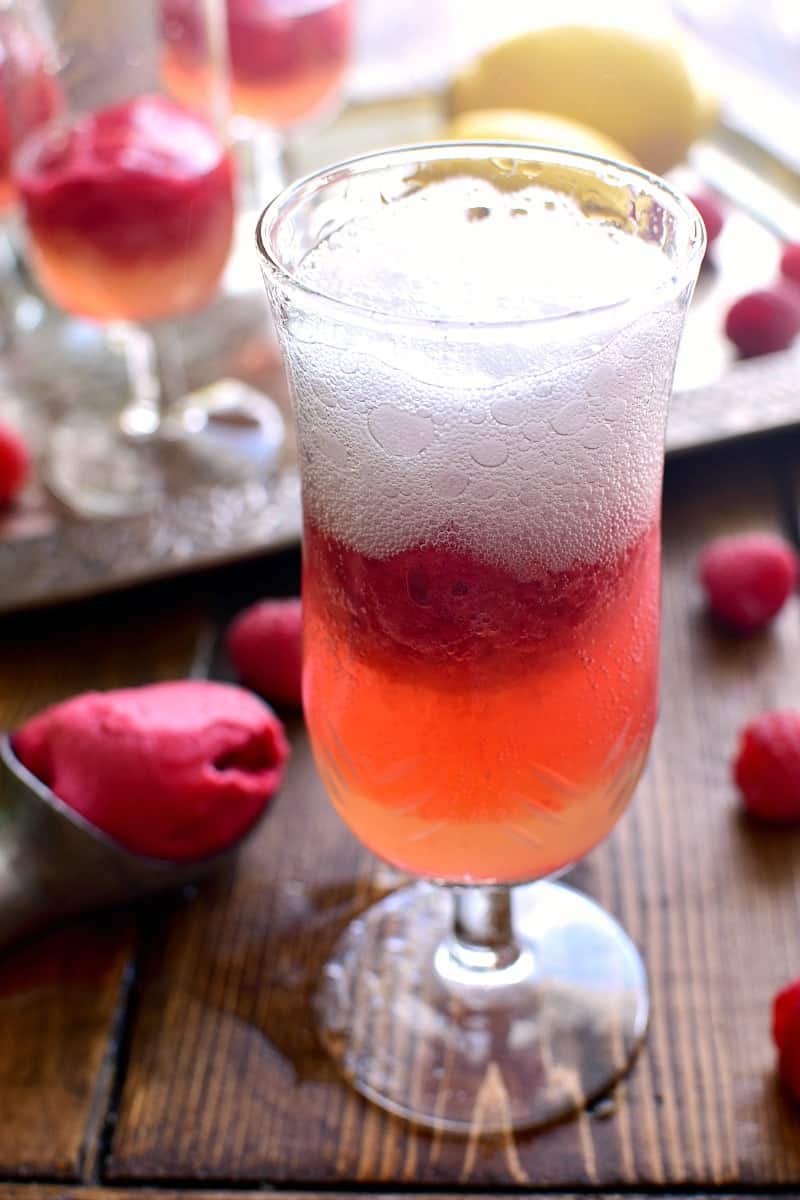 Because there's something about shopping with a 2 year old that brings out the best in people. IF the 2 year old is being cute, and quiet, and exceptionally well-behaved. (If not, it's another story altogether…..) But somehow, despite the lack of naps and the excessive time in shopping carts, Myla has been SO good.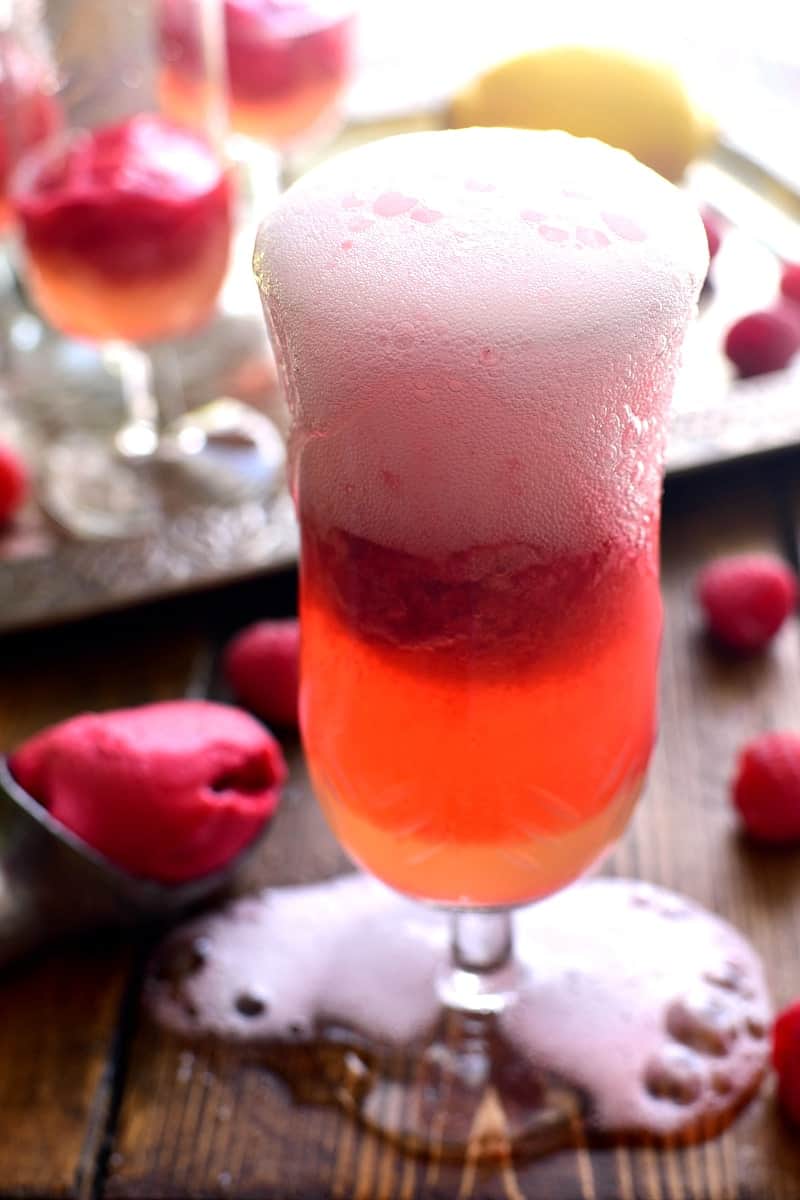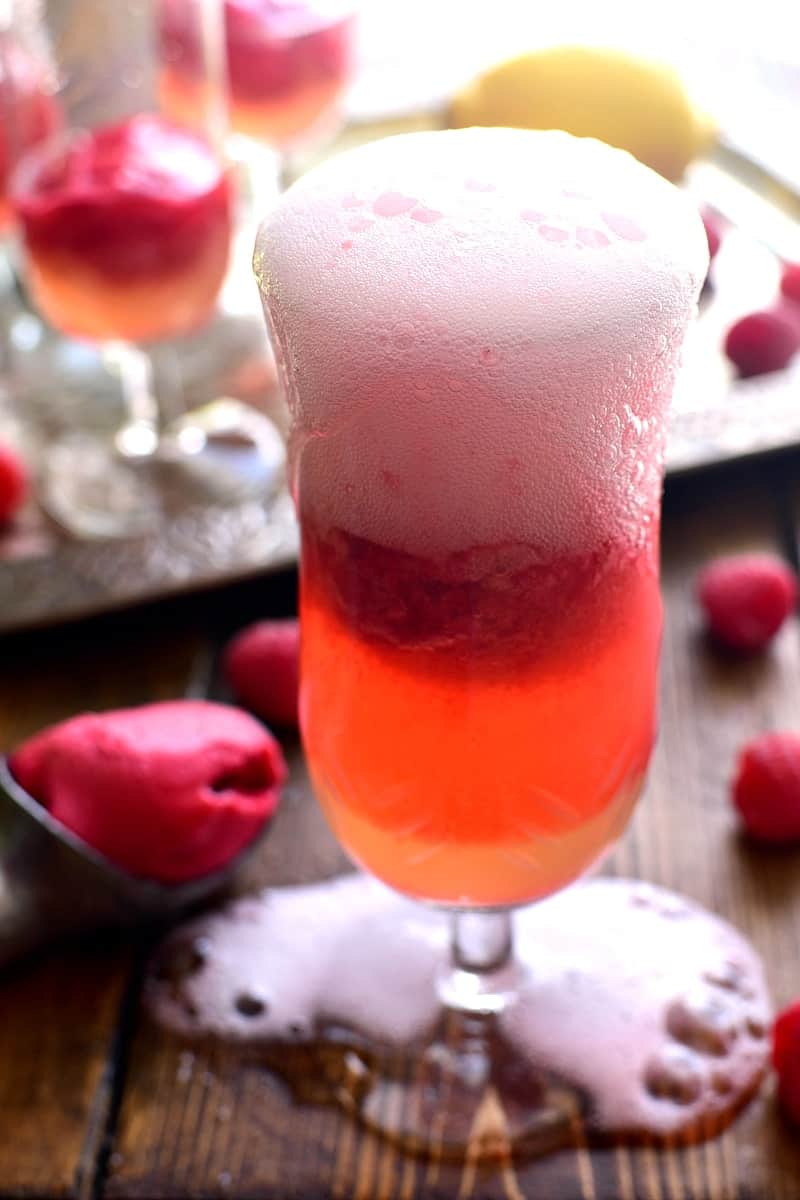 And not only good, but charming! She's charmed her way into 3 cookies, a candy cane, countless games of peek-a-boo with strangers, and a behind the scenes tour at the post office. And that's just in the last few days. I'm not sure if it's the holiday spirit or if it really just is that Myla is super cute…..but I guess I'll find out come January!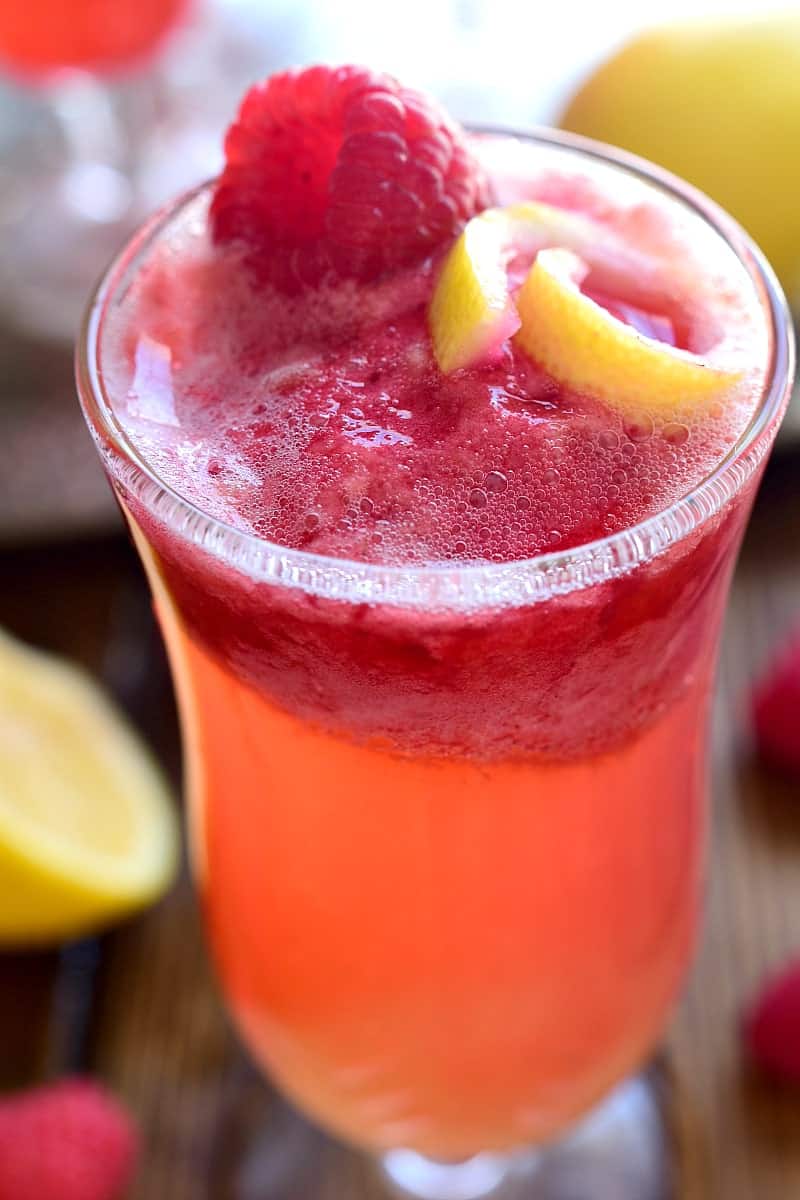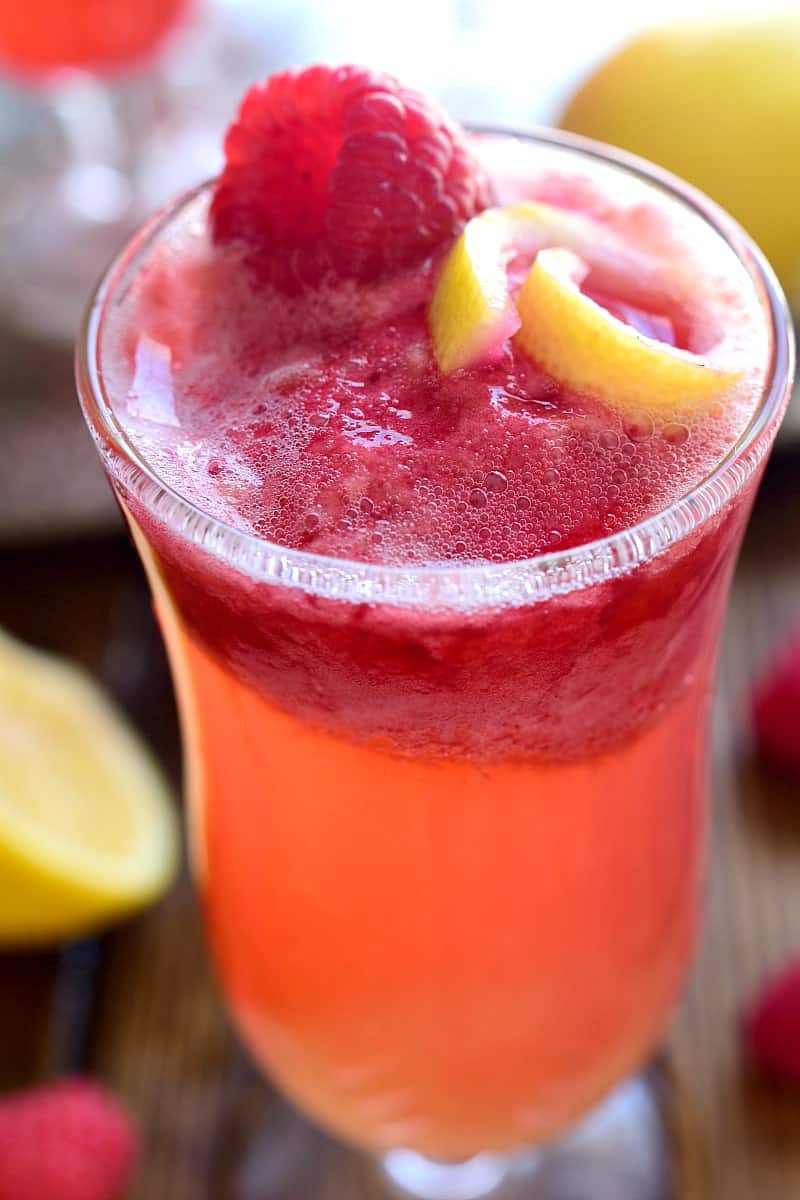 Champagne Float
But for now? The shopping is done, Myla is definitely getting a nap today, and I'm pouring myself a Lemon Raspberry Champagne Float. Because it's time to celebrate! There's something that feels so amazing about knowing you're completely done – like you can finally relax and get to the good stuff – aka the Lemon Raspberry Champagne Floats! They're like a drink and a dessert all in one, and best of all, they couldn't be easier to make. All that stands between you and one of these champagne floats is limoncello, raspberry sorbet, and your favorite champagne. Which makes them the ideal drink from now through New Years Eve! So….what are you waiting for? Pour yourself a drink while you finish wrapping presents. You better believe I plan to!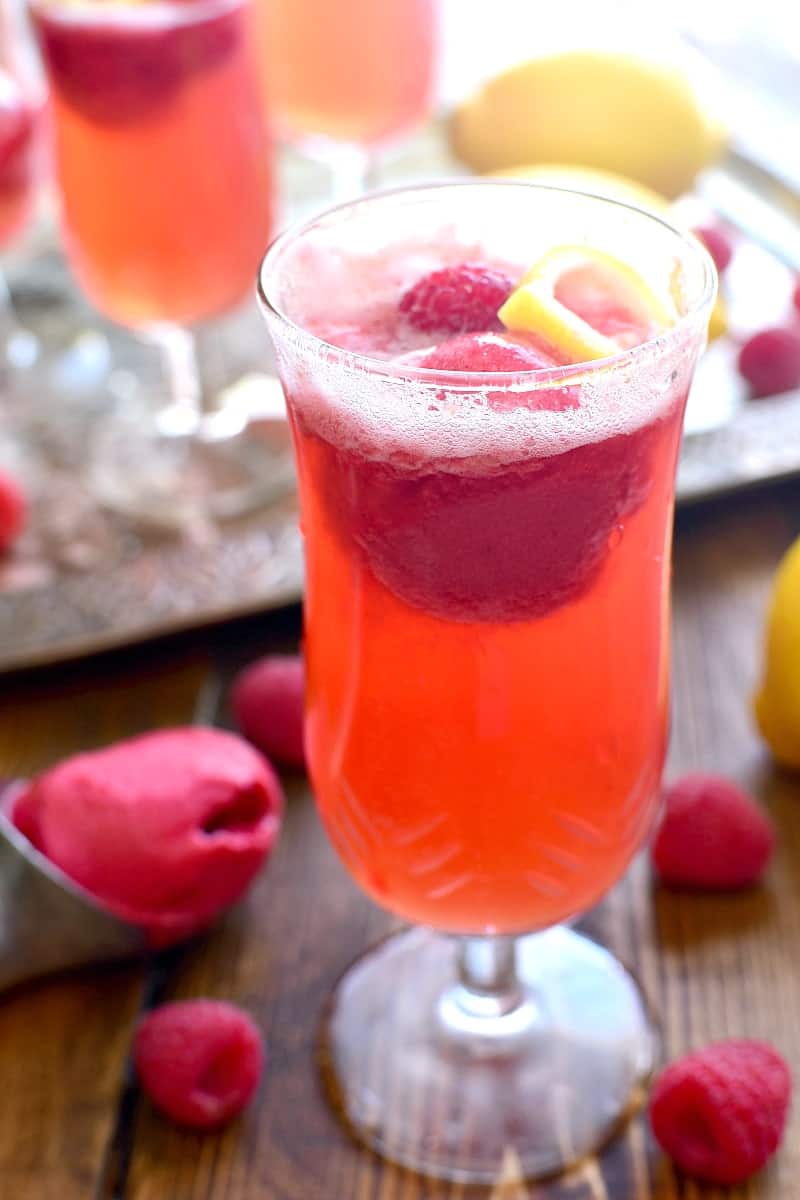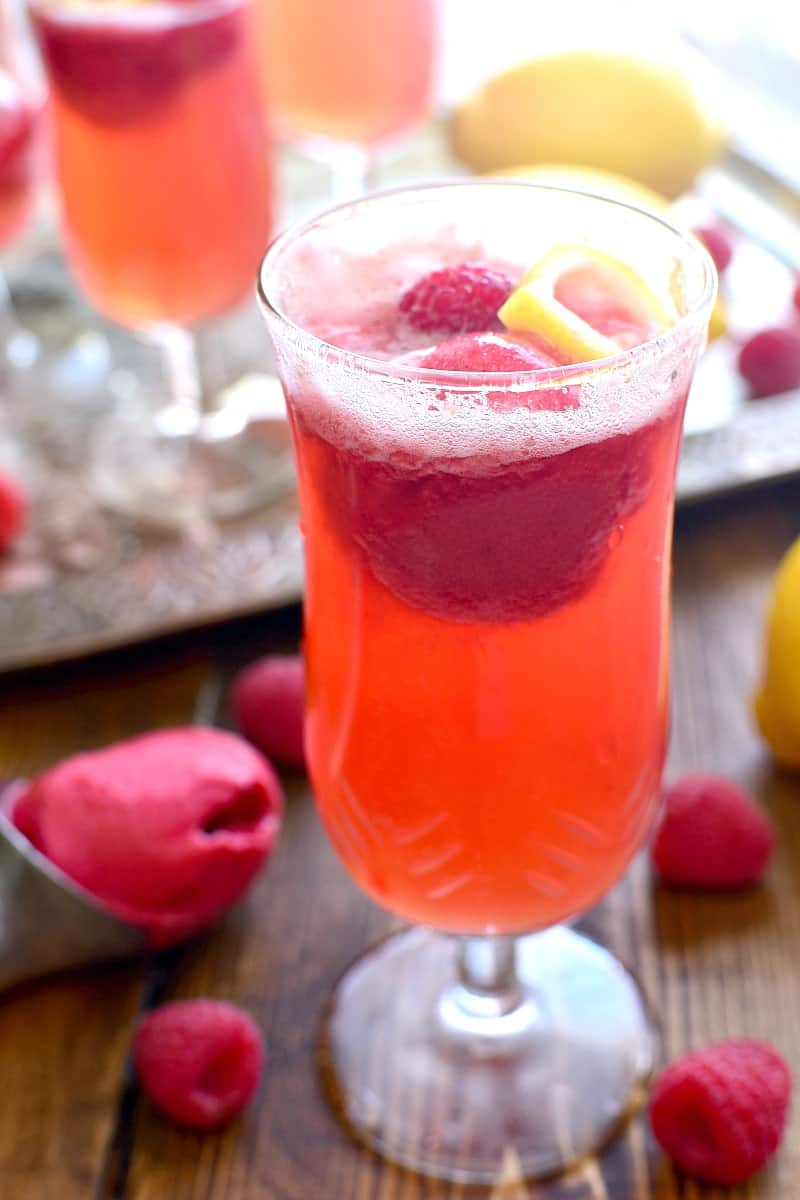 In the mood for champagne? Be sure to check out Dorothy's Cranberry Orange Mimosa Bellinis and Lisa's Strawberry Bellinis!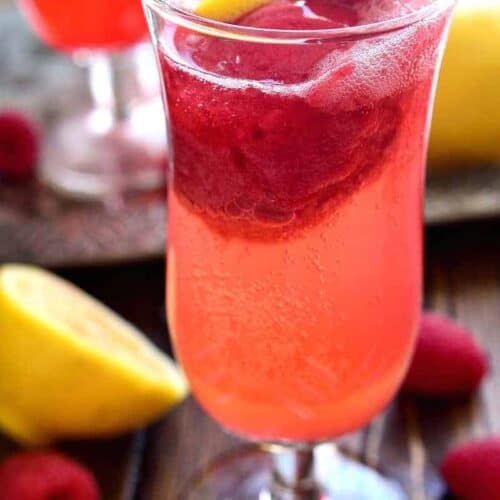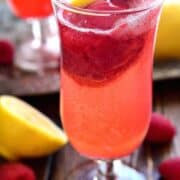 Lemon Raspberry Champagne Float
This Lemon Raspberry Champagne Float is the perfect way to ring in the New Year! It's simple, festive, and oh so delicious - the ideal drink for any celebration!
Ingredients
1

bottle champagne

1

pint

raspberry sorbet

6

oz.

limoncello

1

fresh lemon

for garnish

1/4

c.

fresh raspberries

for garnish
Instructions
Fill each champagne flute with 1 small scoop raspberry sorbet.

Add 1 oz. limoncello and fill with champagne to the top.

Garnish with fresh raspberries and lemon twist.
This cocktail would go great with my Lemon Raspberry Coffee Cake!