Take advantage of citrus season with this delicious Winter Fruit Salad! Loaded with all your favorite winter citrus fruits, plus bananas, kiwi, and pomegranate seeds, this salad is bright and sweet and guaranteed to help you beat the winter blues. And when you toss it in a sweet orange poppy seed simple syrup, the end result is a fruit salad you want to eat again and again, all winter long. Perfect for breakfast, lunch, or any meal in between, this salad is as healthy as it is delicious….and so pretty, too! Which makes it the ideal side dish for any special occasion. No matter how you slice it, this Winter Fruit Salad is guaranteed to become new favorite and sure to be the star of the show!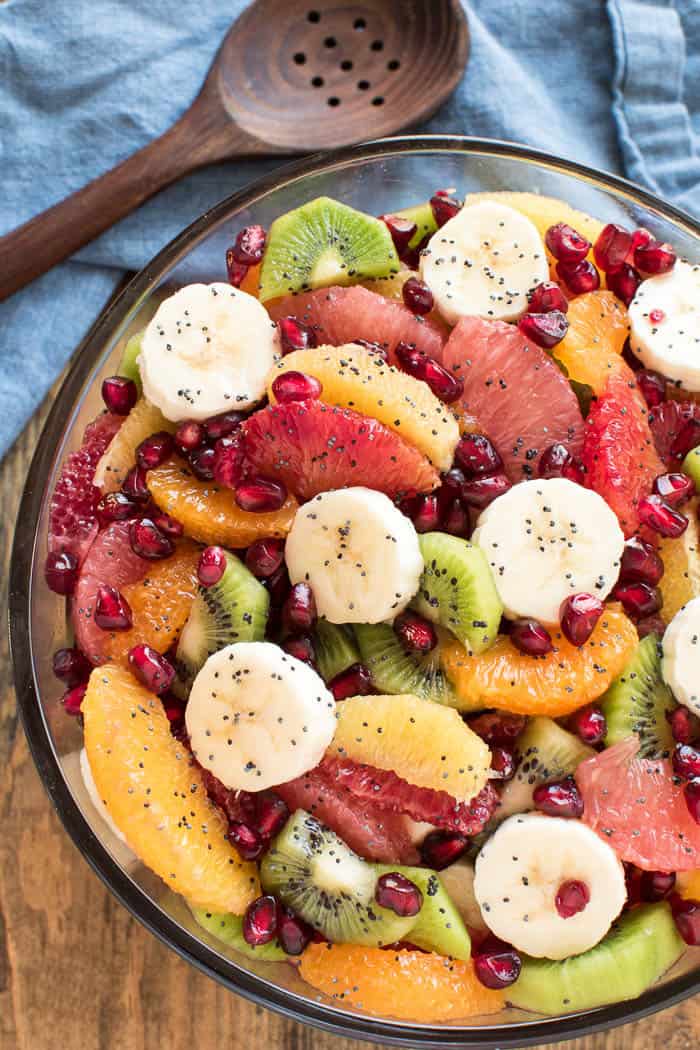 I partnered with Pick 'n Save to bring you this recipe. Thank you for supporting the brands that make Lemon Tree Dwelling possible!
It's fascinating how life changes in winter….isn't it? How neighbors go from seeing one another daily to going weeks without speaking? How going outside suddenly feels like a chore? How all of life shifts from swimming and cookouts to fireplaces and cozy blankets?
And it's fascinating how in summer….there's just SO much more to do. Not only because of all the fun outdoor options, but because summer seems to always be packed with activities. Like birthday parties and baby showers and get togethers of all kinds. And then, in winter, we all kind of shut down.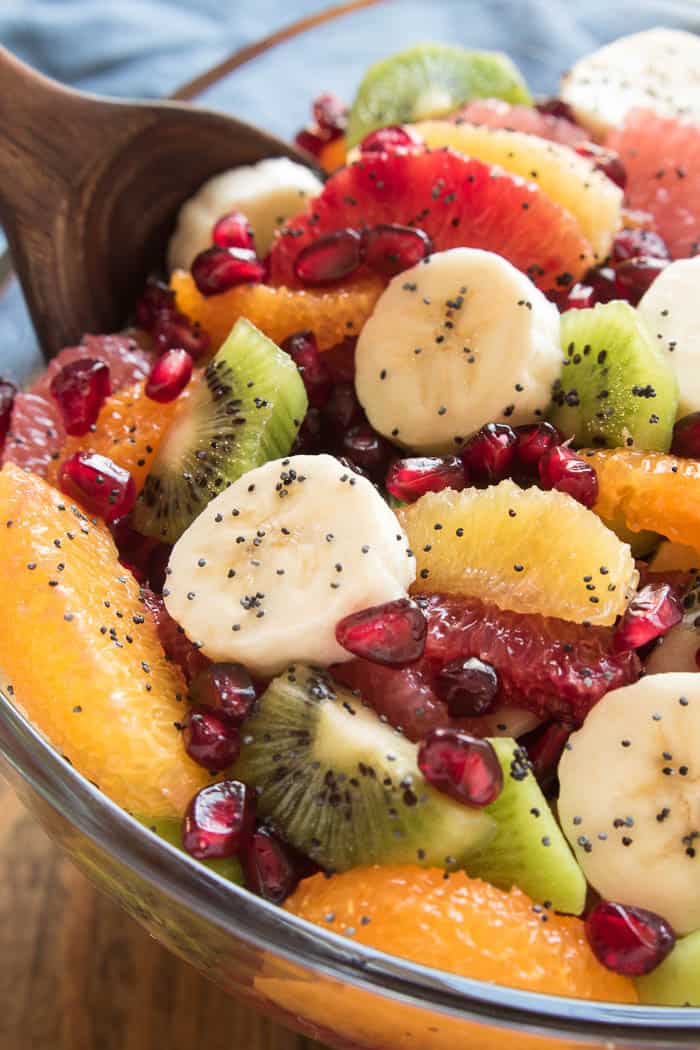 But. I've been trying to change that. And I feel like the other people in my life are trying, too.
Meaning that in the past few weeks I've had more invitations….to concerts and dinners and ladies nights and family get togethers….than I ever remember having in winter. And I'm loving it!
And just this morning, when I happened to stumble upon the fact that the Grammy Awards are Sunday? You better believe I was all over it. Because ANY opportunities for fun in the middle of winter MUST be taken advantage of. Am I right?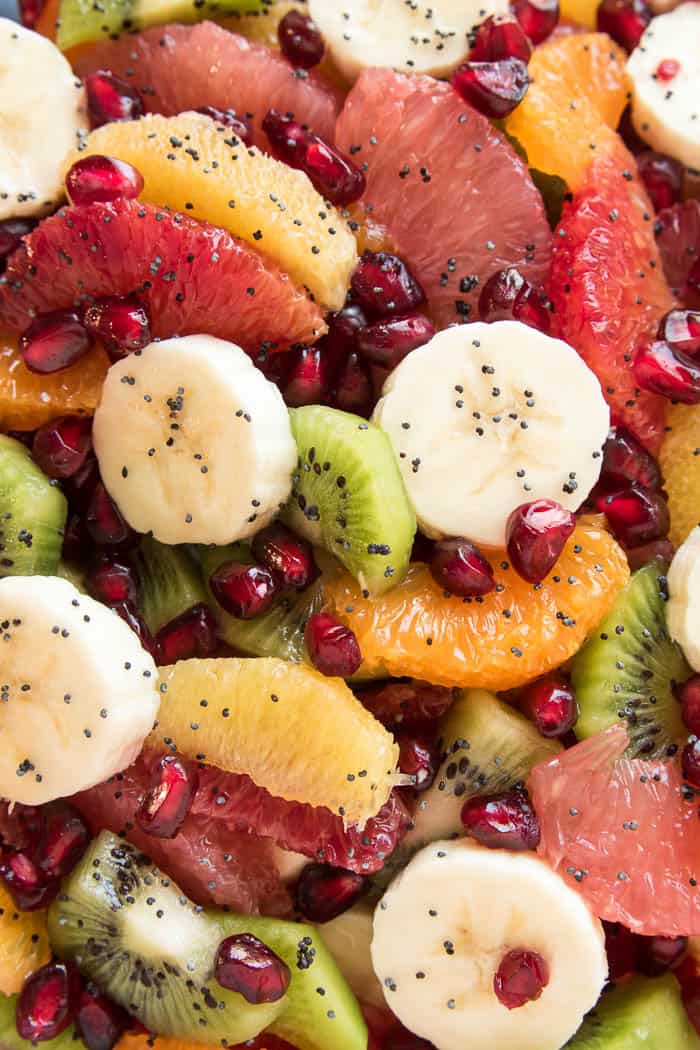 Of course, along with all these fun social invitations comes the need for delicious new recipes to share….and since I've recently fallen in LOVE with this Winter Fruit Salad, I pretty much feel like I'm set.
Because even though winter is typically reserved for comfort foods and cheesy dips, who doesn't love (and crave) a pop of freshness every now and then!?
This Winter Fruit Salad is PACKED with freshness and all the most amazing flavors the season has to offer, from grapefruit and blood oranges to kiwi, bananas, and pomegranate seeds.
And not only does it taste delicious, but it actually couldn't be prettier with all the gorgeous, bright colors. And let's be honest. As much as we all love a white winter….at this point we could probably use a little more color in our lives!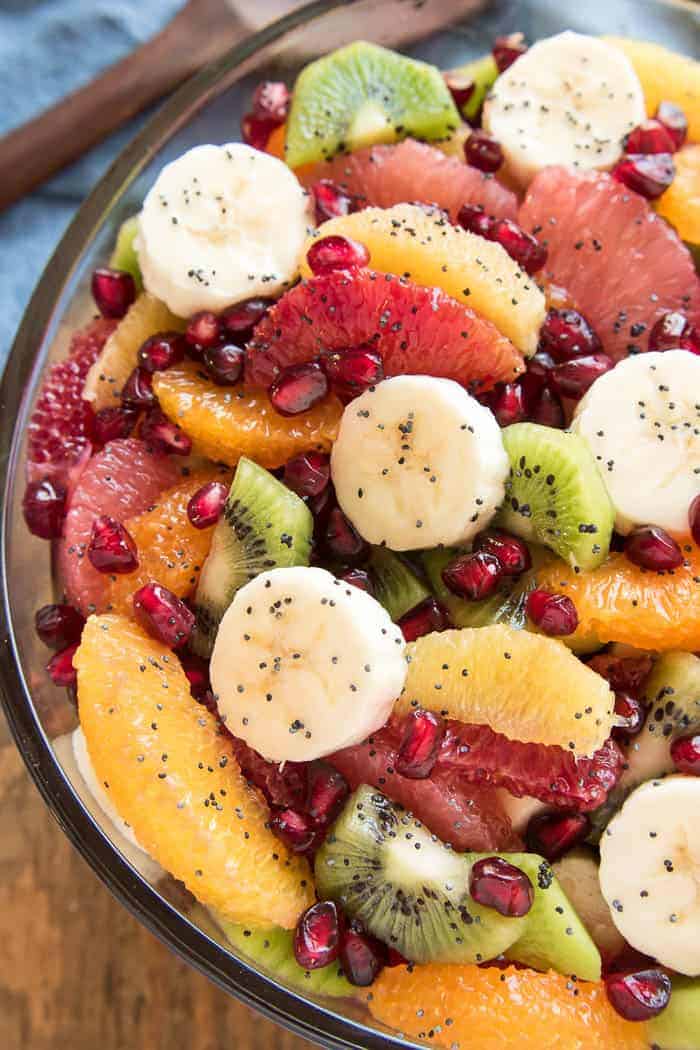 Now. Confession time. I've been eyeing up all the delicious citrus fruits at Pick 'n Save for weeks now…and I just now finally worked up the confidence to make this Winter Fruit Salad a reality.
And do you know why? Because I've never segmented citrus fruit before! I know, I know….what kind of food blogger am I….? But it's the truth. There you have it.
But! Here's the thing. Now that I've done it? I'm totally not scared of it any more. Because now that I've done it I know just how easy it actually is. And when you can find EVERYTHING you need for this gorgeous salad right at Pick 'n Save? There's just no reason not to.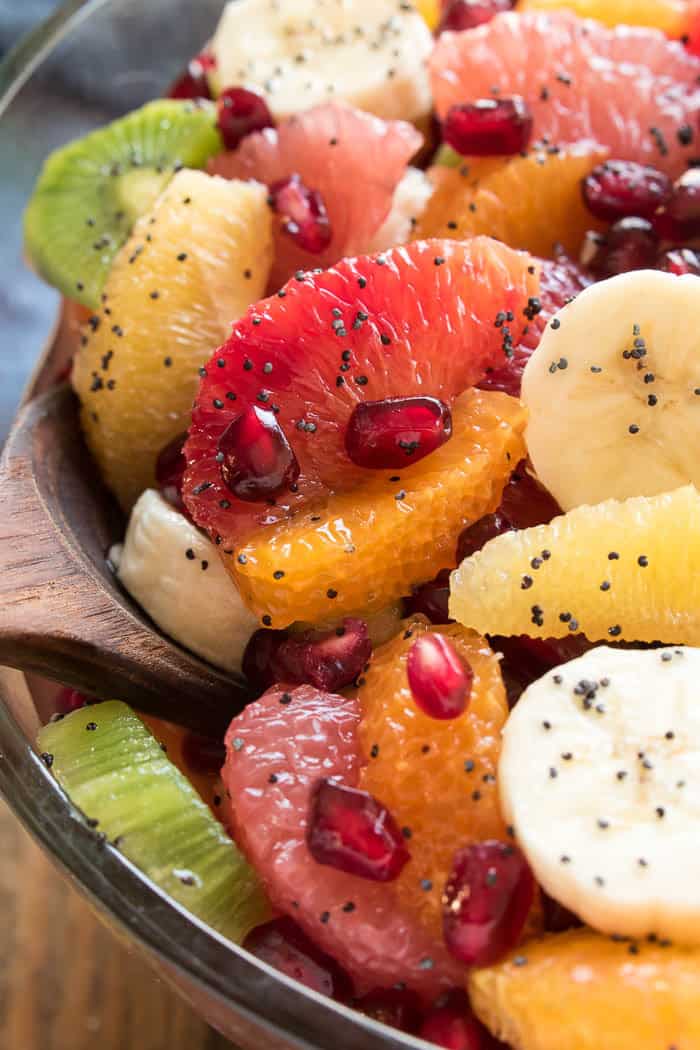 This Winter Fruit Salad would make a lovely addition to a winter brunch, ladies night, family dinner, birthday party, baby shower, or any meal in between. And even though it doesn't technically need the orange poppy seed simple syrup? It's a seriously delicious addition.
If you love citrus fruit, you'll LOVE this citrus-packed Winter Fruit Salad!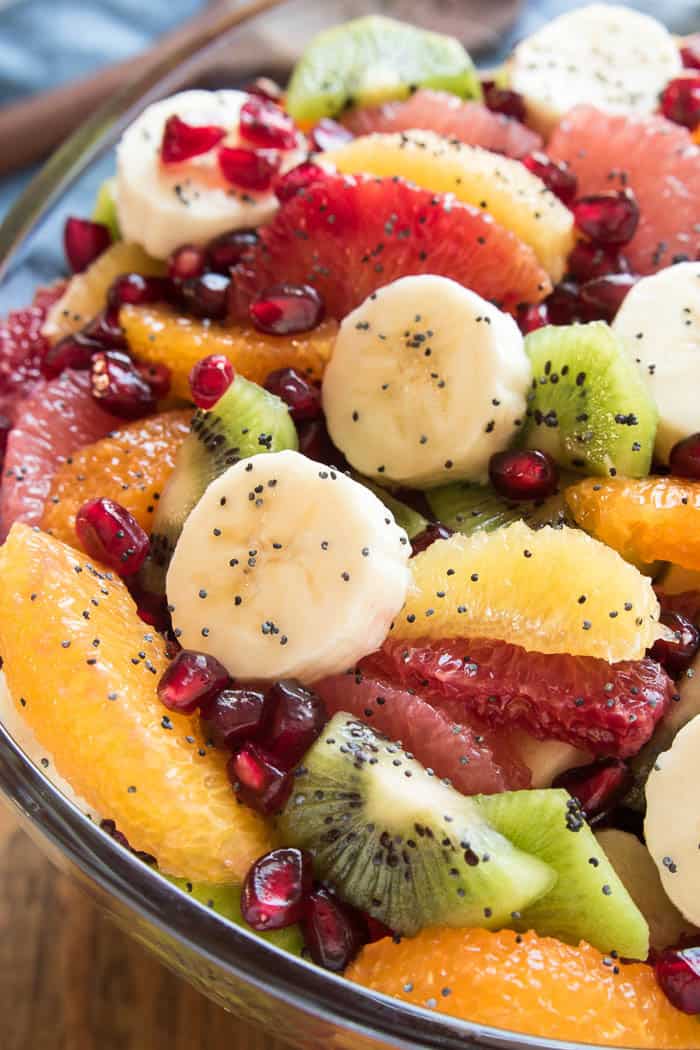 How to Segment Citrus Fruit:
Slice off both ends of your fruit, just until flesh is exposed.
Using a paring knife, cut off the peel and pith in strips, being careful to remove as little of the fruit as possible.
Use the same knife to remove segments one at a time, cutting as close to the membrane as possible.
For more recipe inspiration, be sure to visit Pick 'n Save on Facebook, Twitter, YouTube, and Pinterest!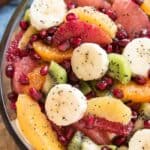 Winter Fruit Salad
Ingredients
Fruit Salad
3

grapefruit

peeled and segmented

3

blood oranges

peeled and segmented

4

mandarin oranges

peeled and segmented

2

navel oranges

peeled and segmented

4

kiwi fruit

peeled and sliced

3

bananas

sliced

1/2

pomegranate seeds
Orange Poppy Seed Simple Syrup
1/4

cup

water

1/4

cup

sugar

1

navel orange

juiced

1

tsp.

poppy seeds
Instructions
In a large serving bowl, combine fruit and toss gently.




Prepare simple syrup by combining water, sugar, and juice of one orange. Bring to a boil; remove from heat.

Stir in poppy seeds and cool completely.

Pour simple syrup over fruit.
Nutrition Facts
Winter Fruit Salad
Amount Per Serving
Calories 147
% Daily Value*
Sodium 3mg 0%
Potassium 478mg 14%
Total Carbohydrates 36g 12%
Protein 2g 4%
* Percent Daily Values are based on a 2000 calorie diet.