Take advantage of citrus season with this Easy Lemon Chicken Piccata! Made with just a handful of ingredients, this recipe is quick, easy, and packed with the BEST flavor.
If you've ever tried Chicken Piccata at an Italian restaurant, this version tastes just like it….only better! And once you realize how easy it is to make, you'll be enjoying a delicious lemon chicken again and again….right from the comfort of your own kitchen.
This recipe is perfect for busy weeknights, date nights, or even dinner parties. And best of all, it's lightened up from the original Chicken Piccata recipe. Meaning it will help you stick to your New Years resolutions…..in the most delicious way possible!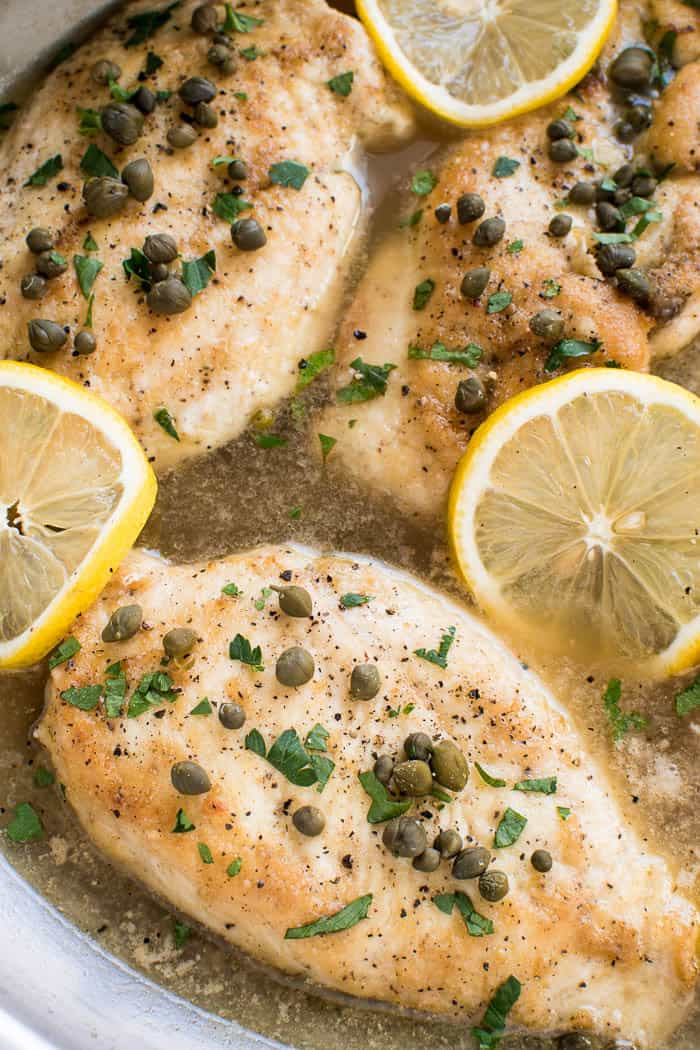 I partnered with Pick 'n Save to bring you this recipe. Thank you for supporting the brands that make Lemon Tree Dwelling possible!
HOW DO YOU MAKE CHICKEN PICCATA?
Start with chicken cutlets or thinly sliced chicken breast. If necessary, pound them out so you have even thickness throughout. This is important so that the chicken can cook all the way through without burning the breading.
For the best flavor, use fresh lemon juice. Of course, you can always use bottled juice to save time, but fresh lemon juice will give you the most vibrant flavor.
Be generous with the capers! They add such a delicious flavor to the dish and offer the perfect balance to the lemon/wine sauce.
Don't forget your garnishes – salt, pepper, and fresh parsley add the perfect finishing touches!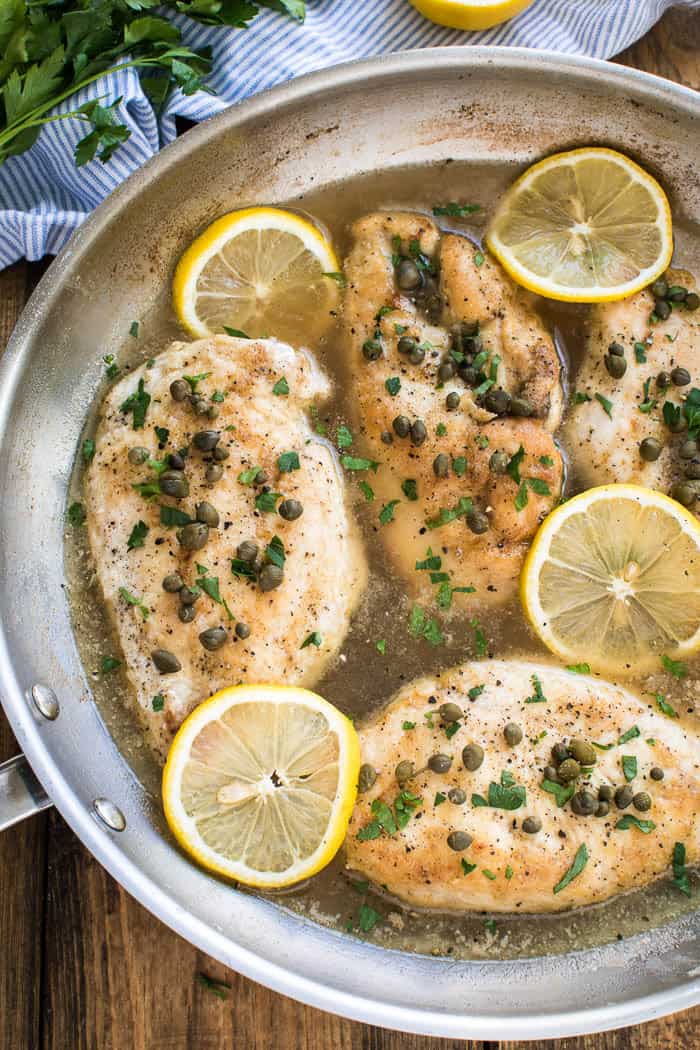 So. Let's talk about resolutions for a minute…shall we? Did you make any good ones this year? It seems that the older I get, the more my resolutions stay the exact same. Every. Single. Year.
I guess it makes sense, right? The things we struggle with most are the things we make into resolutions….and even if we really want to change them…change is never an easy thing. So we keep trying, again and again, year after year after year.
On my list for 2018? All the usual suspects. Drink more water, get more sleep, spend more quality time with the people I love. And when it comes to healthy eating? Well, I'm right there with the rest of you. Particularly when it comes to making healthier dinners for my family.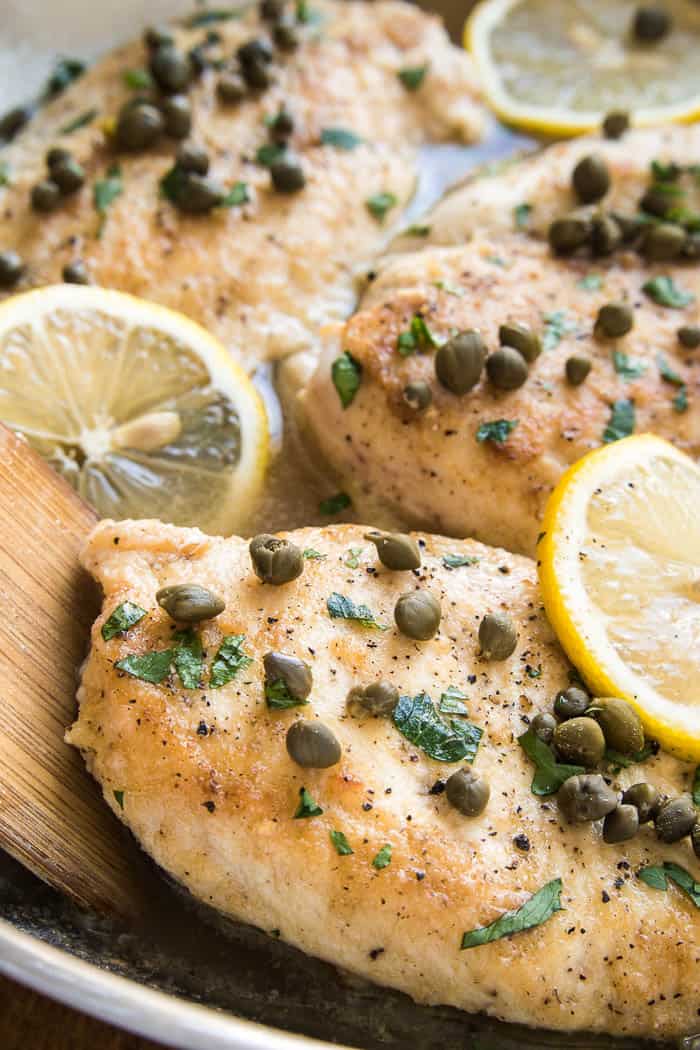 There's something about having kids that just wears you down over time. Am I right? It becomes so easy to fall back on the things you KNOW they'll eat. Like buttered noodles. Or pizza. Or tacos.
But at the end of the day, that's not what I actually want them to be eating! Not just because buttered noodles have zero nutritional value…but because I want them to be open to trying new things. Especially things that are actually good for them…like this delicious Easy Lemon Chicken Piccata!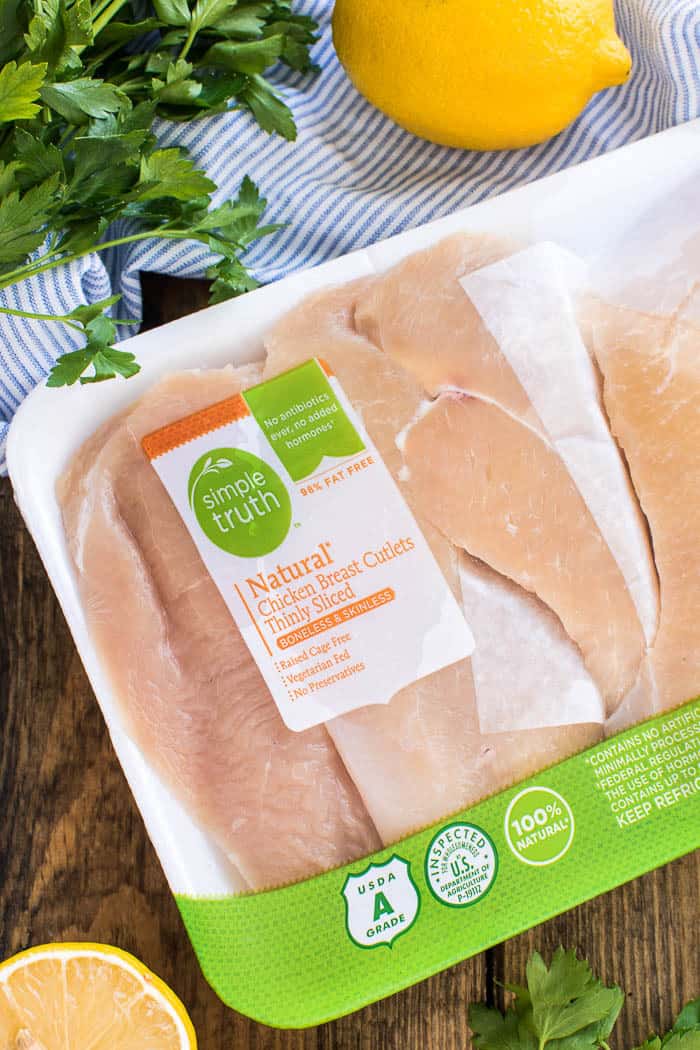 I've always loved Chicken Piccata, but to be honest I've shied away from making it on a regular basis. And I think I finally figured out why: I'm just not a huge fan of pounding chicken.
I know, I know….it really shouldn't be a big deal. And it's not. But it has always felt like an extra step to me…and a step I just wasn't that interested in taking. Which is why I got so excited when I discovered these Simple Truth Chicken Breast Cutlets at Pick 'n Save!
Not only are they pre-sliced to the perfect thickness…making them ideal for Chicken Piccata…but since they're Simple Truth brand, I know I can feel especially good about feeding them to my family.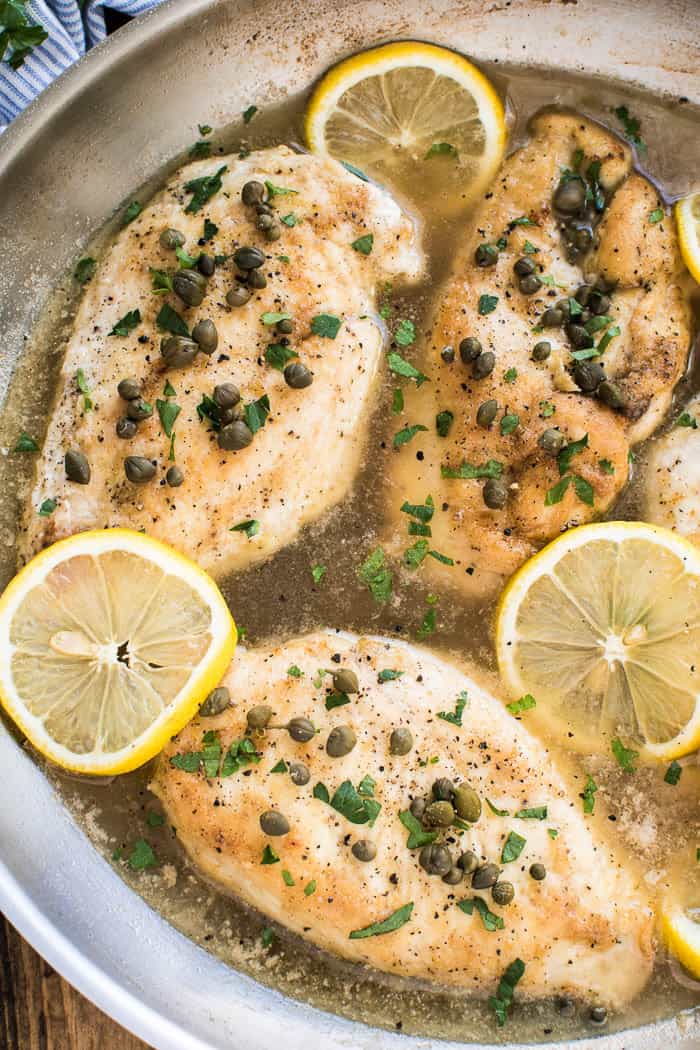 And since Pick 'n Save has EVERYTHING….I was able to grab all the other ingredients in no time at all. Which always makes this mom extra happy.
So what is it about this Easy Lemon Chicken Piccata that's so incredibly delicious? Well, pretty much everything. The lightly breaded chicken, the bright lemon sauce, the salty capers. There's something about the way it all comes together that makes it hard to resist! And now that you know how easy it is to make at home…there's really no need to resist it!
All you need is 7 ingredients and 30 quick minutes, and you're on your way to a delicious meal that your whole family will love…and one that's impressive enough to serve to guests, too!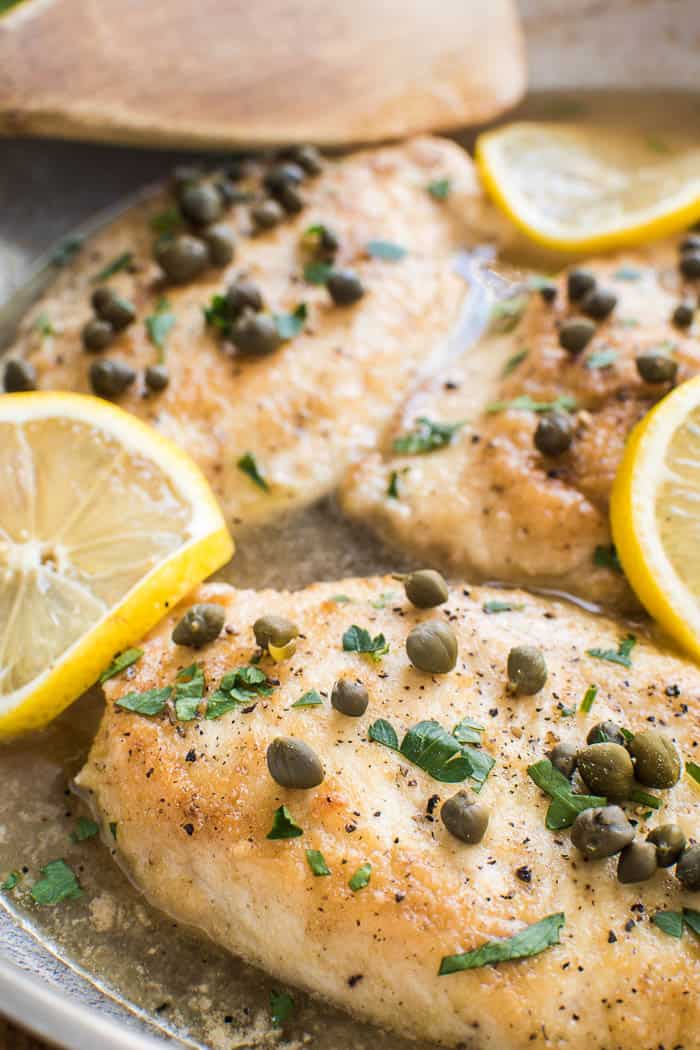 You might also enjoy my Skinny Orange Chicken or my Easy Chicken Fried Rice!
For even more recipe inspiration, be sure to visit Pick 'n Save on Twitter, Facebook, YouTube, or Pinterest!
Yield: 4
Easy Lemon Chicken Piccata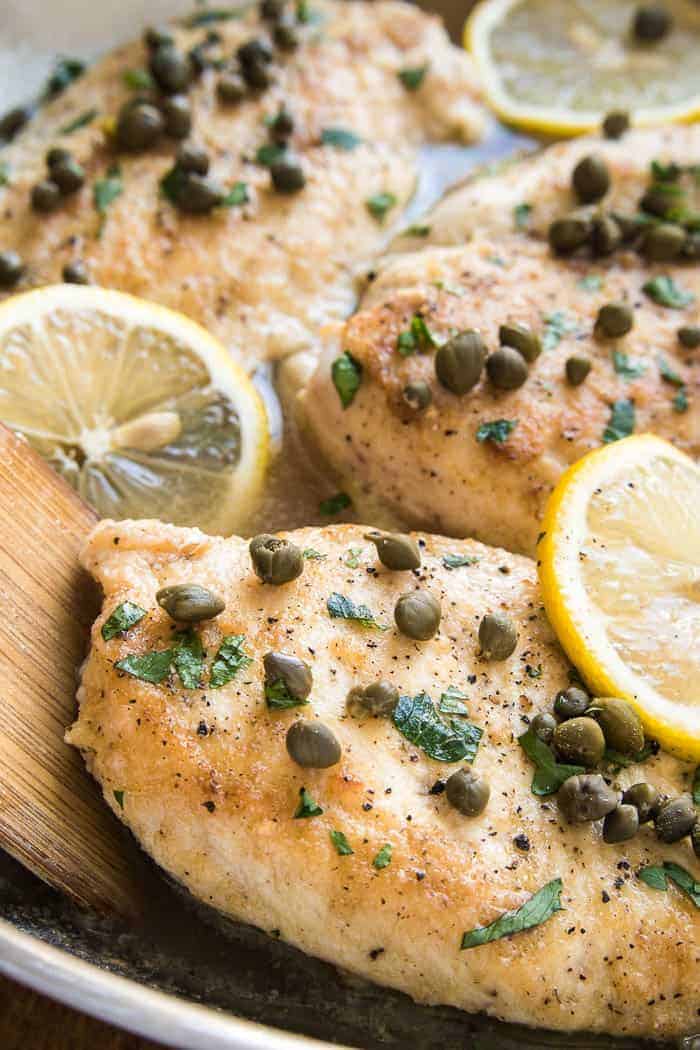 Take advantage of citrus season with this Easy Lemon Chicken Piccata! Made with just a handful of ingredients, this recipe is quick, easy, and packed with the BEST flavor.
Ingredients
2-3 Tbsp. butter
1 Tbsp. olive oil
3 Tbsp. all purpose flour
1/2 tsp. salt
1/4 tsp. pepper
4 chicken breast cutlets
1 cup dry white wine
1/3 cup lemon juice
3 Tbsp. capers
Instructions
In a large skillet, combine 1 Tbsp. butter and 1 Tbsp. olive oil. Heat over medium heat until butter is completely melted.
In a shallow bowl, combine flour, salt, and pepper. Dip chicken cutlets into mixture to coat.
Place chicken in the skillet with melted butter and olive oil; saute over medium heat 4-5 minutes on each side or until cooked through.
Remove chicken from pan; add lemon juice and wine. Bring to a simmer and reduce heat slightly. Let sauce thicken.
Add remaining 1-2 Tbsp. butter and capers to complete the sauce. Return chicken to pan and spoon sauce and capers over the chicken.
Nutrition Information:
Yield:
4
Serving Size:
1
Amount Per Serving:
Calories:

432
Total Fat:

25g
Saturated Fat:

13g
Trans Fat:

1g
Unsaturated Fat:

10g
Cholesterol:

136mg
Sodium:

666mg
Carbohydrates:

8g
Fiber:

1g
Sugar:

1g
Protein:

34g