Triple Chocolate Raspberry Mousse is a rich and decadent dessert that is sure to wow your family or guests! This smooth and silky mousse is perfect for Valentine's Day or any other special occasion
I am a member of the Collective Bias® Social Fabric® Community. This shop has been compensated as part of a social shopper amplification for Collective Bias and its advertiser.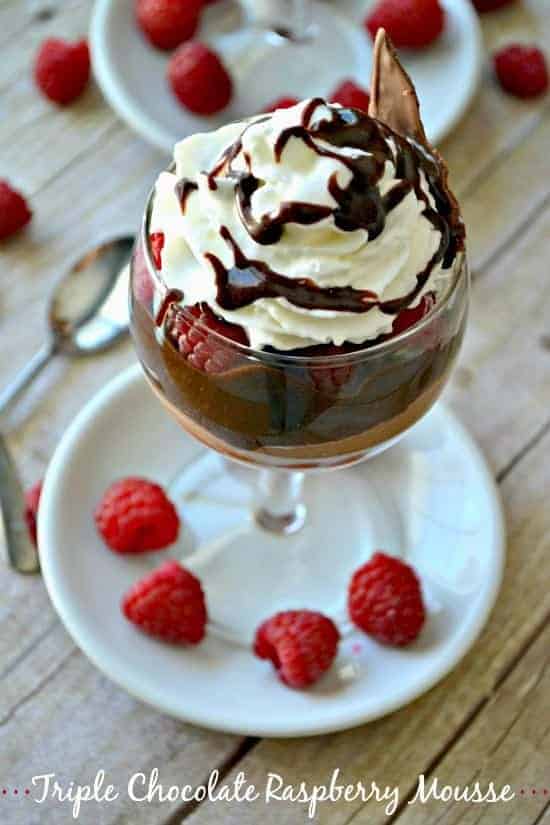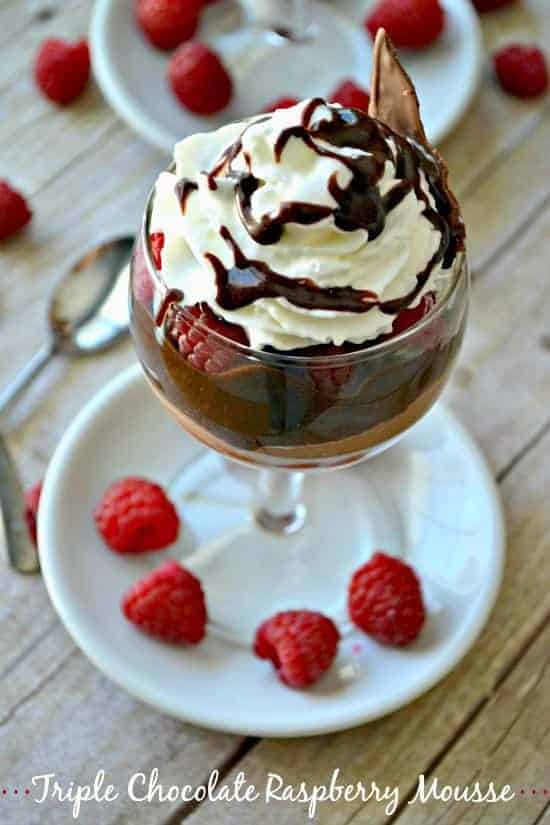 Is it just me, or is it hard to believe that Valentine's Day is just a week away?? It feels like just yesterday that we were taking down the tree and putting away the ornaments….and now we're just 8 days away from glitter, hearts, valentines, and chocolate! Of course, around here, none of that is too far from the ordinary. We love our crafts and have been knee-deep in glitter and hearts for the past month….and we are no strangers to delicious desserts, either! BUT. Valentine's Day is special. And Valentine's Day desserts need to be extra special! Which is why I was so excited when #CollectiveBias asked me to team up with #MyPicknSave to make an extra special Valentine's Day dessert! Pick 'n Save is easily the largest name in Milwaukee Grocery, and it has ALWAYS been my store of choice. So, for me, the answer was easy! Pick 'n Save + Valentine's Day + Desserts = YES!!
Triple Chocolate Raspberry Mousse – A chocolate craving!
I headed to the store, which, incidentally, is about 2 minutes from my house (woo hoo!) with a pretty specific idea of what I wanted to make. Chocolate Mousse! I've been CRAVING chocolate lately, and especially chocolate I can eat by the spoonful. And…what better way to enjoy Valentine's Day than with a rich, velvety, chocolatey dessert?? Since I know Pick 'n Save's layout like the back of my hand, I knew exactly which areas I needed to hit up. First – Produce! I am always amazed by the delicious variety of produce available there, even in the dead of winter.
And, sure enough, they had exactly what I was looking for: fresh raspberries. From there, I headed straight to the baking aisle for the majority of my ingredients….and even found a few extras that I hadn't been planning on!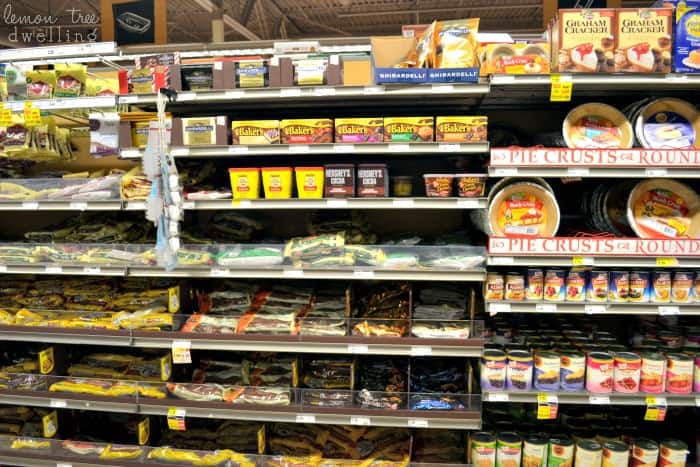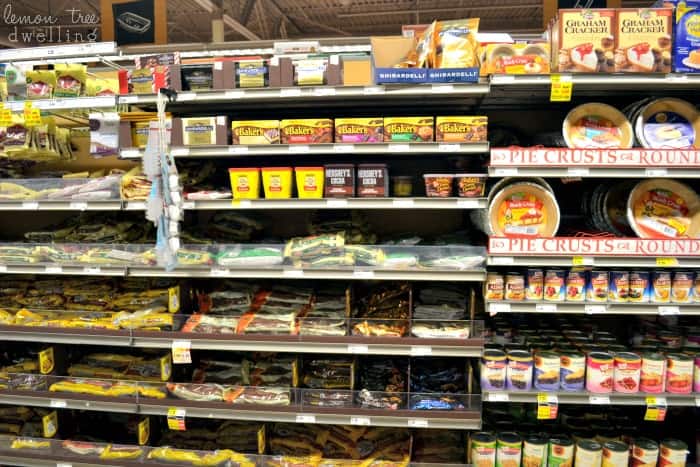 One of the things I love most about Pick 'n Save is the great variety – just check out all the different types of chocolate I had to choose from! I settled on Ghirardelli….just to be classy….and was drawn in by a few "extras" in the aisle, like meltable chocolate chips and sliced almonds (definitely NOT on my original list!) Everything else I needed could be found close by in the dairy case – butter, heavy cream, whipped cream – you know, all the stuff (other than chocolate) that makes chocolate mousse so delicious. All in all, I ended up with everything I needed….and then some.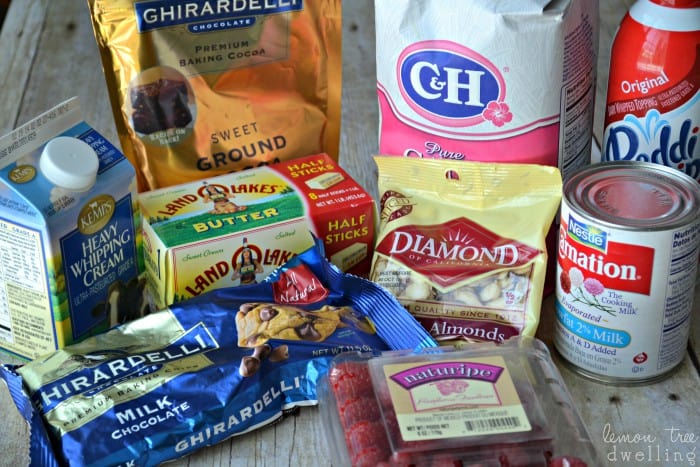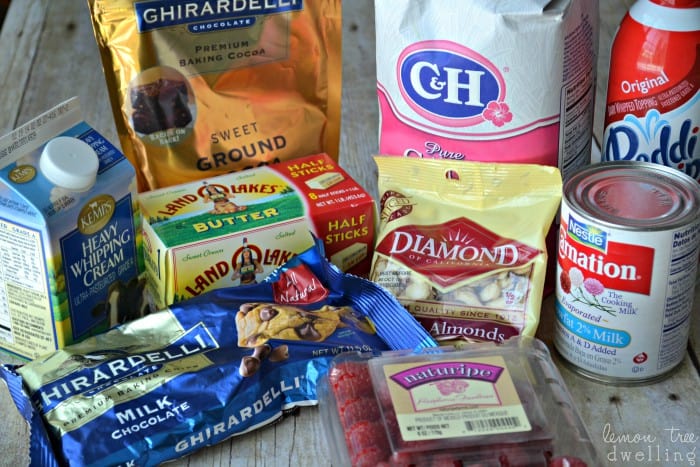 Now for the fun part. Although I was lucky enough to shop alone (NO KIDS!) the minute they saw these ingredients they knew something delicious was in store. And they wanted to be part of it! Since Valentine's Day is a family affair around here…and something we've been preparing for all month….I knew this was one dessert I could not keep them away from. I also knew I would have to make it immediately….or they might go crazy with anticipation!
Triple Chocolate Raspberry Mousse
Confession time: I've never made chocolate mousse before. I had no idea how quick and easy it would actually be! I guess when something seems fancy you just assume it's going to take some time……but not at all! Luckily, I had a great recipe passed on to me by Jorden's Aunt Sue….who just happens to own a restaurant in Michigan. Yep, this mousse is GOOD! Within minutes it was chilling in the refrigerator (definitely the hardest part for the kiddos) and within an hour it was ready to be eaten.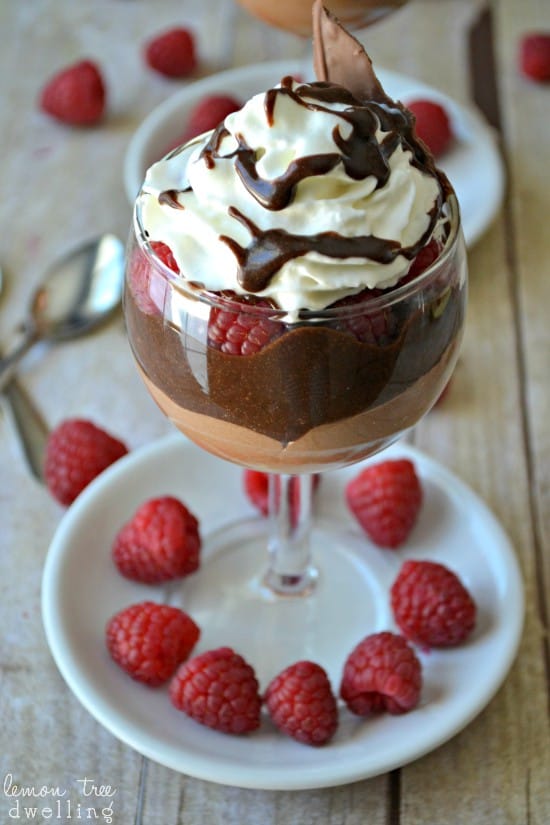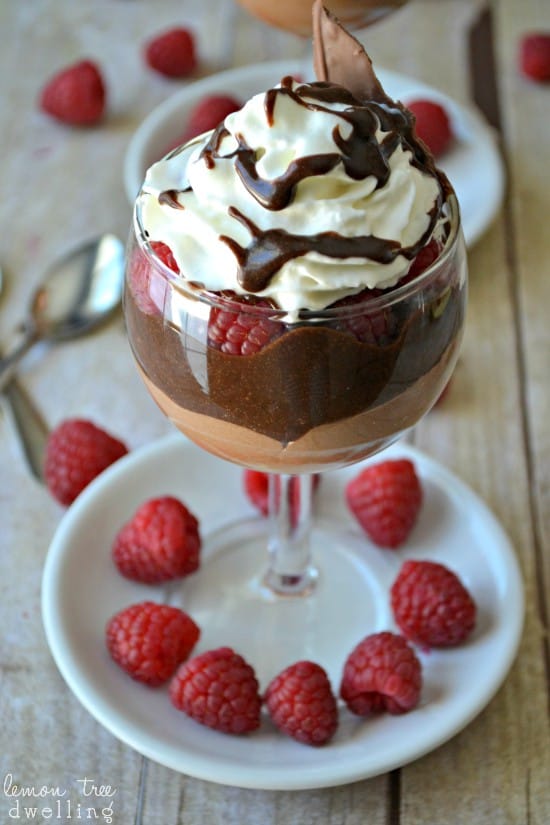 It. Was. HEAVENLY. Everyone agreed….and gobbled it right up! I can't wait to make it again – for just Jorden and me – on Valentine's Day! I have a few additions in mind, like those sliced almonds that the kids vetoed, but truthfully it needs nothing different. And….thanks to Pick 'n Save, I know I'll be able to find exactly what I need….again!!
Find out more about Pick 'n Save by following them on their website, Twitter, Facebook, or Pinterest!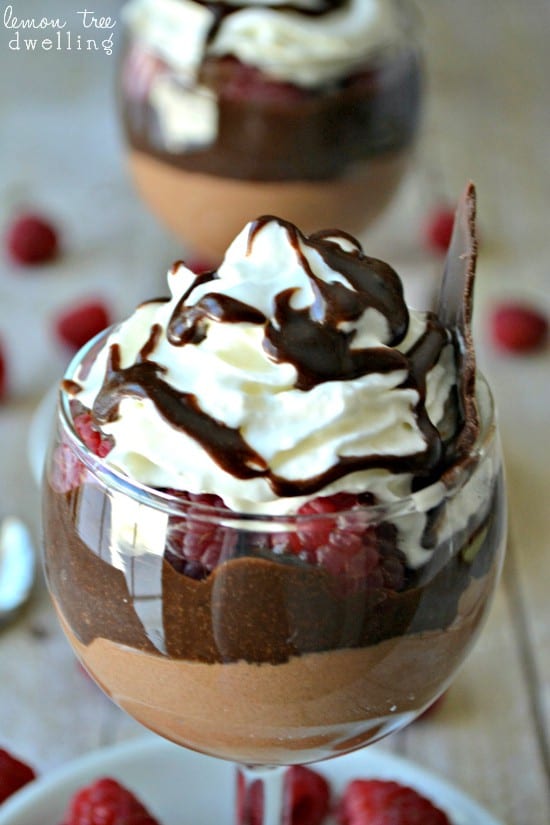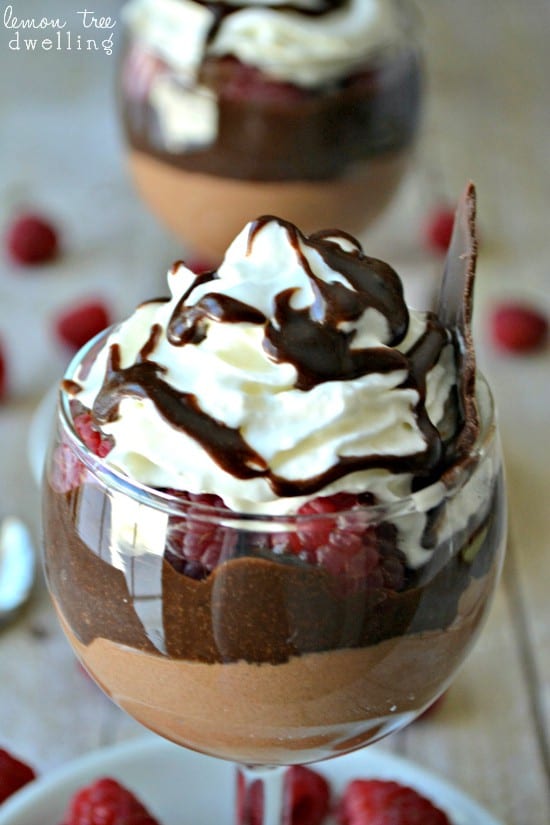 Triple Chocolate Raspberry Mousse Recipe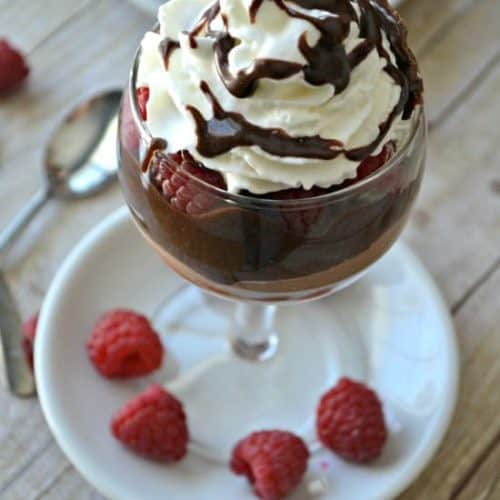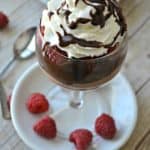 Triple Chocolate Raspberry Mousse
Prep Time
1
hour
15
minutes
Total Time
1
hour
15
minutes
Ingredients
Mousse
1

tsp.

unflavored gelatin

1

Tbsp.

cold water

2

Tbsp.

boiling water

1/2

c.

sugar

1/4

c.

cocoa powder

1

c.

heavy cream

cold

1

tsp.

vanilla

substitute almond
Chocolate Sauce
1/3

c.

cocoa powder

1

c.

sugar

3/4

c.

evaporated milk

1/4

c.

butter

1/2

tsp.

vanilla

substitute almond
Garnish
2

Tbsp.

meltable chocolate chips

whipped cream
Instructions
Mousse
Sprinkle gelatin over cold water in small bowl; stir and let stand 1 min. to soften.

Add boiling water; stir until gelatin is completely dissolved.

Combine sugar and cocoa powder in small mixing bowl; add heavy cream and vanilla.

Beat at medium speed until stiff peaks form; pour in gelatin mixture and beat until well-blended.

Spoon into serving dishes; chill 1 hour.
Chocolate Sauce
Combine cocoa powder and sugar in small saucepan; blend in evaporated milk.

Add butter.

Cook and stir constantly until mixture just begins to boil.

Remove from heat and stir in vanilla.

Spoon over chilled mousse; top with fresh raspberries, whipped cream, chocolate pieces, and sliced almonds (optional).