Chicken Bacon Ranch Pasta is a quick and easy dinner choice. This rich and creamy dish has a delicious combination of flavors, in a fast weeknight meal!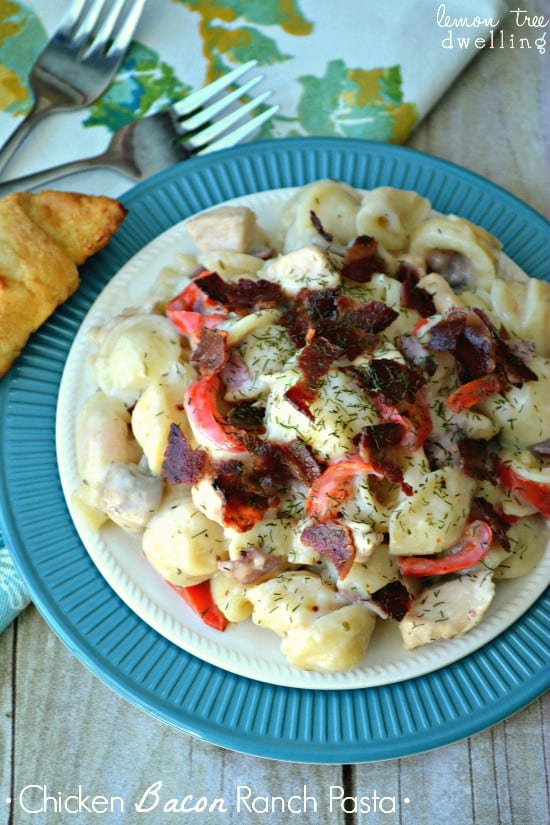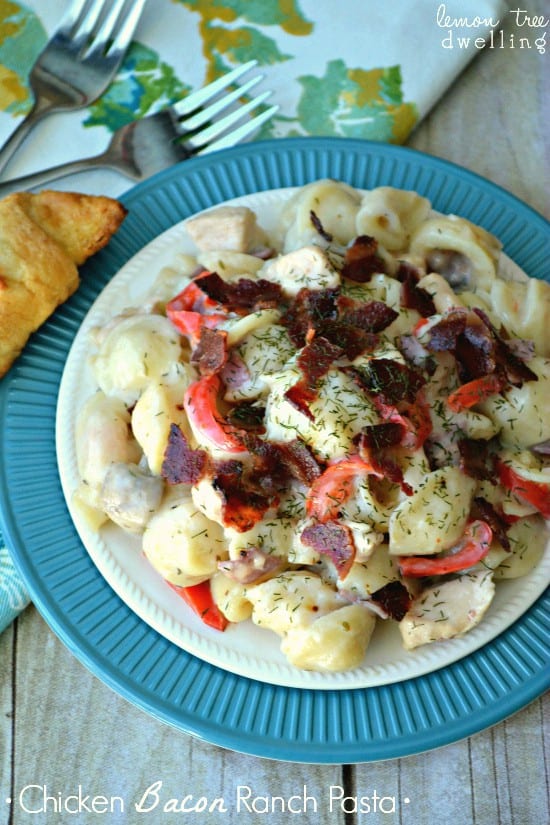 Have you ever noticed how other people's stuff always seems preferable to your own?? Their houses always seem a little nicer, their hair a little better, their clothes a little more stylish, their lives a little easier…? Okay, I certainly don't feel this way about everyone…but there are just some people who seem to have it all….(and seem to have it a little better than me!)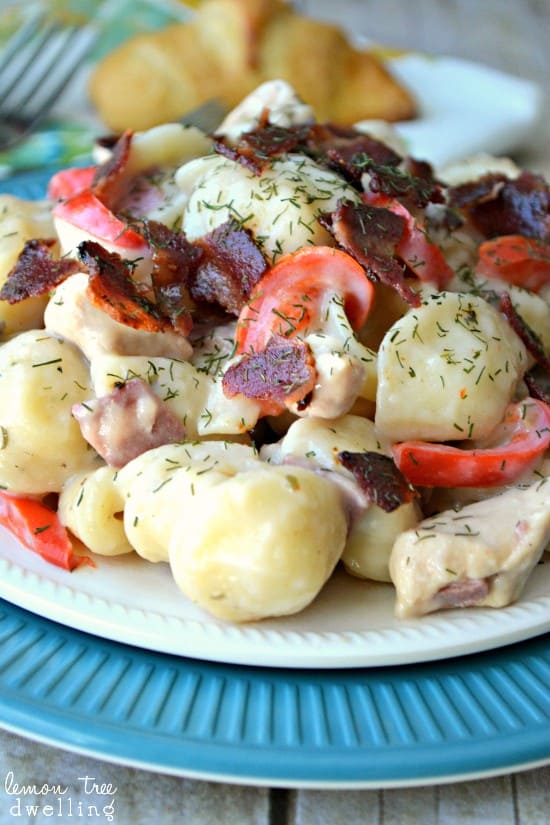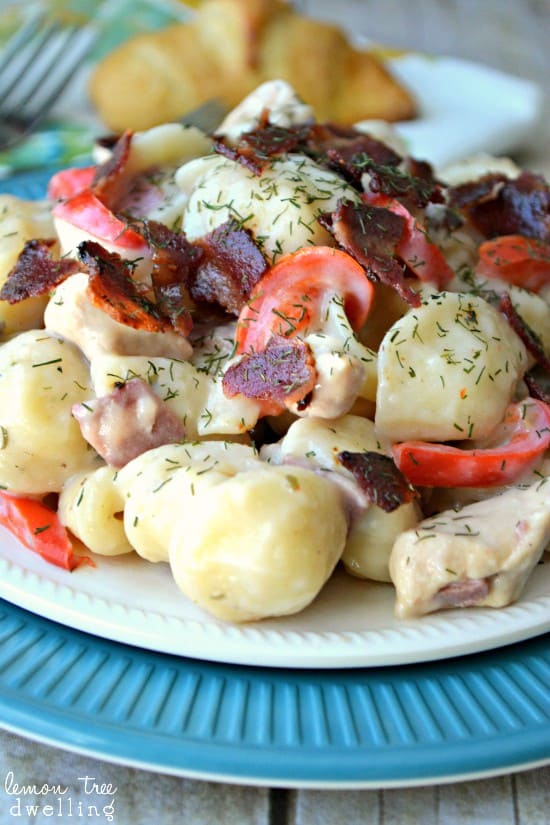 I think it's just part of being human – we compare ourselves to other people – and it starts young! I even notice it with my kids! Other kids' toys always seem a little more fun, other kids' snacks are always a little more yummy, other kids' parents are always a little bit nicer….and eating dinner at another kid's house is ALWAYS preferable to eating dinner at home, no matter what they are having!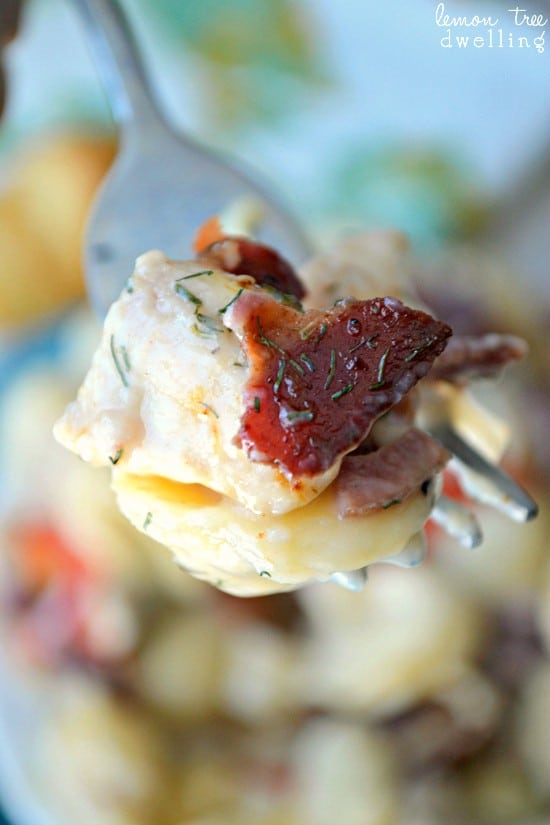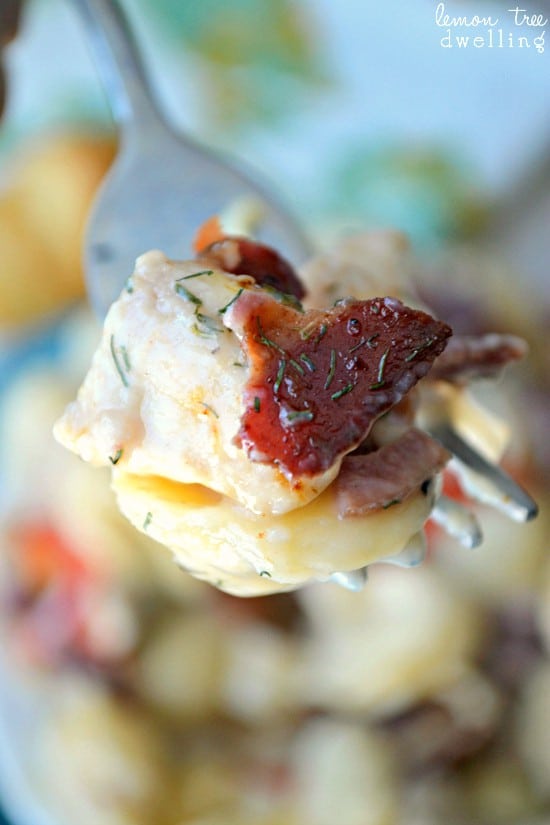 A good example? The other day my kiddos came home from a friend's house just RAVING about what they had eaten for lunch….because it was SO GOOD! Want to know what it was? Cabbage & ham. Cabbage & ham! I can pretty much guarantee that if I had made them cabbage & ham for lunch, they would have turned up their noses and demanded mac & cheese instead. But there, they loved it! That's just the way it goes!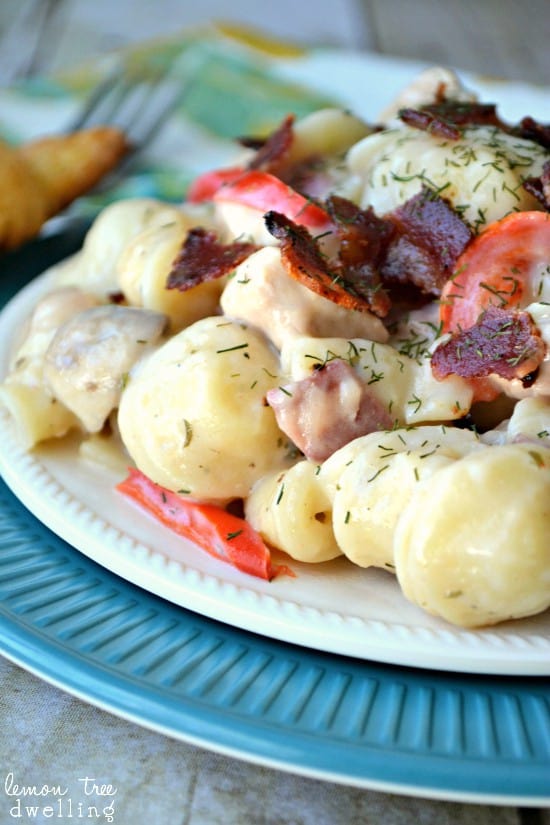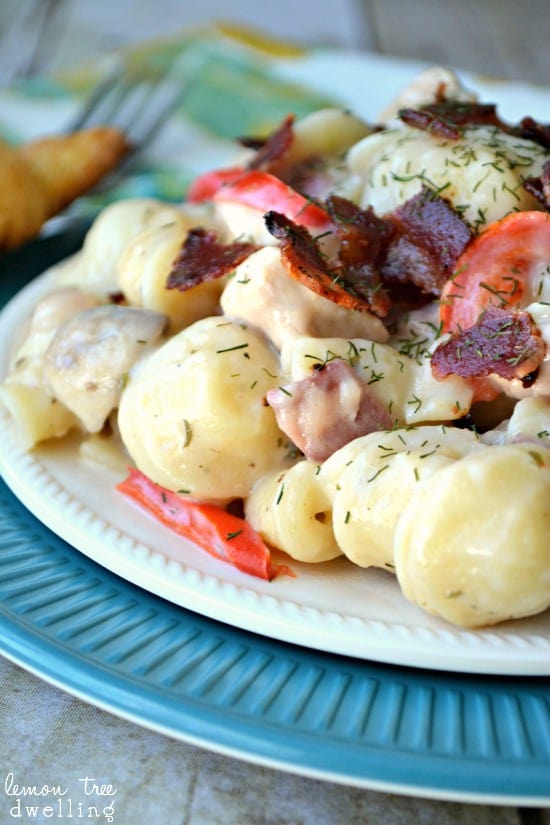 Chicken Bacon Ranch Pasta
It definitely makes me wonder, though, why I spend so much time trying to come up with flavor combinations I think they'll gobble up….like this Chicken Bacon Ranch Pasta. Sure, they liked it….but they definitely weren't raving about it! Because I'm not someone else's mom making it! Oh well. I gobbled it up, and so did Jorden….and I guess, at the end of the day, that's all I can really ask for.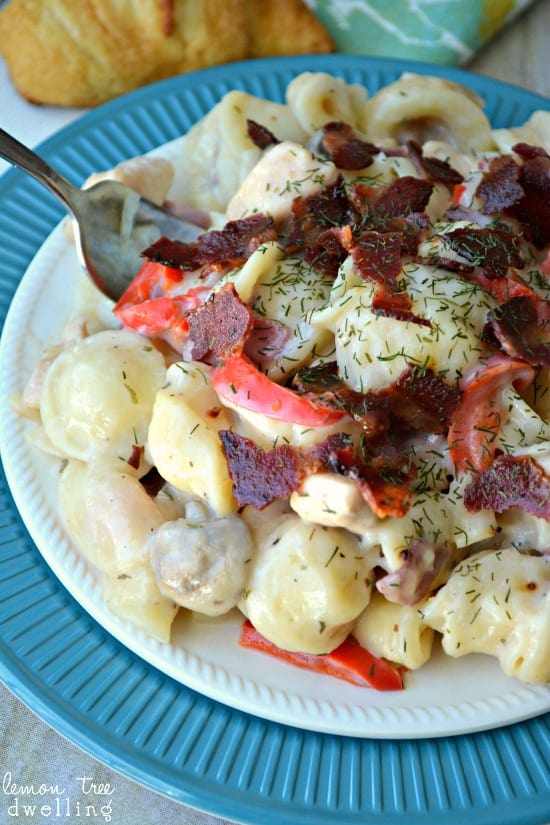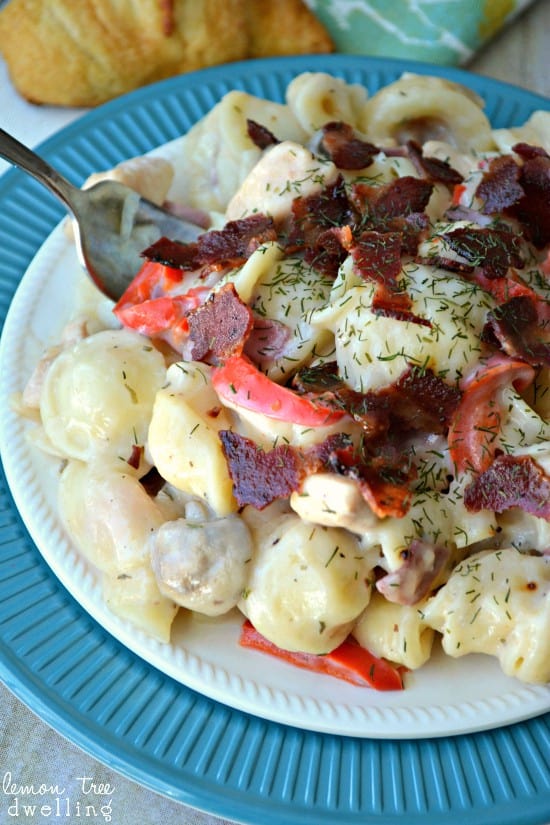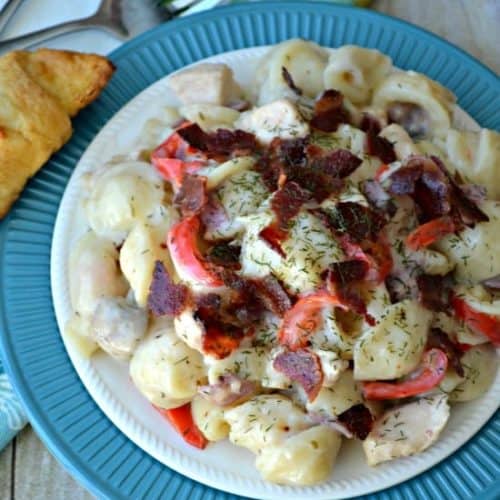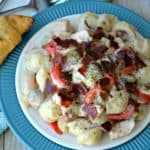 Chicken Bacon Ranch Pasta
Ingredients
1

lb.

boneless

skinless chicken breast

1

lb.

uncooked pasta

I used orecchiette

8

oz.

turkey bacon

chopped and cooked

5

oz.

mushrooms

quartered

1

small red onion

sliced

1

large red pepper

sliced

4

Tbsp.

butter

4

Tbsp.

flour

1/2

tsp.

salt

1/8

tsp.

pepper

3

c.

milk

1

package Hidden Valley Ranch dressing mix

dried dill
Instructions
Pasta:

Cook pasta according to package instructions.

While pasta is cooking, cube chicken and saute until partially cooked.

Add mushrooms, red onion, and red peppers and continue cooking until chicken is cooked through and vegetables are tender-crisp.

Add chicken and vegetables to cooked noodles.

Add turkey bacon, reserving some for the top, and stir to combine.

Sauce:

Melt butter in a small saucepan. Stir in flour, salt & pepper.

Stir in milk; cook and stir over medium heat until thickened and bubbly.

Cook and stir 1 minute more.

Add Ranch dressing mix and stir to combine.

Pour over pasta.

Garnish with reserved bacon and dried dill.
Looking for more quick and easy pasta recipes?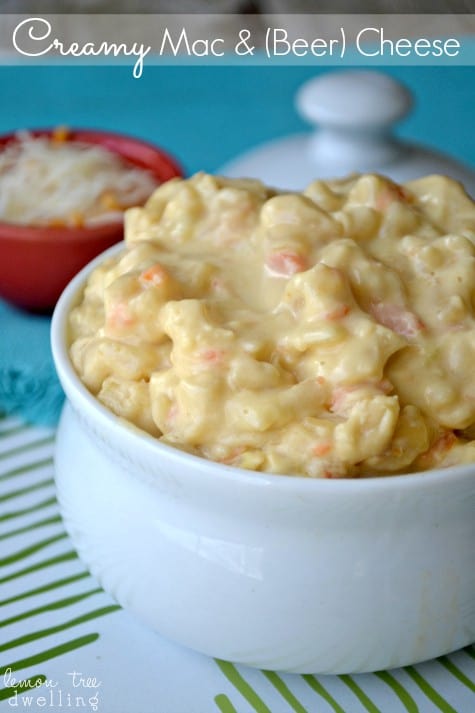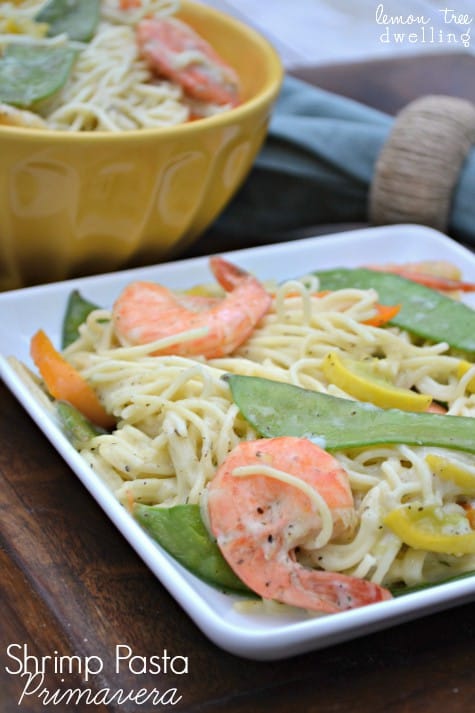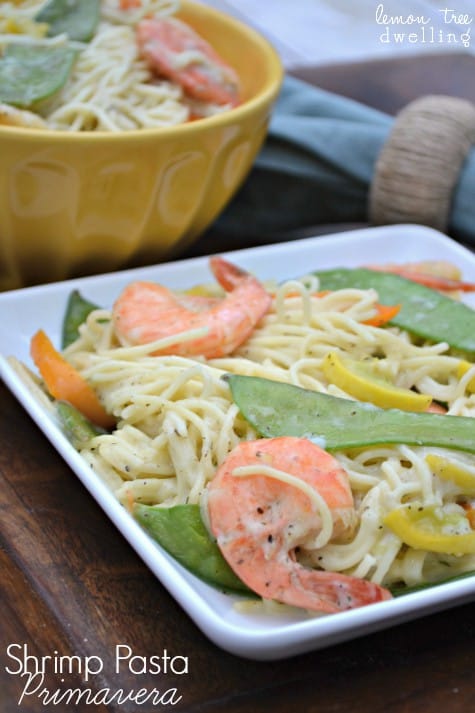 What goes better with pasta than Garlic Bread! Try this recipe from Budget Bytes!