Triple Berry Quinoa Muffins are a delicious quick snack and portable breakfast. Made with Greek yogurt and Truvia for a delicious, high-protein, low-sugar, grab-and-go breakfast!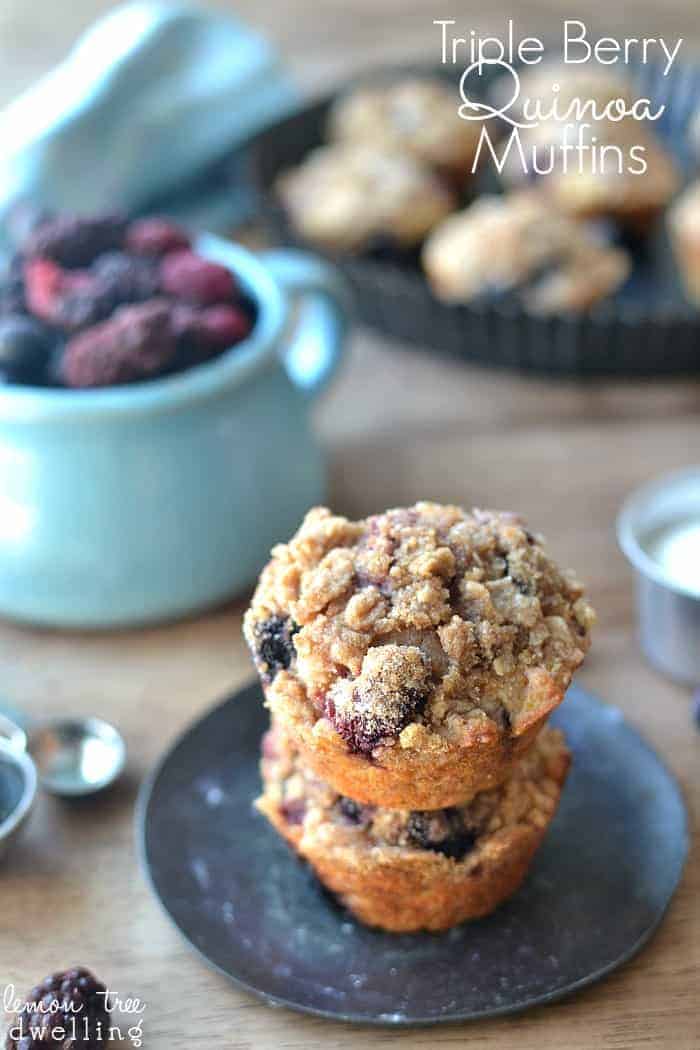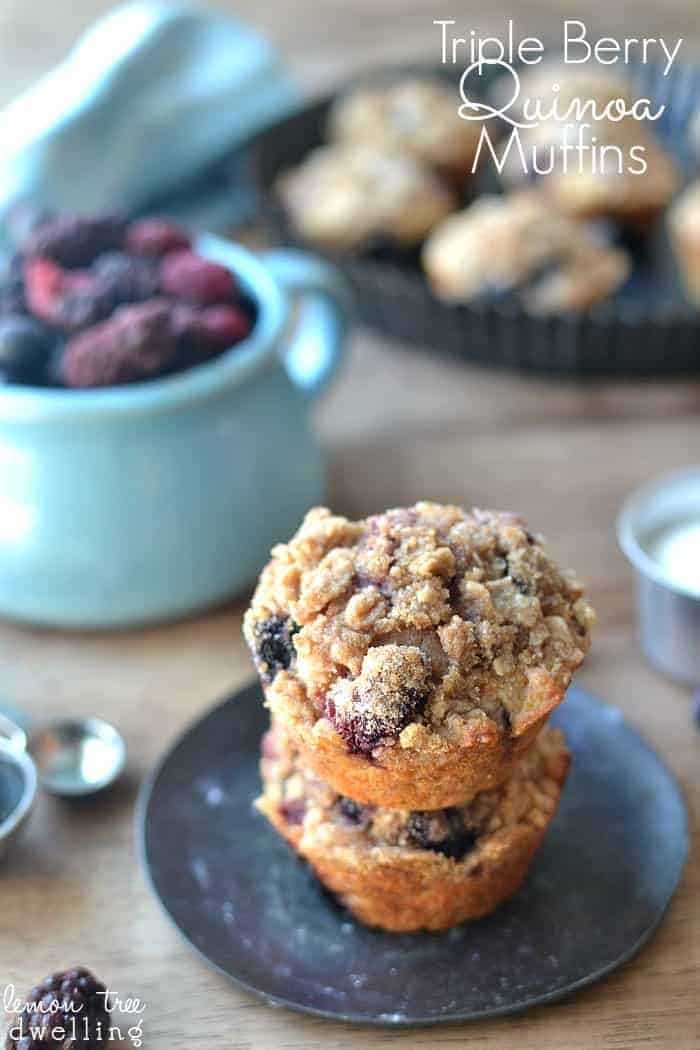 I'm so excited for today! I know....not exactly what you might be feeling on a Monday morning. But this Monday is different. Not only do I have a fabulous new recipe to share with you, I also have some exciting news! I'll be partnering with Truvia®  in 2015 to bring you some delicious new recipes that are lower in sugar and perfect for helping you with your New Year's Resolutions!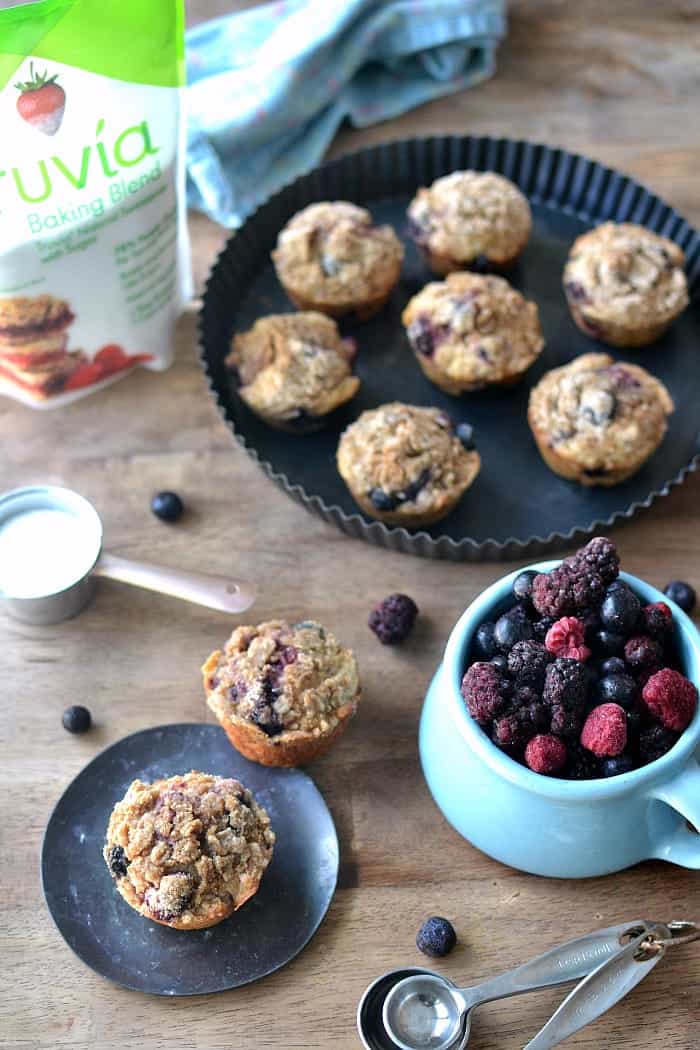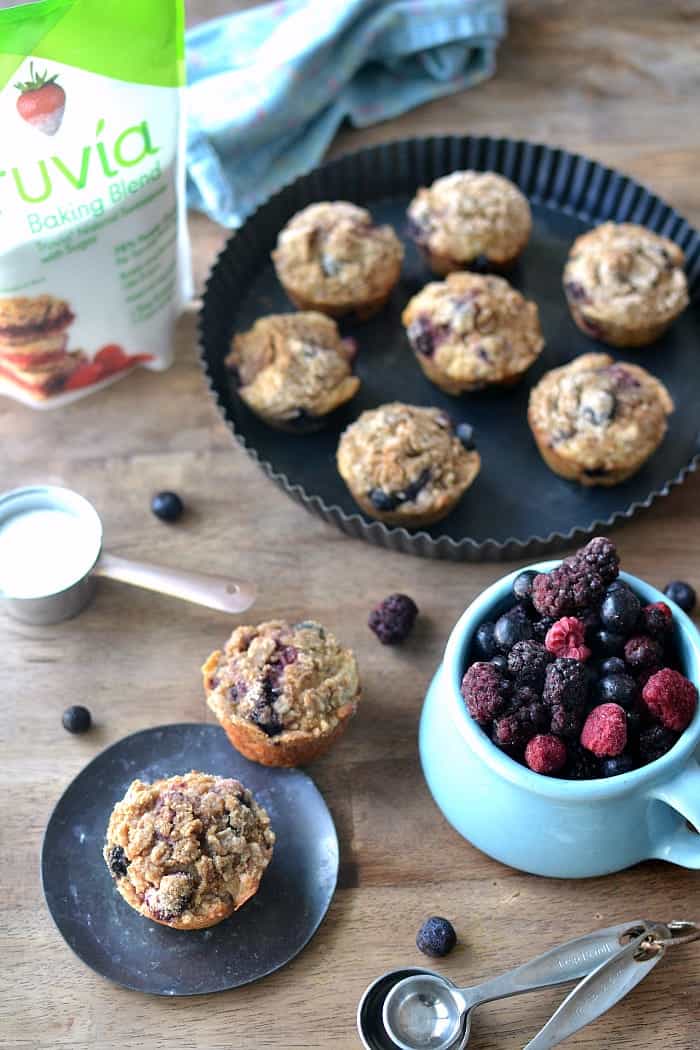 Speaking of resolutions, am I the only one who keeps adding new ones to my list?? So far I've got: be more patient with my kids, be more adventurous in my clothing choices, try harder not to put my foot in my mouth (don't ask), and be better about responding to blog comments. And then there's the usual "make smarter choices" one....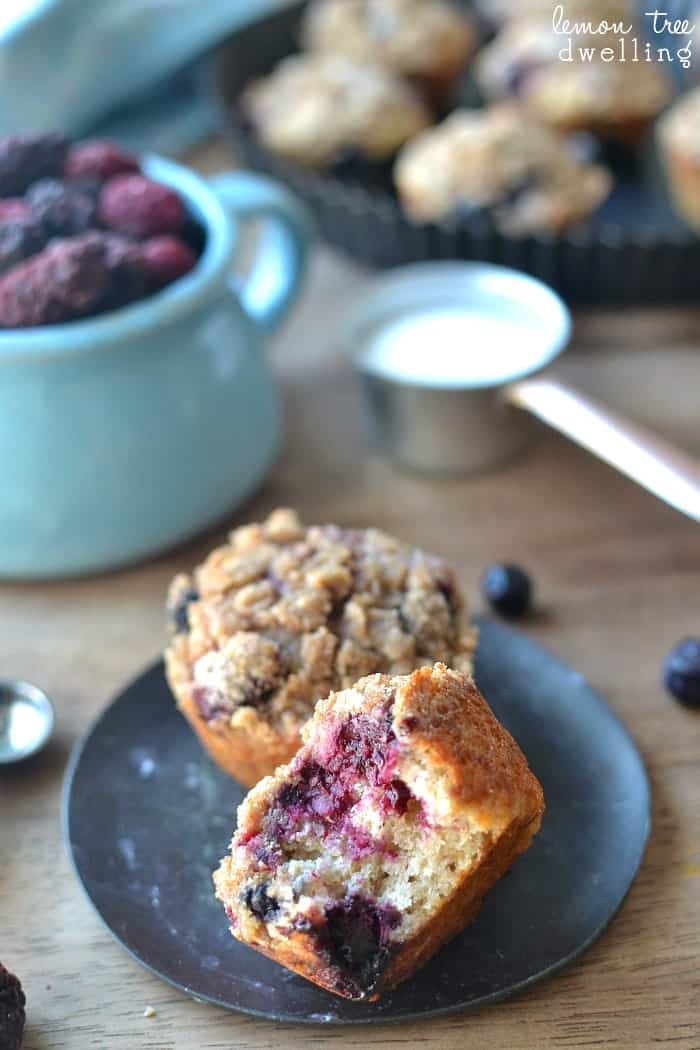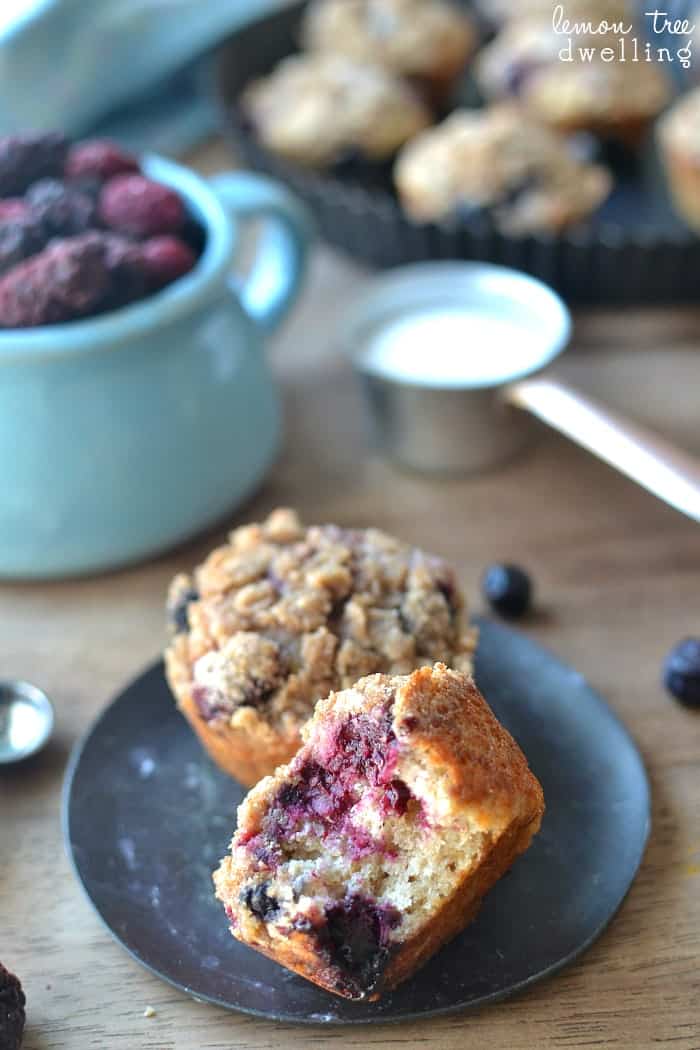 But here's the deal. I love food! Duh. And so do you. Which is why I'm so excited about working with Truvia®. Because it makes it easy to make smarter choices....about sugar and calories....without sacrificing flavor. For those of you who aren't familiar with Truvia®, it's a natural, great-tasting, zero-calorie sweetener born from the leaves of the stevia plant. One packet of it provides the same sweetness as 2 tsp. of sugar. Simple enough. Oh - and if you're not into the packets, you can get the same thing in a spoonable container. Just sayin'.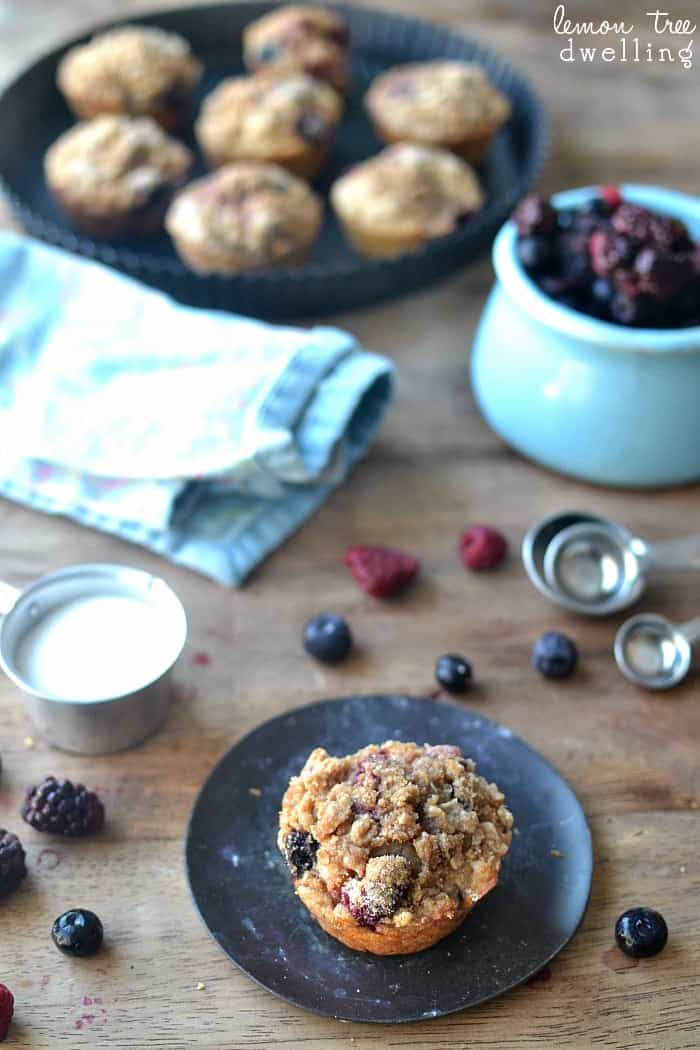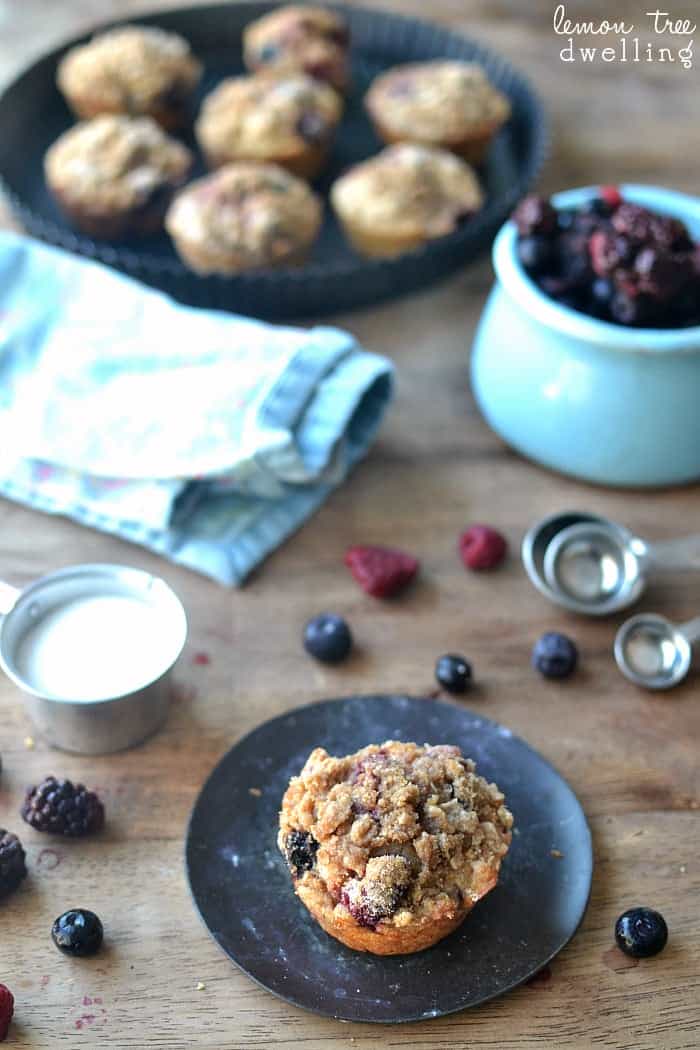 Triple Berry Quinoa Muffins
 And....for the baker in us, Truvia® has a great Baking Blend and even a Brown Sugar Blend! So we can still make and enjoy all the good thing we like to eat. Like muffins! Just use half as much Truvia® Baking Blend as you would sugar, and you're good to go. Okay, so let's talk about these muffins. I wanted to make something that would be low in sugar and high in protein for an easy grab-and-go breakfast or snack. So these Triple Berry Quinoa Muffins are loaded with Greek yogurt, eggs, and - yep - quinoa! And I must say....they are delicious!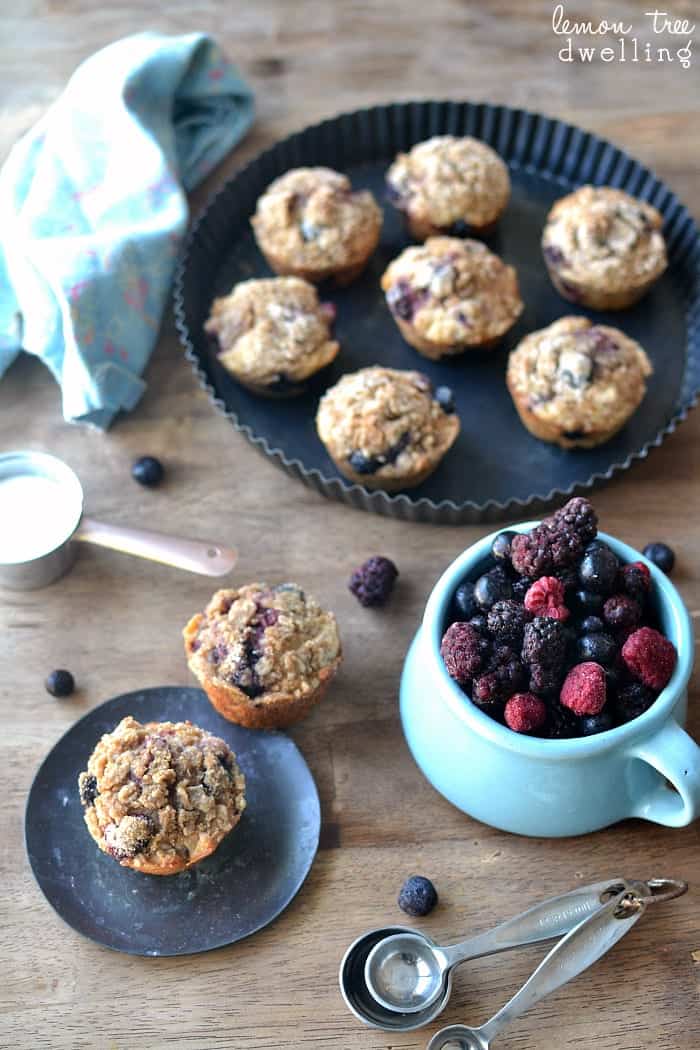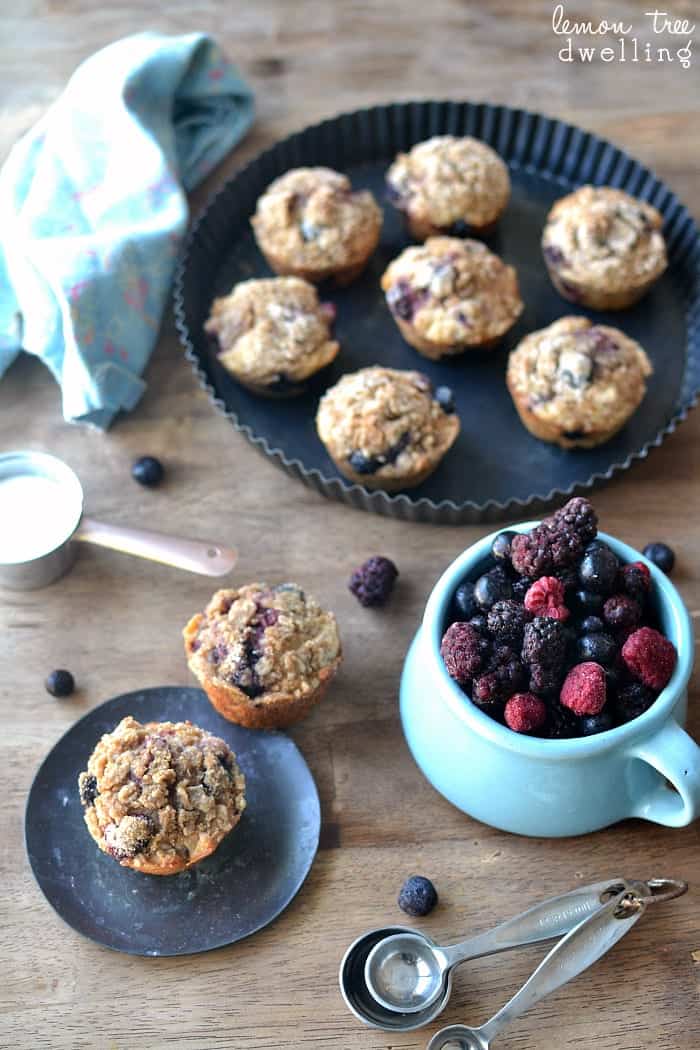 Between the moistness of the Greek yogurt and the nuttiness of the quinoa, not to mention the sweetness of the berries and the perfection of the streusel , these muffins are a sure thing. As evidenced by the fact that my kids immediately devoured half of them. And the best part of all? I didn't even blink an eye! Because when they're devouring good things, I'm good with it! And, ya know......I'm working on my patience......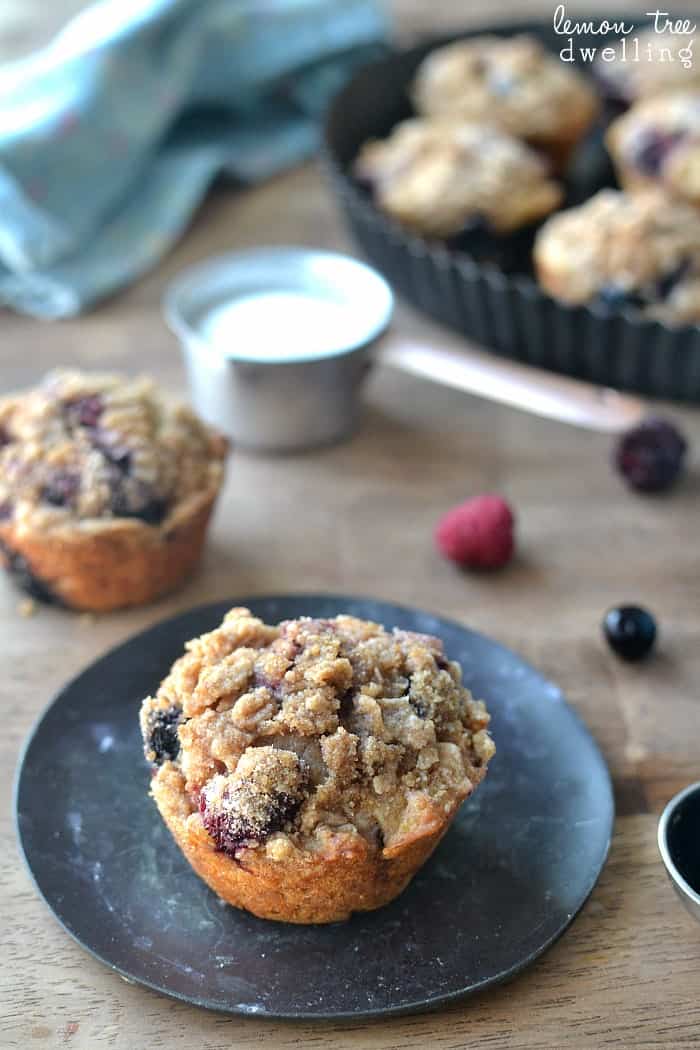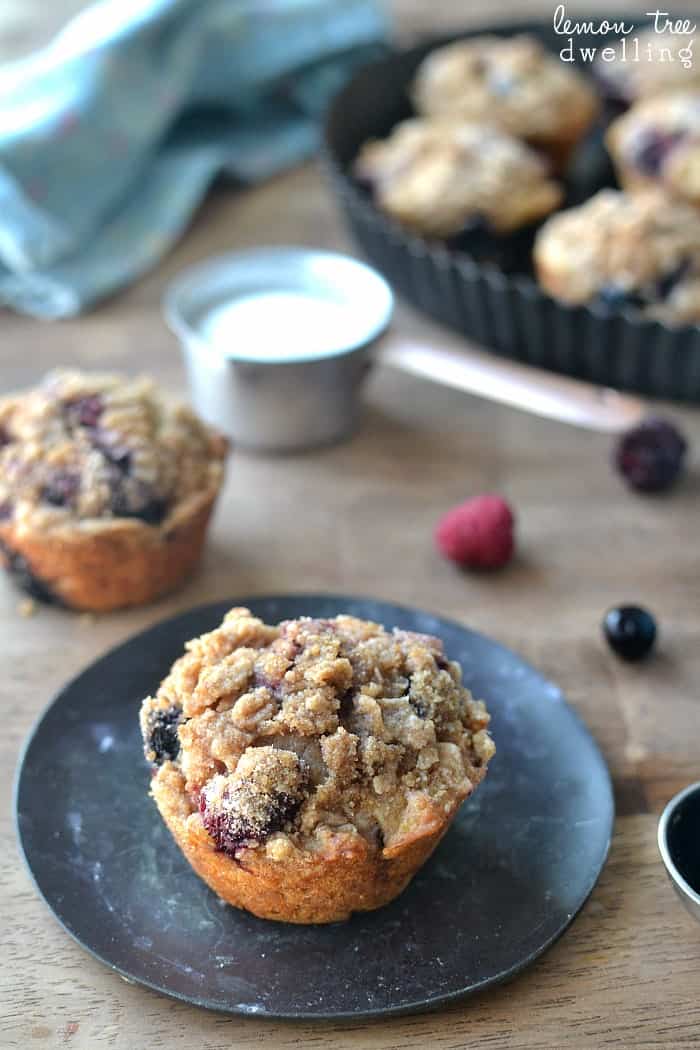 For another great dish using quinoa, try my Mexican Street Corn Quinoa!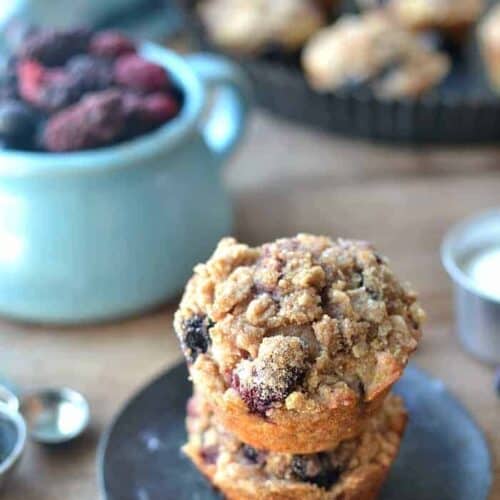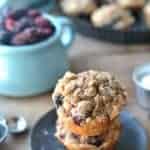 Triple Berry Quinoa Muffins
Ingredients
1

c.

all purpose flour

1

c.

whole wheat flour

1

c.

cooked quinoa

½

c.

Truvia® Baking Blend

1

Tbsp.

baking powder

½

tsp.

baking soda

1 ½

c.

plain Greek yogurt

2

large eggs

8

Tbsp.

butter

melted and cooled (*If using unsalted butter, add ½ tsp. salt to batter)

1 ½ - 2

c.

fresh or frozen berry blend

tossed in a small amount of flour to coat

For Streusel:

6

Tbsp.

whole wheat flour

3

Tbsp.

Truvia® Brown Sugar Blend

4

Tbsp.

butter
Instructions
In a medium bowl, mix together flour, quinoa, Truvia®, baking powder, and baking soda.

In a separate bowl, whisk Greek yogurt and eggs until smooth; add to dry mixture.

Add melted butter and mix until combined.

Gently fold in berries.

Spoon into generously greased muffin tins.

Prepare streusel topping by mixing flour, brown sugar blend, and butter in a small bowl until crumbly.

Divide evenly among muffins, pressing down gently.

Bake at 375 degrees for 20-25 minutes.

Cool on wire rack in pan for 10 minutes, then remove muffins to wire rack to cool completely.