Balsamic Roasted Vegetable Grilled Cheese is a grown up grilled cheese sandwich. This delicious balsamic roasted vegetables, melted mozzarella and fresh shaved Parmesan cheese sits atop skillet- toasted bread. A perfect low carb sandwich.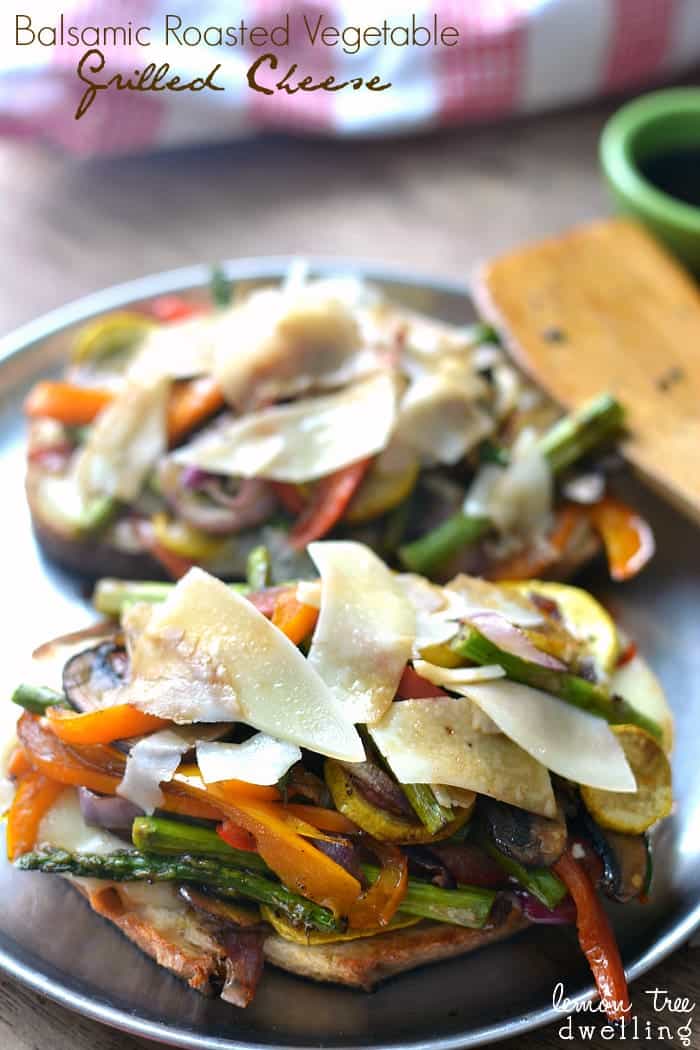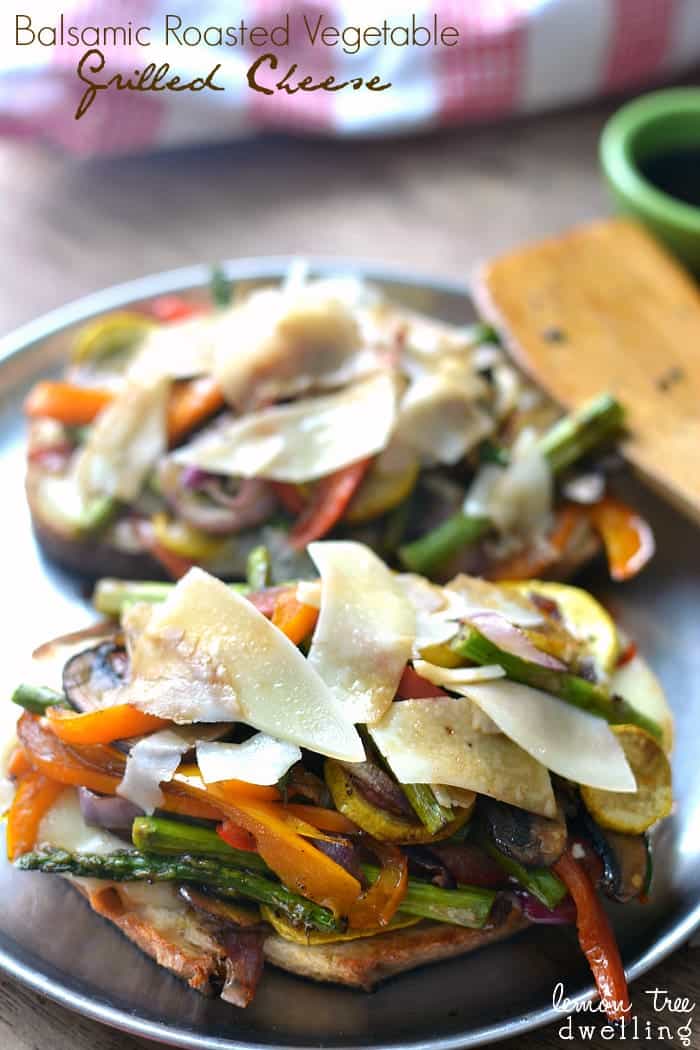 Of all the things I WISH I had, a flourishing vegetable garden is high on my list. When Jorden and I were first married, and we bought our first house, we decided to plant a cute little garden in our tiny backyard. We gave it very little attention, and very little space to grow, and yet it completely took off! We had more tomatoes and cucumbers and banana peppers than we knew what to do with….at least back then……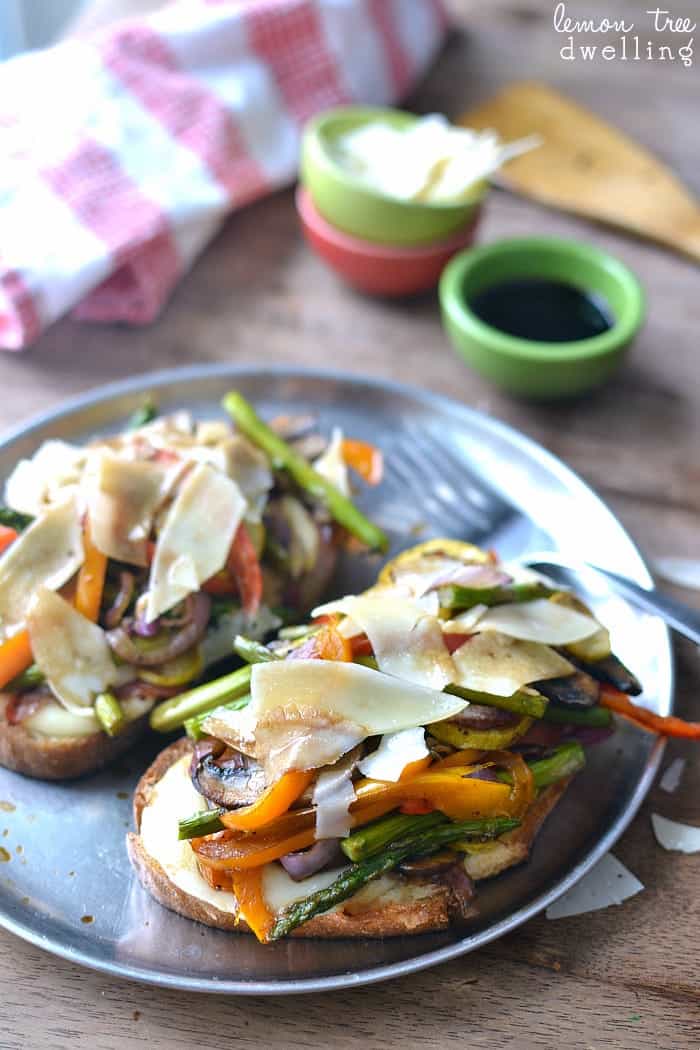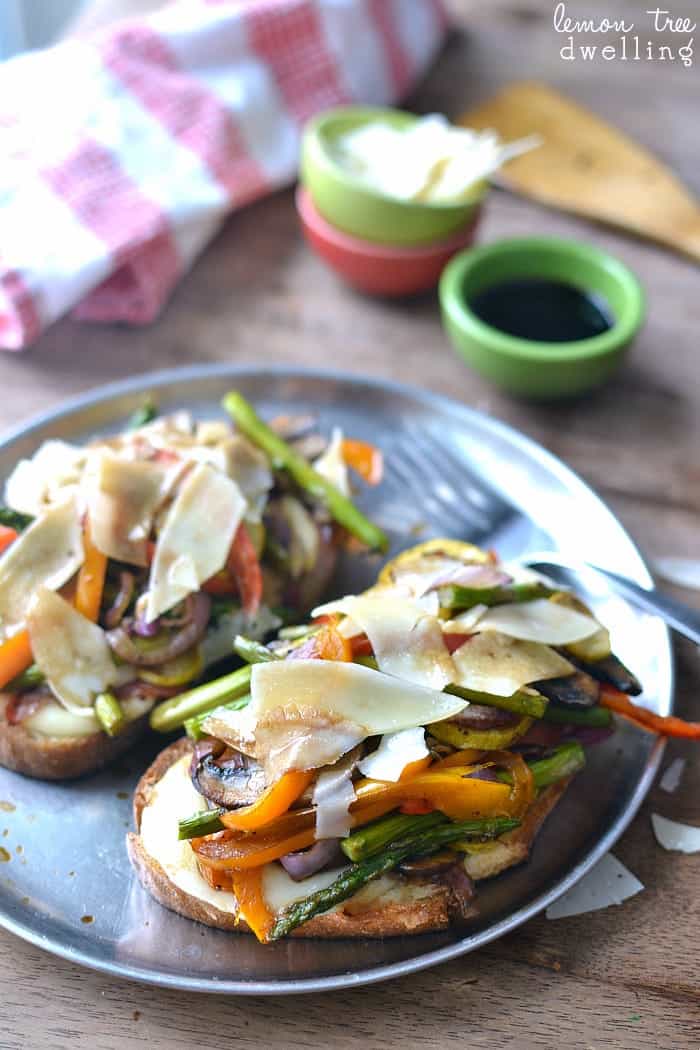 So I guess you could say we were under the false impression that vegetable gardens are easy! That they take very little work……that they basically grow themselves. We took a year off from planting when we moved into our new house, and then decided to go for it. We planted late in the season and did very little "tending" or "watering" or "weed pulling". Like I said…..we were clueless.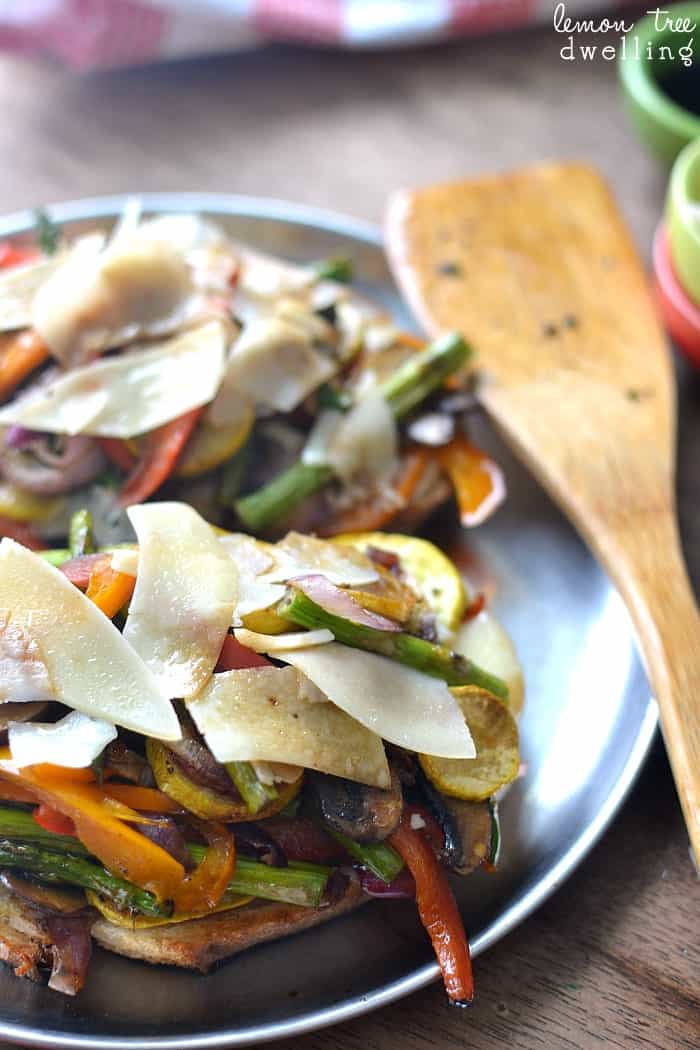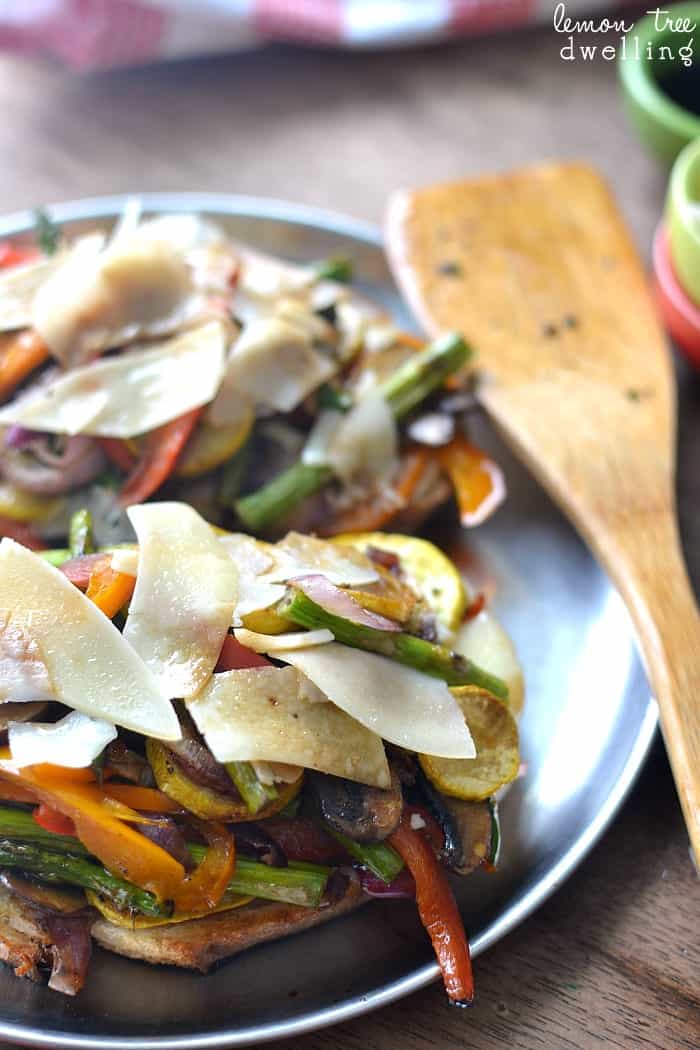 Well, needless to say, our garden did not do well that year. And, in fact, it has never done well since! I'm not quite sure if it's because of a lack of tending or a lack of sunshine or just an issue with the soil……but I long for the days of fresh garden vegetables. As long as they're not too much work, of course…….(haha)!
Balsamic Roasted Vegetable Grilled Cheese – A healthy alternative
Why? Because this grilled cheese sandwich is my ideal. I could eat it – or a version of it – every day of my life. And the only thing that would make it better is if all those delicious vegetables were straight from my garden! We're actually thinking of building raised beds this year…..so if you have any tips, let me know! And speaking of tips, here are a few for this sandwich: use good bread, go heavy on the cheese, and don't be shy with the vegetables! I made mine open face, so it felt a little lighter…..if a loaded grilled cheese can feel light. But however you make it, this sandwich is awesome. Even if you have to buy the vegetables to make it with.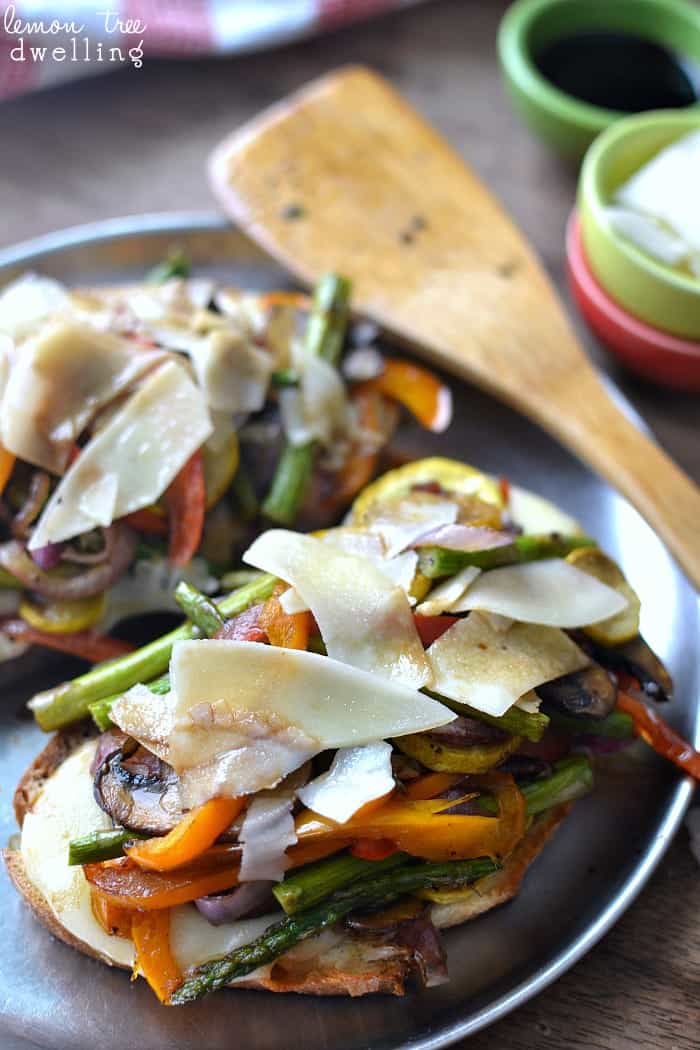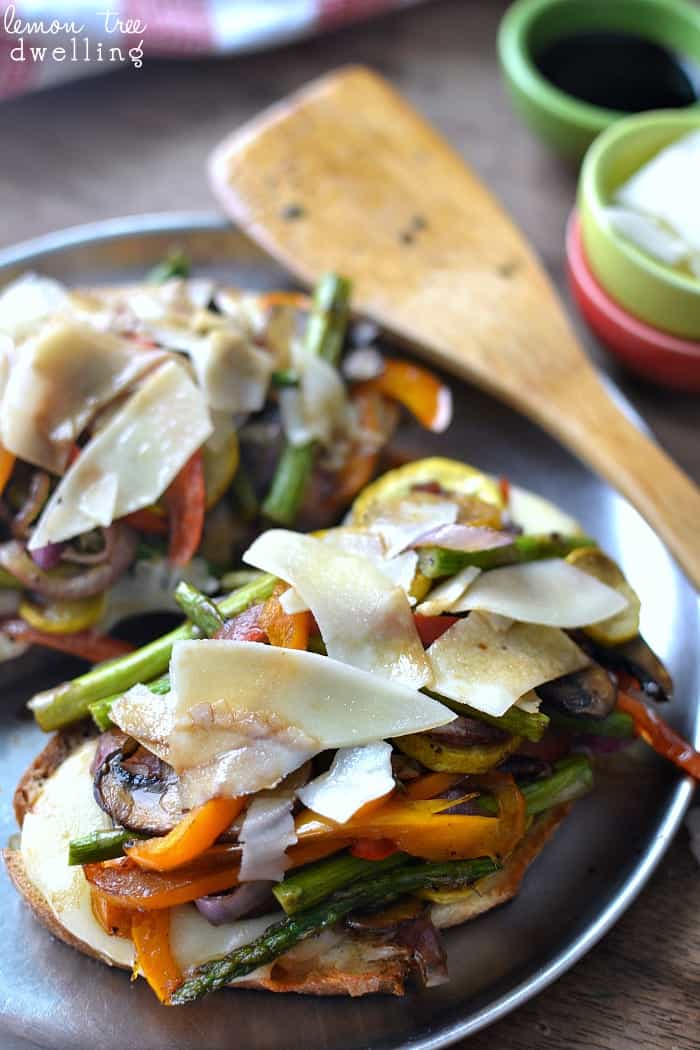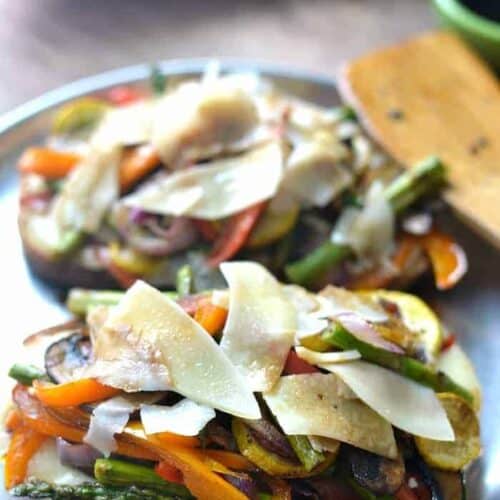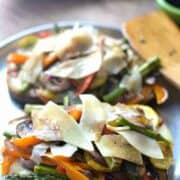 Balsamic Roasted Vegetable Grilled Cheese
Ingredients
4

c.

chopped vegetables

I used red and orange peppers, yellow squash, asparagus, purple onion, and portabella mushrooms

2

Tbsp.

olive oil

1/2

tsp.

fresh ground pepper

1/4

tsp.

kosher salt

2

Tbsp.

balsamic vinegar

1

Tbsp.

butter

2

pieces

sliced bread

I used Tuscan Pane

4

oz.

mozzarella cheese

1/4

c.

shaved Parmesan cheese
Instructions
Toss vegetables in olive oil, salt & pepper and spread out on a rimmed baking sheet.

Roast in a 400 degree oven for 15 minutes or until vegetables are tender-crisp.

Drizzle with 2 Tbsp. balsamic vinegar.

In a large skillet, melt 1 Tbsp. butter over medium heat.

Place bread in skillet; top with mozzarella cheese, roasted vegetables, and fresh shaved Parmesan.

Cook over medium heat until mozzarella is melted and bread is golden brown.

Drizzle with additional balsamic vinegar as desired.
Looking for more ways to eat your veggies?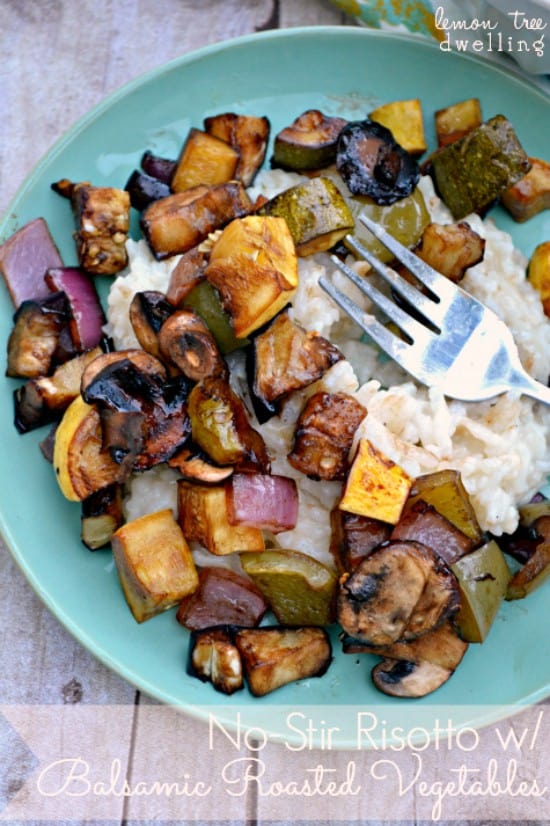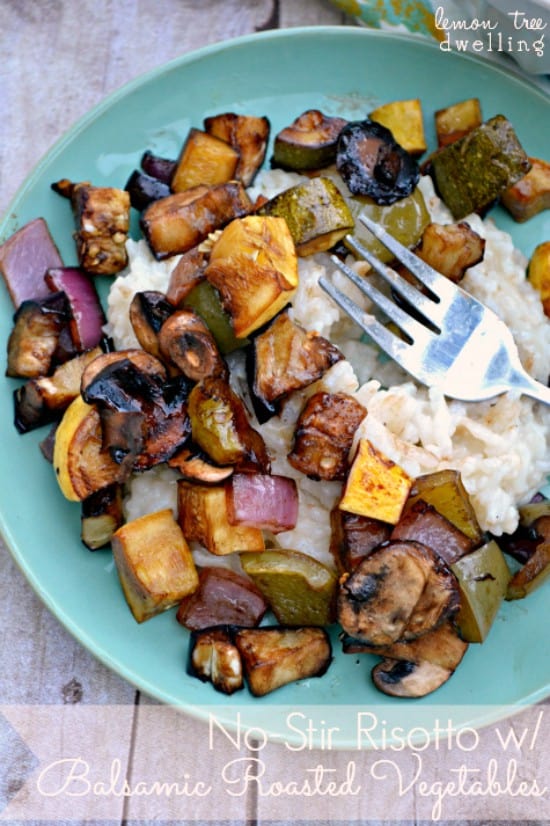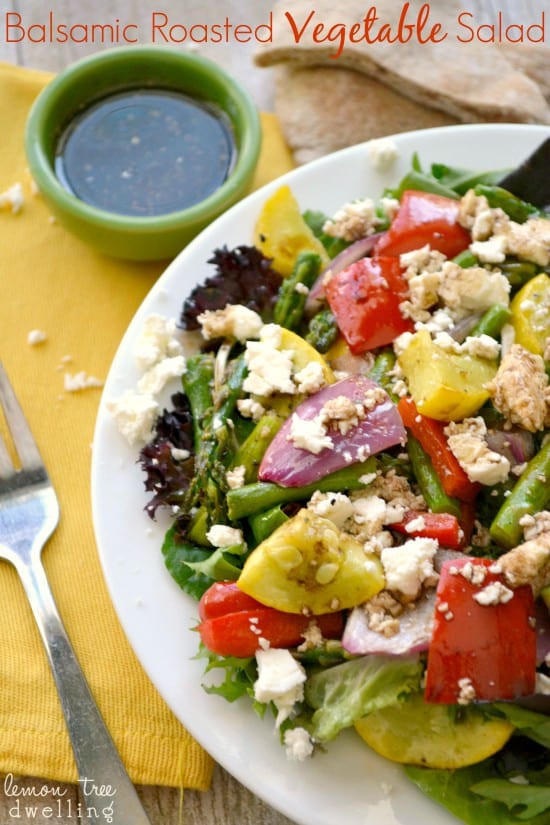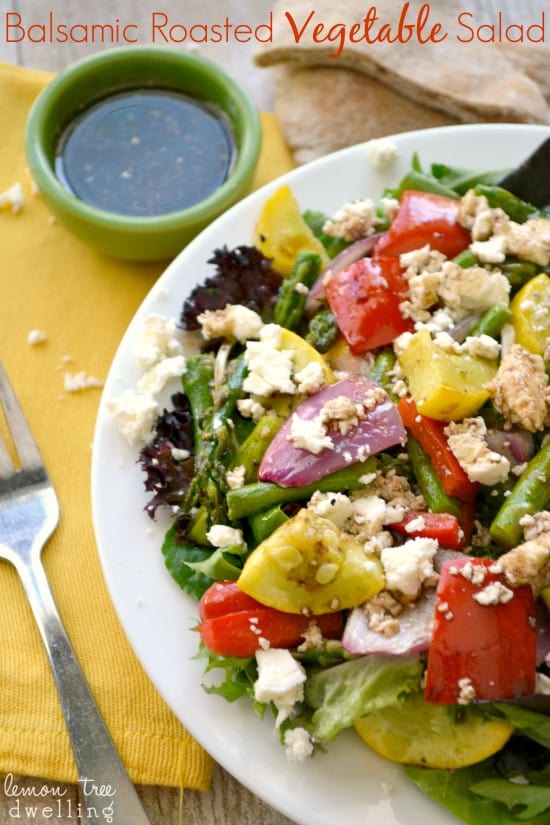 Be sure to check us out on Pinterest for more great recipe ideas!