This Creamy Tomato-Dill Soup is loaded with vegetables and bursting with flavor! A delicious, healthy choice for lunch or dinner….and a great way to use up all your garden vegetables!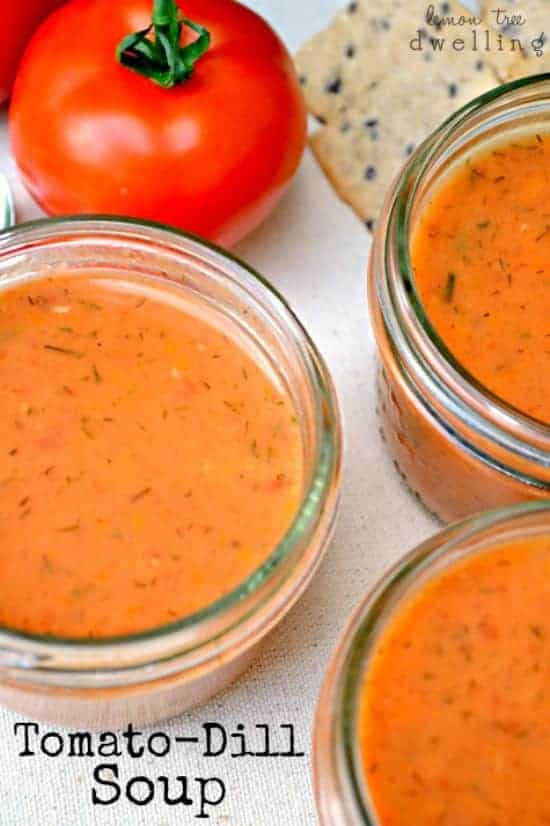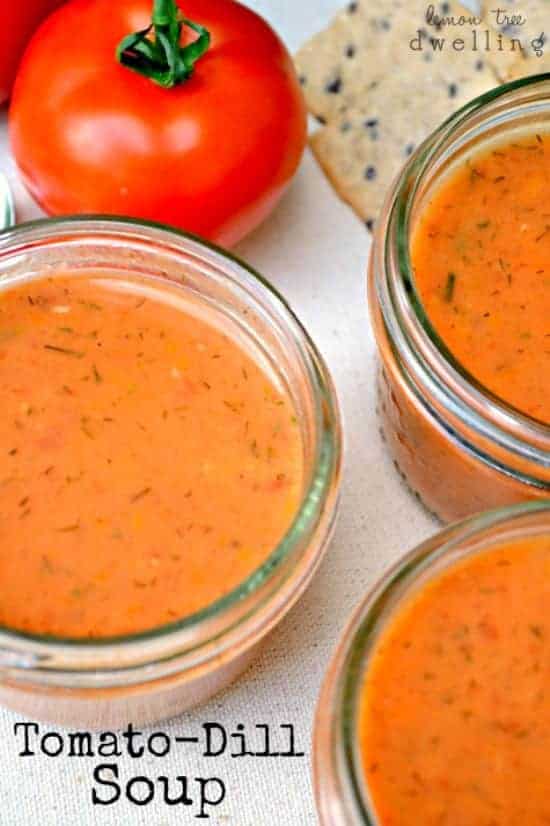 I'm pretty sure my love of tomato soup started in college….only back then, my tomato soup wasn't anything like this! No, back in college, tomato soup meant a packet of powder you mixed with hot water and stirred….perfect for eating on the go….but definitely not the real thing! It's funny how our tastes evolve – in college, I was perfectly fine with powdered soup and semi-stale bagels. But now? Now it would take a lot for me to think that was a good idea.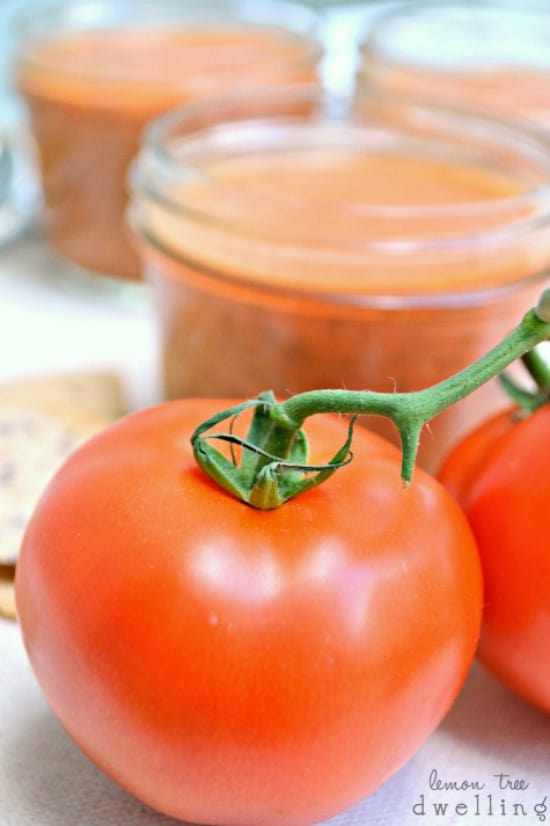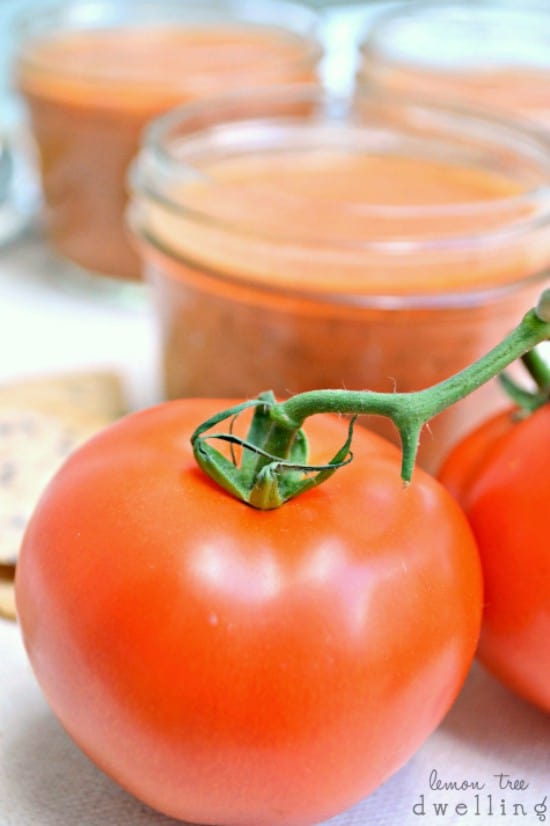 It's like that with a lot of things, actually…..desserts (I used to be more than okay with a slightly undercooked box of brownies), appetizers (frozen mozzarella sticks, anyone?), drinks (Chi Chi's does make a delicious margarita mix…..), dinners (I've bought more than a few frozen pasta meals in my day)….I used to be much more okay with letting someone else do the work for me!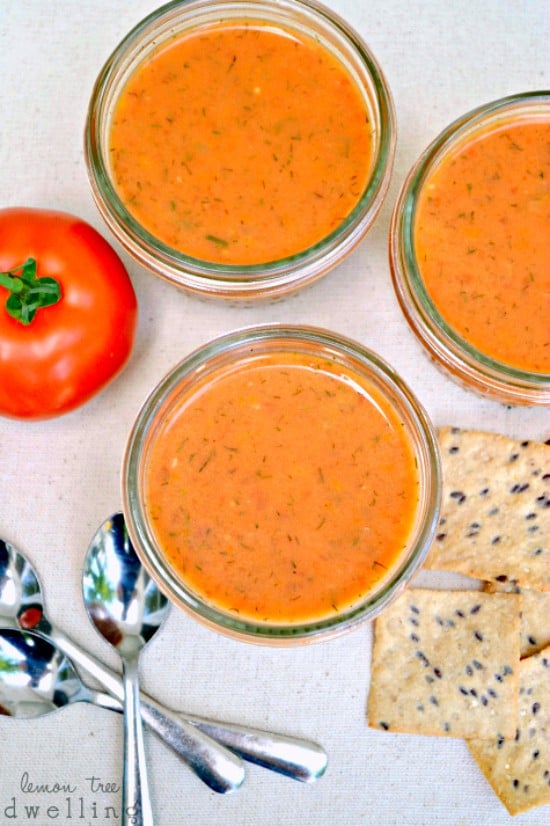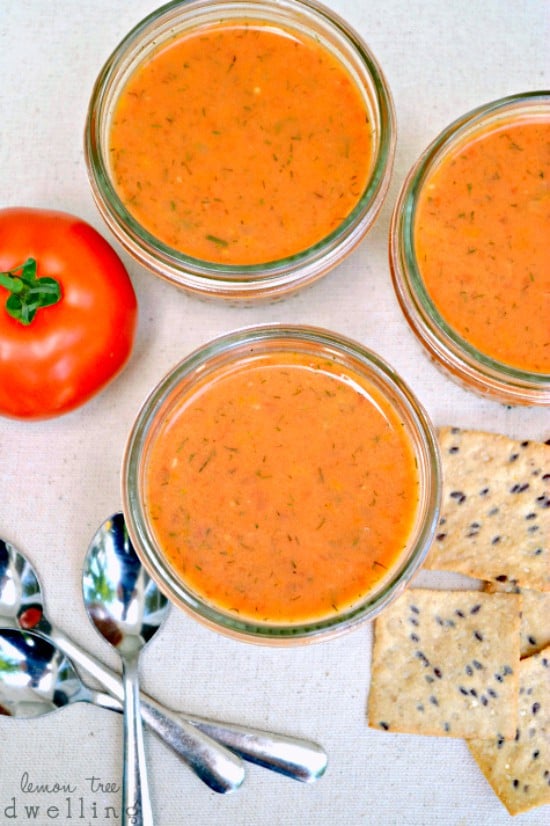 Oh, how things have changed. Don't get me wrong – I am not someone who makes everything from scratch or insists on homemade meals every night of the week. BUT. I do try to make more meals than not. I try to infuse them with good things. I find that, typically, my kiddos like the things I make better than the canned or frozen options. I love showing my love for people through food….and homemade food just seems so much more loving! The good news? I only make things that are easy! And totally do-able. And delicious. Like this Tomato-Dill Soup…..inspired by the Farmer's Market….and so much better than the packet of powder! Because powdered soup really isn't a good idea, even if it seems like it at the time.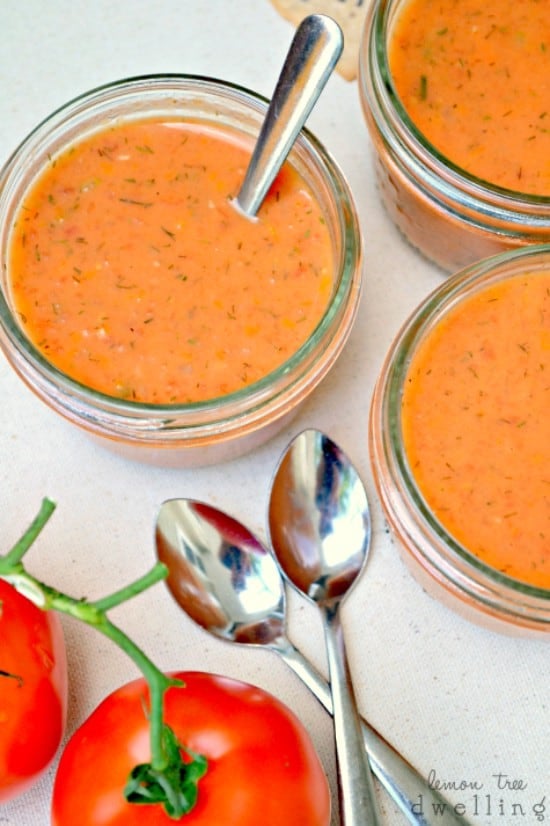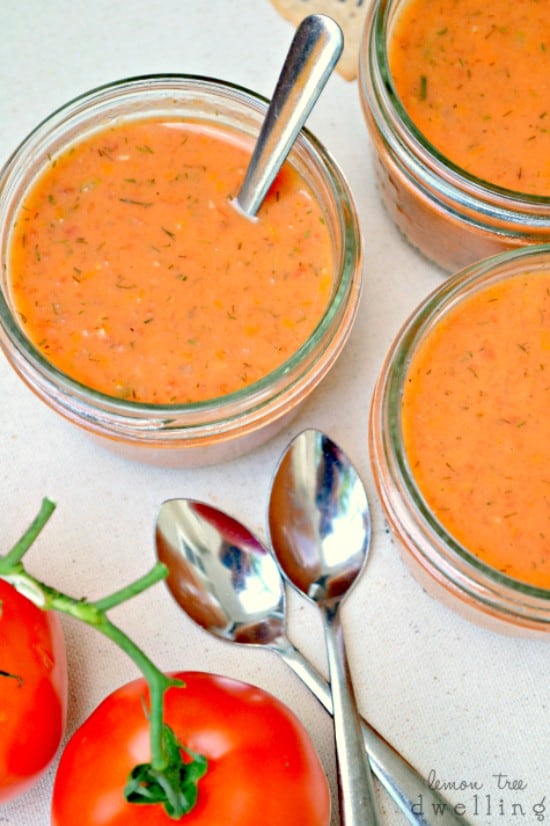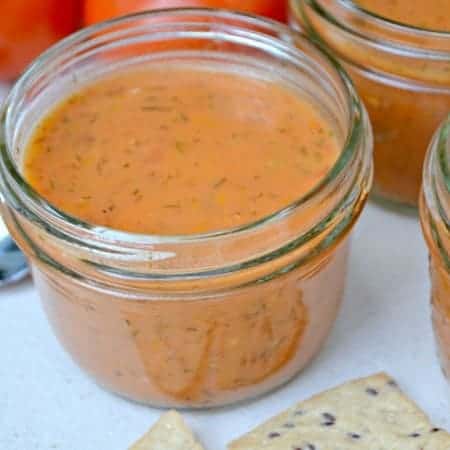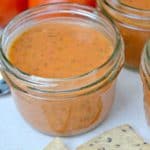 Tomato-Dill Soup
Ingredients
1

Tbsp.

unsalted butter

1/2

c.

chopped onion

1/3

c.

chopped carrots

1/3

c.

chopped zucchini

1

clove

garlic

minced

2

Tbsp.

flour

3

c.

chicken broth

1

14 oz. can diced tomatoes or 2 c. fresh diced tomatoes

1

Tbsp.

tomato paste

2

tsp.

dried dill weed

1

tsp.

sugar

1/4

tsp.

pepper

1/4

c.

fat free half-and-half
Instructions
Melt butter in a medium saucepan. Add the chopped onion, carrot, zucchini and garlic; cover and cook over medium heat, stirring occasionally, about 5 minutes.

Sprinkle the flour over the vegetables and stir over low heat for 1 minute, or until the flour is fully incorporated.

Add the chicken broth, tomatoes, tomato paste, dill weed, sugar and pepper and bring to a boil.

Reduce heat to medium-low; cover and cook, stirring occasionally, until the vegetables are tender, 15 minutes. Cool to room temperature (*cooling the soup is especially important if you will be transferring it to a blender.)

Transfer the soup to a blender (or use a hand-held immersion blender) and puree until smooth.

Return the puree to the saucepan, add the half and half and cook until the soup is just heated through.