This Sweet Potato Breakfast Skillet is loaded with sweet potatoes, black beans, red bell pepper, purple onion, and a dash of hot sauce…..and topped with mixed greens, an over easy egg, and maple mustard vinaigrette. SO much flavor in one skillet!!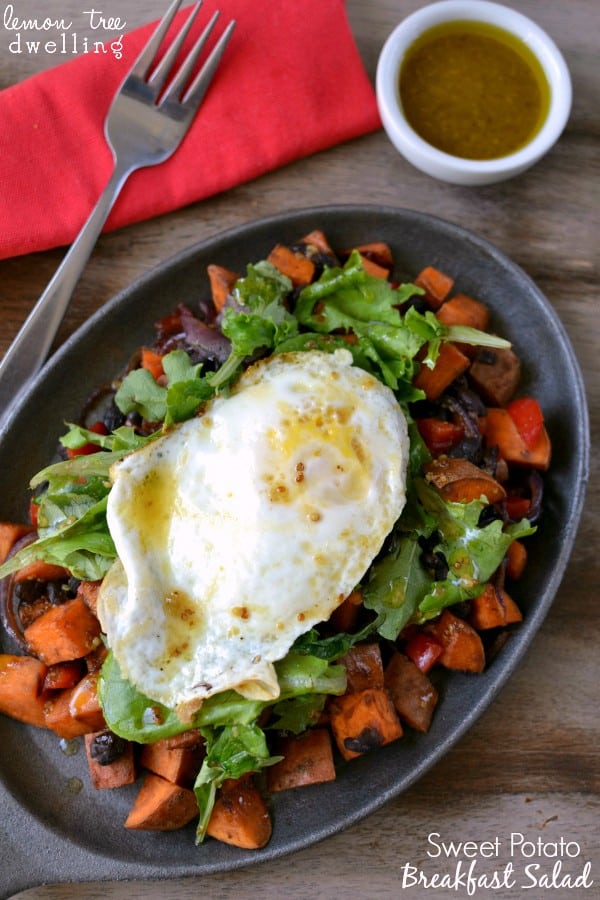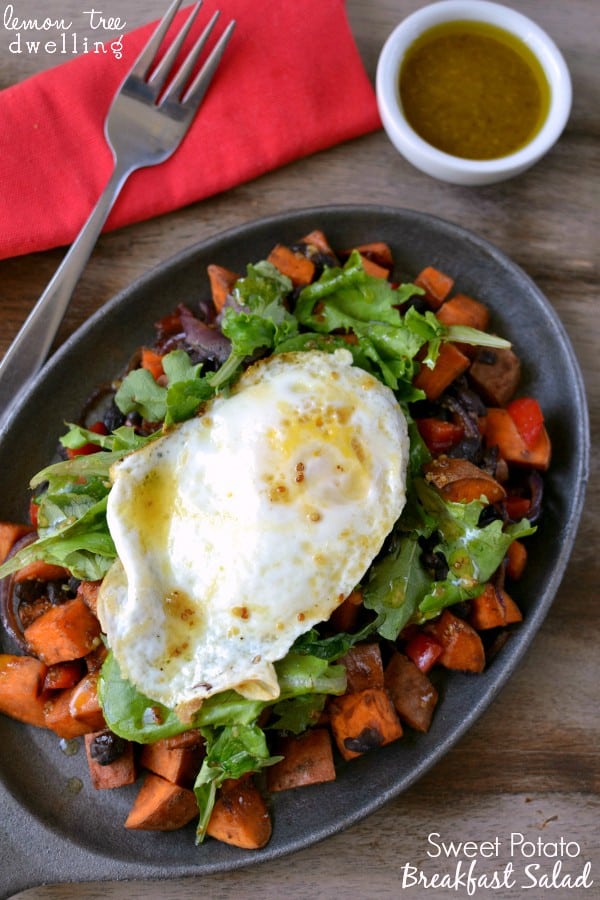 Hello, friends…..happy Friday! I may have forgotten to mention the fact that we're at a water park right now….6 of us in one hotel room, me sleeping on the pull-out couch next to Myla's pack 'n play, and all the water park fun you can handle. Ha! So it's not exactly my idea of a vacation….but the kids love it, and because of that, it somehow feels worth it.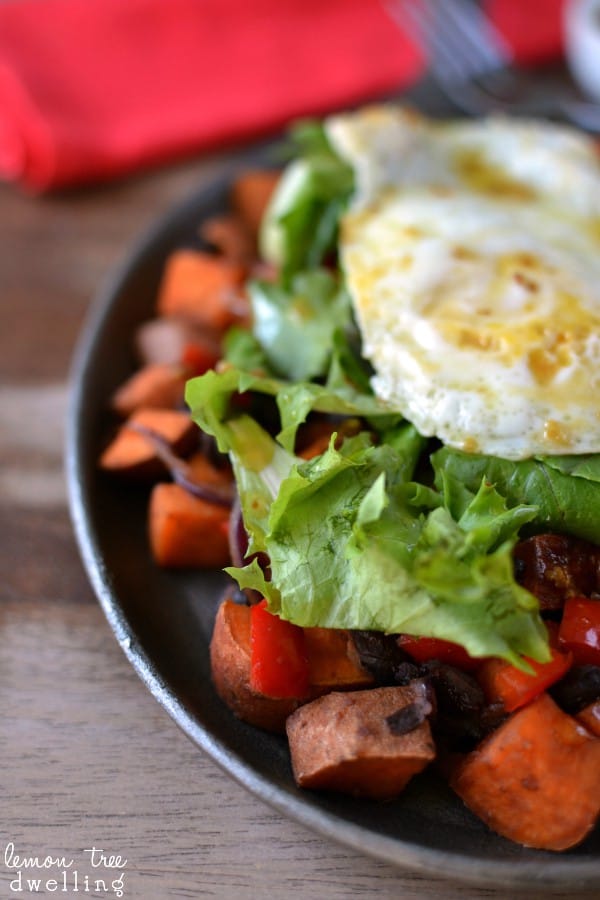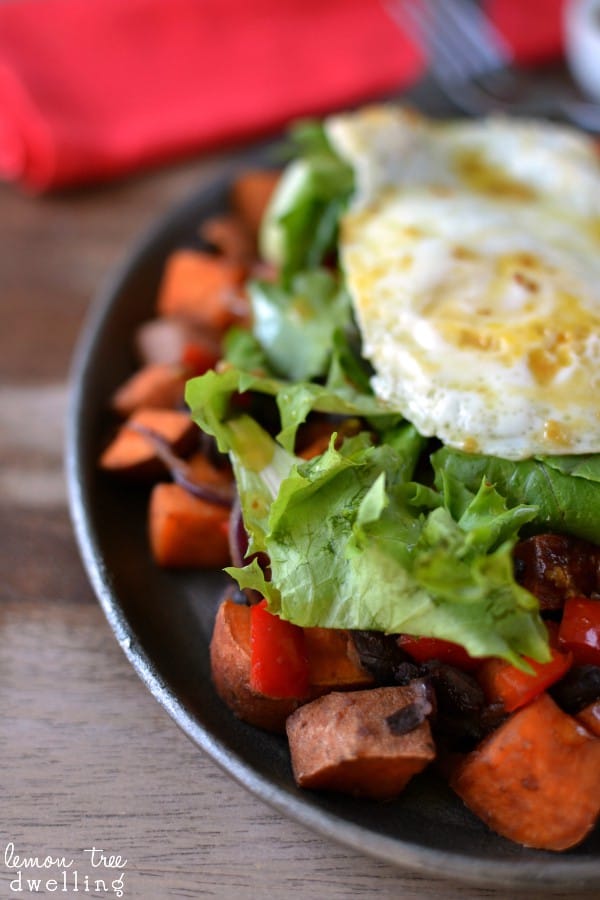 We've been going to bed around 8 pm each night, since by that point, the kids are beat from a full day at the water park. To be honest, Jorden and I are beat by that point too….although we might opt for some post-bedtime alone time if it were an option! It's funny…..the things we do for kids. I wonder if they have any idea that this water park adventure (or every water park adventure) is 100% for them (?) Probably not.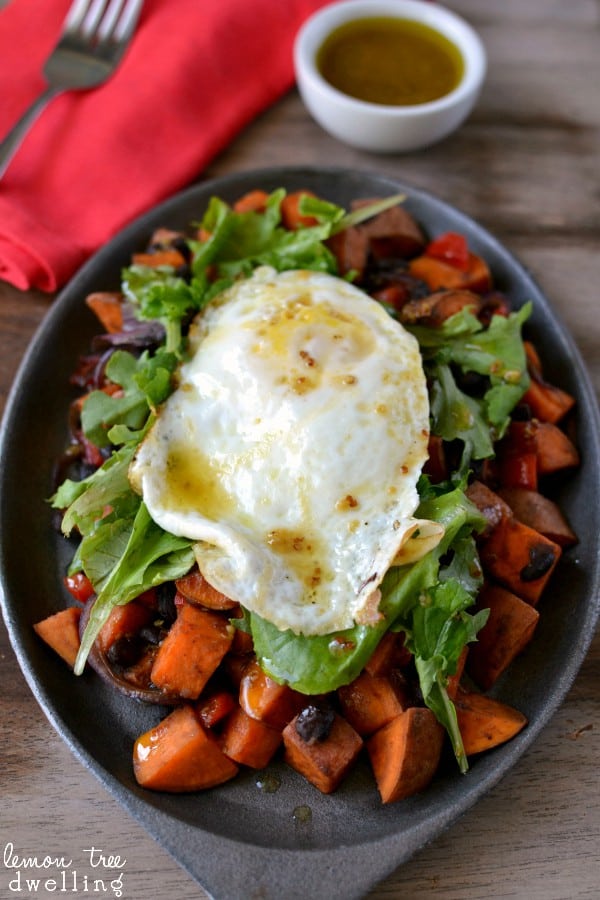 All they're thinking about when their heads hit the pillow is the fact that tomorrow is a new day, another day of water slide and water coaster fun, another day of something more exciting than being at home. Today is our last day here….and while the kids are clearly disappointed, I must admit I'm ready to go home. I'm ready for Myla to be back on a sleep schedule and for the rest of us to have a little more space. One hotel room for the 6 of us leaves a bit to be desired! But most of all? I'm ready for a delicious breakfast!!!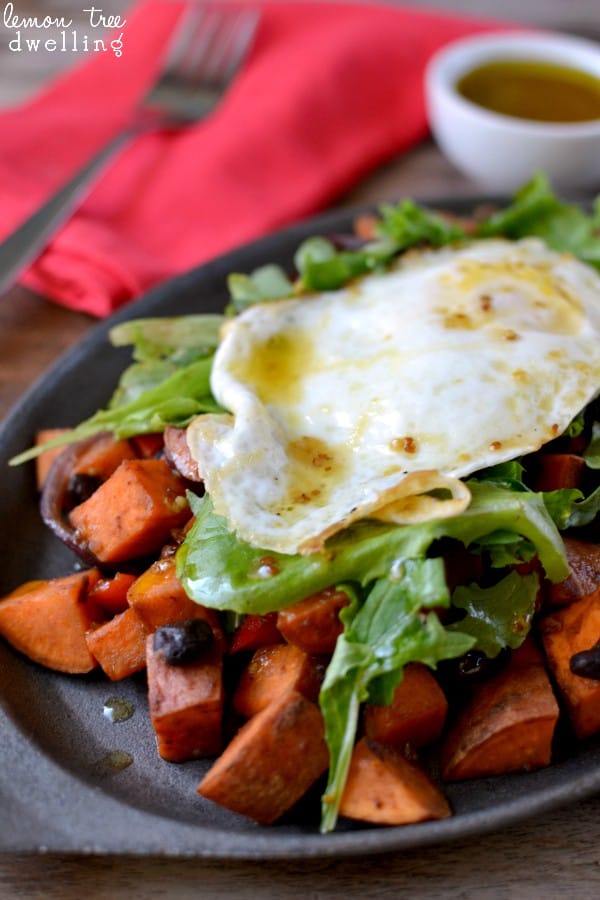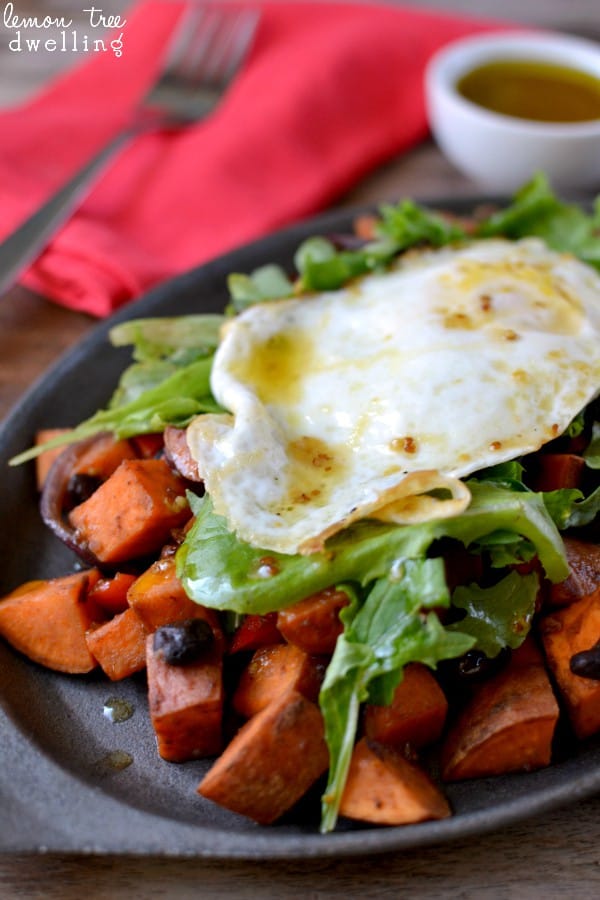 Who would have thought that finding a tasty breakfast would be so difficult? Yesterday we attempted Paul Bunyan's All-You-Can-Eat Lumberjack Breakfast Buffet, only to find they are closed for the season. Instead, we ended up at BJ's Family Restaurant for the WORST breakfast I have ever eaten in my life. No exaggeration. Rubbery eggs, canned vegetables, and hashbrowns that were dripping with grease. NOT good. This morning's Dunkin' Donut stop was definitely better, but still not completely what I had in mind. It may have something to do with the fact that I can NOT stop thinking about this Sweet Potato Breakfast Salad I made the other day! It was fresh, satisfying, and SO delicious! Don't get me wrong – the kids would probably choose BJ's pancakes or Dunkin' Donuts any day of the week. But then again, they would also choose a water park……!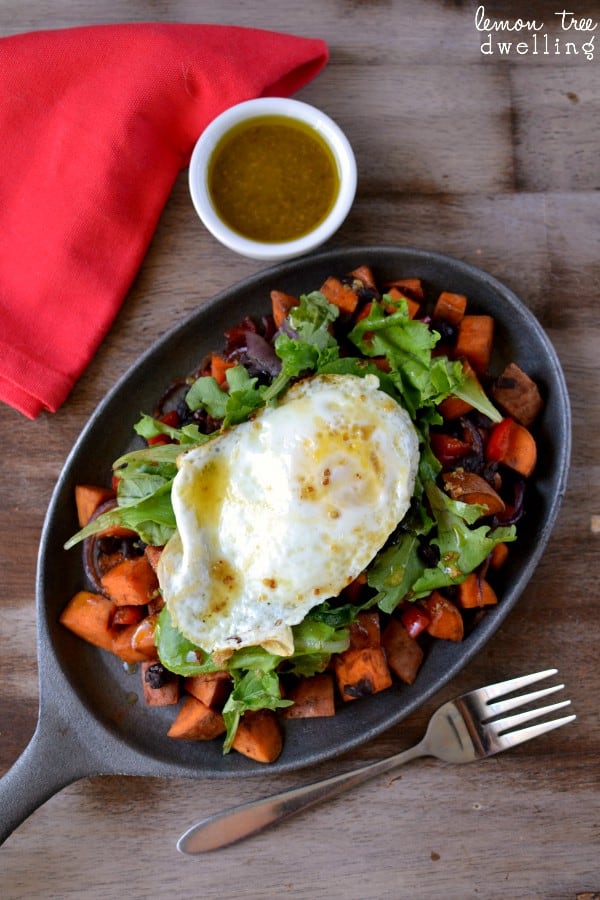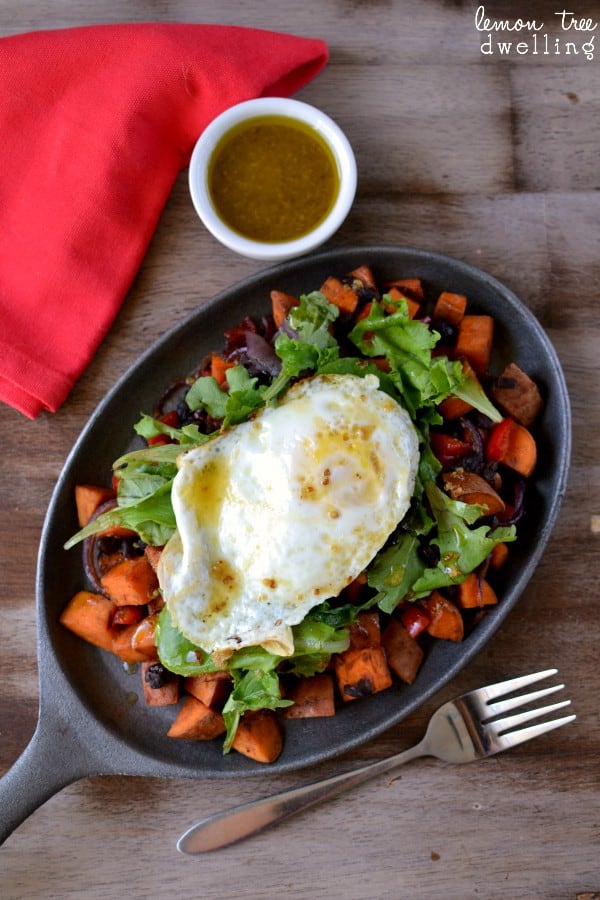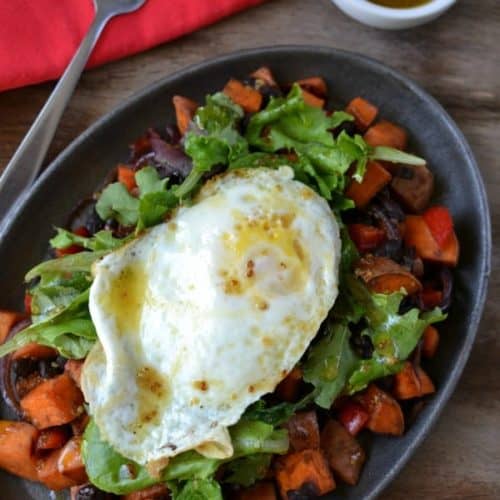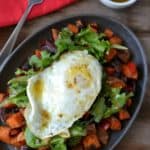 Sweet Potato Breakfast Salad
Ingredients
1

Tbsp.

olive oil

2

c.

chopped sweet potatoes

skins on

2

thinly sliced rings of a large red onion

1/2

c.

black beans

1/2

c.

diced red pepper

hot sauce

to taste

1

c.

mixed greens

1

egg

cooked over easy
Maple Mustard Vinaigrette
3

Tbsp.

olive oil

2

Tbsp.

whole grain mustard

1 1/2

Tbsp.

maple syrup

1

tsp.

lemon juice

salt & pepper

to taste
Instructions
Heat olive oil in a large frying pan over medium heat.

Add sweet potatoes and saute, stirring, until potatoes start to soften.

Add onions and red pepper and continue cooking until potatoes are fork tender.

Stir in black beans and a dash of hot sauce, to taste.

Arrange sweet potato mixture on a plate; top with mixed greens and egg.

Drizzle with maple mustard vinaigrette.