Fall Harvest Salad - made with mixed greens, apples, cucumbers, celery, red onion, feta cheese, and pomegranate seeds, and drizzled with a honey balsamic vinaigrette. A beautiful, delicious salad that's perfect for the holidays!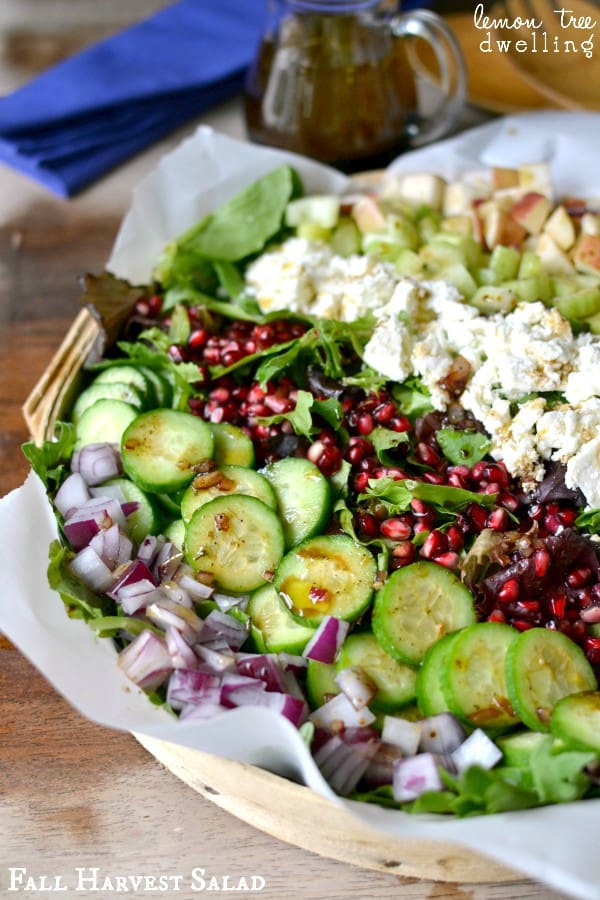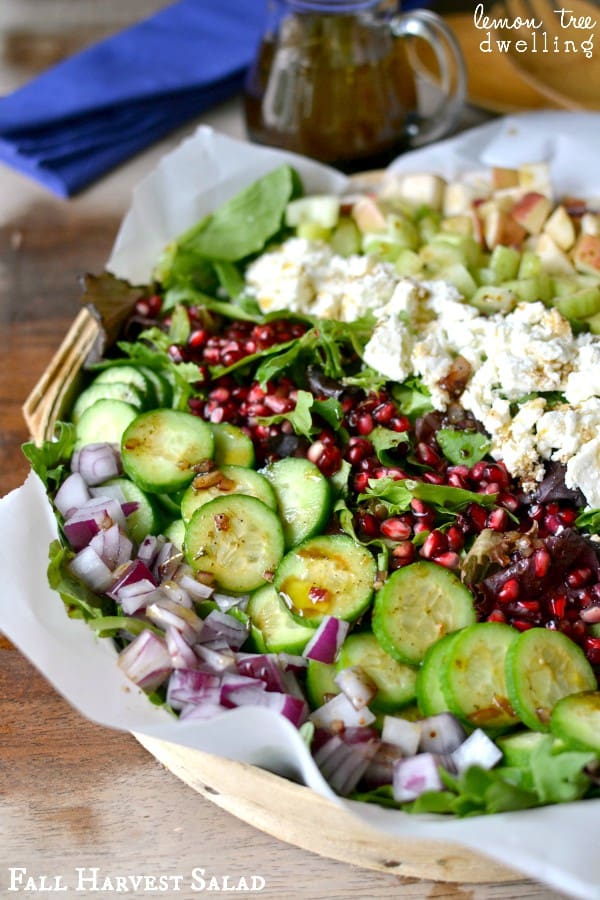 So it turns out I have the holidays on my mind. I guess it makes sense....considering the fact that Thanksgiving is just over a month away. Can you even believe it?? They always say the older you get, the faster time flies....and I think they're right! I'll be 35 on Monday, and I'm not exaggerating when I say the last 8 years of my life sped by. Whether it's having kids or just getting older,  one thing I know is that it goes by quickly!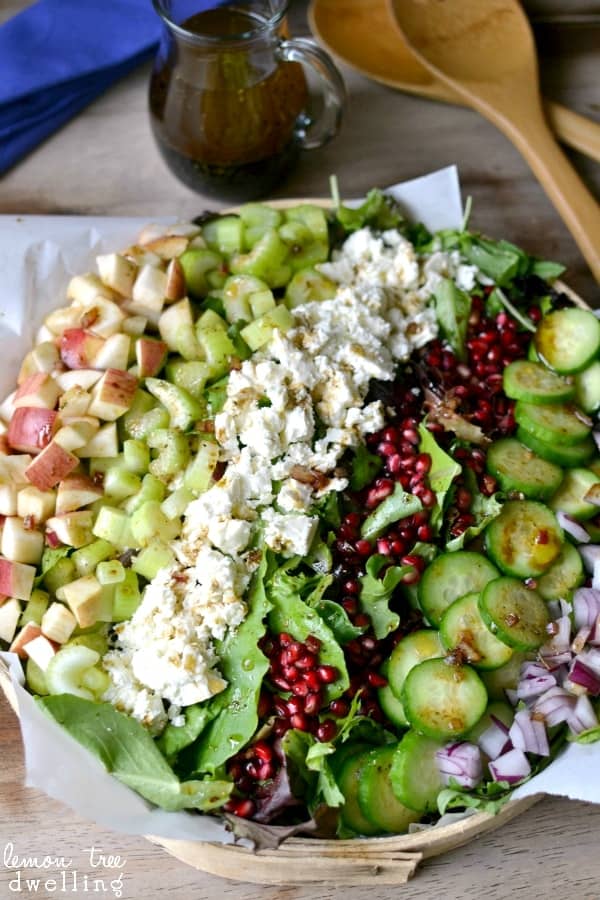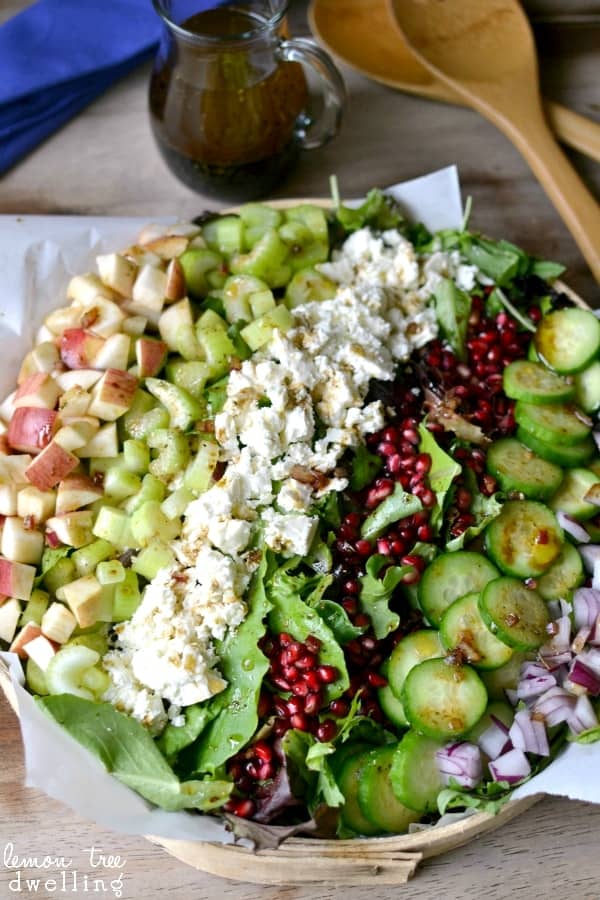 There's something about fall that makes me especially aware of this reality. Maybe it's the falling leaves or the cooler temperatures or the fact that fall is over in the blink of an eye, but I feel like every fall I am longing to reconnect with family and friends and the things that matter most!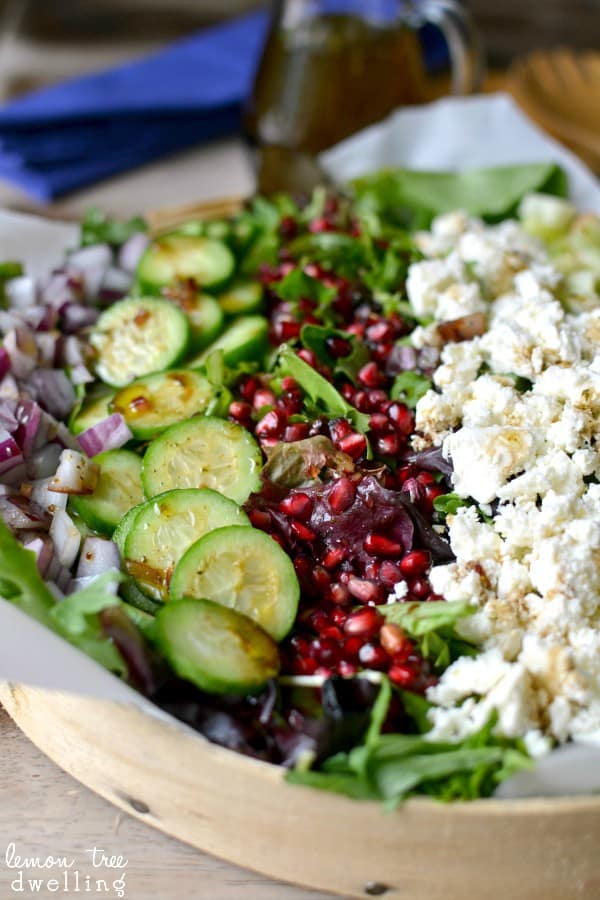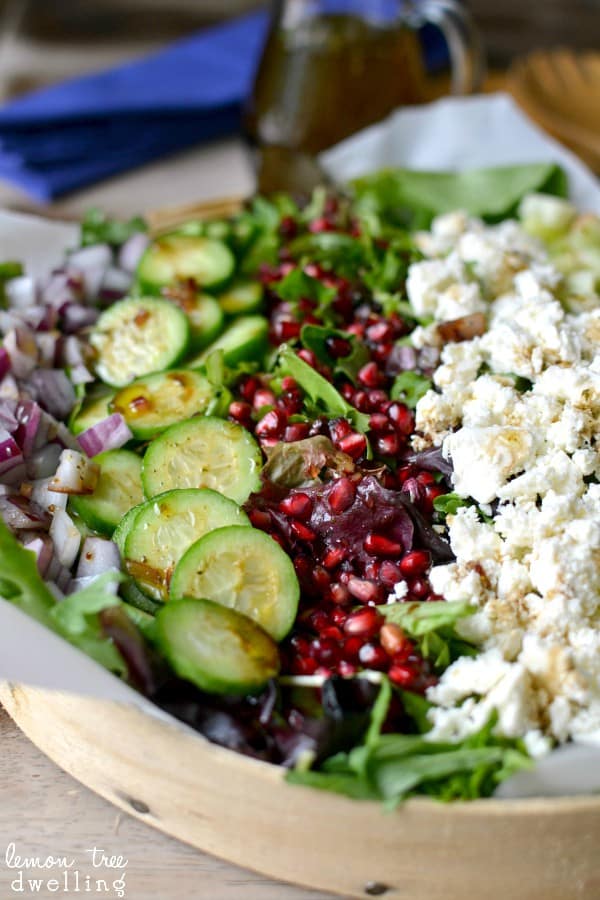 It's perfect timing, really. The kids are back in school, the craziness of summer has passed, and the weather is perfect for sharing a cup of coffee or a delicious meal and reconnecting with the people who are important to us. Which is exactly how this salad was born. My mom called, I wanted to feed her, and this is what I had in my fridge. Turns out it could not have been more delicious......although I know it wouldn't have really mattered either way......(it was really about the time together!)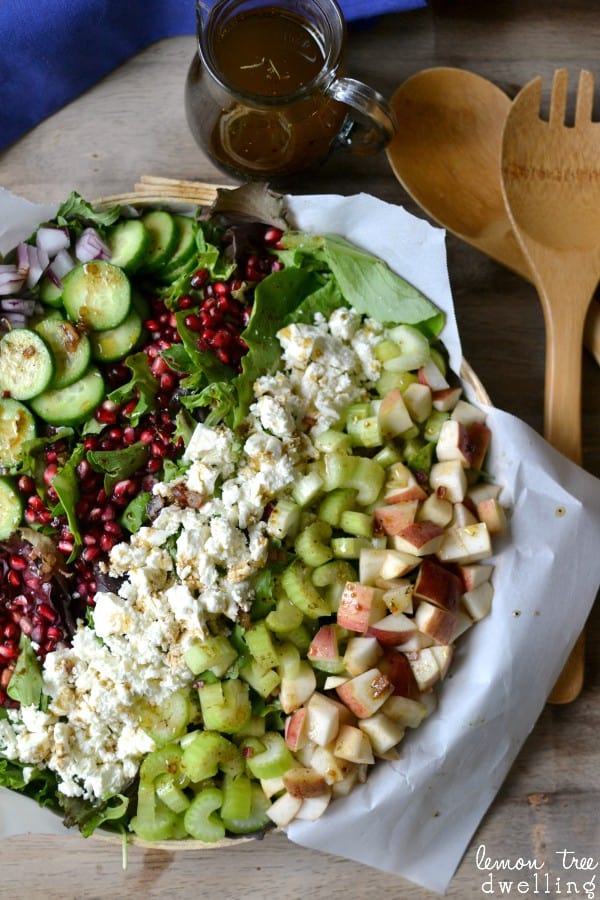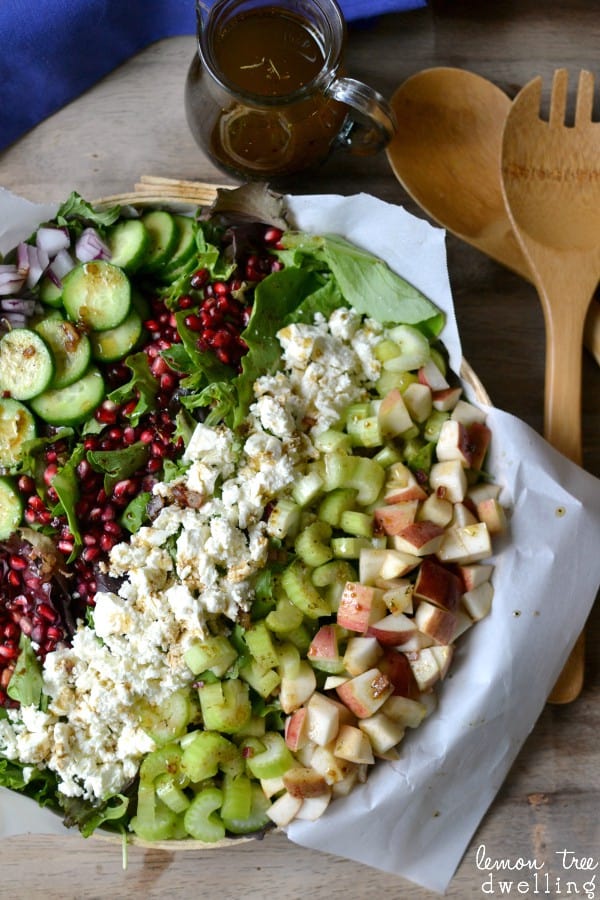 The holidays are kind of like that. Mostly about the time together.....but some delicious food never hurts, either!! I, for one, am always about the salad. There's nothing like a pile of freshness to counteract all the heaviness of a typical holiday menu. And when it looks as pretty as this one does, I don't think anyone will be complaining! On the off-chance that they do, you can remind them that it's really less about the food and more about the time together. And then you can secretly rejoice because that means more salad for you!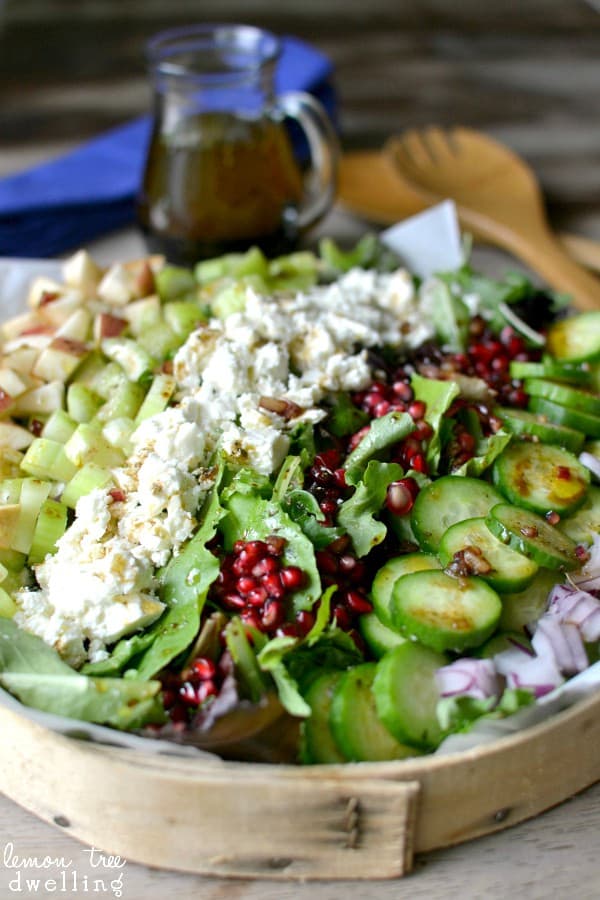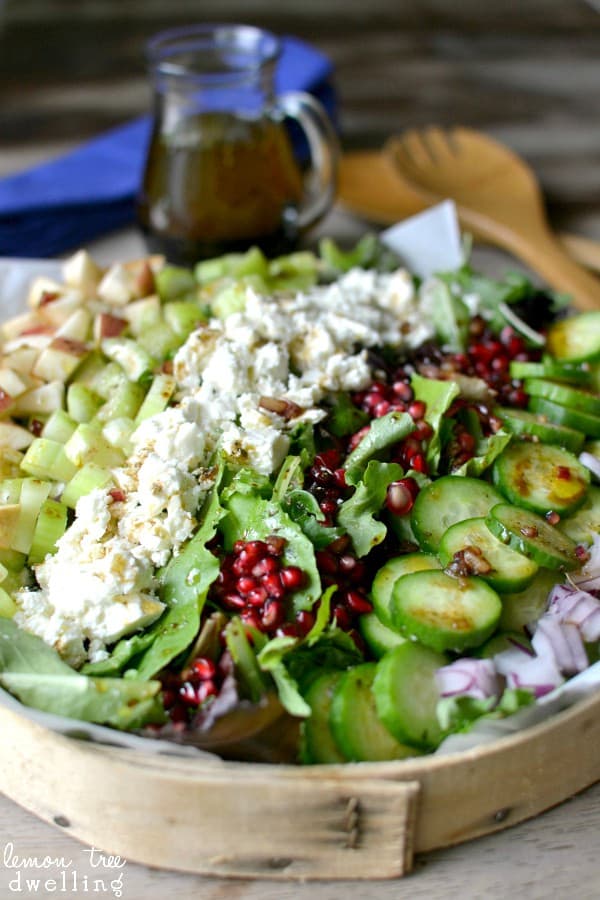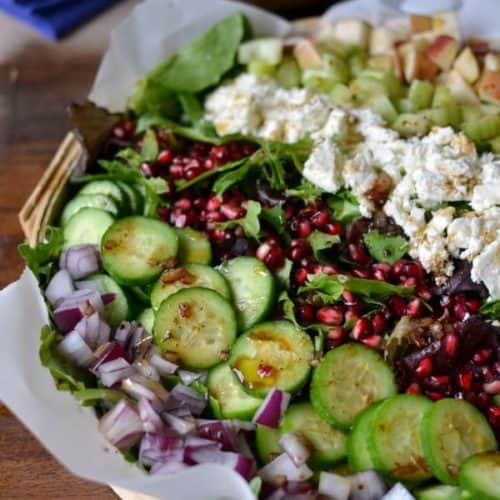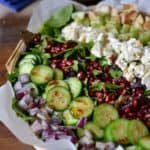 Fall Harvest Salad
Ingredients
5

oz.

mixed greens

1

red apple

chopped

1-2

mini cucumbers

sliced

1

thickly sliced red onion ring

diced

1-2

stalks celery

sliced

4

oz.

feta cheese

4

oz.

pomegranate seeds

*amounts can be adjusted according to taste

*also delicious with pecans!
Dressing
2/3

c.

olive oil

2/3

c.

balsamic vinegar

1

Tbsp.

minced red onion

1

Tbsp.

honey

1

tsp.

dried oregano

2

garlic cloves

minced

1

tsp.

kosher salt

1/2

tsp.

pepper
Instructions
Spread greens in shallow serving dish.

Layer with additional ingredients as desired.

Drizzle with balsamic vinaigrette.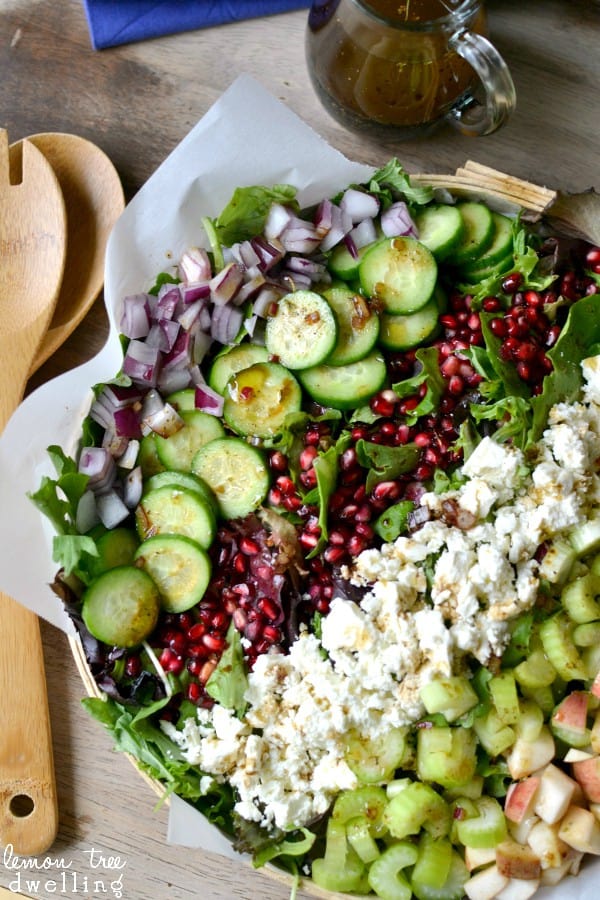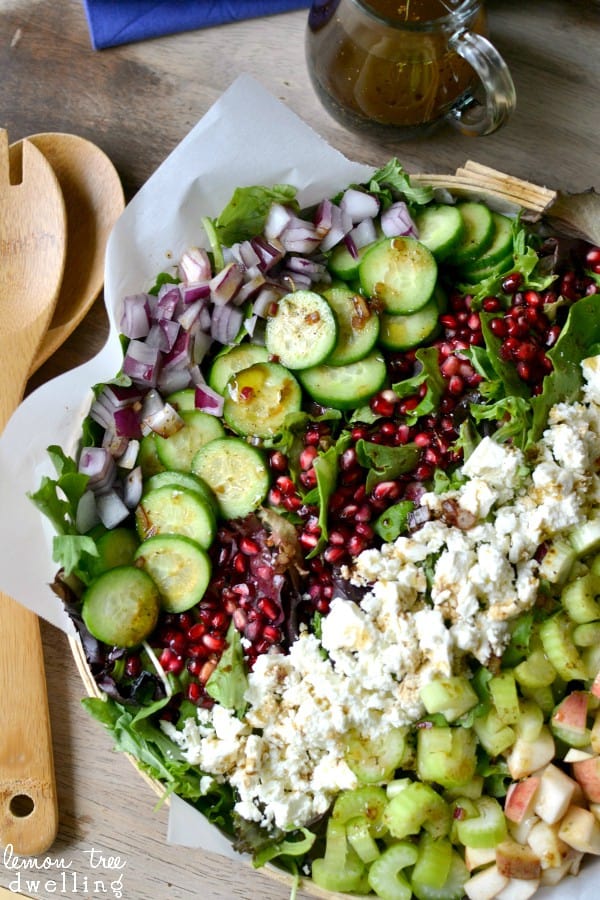 Looking for more delicious holiday recipes??