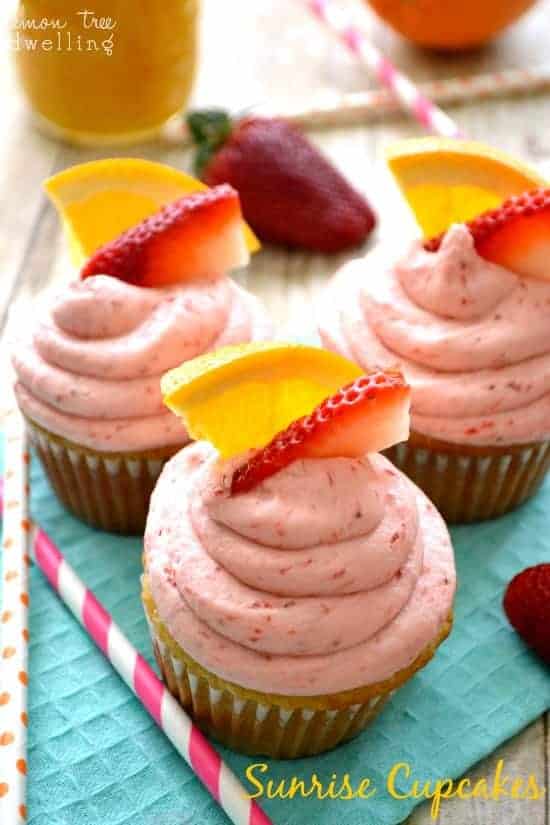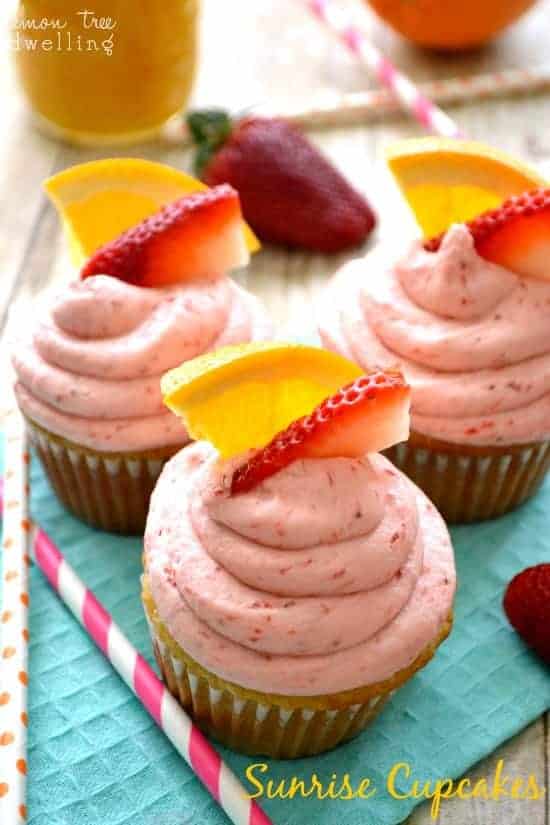 Yayyyy! It's a Surprise Baby Shower for my good friend Lisa…..and I'm sharing these delicious strawberry-orange Sunrise Cupcakes!
So have I mentioned that my good friend Lisa is pregnant….or that our due dates are exactly 2 weeks apart….or that this is the second time we've been pregnant together and due right around the same time….? Well, she is! And she has officially made it to the home stretch, with just 4 weeks to go. Time for a baby shower!!! A group of her best bloggy friends and I have gotten together to throw her one heck of a shower, and I couldn't be more excited to help her celebrate!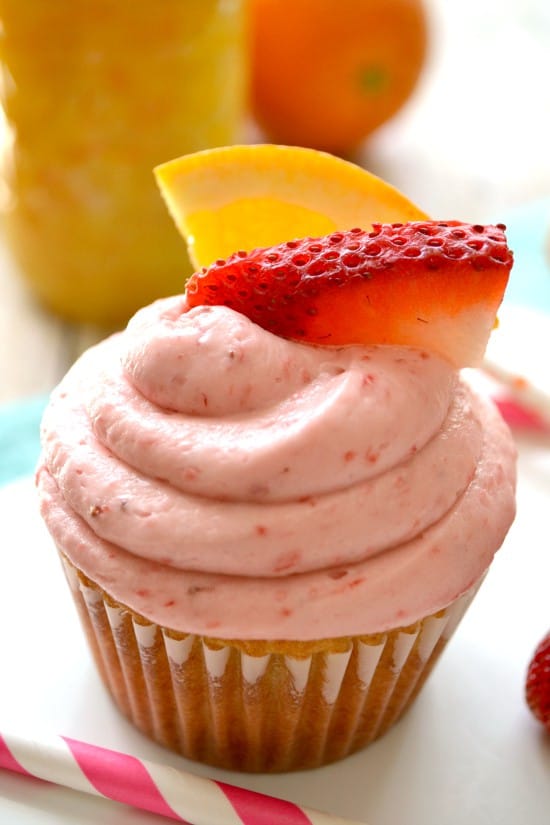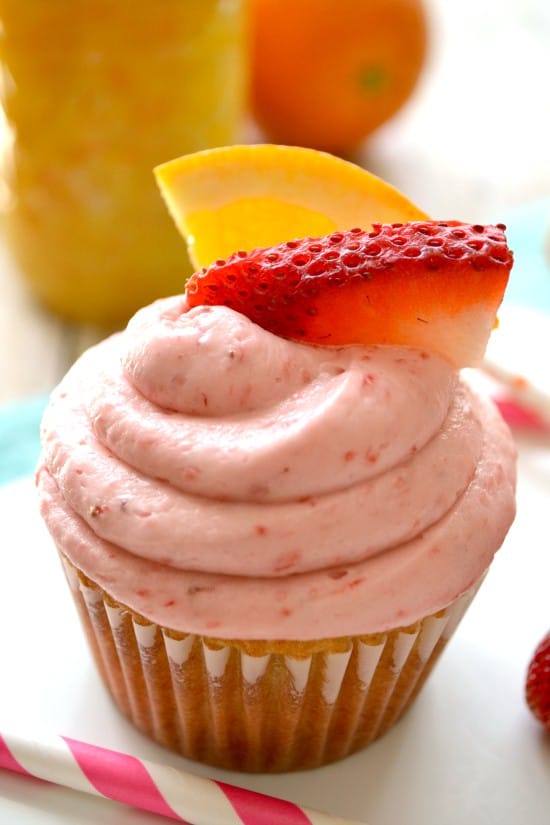 One of my favorite recipes of Lisa's is her Sunset Sangria. We've shared a pitcher of it on many occasions….and as I thought about what I'd want to bring to her baby shower, I couldn't help but think of this sangria. (Sounds funny, I know. Baby showers and sangria don't normally go together!) But that's because I'm thinking more about the "sunset" part of it. See, Lisa has had some pretty big sunsets in her life….and for some reason, they have seemed to go hand in hand with pregnancy. Six years ago, when she gave birth to her first son Gavin, her mom passed away on the very same day. And 3 years ago, when her second son Elliot was born, he survived just 1 week before they had to say goodbye.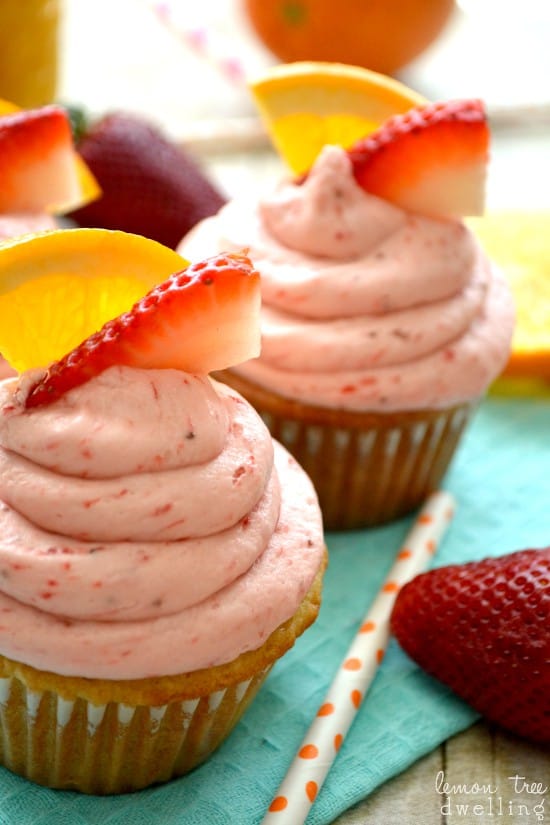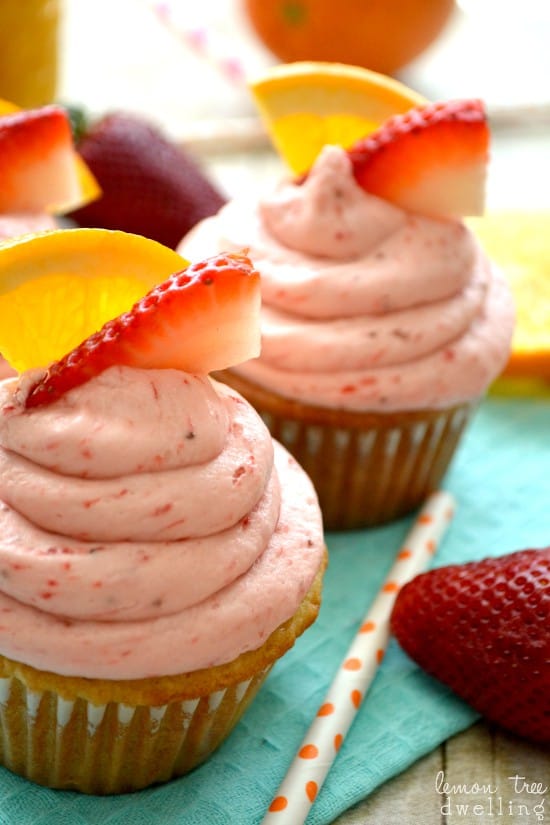 A year later, Lisa gave birth to a healthy baby girl….little Quinn, who is now two. Thankfully, Quinn's birth day was uneventful….which was exactly what we were all hoping for. A sunrise, instead of a sunset.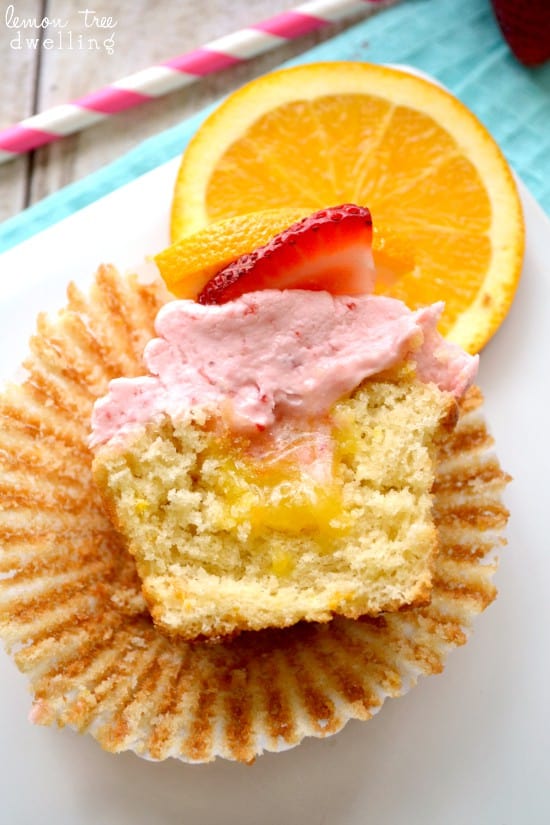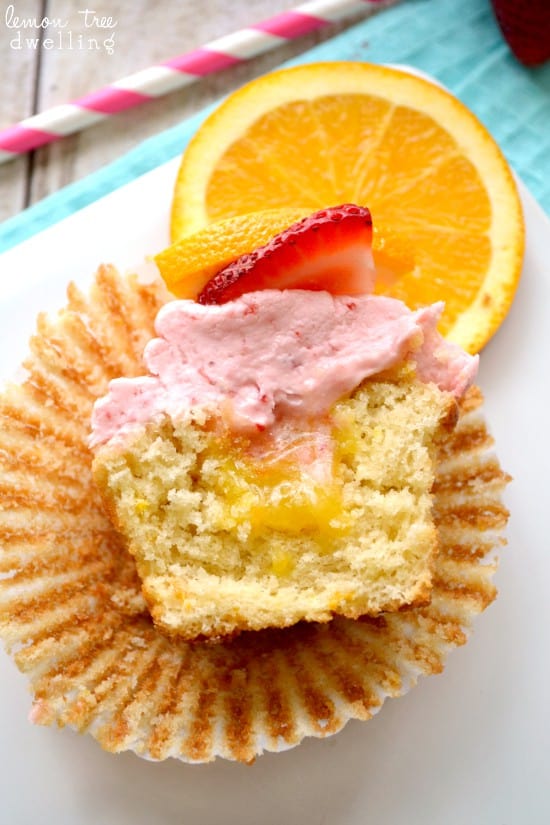 Have you ever thought about the fact that the colors of a sunrise and a sunset are basically the same? That you almost can't think of one without being reminded of the other? The same is true of life's sunrises and sunset. Which means that this has not been an easy pregnancy for Lisa. But. Today we celebrate the fact that she is almost at the end of the road, and there is a beautiful sunrise on the horizon!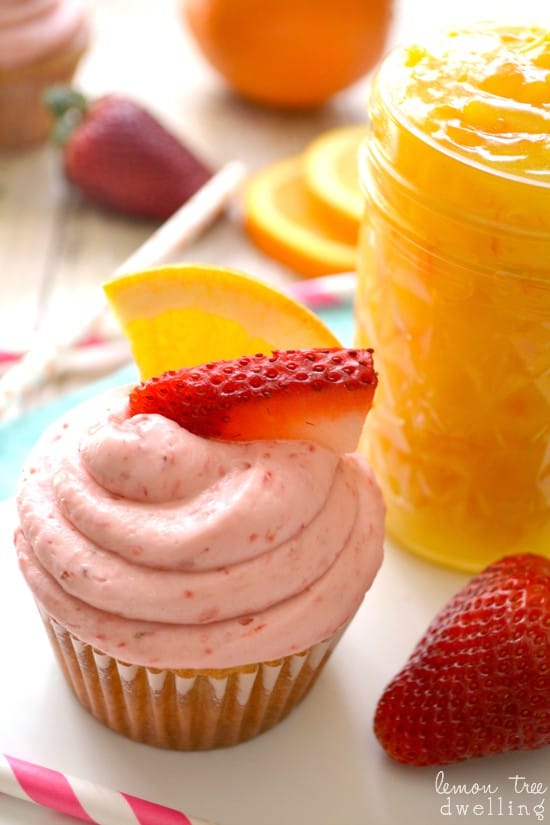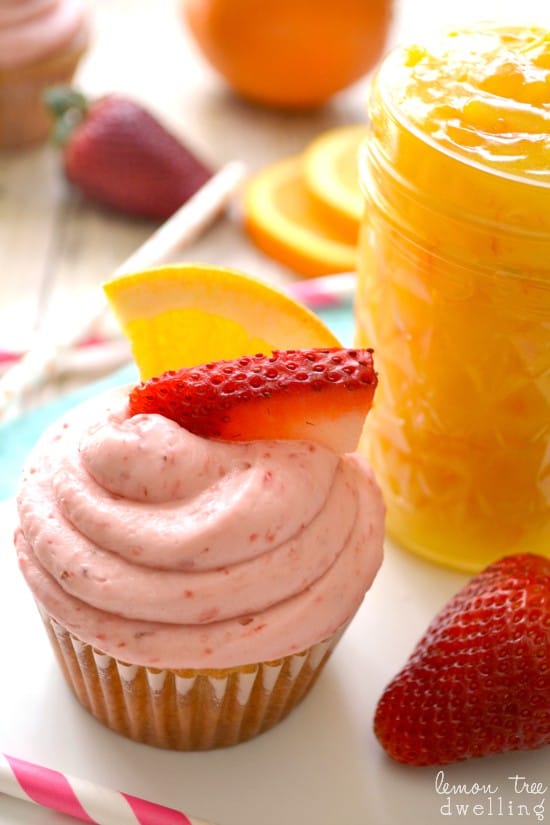 So…Sunrise Cupcakes. Inspired by Lisa's Sunset Sangria, but even more so by Lisa, herself. Because through it all, she has kept on going. She has kept on living and creating and loving. And she has kept on hoping and believing….which isn't always an easy thing to do. So cheers to you, Lisa….and to your newest little sunrise. I can't WAIT to meet her.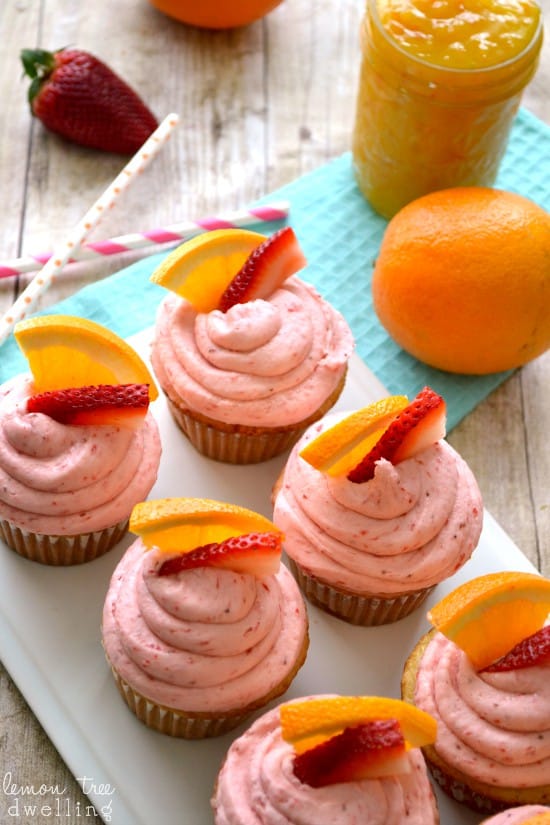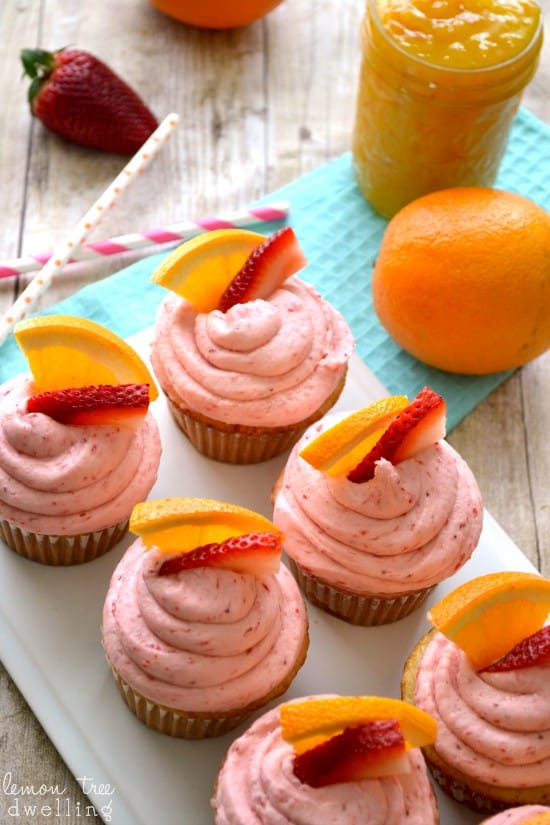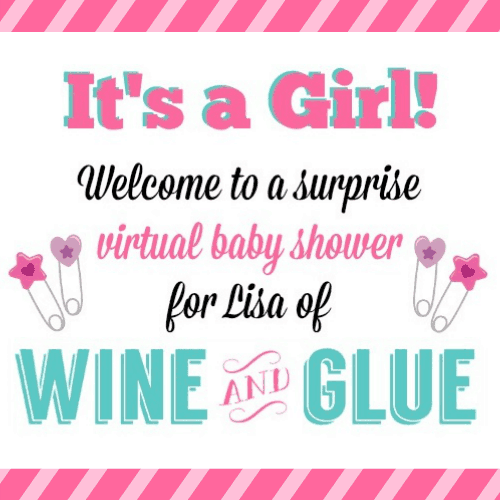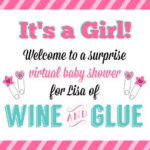 Sunrise Cupcakes
Ingredients
Cupcakes
1 1/4

c.

all-purpose flour

1/2

tsp.

baking powder

1/4

tsp.

baking soda

1/4

tsp.

salt

1

large egg

1

large egg yolk

1

c.

sugar

1/2

c.

canola oil

2

tsp.

vanilla extract

zest of 1 medium navel orange

1/2

c.

plain Greek yogurt
Orange Curd
2

medium navel oranges

1/2

tsp.

orange extract

1 1/2

c.

sugar

8

egg yolks

beaten

1

stick unsalted butter

1/8

tsp.

kosher salt
Strawberry Buttercream Frosting
1/2

c.

unsalted butter

1

c.

sliced strawberries

3 1/2 - 4

c.

powdered sugar

1

orange

for garnish

4

strawberries

for garnish
Instructions
Cupcakes
Combine flour, baking powder, baking soda, and salt in a medium bowl. Set aside.

In a large bowl, beat the egg, yolk, and sugar with an electric mixer on medium speed, about 2 minutes.

Mix in the oil, vanilla, and orange zest.

Mix in the Greek yogurt.

Mix in the flour mixture until fully incorporated.

Divide into 12 cupcake tins; bake at 350 degrees for 18-20 minutes.

Remove from oven and cool completely.

Once cupcakes are completely cooled, use a cupcake corer to remove a small piece of cake from the top of each. Fill with orange curd.

Decorate with strawberry buttercream frosting.

Just before serving, top with orange and strawberry wedges.
Orange Curd
Zest oranges, then cut them in half and squeeze to juice them.

Combine orange zest and juice (about 1/2 c.) in a medium saucepan. Add sugar and cook over medium heat until mixture begins to simmer.

Add egg yolks, butter (cut in pieces), and kosher salt.

Continue cooking and whisking over medium heat until mixture starts to boil.

Boil, stirring constantly, until mixture reaches desired consistency, about 3-4 minutes. (Should be thick)

Remove from heat and cool to room temperature before using to fill cupcakes.

Store in an airtight container in the refrigerator.
Strawberry Buttercream Frosting
Puree strawberries using a food processor.

Transfer to a small saucepan and heat over medium heat, stirring often, until strawberries have cooked down halfway.

Set aside to cool.

In a medium mixing bowl, cream butter. Add cooled strawberry puree, mixing to combine.

Gradually add powdered sugar until you reach desired consistency.