Mixed greens topped with fresh raspberries, brie cheese, honeyed pecans, sliced scallions, puff pastry croutons, and a drizzle of homemade honey cinnamon balsamic vinaigrette.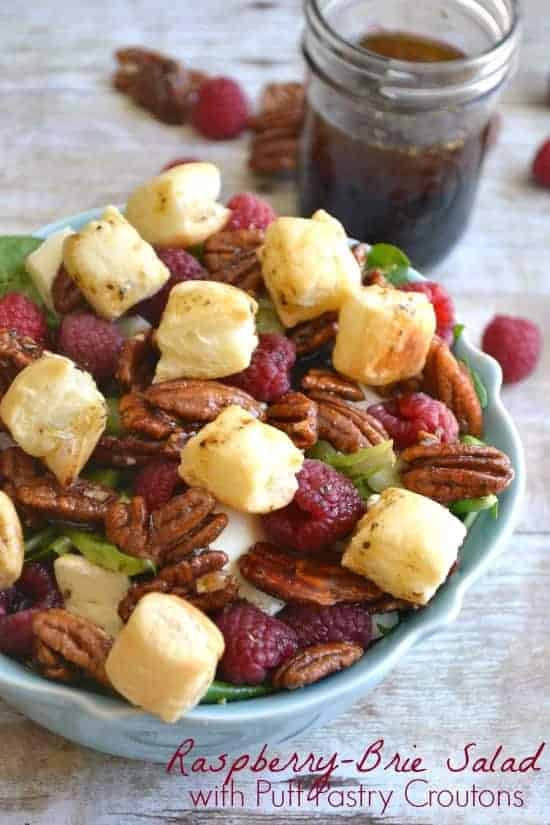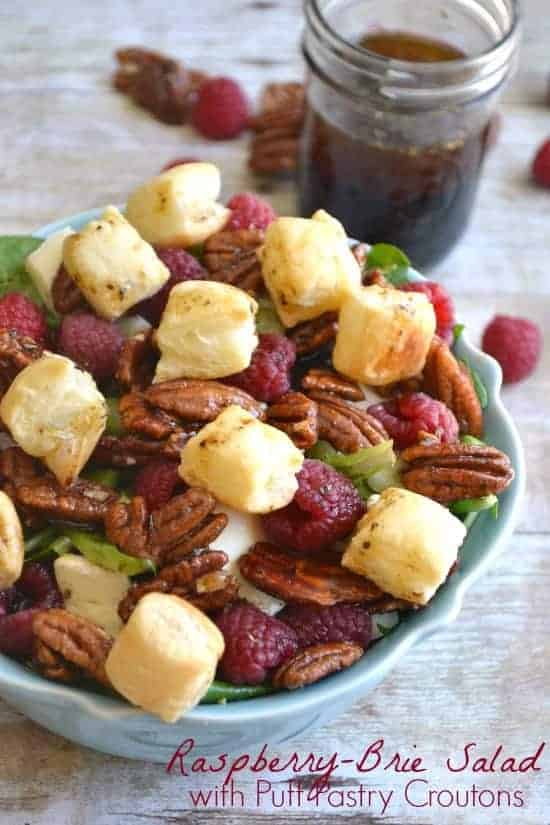 With bathing suit season just around the corner…and a baby that's due to arrive just before it begins…I have the feeling that salads are going to be my best friend for the next few months. Which works out well, since they pretty much already are….! I am a HUGE salad lover (I eat at least one every day) and I love sharing new salad recipes with family and friends. So I've decided to kick off a "salad of the week" post for the spring and summer months….starting today!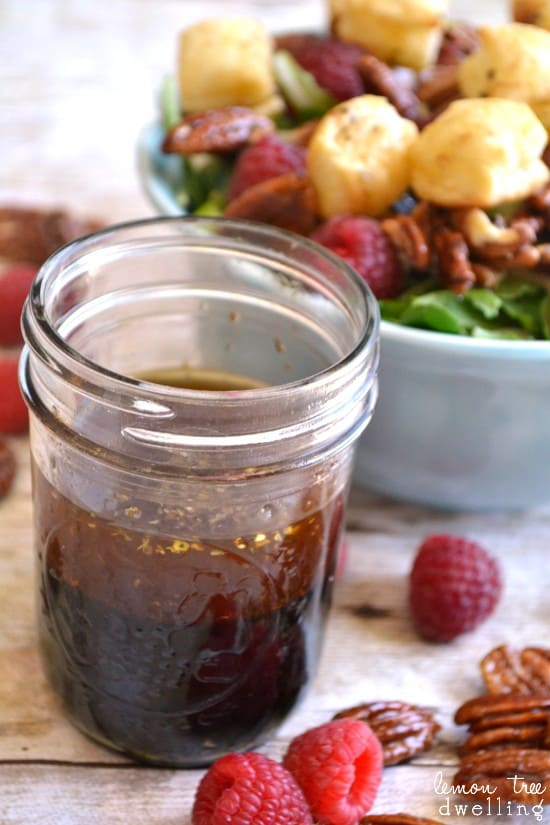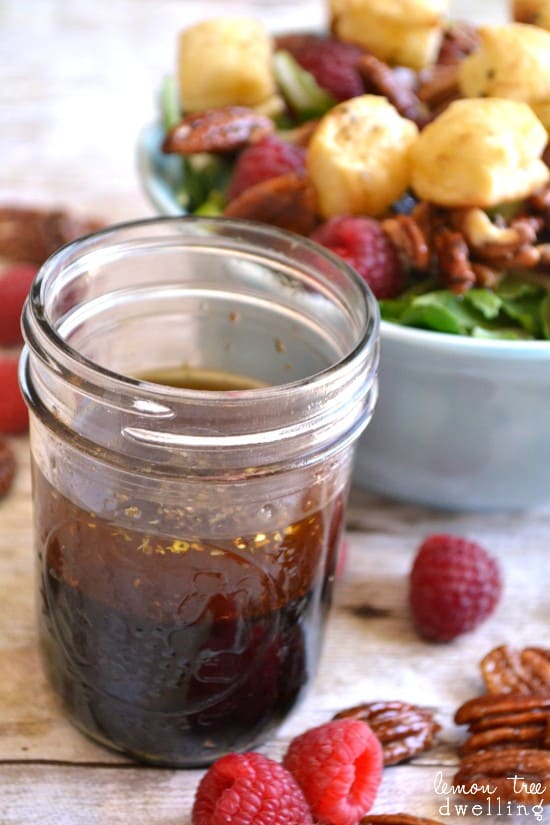 Now, you may be wondering how much one person can really LOVE salad. But the truth is there's just so much to love! Like the fact that it's light. And fresh. And the basis of it is green….so you can feel good about eating it. Or the fact that you can eat a LOT of it without feeling guilty….and it doesn't leave you feeling heavy and weighed down when you're done!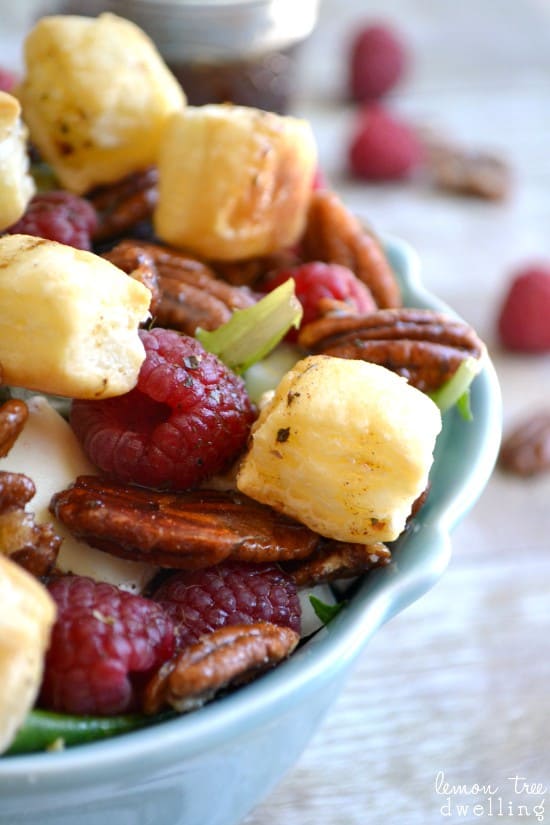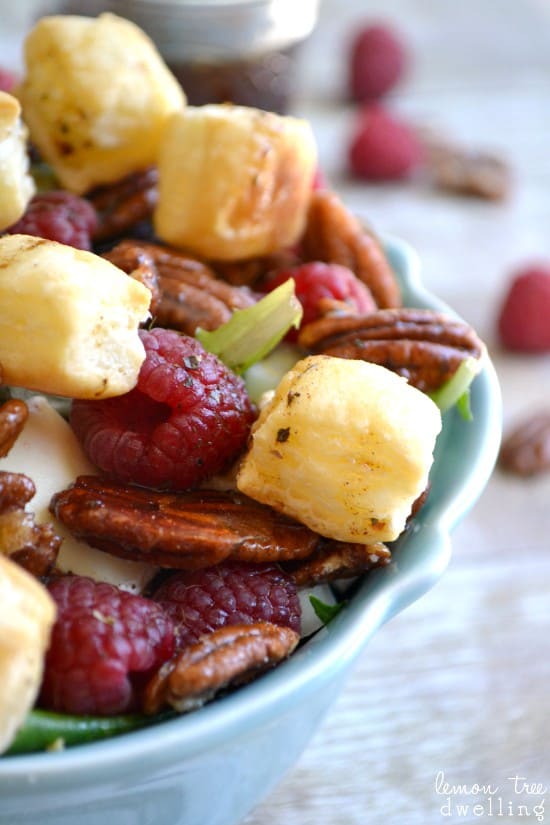 Or the fact that it's pretty to look at and full of fun textures and perfect as a main dish or a side dish or even dessert…..or the fact that the possibilities are absolutely endless! You can turn anything (or almost anything) into a salad and it will be delicious! (Have I sold you on salads??)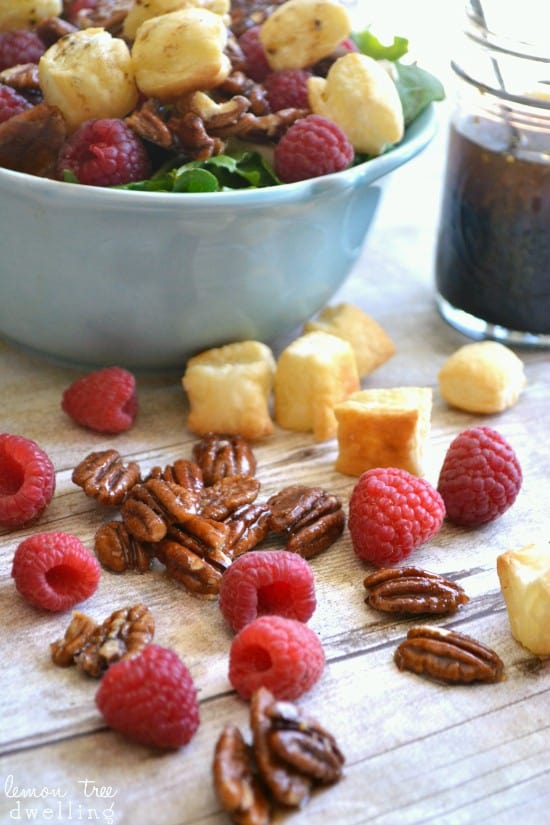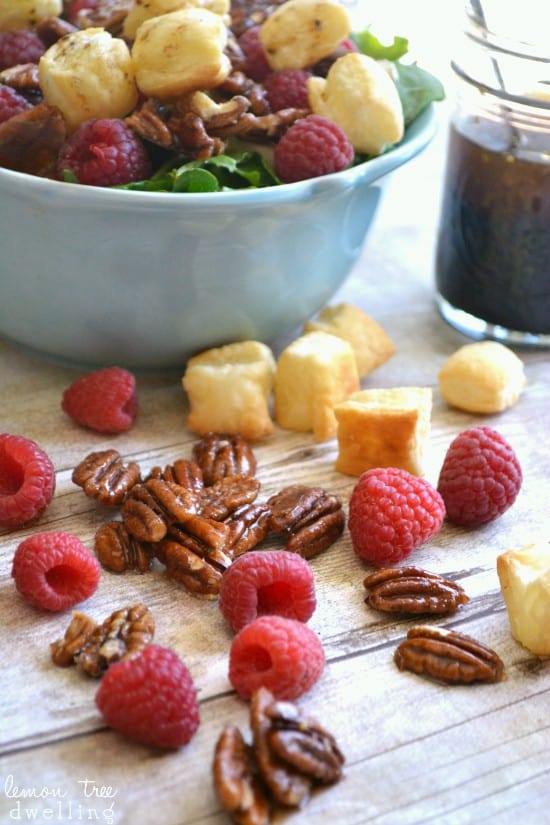 The inspiration for this particular salad came from brie cheese….one of my favorites, especially when it's served warm and melty and wrapped in puff pastry with fruit and nuts! So that's pretty much what this salad is….minus the melty….and with the addition of a deliciously sweet honey cinnamon balsamic vinaigrette. Because some things are just too good NOT to turn into a salad…..! Who's with me??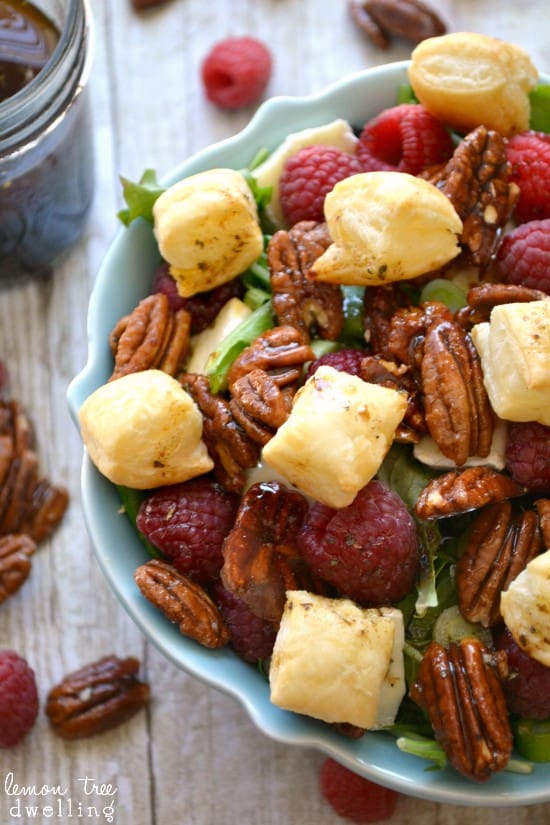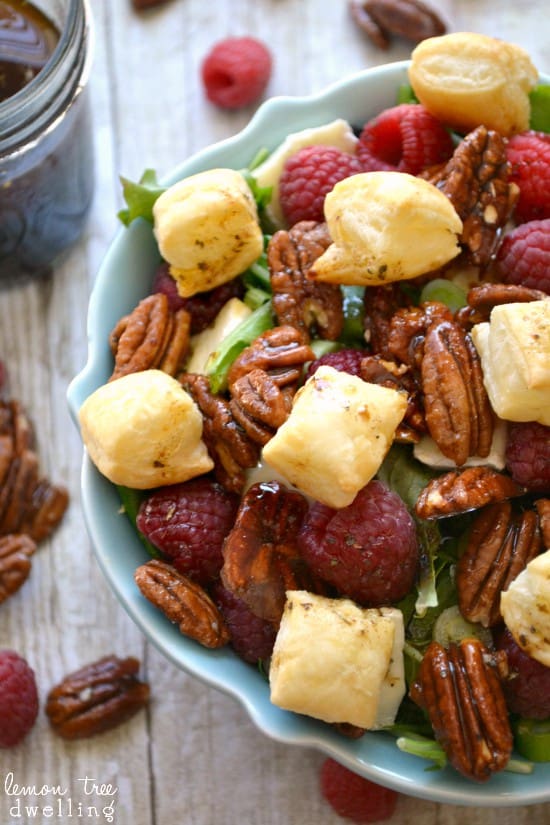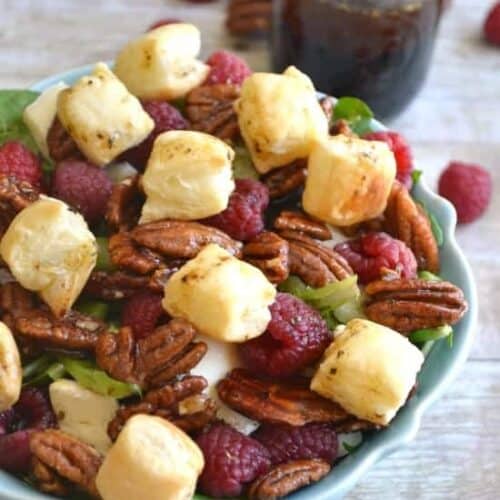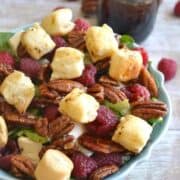 Raspberry-Brie Salad with Puff Pastry Croutons
Ingredients
4

c.

loosely packed mixed greens

2

scallions

sliced

1/2

c.

fresh raspberries

2

oz.

brie cheese

sliced

1/3

c.

candied pecans

handful of puff pastry croutons
Candied Pecans
1

c.

pecans

2

Tbsp.

honey

1

Tbsp.

sugar
Puff Pastry Croutons
1/3

sheet puff pastry

1

egg

beaten
Honey Cinnamon Balsamic Vinaigrette
1/3

c.

olive oil

1/3

c.

balsamic vinaigrette

2

Tbsp.

honey

1/2

tsp.

cinnamon

1/2

tsp.

dried basil
Instructions
Prepare dressing by mixing all ingredients together in a jar and shaking to combine.

Prepare candied pecans by combining all ingredients in a small bowl, spreading on a baking sheet lined in parchment paper, and baking 10 minutes at 375 degrees. Pecans will harden while they are cooling. **You will have extra.

Prepare croutons by cutting puff pastry into 1 inch squares, brushing with beaten egg and baking on a baking sheet lined in parchment paper 8-10 minutes at 375 degrees.

Assemble salad, including pecans and croutons. Drizzle with vinaigrette to taste.
Looking for more delicious salad recipes?