This Spring Vegetable Gnocchi is creamy, delicious, and comfort food at its finest. This gnocchi is loaded with fresh vegetables and comes together in under 20 minutes. Perfect for busy weeknights and it's dairy free!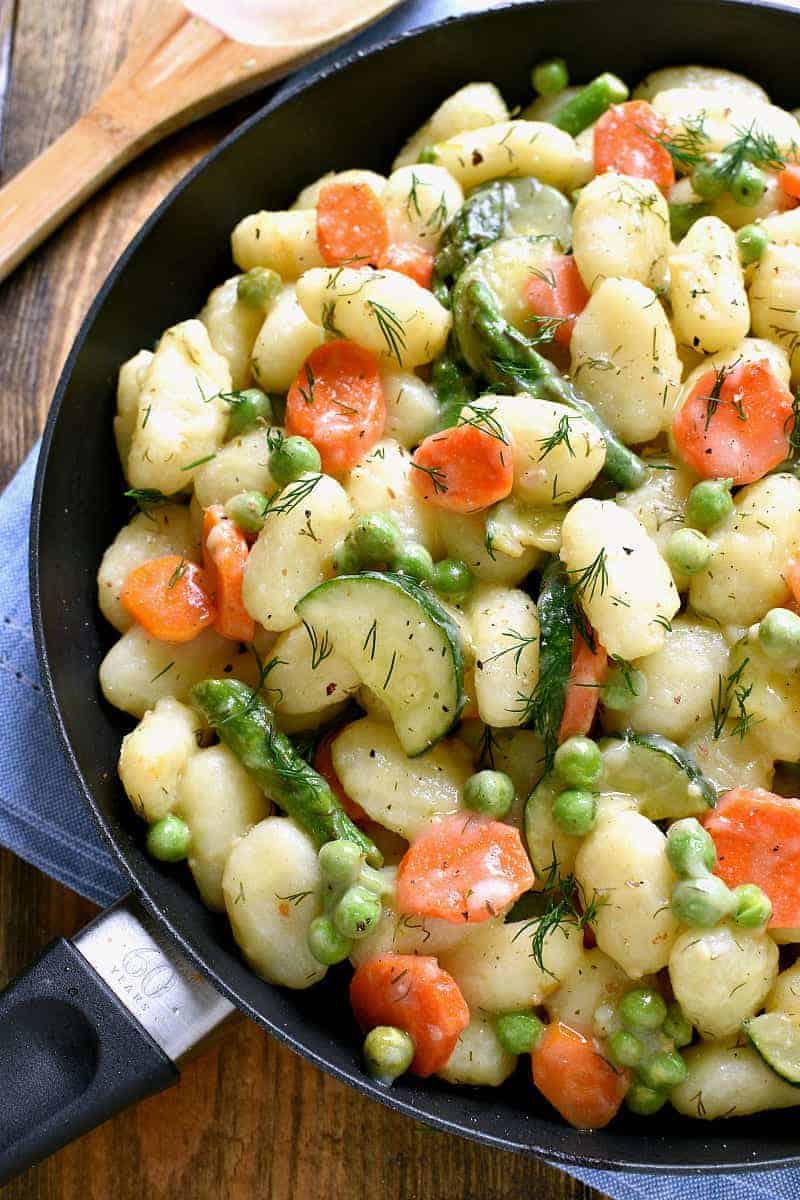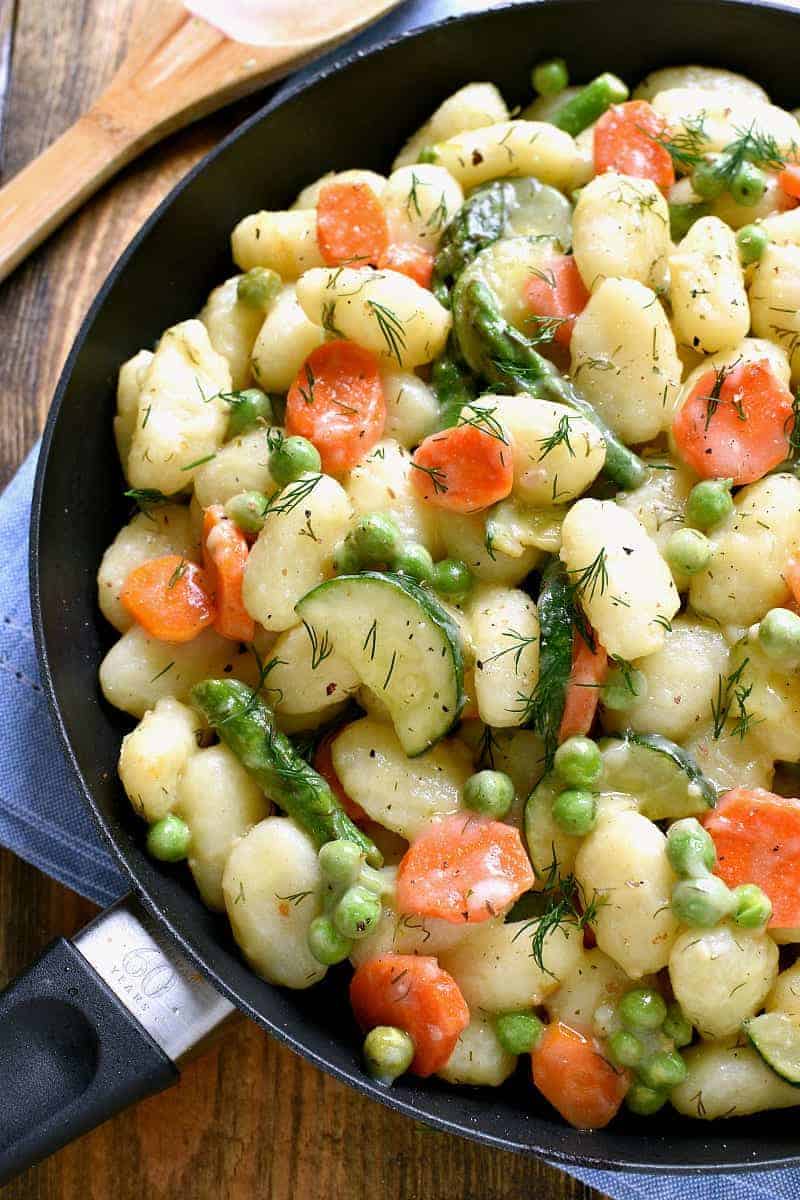 I suddenly feel like I have a teenager. And it literally happened overnight. Okay, not literally….but it sure feels like it! Not only because Ellia is 7/8 my size (what!?) but because of everything else that's changing. Like her moods. And her friend drama. And her tone. And her schedule! And most of the time, I honestly feel like I can't keep up. God help me.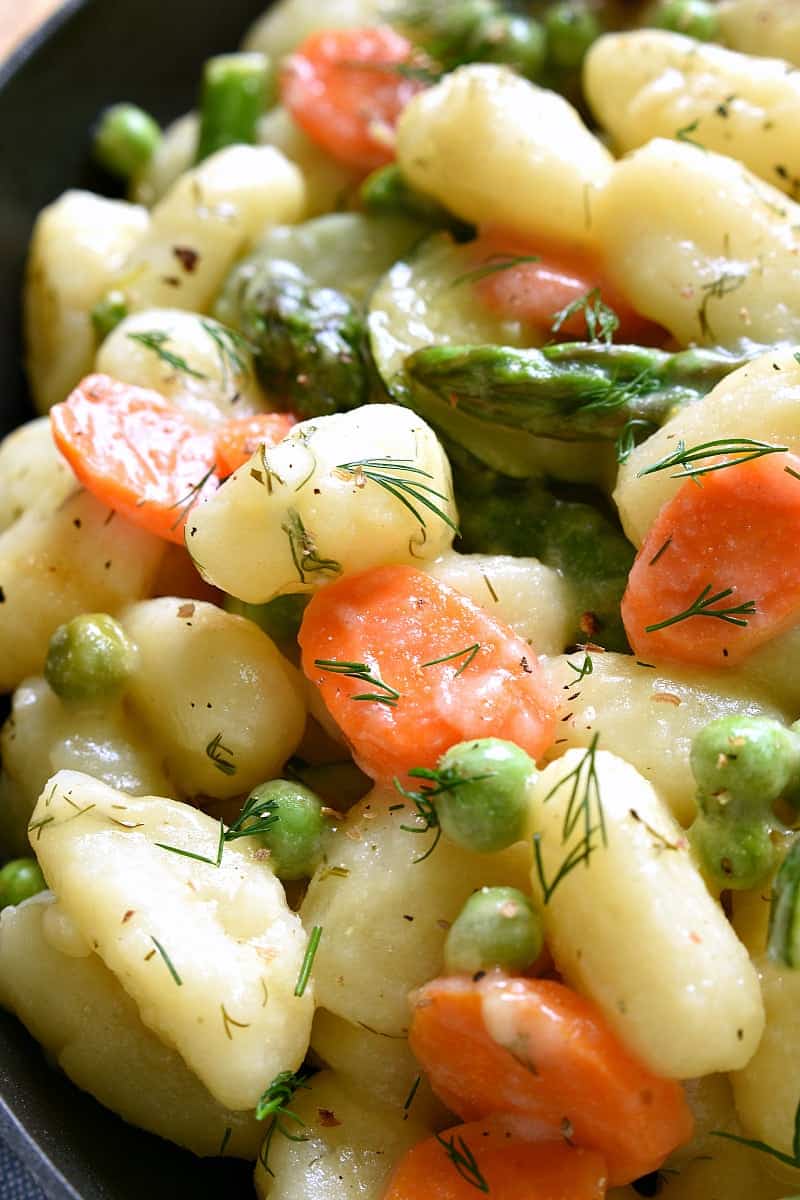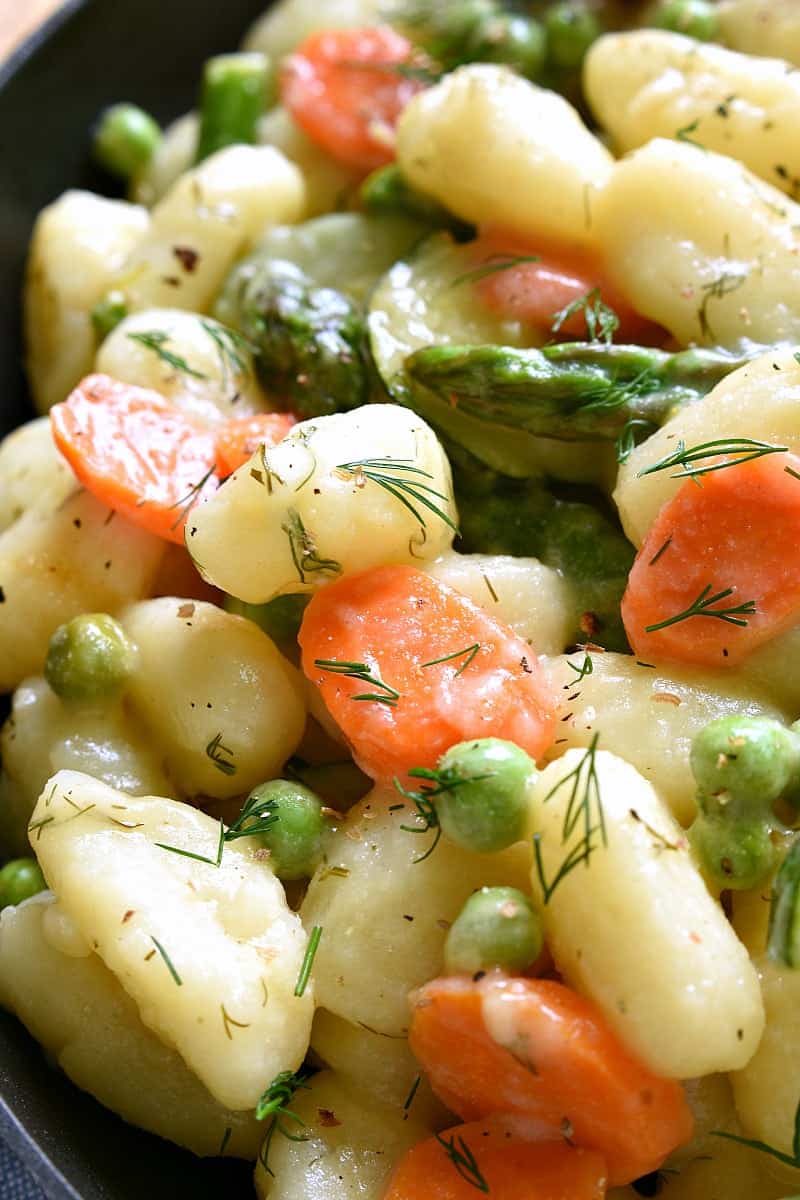 I know this is only the beginning (she's only 10) but I am bracing myself. Because I can already feel what's to come. And I'm trying to be patient with it, because what's my other option? But in all reality, I don't know if I'm up for this. Because suddenly, it's like her needs are controlling our life. We're all getting up early to take her to school for meetings and clubs and we're all piling in to the van to pick her up later from meetings and clubs…and I don't want to say no to any of it…but whew. Some days it feels like a lot. And she's only the first of four.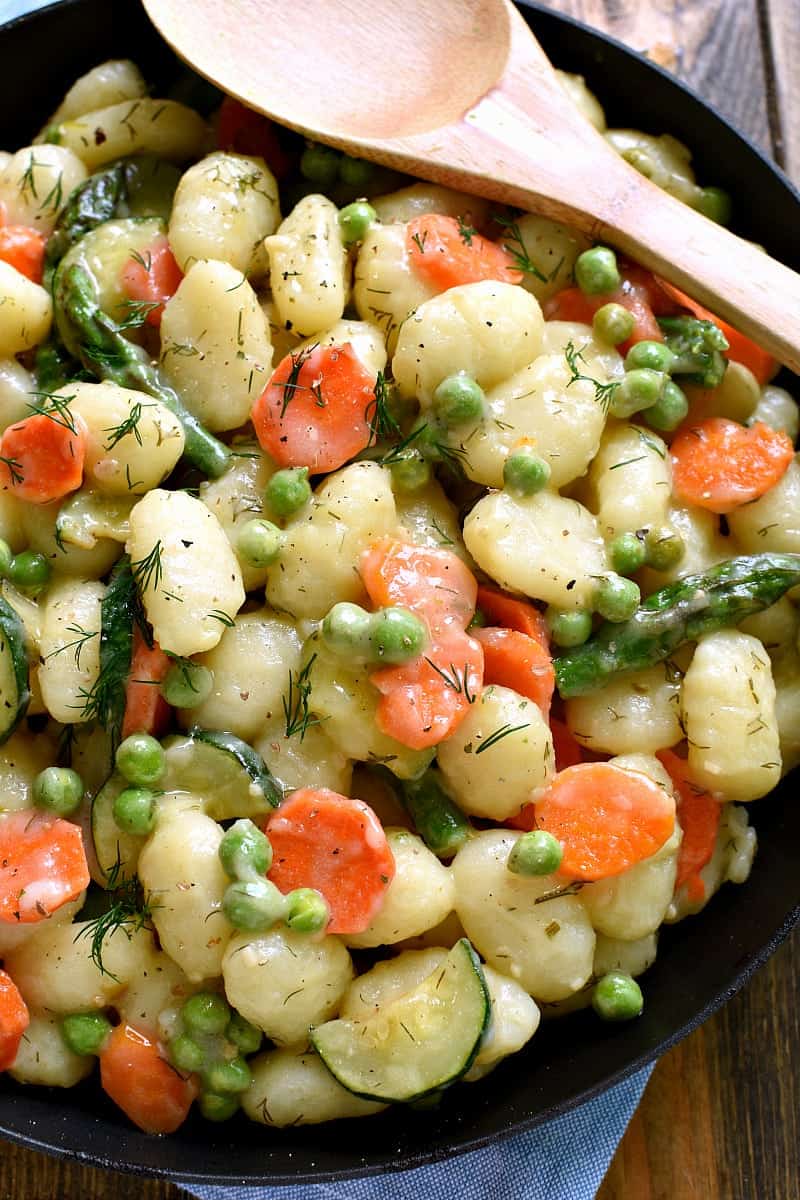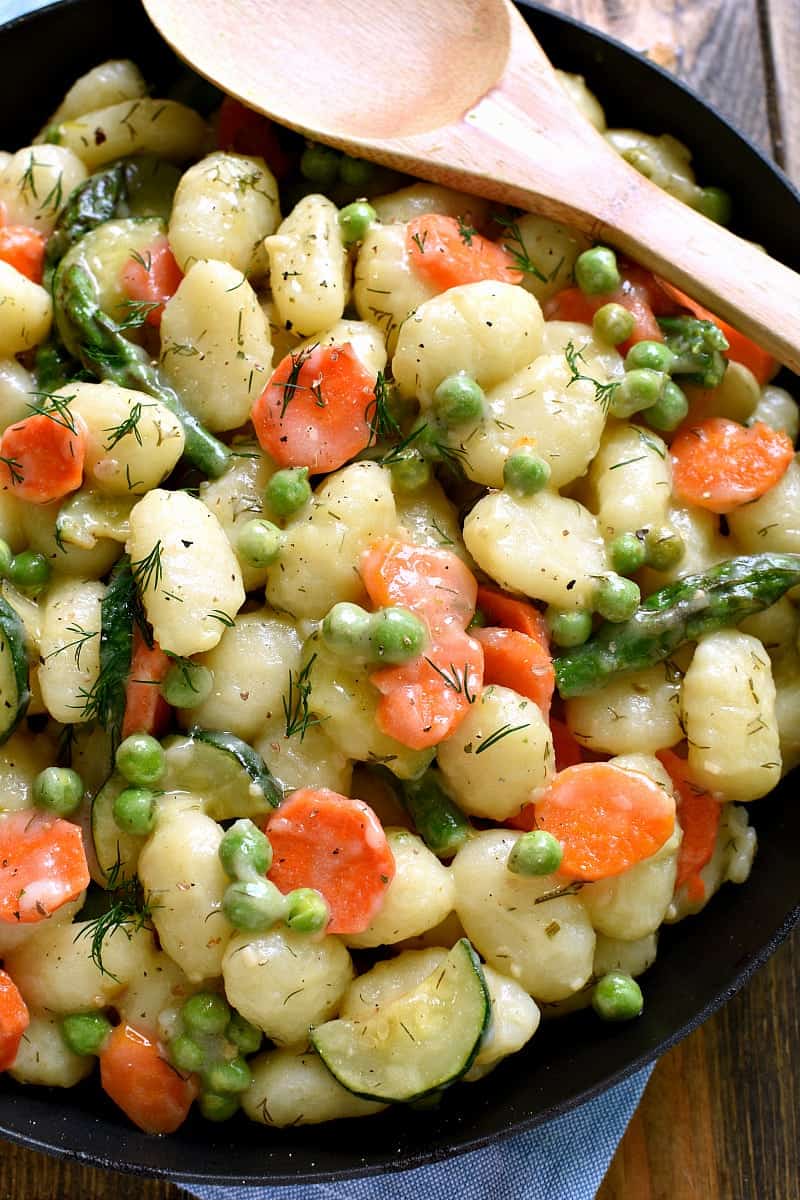 Spring Vegetable Gnocchi
Cue our need for easy meals. And when I say easy, I mean EASY. And this Spring Vegetable Gnocchi fits the bill! It's unbelievably simple to make – just chop the vegetables, add everything to the skillet, and let it do its magic. The cook time is all of about 5 minutes, and the end result is creamy, flavorful Spring Vegetable Gnocchi goodness.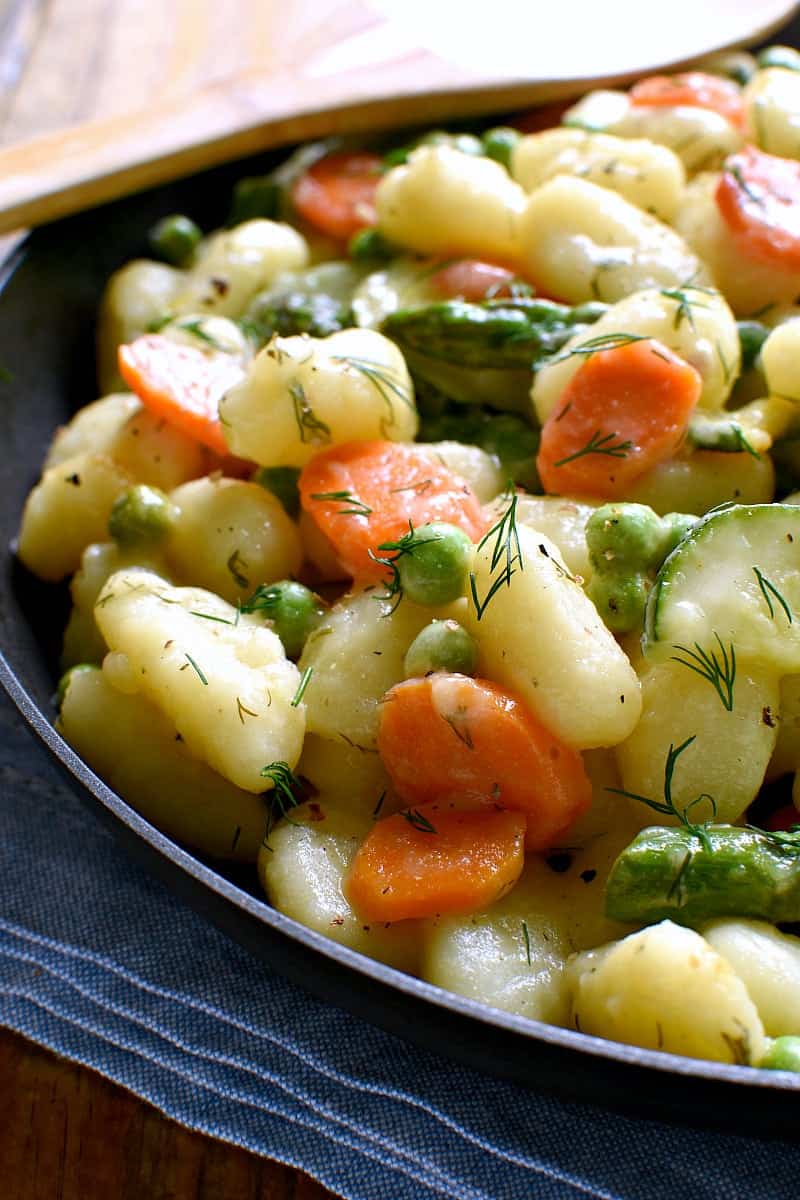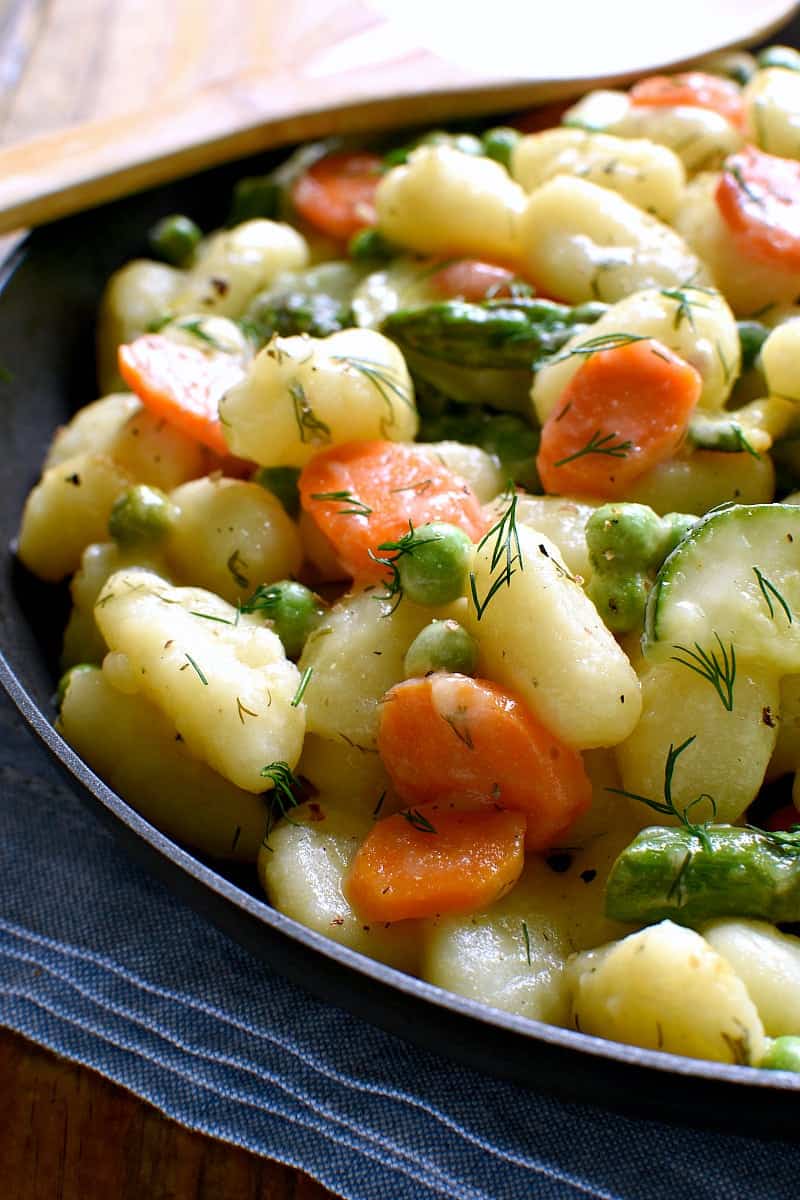 Are you a fan of gnocchi? It's one of my favorites, and I seriously love how creamy this Spring Vegetable Gnocchi dish turns out. Without any dairy! My family loved it, and it's perfect for people with busy lives (aka all of us). Now if only there was something that could help us deal with the teenagers in our lives. Maybe a glass of wine to go with the gnocchi?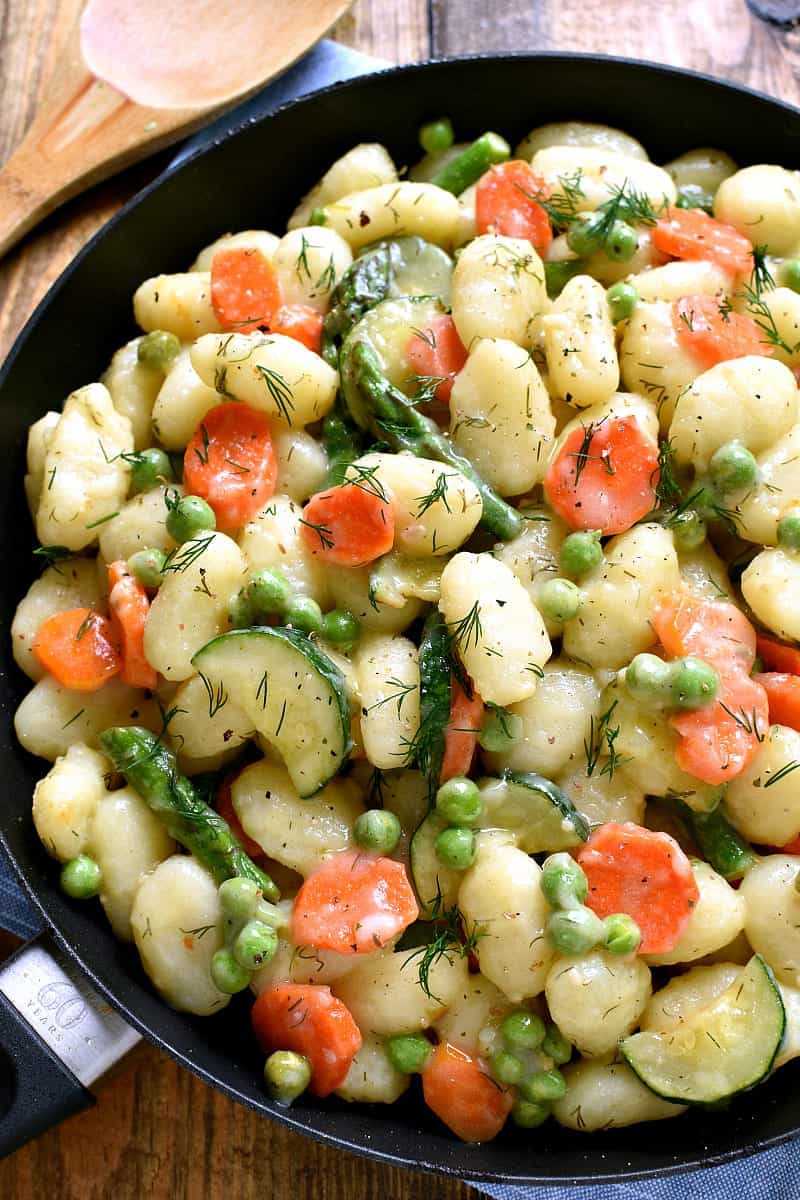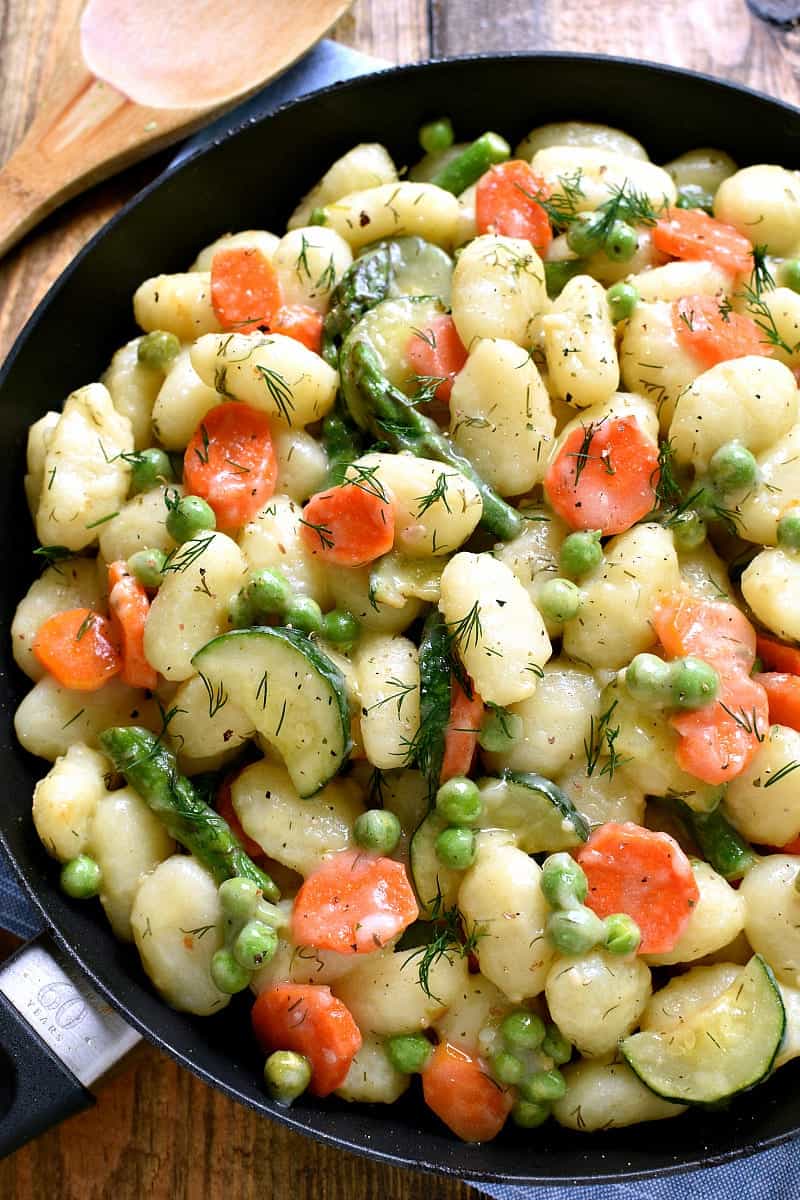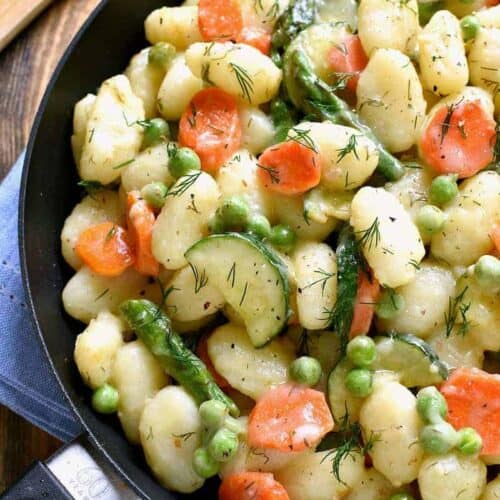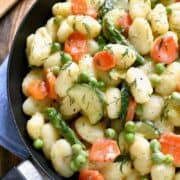 Spring Vegetable Gnocchi
This Spring Vegetable Gnocchi is creamy, delicious, and perfect for spring! It's loaded with the BEST spring vegetables and comes together in under 20 minutes. Perfect for busy weeknights....and believe it or not, it's dairy free!
Ingredients
2

Tbsp.

olive oil

3-4

cloves

garlic

minced

1

tsp.

kosher salt

1/2

c.

peeled

sliced carrots

1/2

bunch asparagus

chopped (approx. 1 1/2 c.)

1

small zucchini

sliced

1/2

c.

peas

fresh or frozen

2

16 oz. packages potato gnocchi

1

c.

chicken broth

1

c.

white wine

*you can replace all or some with chicken broth

juice of 1 lemon

2

Tbsp.

fresh dill
Instructions
Heat olive oil and garlic in a large skillet over medium heat.

Add carrots and asparagus and saute 2-3 minutes.

Add zucchini, peas, gnocchi, chicken broth, white wine, and lemon juice.

Cover skillet, increase heat to high, and cook 3 minutes.

Remove from heat and stir in fresh dill.

Season with salt and pepper as desired.
Like Gnocchi? Then try my Bacon Blue Cheese Gnocchi


For more great recipes be sure to follow me on Facebook to keep up to date!