This Sheet Pan Pesto Chicken is loaded with veggies and packed with delicious flavor! This one pan dinner is prepped in less than 10 minutes and a complete meal! A time saver for any meal.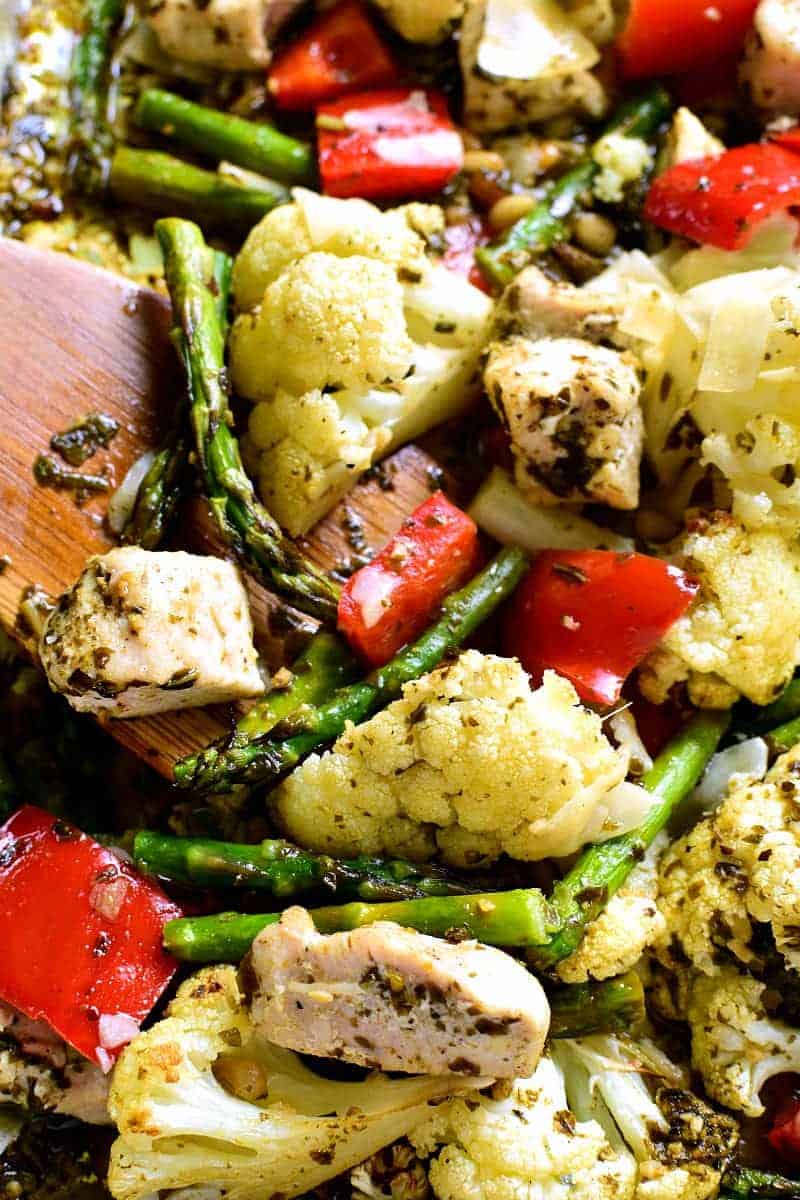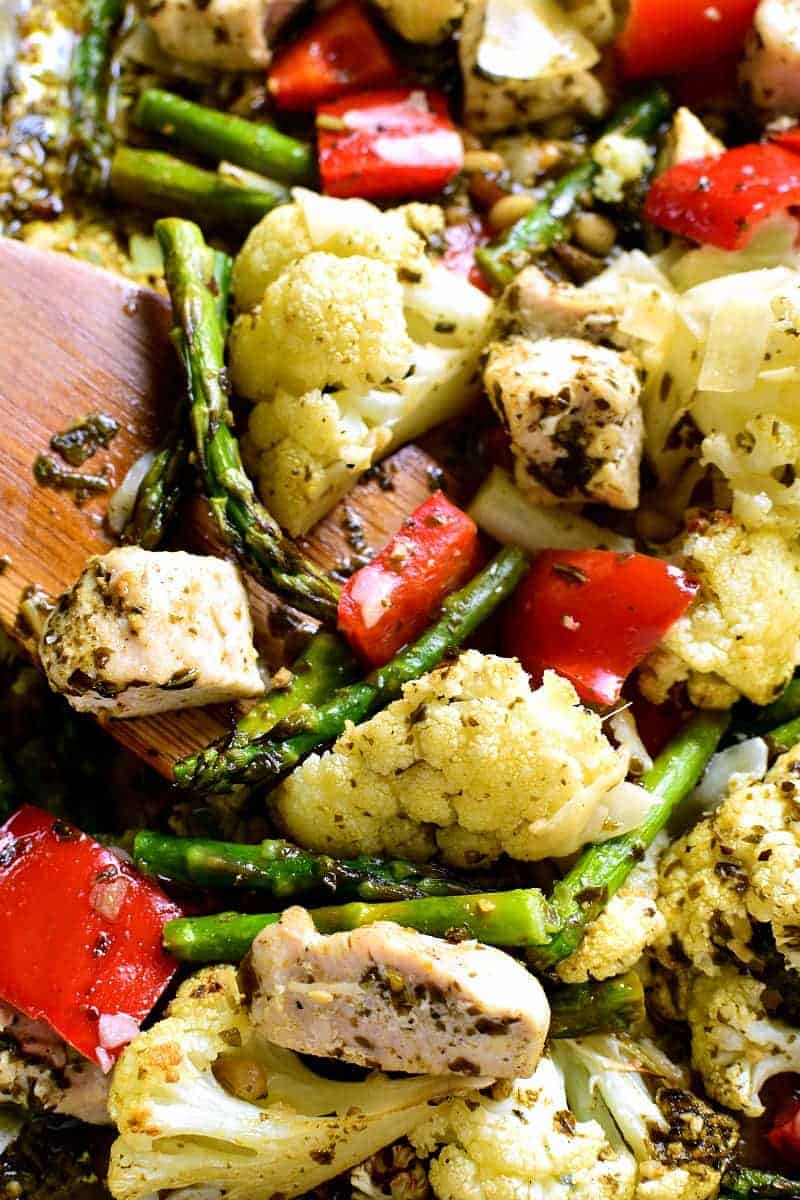 Back in the day, when making dinner was a "new" thing, I used to go ALL OUT. I'm talking main dish + multiple sides + probably a dessert. Because it was kind of fun! And I had the time. And, well, because I felt like that was the right way to do dinner.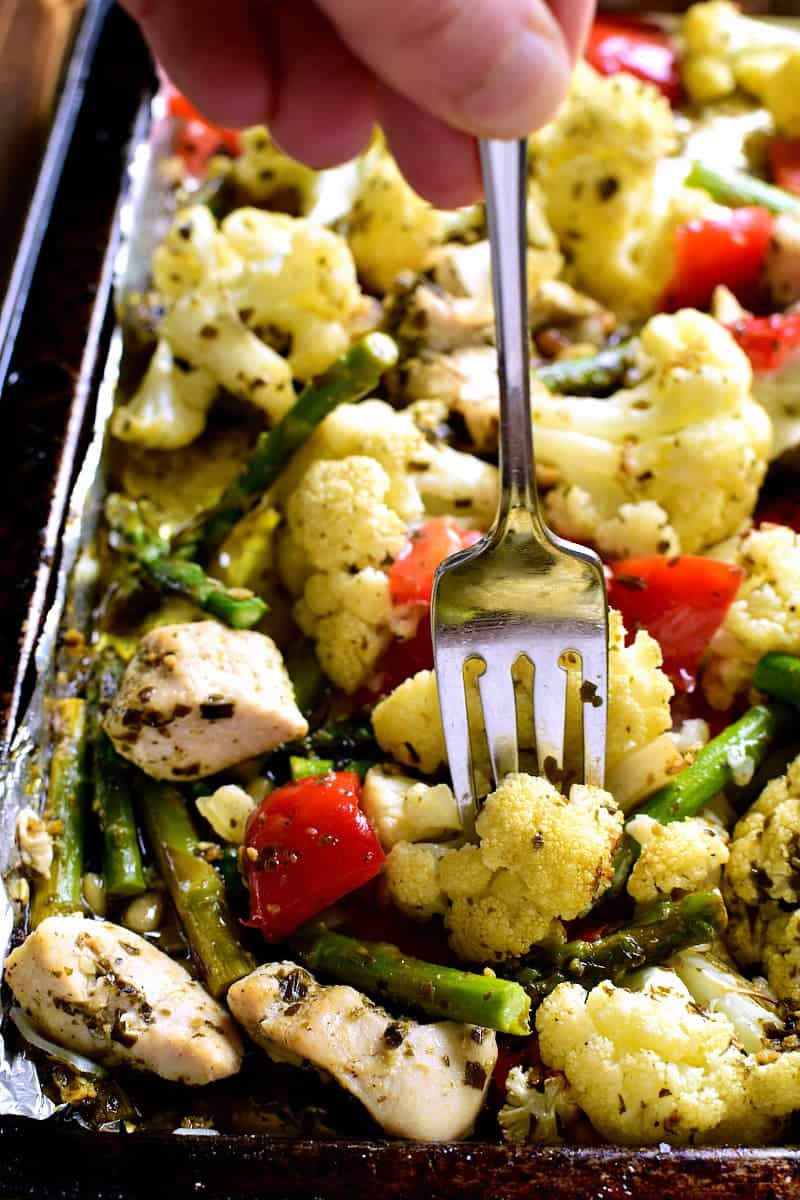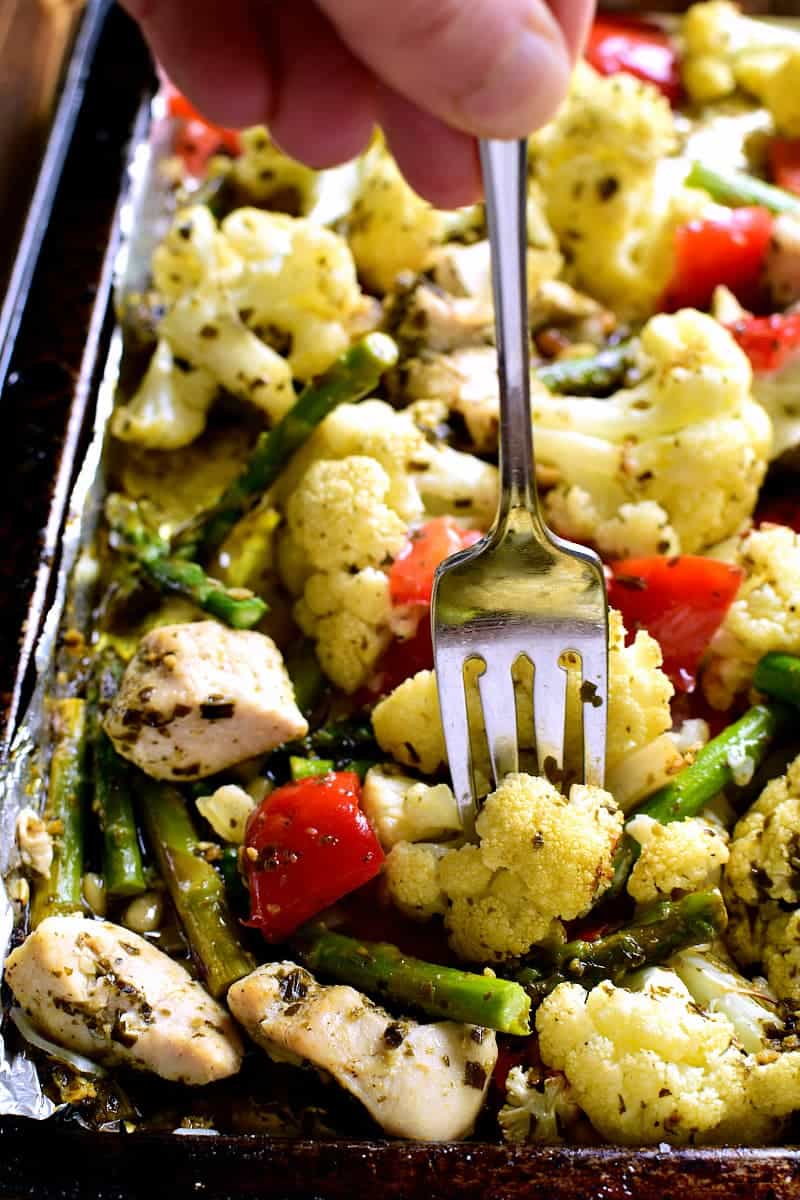 Fast forward 4 kids and many years….and things have changed. At least a little. And even though I still love a delicious meal with lots of sides, the reality is WHO HAS TIME FOR THAT? Not this mom. I'm lucky to get dinner on the table at a reasonable time. And some nights? I'm lucky to get dinner on the table at all. And I know I'm not the only one.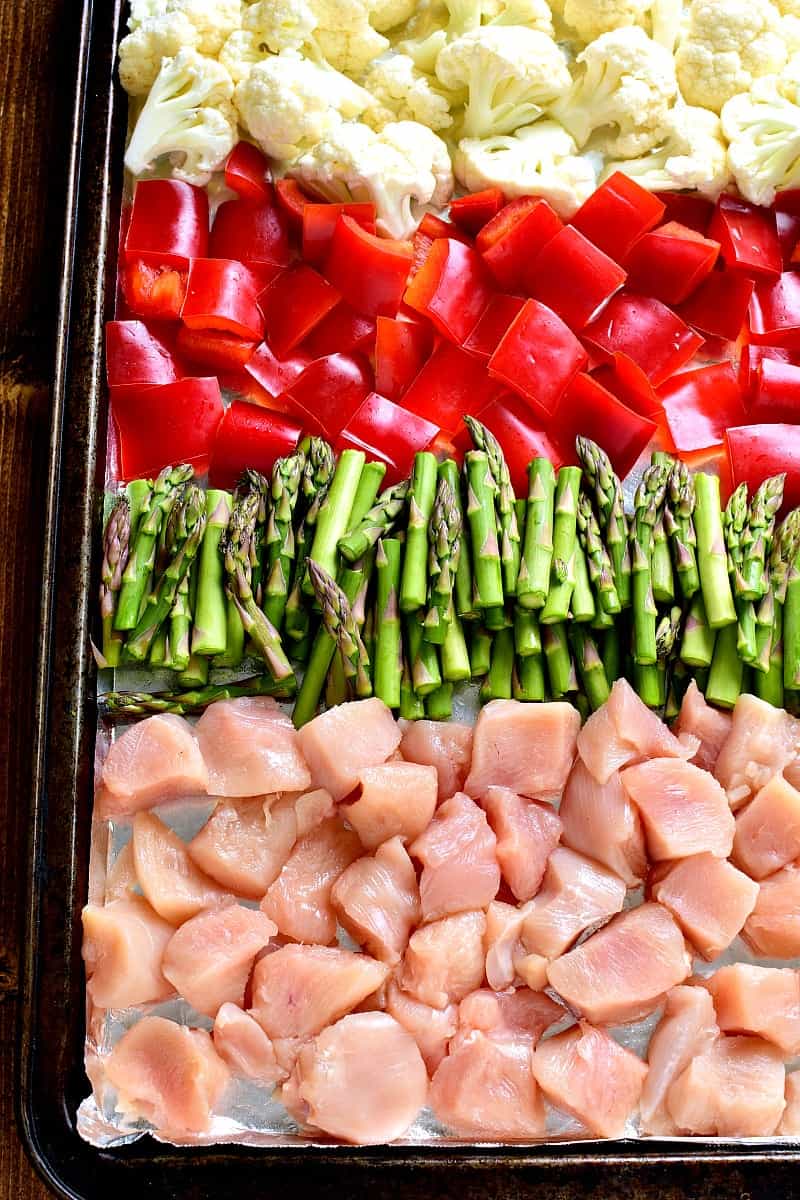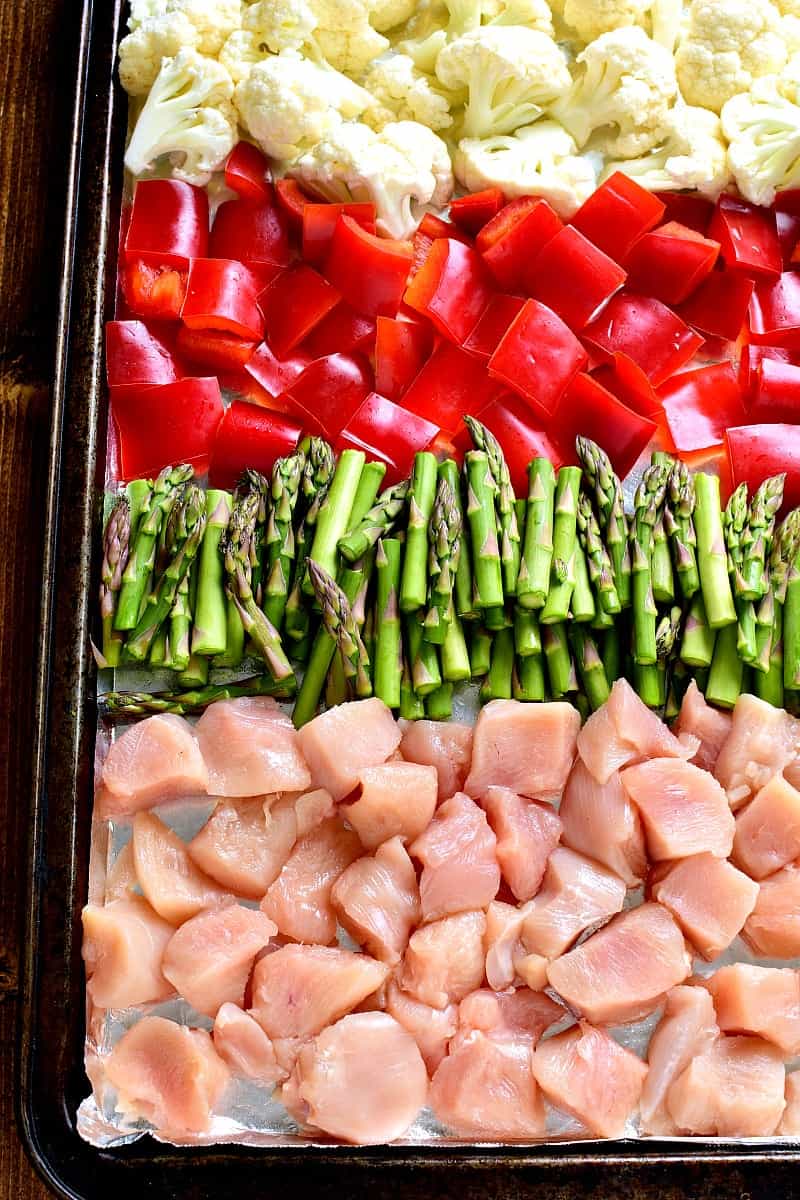 So what are we to do? Seriously. Do we resort to grilled cheese and frozen pizza and Culver's? Some nights, yes. But for all those other nights, when we want to actually make a "real" dinner but we still don't have the time, let me introduce you to Sheet Pan Pesto Chicken.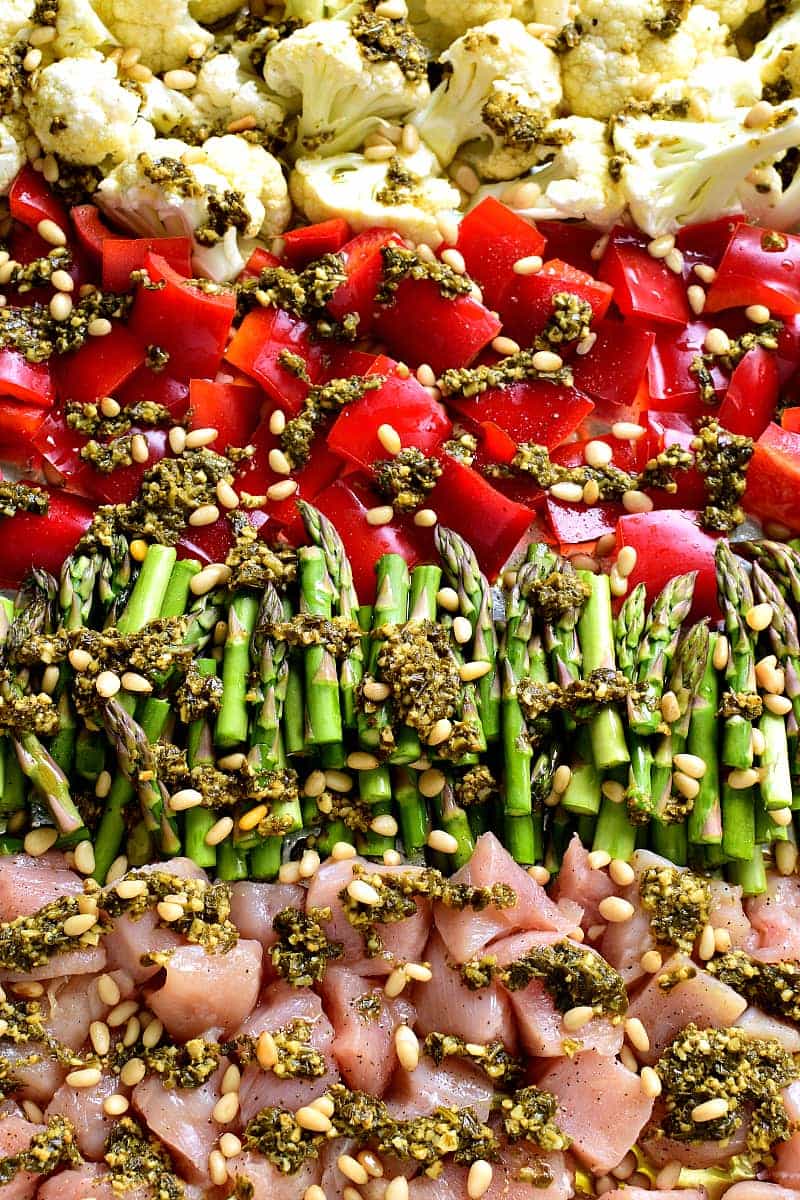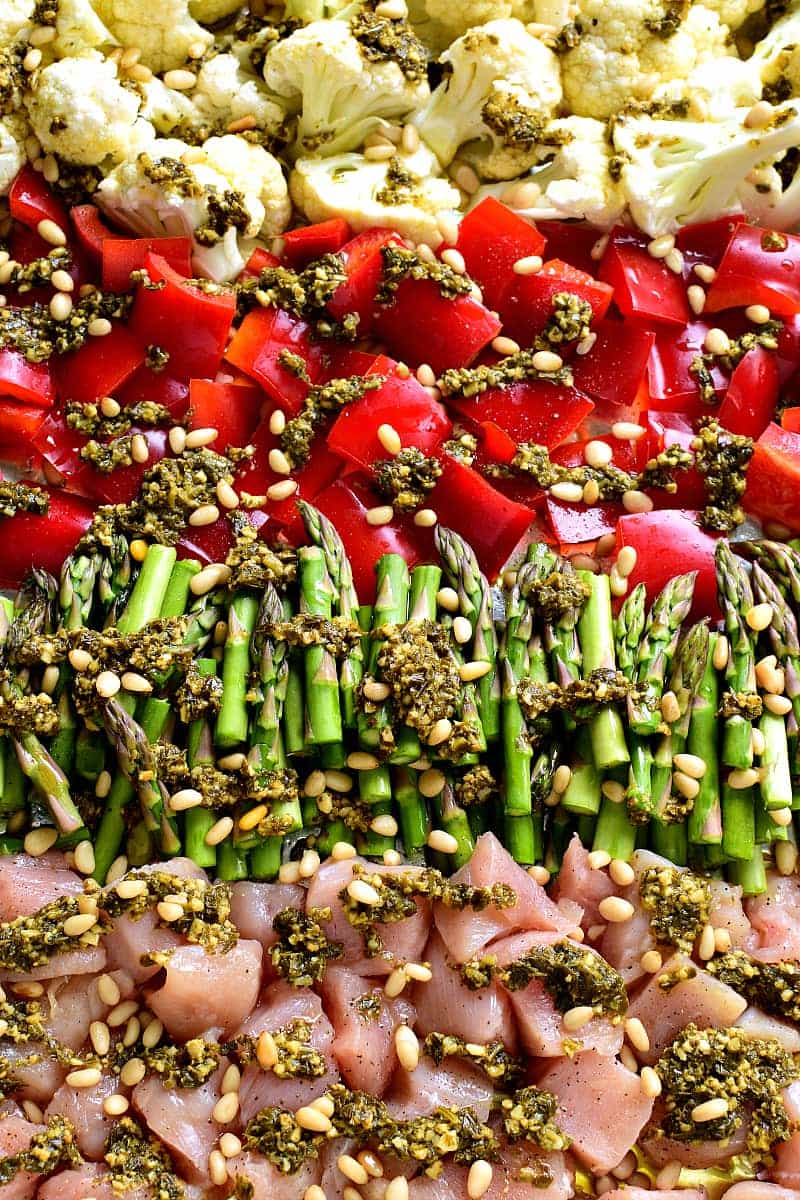 Sheet Pan Pesto Chicken- A complete meal
It really is just as easy as it looks. Raw chicken, raw veggies, pesto, olive oil, pine nuts…..pop it in the oven for 20 minutes and voila. Dinner, with sides, is served! This Sheet Pan Pesto Chicken can be prepped in advance by cutting the chicken and chopping the veggies, and it works well as leftovers, too. I love the pop of flavor from the pesto, and I LOVE the fact that the veggies help keep the chicken moist. The end result is nothing short of a dinner miracle. No lie.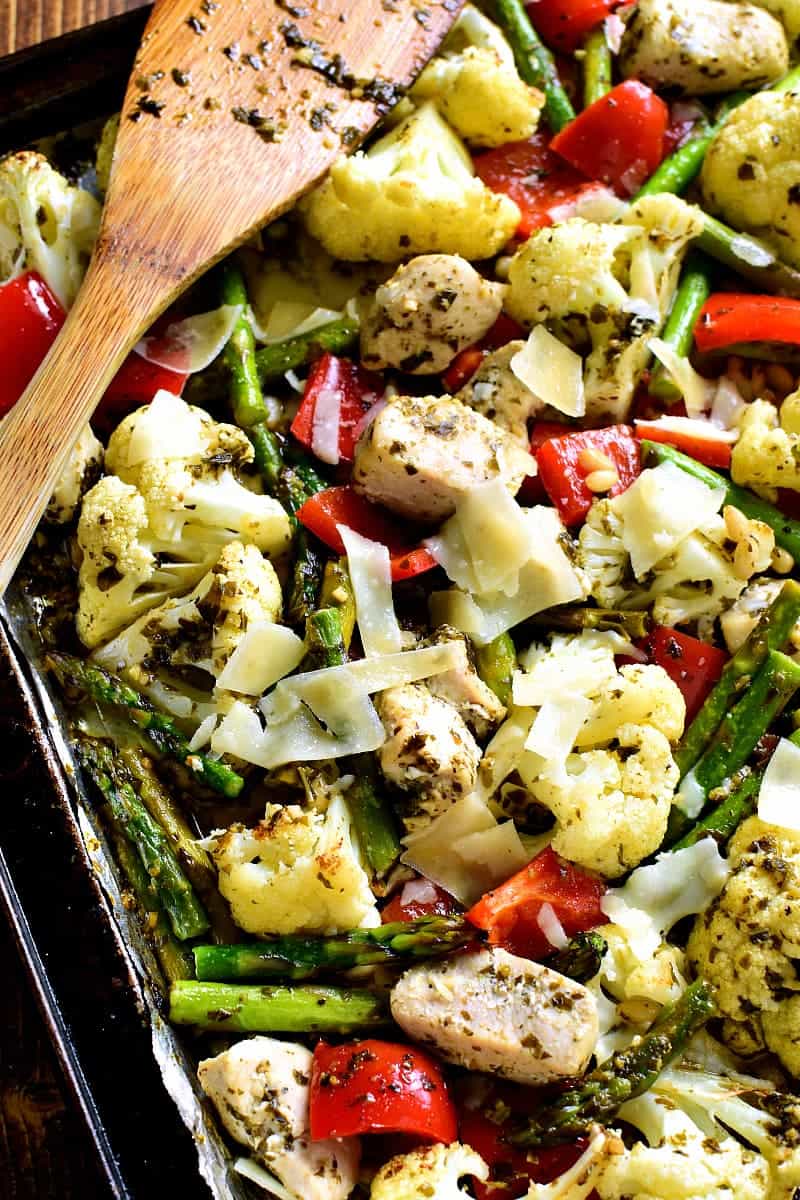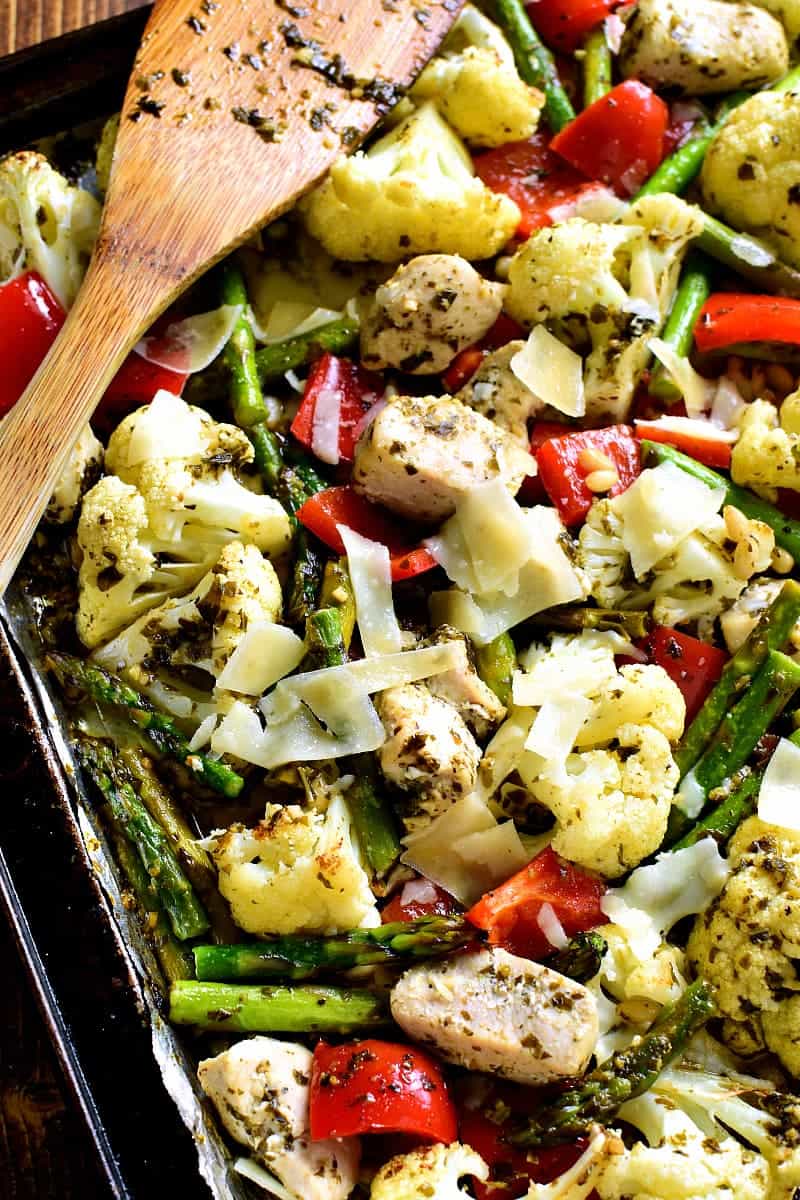 And here's the deal. If your kids don't like the veggies I used, you can feel free to swap them out for their favorites. And if they don't like pesto? Well, that needs to change. Plain and simple. Because Sheet Pan Pesto Chicken is DELICIOUS! And definitely the "right" way to do dinner….if there is such a thing. (I hope your family loves it as much as we do!)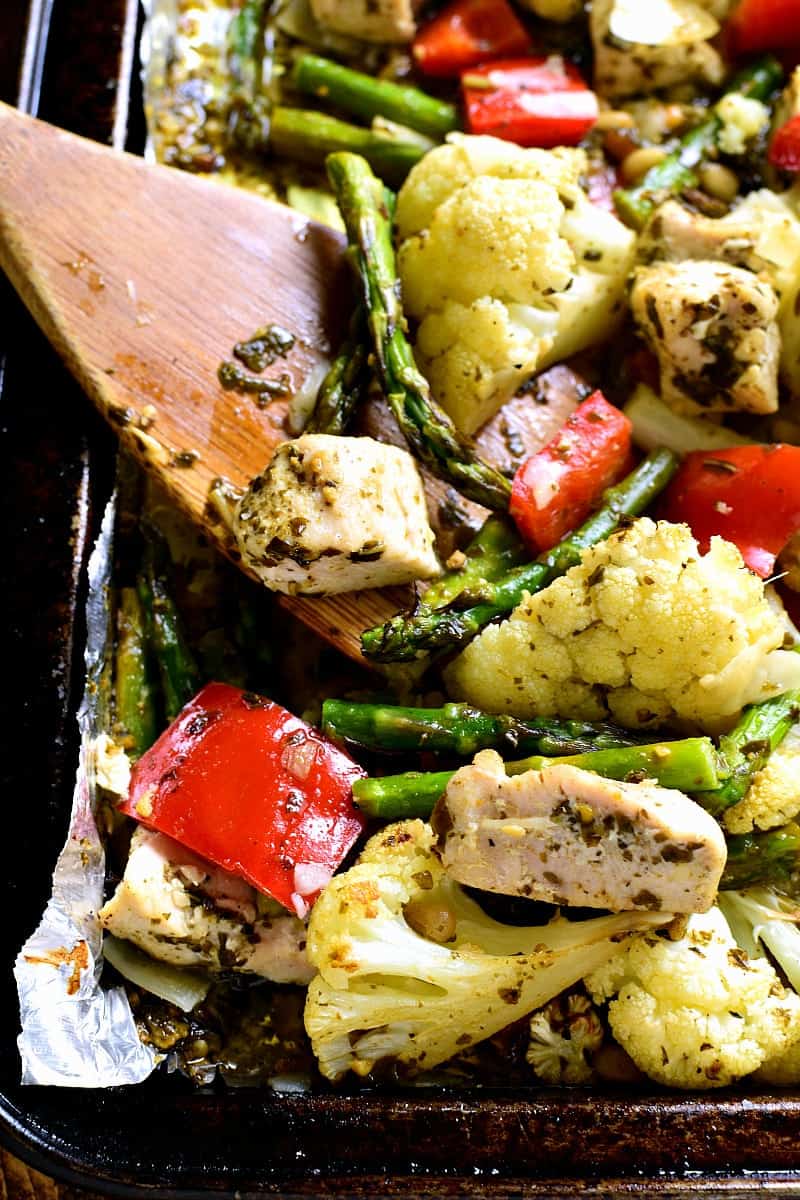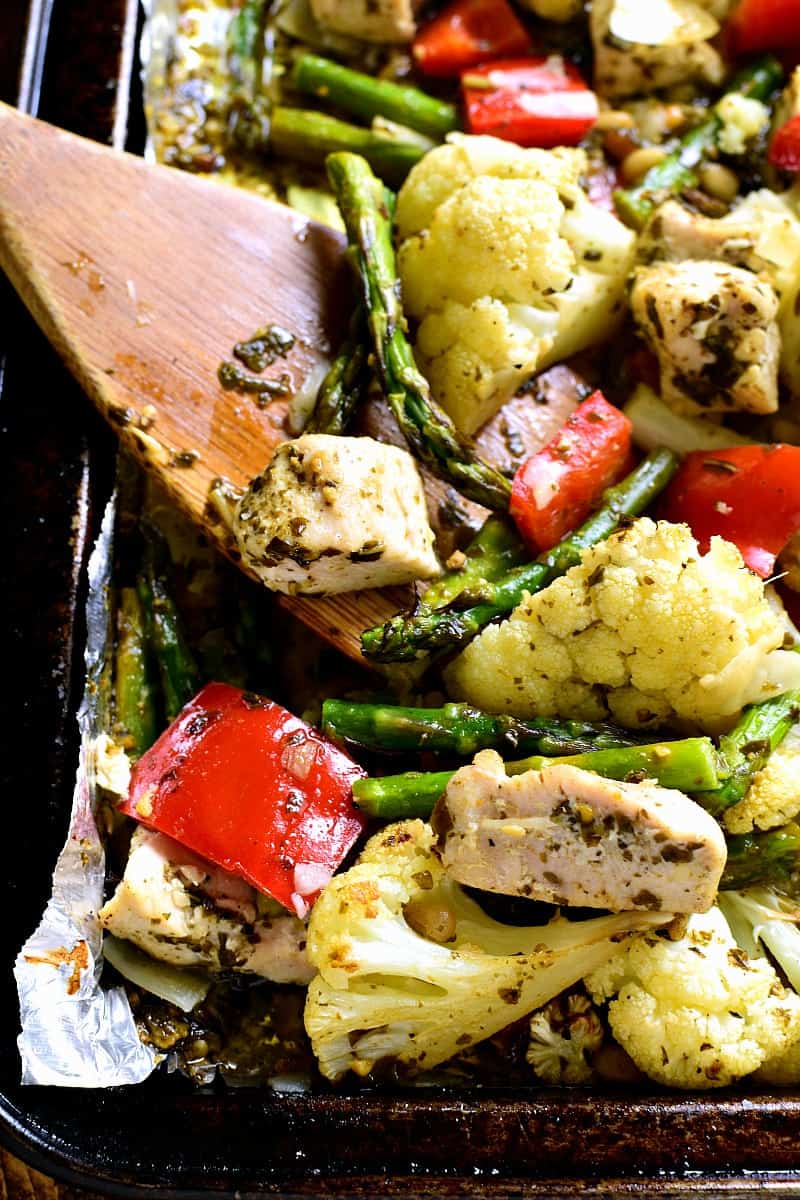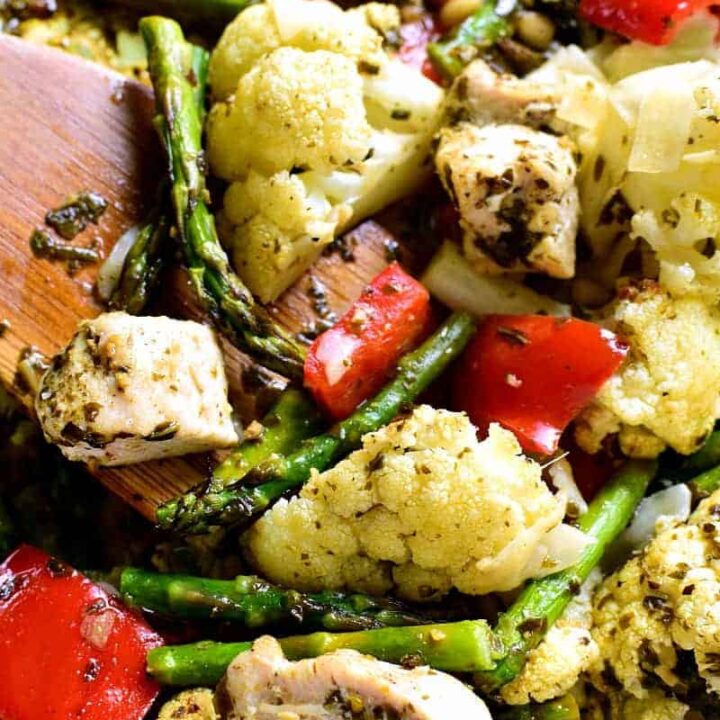 Sheet Pan Pesto Chicken
Yield: 6

Prep Time: 10 minutes

Cook Time: 20 minutes

Total Time: 30 minutes

This Sheet Pan Pesto Chicken is loaded with veggies and packed with delicious flavor! Best of all, it requires just 10 minutes of prep and 20 minutes in the oven....all on just one pan!
Ingredients
1 lb. boneless, skinless chicken breasts, cubed
4 c. cauliflower florets
2 medium red bell peppers
1 bunch asparagus
2/3 c. prepared pesto
3 Tbsp. olive oil
2 Tbsp. pine nuts
1/2 tsp. kosher salt
2 Tbsp. shaved parmesan
Instructions
Preheat oven to 400°.
Line a large rimmed baking sheet with foil.
Place chicken and vegetables on baking sheet.
In a small bowl, combine pesto, olive oil, and salt.
Drizzle evenly over chicken and veggies.
Sprinkle with pine nuts.
Bake 20 minutes (or until chicken is fully cooked), stirring halfway through.
Sprinkle with shaved parmesan.
Nutrition Information:
Yield: 6 Serving Size: 1 grams
Amount Per Serving: Calories: 388Total Fat: 27gSaturated Fat: 5gTrans Fat: 0gUnsaturated Fat: 20gCholesterol: 73mgSodium: 443mgCarbohydrates: 9gFiber: 3gSugar: 4gProtein: 29g

For another great one pan meal, try my Sheet Pan Greek Chicken


Check out this One Pot Chili Mac and Cheese from Belly Full.