The sweetness of Rice Krispie Treats with the spiciness of cayenne pepper – an unexpectedly delicious combo….and just in time for Cinco de Mayo!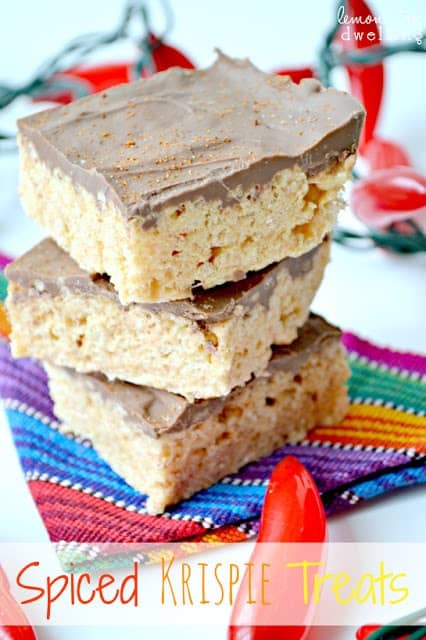 I will never forget the time when I was pregnant with my first child and dealing with cravings/wanting to eat everything in sight. And I asked Jorden to go pick up a turtle sundae for me one night (because I HAD to have a turtle sundae)….and he looked at me and said, "Don't you think an apple would be a healthier option for both you and Baby?"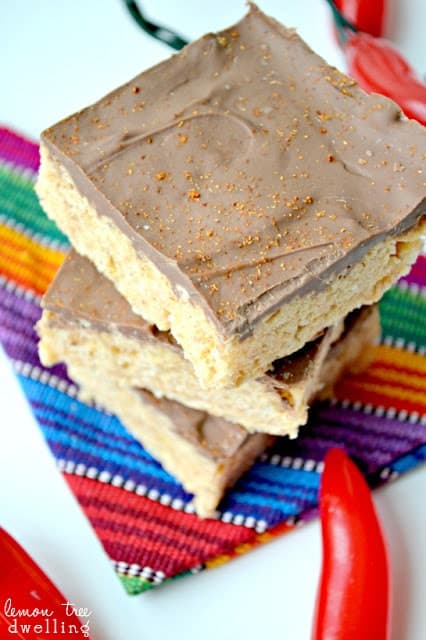 OMG. He did. Which really threw me off….and not just because I was pregnant and couldn't believe he would say no to me (but seriously…..can you believe he said no to me!??) It threw me off because we have always been the type to surprise one another with little treats – on birthdays, on anniversaries, or just because! For Jorden, it's always orange tic tacs, raspberry iced tea, McDonald's anything, Swedish Fish. For me, it's Starbucks, peanut M&M's, a bottle of wine, Twizzlers…..and, ahem, turtle sundaes….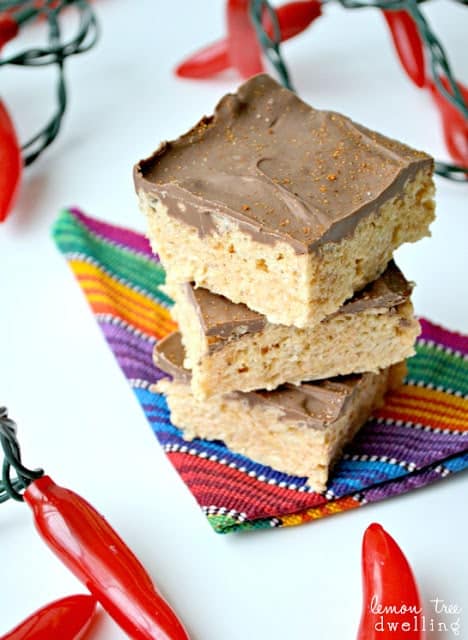 Clearly I don't hold a grudge. And Jorden is lucky I don't! Because when I ran across Sweet & Spicy Caramel Corn the other day, I didn't think twice about buying it. I knew Jorden would love it! And he did….(what was left of it after I DEVOURED it, that is!)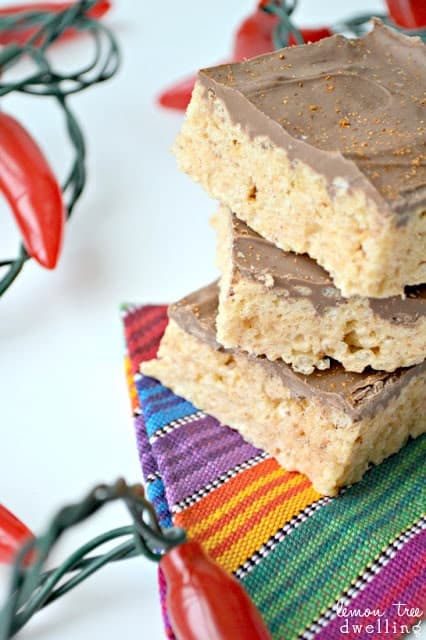 So, as repayment for the treats I helped myself to a little too much of, I made Jorden these cayenne-spiced Rice Krispie Treats. With chocolate on top. Because I wasn't as concerned with what would be the healthiest option as I was with what would be the tastiest option. You're welcome, Jorden.
Spiced Krispy Treats
4 c. Rice Krispies
50 marshmallows
1/4 c. butter
1 tsp. cayenne pepper
2 c. milk chocolate chips
1. Melt butter in medium saucepan. Add marshmallows and stir over heat until melted.
2. Remove from heat; stir in cayenne pepper and Rice Krispies until thoroughly coated.
3. Press Rice Krispie mixture into buttered pan.
4. Melt chocolate chips and spread over bars. Sprinkle with additional cayenne pepper (optional).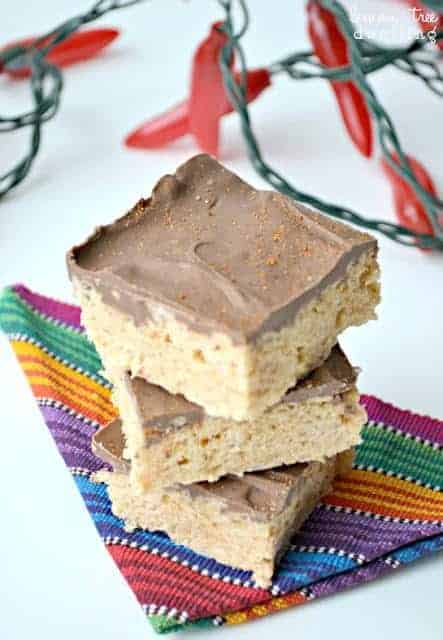 Thanks for taking a peek inside my Lemon Tree Dwelling….
I hope you feel right at home!
-Cathy