It all started with the jalapeños. A pint of them at the grocery store – easily 8 or 10 peppers – for just $1.99! I had no real use for 8 or 10 jalapeños, but nonetheless, I was instantly sold. I went home with my little peppers and started cooking up a plan. Cheesy Jalapeño Baked Chicken – a favorite dish, reinvented. Perfect!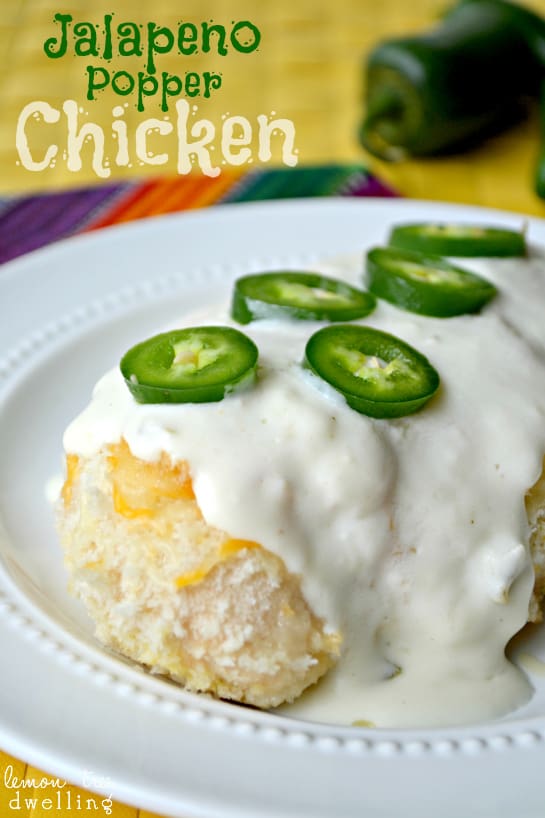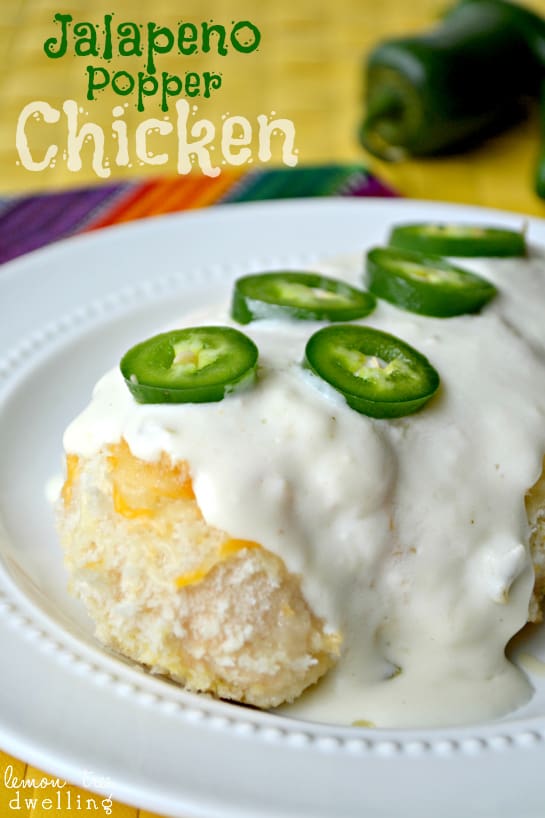 Well….it is perfect NOW…. But when I first tried out my idea it was awful! It was so incredibly spicy that my eyes were watering, my nostrils were burning, and my entire face felt like it was on fire! Maybe it's because I was trying to eat quickly so I could go pick up the kids from a friend's house….or maybe it was the FOUR fresh jalapeños I put in the sauce….but whatever the problem, it was clear that my reinvention needed reinventing!
When I went to pick up the girls, their friends' mom noticed my flushed cheeks and asked if I had gotten a facial after dropping them off. Nope, just some way-too-spicy jalapeño sauce, I told her. Ha! So much for my perfect plan!
But not to worry…..I did what I've done a lot lately! I FIXED IT…and it is DELICIOUS!! Because the last thing I was about to do is let a bunch of $1.99 jalapeños get the best of me….! (Now what to do with the 4 peppers I still have left……? We will have to wait and see…..)
And if you're looking for more jalapeño recipes, be sure to check out these favorites of ours!
Jalapeño Popper Wonton Cups
Jalapeño Grilled Cheese
Cheesy Jalapeño Turkey Sliders
Jalapeño Corn Dip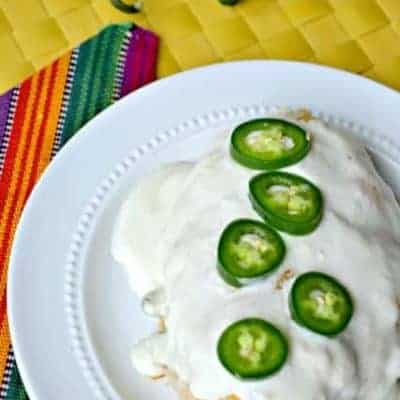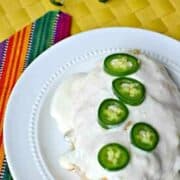 Cheesy Jalapeño Baked Chicken
Ingredients
Chicken
3-4

large boneless

skinless chicken breasts

1

c.

panko bread crumbs

1

egg

beaten

3

Tbsp.

milk

2

c.

shredded cheddar cheese blend
Sauce
2

Tbsp.

butter

2

Tbsp.

flour

1/4

tsp.

salt

pepper

to taste

1 1/2

c.

milk

8

oz.

Philidelphia Jalapeño Cream Cheese
Instructions
Chicken:
Combine egg and milk in small bowl. Dip chicken breasts in egg-milk mixture and coat with bread crumbs.

Bake in a shallow pan at 375 degrees for 45 minutes.

Top with shredded cheese and bake for an additional 10 minutes.
Sauce:
Melt butter in a small saucepan over medium heat.

Whisk in flour, salt & pepper.

Add milk and cook, stirring, until mixture is thickened and bubbly. Continue stirring and cook 1 minute more.

Remove sauce from heat and stir in cream cheese until it is completely melted.

Spoon sauce over baked chicken and top with fresh jalapeno slices.

*For less heat, remove seeds from jalapeno.
Enjoy!