This Spiced Cran Peary Compote is a delicious addition to your sweet treats. A blend of fresh cranberries and ripe pears, this spiced compote is perfect served with vanilla ice cream!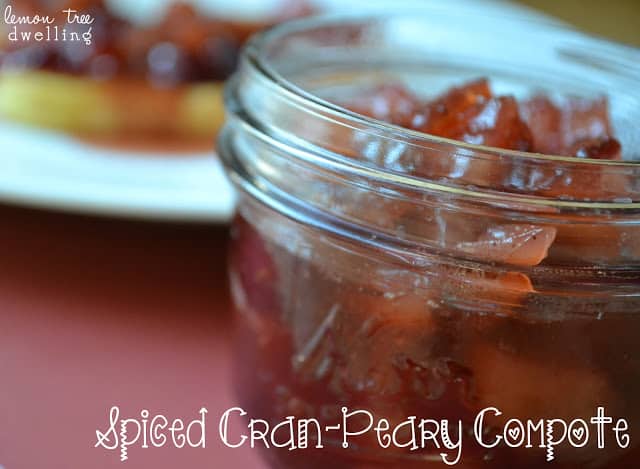 It's been about 3 months since I started blogging, and I'll never forget the terror I felt when I published my first post. It was an anniversary post, a "real life" post, comparing houses to husbands. And I loved it! But, to be honest, I didn't want anyone else to read it. And, to be honest, I really didn't want anyone to read any of my posts for a while….so much so that even when my dear friend and fellow blogger Lisa (of Wine & Glue) asked if she could promote my blog, I told her no! (That's crazy, right? You NEVER turn down a promotion…!) I would imagine I'm not alone in feeling a bit "exposed" at the beginning. There's something both awesome and awful about publishing your own words and ideas. You are opening yourself up to anything and everything – good and bad – and it's scary!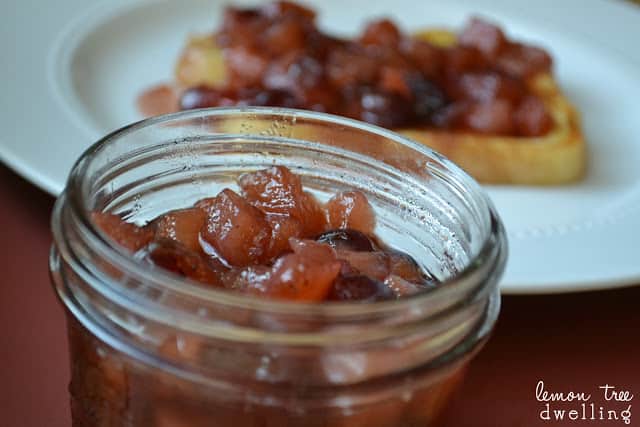 Spiced Cran-Peary Compote
But right around the 3 month mark something shifted. Not only do I really want people to read my posts now (!) but I also started to feel ready for a challenge – a way to stretch myself and grow as a blogger. It's interesting how things come your way when you start looking for them…because within a week I was asked to help host a giveaway and I ran across this challenge: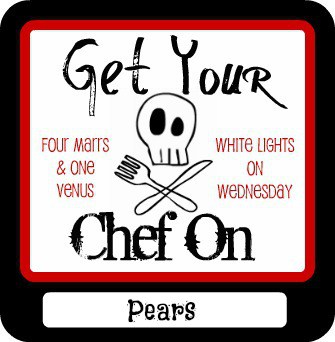 On a side note, I've actually had nightmarish dreams before about being on
Top Chef
and having NO IDEA what I was doing…….. but somehow that didn't stop me from entering the challenge. The nice thing about this challenge was that we were given plenty of time AND it was left wide open! My mom mentioned the idea of a compote (something I've never made before) and I loved it! So here goes….my first attempt at a cooking challenge and my creation is this Spiced Cran-Peary Compote!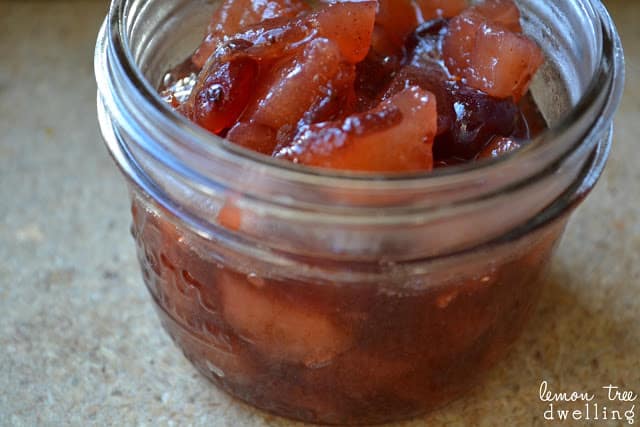 For another great Pear recipe, try my Ham and Pear Panini!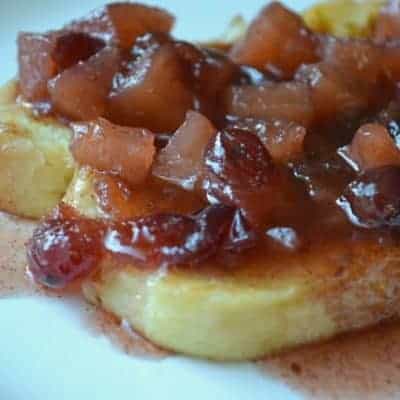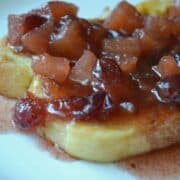 Spiced Cran-Peary Compote
Ingredients
4

large firm pears

peeled & chopped

1/2

cup

fresh cranberries

1

cup

water

1/4

cup

sugar

1/2

tsp.

vanilla

1/2

tsp.

cinnamon

1/4

tsp.

ginger

1/4

tsp.

allspice
Instructions
Combine water, sugar, vanilla & spices in a medium saucepan and bring to a boil.

Boil, stirring occasionally, 5 minutes or until mixture begins to thicken.

Add pears & cranberries and return to a boil.

Reduce heat and simmer 20 minutes or until fruit is tender and mixture has thickened.

Remove from heat. Mixture will continue to thicken as it cools.

Use immediately over french toast, waffles, or oatmeal OR store in fridge until breakfast!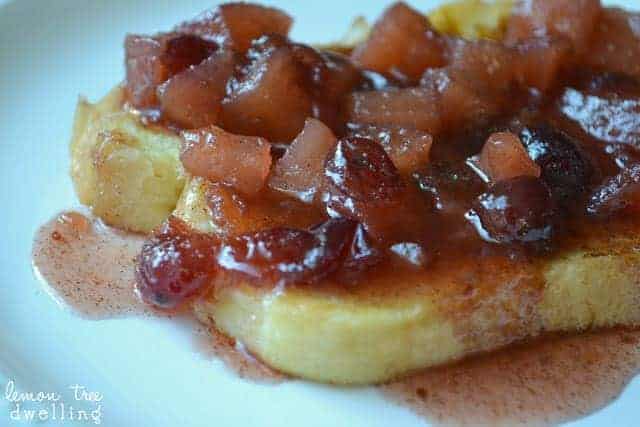 Looking for another great breakfast recipe? Check out my Baked Blueberry Oatmeal!