Classic Sicilian flavors on a bed of fresh spinach, drizzled with fresh basil vinaigrette. A deliciously flavorful salad, perfect for summer.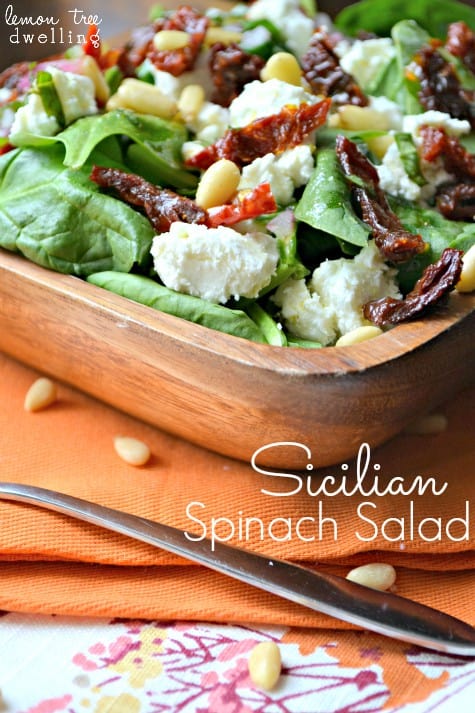 Back in college, before the low carb craze, I developed an entire relationship over baskets and baskets of bread. Let me explain. Sometime early sophomore year, I met my now good friend Erin. We were opposites from the beginning - she was loud and outgoing, had tons of friends and was always up for anything....especially if it involved a party! I was much more quiet and reserved, more likely to have a few close friends, looking for good conversations and deep connections....and not much for parties at all! And yet, somehow, we just clicked.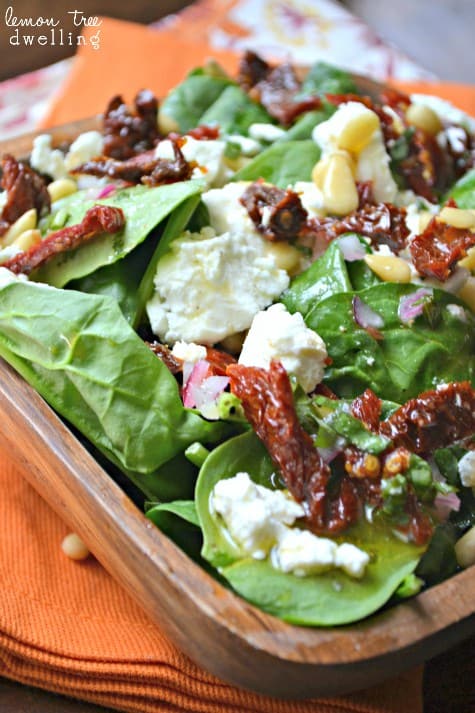 We would ride the city bus from Marquette's campus to an Italian restaurant called Louise's. I'm not sure how we chose it or why....but it quickly became one of our very favorite places to be! And I honestly think it was because of the bread! As soon as we would order our meals (always a BBQ Chicken Chopped Salad), they would bring out a basket of fresh-baked focaccia bread with seasoned dipping oil. And we would eat bread and talk - about school, boys, friendships, family....LIFE. And when the bread was gone, we'd ask for another basket, and sometimes even a third.....until we were ready to head back to campus, hours later.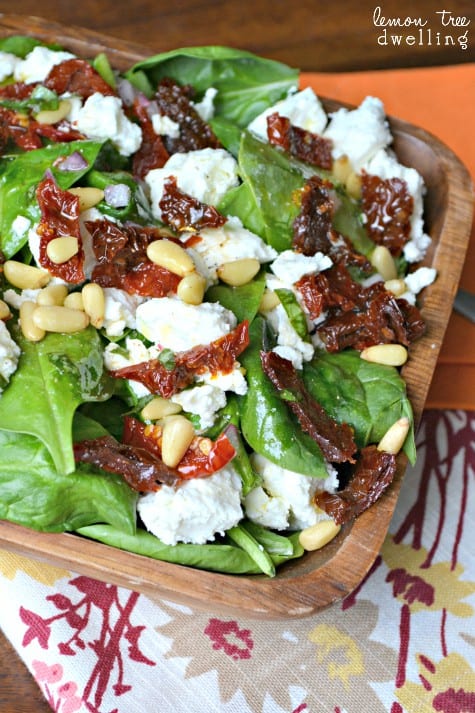 It's funny....we always ordered the exact same thing. And stuffed ourselves silly with bread. Looking back, I think it's because it was never really about the food. It was about the friendship, and the time together. The food was just a bonus! It's one of the things I love most about food - the way it brings people together. As an adult, Louise's is still one of my favorite restaurants. Of course, when we go there, I do a few things differently. Like only eating a few pieces of bread instead of a few baskets. Like trying not to overstay my welcome (no more 3 hour visits!) Like ordering new things on the menu...although the BBQ Chicken Chop is still high on my list.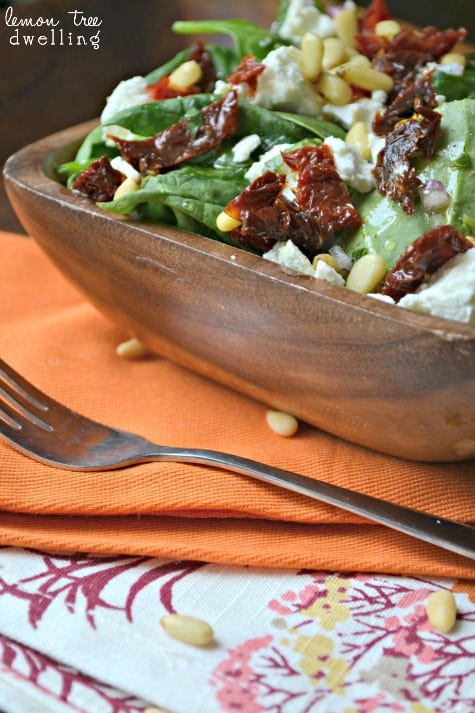 Another one that's high on my list is their salad with goat cheese, pine nuts, and sun-dried tomatoes. Since ordering it at Louise's, I've used the same ingredients on pizza (amazing!) and in a pasta dish (Sun Dried Tomato Pasta). Now that summer is here again, I decided it was time to go back to the salad....and I made a delicious basil vinaigrette to go with it! I plan to make this salad a lot this summer, hopefully with friends. Because if there's one thing I know to be true about myself, it's that I can really bond with someone over a delicious meal.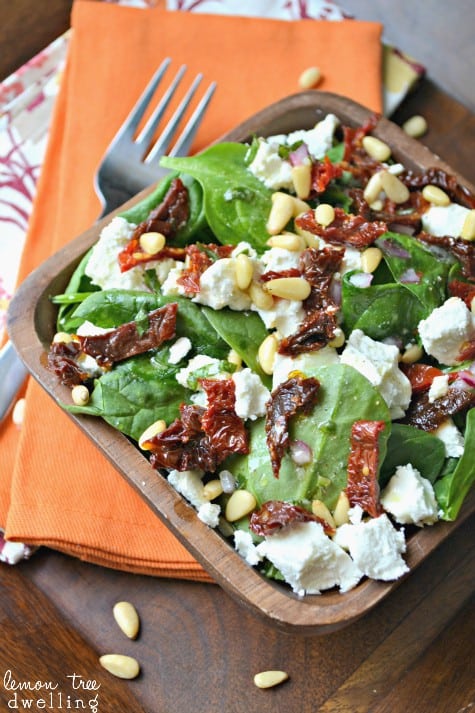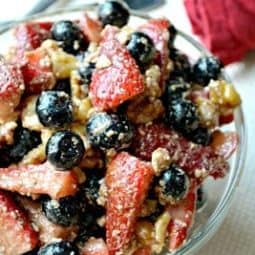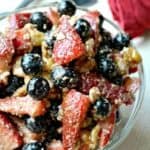 Sicilian Spinach Salad
Ingredients
Salad
2

c.

fresh spinach

2

oz.

creamy goat cheese

¼

c.

sun dried tomatoes

1

Tbsp.

pine nuts
Fresh Basil Vinaigrette
⅓

c.

olive oil

⅓

c.

white wine vinegar

white vinegar will substitute fine

1

Tbsp.

minced red onion

1

Tbsp.

fresh basil

½

clove

minced garlic

½

tsp.

salt

¼

tsp.

pepper

Mix all ingredients until thoroughly blended.
Instructions
Prepare salad by layering ingredients in a salad bowl.

For dressing, mix all ingredients until thoroughly blended.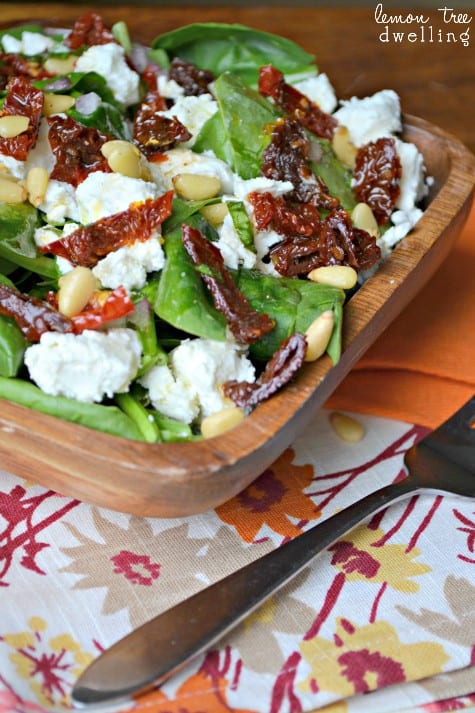 Looking for another summer salad recipe? Be sure to check out some of my Berrylicious Summer Salad!