All the ooey-gooey-ness of Monkey Bread, with the delicious flavors of blueberry & cream cheese. An ooey-gooey delicious way to start your day!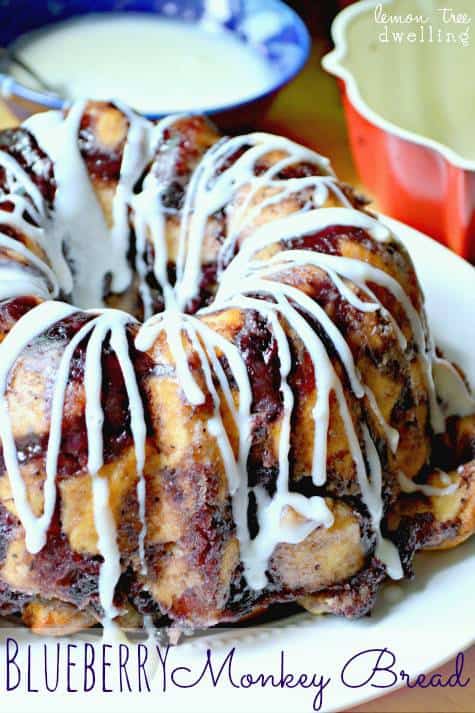 So I'm pretty sure I'm the nicest wife EVER….since I let Jorden sleep in until 10:00 on Saturday…! I seriously can't remember the last time I slept until 10:00 – even when I "sleep in" it's more like 8:30 these days. But Jorden told me the one and only gift he wanted was sleep – a chance to sleep in, and maybe an afternoon nap. One out of two is not bad….right? (Don't worry…we got him some actual gifts, too).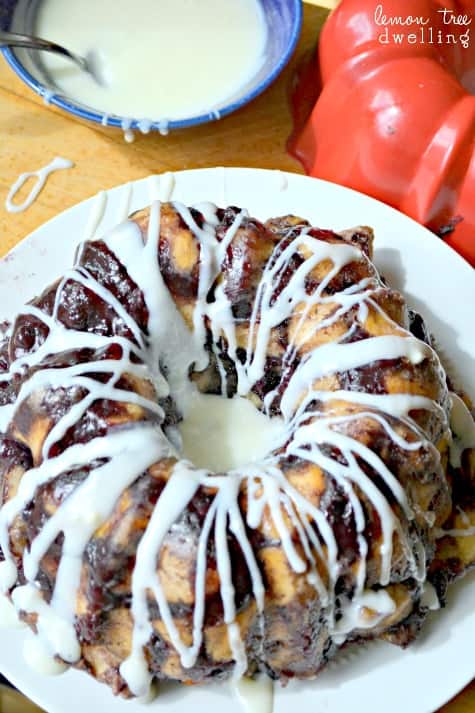 Of course….what I haven't told you is that Jorden sleeping until 10:00 actually benefited me….(you didn't really think I was that nice, did you??) Because somewhere in my Father's Day planning I got the idea that I was going to make this Blueberry Monkey Bread, despite the fact that I had no recipe and I'd never made monkey bread before! And midway through executing the plan, when I had blueberry pie filling all over my pajama pants and cream cheese icing spattered across the kitchen….Jorden staying in bed an extra hour suddenly started to sound like a good idea!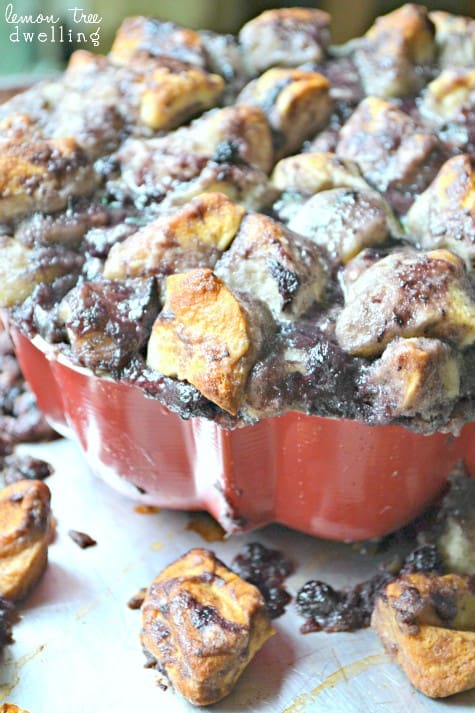 So when he came down at 9:00, and I lovingly said, "You're down so early….you can go back to sleep!", it was really because I needed the time. And because I love him…..(of course…!) But mostly because I needed the time. To scramble the eggs and fry the bacon and cut the fruit and pour the juice and make the coffee. And to finish the monkey bread! And let me just say….it was totally worth it!!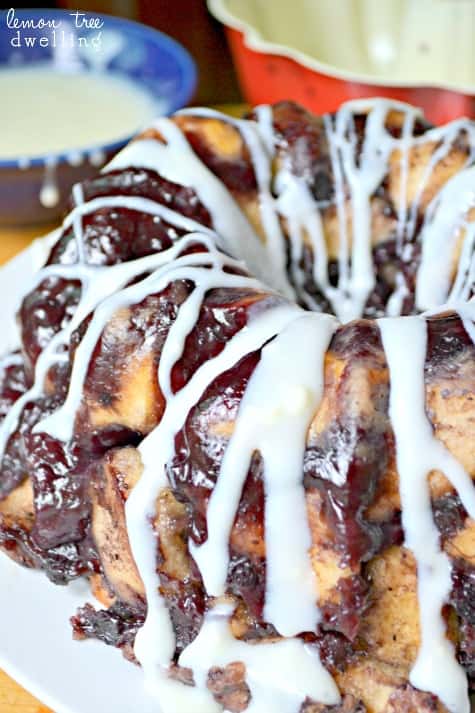 If I could something this ooey-gooey and delicious for breakfast every weekend, I would TOTALLY let Jorden sleep in! Even if it meant I had to make it. It was like blueberry pie meets monkey bread and they go swimming in cream cheese icing. Yeah, it was good.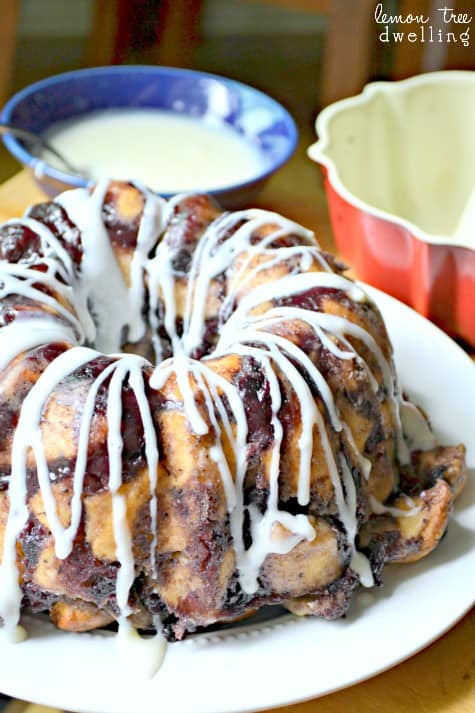 The only problem? I ate waaaaay too much. And then I ate more the next morning, because of course we had to finish it up. And I'm pretty sure I would have eaten it all, if it weren't for Jorden and the girls helping me out. I guess I might need to stay far away from the next batch. (Who are we kidding…!? That is SO not going to happen!!)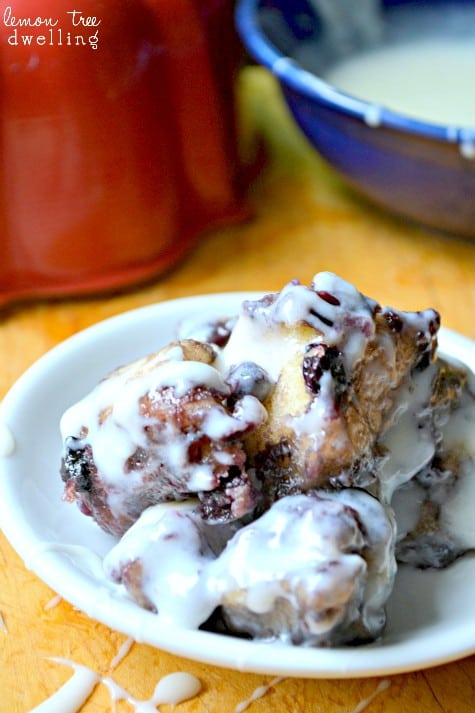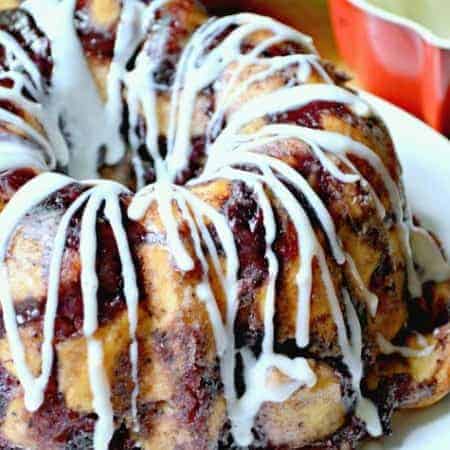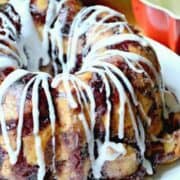 Blueberry Monkey Bread
Ingredients
2

cans Pillsbury Grands! biscuit dough

1/4

c.

flour

1/4

c.

sugar

1/2

tsp.

cinnamon

2

Tbsp.

butter

softened

1

21 oz. can blueberry pie filling

4

Tbsp.

butter

1 1/2

c.

powdered sugar

3

oz.

cream cheese

3

Tbsp.

fat free half & half

or milk

1

tsp.

lemon juice
Instructions
Unroll biscuits and cut into quarters or sixths.

In small bowl, mix 1/4 c. flour, 1/4 c. sugar, 2 Tbsp. softened butter, and 1/2 tsp. cinnamon until crumbly. Pour into gallon-size Ziploc bag, add cut biscuits, and shake to coat.

In a medium saucepan, mix 1 can blueberry pie filling and 4 Tbsp. butter. Bring to a low boil and stir for 2 min. Remove from heat.

Pour blueberry sauce over biscuit mixture and stir gently to combine.

Pour biscuits and sauce into a greased bundt pan. Place the bundt pan on a baking sheet and bake at 350 degrees for 45 min, or until golden brown.

While bread is baking, prepare icing by mixing powdered sugar, cream cheese, half & half, and lemon juice until smooth.

Remove bread from oven and cool 5-10 minutes before inverting onto a serving plate.

Drizzle with icing; serve warm.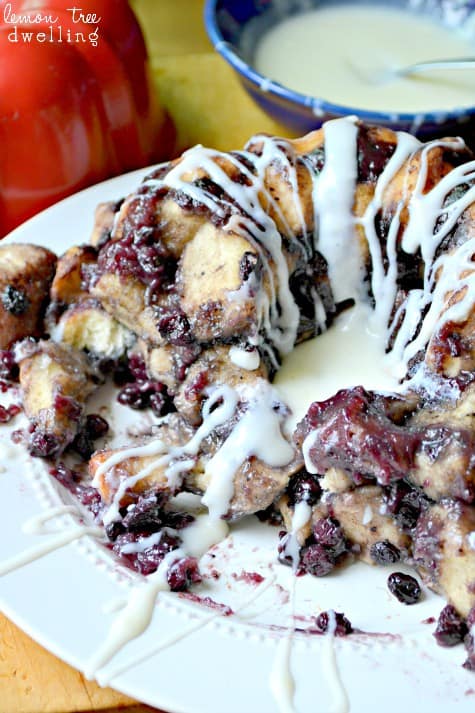 Enjoy! (Clearly we did!!)
While you're here, be sure to check out some of my other delicious breakfast recipes!