Sugar cookie cups with a hint of coconut, topped with cream cheese frosting, shredded coconut, and strawberries….the perfect little bite-sized dessert for Memorial Day, 4th of July, or your next summer picnic!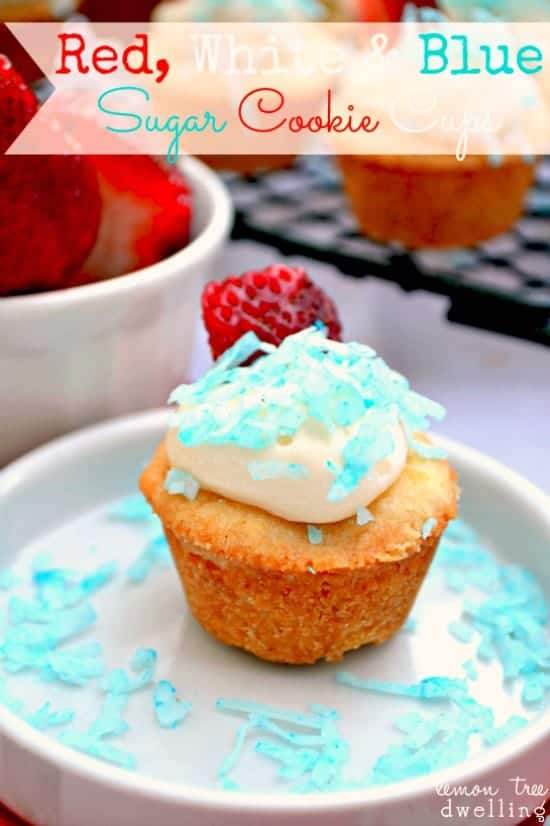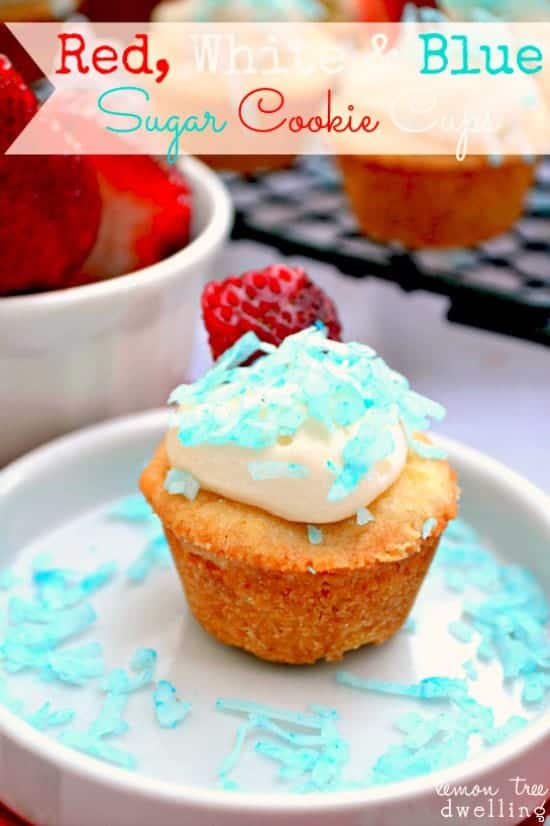 A few years back, when we were in the process of selling our first home and looking for a new one, one of my top criteria was that our new home was in a walkable community. I loved the idea of being able to walk with the kids to parks, restaurants, and coffee shops….and I loved the idea of my kids growing up in a community where people were always out and about!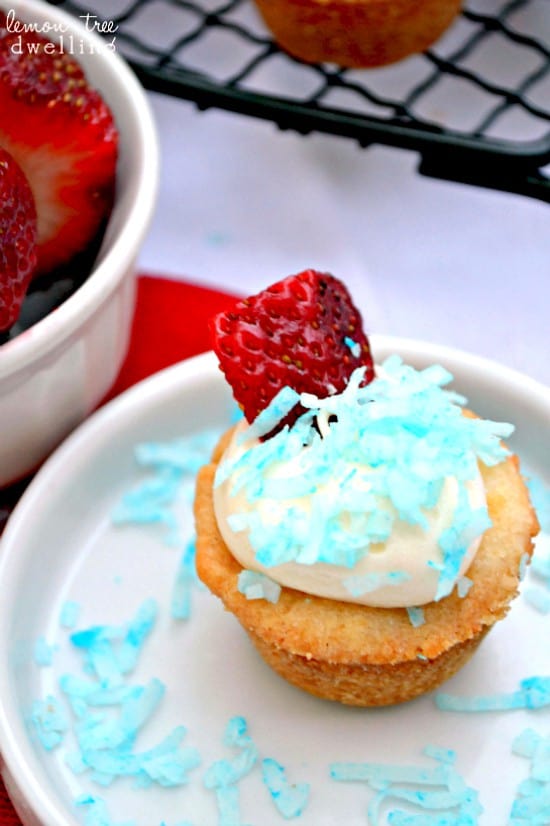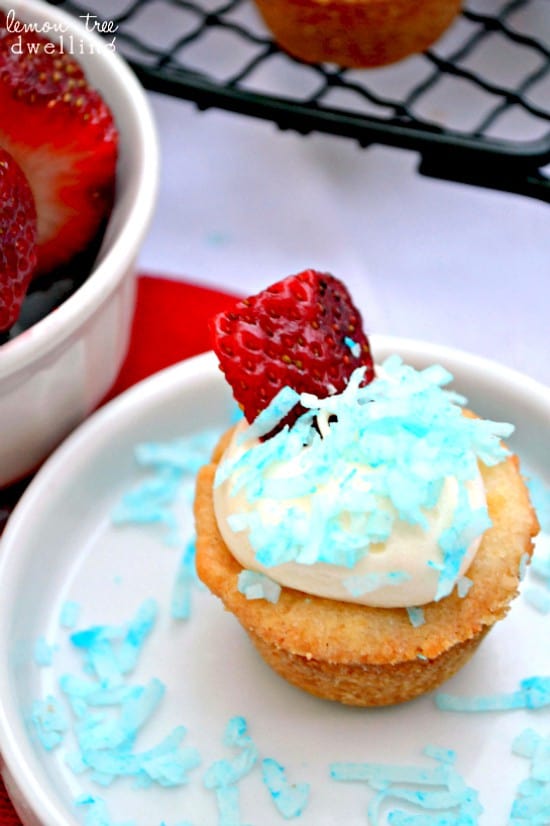 But….after we sold our house in just a few weeks, and our search for a new house in our price range in a walkable community began, we quickly realized that none of the houses in walkable communities were really in our price range….or at least not ones we'd want to live in! As most of you probably know by now, we ended up settling on a real beater of a house (in a completely non-walkable community, by the way) and it is only after hundreds of hours of blood, sweat and tears (not to mention tens of thousands of dollars) that our new house has finally become "home".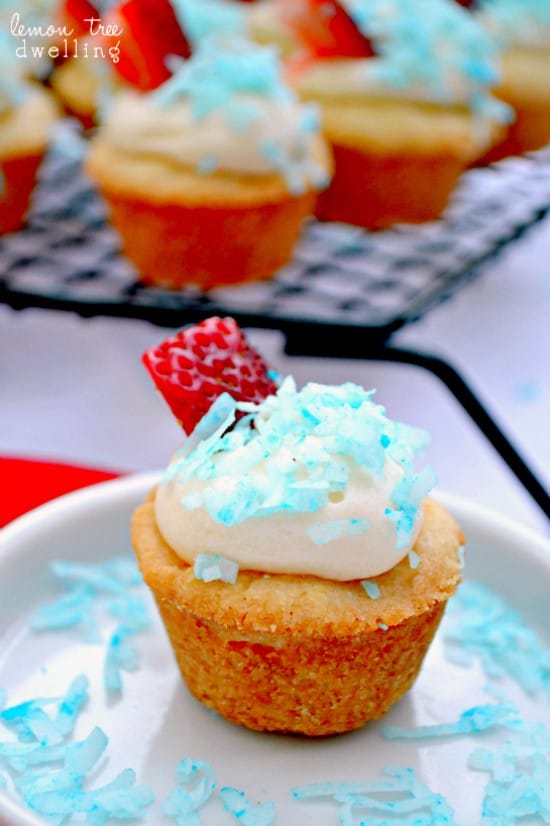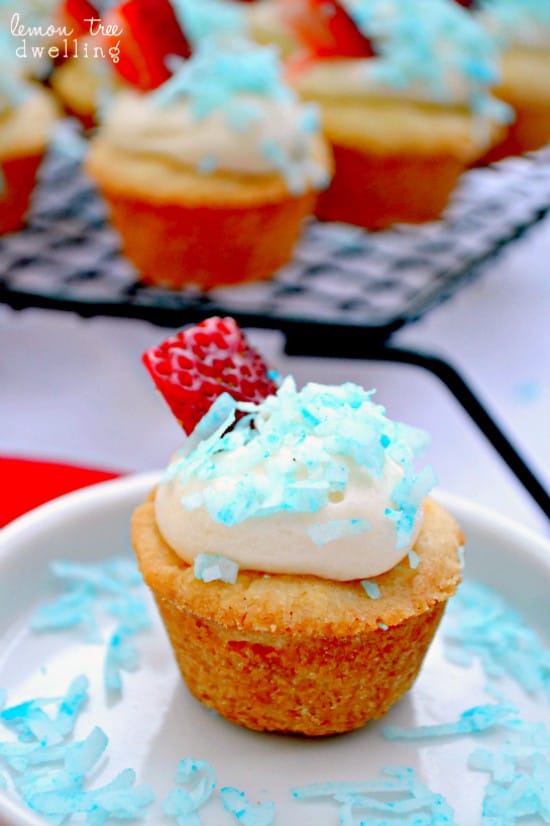 The good news about our Lemon Tree Dwelling? Even though it's not in a walkable community, it is close to everything…..including a cute little (walkable) village less than 5 minutes away. This little village has everything you really need – a grocery store, an ice cream shop, a lovely park with a little pond, a library, a church. And, as we found out last year, it has a great Memorial Day parade and festivities.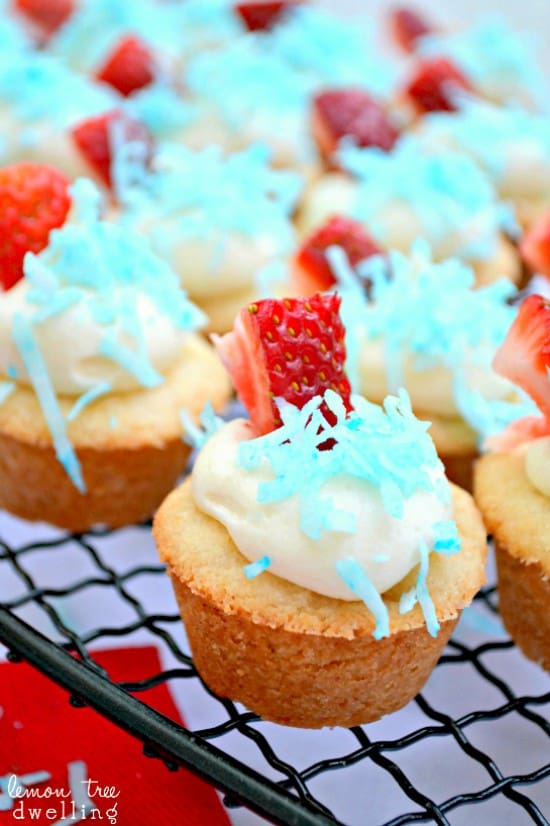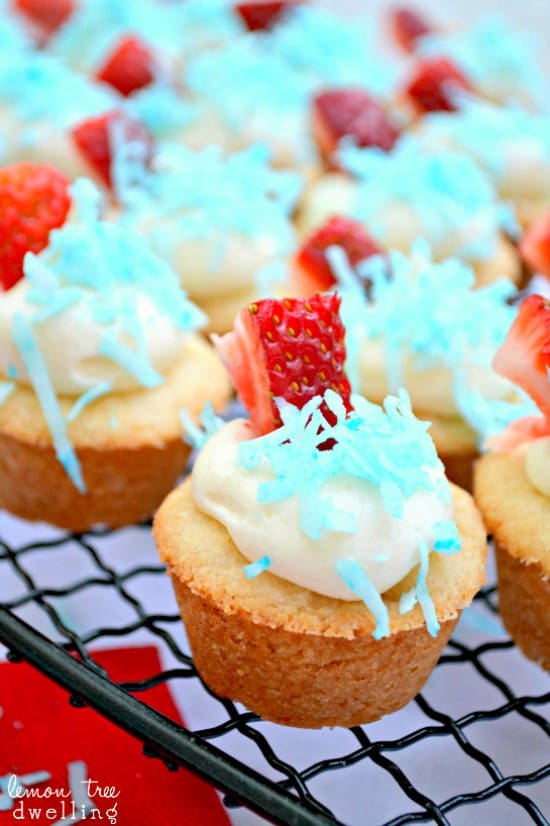 Our little neighbor boy, Patrick, was actually playing drums in the parade, so of course we had to go check it out! Since Nora was not even a year old at the time, I took Ellia and Greta to the parade while Jorden stayed home. The day was hotter than hot, and by the time we found a parking spot and walked the half mile to a (not really) empty spot, we were all dripping with sweat. Hot. Sticky. CRABBY!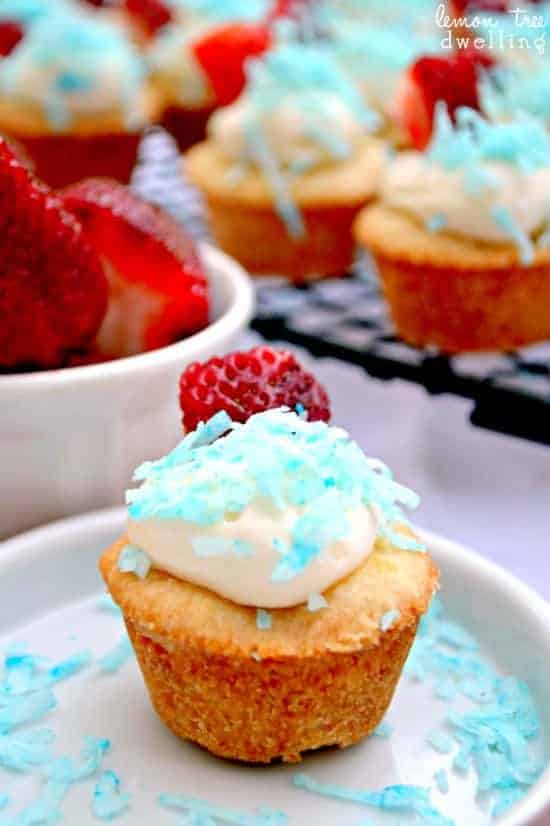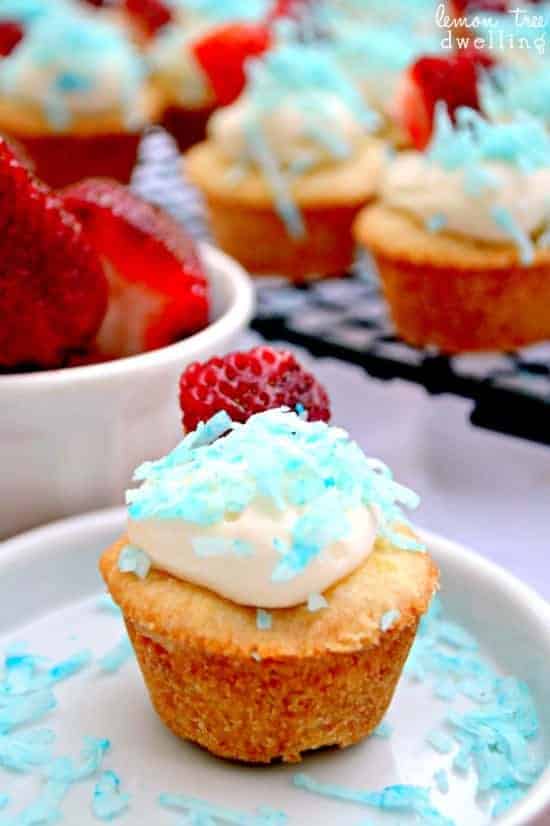 Some of us more than others. Namely, Greta. The spot we ended up in was on a corner, and we quickly realized that all the trucks and bikes and floats took the corner off when it came to candy-throwing. So mid-way through the parade, as kids on either side of us had bags bursting with candy, Greta had none. And everyone was going to hear about it. And somewhere, amidst the screaming and the throwing and the refusing candy from other people who were so kindly offering it to her, I made the decision that the Memorial Parade would not be happening again. At least not this year….or anytime soon. Instead, I decided, the kids can put on their own parade this year…..and I'll throw the candy. I'll even make treats. Namely, these ones.
And everyone will be happy. Namely, ME!!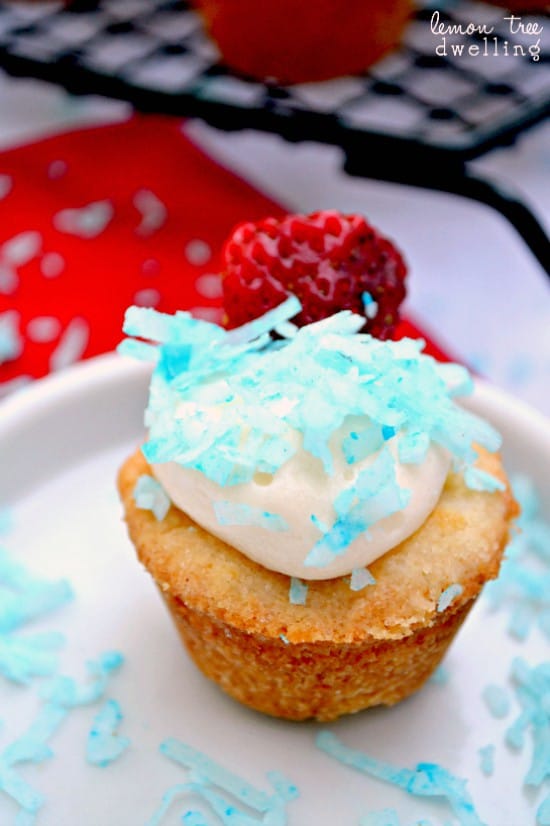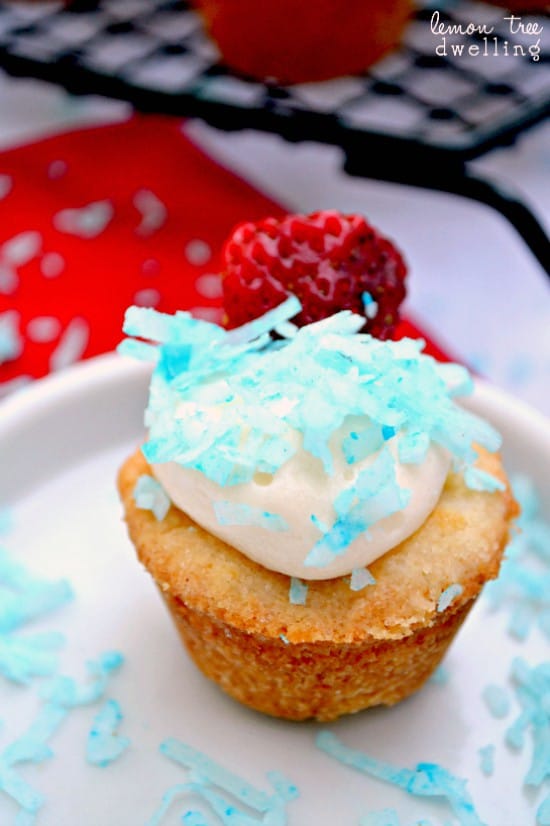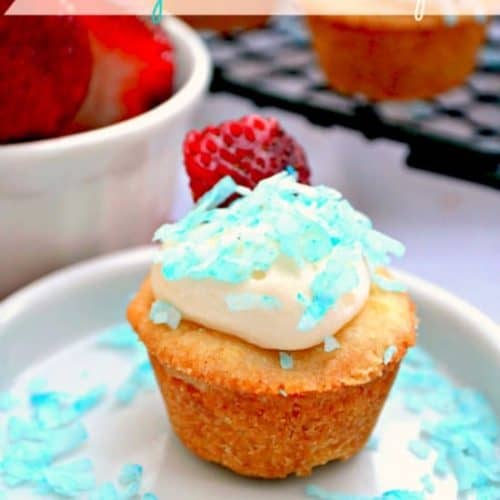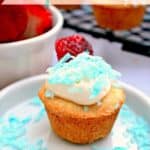 Red, White & Blue Sugar Cookie Cups
Ingredients
Cookie Cups
1

17.5 oz. package Sugar Cookie Cookie Mix (I used Betty Crocker)

1/2

c.

coconut oil

1

egg

1/2

c.

sweetened

shredded coconut

blue food coloring

6

fresh strawberries

quartered (if using large strawberries, divide into smaller segments)
Cream Cheese Frosting (recipe from Cupcakes!)
1/2

c.

unsalted butter

at room temperature

6

oz.

cream cheese

at room temperature

1

tsp.

vanilla extract

3

c.

powdered sugar
Instructions
Cookie Cups
Mix cookies according to package instructions, substituting coconut oil for butter. (*If you use a different brand of cookie mix, simply substitute coconut oil for butter in the same amount.)

Grease mini muffin tin (24 muffins) and divide dough evenly among tins.

Use your finger to make an indentation in the center of each tin - this will make it into a "cookie cup".

Bake at 375 degrees for 8-10 minutes.

Cool completely.
Cream Cheese Frosting
In a large bowl, beat butter, cream cheese, and vanilla with an electric mixer until smooth and blended.

Add powdered sugar, mixing until smooth, then beat on medium speed for 1 minute to lighten the frosting.

**Top cooled cookie cups with cream cheese frosting, using a plastic bag with the corner cut off to pipe frosting. Top with blue coconut (mix coconut with 1-2 drops blue food coloring) and strawberry segment.