Ramen Noodes….reinvented in a delicious noodle salad! This Asian Cole Slaw is sweet, tangy, crunchy, and perfect for feeding a crowd!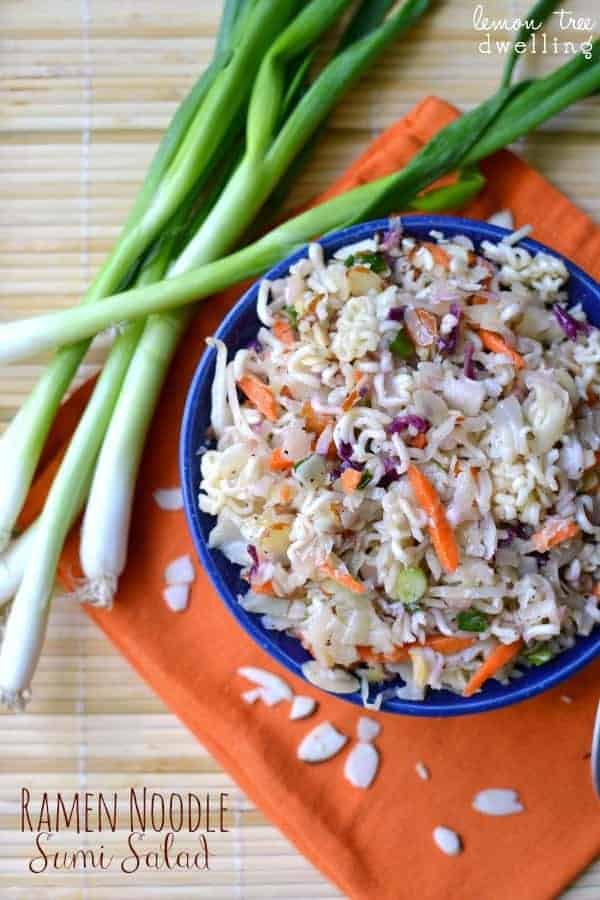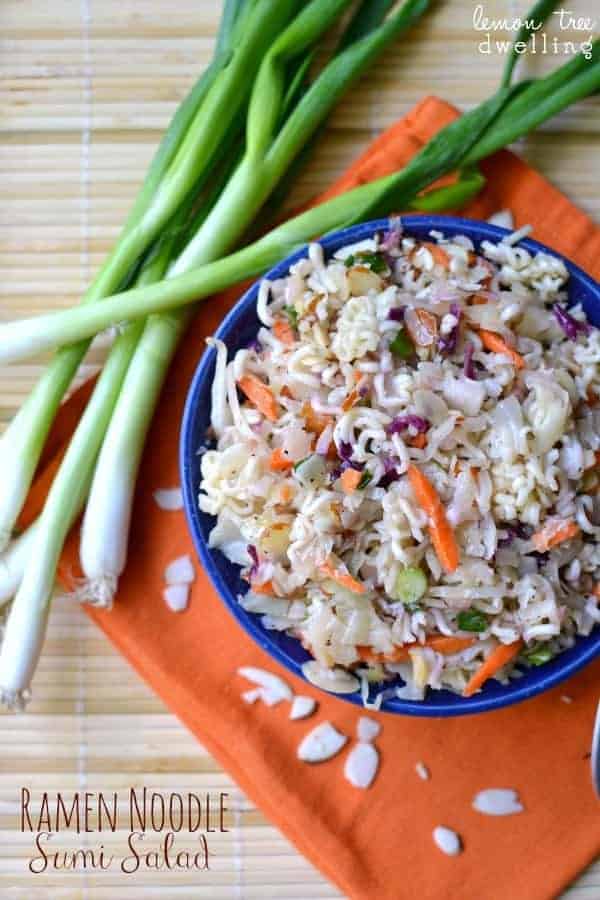 Happy Tuesday, friends! I hope you all had a wonderful Labor Day weekend! Ours was a birthday party extravaganza, with our girls' on Saturday and our good friend's on Sunday…..and it should come as no surprise that we spent most of yesterday cleaning up the disaster that remained from the weekend!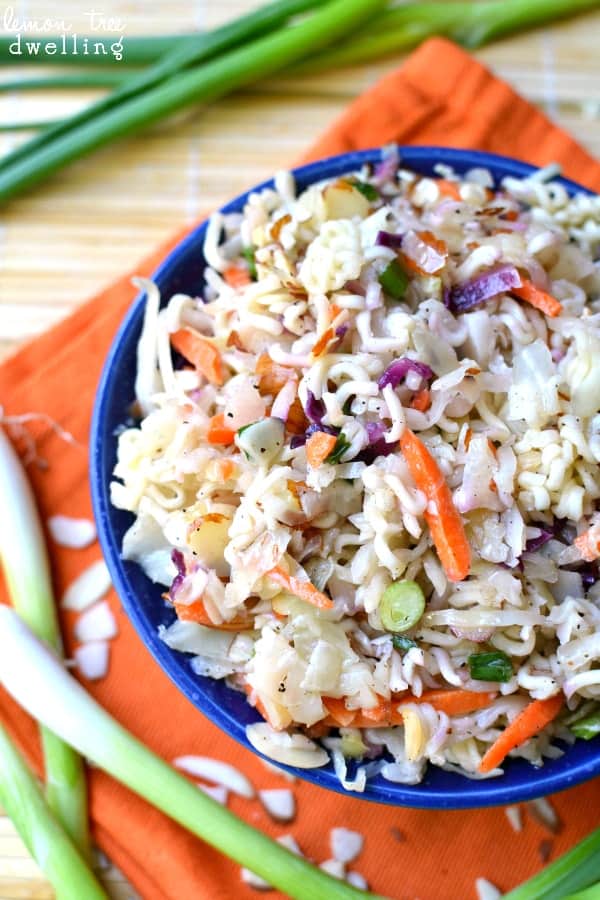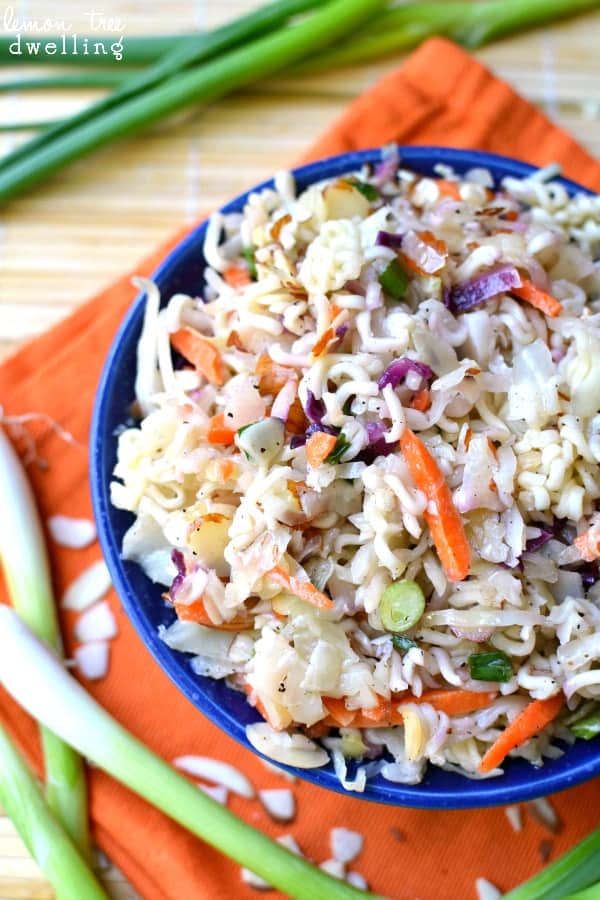 This was our 8th year of hosting a summer birthday party – ever since Ellia turned one – and it was, without a doubt, a party to remember! It was probably our biggest one ever (close to 50 people) and it was also the first one that has ever been rained out. Such a bummer when you were relying on outdoor activities to entertain the kids…….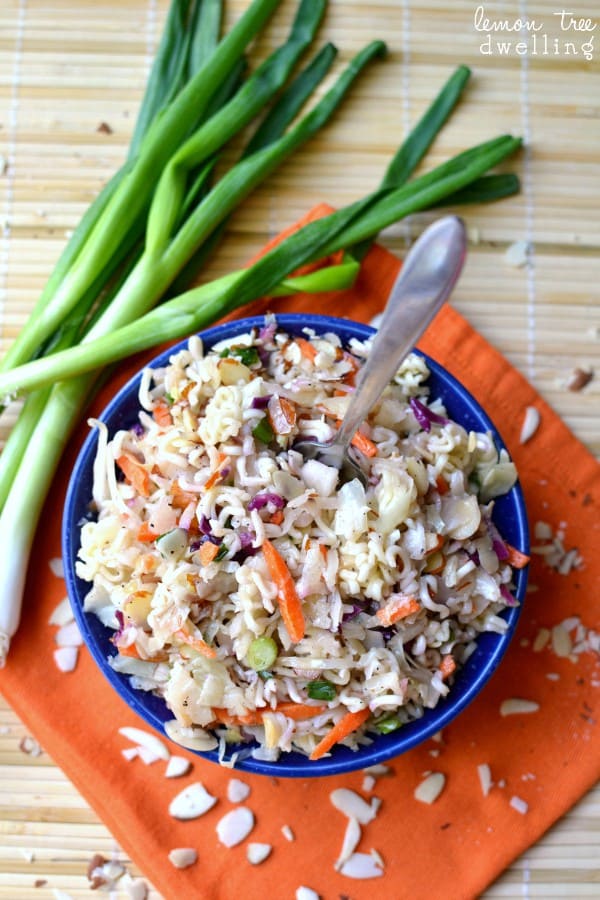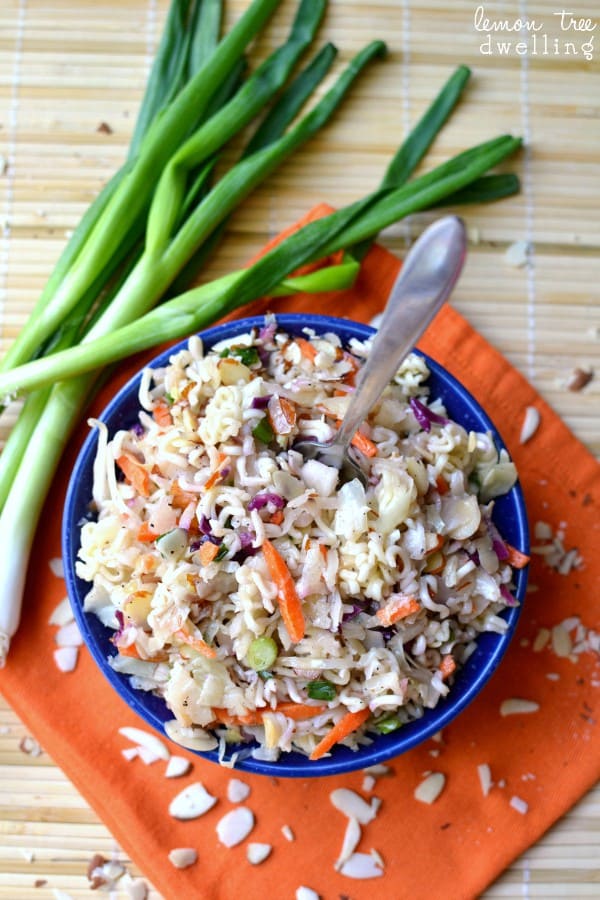 Of course, of all years, we had planned for this one to be a "summer splash" party complete with a water slide and plenty of outdoor water toys. As we watched the weather forecast, though, it became clear that rain WOULD be happening….it was just a matter of how much and how often! So we set the party up indoors, but still had the water slide up in the backyard. The kids definitely used it…..in between downpours…..but in the mean time, they played inside. In our family room and basement. 20 kids worth of messes. Not exactly what we had in mind….but rain happens!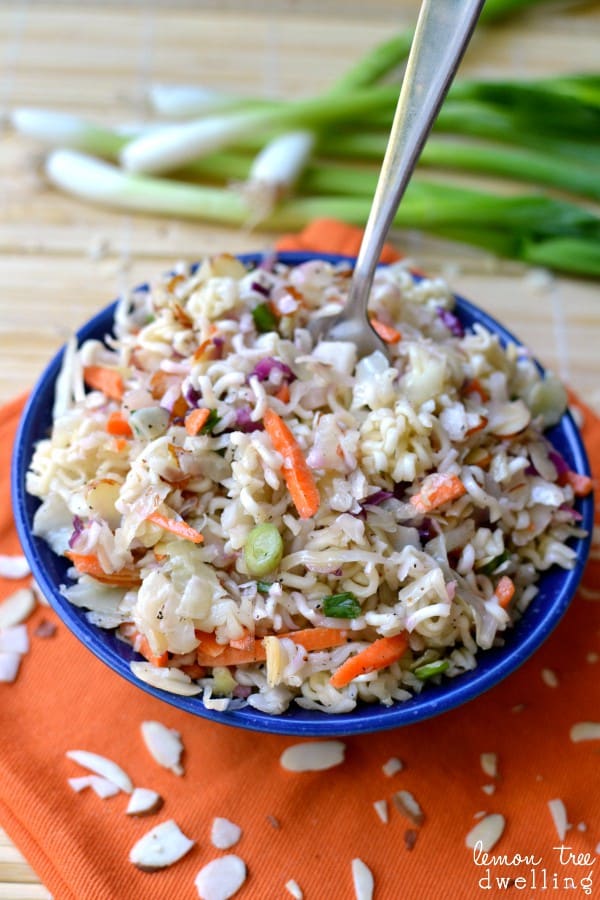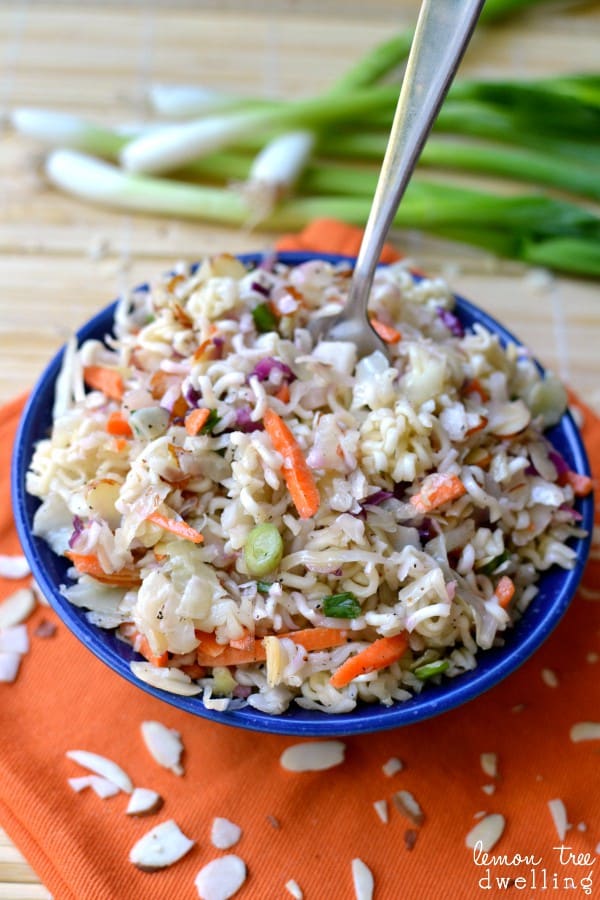 The good news? Well, there's lots of good news. The party was a huge success! People stayed until close to 8 pm and everyone had a blast. We even ended up pulling out the food for a second round of meals (always the sign of a good party) and by the time the last guests left, nearly everything had been eaten! 2 trays of sandwiches, fruit salad, veggie tray, and about 6 other assorted salads….including this Ramen Noodle Sumi Salad. Let me just say this was my first time making this salad (I combined a few other recipes to find the right combination) but it definitely won't be my last. It's perfect for parties and a little something different to feed to a crowd. I hope you enjoy it as much as we did…..for football season, perhaps??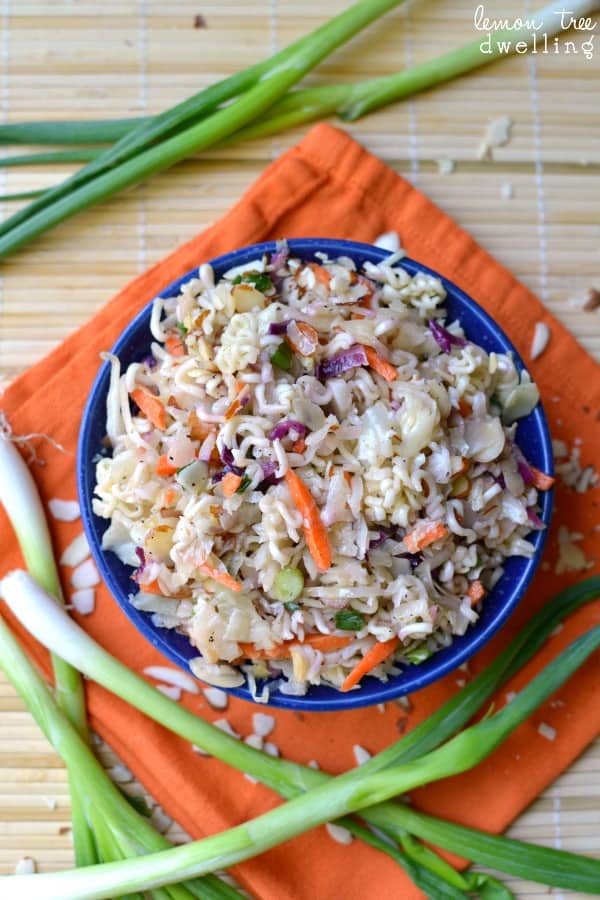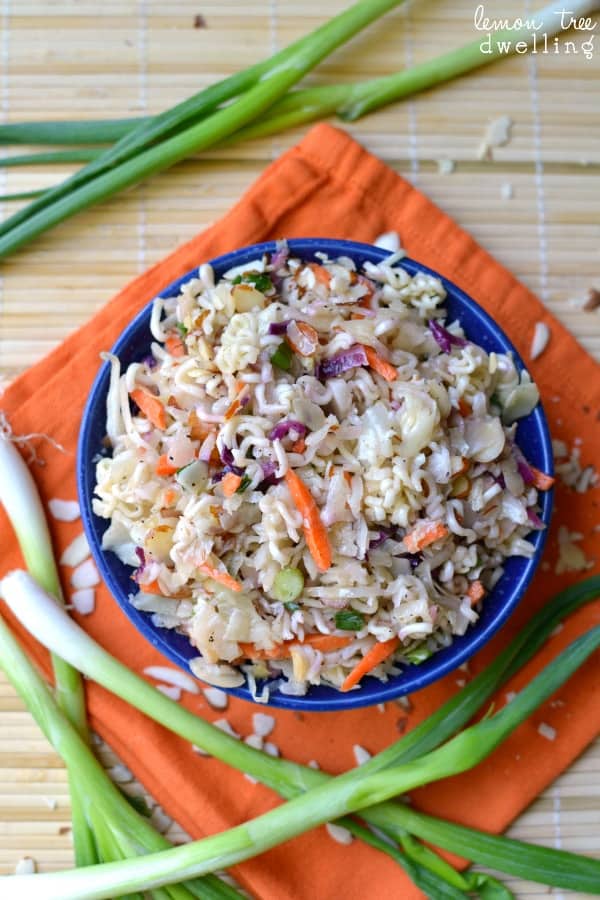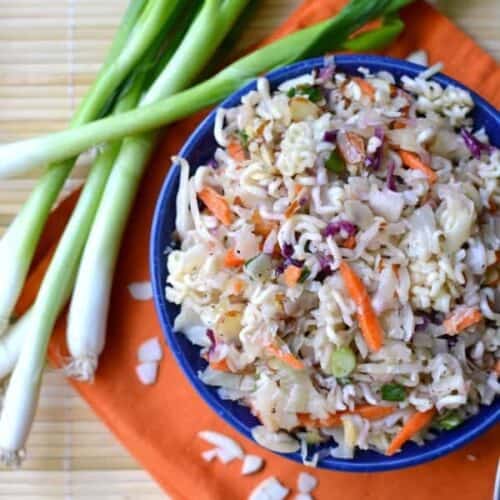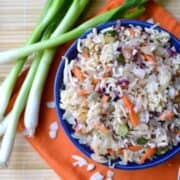 Ramen Noodle Sumi Salad
Ingredients
2

14 oz. packages coleslaw mix

2

packages Ramen noodles, broken into small pieces

*reserve seasoning packets

8

scallions

sliced

1

c.

sliced

toasted almonds

3/4

c.

canola oil

1/2

c.

rice wine vinegar

1/4

c.

granulated sugar

1

tsp.

salt

1

tsp.

pepper
Instructions
Combine coleslaw mix and Ramen noodles in a very large bowl.

Add scallions and toasted almonds and stir to evenly distribute.

In a small saucepan, combine canola oil, rice wine vinegar, ramen noodle seasoning packets, sugar, salt and pepper and bring to a boil. Stir until sugar dissolves. Remove from heat.

Let dressing cool; pour half over coleslaw mix and stir to combine.

Refrigerate until ready to serve.

Before serving, add remaining dressing.