Paradise Fruit Company sent me samples to bake with, but all opinions are my own!
Pumpkin Orange Scones with candied orange peel and cinnamon-orange glaze. Perfect for fall!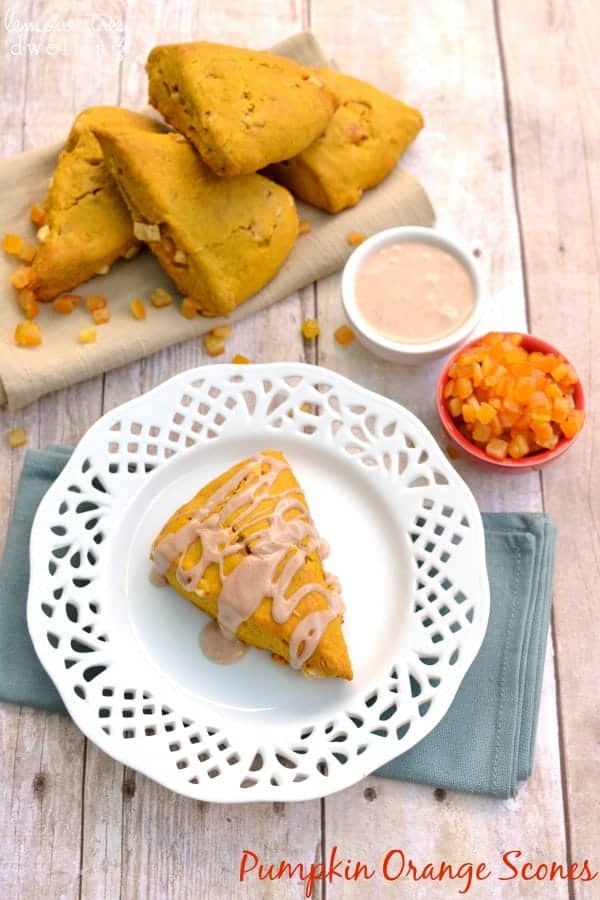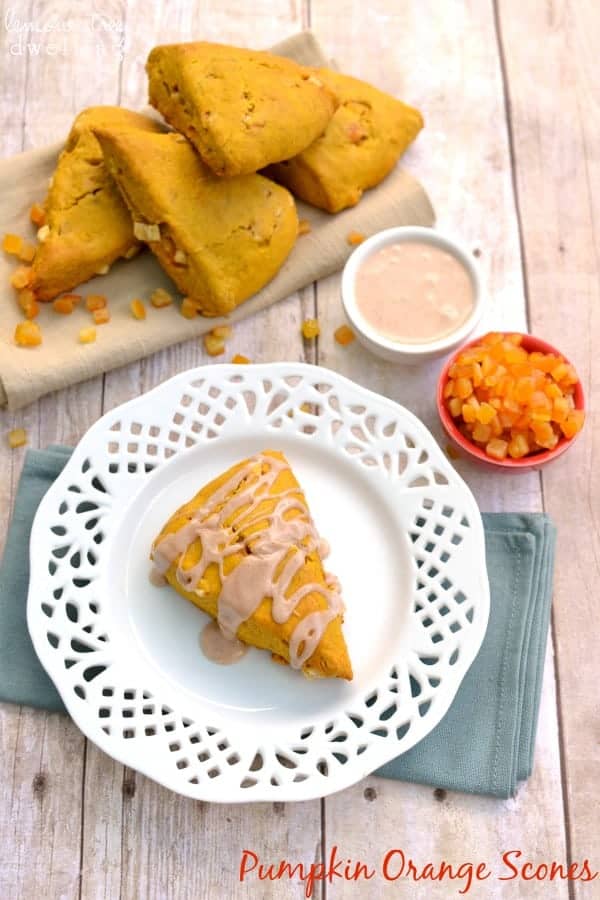 Well, it's happening. I'm jumping head first into fall! Yesterday was our first day of school….which means fall is officially upon us. Time for rushed mornings, crazy schedules, early bedtimes, more soccer than you can handle……and, of course, pumpkin!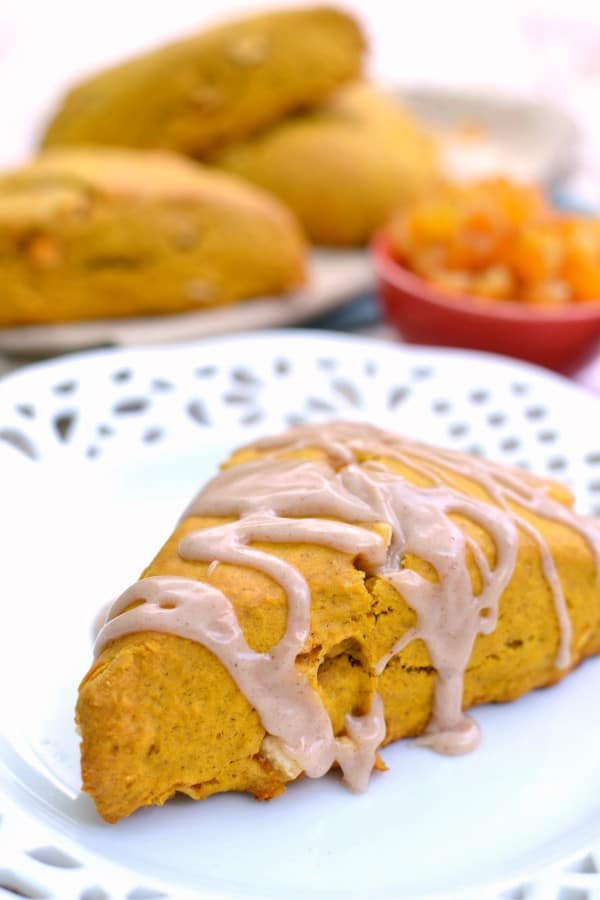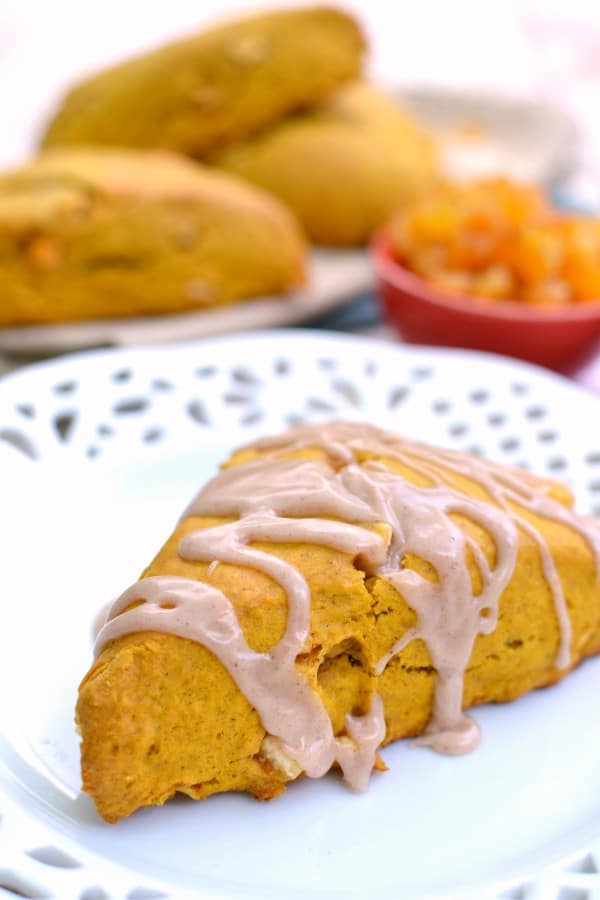 Was yesterday your first day of school, too? How did it go?? For some crazy reason I scheduled Ellia's 8 year physical for the first day of school…..so I got to see her right smack dab in the middle of her first day! And I'm happy to say she couldn't wait to get back to school after her appointment. She was loving everything about 3rd grade!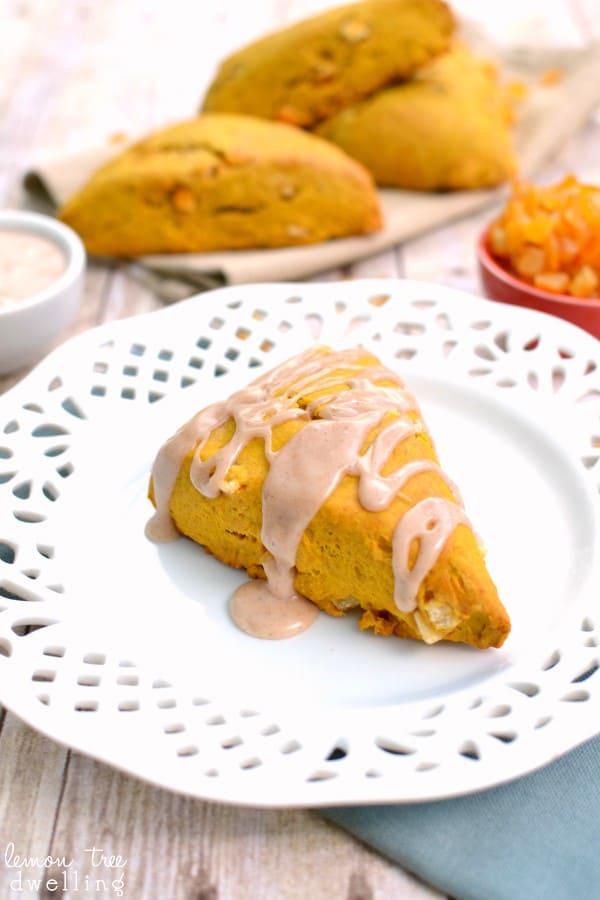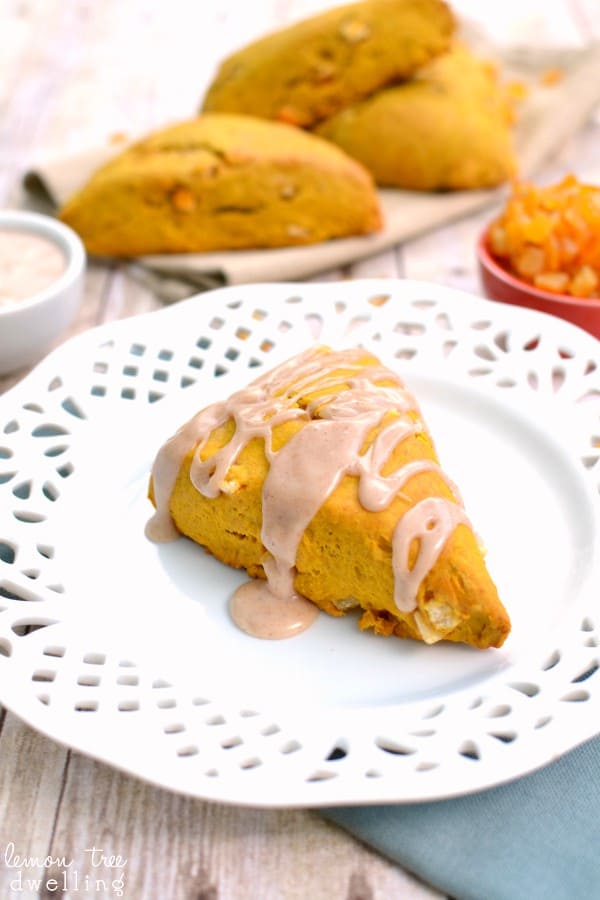 Greta, on the other hand, came off the school bus with a sad face and a sad story……turns out some boy named Beezle was mean to her, making fun of her for not knowing how to spell something…..and some other boy sang the K-I-S-S-I-N-G song to her on the bus….which all in all made for a rough first day for poor little Greta.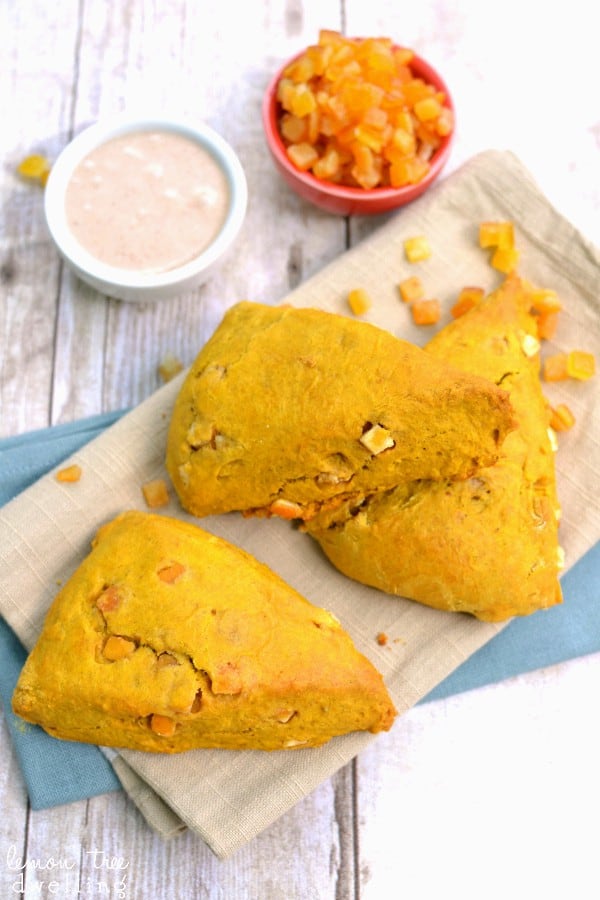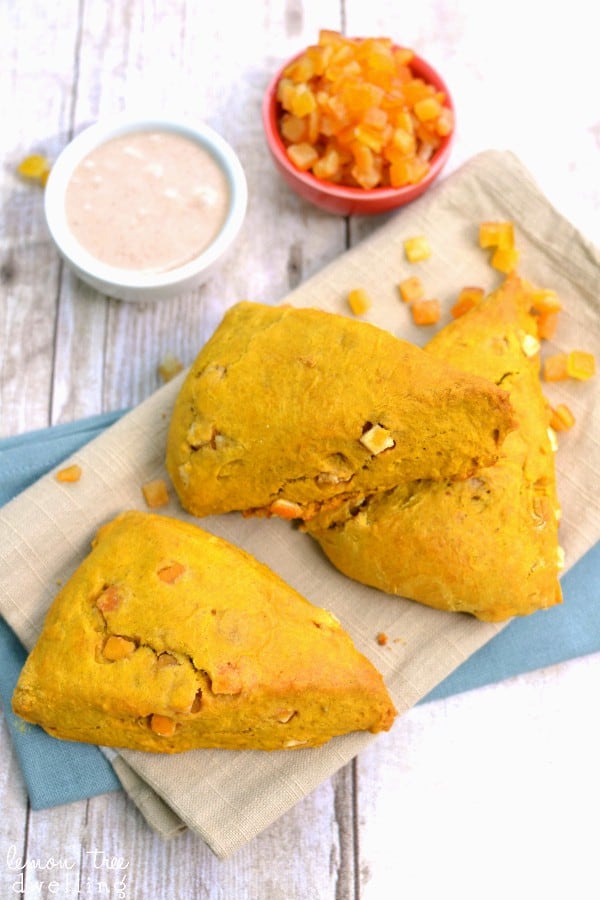 The good news about Greta is I know she'll bounce back. Whether it's smiling and ignoring him or giving Beezle a piece of her mind……she's one tough cookie and I know she'll feel better soon! And in the mean time, you better believe I'll be giving her a little extra TLC. Quite possibly in the form of some delicious Pumpkin Orange Scones! Traditional pumpkin scones with the added deliciousness of candied orange peel! SUCH an amazing combination! As with everything, it's the drizzle that makes the dish…..so go ahead and lay it on thick! In the name of Beezle! (It really is quite the name, isn't it??)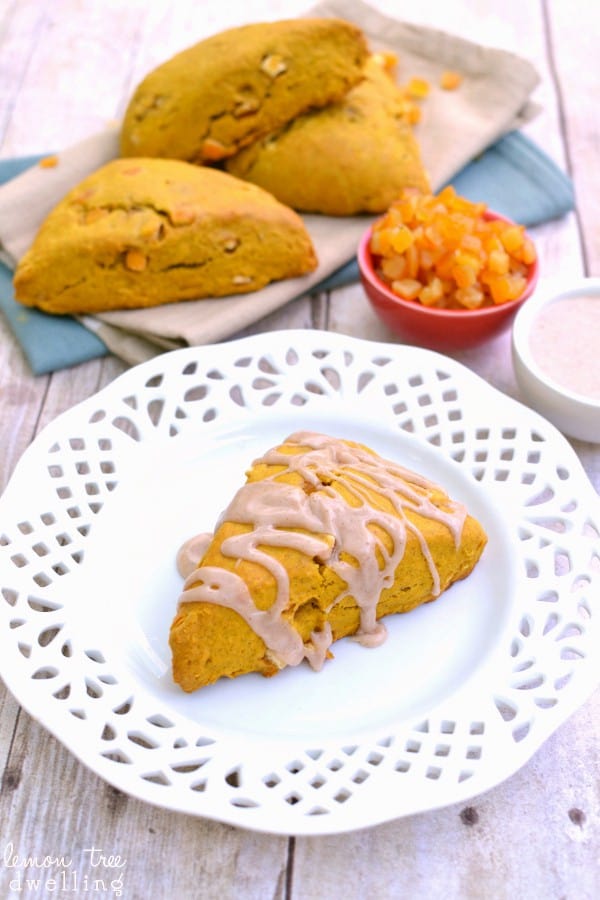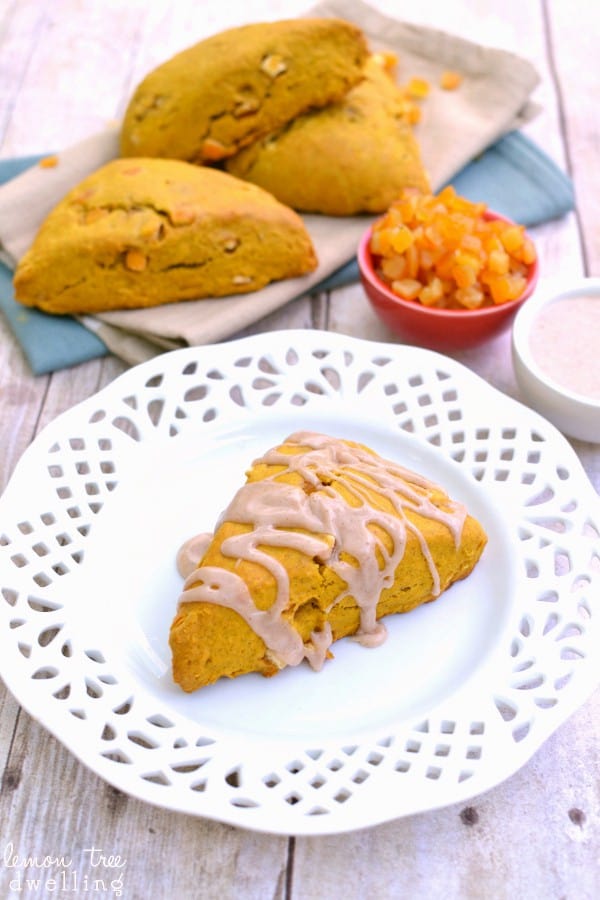 Stay tuned for more delicious recipes using Paradise candied fruits! Next up – candied ginger!!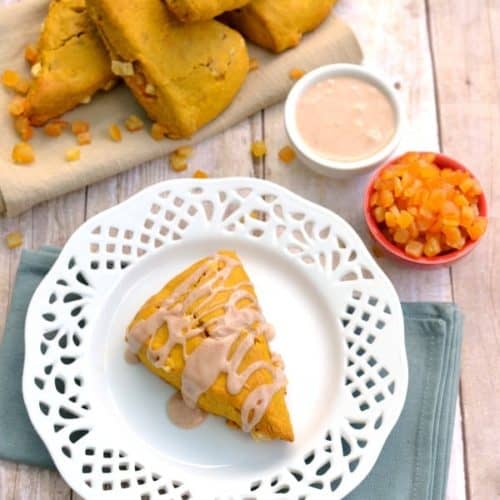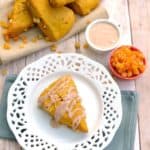 Pumpkin Orange Scones
Ingredients
2 1/2

c.

all purpose flour

1/4

c.

packed brown sugar

2

tsp.

baking powder

2

tsp.

pumpkin pie spice

1/2

tsp.

cinnamon

1/4

tsp.

baking soda

1/4

tsp.

salt

1/2

c.

1 stick frozen butter

3/4

c.

canned pumpkin

1/4

c.

milk

1/2

c.

Paradise brand candied orange peel
Glaze
1 1/2

c.

powdered sugar

4

tsp.

milk

1/2

tsp.

orange extract

1/2

tsp.

cinnamon
Instructions
Combine flour, brown sugar, baking powder, spices, cinnamon, and salt in a large bowl.

Grate frozen butter into flour mixture until it resembles coarse crumbs.

In a separate bowl, combine eggs, pumpkin and milk.

Stir into dry mixture just until moistened.

Stir in candied orange peel.

Turn dough onto a lightly floured surface, adding flour as needed until dough is no longer sticky.

Knead 10 times and form into an 8-inch flat circle.

Cut circle into 8 equal wedges; place wedges on lightly greased baking sheets and brush with a small amount of milk.

Bake at 400 degrees 12-15 minutes or until light golden brown. Cool 10 minutes.

Combine glaze ingredients and drizzle over warm scones.

*Pumpkin Scones recipe adapted from Taste of Home
Be sure to try my White Chocolate Cherry Scones, too!