Long red peppers stuffed with Greek-style quinoa – a fresh new answer to "What's for dinner?"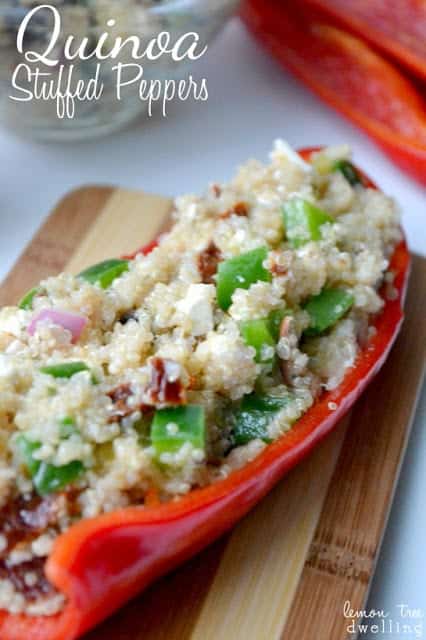 This past December marked an important milestone for our family. After six years of night classes, Jorden (finally) graduated with his MBA! Yipee!! There are SO many reasons to celebrate…..no more late nights, no more papers, no more "group" projects, no more single parenting, no more final exams, no more grades, no more stress….(okay, still some stress)….but for the most part, it has been a really nice change! But every now and then, when Thursday rolls around, I find myself wishing he was back in school…..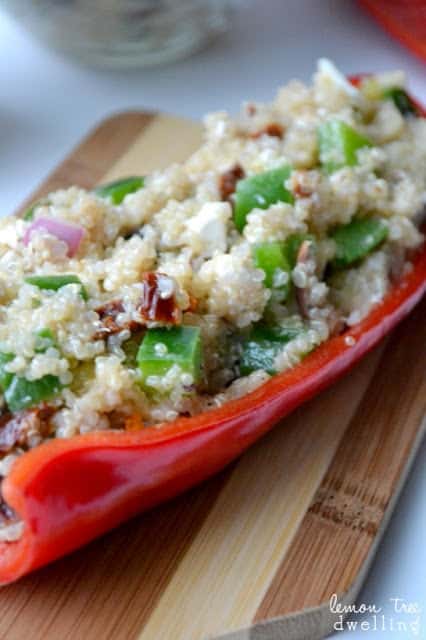 ….because when he was in school, I knew that every Thursday I had something to look forward to. Greek take-out!! Giant boxes of Greek take-out that Jorden would pick up on his way home – way too much for one person to comfortably eat….(I'm pretty sure each container weighed about 5 pounds)….and yet….somehow….we managed!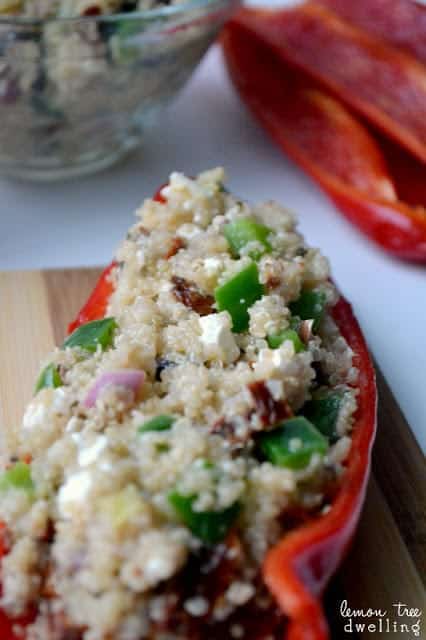 There was something about it that felt cozy….comforting. Like we were back in college, getting Greek take-out at midnight. We would sit and talk or catch up on Top Chef while enjoying our Chicken Souvlaki….and in those moments, I felt like all was right with the world. So…..after a few months of Greek withdrawal….when I finally realized Jorden really wasn't going back to school….I decided I needed to make things right and make my own!! It's not souvlaki, but it is Greek….and it's delicious.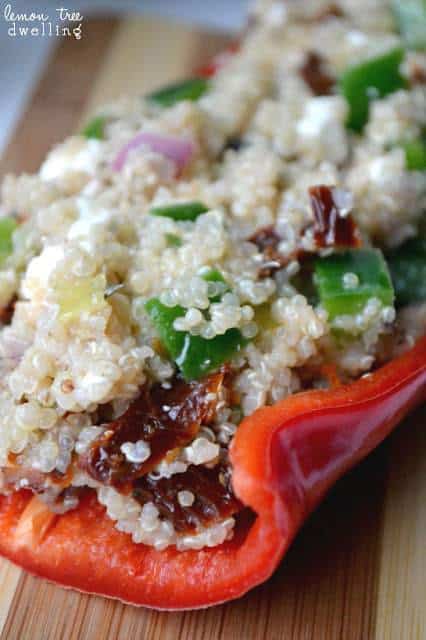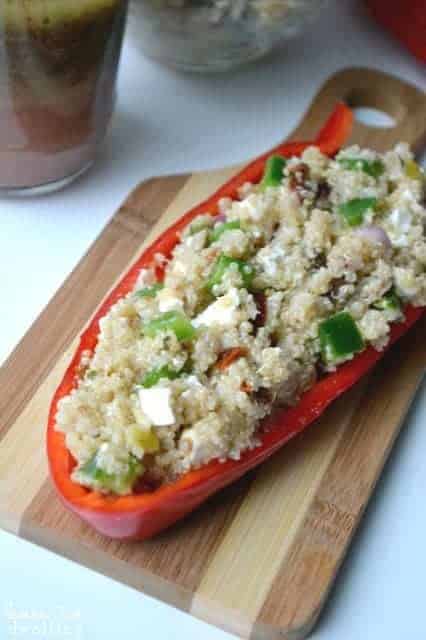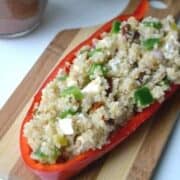 Quinoa Stuffed Peppers
Ingredients
3

long red peppers

halved lengthwise (stem & seeds removed)

1

cup

quinoa

1/2

c.

green pepper

chopped

1

4 oz container feta cheese

1/4

c.

red onion

chopped

1/4

c.

kalamata olives

chopped

1/4

c.

sun dried tomatoes

chopped

3

pepperoncini peppers

chopped

1/2

c.

Greek dressing
Instructions
Prepare quinoa according to package instructions; cool.

Chop green pepper, onion, olives, sun dried tomatoes & pepperoncini peppers.

Mix chopped vegetables, feta, and Greek dressing into quinoa.

Fill halved red peppers with quinoa mixture.

*Peppers can either be eaten as is or baked (400 degrees for15 minutes.) We ate ours "as

*Other possible additions: chicken, cucumber, chickpeas