Cookie Butter Scotcheroos – just like your favorite treat….only better!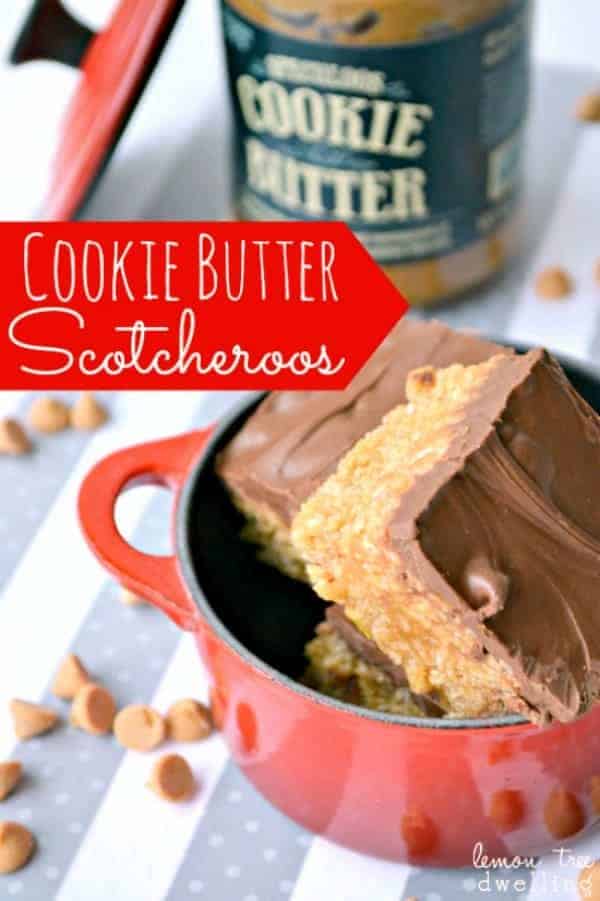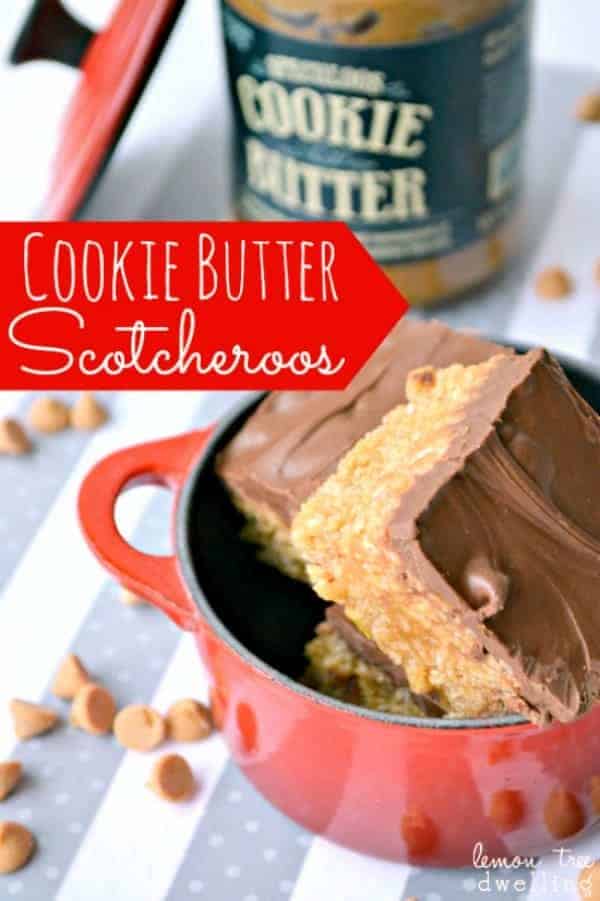 When I first met my husband Jorden, we were at a cocktail party two days before our college graduation. I spotted him across the patio and couldn't help but feel that I HAD to meet him. From the moment I laid eyes on him, I knew that I wanted him in my life (you can read the whole story here.) And when we had our first date, and talked like we had known one another our entire lives, and ended up closing the restaurant because we couldn't get enough of one other, I couldn't help but wonder, "WHERE HAVE YOU BEEN ALL MY LIFE??"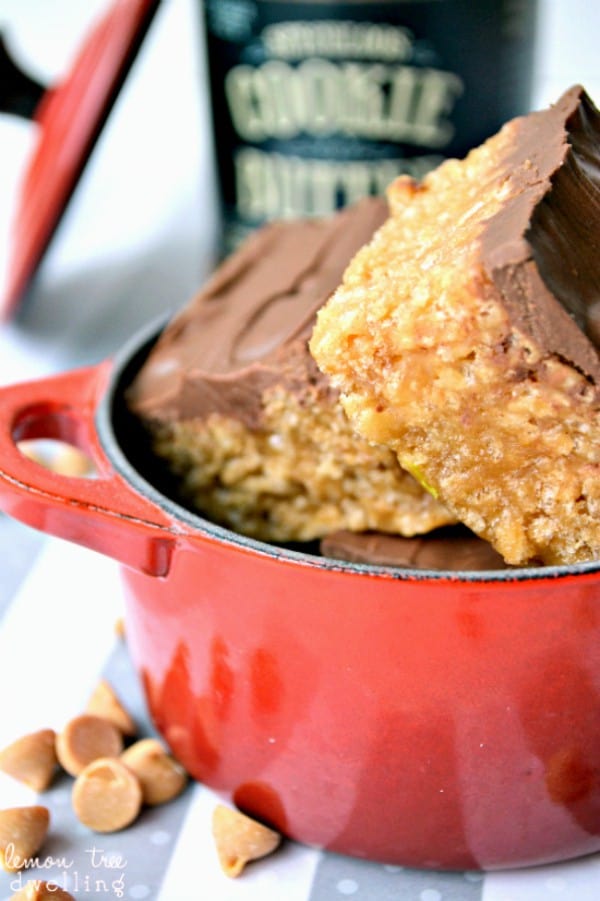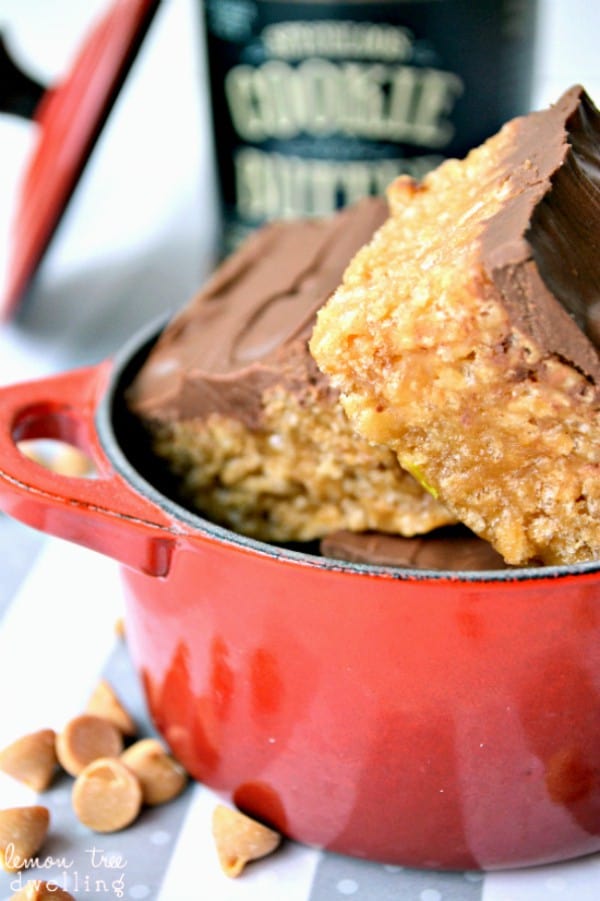 Well, the long story short is that we ended up getting married almost exactly two years after our first date. And every time I think back to the cocktail party where we met, I love the fact that I had a hunch….and that my hunch was right!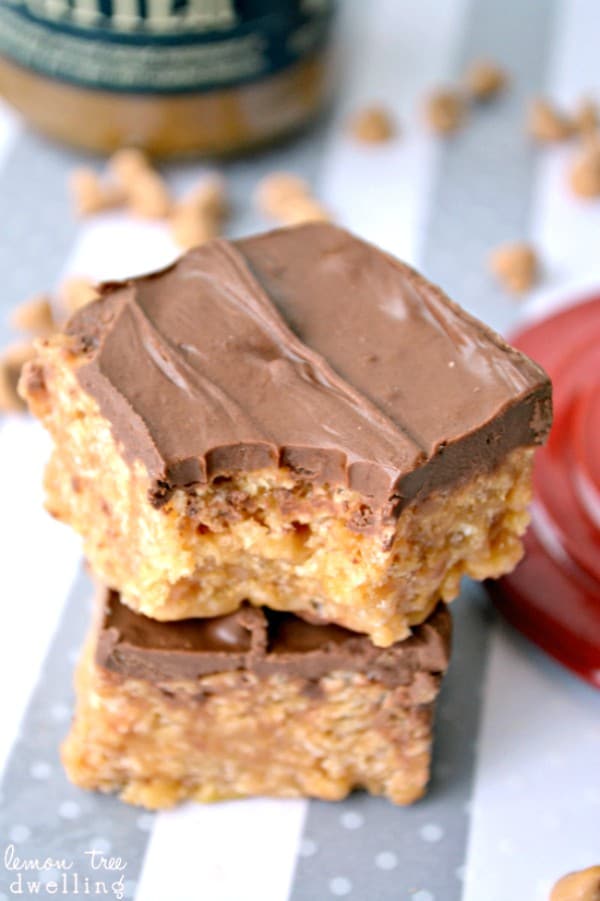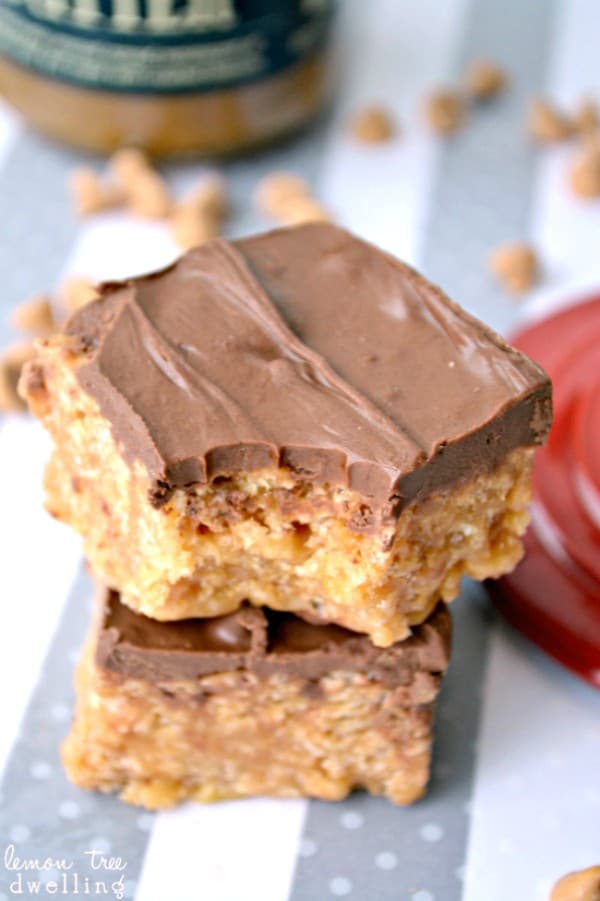 I hate to compare my marriage to food……..but the similarities can't be denied. Both scotcheroos and cookie butter were introduced to me by someone else (just like Jorden.) And, with both, I had an immediate attraction – a feeling of wanting them to be part of my life (just like Jorden….!)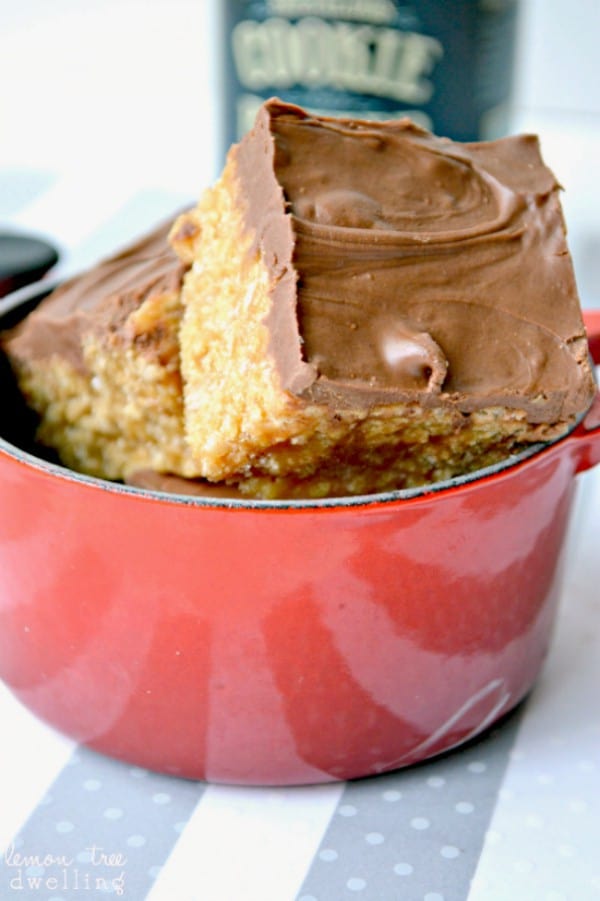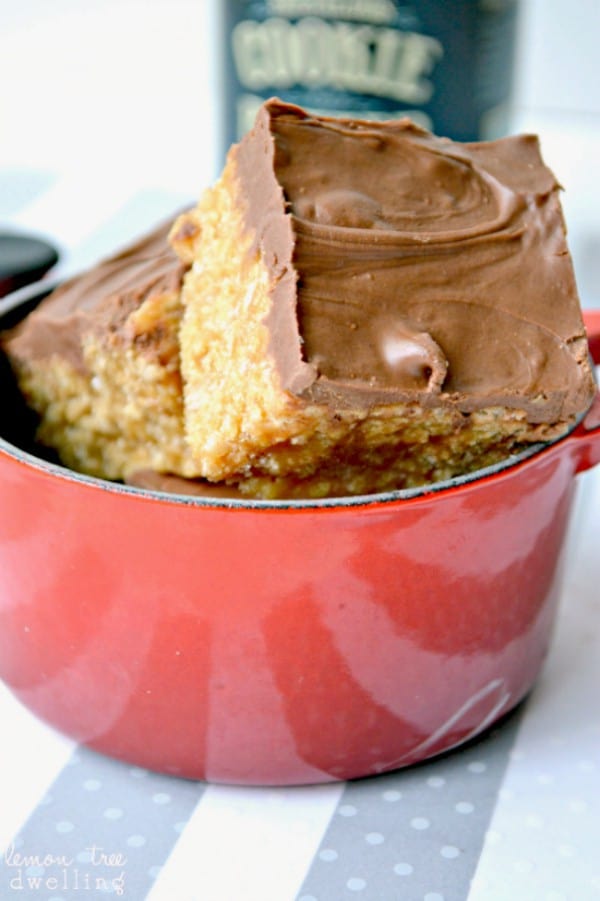 So I decided to combine the two….and from first bite, I was in love (yep, just like Jorden! Are you noticing a theme!?) So yeah….I guess what I'm saying is that, if I could, I would marry these guys. Unfortunately, I've already eaten (ALL) of them. (I guess it's not going to work.)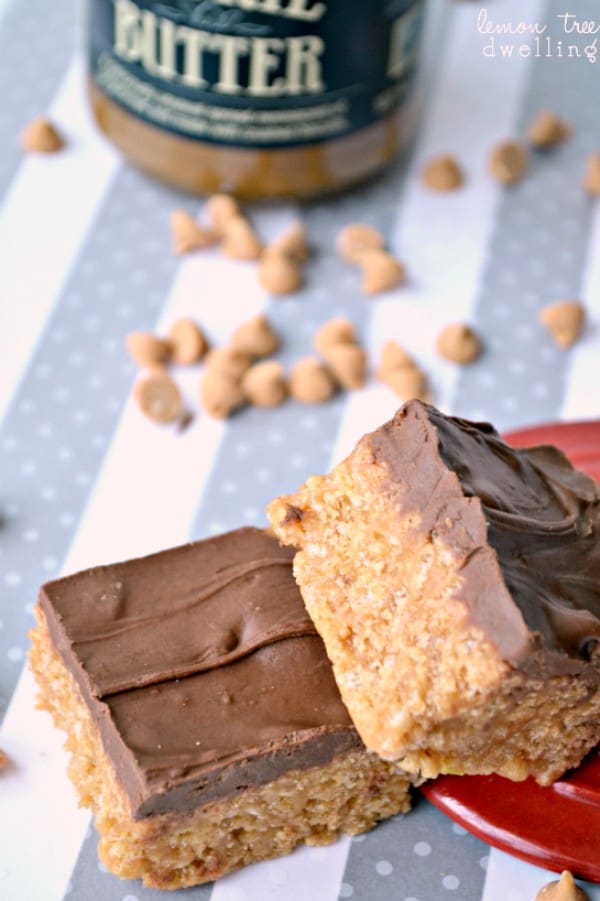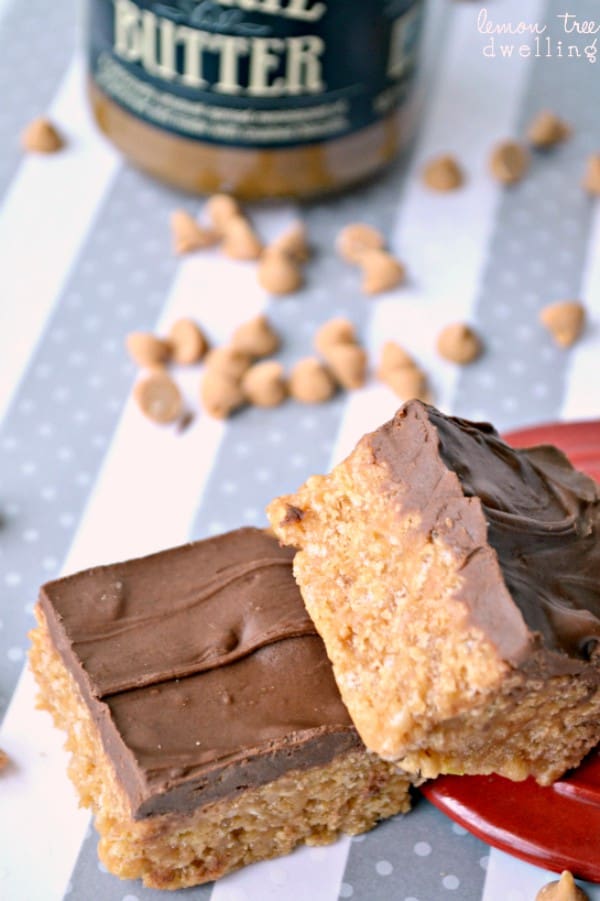 But every time I think about them, I can't help but wonder….Cookie Butter Scotcheroos, WHERE HAVE YOU BEEN ALL MY LIFE!??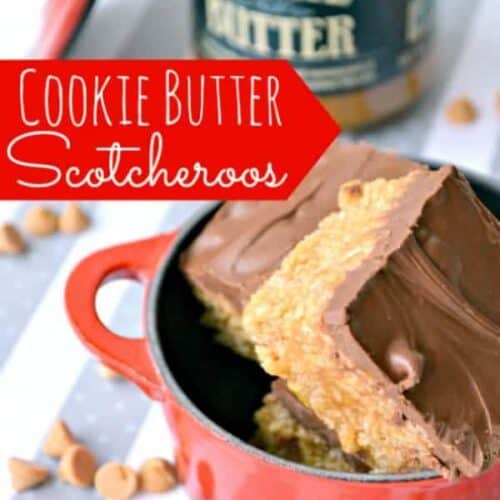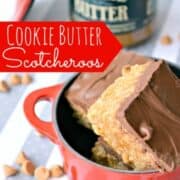 Cookie Butter Scotcheroos
Ingredients
4

c.

crisp rice cereal

1

c.

granulated sugar

1

c.

light corn syrup

1

c.

Cookie Butter or Biscoff Spread

1

c.

semi-sweet chocolate chips

1

c.

peanut butter chips
Instructions
Combine sugar and corn syrup in small saucepan; cook over medium heat until small bubbles appear on surface. Remove from heat.

Stir in cookie butter.

Add cookie butter mixture to cereal; mix until cereal is coated.

Spread into buttered 9x13 inch pan.

Melt chocolate chips with peanut butter chips; stir to combine and spread over cereal mixture.

Chill until set.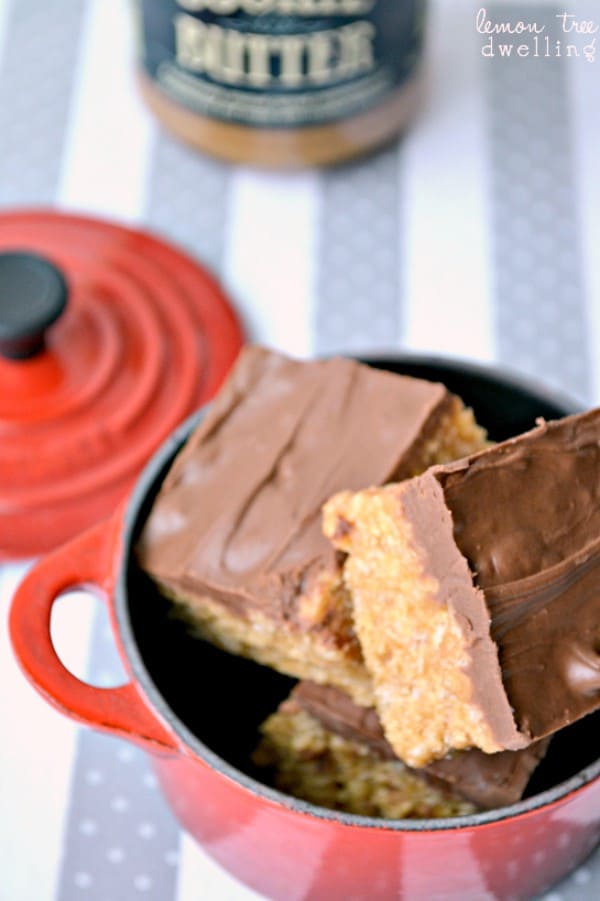 Enjoy!!
Looking for another delicious twist on an old favorite? Check out my Cinnamon S'more Blondies!