Pumpkin Spice Smoothies – all the pumpkin spice flavors you love, in a smoothie! A quick, easy, and delicious way to start your fall days!!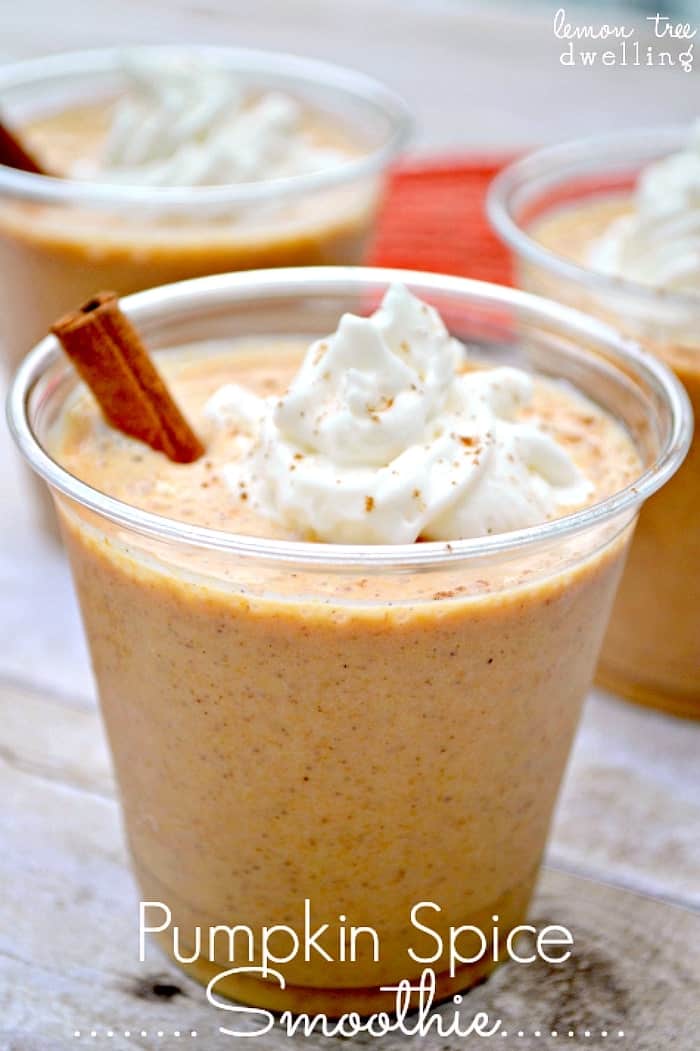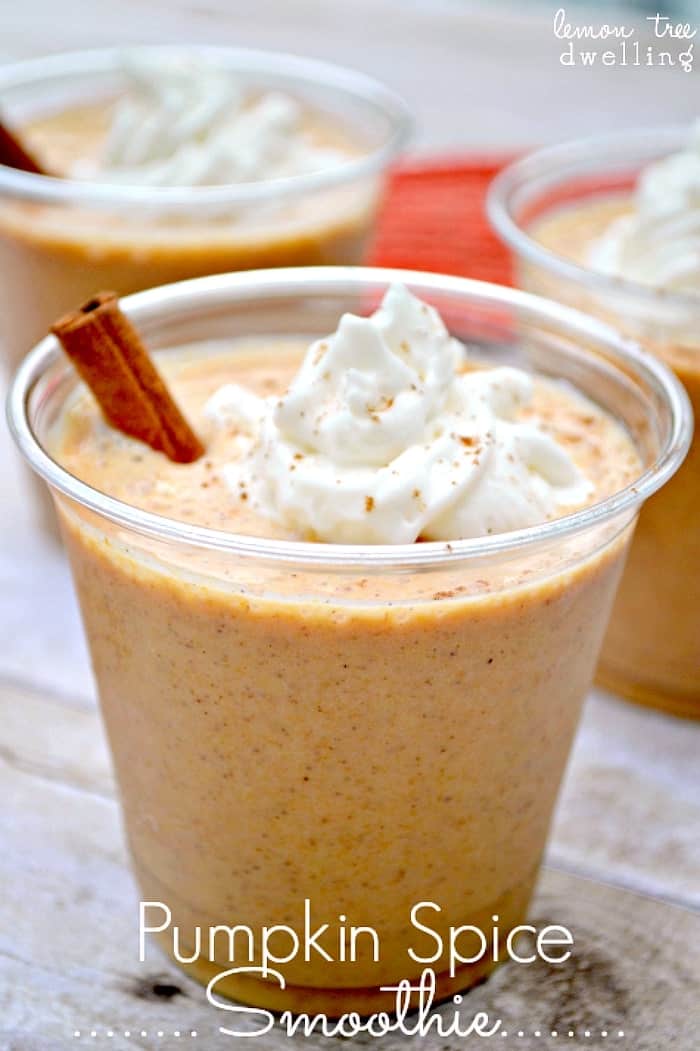 There is nothing I love more about mornings than waking up, heading downstairs, opening up all the curtains, toasting myself a bagel, and starting a pot of coffee. Strong coffee….of course….(is there any other type??) As silly as it sounds, it is something I look forward to – the stream of morning sunlight, the toasted bagel, and the hot, strong coffee (especially the coffee)! The only thing that makes it better? Those days when, by some small miracle, the kids are still sleeping. I love having a few moments of peace and quiet – with my bagel and coffee in hand – before they wake up. And although I don't make waking up before the kids a regular thing, on mornings when it just happens, I can tell it's going to be a good day.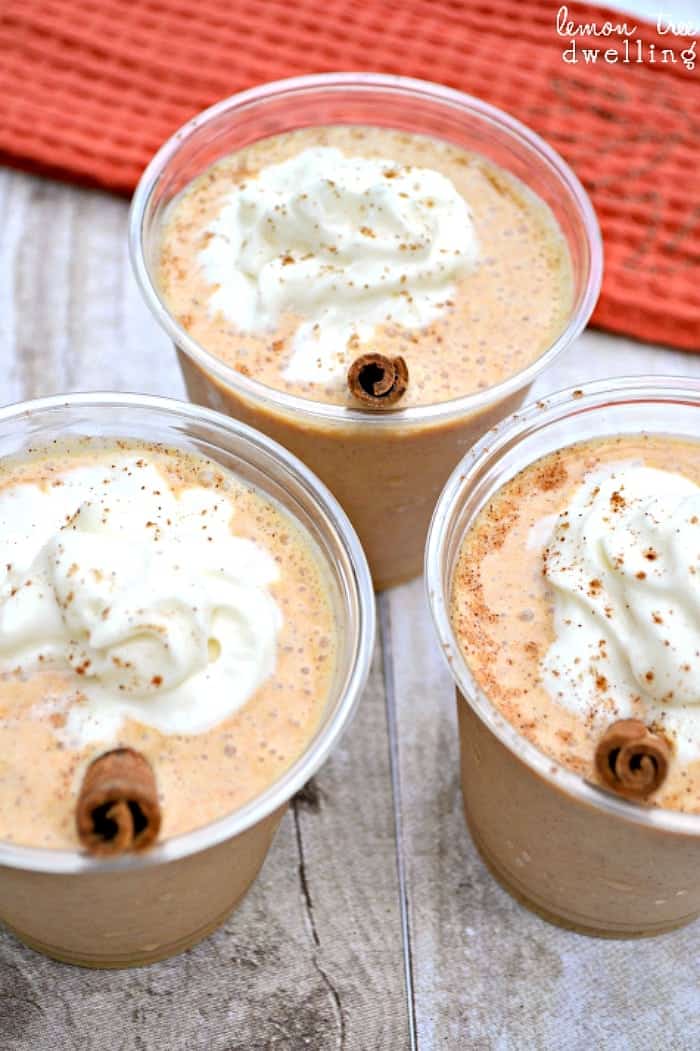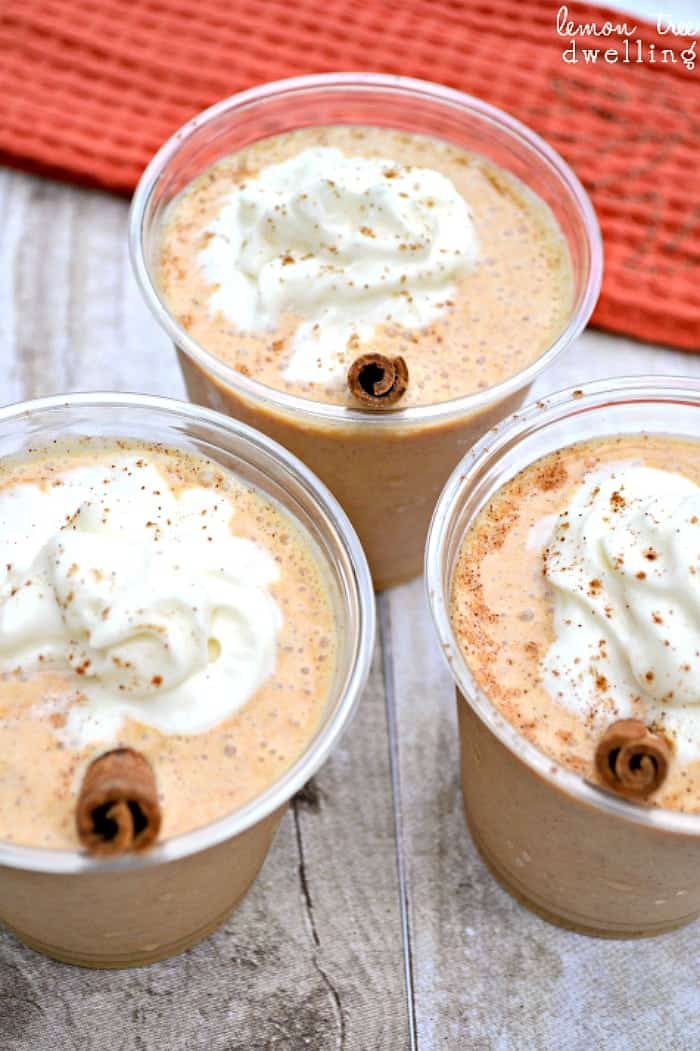 There are lots of little things like that…..little things I look forward to that make a big difference. Like going for a daily run, snuggling on the couch and reading books to my kids, taking a hot shower, pouring a glass of wine, occasionally ordering sushi….or Thai….and, every once in a blue moon, treating myself to Starbucks. I don't know what it is about Starbucks that feels like SUCH a treat. Maybe because it's so easy to make coffee at home….or because it's so hard to spend $5 on a latte??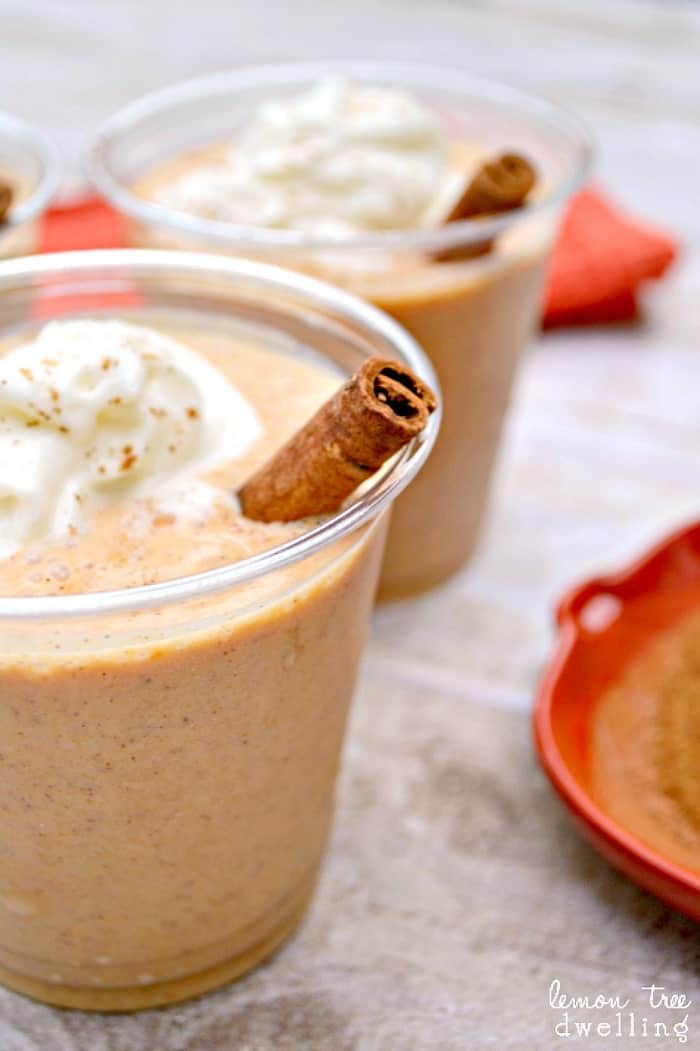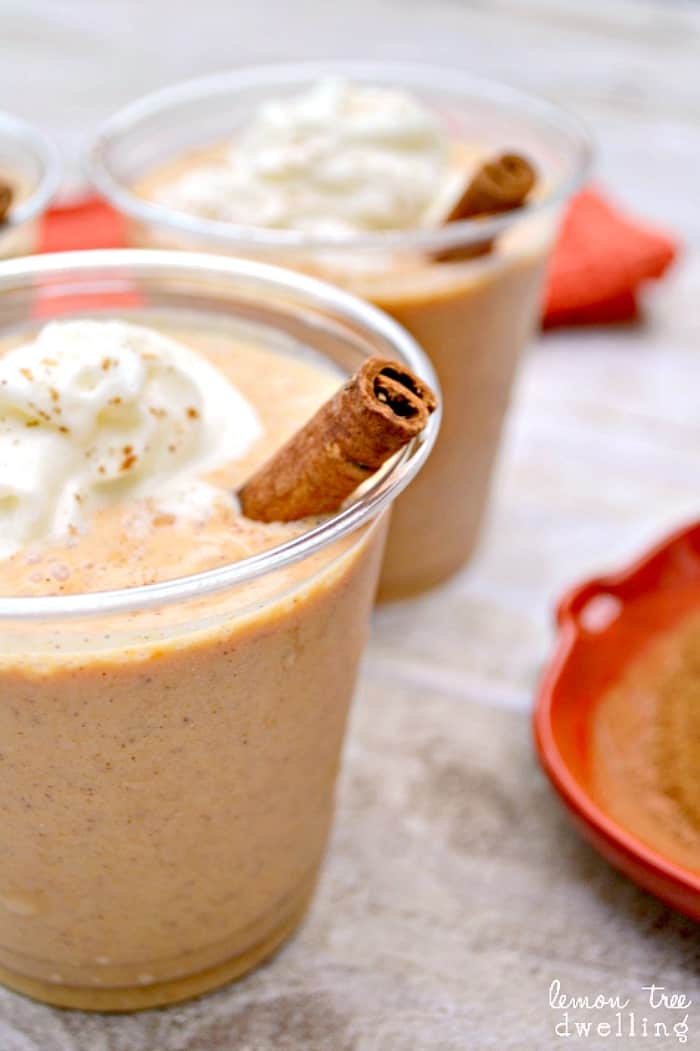 Whatever the reason, it's something I rarely treat myself to! I am much more likely to drive into the parking lot, sit in my car for a minute, and then drive off empty-handed because I just can't bring myself to spend the money! But on the rare occasion that I do….you better believe I'm ordering myself a pumpkin spice latte. Warm, creamy, spicy and delicious. Perfect for fall! And on all the days I don't….I'll be treating myself to a different pumpkin spice treat….this delicious Pumpkin Spice Smoothie!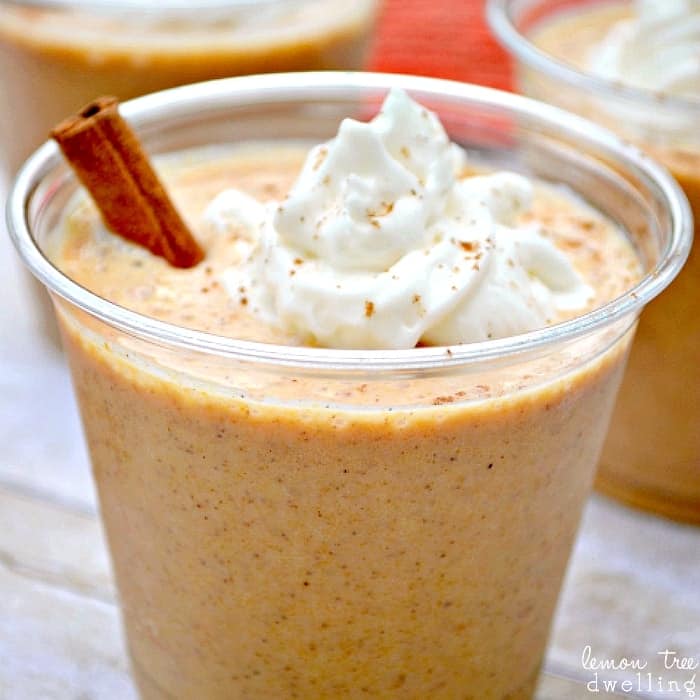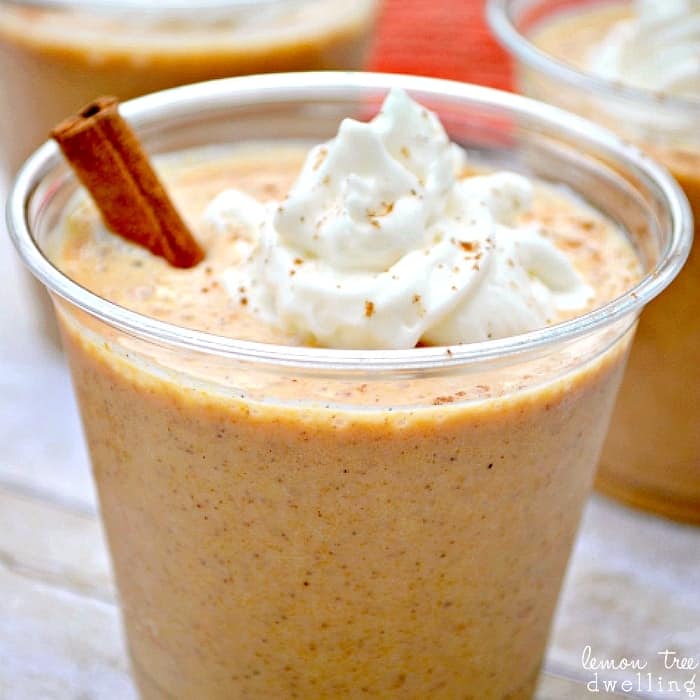 Ready in no time, with all the pumpkin spice flavors you've come to LOVE, and best of all, it's good for you! It's a whole new kind of something to look forward to…..and believe me….you will!!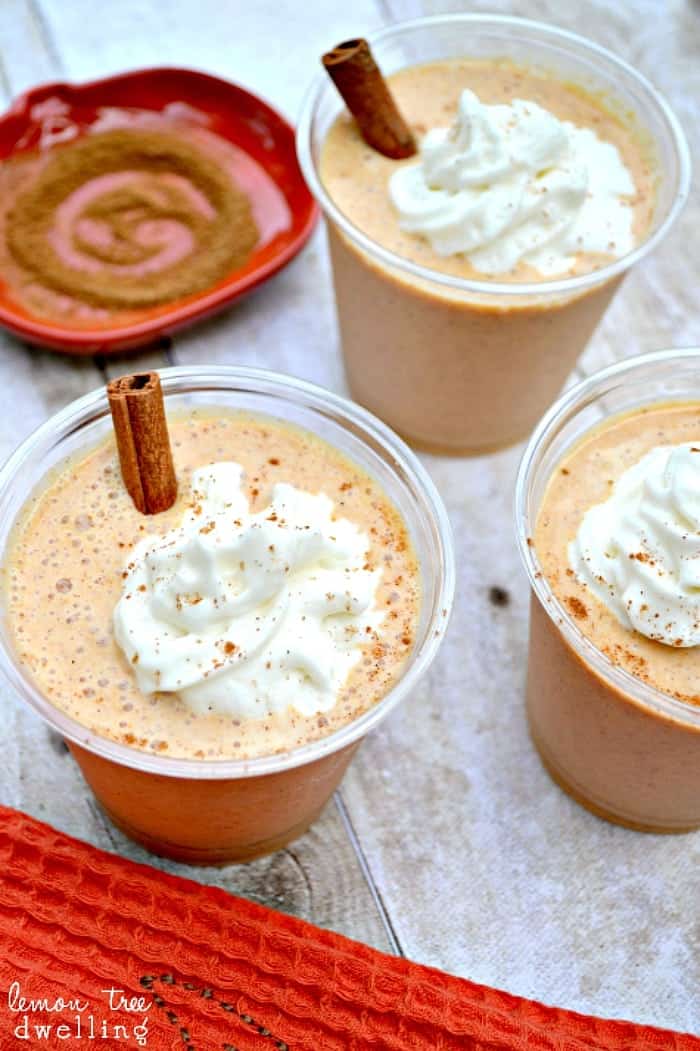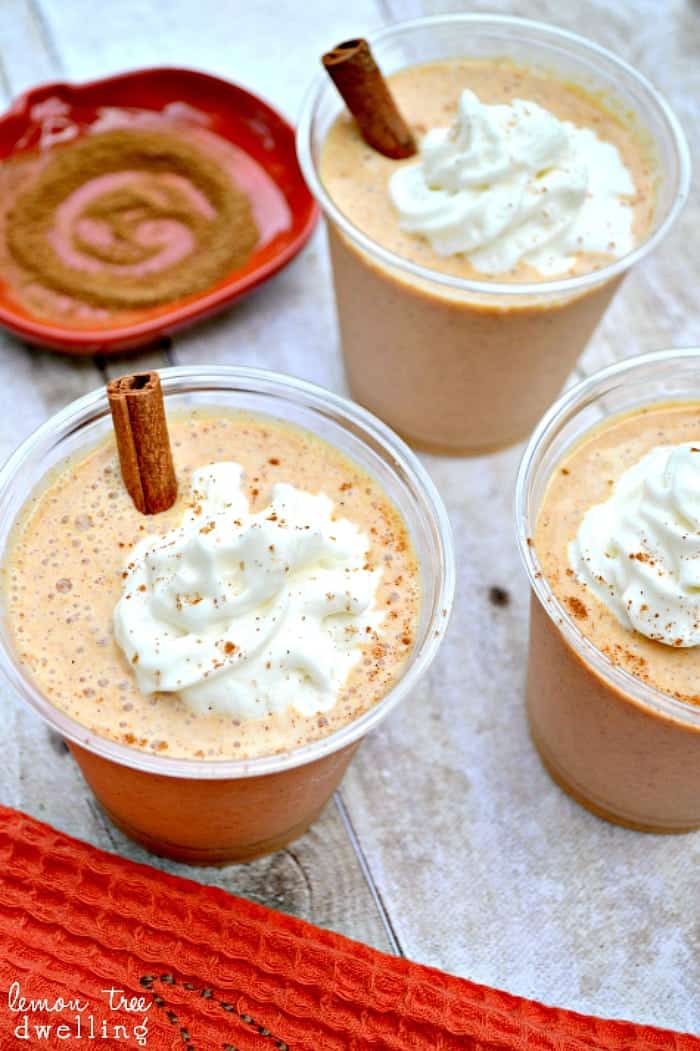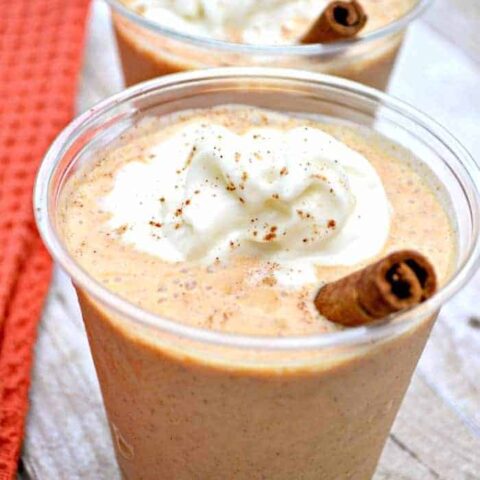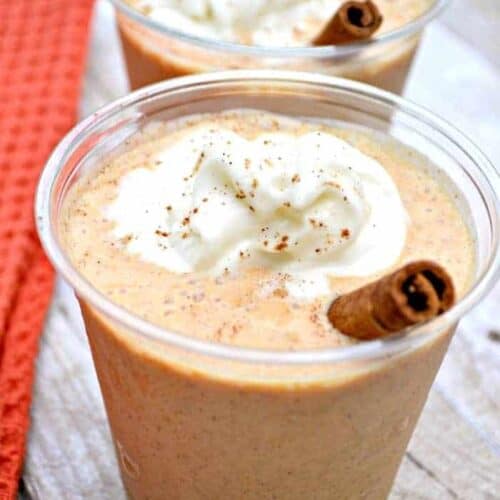 Pumpkin Spice Smoothie
Ingredients
1/2 cup vanilla yogurt
2 ounces pumpkin puree, frozen (2 cubes)
1/2 frozen banana, cut into pieces
1 Tablespoon maple syrup
1/4 teaspoon pumpkin pie spice (I used homemade - recipe below)
Instructions
Pre-freeze pumpkin puree by dividing 1 (15 ounce) can into an ice cube tray and freezing. (You will have enough to fill more than one tray.)
Combine all ingredients, except cinnamon stick, in blender and blend until smooth.
Pour into glass; garnish with a cinnamon stick.
Notes
Homemade Pumpkin Pie Spice
4 Tablespoons ground cinnamon
4 teaspoons ground nutmeg
4 teaspoons ground ginger
3 teaspoons ground allspice
Nutrition Information:
Yield:

1
Serving Size:

1 grams
Amount Per Serving:
Calories:

221
Total Fat:

2g
Saturated Fat:

1g
Trans Fat:

0g
Unsaturated Fat:

1g
Cholesterol:

6mg
Sodium:

81mg
Carbohydrates:

47g
Fiber:

3g
Sugar:

37g
Protein:

7g