Pumpkin Ginger Streusel Bread is the BEST pumpkin bread with a DELICIOUSLY sweet and crunchy ginger streusel topping. This moist and flavorful bread is perfect as a snack or better yet, for breakfast!
A mouthwatering addition to any holiday menu!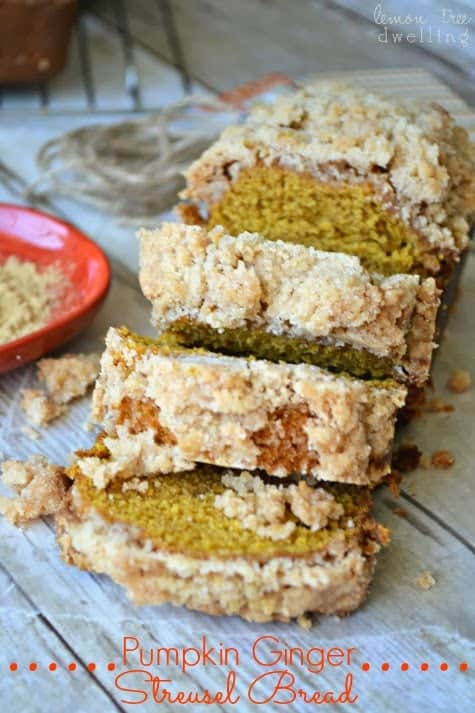 If there is one thing that's true about me, it's that when I find something I like, I want it as much as possible. Within reason, of course. Like sushi. I LOVE ordering sushi on a Friday or Saturday night….and if it were up to me, we'd have it EVERY Friday or Saturday night! It's so good! Also on the list….coffee, Bruegger's bagel sandwiches, Thai carryout, a glass of wine, and my latest favorite, dried mango from Trader Joe's. Pregnancy does weird things to you.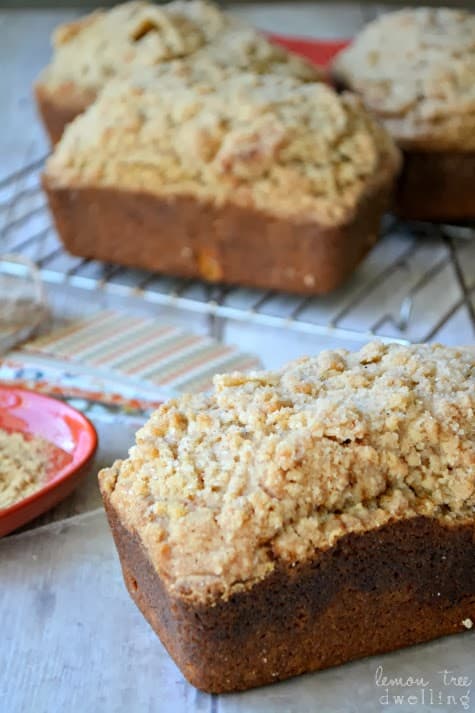 I'm the same way with homemade foods, and baked goods, in particular. There's just something so comforting about rolling out of bed and knowing you have a delicious breakfast waiting for you…and a homemade one, at that! So I tend to go in baking spurts. I bake something delicious, I get used to the comfort of it, I bake it a few more times, and then eventually decide that maybe 12 loaves of pumpkin bread is enough….and I give it a rest for a while. Right now we are on loaf #8 (to be fair, they are mini loaves…..).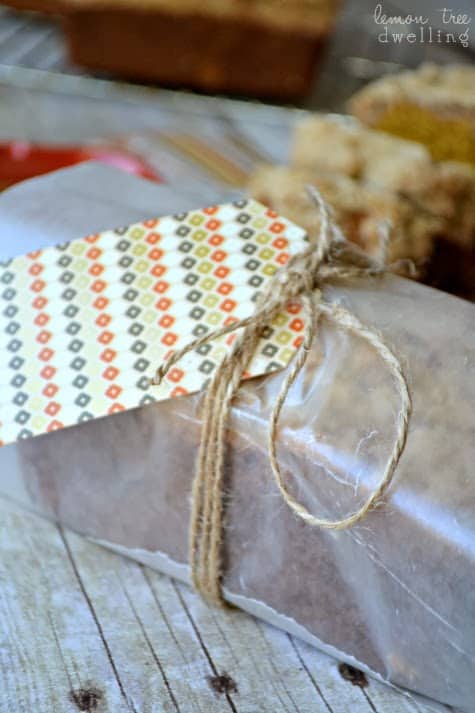 Pumpkin Ginger Streusel Bread
And I knew this would happen! We've had the pumpkin bread minus the streusel topping before….and it's definitely a favorite around here! But add streusel topping to anything and my kids are ALL OVER IT! They want it for breakfast, snack, dinner, and dessert. And, in all fairness, so do I! If you've never had Pumpkin Ginger Streusel Bread before, you must try this! And even if you have had it, I can guarantee you haven't had it like this! This stuff is good. Almost TOO GOOD. Consider yourself warned.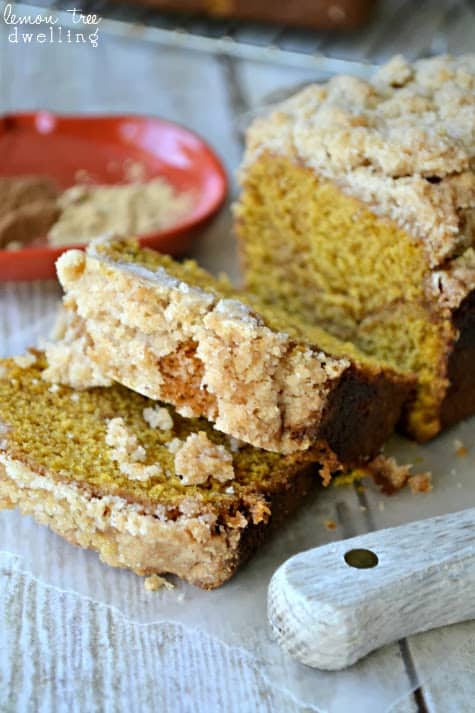 Pumpkin Ginger Streusel Bread
2 c. sugar
1 c. packed brown sugar
3/4 c. vegetable oil
1 1/2 tsp. baking soda
1 tsp. baking powder
1 tsp. salt
1/2 tsp. allspice
1/2 tsp. cinnamon
1/2 tsp. ginger
1/2 tsp. nutmeg
1 (15 oz.) can Libby's pumpkin puree
2 eggs
3 1/2 c. flour
1/3 c. water
1. Combine sugar, brown sugar and oil in a large mixing bowl. Beat at low speed until blended.
2. Add a mixture of the baking soda, baking powder, salt, allspice, cinnamon, ginger, and nutmeg. Beat at medium speed until blended.
3. Add the pumpkin and eggs and beat at medium speed until incorporated.
4. Add the flour and water and stir just until moistened.
5. Spoon the batter into 6 mini loaf pans sprayed with nonstick cooking spray.
6. Prepare ginger streusel topping (recipe below) and divide evenly among the 6 pans. Press streusel down gently.
7. Bake at 375 degrees approx. 40 minutes or until top of bread is golden brown. Cool in the pans 10 minutes; remove to a wire rack to cool completely. *Be careful when removing bread from pans – topping is crumbly and you don't want to lose it!
Ginger Streusel Topping
1 c. sugar
2/3 c. flour
1 tsp. ginger
1/2 tsp. cinnamon
1 stick butter, softened
1. Combine all ingredients in a medium mixing bowl; blend with a fork until crumbly.
(*Basic Pumpkin Bread recipe adapted from Breadsmith)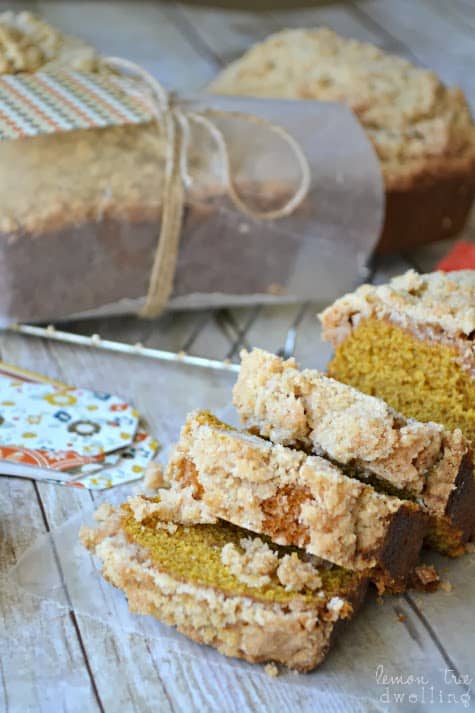 Enjoy!
Here are a few more holiday recipes you may enjoy!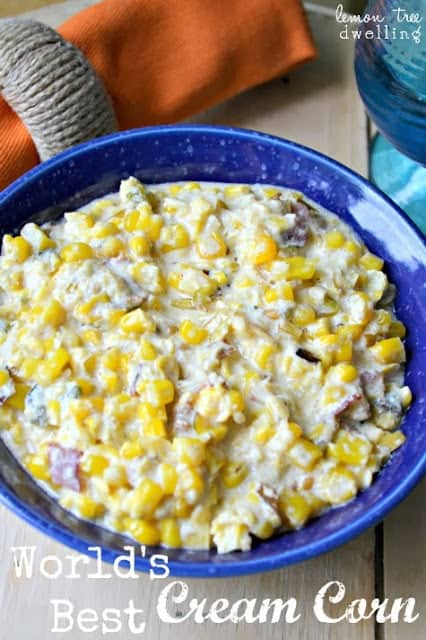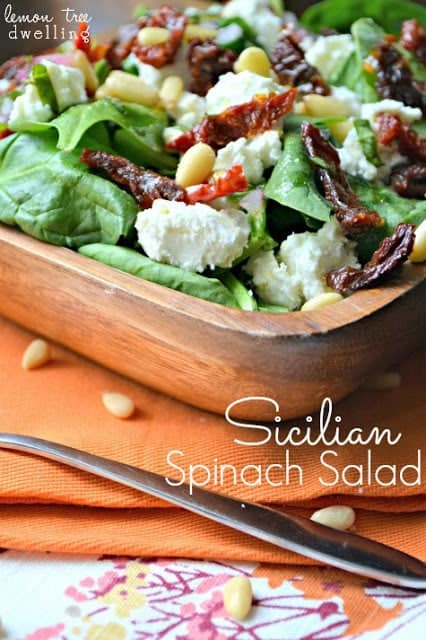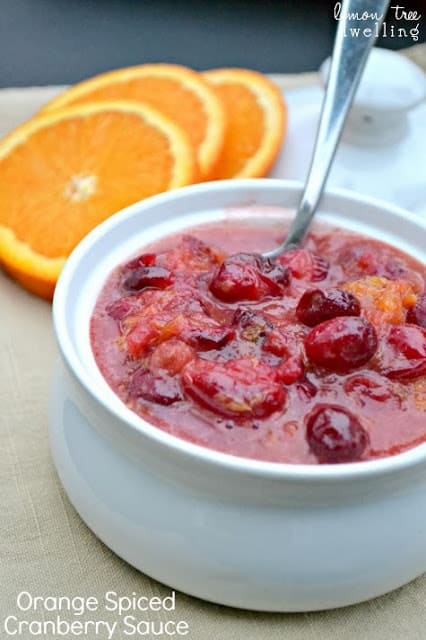 I hope you feel right at home!