Butternut Squash Ravioli is simply delectable as a main dish or side dish. Cheese ravioli is topped with delicious butternut squash, fresh sage and walnuts. This is perfect for those cold winter nights!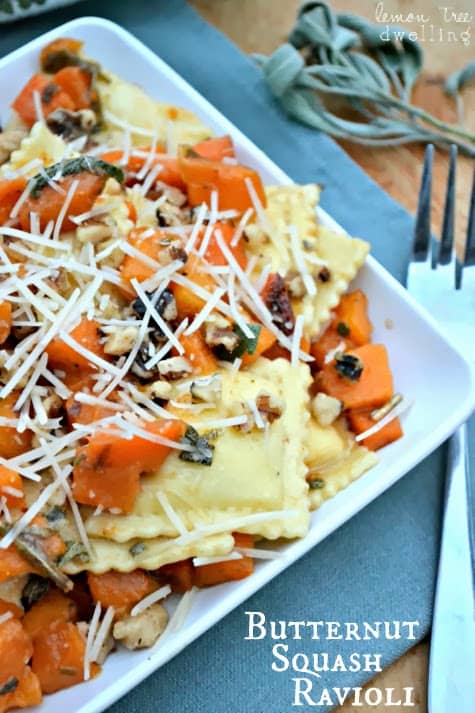 Happy Monday, everyone! Is your November flying by as quickly as mine is? I really can't believe it's already the 18th, and Thanksgiving is just 10 days away, and Christmas is just over a month from now. I am resisting the urge to feel stressed by it…..after all, this is the GOOD STUFF! If I'm going to stress myself out about some of the most special time I have with my family and friends, I'm going to miss out on it! So….at least for now….I'm refusing to let it feel like too much.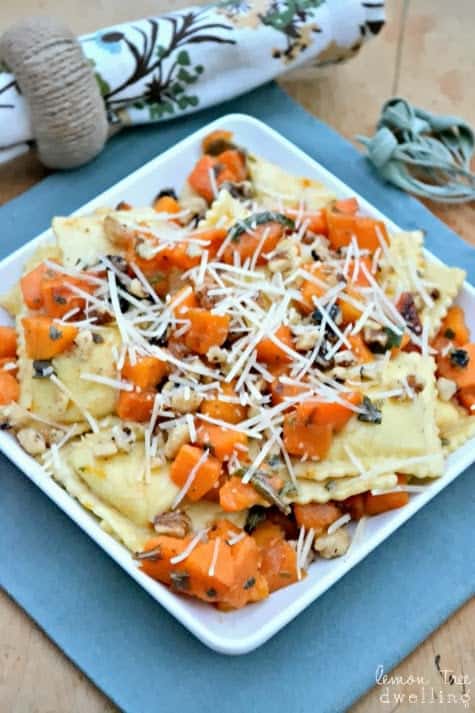 Instead, I'm enjoying doing my Christmas shopping a little bit at a time….putting together one gift, then another, and slowly checking people off my list. And I'm really enjoying doing one of my favorite things of all….menu planning! Thinking about the menu is always one of the first things I do, and one of the things I get most excited about! (Go figure!) Since this year we're hosting a late Thanksgiving get together with my dad's family, my mind has been racing with ideas!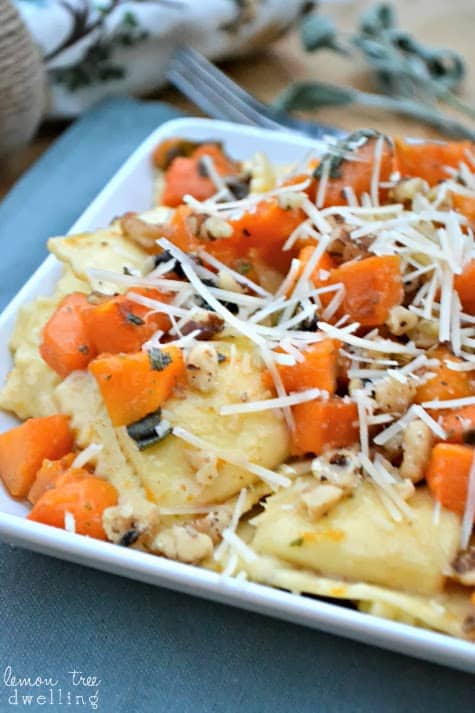 Butternut Squash Ravioli
Since most of us will already have had our fill of turkey, and some of the group is vegetarian, we have to think outside the box a bit. In the past, we've made Thanksgiving pizzas, soups and salads, Thanksgiving lasagna, and sandwiches…..and, because I'm stubborn….I kinda don't want to do any of those again! I want to come up with something different than what we've done before, so I'm trying out ideas now!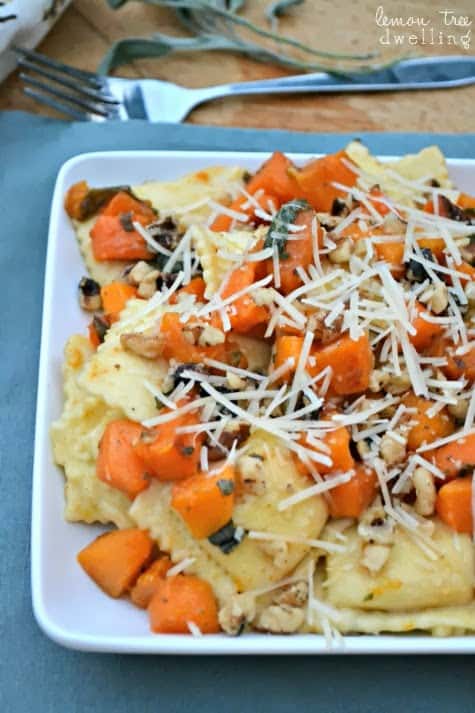 Like this Butternut Squash Ravioli. It's amazingly rich (browned butter), filling (cheese ravioli), and delicious (butternut squash, sage, sea salt….)! It's a great option for vegetarians and non-vegetarians alike….and it's incredibly easy to make! Serve it with a salad, some delicious bread, some cranberry sauce, and whatever else says "Thanksgiving" to you….and you're all set! Now on to the Christmas menu….!
Butternut Squash Ravioli
1 (25 oz.) package cheese ravioli
4 Tbsp. butter
2 c. diced butternut squash
1/4 c. chopped walnuts
1/8 c. dried rubbed sage
1/2 tsp. kosher salt
1/4 c. shredded Parmesan cheese
1. Prepare ravioli according to package instructions.
2. Brown 2 Tbsp. butter in a large skillet; add butternut squash and saute until tender.
3. Toss in walnuts, sage, and salt and stir to combine.
4. Serve butternut squash mixture over ravioli. Top with Parmesan cheese and remaining 2 Tbsp. butter, browned.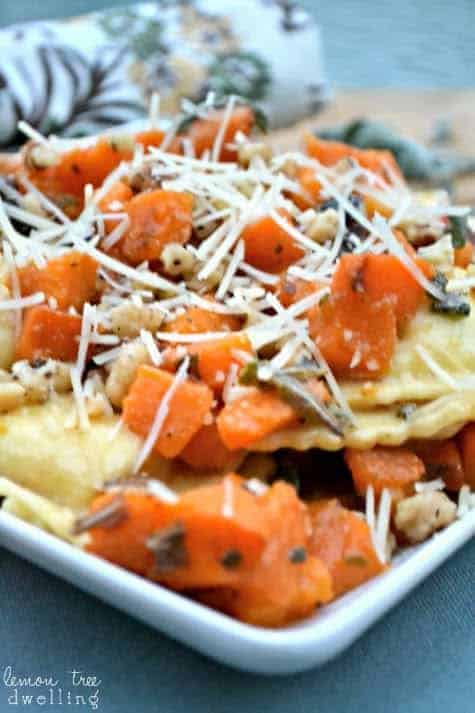 If you are a fan of butternut squash then you should try my
Butternut Squash Risotto.
Also a great crowd favorite and perfect for those long winter nights!
Enjoy!
Thanks for taking a peek inside my Lemon Tree Dwelling…
I hope you feel right at home!