Cherry Pecan Goat Cheese Salad is a refreshingly beautiful side dish, filled with rich holiday flavors. Fresh greens topped with dried cherries, pecans, goat cheese, green onions, and homemade balsamic vinaigrette. Perfect any time!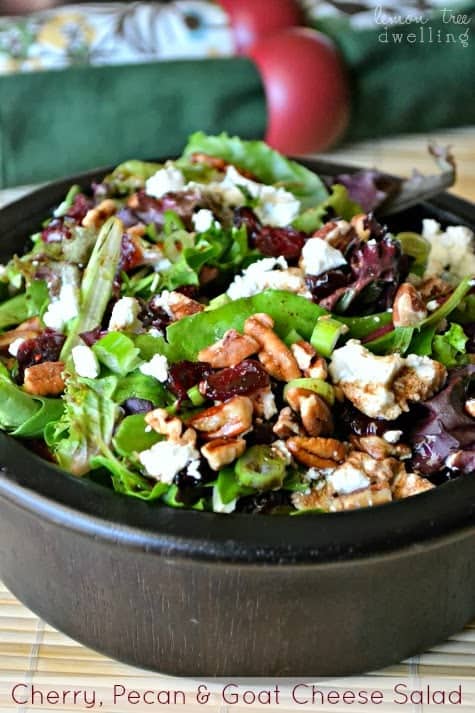 Having three kids is fascinating, to say the least. And the fact that they are all girls is even more fascinating! In some ways, they are all pretty typical little girls. They love drawing and painting and dressing up and playing baby and having dance parties…..and emotions run high, nearly all the time. But in other ways, I am sometimes amazed at how much they remind me of little boys! They love running and chasing and wrestling and potty talk….especially potty talk…..and, given the chance to play firefighter or police officer, they'll take it every time!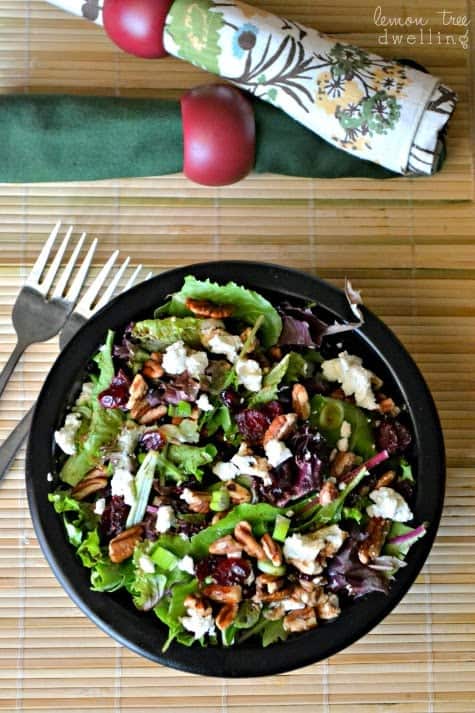 One of the other things that's fascinating about having 3 girls? How different they all are from one another. Tonight we have parent teacher conferences for the older two, and I can't wait to see what their second grade and kindergarten teachers have to say about them. There are obvious differences we see at home – Ellia lets all her feelings out, Greta keeps them in until she has a meltdown; Ellia wants a constant playmate, Greta is much better at playing on her own – but I always wonder if or how those things translate to who they are at school. I guess we will find out at least a little bit tonight!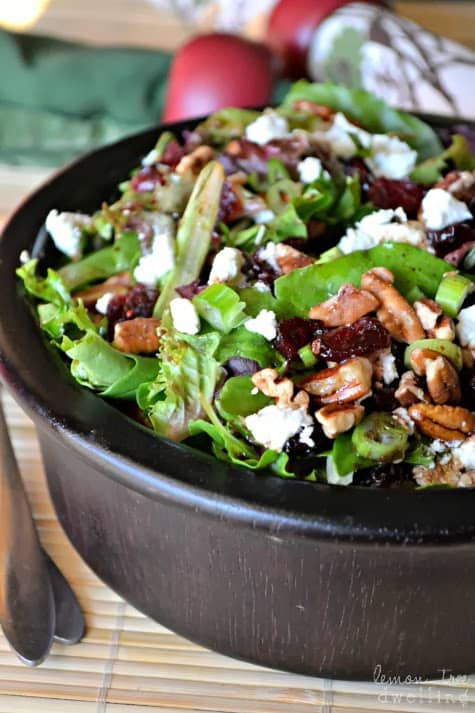 Between the two of them, I definitely find it easier to relate to Ellia. We're more alike in more ways! (As for Nora, I'm still trying to convince myself that her current level of sassiness is just because she's 2….not because it's indicative of who she'll turn out to be…..) Greta definitely picks up on the fact that she's somewhat of a mystery to me, and the other day, actually said out of the blue, "Mommy doesn't understand me." And although she said it to be silly, with a little smile on her face, there is truth to it! There is a lot about her that I don't totally understand! That said, I want her to feel free to be herself, whether I understand it or not. Parenting – no one ever said it was easy.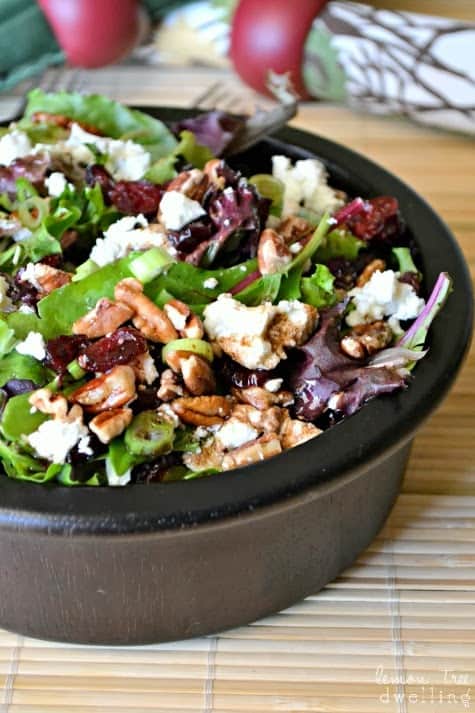 But you know what IS easy? This Cherry Pecan Goat Cheese Salad! It couldn't be easier, in fact….and the payoff is huge. Kinda like parenting….minus the easy part. 🙂
Cherry Pecan Goat Cheese Salad Recipe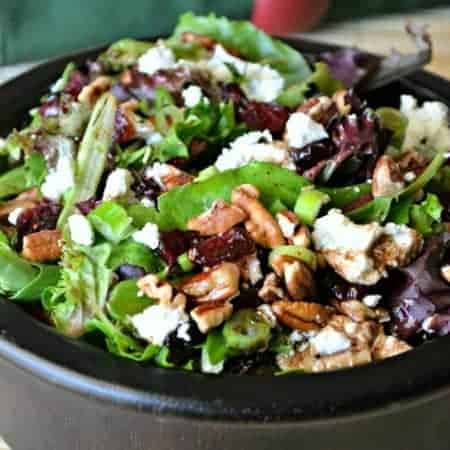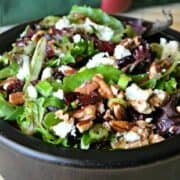 Cherry, Pecan & Goat Cheese Salad
Ingredients
Salad
10

oz.

fresh greens

1/2

c.

dried cherries

1/2

c.

chopped pecans

5

oz.

goat cheese

3-4

sliced green onions
Balsamic Vinaigrette Dressing
3/4

c.

olive oil

3

Tbsp.

balsamic vinegar

2

tsp.

minced red onion

1/2

tsp.

dried oregano

1

garlic clove

minced

1/2

tsp.

salt

1/2

tsp.

sugar

1/4

tsp.

pepper
Instructions
Combine all salad ingredients in a large bowl.

Mix dressing; drizzle on salad and toss.