This Pistachio Spinach Salad is filled with delicious fresh ingredients and marinated chicken breast, perfect with a creamy balsamic dressing. This colorful salad makes a great quick lunch or a healthy dinner option!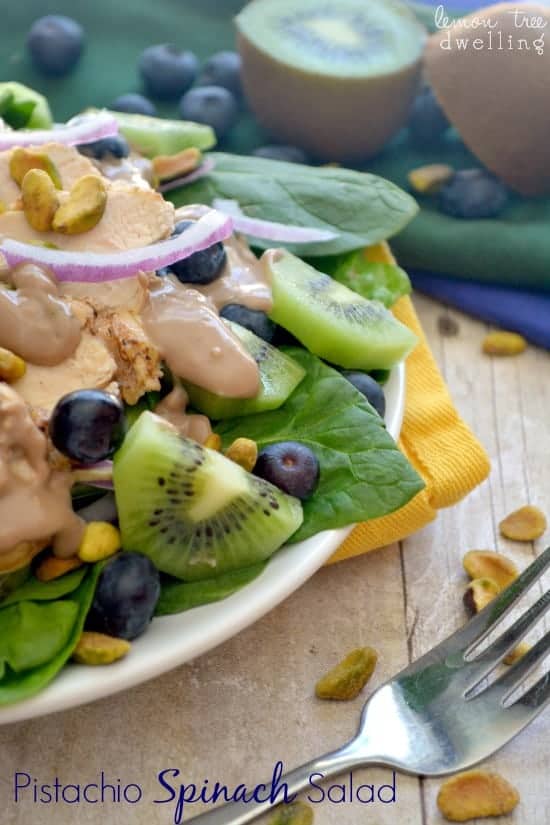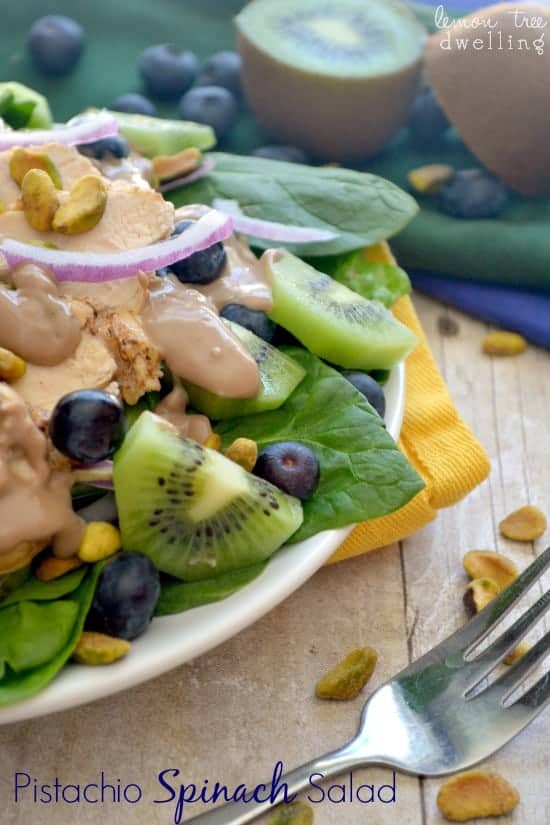 Have I mentioned before how much I LOVE salads?? I pretty much could – and do – eat them every day! To the point where my kids will ask me why I eat so many salads. And my siblings will ask me to bring a salad to every family gathering. And if I don't have any greens in the fridge, I will have a mini panic attack! Okay….not really. But since it's my go to lunch, I will definitely have to come up with an alternate plan!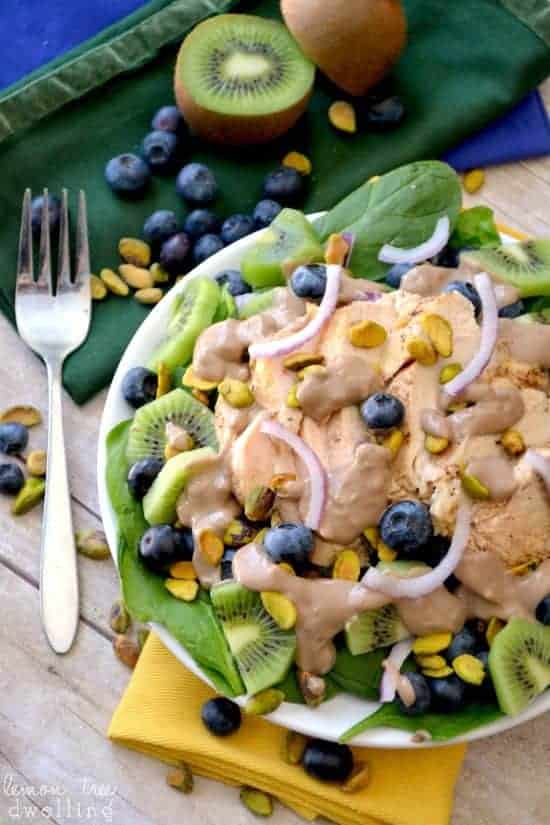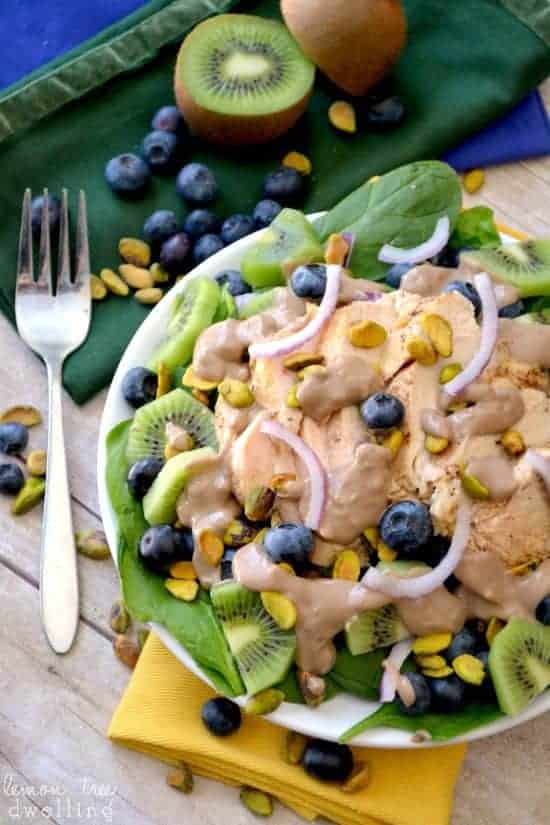 One of my favorite places to eat salads? At restaurants. I know that might sound crazy – like who orders a salad at a restaurant – but when you love salad as much as I do, you barely even make it past all the delicious options on that first page! I think it used to bother Jorden…he used to think that paying for salad was a waste of money…but he's since realized there's nothing he can do about it. It makes me happy!
Pistachio Spinach Salad – A healthy meal
My love of salads actually goes back to college, and probably even earlier. I remember taking FULL advantage of the dorm cafeteria's salad bar. People would comment on my "monster salads" and I even earned the nickname "Salad Queen." Now that's something to be proud of! But here's the deal. I don't like a wimpy salad. I want it to fill me up and leave me satisfied! Which means it needs to be LOADED!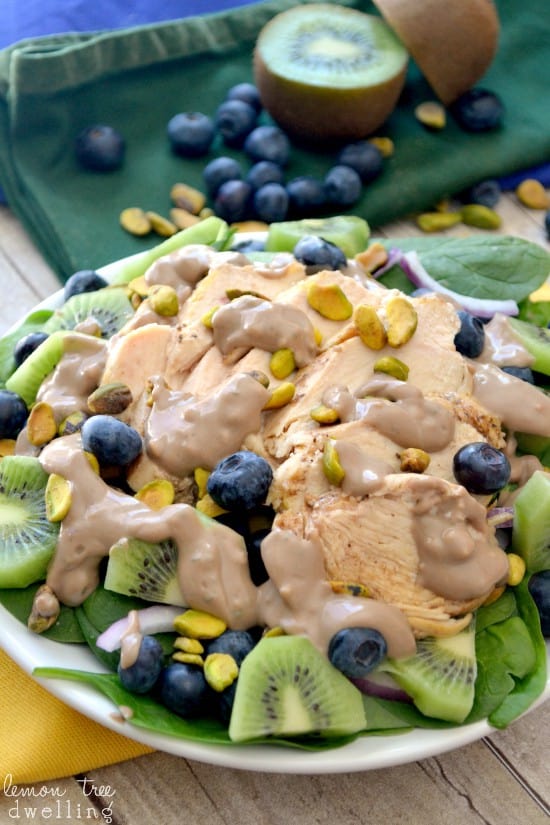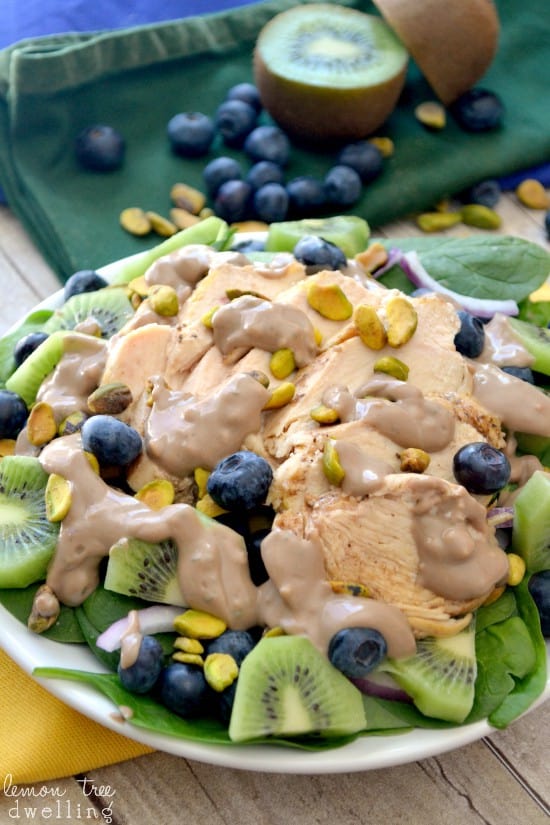 I'm not picky about my toppings….I like variety….but I am picky about what goes well together. I love including different meats, cheeses, nuts, veggies, and fruits, and I love experimenting with new combinations! And, of course, I'm a huge believer that the dressing ties it all together….and it better be good! Believe it or not, with this particular salad I was inspired by the colors first! I wanted it to be pretty….and then delicious. Hey – if food doesn't look good, it doesn't taste good, right?? At least that's what this Salad Queen says….!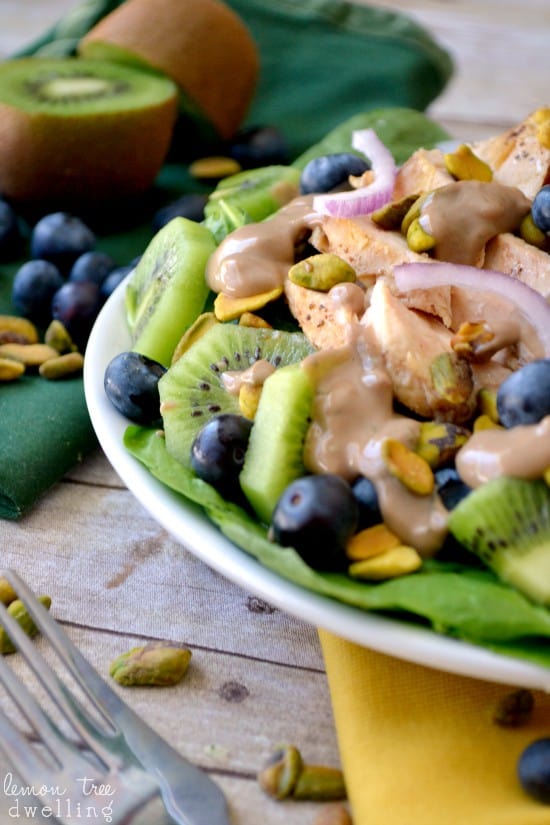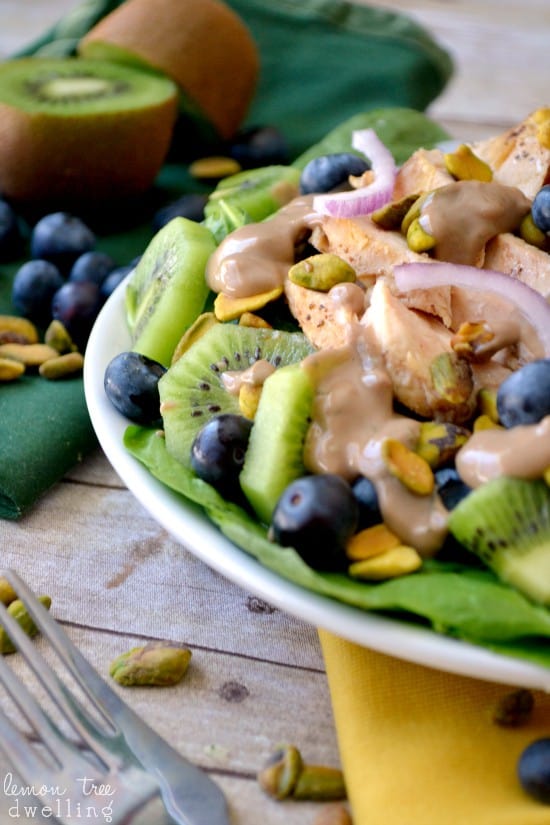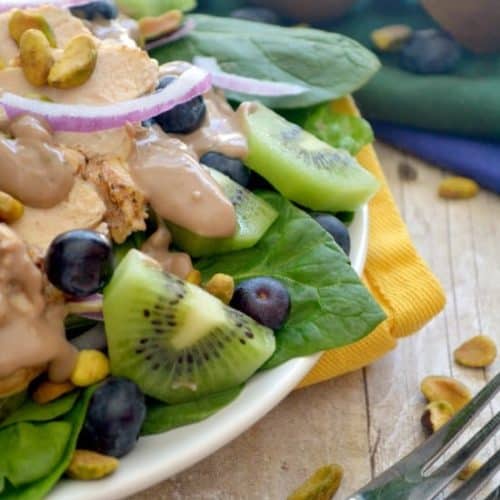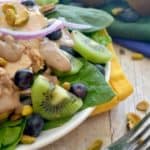 Pistachio Spinach Salad with Creamy Balsamic Dressing
Ingredients
Pistachio Spinach Salad
3

c.

baby spinach

1/2

c.

fresh blueberries

1

kiwi

peeled and sliced

1/2

large chicken breast

baked and sliced*

1/8

c.

pistachios

1

slice

red onion

quartered

*I covered my chicken in balsamic vinaigrette dressing and baked in a covered glass baking dish at 375 degrees for approx. 40 min.
Creamy Balsamic Dressing
1/4

c.

sour cream

1/4

c.

mayonnaise

3

Tbsp.

balsamic vinegar

1

Tbsp.minced red onion

1/2

tsp.

dried oregano

1/2

tsp.

salt

1/2

tsp.

sugar

1/4

tsp.

pepper
Instructions
Salad
Layer toppings over bed of spinach.
Dressing
Combine all ingredients and mix until smooth.
Looking for more delicious salad recipes? Try my list of 25 Seriously Delicious Salads!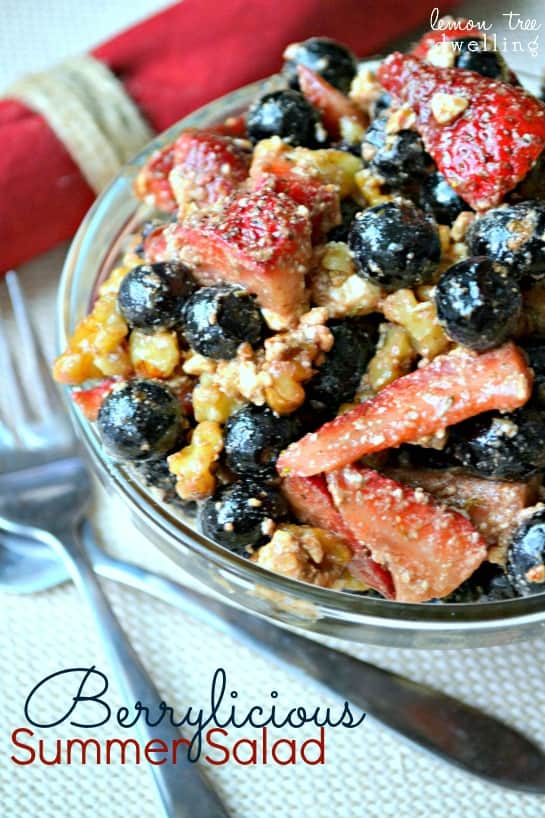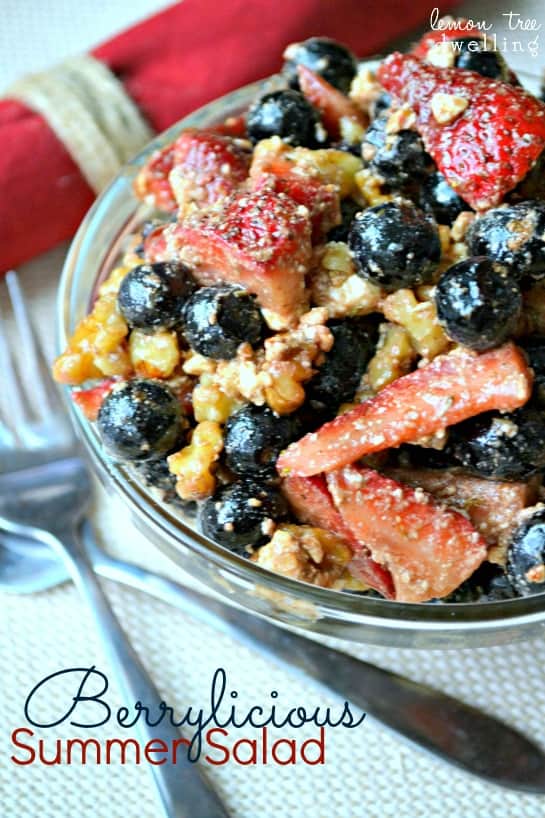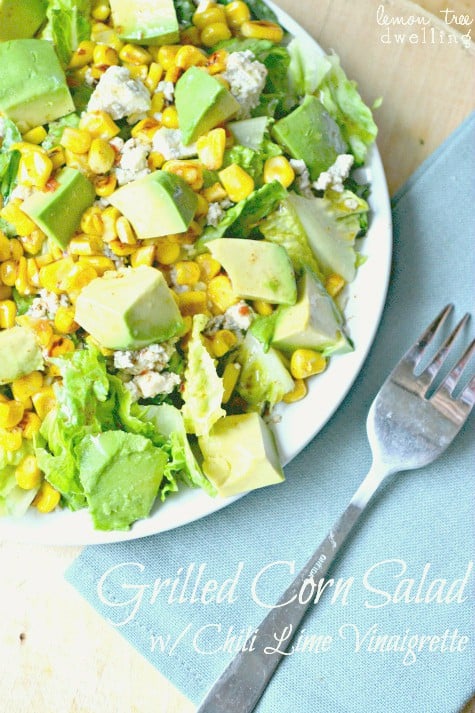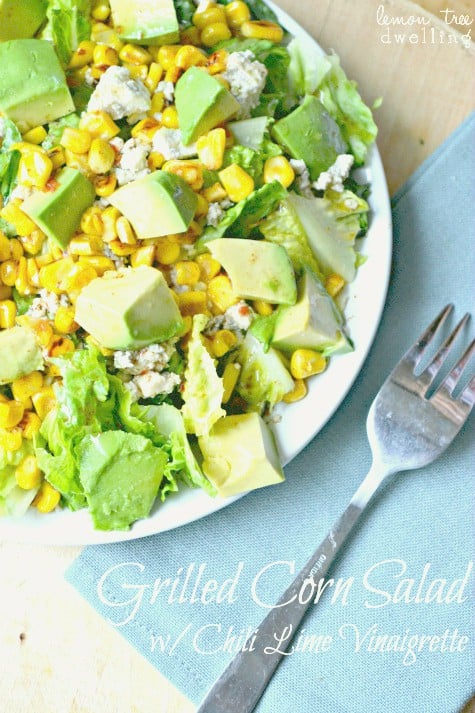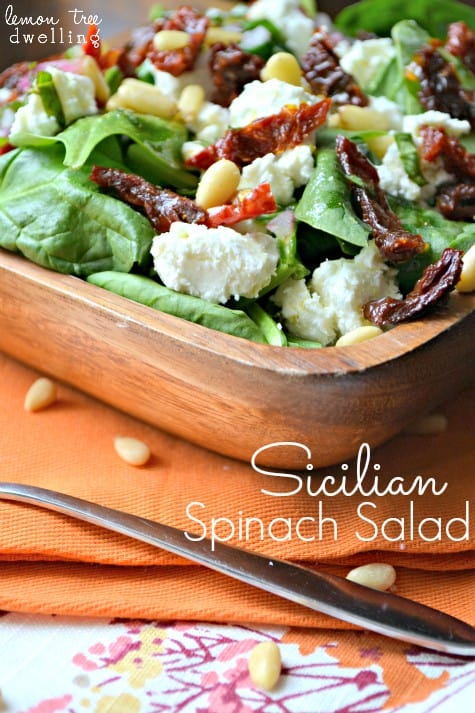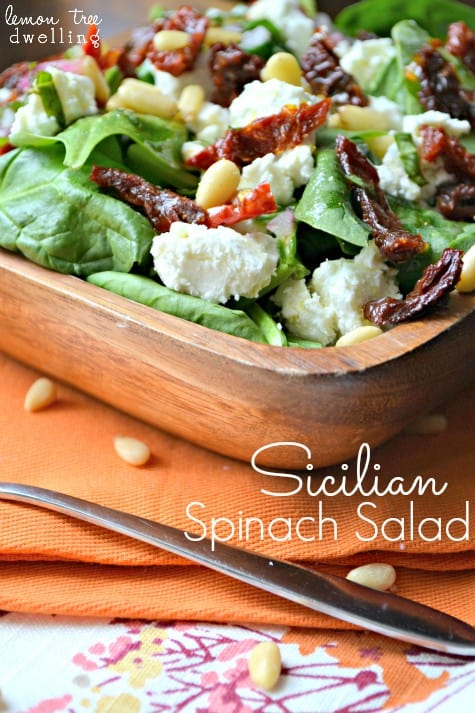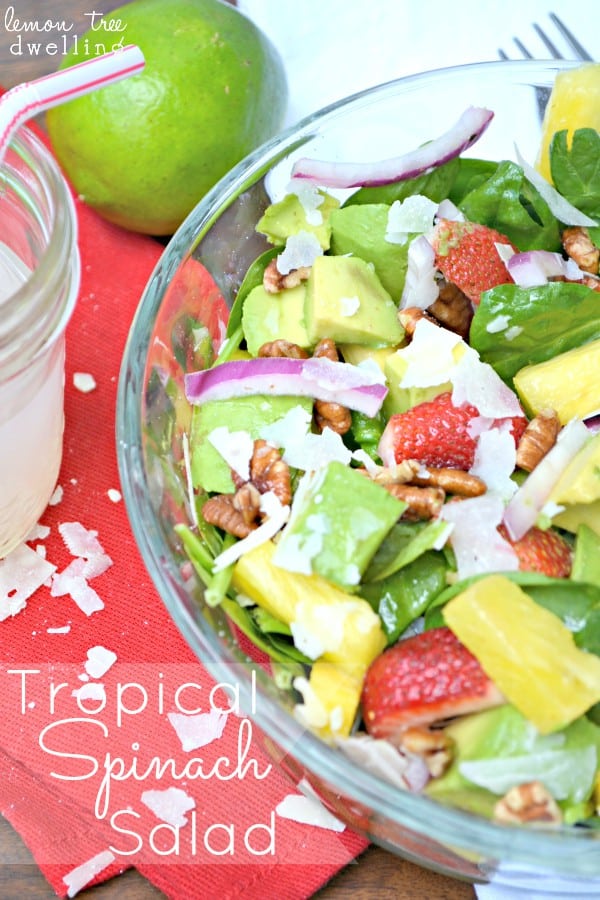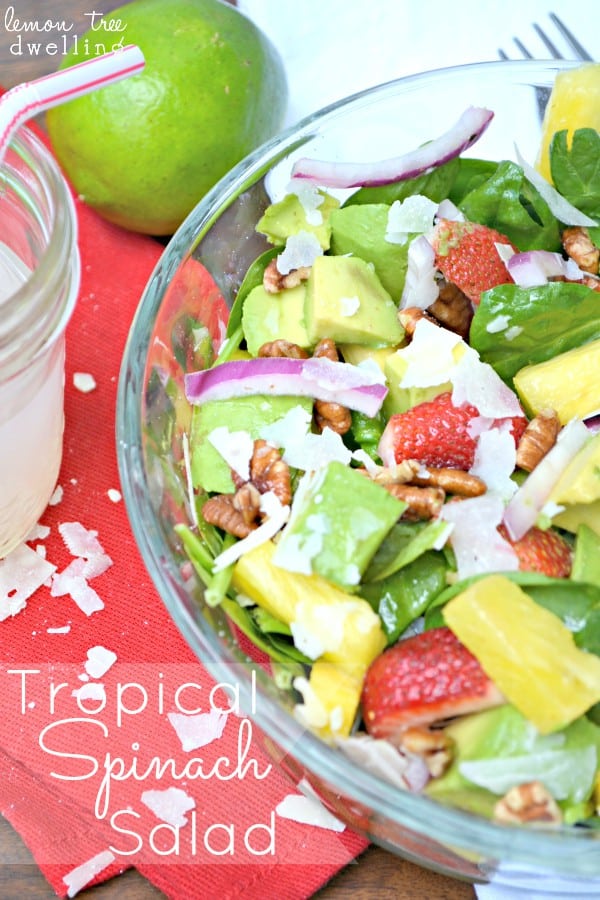 For more great recipe ideas, make sure you are following me on Pinterest!