Moist, rich, delicious cupcakes with cream cheese frosting – hands down, the BEST birthday cupcakes ever!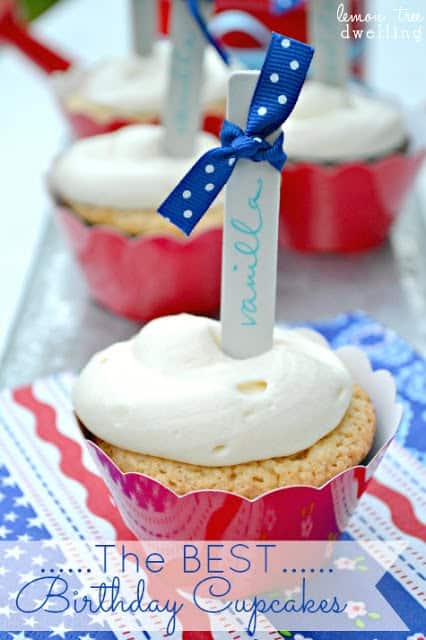 As you may know by now, we had a BIG birthday party this past weekend! We celebrated our girls' 7th, 5th, and 2nd birthdays….which feels so different than 6, 4, and 1! I'm not sure why, exactly….but I think it has something to do with the number 7. For the longest time it was just clear: we were the parents of little kids. But now….now it's all different! Because if there's one thing 7 is NOT….it's little!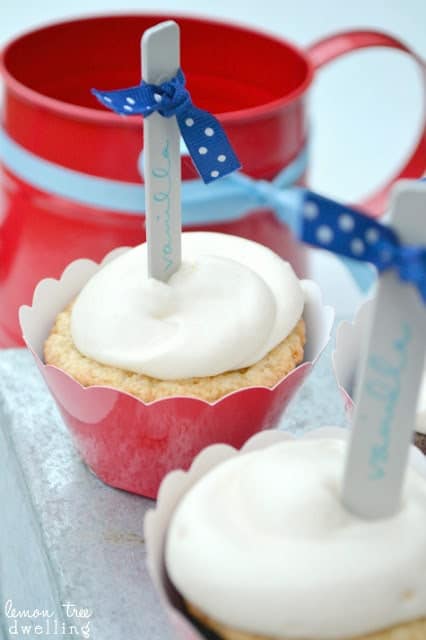 It's funny how quickly your kids go from little to not so little. Of course, it doesn't always feel that way while it's happening…..when your newborn won't sleep until she is 4 months old….or when your 3 year old tells you she wishes you would really die (!)….or when your kids never stop bickering for more than a split second at a time…..or when it's been 9 months since you've slept straight through the night. No, there are plenty of LONG hours, days, and nights when you have little kids. And, right or wrong, it's easy to start wishing them away.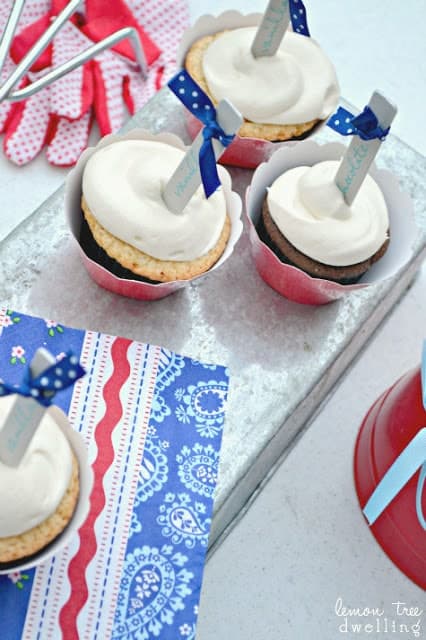 I used to do a lot of that – wishing away the difficulty of the early stages. I never really intended for that to happen, and I never really thought it would….things just kind of worked out that way. Ellia was a colicky baby who really turned our world upside down….and I remember thinking, when she was little, that anything would be better than the newborn phase. And then she got bigger, and things changed, and some things were definitely better! And some were not. And I started to realize the truth that every stage has its ups and down, its good and its bad. And rather than wish for this stage to pass and the next stage to come, the best thing to do….if you can….is to remember that every stage is shorter than it feels in the moment.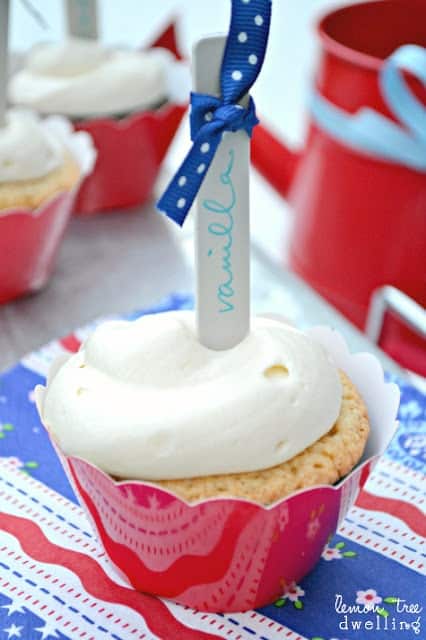 I am not always good at this….but I try to remind myself that, good or bad, "this too shall pass". I gotta tell you, though, I didn't realize it would pass SO QUICKLY! Suddenly, my little girls are 7, 5 and 2….and, like I have been warned so many times before, I am left wondering where all the time went! I am tempted to look back and try to figure it out….or recapture it….or cry because I wish I could hold onto it forever. But. I am trying to remind myself that, like all phases, the one we are in now is just as fleeting! Watching my kids learn how to read and ride a bike, get their pierced ears, tell jokes around the dinner table, start kindergarten, meet new friends, develop their own interests and personalities…..all of these are moments to be treasured (even if the in-between moments don't always feel like it)!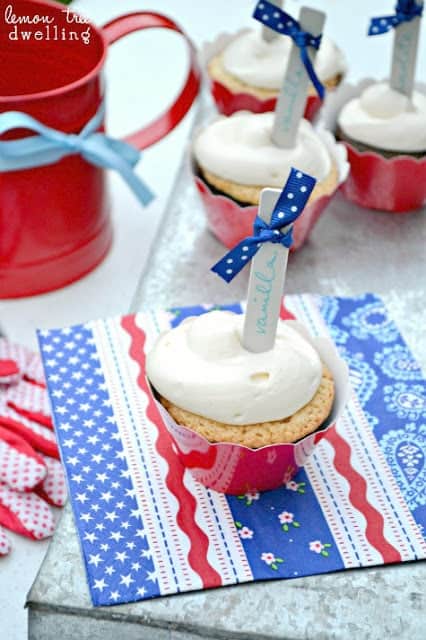 I think that's why I love to make a big celebration of their birthdays each year. It's so important to mark the time – and celebrate it with all the people who love them! I have to admit – I go all out – and I make no apologies about it!! And one thing we are ALWAYS sure to have is these cupcakes. They are seriously the best cupcakes I've ever eaten….and I love the fact that they always feel like a special treat. Perfect for celebrating a special birthday…..or three….and enjoying the moment while the moment lasts.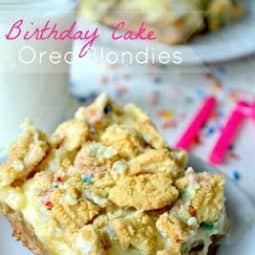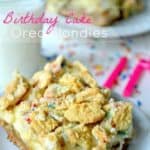 The Best Birthday Cupcakes!
Ingredients
Vanilla Cupcakes
1 1/4

c.

all-purpose flour

1/2

tsp.

baking powder

1/4

tsp.

baking soda

1/4

tsp.

salt

1

large egg

1

large egg yolk

1

c.

sugar

1/2

c.

canola oil

1

tsp.

vanilla extract

1/2

c.

sour cream
Chocolate Cupcakes
3

oz.

unsweetened chocolate

chopped

1

c.

all-purpose flour

1/2

tsp.

baking powder

1/2

tsp.

baking soda

1/4

tsp.

salt

1

stick unsalted butter

at room temperature

1 1/4

c.

sugar

2

large eggs

1

tsp.

vanilla extract

1/2

c.

sour cream

1/2

c.

water
Cream Cheese Frosting
1

stick unsalted butter

at room temperature

6

oz.

cream cheese

at room temperature

1

tsp.

vanilla extract

3

c.

powdered sugar
Instructions
Vanilla Cupcakes
Combine flour, baking powder, baking soda, and salt in a medium bowl and set aside.

In a large bowl, beat the egg and yolk and sugar until thickened and lightened to a cream color, about 2 min.

Add the oil and vanilla and mix until blended.

Mix in the sour cream, then the flour mixture. Mix until the batter is smooth.

Pour into 12 regular size muffin tins, lined with cupcake liners.

Bake at 350 degrees 18-23 min.

(*Recipe from cupcakes!
Chocolate Cupcakes
Melt chocolate in a small saucepan over low heat, stirring often. Remove from heat and cool slightly.

Combine flour, baking powder, baking soda, and salt in a medium bowl and set aside.

In a large bowl, beat the butter and sugar until blended and creamy, about 2 min.

Mix in the melted chocolate.

Mix in the eggs, one at a time, until each is blended into the batter.

Add the vanilla and beat until the mixture is creamy and the color has lightened slightly, about 1 min.

Mix in the sour cream.

Add half of the flour mixture, then the water, and finally the remaining flour mixture. Mix until the batter is smooth.

Pour into 18 regular size muffin tins, lined with cupcake liners.

Bake at 350 degrees 18-23 min.

(*Recipe from cupcakes!)
Cream Cheese Frosting
In a large bowl, beat the butter, cream cheese, and vanilla on low speed until smooth, about 1 min.

Add the powdered sugar, mixing until smooth, about 1 min, then beat on medium speed for 1 min. to lighten frosting.

To use: Scoop frosting into a Ziploc bag, snip off the corner, and squeeze.

(*Recipe from cupcakes!)