Peanut Butter S'mores Banana Boats, deliciously topped and toasted to perfection!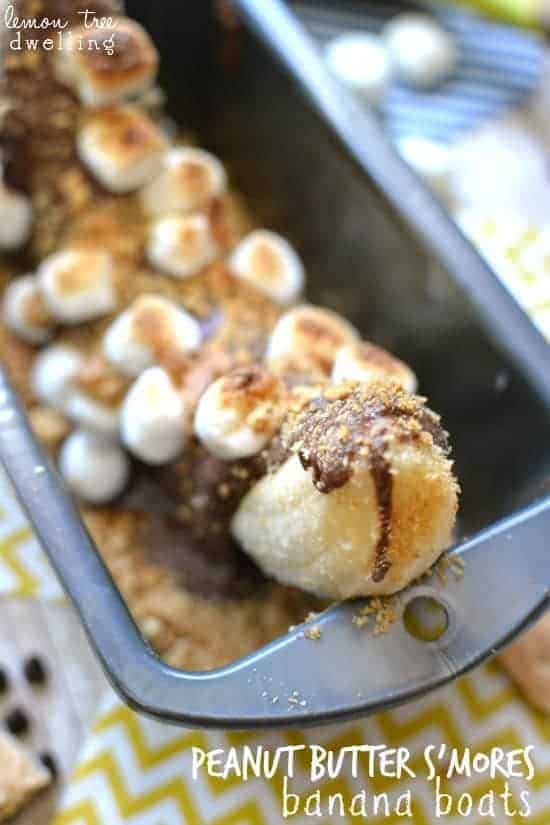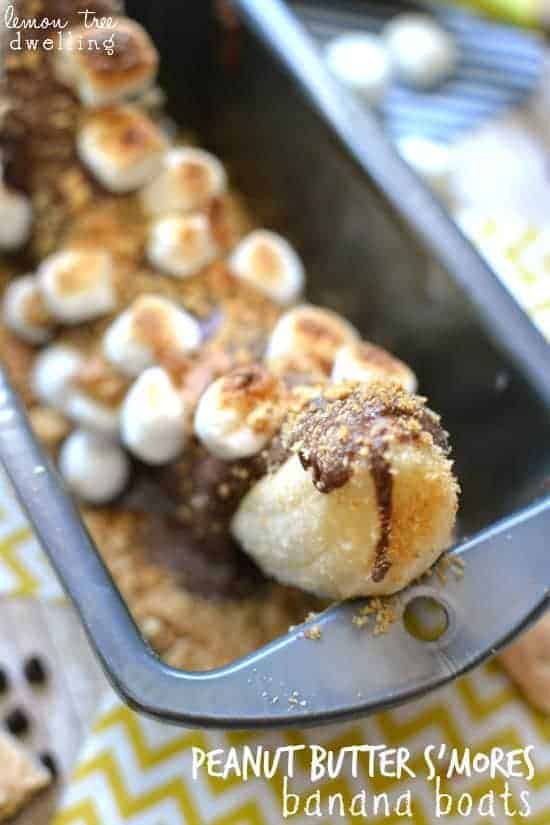 Do you ever have those days where you just feel like you could eat….ALL DAY….without ever feeling full? Yeah, me too. In fact, that's what every day after school used to feel like for me. After a full day of school and a rushed lunch at 11:30 in the morning, by the time I got off the bus and into the house I was famished!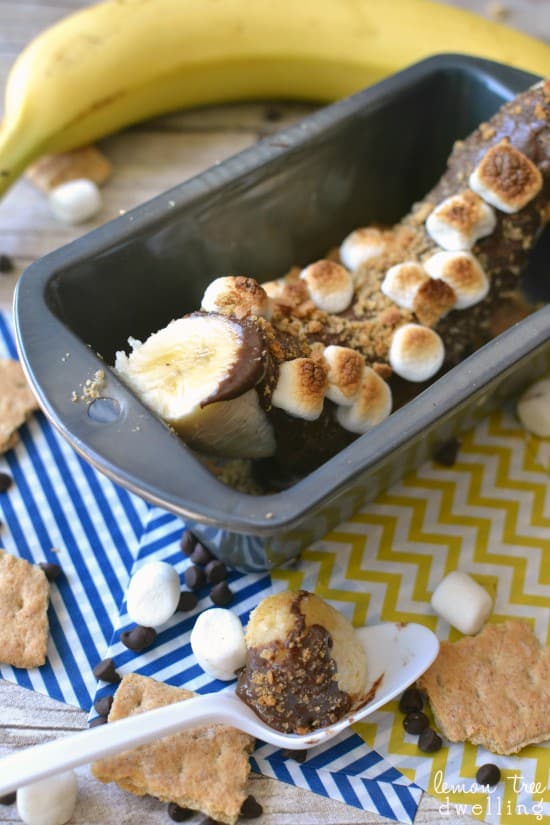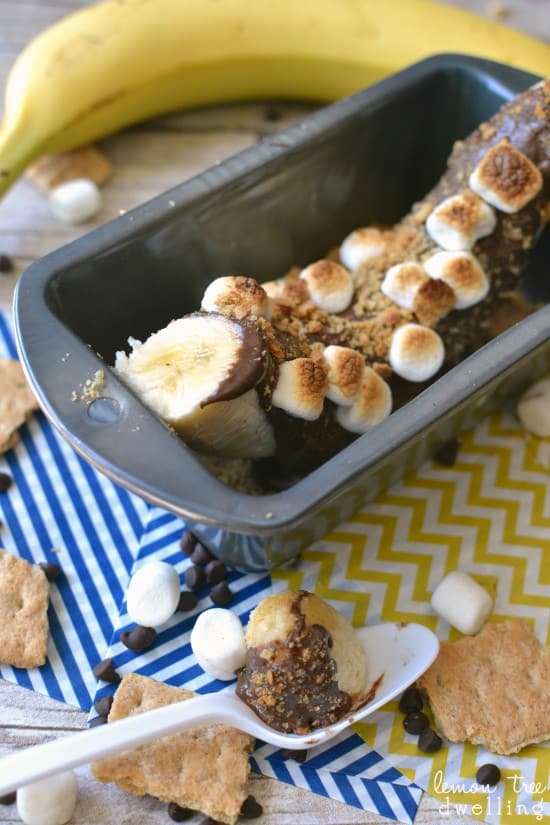 In the early days, of course, my mom would decide what kind of snack we could have on any given day….but as we got older, and my mom wasn't always home right when we got off the bus, we had the freedom to choose whatever kind of snack we wanted. Which often involved a little bit of experimentation…..and the microwave.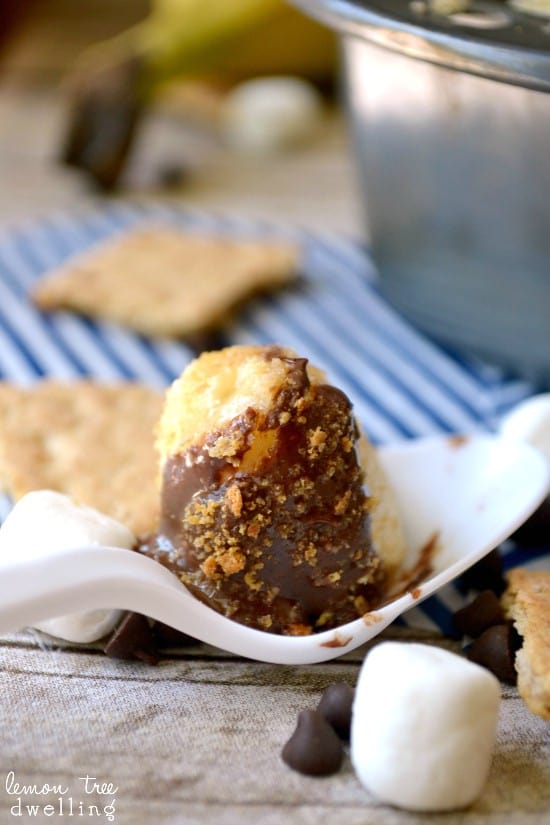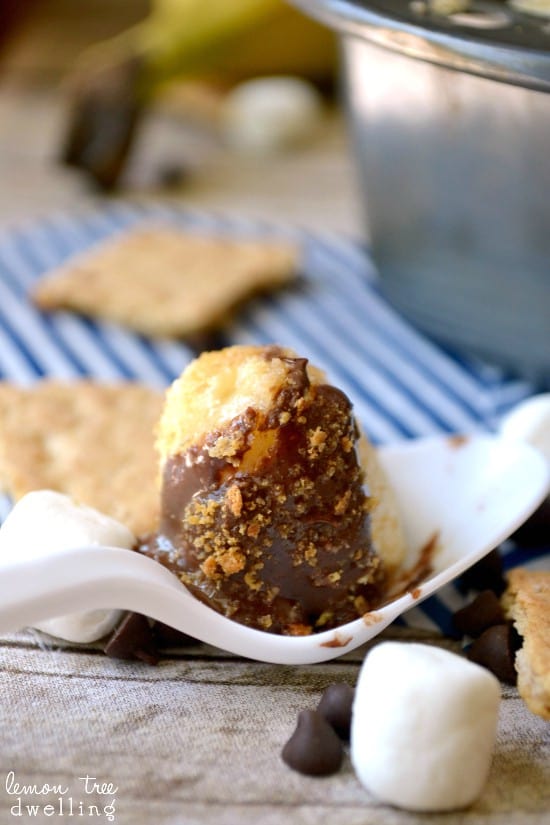 For some reason, I remember my younger brother and me REALLY liking the microwave. Can you blame us? It made some delicious snacks! Like melted pb&j sandwiches, crackers with melted cheese, bagels with melted cream cheese, and, of course, microwave s'mores. Mmmmmmmmm.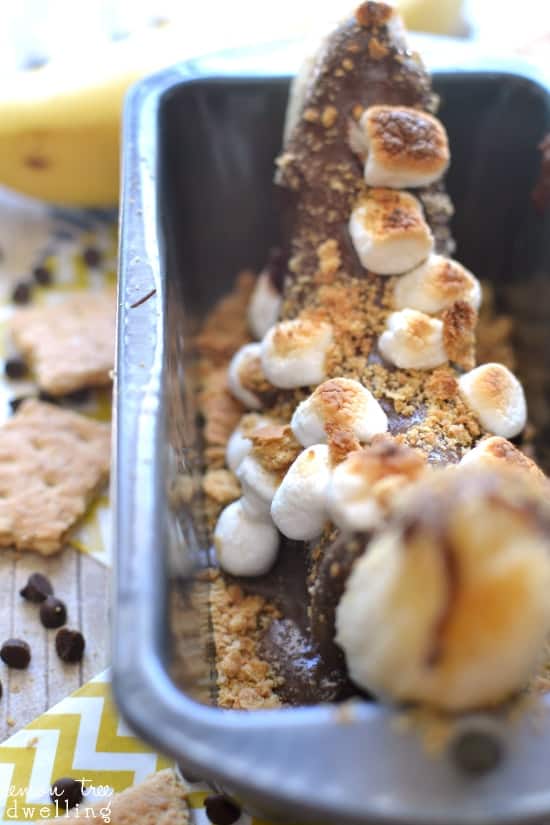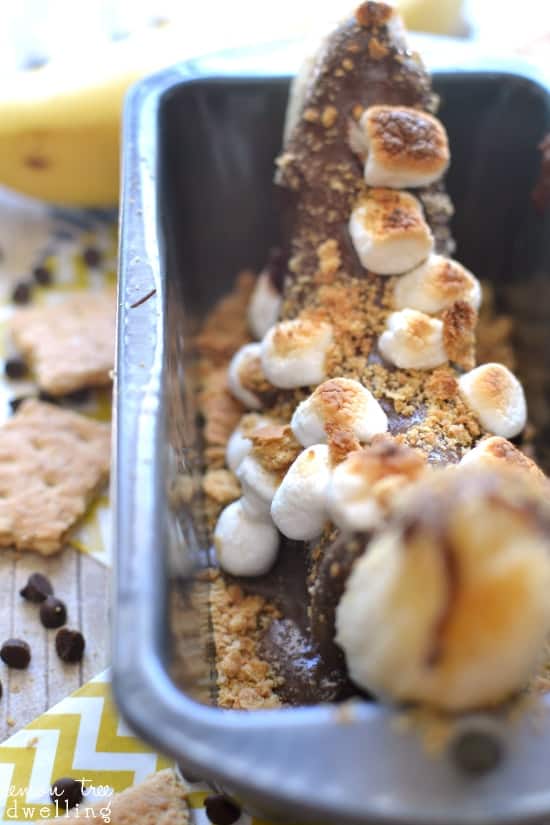 Like every kid does at some point, we discovered the fun of microwaving marshmallows and watching them expand to 18 times their original size. Not only did they make a delicious after school snack…..they provided us with some easy entertainment!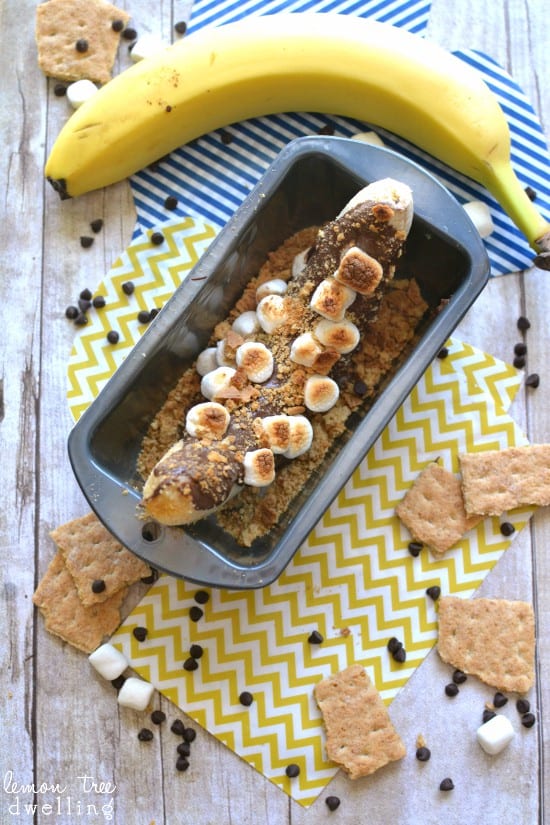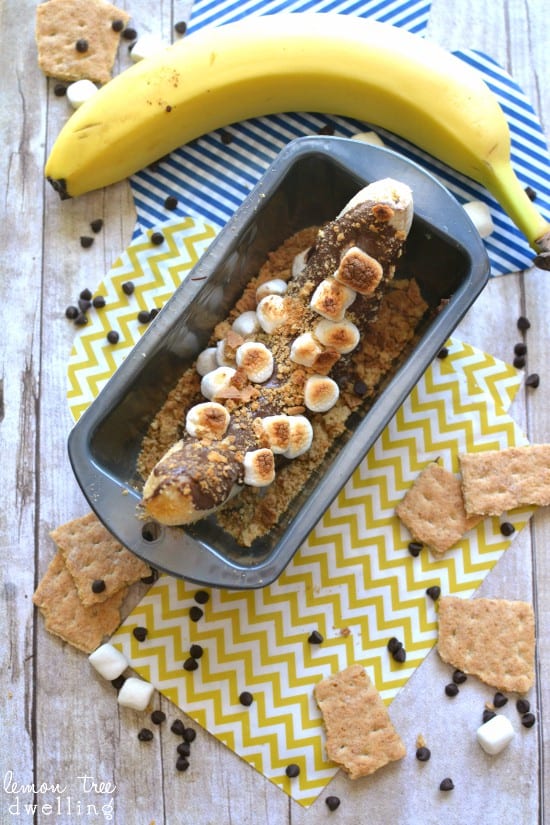 As an adult, I must say my love of the microwave has dwindled. I really only use it for melting butter, heating a single mug of water for tea, and every now and then for heating up leftovers. Because everyone knows things taste better from the oven! Crust gets crispy instead of soggy, bread gets toasted instead of hard, chicken gets delicious instead of rubbery and disgusting. And marshmallows…..well, marshmallows get brown and toasty and perfect, especially under the broiler, which is exactly what you need when you're making s'mores. And these banana boats are exactly what you need for those days when you feel like you might never be able to stop eating! Because as long as you're eating, you might as well be eating something delicious…..!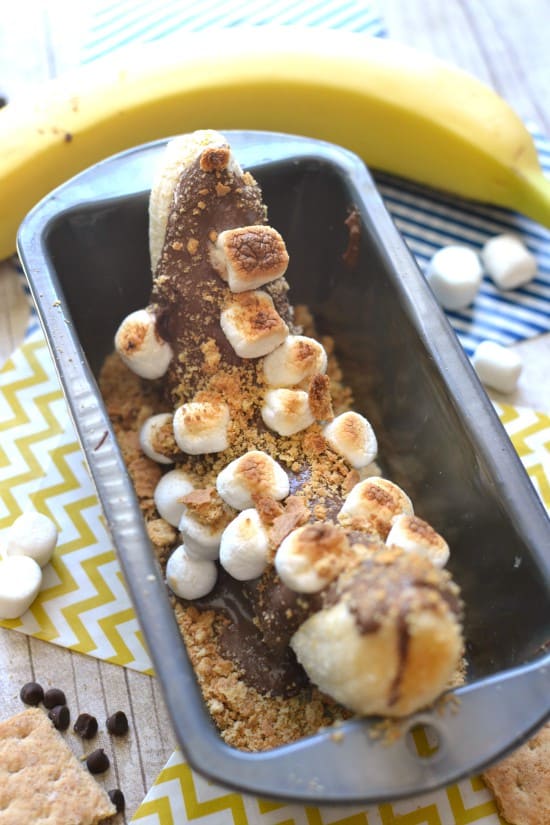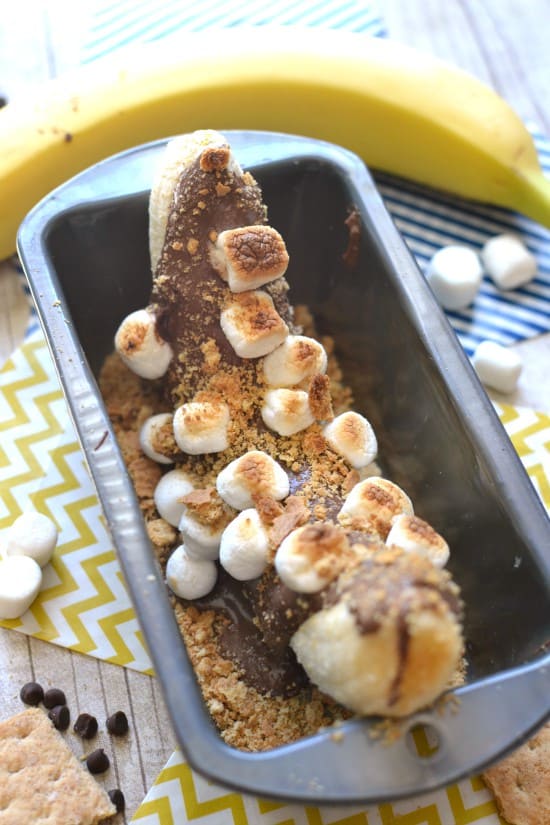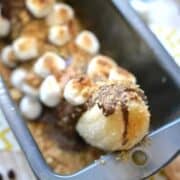 Peanut Butter S'mores Banana Boats
Ingredients
1

banana

peeled

1/3

c.

Peanut Butter Chocolate Fondue

recipe below

1/4

c.

mini marshmallows

1

graham cracker

crumbled
Peanut Butter Chocolate Fondue
1

c.

chocolate chips

1/3

c.

Nutella

1/3

c.

creamy peanut butter
Instructions
Place peeled banana in an oven-safe dish.

Top with peanut butter chocolate fondue, marshmallows, and crumbled graham cracker.

Broil on high 2 minutes or until marshmallows are toasted.
Peanut Butter Chocolate Fondue
Combine all ingredients in a small saucepan; heat over low heat until melted.
Looking for more delicious S'mores recipes??