Balsamic Roasted Vegetables on top of Creamy No-Stir Risotto - it only looks fancy!
(It couldn't be easier to make!)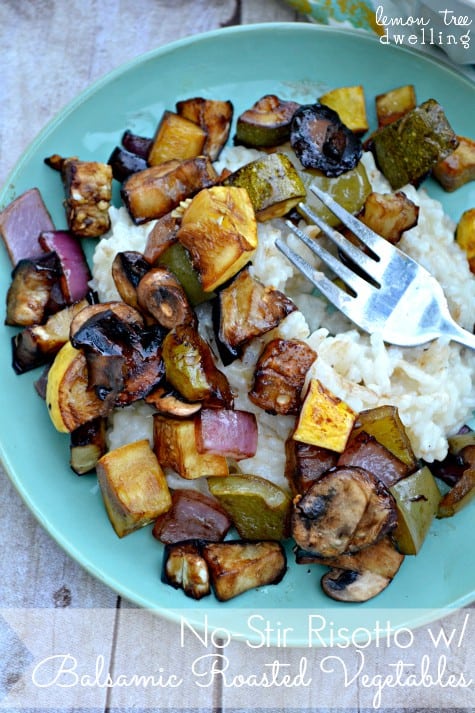 It's no secret that I love having people over to my house, and it's definitely no secret that I love to feed them! There's something about feeding people that makes me happy....like I am really taking care of them....and there is no better compliment than someone having two or three helpings of whatever I made and being absolutely stuffed when they leave! Thinking back, it all started in college, as soon as I had an apartment. I loved the idea of inviting friends over for dinner, and in my tiny apartment kitchen I tried my hand at homemade gnocchi, bruschetta, pasta, and more. At the time, it felt so "adult" to me....and I quickly realized that I loved to entertain! When Ellia was little we had people over all the time - for brunches, dinners, cookouts, Packer games....and when Greta was a newborn I was still hosting a weekly dinner for friends while Jorden was at class. It wasn't until Nora came along that everything changed.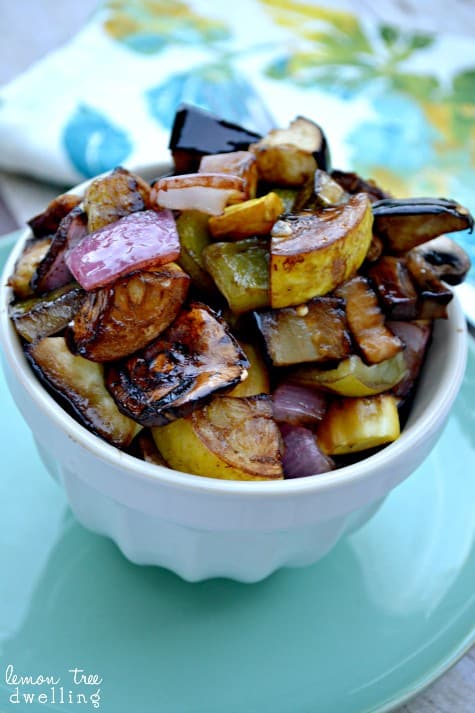 Anyone who says the real change comes when you have two kids is crazy! Two is a breeze (I was still hosting weekly dinners)! It's when you have three kids that your life is turned upside down....or at least that's the way it worked out for me! Three kids means someone always needs you. Three kids means yet another person's laundry in the mounds and piles that never end! Three kids means that, at any given time, one of them is surely crying. And three kids definitely means less entertaining.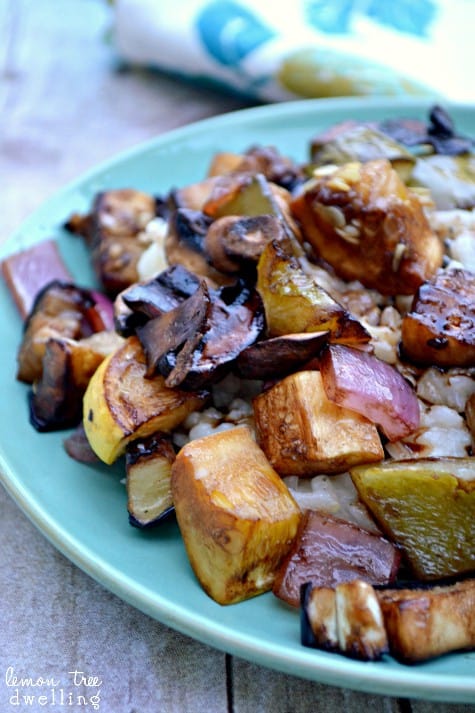 Because now, when dinnertime rolls around, the last thing we are thinking about is having someone over! First of all, dinnertime = chaos at our house. Someone is usually on the floor, or standing on their chair, or laughing so hard you're worried they might choke. Second of all, dinnertime means that bedtime is in sight....and having someone over would clearly postpone that! (Not an option!) Third, by dinnertime, the idea that I would want to take care of one more person (in addition to the 3 kids I've been taking care of all day) sounds like sheer madness! All in all, I guess it's safe to say that we really don't have people over like we used to...!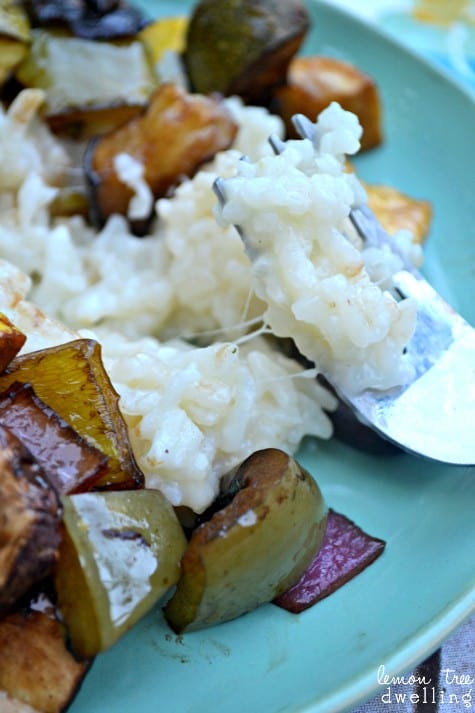 But. The fact still remains that I really do still love having people over....and I really do still love to feed them. (It only sounds like I don't!) It's just that I have to be realistic....and if I want to enjoy their company at all, I have to make something that is E-A-S-Y!! Like this No-Stir Risotto with Balsamic Roasted Vegetables. This dish is perfect for entertaining (even with three kids) because it's quick and easy.....yet impressive! So you can still enjoy your company, and take care of your kids, without losing your mind. Which is NOT an easy feat.
No-Stir Risotto w/Balsamic Roasted Vegetables
½ c. chopped red onion
2 Tbsp. olive oil
1 ⅓ c. Arborio rice
4 c. water
1 tsp. instant chicken bouillon granules
1 c. grated Parmesan cheese
8 c. chopped fresh vegetables - (1 small zucchini, 1 small yellow squash, 4 oz. sliced baby bella mushrooms, ½ medium eggplant, ½ c. red onion, 1 green pepper) *Feel free to substitute according to your tastes!
⅛ c. olive oil
¼ c. balsamic vinegar
1 tsp. kosher salt
1. Preheat oven to 425 degrees.
2. In a medium saucepan heat 2 Tbsp. olive oil and cook ½ c. chopped red onion until tender.
3. Add uncooked Arborio rice; stir and cook 2 minutes.
4. Stir in water, bouillon granules, and a dash of pepper. Bring to a boil; reduce heat. Cover and simmer 20 minutes.
5. While rice is simmering, spread 8 c. chopped fresh vegetables on a large rimmed baking sheet. Drizzle with ⅛ c. olive oil, ¼ c. balsamic vinegar, and 1 tsp. kosher salt.
6. Roast in 425 degree oven 25 minutes, stirring halfway through.
7. When rice is finished, let stand, covered, 5 minutes. Stir in Parmesan cheese.
8. Serve balsamic vegetables over risotto; season with additional kosher salt or balsamic vinegar as desired.
*Risotto recipe adapted from Better Homes and Gardens New Cook Book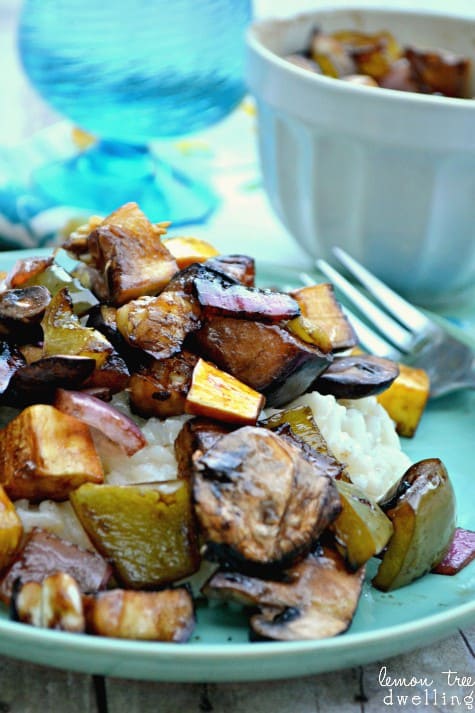 Enjoy!
Be sure to check out another of my delicious risotto recipes!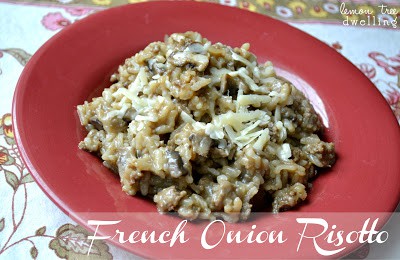 Thanks for taking a peek inside my Lemon Tree Dwelling....
I hope you feel right at home!
-Cathy