The flavor of Butterfinger….the creaminess of fudge! A match made in heaven!!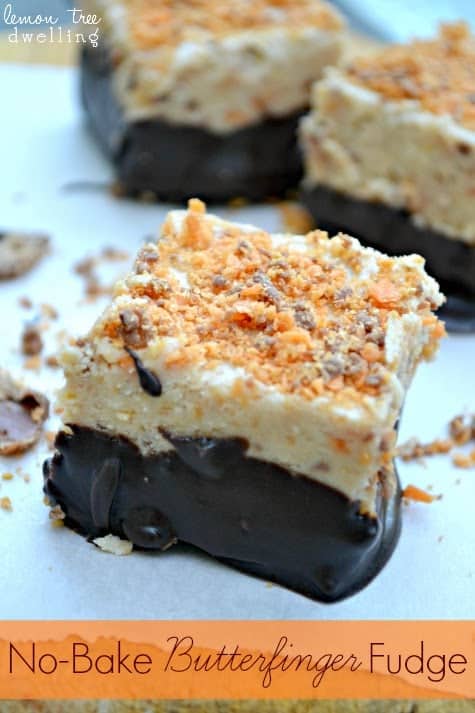 *Note: I updated the photos and recipe for this by dipping the individual pieces of fudge in melted chocolate. If extra chocolate isn't your thing, feel free to leave it out!
Hey, Everyone! Thanks so much for stopping by today…..I hope you had a GREAT weekend! Ours was SO nice! We had a fun family night, made s'mores for the first time all summer, went to our 1 year old twin nephews' birthday party, had some friends over for a barbecue, and Greta learned how to ride a 2-wheel bike! (No more training wheels….woo hoo!!) I love having busy weekends….and so do the kids…..but when the end of the weekend rolls around, it is always clear that the kids have been having too much fun….and not enough sleep! And last night was no exception.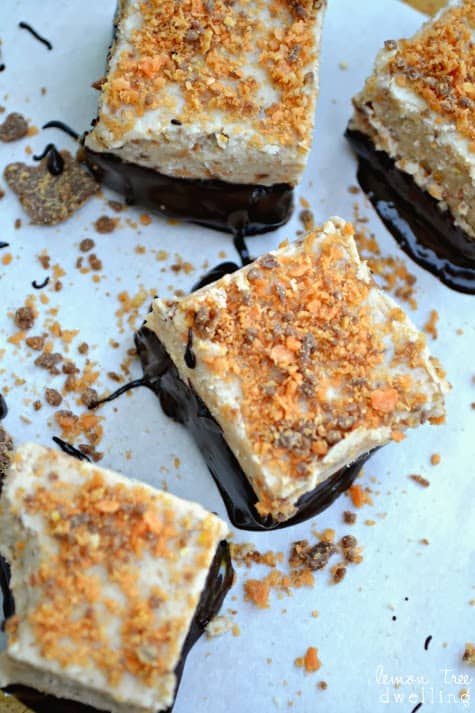 It was about 9:00 and Ellia was out of bed for the third time in an hour, telling us she couldn't fall asleep because of Greta. (A pretty typical complaint, since they share a bedroom and are constantly keeping one another awake…) So I headed upstairs to find Greta, in bed, crying, afraid to go to sleep because she was convinced she would have a bad dream. So we talked, and I snuggled her, and then I told her I really hoped she'd have only GOOD dreams….like the ones I had when I was a kid!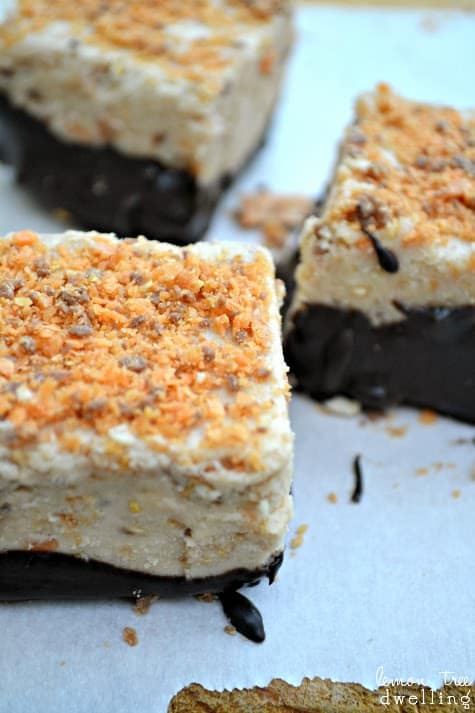 I still remember my favorite childhood dreams, and I asked Greta if she wanted to hear them. Of course she did….so I told her the one where Cabbage Patch Kids were all over our sidewalk when I woke up in the morning….and they were all mine to keep (!) And the one where I was on the school bus and I saw some money on the ground….and it turned out the entire bus was full of money and I was the only one collecting it (!) And then there was the one where it was raining candy……!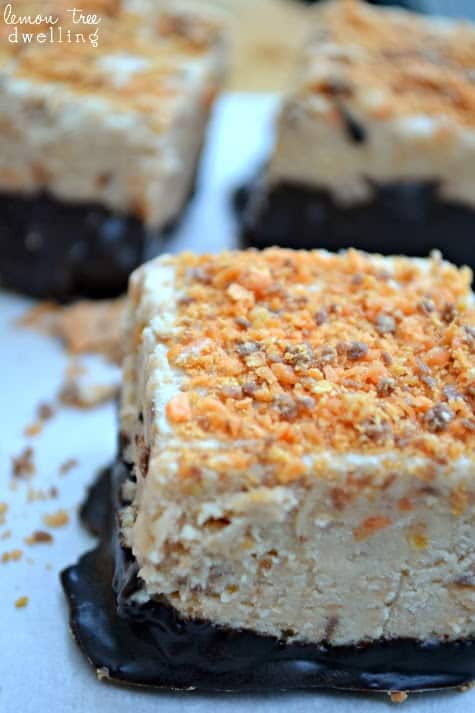 I'm pretty convinced that I would have dreamed about this Butterfinger fudge as a kid, too! (Who am I kidding? It will so be showing up in one of my dreams soon!) With the delicious flavor of Butterfinger and the creamy texture of fudge, it's….well…..dreamy! And better yet, it's no bake…..which, in my book, means it's extra dreamy. Because you can't mess it up. And you can make it quickly and easily….even in the midst of a busy, sleep-deprived, bad dream kind of weekend.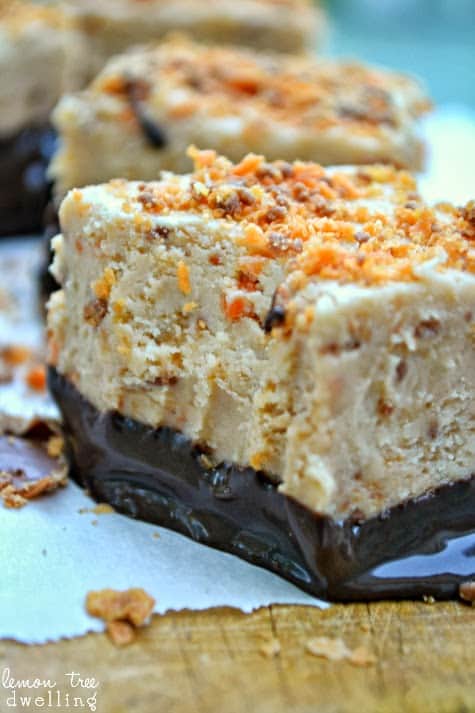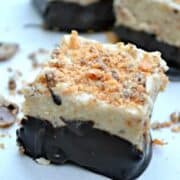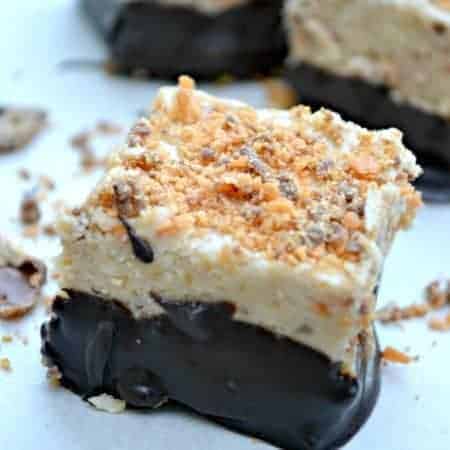 No-Bake Butterfinger Fudge
Ingredients
1

8 oz. package cream cheese

2

sticks butter

5 1/2

c.

powdered sugar

2 1/2

c.

dry milk

1

10 oz. bag Butterfinger bites, finely crushed

2

tsp.

vanilla

1

regular size Butterfinger candy bar

finely crushed

1

16 oz. package chocolate Candiquik (can substitute 16 oz. chocolate chips melted with 1 Tbsp. shortening)

*Note: I updated this recipe by adding the melted chocolate

step 5. For the original recipe, simply cut and serve instead of dipping in chocolate 🙂
Instructions
Bring cream cheese and butter to room temperature.

Add first 6 ingredients to a large bowl and mix with hands until thoroughly combined.

Press into buttered 9x13 inch pan.

Top with additional Butterfinger candy bar.

Refrigerate until firm. Cut into squares. Melt chocolate Candiquik and dip fudge squares into it; set on wax paper to harden.

Store in refrigerator.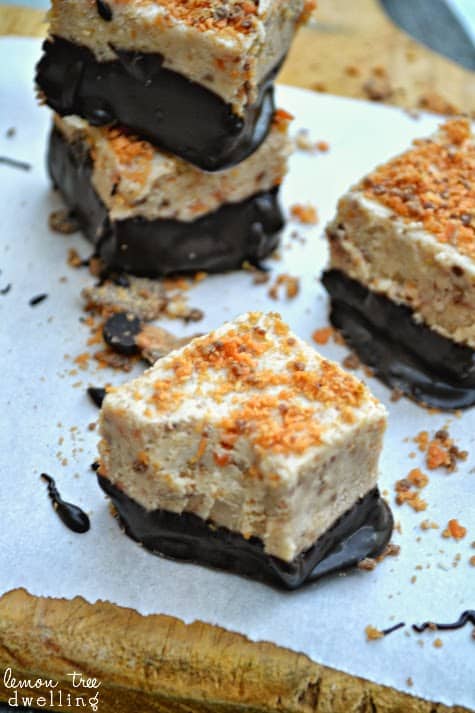 Enjoy!
Do you love no-bake recipes as much as I do? Then be sure to check out these!