These Apple Cheesecake Parfaits combine two holiday favorites in one delicious no-bake dessert! Made with just five simple ingredients, these parfaits have all the flavors of apple pie, combined with rich, creamy cheesecake and homemade whipped cream. Best of all, they come together in no time at all. Just 10 minutes is all you need for a rich, decadent dessert that's worthy of any holiday celebration. Why choose between cheesecake and pie when you can have both? These Apple Cheesecake Parfaits are the perfect pairing…and guaranteed to be a holiday hit!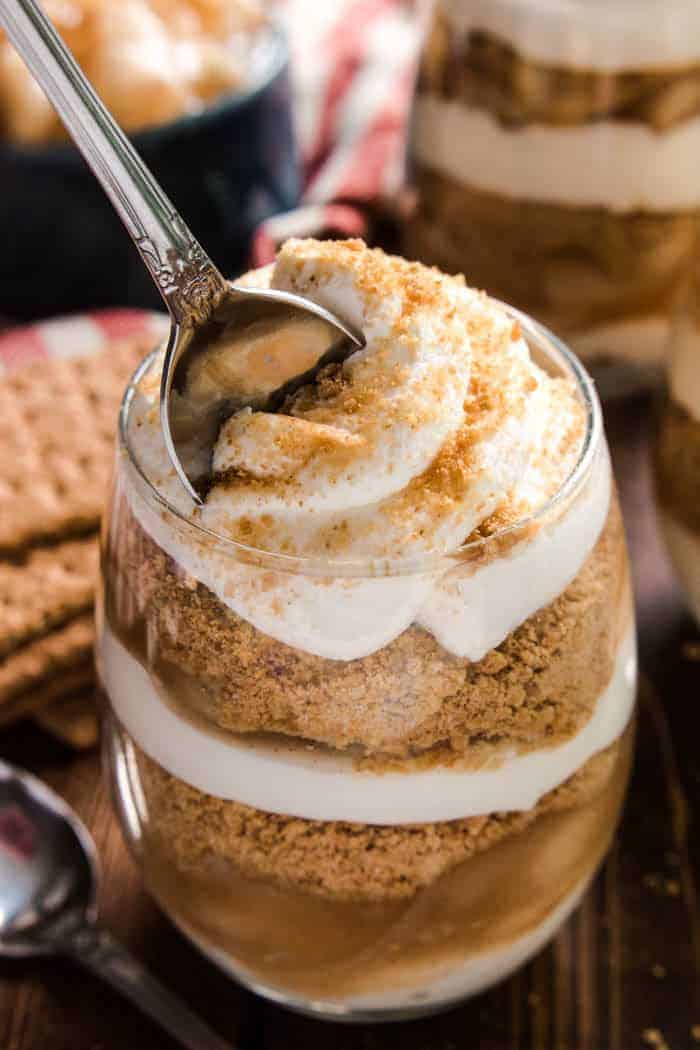 Well, we had our first holiday celebration this past weekend. Which can only mean one thing: the holidays are HERE!! I don't know about you, but around here, life feels like it's moving in fast motion. And to be fair, it usually feels at least a little bit that way. But at this time of year? I'm literally bracing myself. Because I know that once the first celebration hits…..the rest are just around the corner. This. Is. Happening.
It doesn't help that Ellia gave me the "35 days till Christmas" update the other day…or that Myla's new mantra is "First Thanksgiving, then snow time, then Christmas!"…or that any time I pass a mall (or any store, for that matter) it's clear that EVERYONE is out Christmas shopping…..
Yes, the holidays really ARE here. Are you more ready than I am?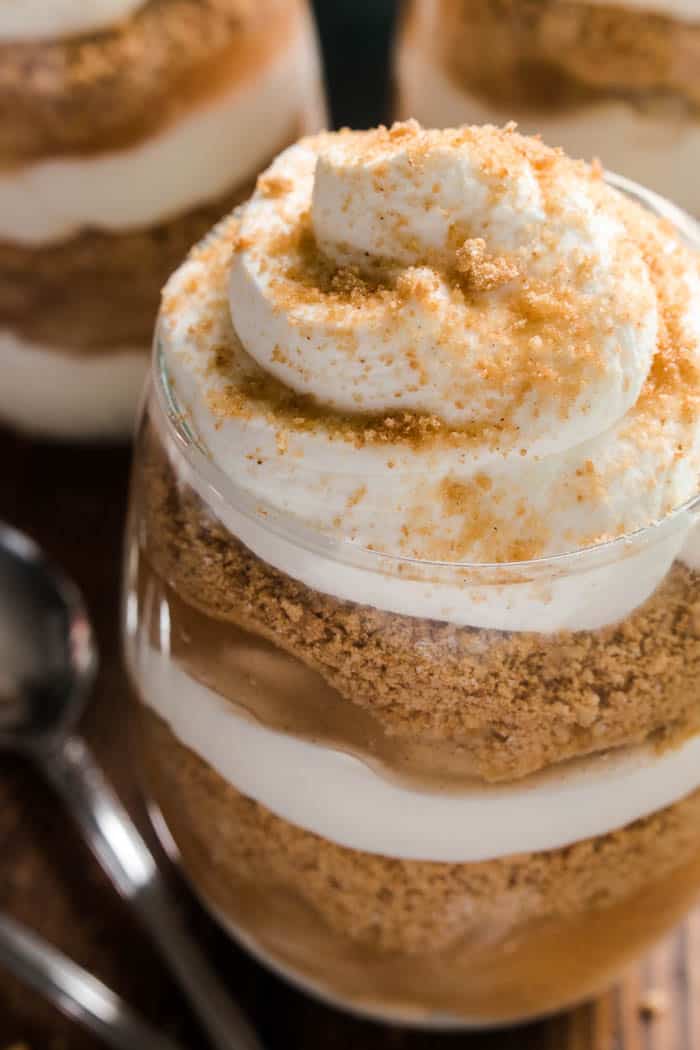 I've barely begun to think about the shopping piece of it. Because that can wait…..right? But what can't wait? The FOOD! And not just because Thanksgiving will be here in the blink of an eye, but because the holidays are the most important food time of the year! If we don't pull out all the stops for Thanksgiving and Christmas….when will we!?
Which is exactly where these No-Bake Apple Cheesecake Parfaits come in. They're the ultimate holiday dessert! The perfect pairing of two classics – apple pie and cheesecake – in one simple, delicious treat.
There's so much we love about these parfaits, from the rich, creamy, no-bake cheesecake to the sweet apple pie filling to the graham cracker "crust". And the fact that everyone gets their own individual dessert? That's a definite bonus!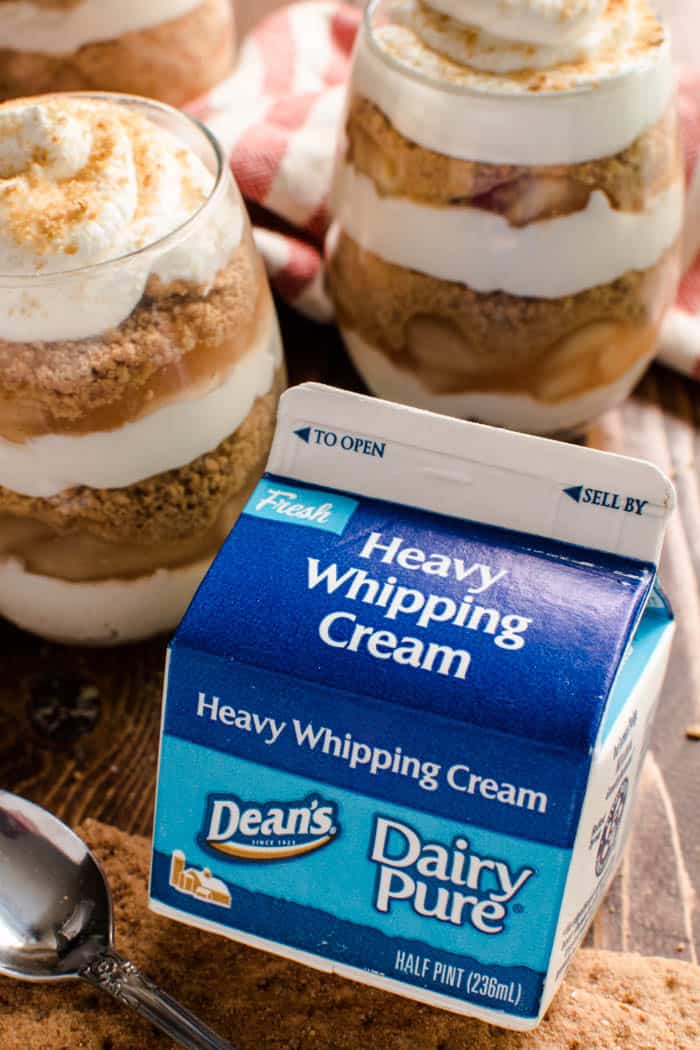 But what I love about them most is the fact that they seriously could NOT be easier to make, which means I have more time to spend with the people around me. Because while the food is obviously important, we all know that the best part of the holiday season is making memories with the people we love.
These No-Bake Apple Cheesecake Parfaits are made with just five ingredients. FIVE ingredients! And when one of them is Dean's Dairy Pure Heavy Whipping Cream, it's easy to see why these little parfaits are so delicious! Dean's Dairy has been producing high quality dairy products since 1926. In addition to tasting great, I love the fact that all of their products uphold the standards of the DairyPure® 5-Point Purity Promise®. This means that they contain no artificial growth hormones, all milk is tested for antibiotics, they're continuously quality tested to ensure purity, made only from cows that are fed a healthy diet, and cold shipped for freshness.
Don't you love it when high quality and delicious go hand in hand?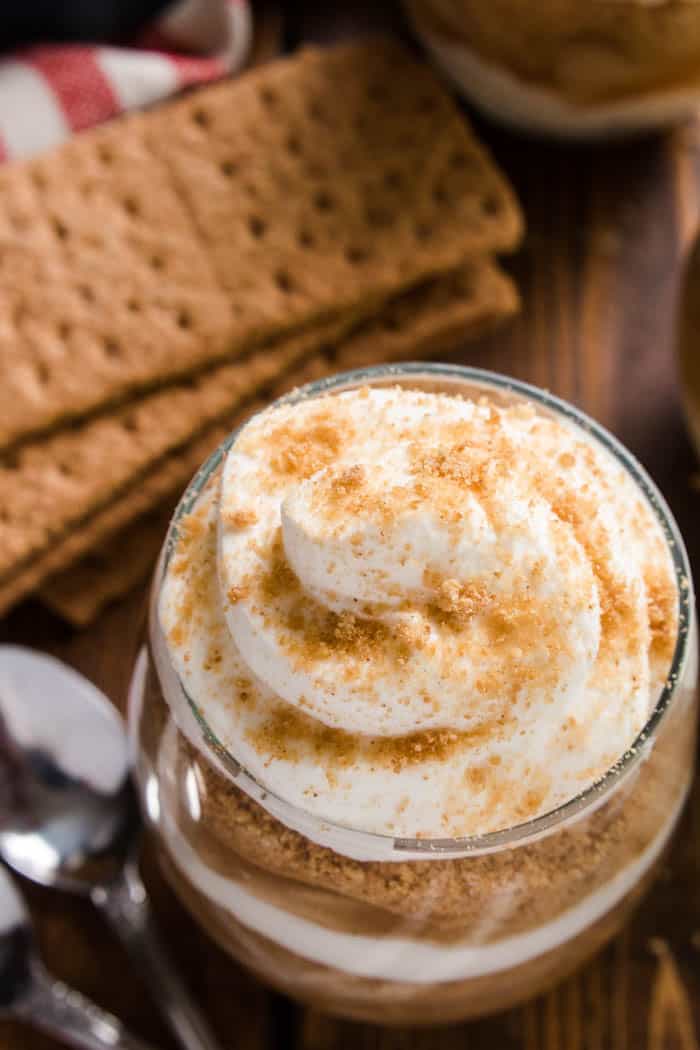 How to Make Dessert Parfaits:
Choose your parfait dish wisely. Think about your guests, as well as whether or not you will be serving other desserts. This will help you determine dish size. You will also want to choose something with height so you can do multiple layers. Wine glasses, martini glasses, or mason jars are all good options!
Focus on the layers. A good dessert parfait is all about the layers! Think about how much of each ingredient to include in each layer, as well as which order to put them in for the best flavor, color variation, and overall appeal!
Use a piping bag. Sure, a spoon works fine for some ingredients, such as pie filling or graham cracker crumbs. But when it comes to anything gooey or creamy? A piping bag is the way to go! This will help you create smooth, even layers and keep the edges of your parfait dish clean.
Pick a topping. Any topping! The best parfaits (in my humble opinion) don't end with whipped cream. Add some garnish to finish it off!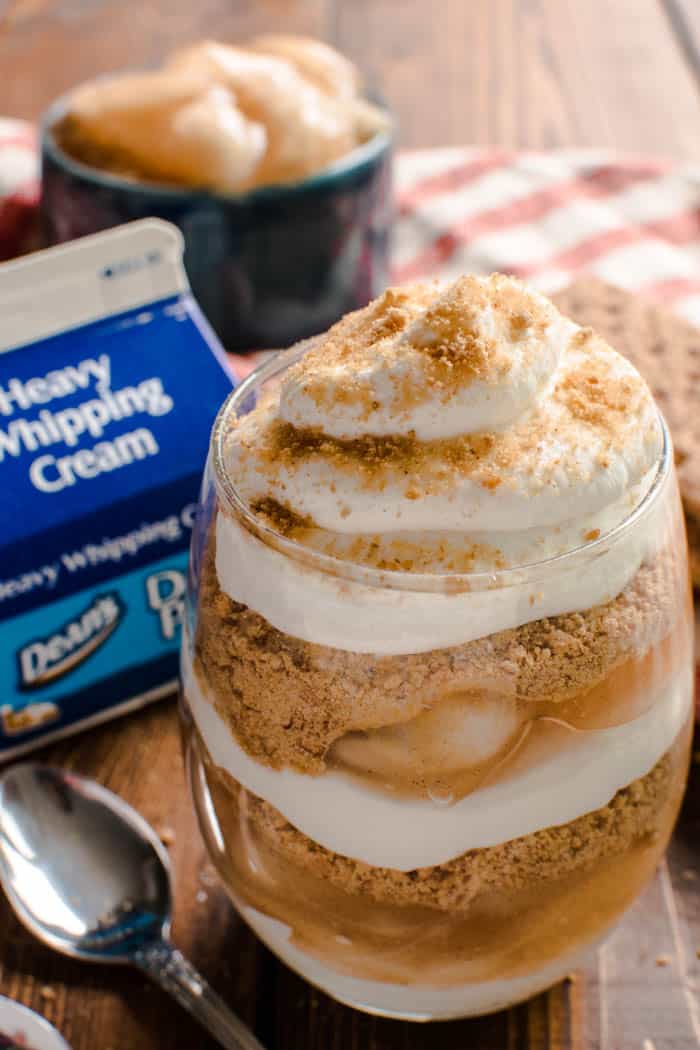 So what about you? How do you plan to use DairyPure® ingredients in your holiday recipes? I'd love to see your creations using #SimplyMadeMemories on social media! And to help you get started, you can even download additional recipes and your very own coupon HERE!
Apple Cheesecake Parfaits
Ingredients
1

sleeve

cinnamon flavored graham crackers

crushed

8

oz.

cream cheese

softened

1 1/4

cup

Dean's DairyPure Heavy Whipping Cream

divided

1/4

cup

granulated sugar

divided

1

can

apple pie filling
Instructions
Prepare cheesecake filling by combining cream cheese, 3 Tbsp. heavy whipping cream, and 3 Tbsp. granulated sugar in a small mixing bowl.

Beat on med-high speed until smooth and creamy, 2-3 minutes.

Layer parfait dishes with graham cracker crumbs, cheesecake filling, and apple pie filling. Alternate layers until you reach the top of the dish. (*Reserve 1 tsp. graham cracker crumbs)

Prepare whipped cream by combining remaining heavy whipping cream and remaining sugar in a chilled bowl.

Beat at medium-high speed until soft peaks form. Be careful not to over-beat!

Spoon whipped cream into a piping bag or ziplock bag with the corner cut; pipe onto the top of parfaits.

Sprinkle remaining graham cracker crumbs on top. Refrigerate until ready to serve.