These Mudslide Parfaits have all the flavors of a mudslide cocktail in one decadent dessert! Perfect for date night, ladies night, or a special occasion, these parfaits are SO delicious you'll be licking your glass clean!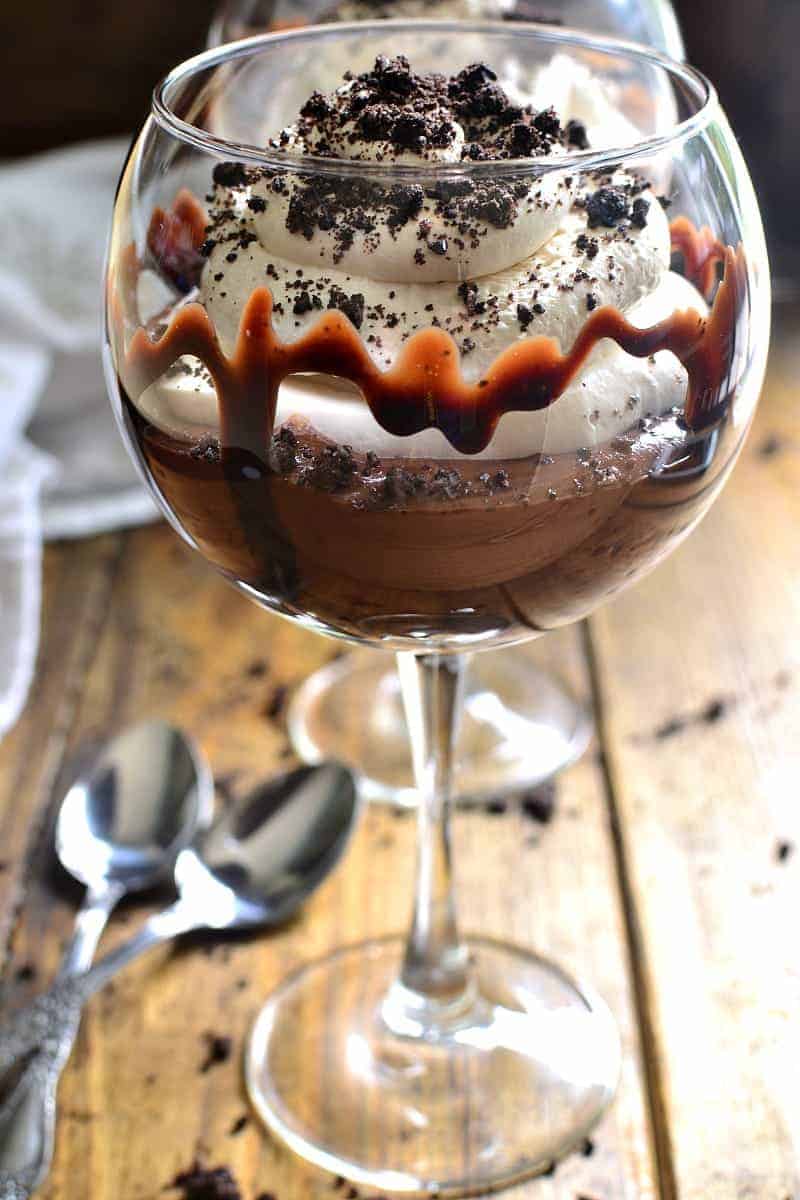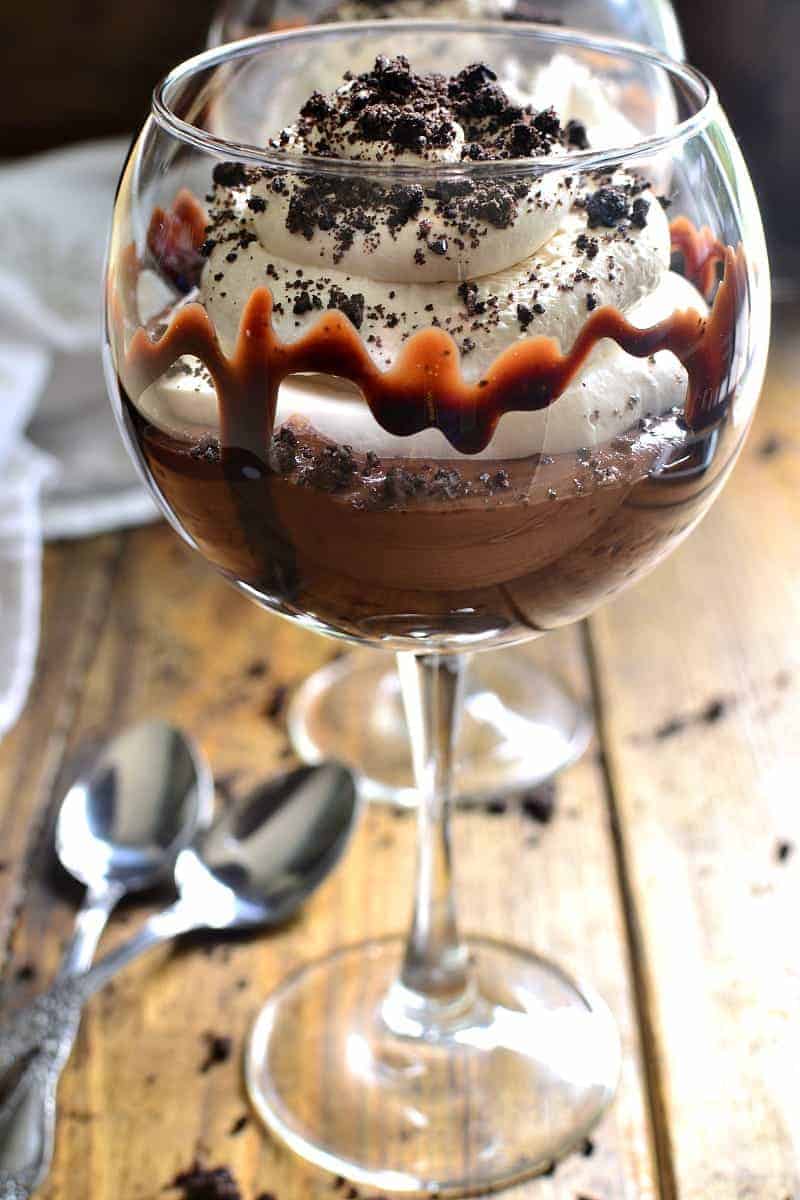 I think it's fair to say that when I first started blogging, I had NO CLUE. About blogging or about other bloggers or about how it all worked. And especially about relationships between bloggers, or the fact that blogger friends can actually be real friends. I just didn't get it.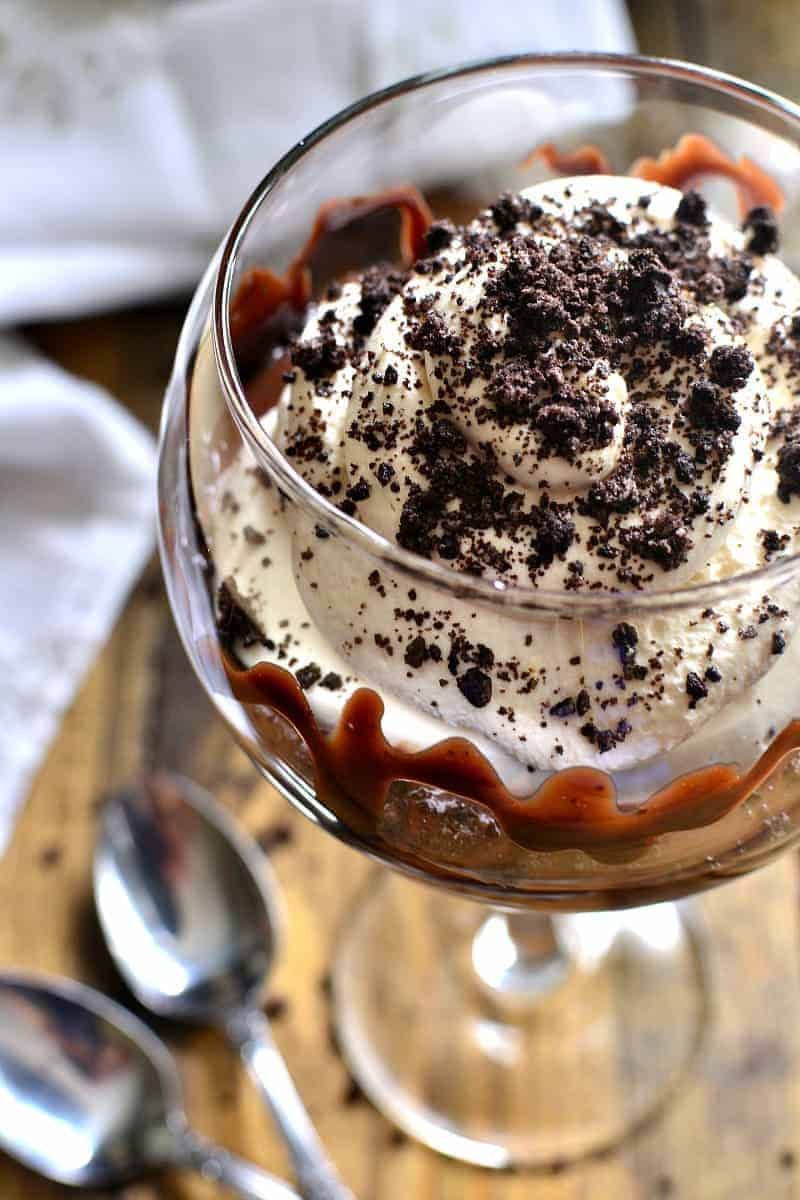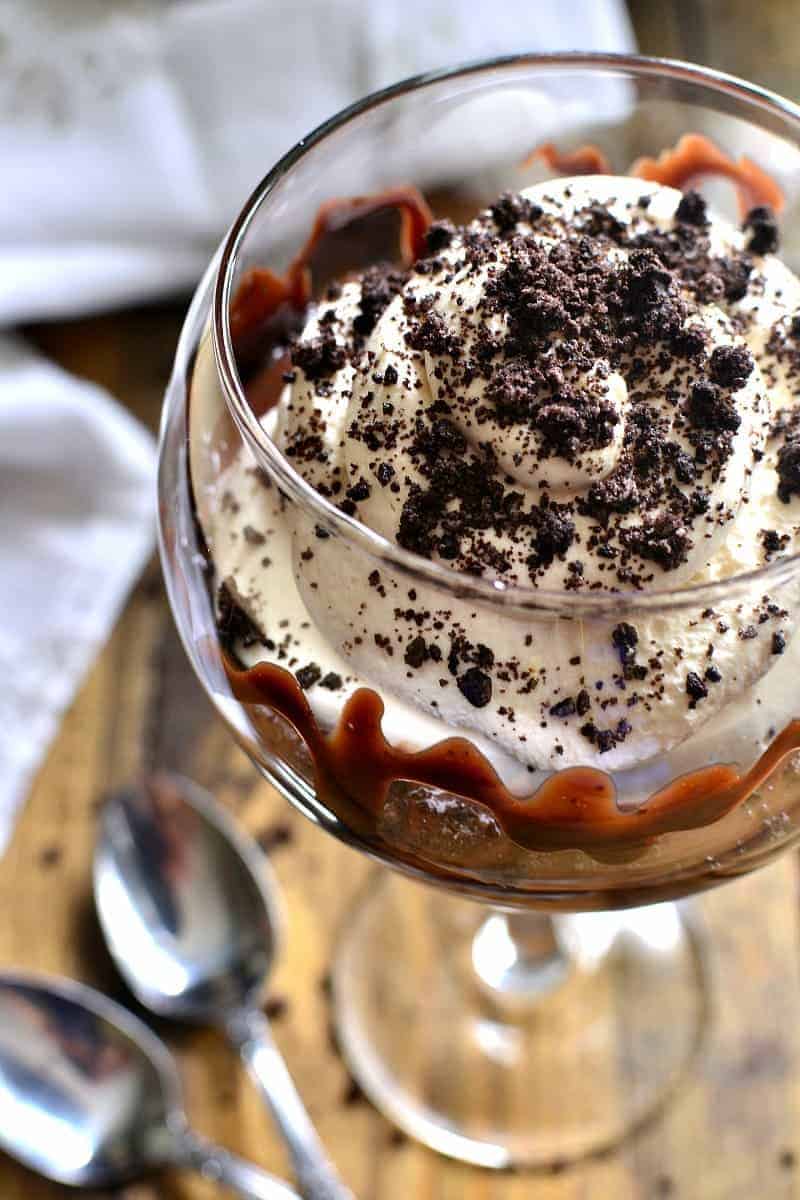 And I think it's safe to say that it wasn't until Lisa invited me to a retreat in California, and I spent the weekend really getting to know the other bloggers there, that it really clicked for me. And from that point forward, nothing has been the same. Because since then, I've met SO many more people in real life. And for me, meeting someone in real life changes everything.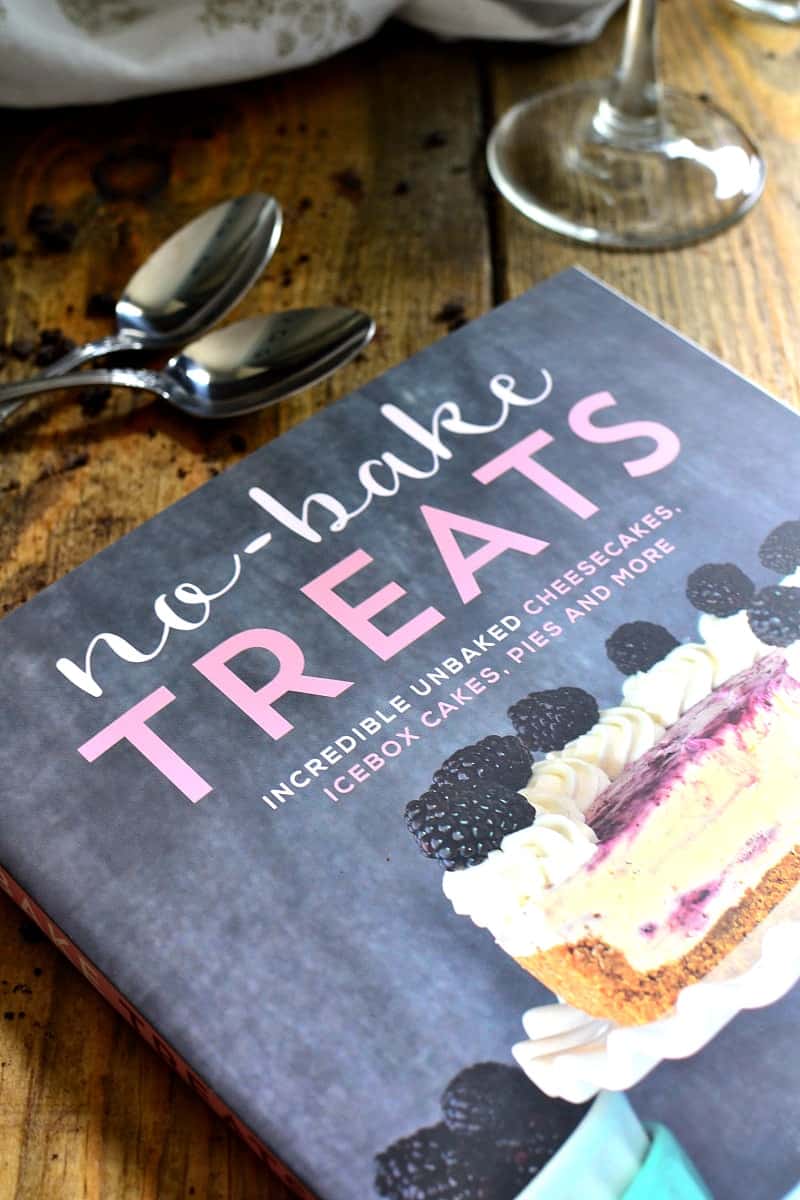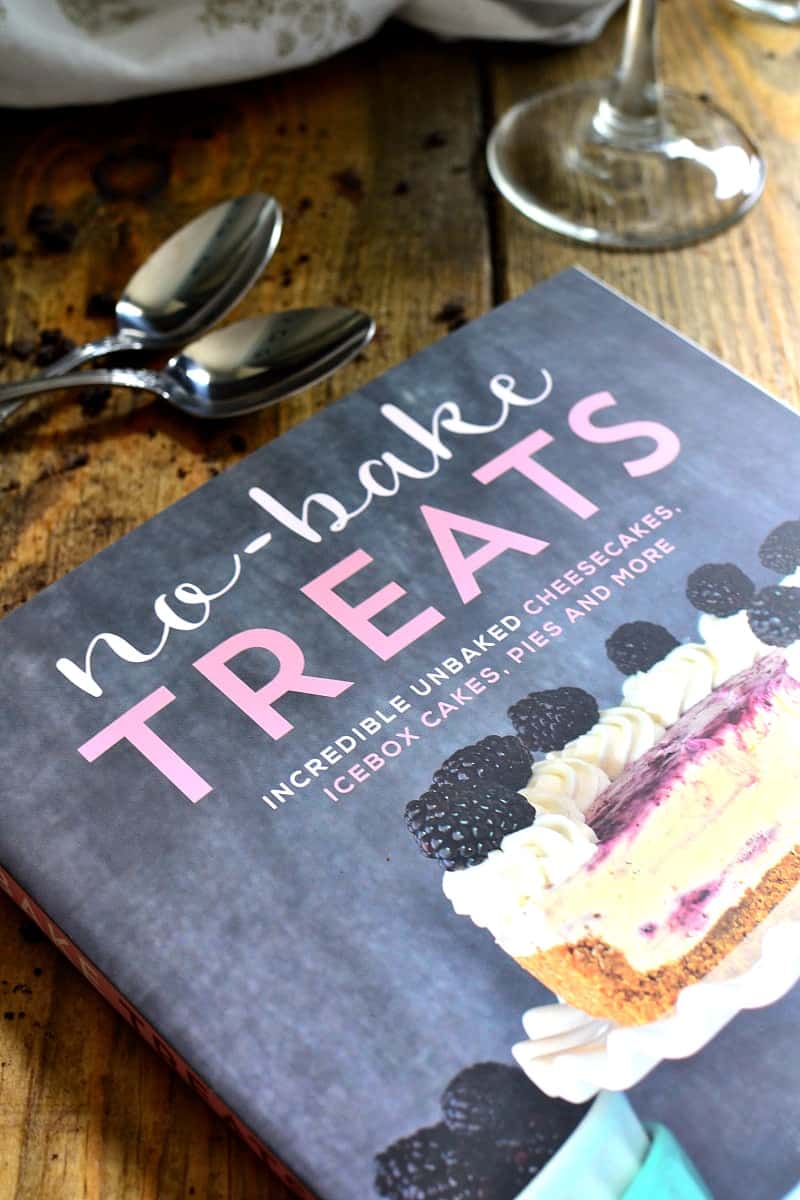 Fast forward to the BlogHer Food conference in Chicago last fall, where I met Julianne from Beyond Frosting. Not only is her blog amazing (which we all know) but Julianne herself is pretty awesome too. I had the best time hanging out with her in Chicago, and we may have stayed up WAY too late eating room service food and talking until the wee hours of the morning. She's seriously the best….one of my favorites….and when I found out she was writing a cookbook, I couldn't wait to get my hands on it.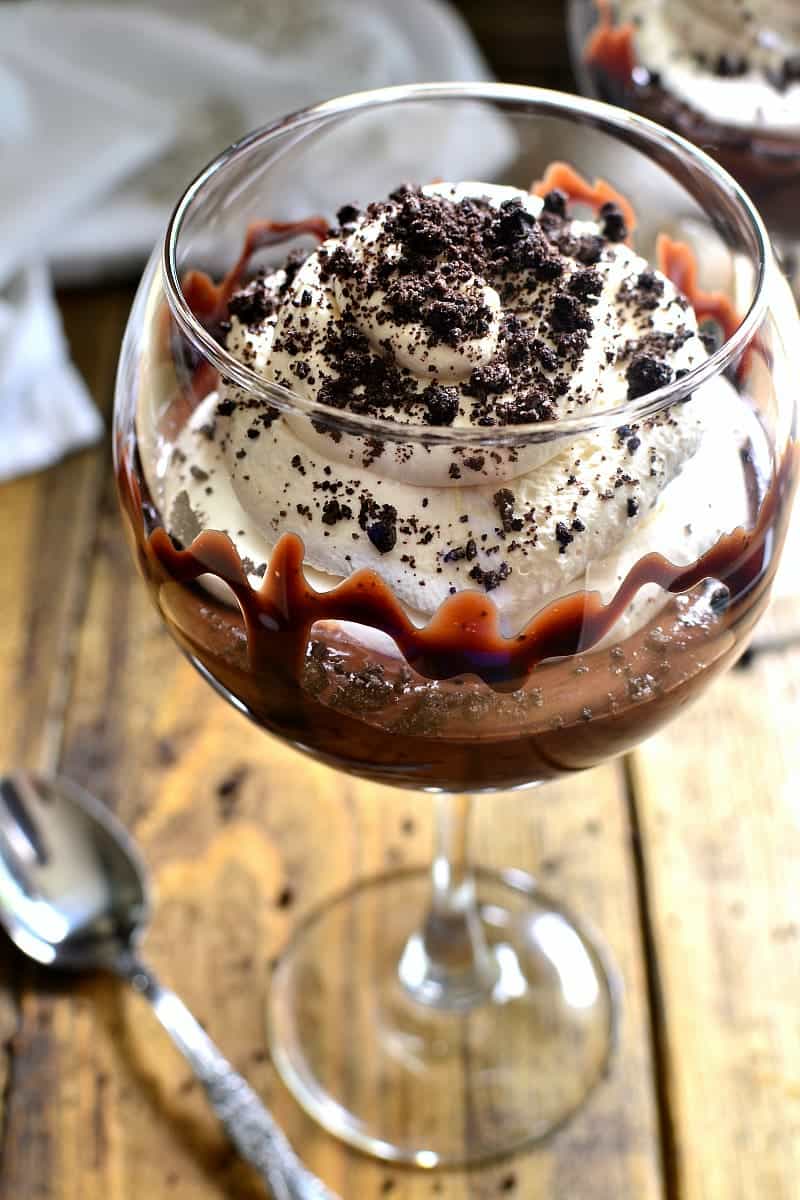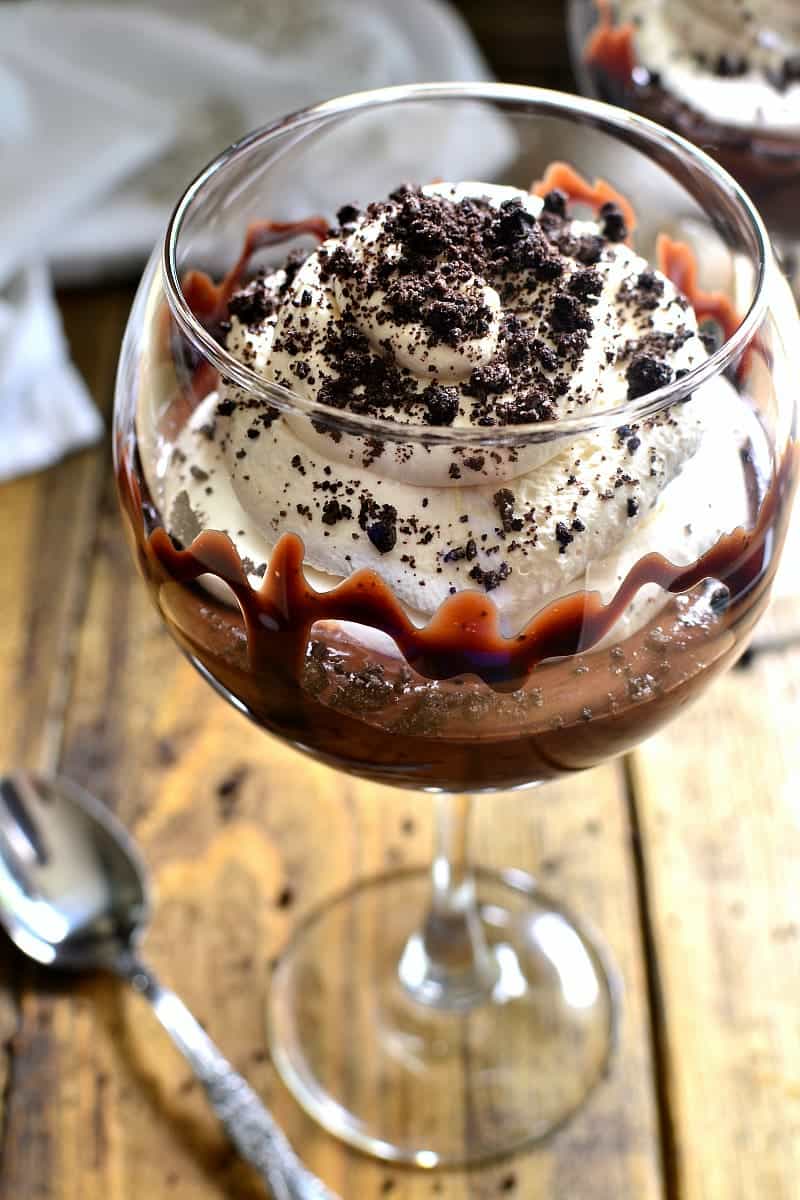 And ermahgad, you guys…..I LOVE IT!!!!! It's called No-Bake Treats and it's filled with the most decadent no-bake desserts ever!!!! With gorgeous, full sized photos that make me want to try EVERYTHING. Things like Hot Mess Nutella Snickers Pie and Blackberry White Chocolate Truffle Cheesecake and Funfetti S'more Mousse Bombs and THESE. Mudslide Parfaits. Which are pretty much to die for. They start with a Kahlua-infused chocolate pudding, topped with a Baileys-infused whipped cream, and the rest is history. Literally. Because before you know it, you'll be licking your glass clean and wanting to start all over again.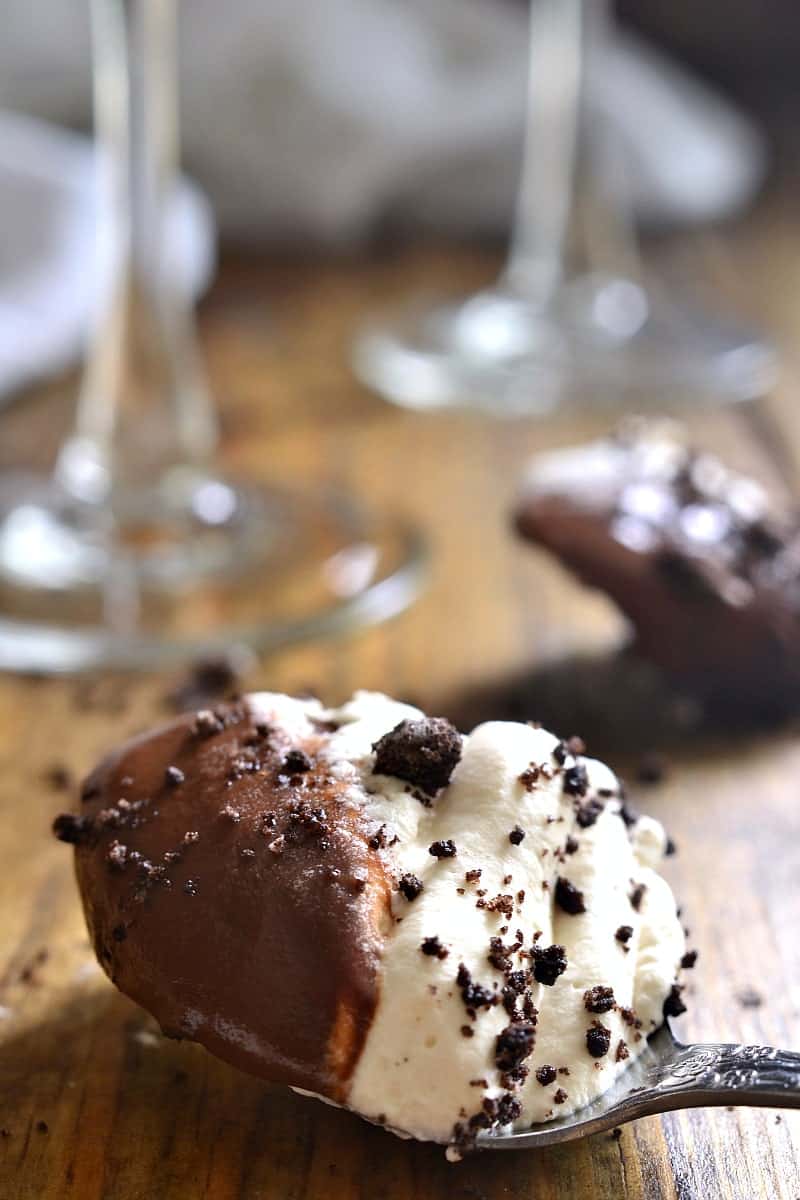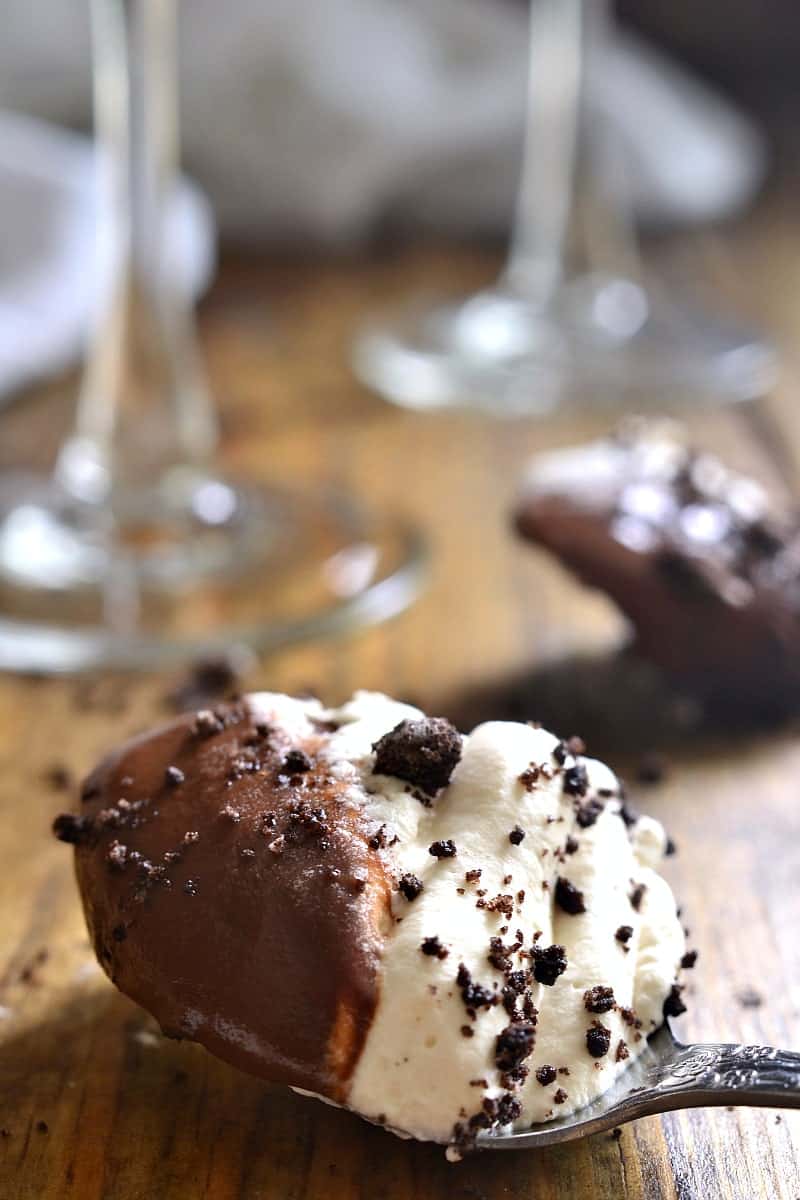 Let's just say I've made these Mudslide Parfaits twice in the last week, and I'm already craving them again. Because who doesn't love a mudslide, or a boozy dessert, or anything no-bake!? So add this one to my list of go-to dessert recipes, and when we all gain 20 pounds, we know exactly what (and who!) to blame! When I say you're going to want this cookbook, trust me. You're going to LOVE it!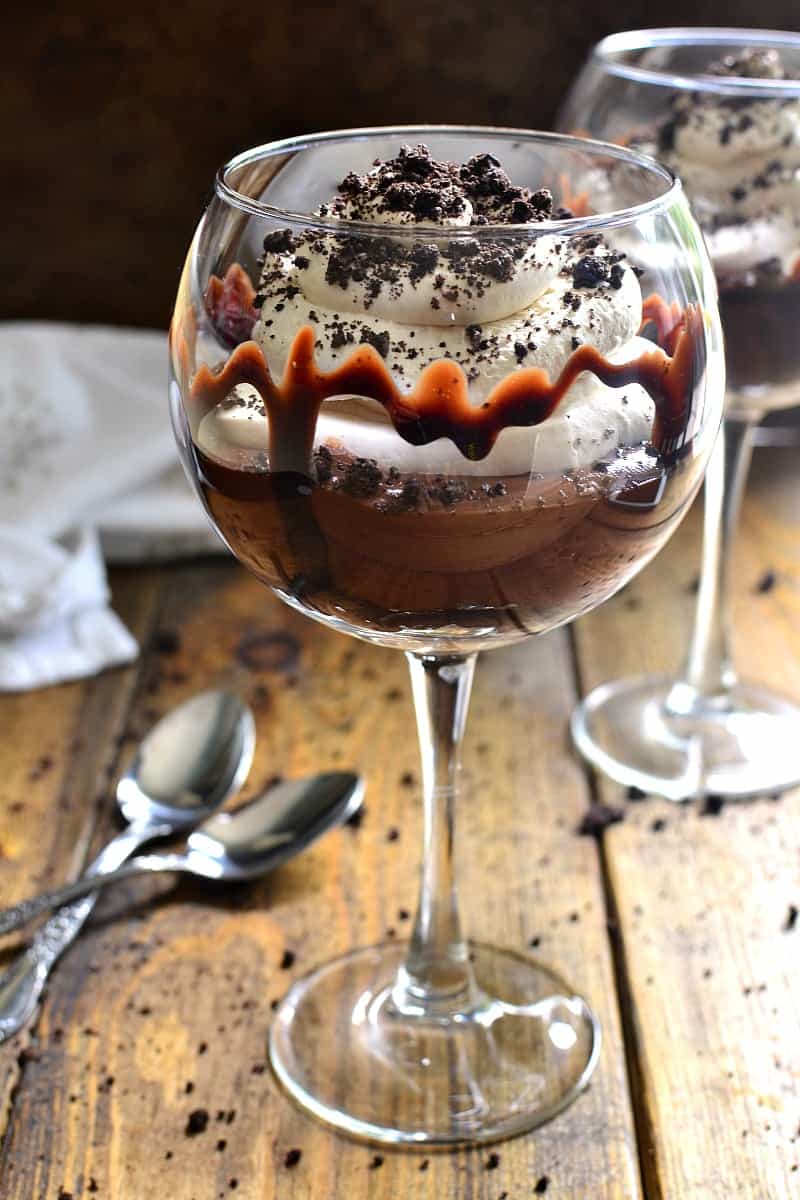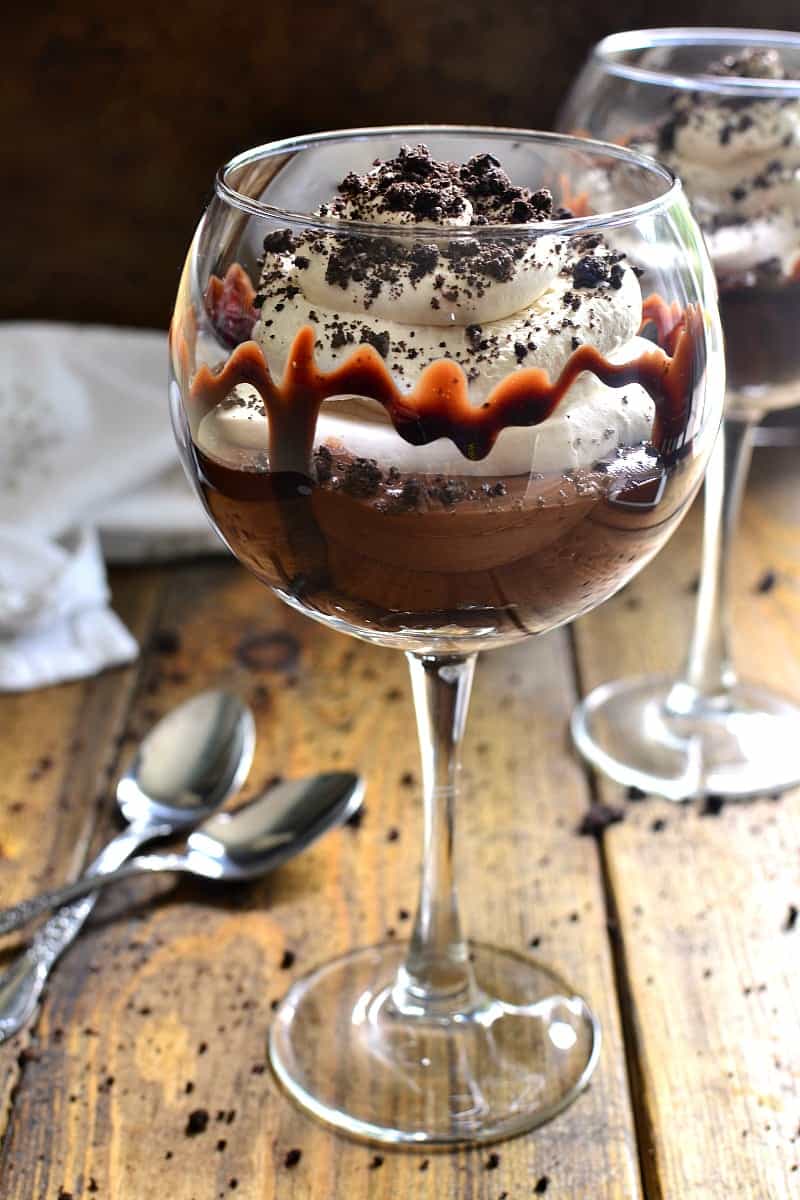 Congratulations on your gorgeous cookbook, Julianne! I'm seriously so in love.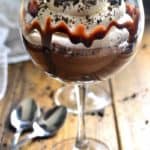 Mudslide Parfaits
These Mudslide Parfaits have all the flavors of a mudslide cocktail in one decadent dessert! Perfect for date night, ladies night, or a special occasion, these parfaits are SO delicious you'll be licking your glass clean! Recipe from the No-Bake Treats cookbook.
Ingredients
For the Filling:

2

large egg yolks

slightly beaten

3

Tbsp.

all purpose flour

1/3

c.

granulated sugar

Dash of salt

3/4

c.

milk

3/4

c.

Kahlua or other coffee liqueur

1

tsp.

vanilla extract

4

oz.

dark chocolate chips

For the topping:

3/4

c.

heavy whipping cream

1

Tbsp.

Baileys Irish Cream

1/4

c.

powdered sugar

1/2

c.

hot fudge sauce

3/4

c.

crushed Oreos
Instructions
For the filling:
Place egg yolks in a separate bowl and set side.

In a medium saucepan, add the flour, sugar, and salt and whisk to combine.

Add the milk, Kailua, and vanilla extract.

Heat the mixture over medium-low heat, whisking constantly.

Once the mixture is warm (but not boiling) pour about 1/4 c. of it into the bowl with the egg yolks and whisk vigorously to temper the yolks.

Immediately pour the egg yolk mixture back into the saucepan and continue whisking over medium-low heat to prevent the eggs from cooking.

Whisk until the pudding starts to thicken, then add chocolate chips and continue whisking until the pudding starts to thicken.

Pour the pudding into a medium bowl and cover with clear plastic wrap (directly on the pudding surface), then poke a few holes in the plastic wrap with a toothpick.

Allow the pudding to cool on the counter for at least 1 hour before refrigerating.

Refrigerate 2-3 hours until the pudding has cooled and is firm.
For the topping:
Place a mixing bowl and whisk attachment in the freezer for 5-10 minutes to chill.

Pour the heavy whipping cream into the child bowl and use an electric mixer to beat on medium-high speed until the cream gets bubbly.

Add the Baileys and the powdered sugar and continue beating on high speed until stiff peaks form.

*This will be slightly less stiff than a traditional whipped cream due to the liqueur.

*Topping can be prepared in advance or right before serving.
To assemble the parfaits:
Heat the hot fudge sauce according to instructions on the jar.

Pick up your parfait glass and turn it sideways, then use a spoon to drizzle hot fudge on the inside edges of the glass, gently rotating the glass as you go. Repeat with remaining glasses.

Pour 2-3 Tbsp. cookie crumbs in the bottom of each glass.

Pour pudding into a piping bag and pipe it into the glasses. (You can also use a spoon.)

Spread pudding out to the edges of the glass.

Pipe topping onto the pudding, dividing evenly among the glasses.

Garnish with remaining crushed Oreos.

Serve immediately or refrigerate until ready to serve.